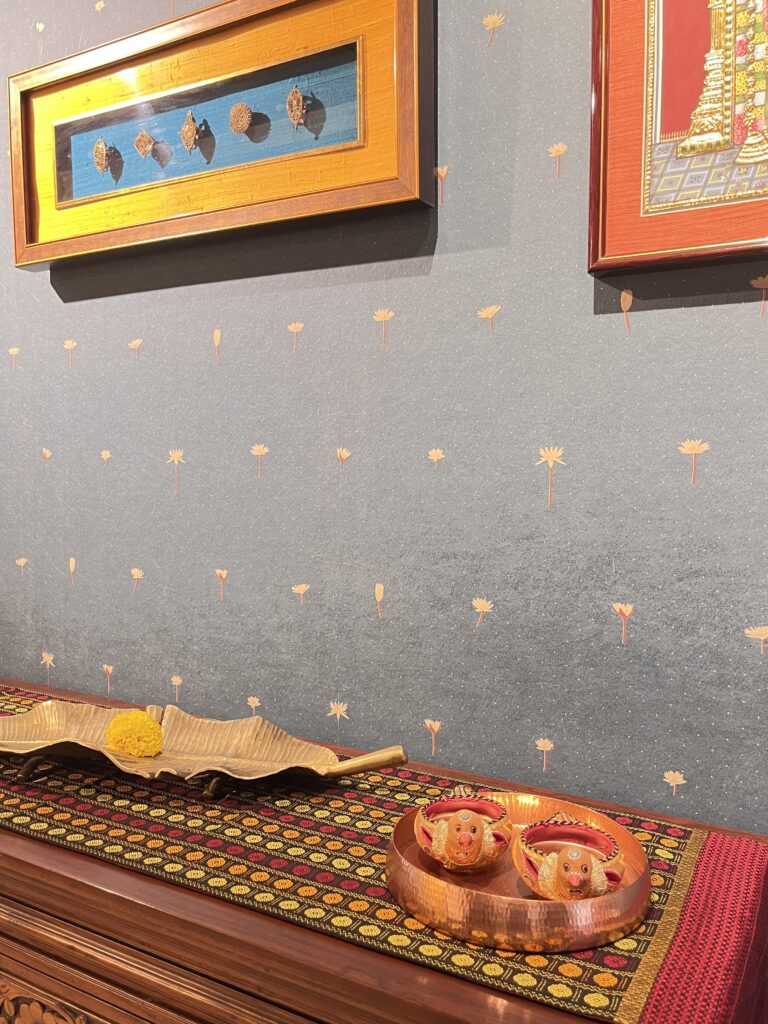 Let's visit Ranjana and Milind's 4.5 bedroom 4200 sq. feet apartment in Pune.
The couple, their mothers and their daughter, and two dogs live here.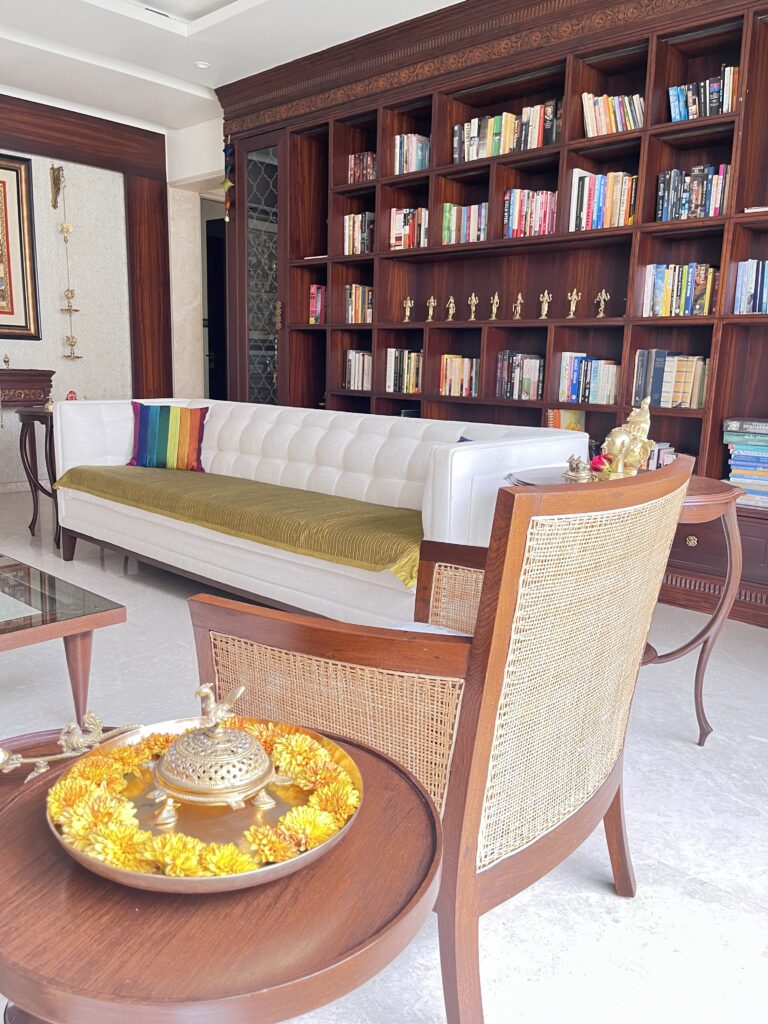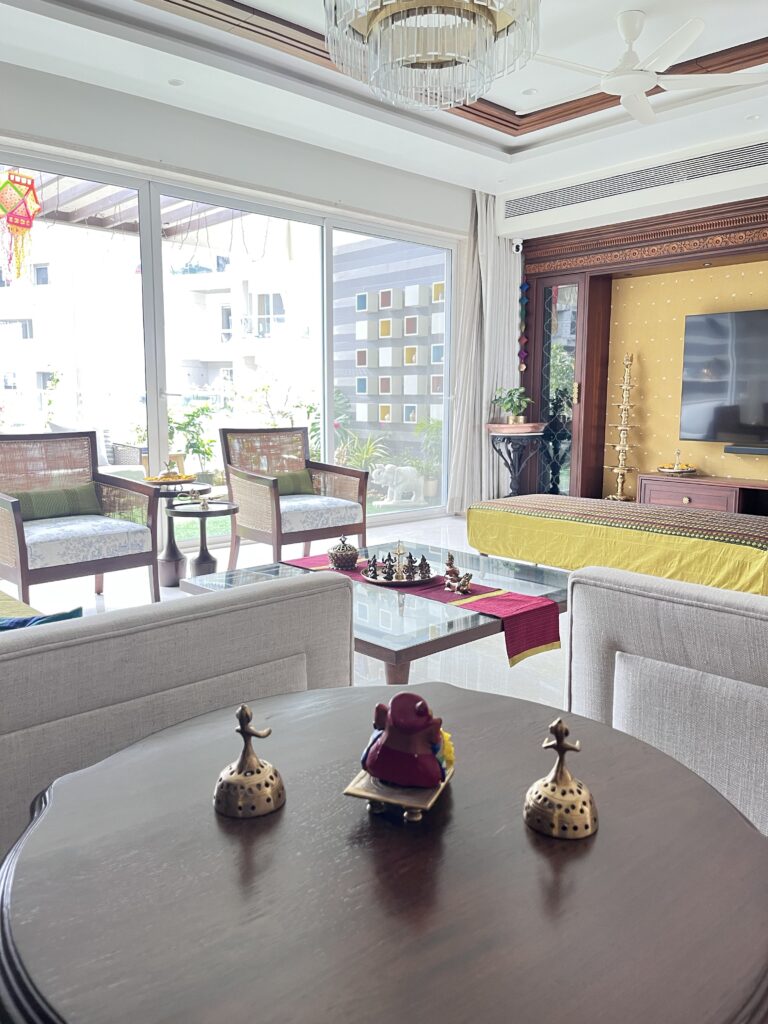 I first visited Ranjana's gorgeous home when she had me over for the Kale Nele pop-up in Pune, hosted at her space. One step into the fabulously decorated entryway, and I was captivated. What stood out was the happy fusion of brass, wood and fabric that have come together beautifully, without any one element overwhelming the space.

This Diwali, I unabashedly asked Ranjana (just a week ago) if she would be okay with a Diwali-decorated home feature and she graciously acquiesced.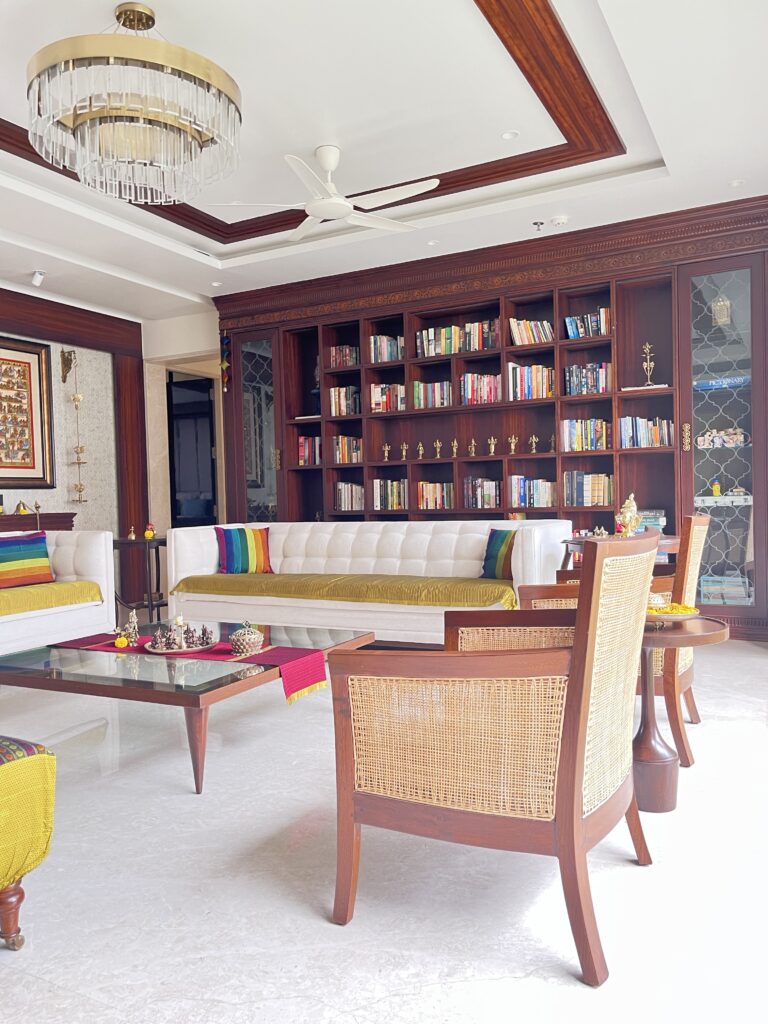 The Katti family hail from Karnataka, and this is their second home in Pune. They moved in 3 years ago.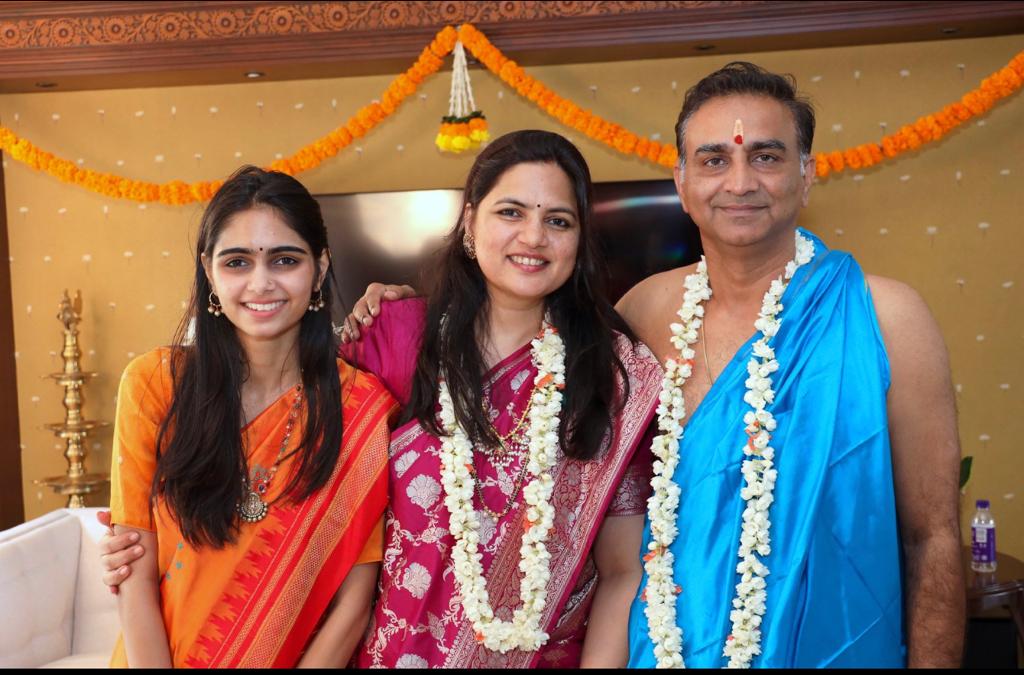 The entryway
The entryway is stunning – it sets the tone for the rest of the home, and Ranjana's talent in envisioning beautiful spaces, and decorating with a medley of decor elements stands out!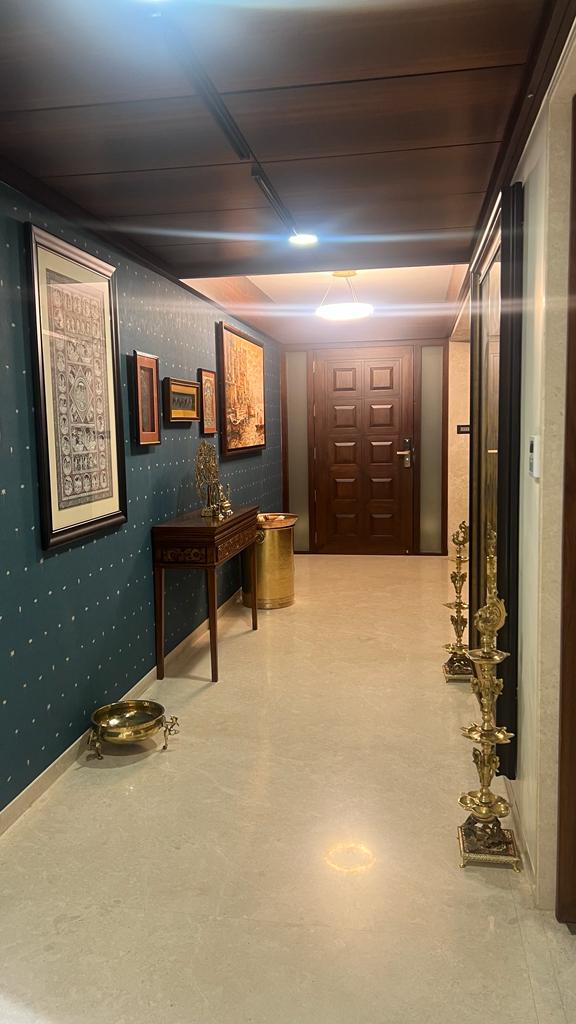 More details on all the beautiful things in these pictures are included further down in the blog post.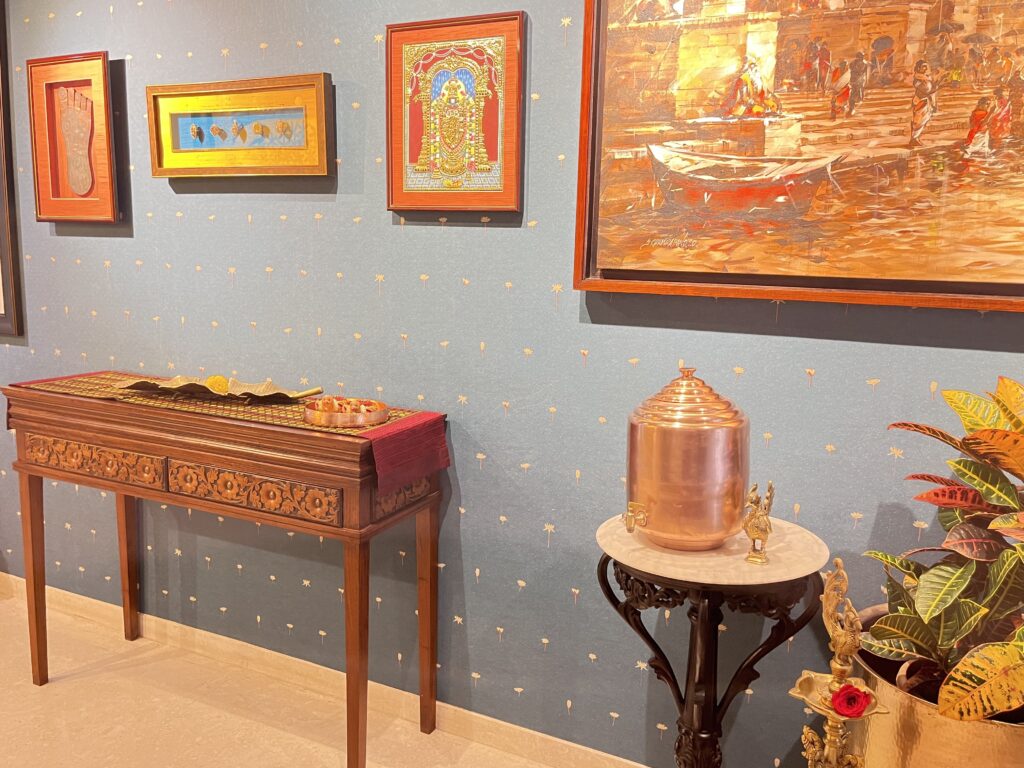 Let's go ahead with the interview format tour, learning from Ranjana about her aesthetics and gathering tips as we go along!
Ranjana, your home is called Sanatan; what does it mean?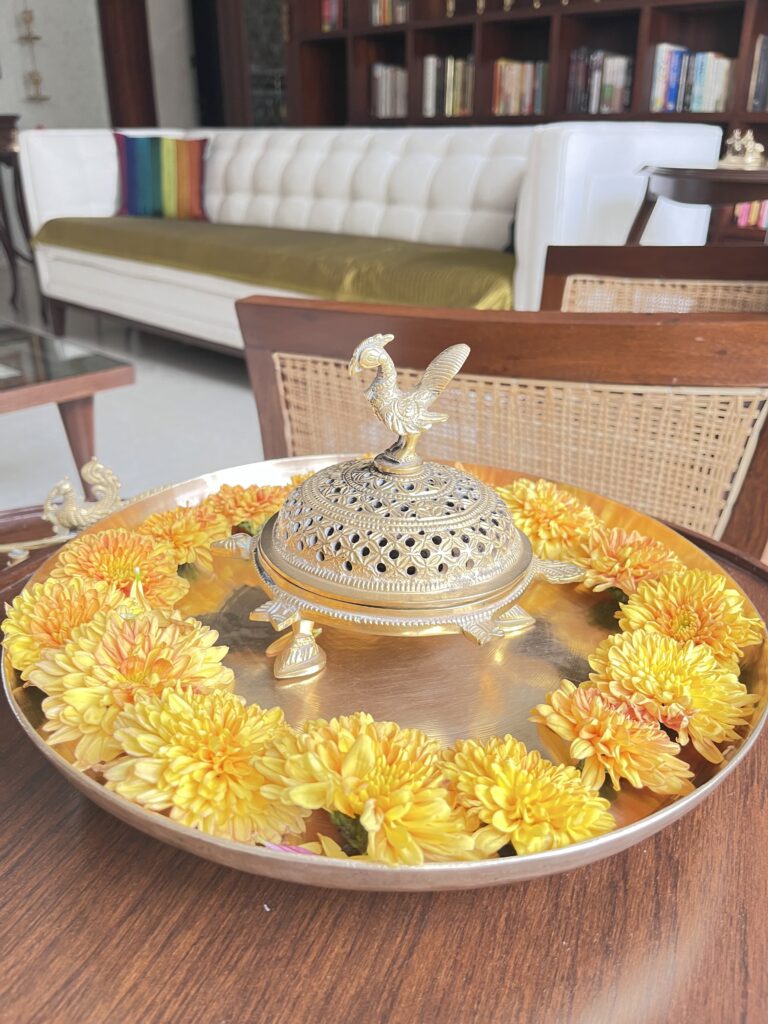 Sanatan means that which has no start and no end. Making of a home starts much before it takes a physical form and keeps evolving with us and continues after us too!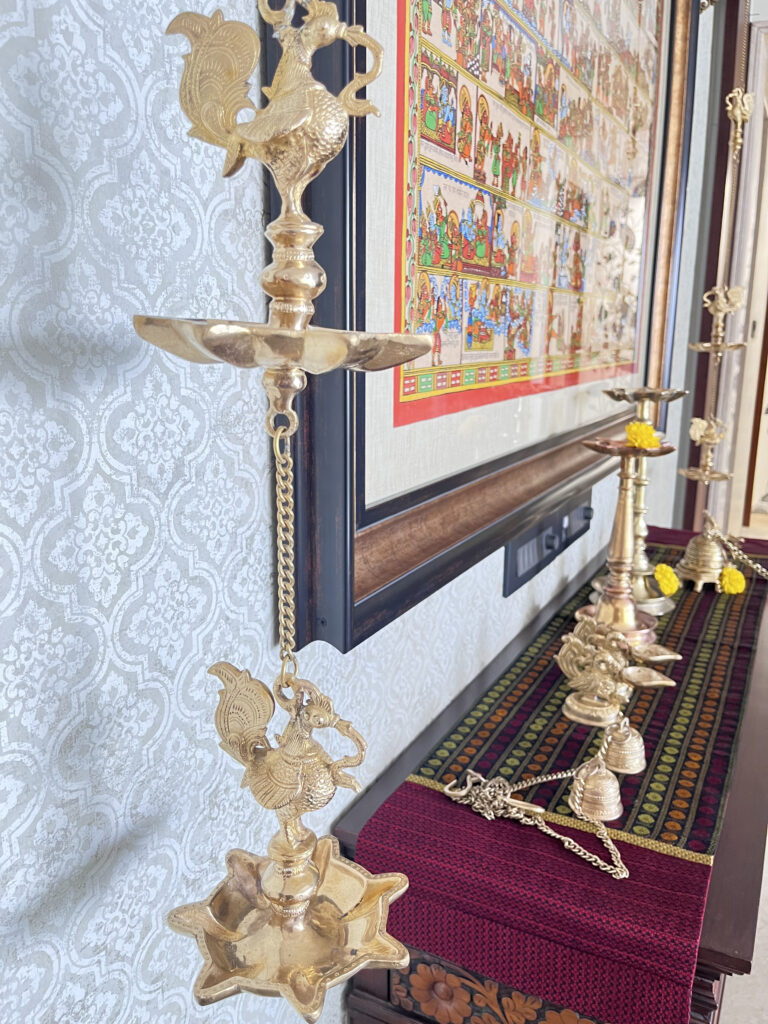 That's beautiful! What is your decor style?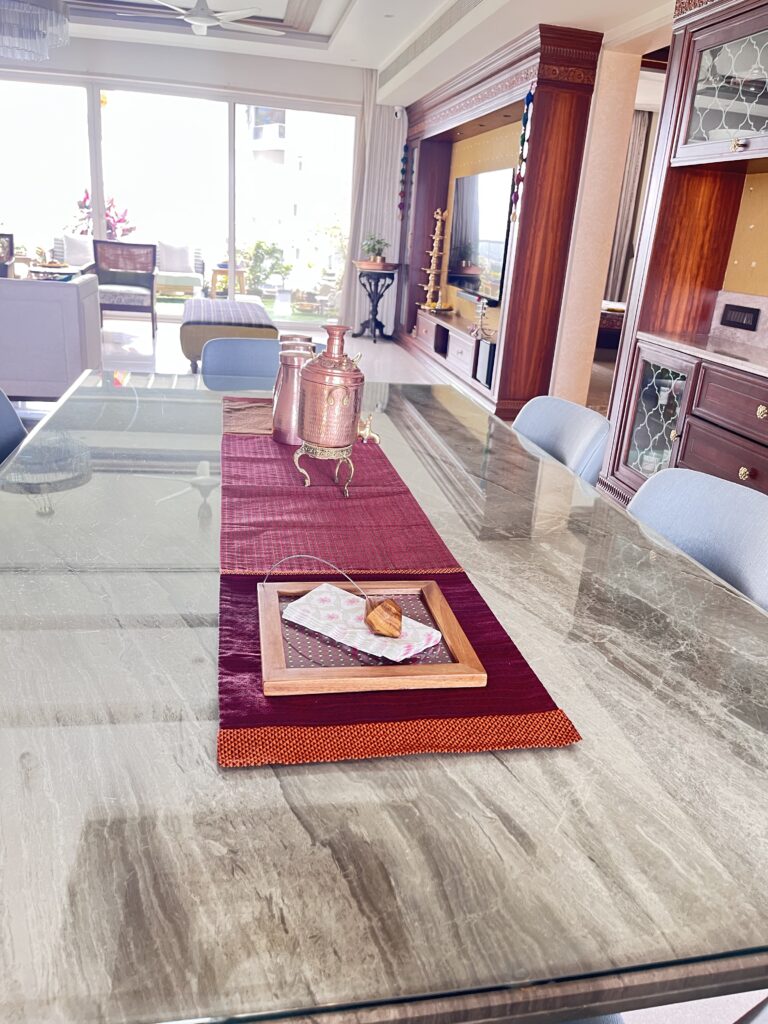 Traditional in aesthetics and modern when it comes to ease of use and functionality.
Where did you shop your decor from, for this home?
I love shopping from artisans and artists, and therefore I visit various exhibitions; I have also sourced from me travels, antique dealers like Prachya, and stores like Indian Weaves in Mumbai, and Divine India Bangalore.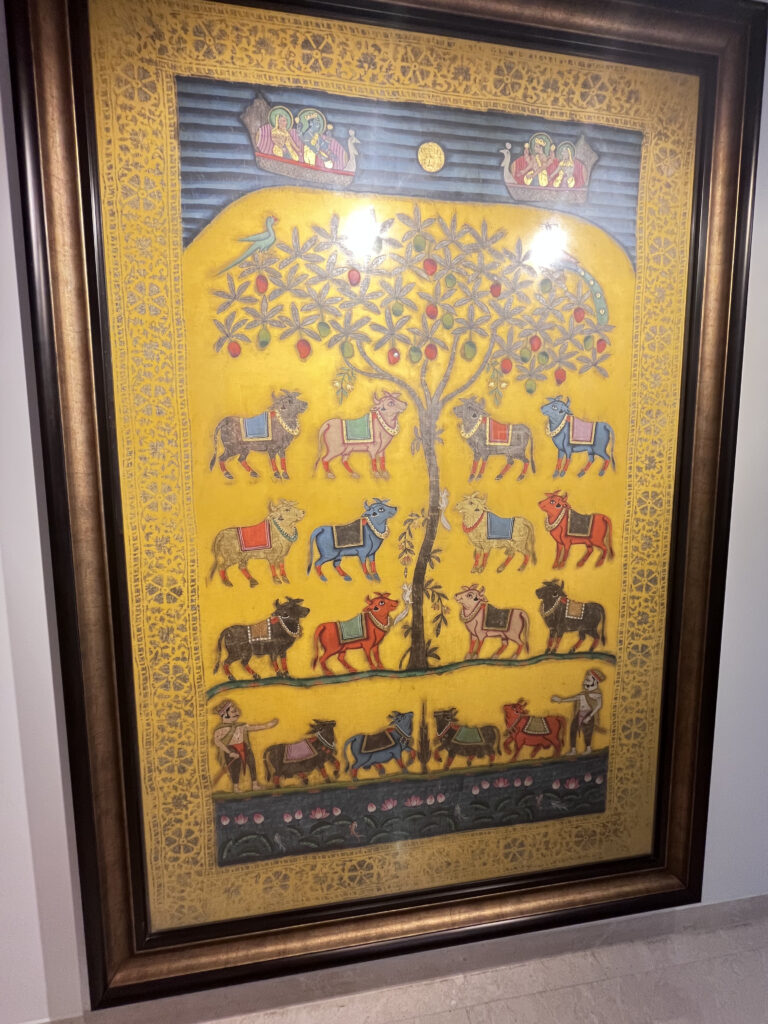 I would like to specially mention Kale Nele – a company that belongs to my childhood friend, and one that I have recently started working remotely with. I also hosted their pop-up in Pune (where I first met you, Sharon). I strongly believe in their artisan-first ethos!
Who inspires you the most?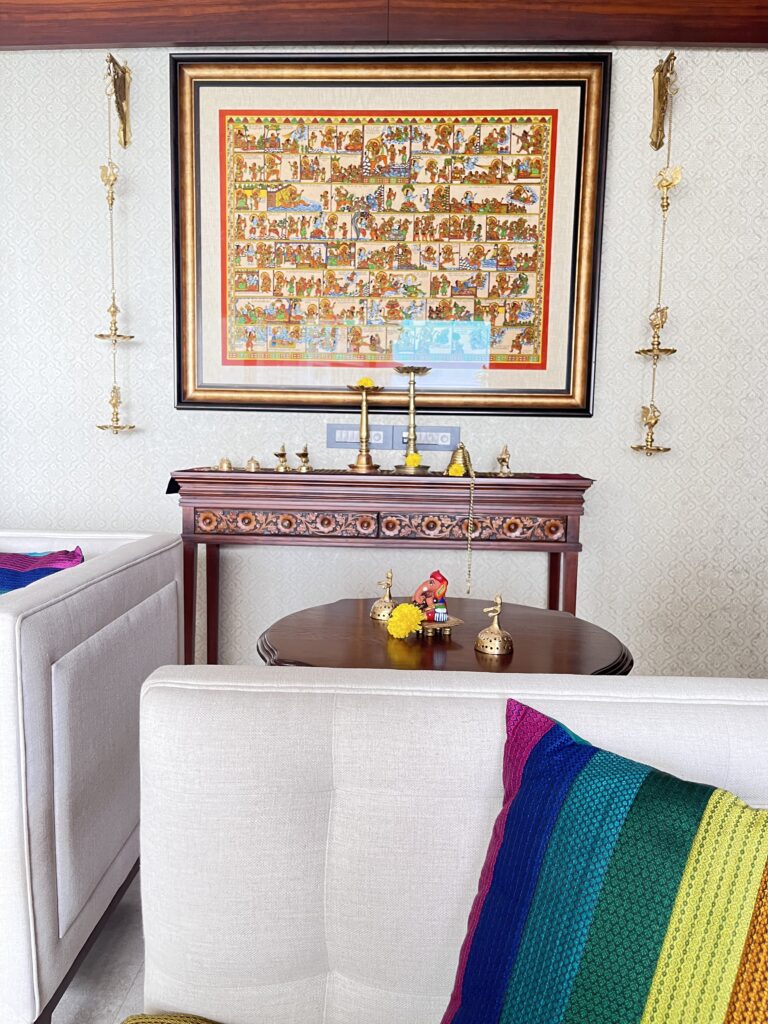 When I see the work of traditional artists, I either get inspired to commission work for my home, or I know where something they have already created will fit into the style of my home. I decorate extensively with products and art made from craftspeople, artists and artisans, and I love interacting with them directly.

What is home to you?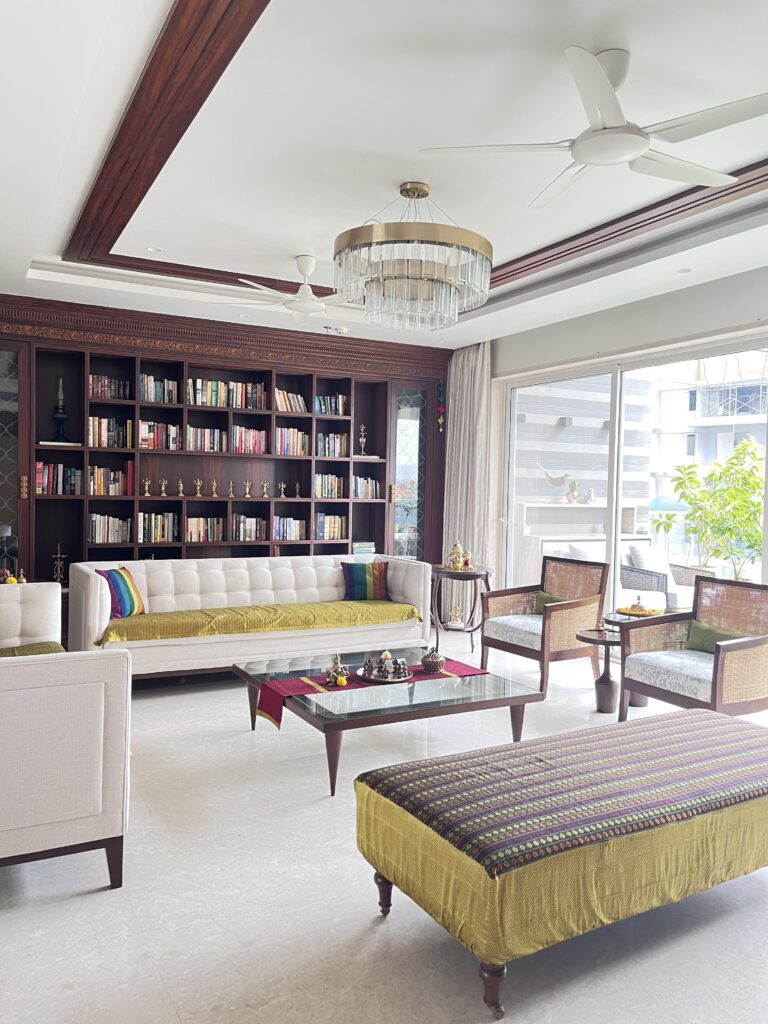 Perfect balance of comfort, space, aesthetics and presence of family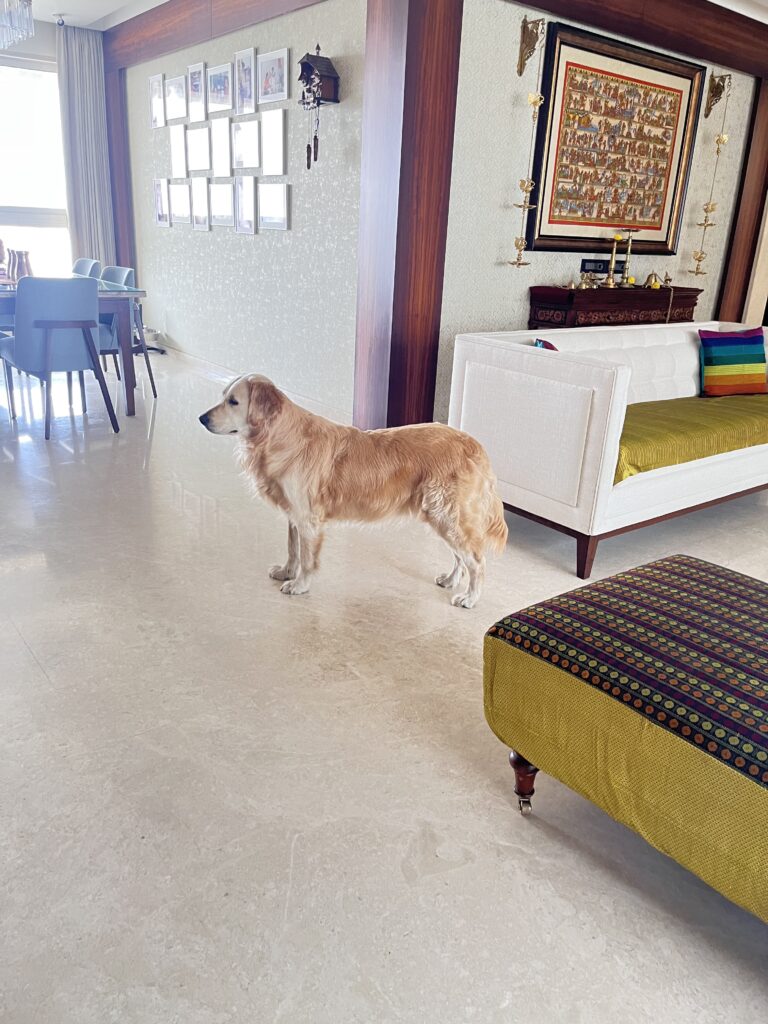 Let's talk about some of your repurposed designs. Tell us about the Vishnu Padham family heirloom and the mudras that you have repurposed!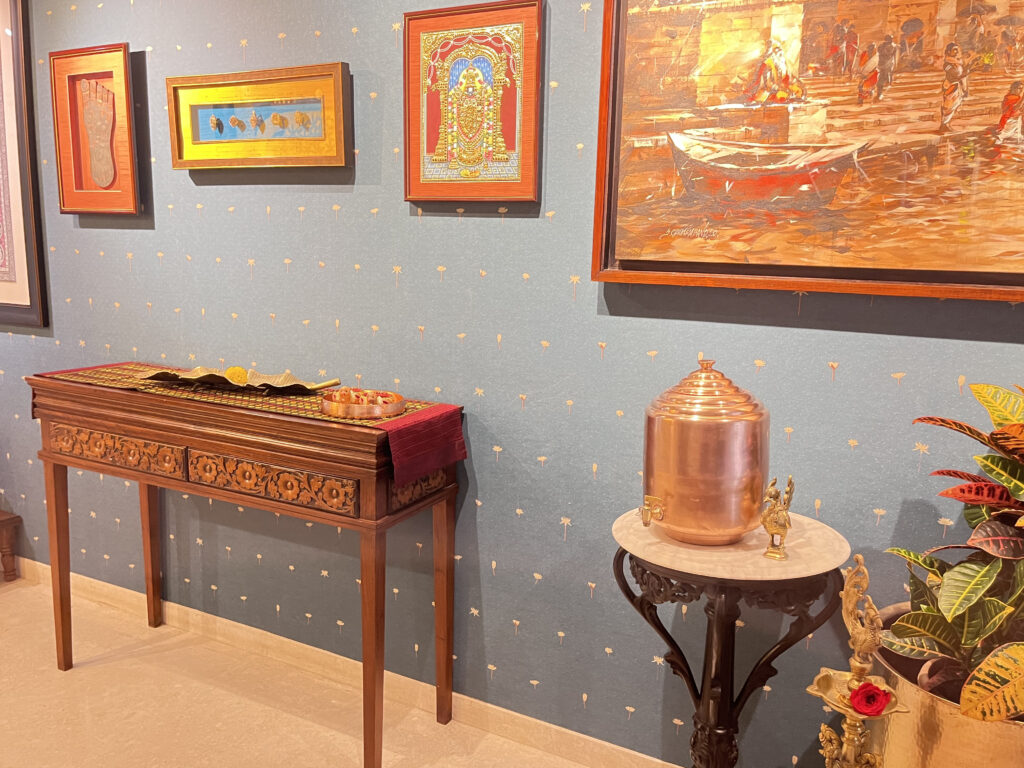 The Vishnu padham in the entryway gallery wall has been in my husband's family for more than 500 years. Usually, once there is a crack or something that mars its beauty, we stop using it for puja, and we mindfully do away with it. There is a noticeable crack near the toes, so we had to do away with it. However, I had never seen a Vishnu padham of this size, and this is a work of art, and I therefore i thought we could preserve it as both as a memory and a thing of beauty. I therefore framed it. The same with the mudras.
Mudras are like stamps; during puja they are dipped in sandalwood paste and applied on specific parts of the body, mostly done on men! Since they were no longer in use, I still wanted to preserve the memory of the custom, and I decided to frame them with a fabric background!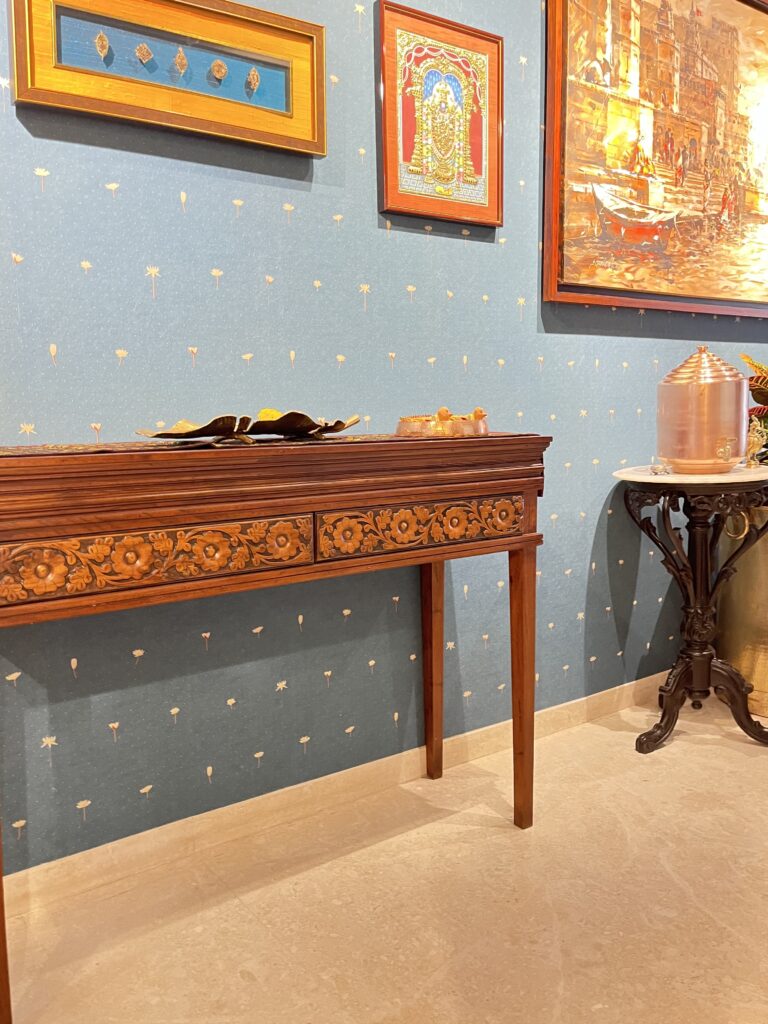 More family heilooms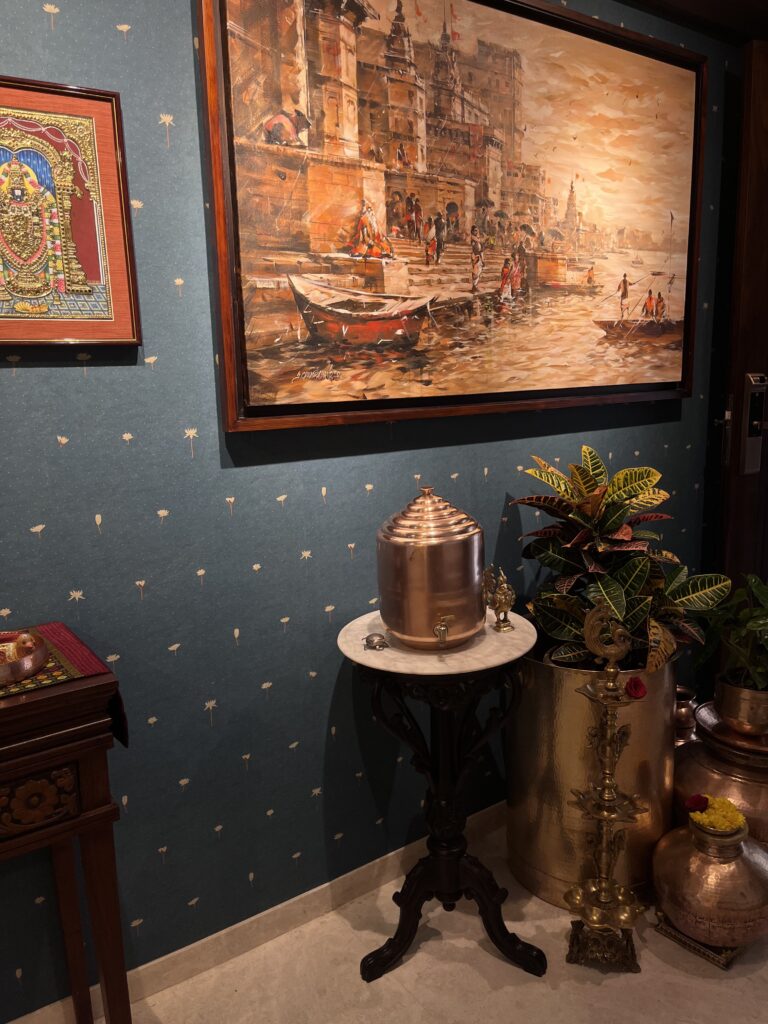 Vintage water dispensers and large vessels that are seen in the entrance foyer are from Ranjana's ancestral home. She has used them beautifully, repurposing some as planters.
The Benares ghat painting (not a family heirloom, but recently bought) is by Pune-based artist Sandeep Chhatraband well-known for his Benares art!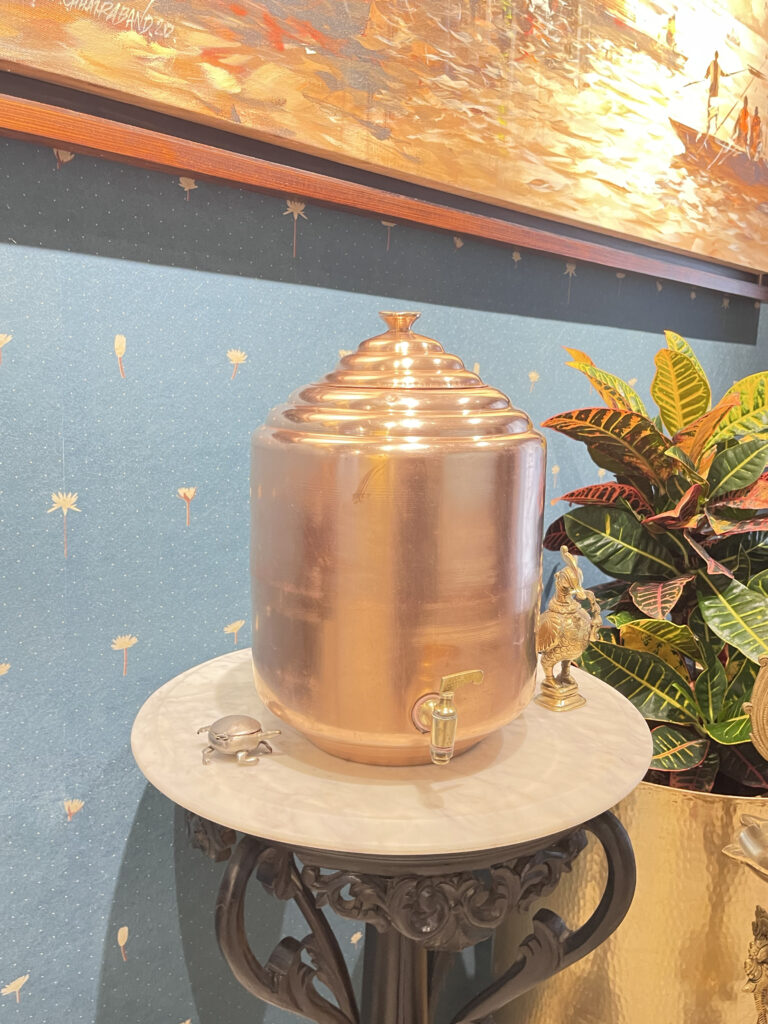 An abundance of brass, wood and fabric in the decor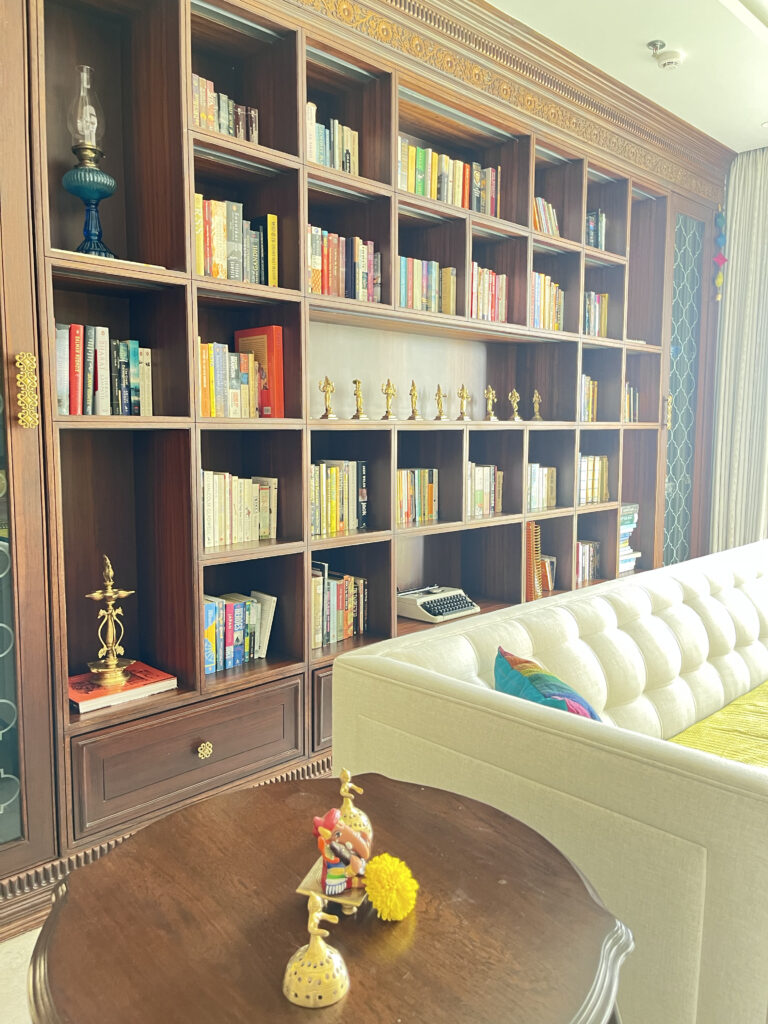 Ranjana is very pleased with the work of the architects Mooltatva studio by Yadunath and Rajshri Deshpande. Her brief to them was that her home should have a lot of brass, wood and fabric in the decor, and she says that they have delivered beautifully!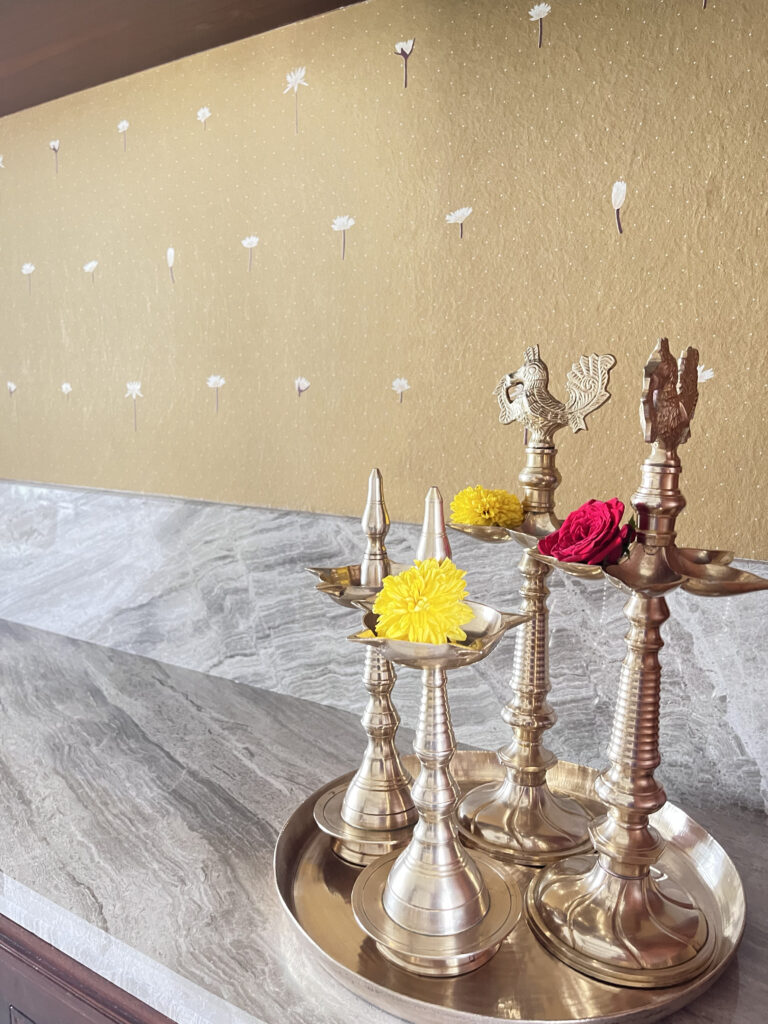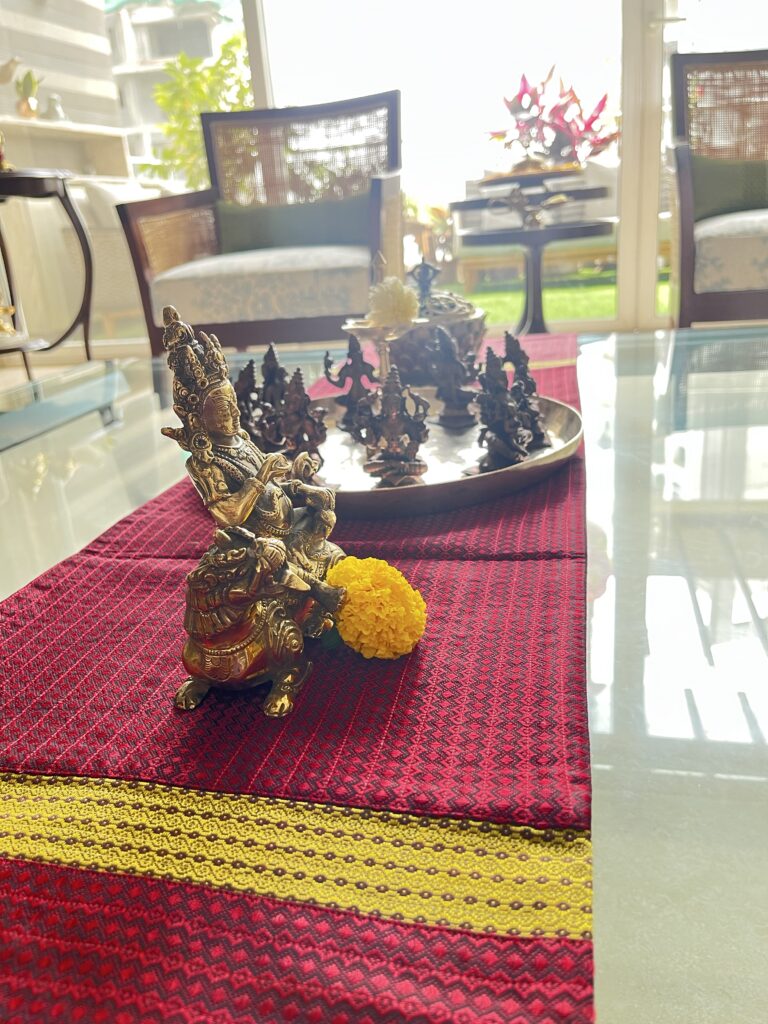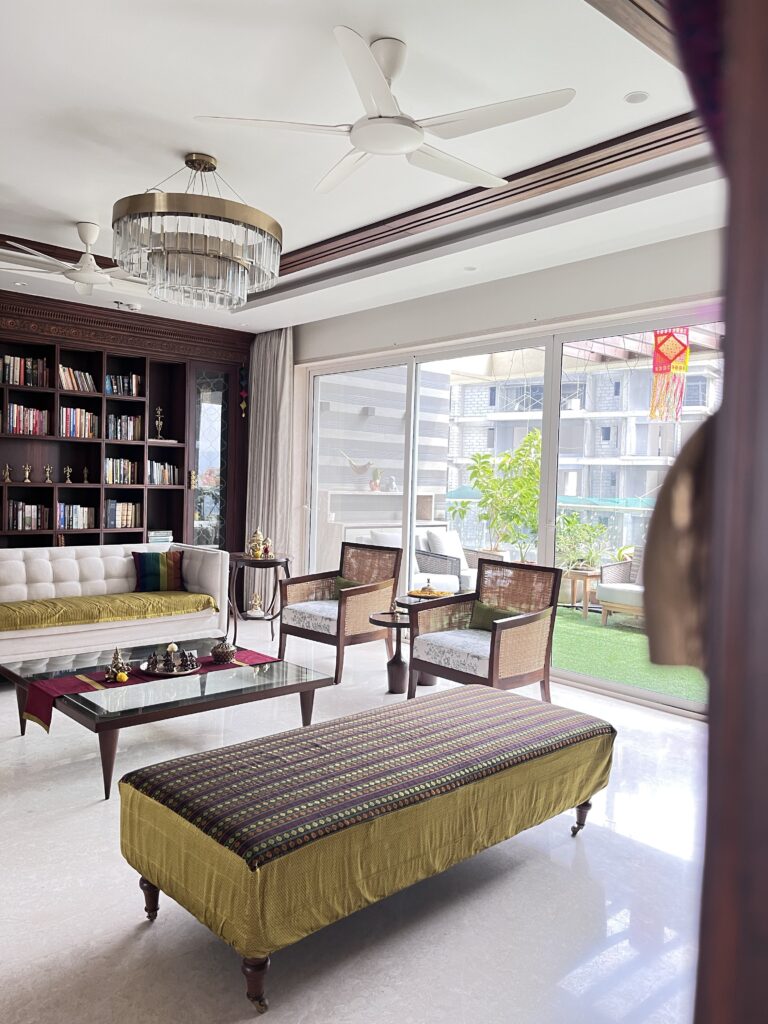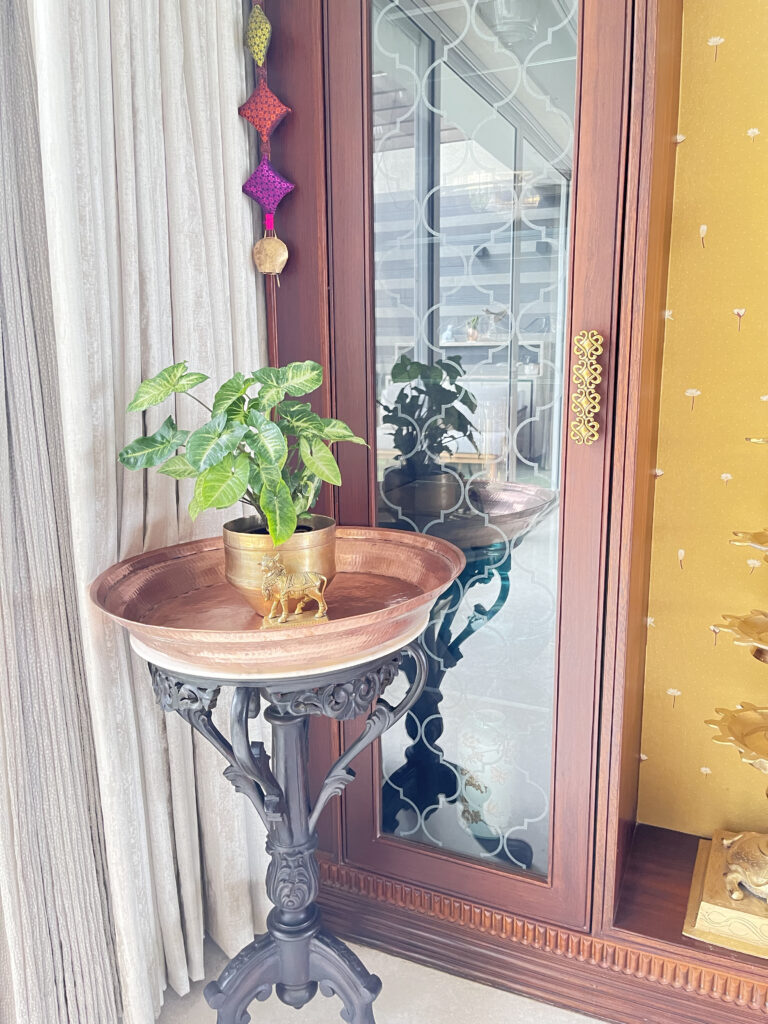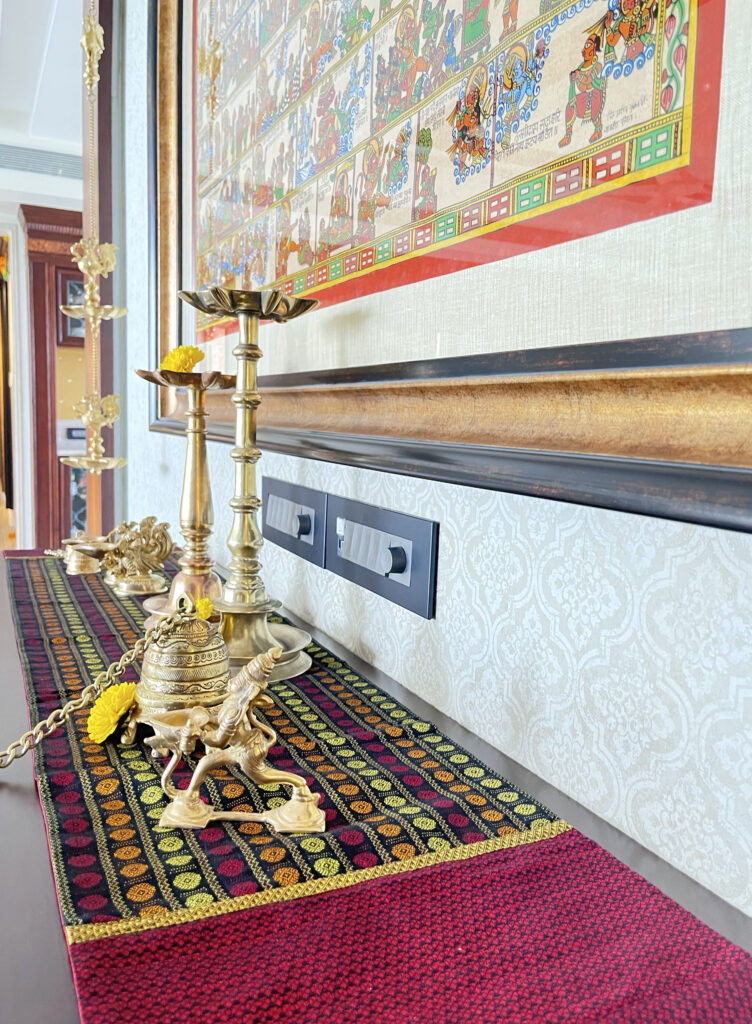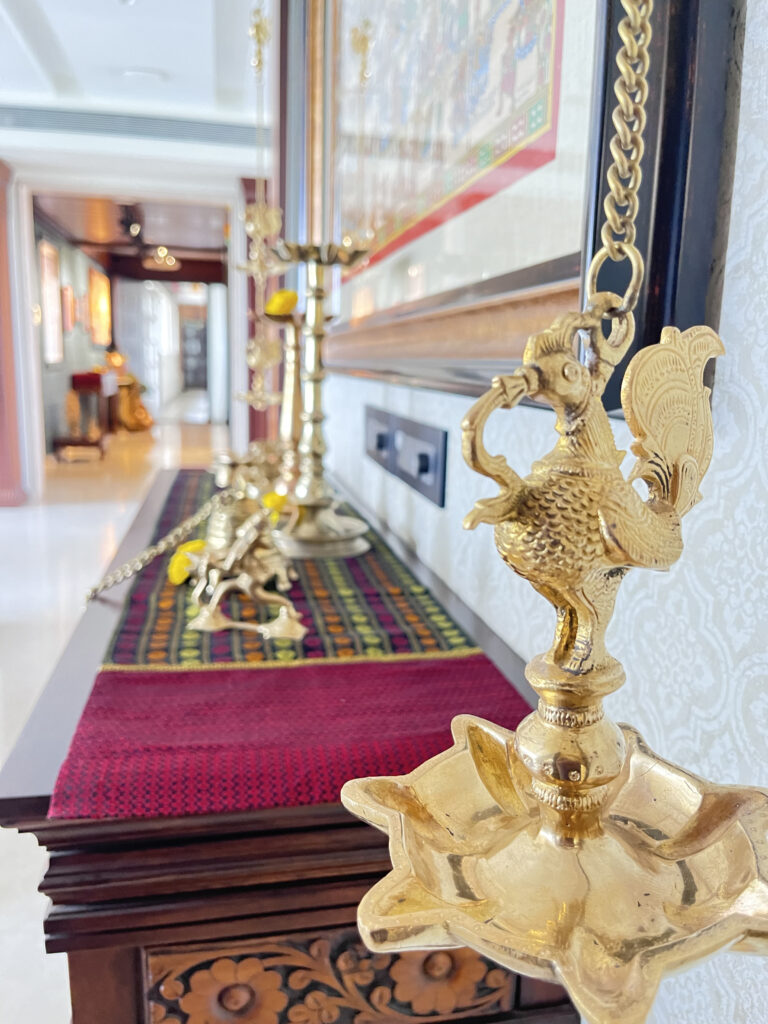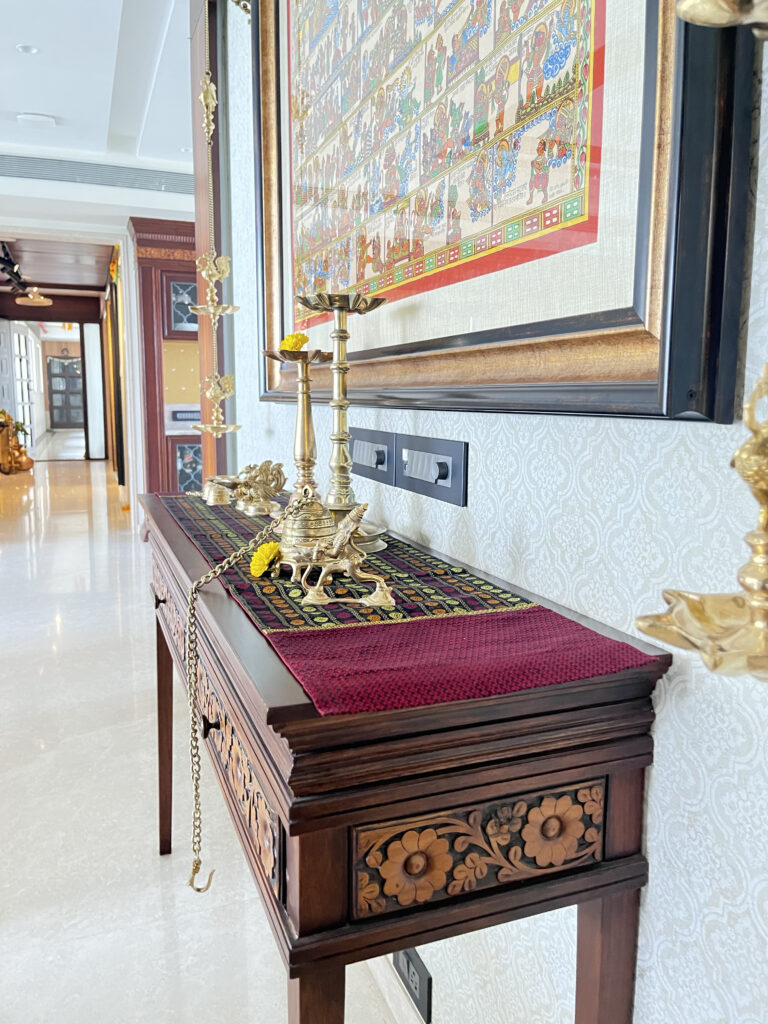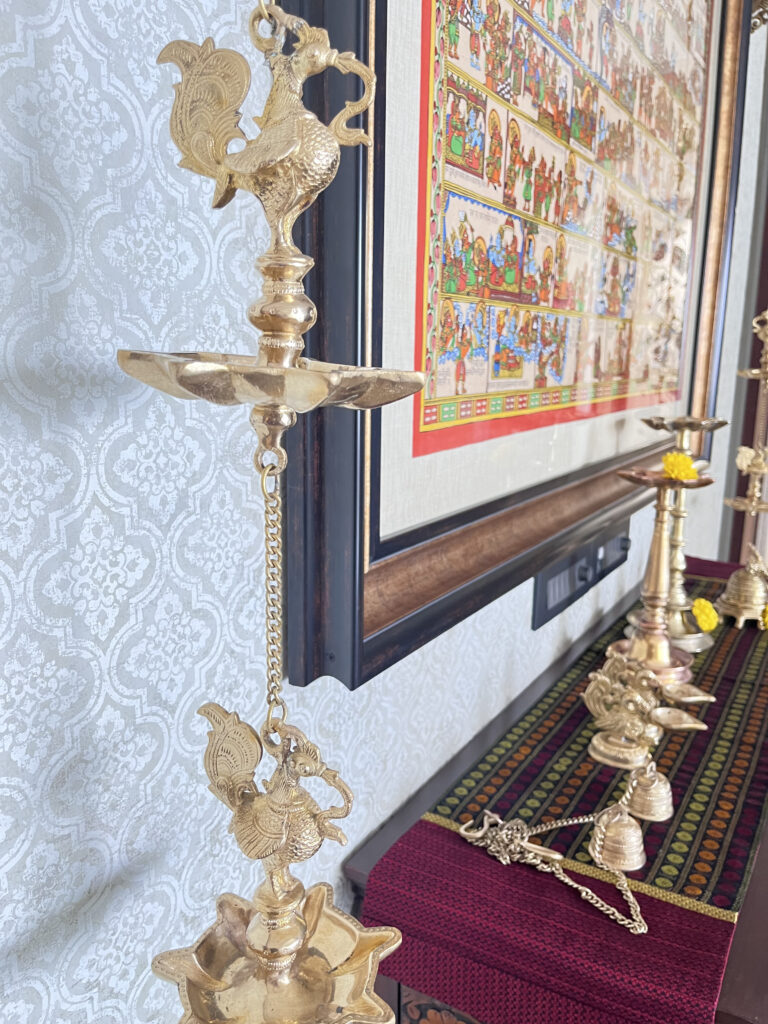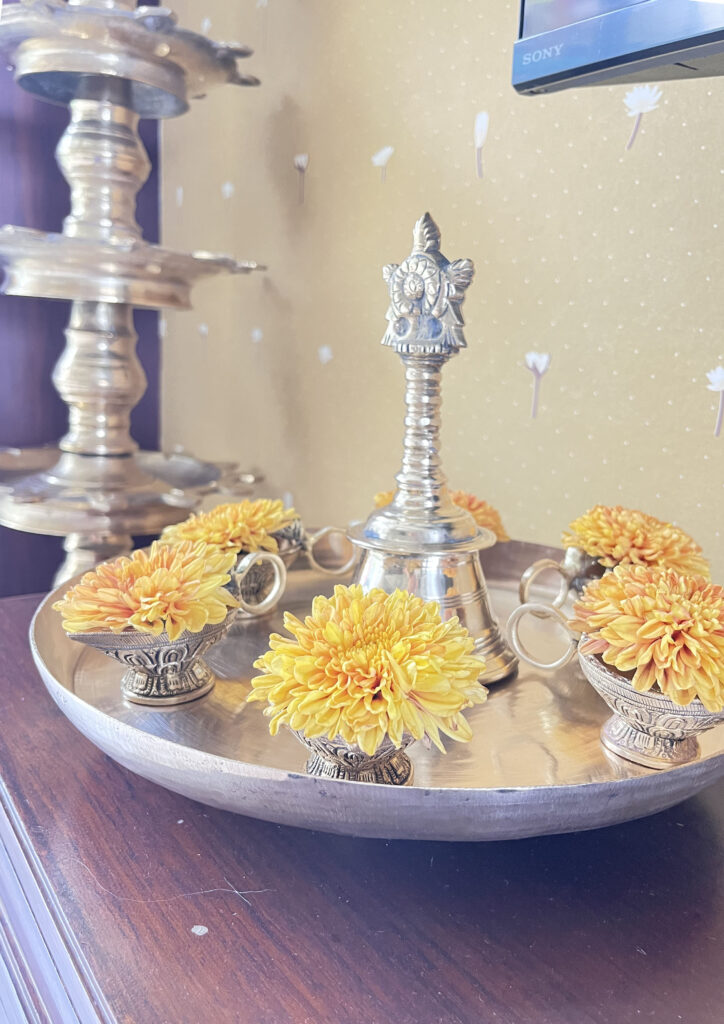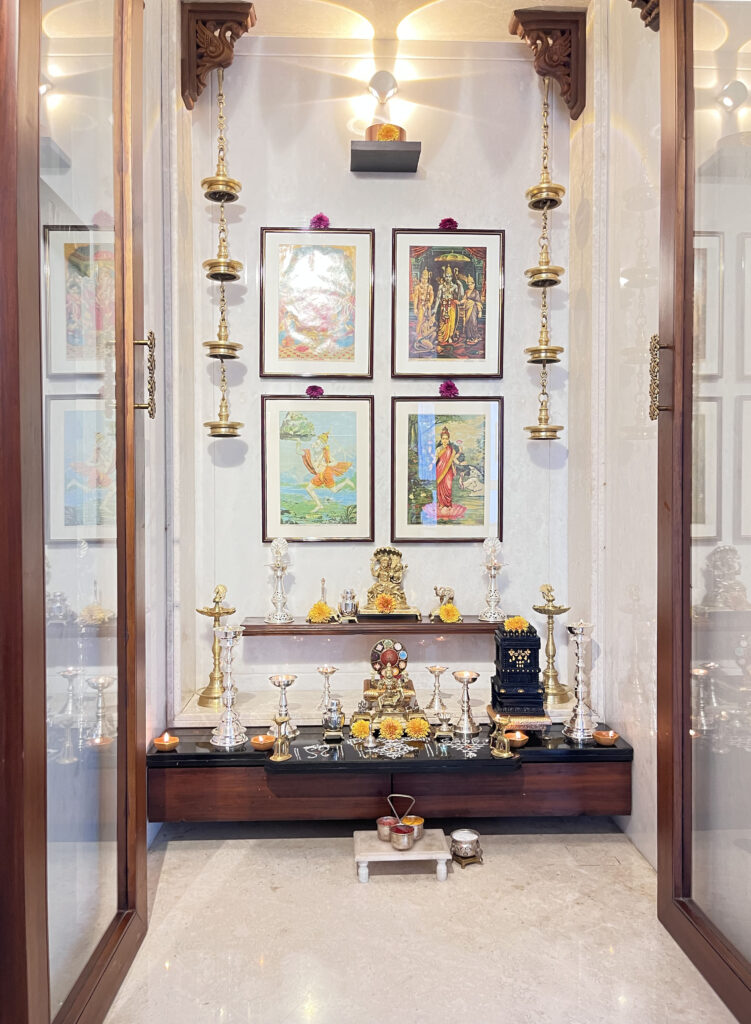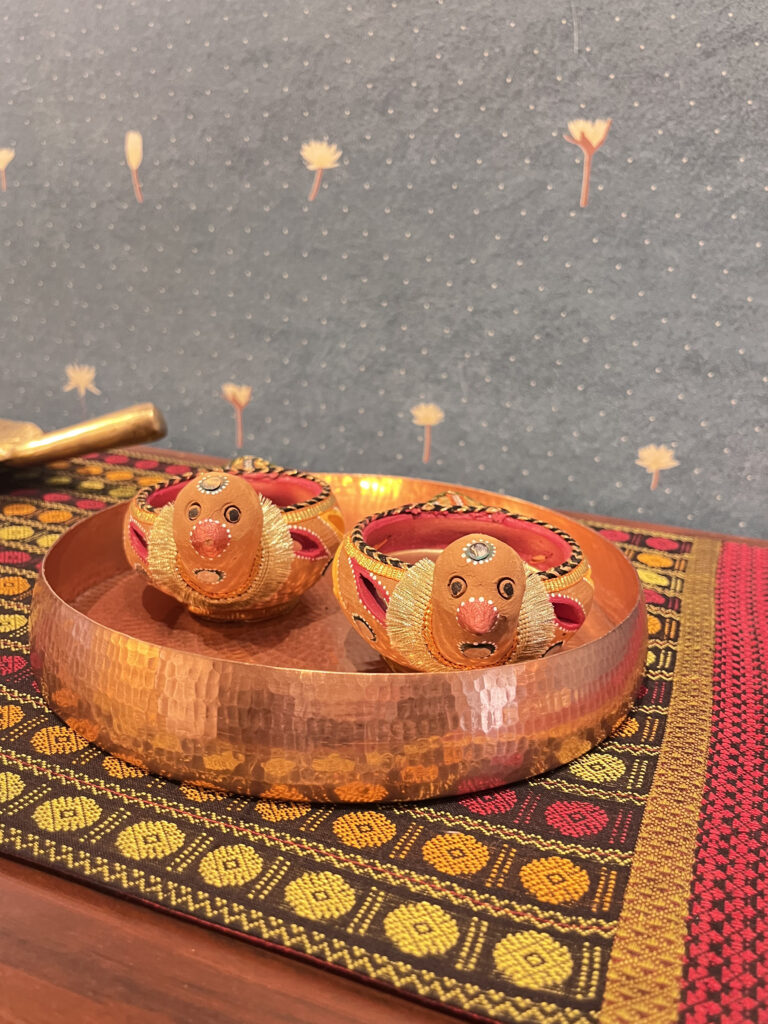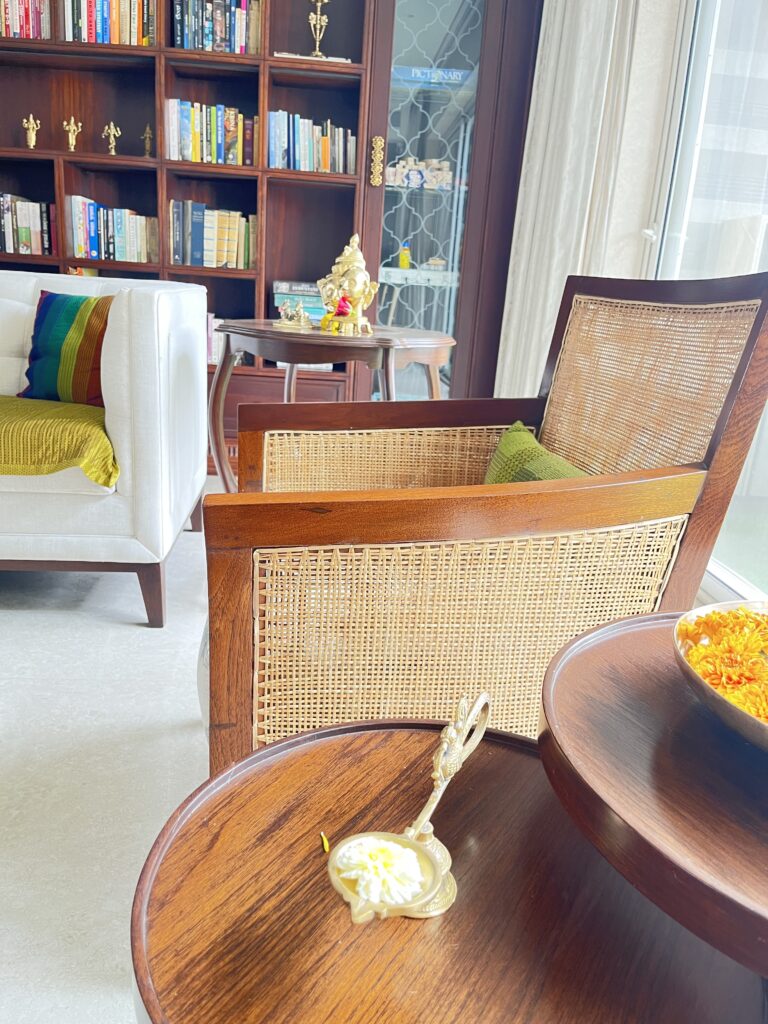 Key takeaways
Here are some takeaways from Ranjana's decorating style
Innovative use of old stuff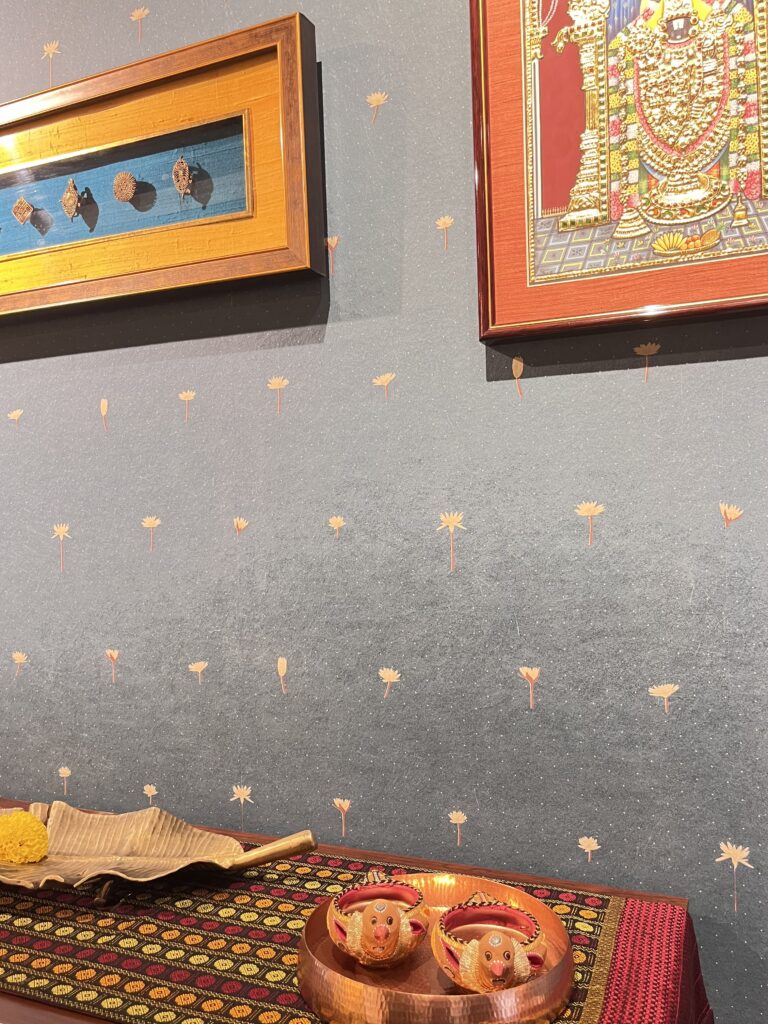 Ranjana's rather unique display of the Vishnu Pada and the mudras, is brilliant. In case you too have beautiful but unusable family treasures like these, do get inspired to create a lovely display that has both sentimental and intrinsic value to you and your family members!
Her love for circularity
Ranjana has peppered her home with purchases from old homes. The two Goan tables for instance, were re-homed from an old Goan home. The door/window below was brought similarly from an old wada house that was demolished. She also picks up old stuff from antique dealers when something catches her eye!

An easy way to switch-up upholstery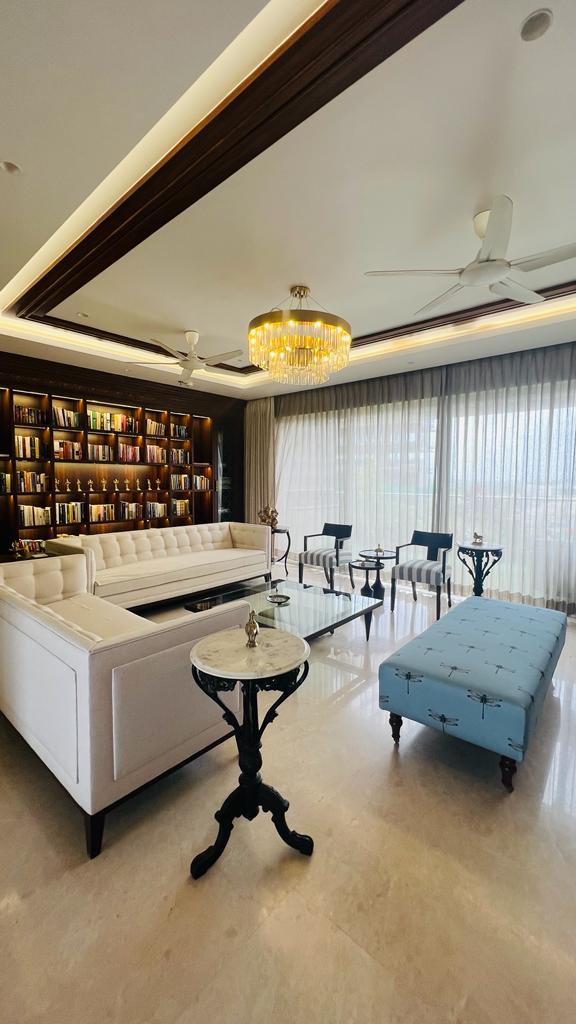 As mentioned earlier, Ranjana's settee has very contemporary upholstery with a dragonfly print on it (pic above). This Diwali she got an easily removable upholstery (pic below) cover made for the settee, for a more Indian vibe. This way, she can switch between contemporary and Indian festive decor as the situation demands.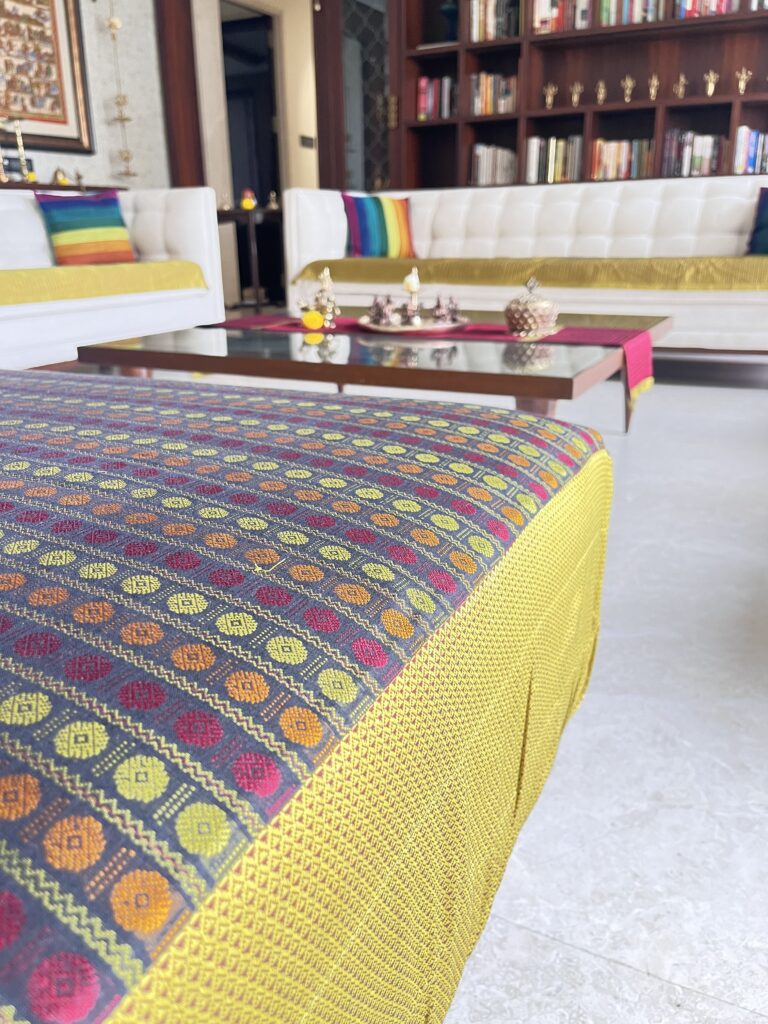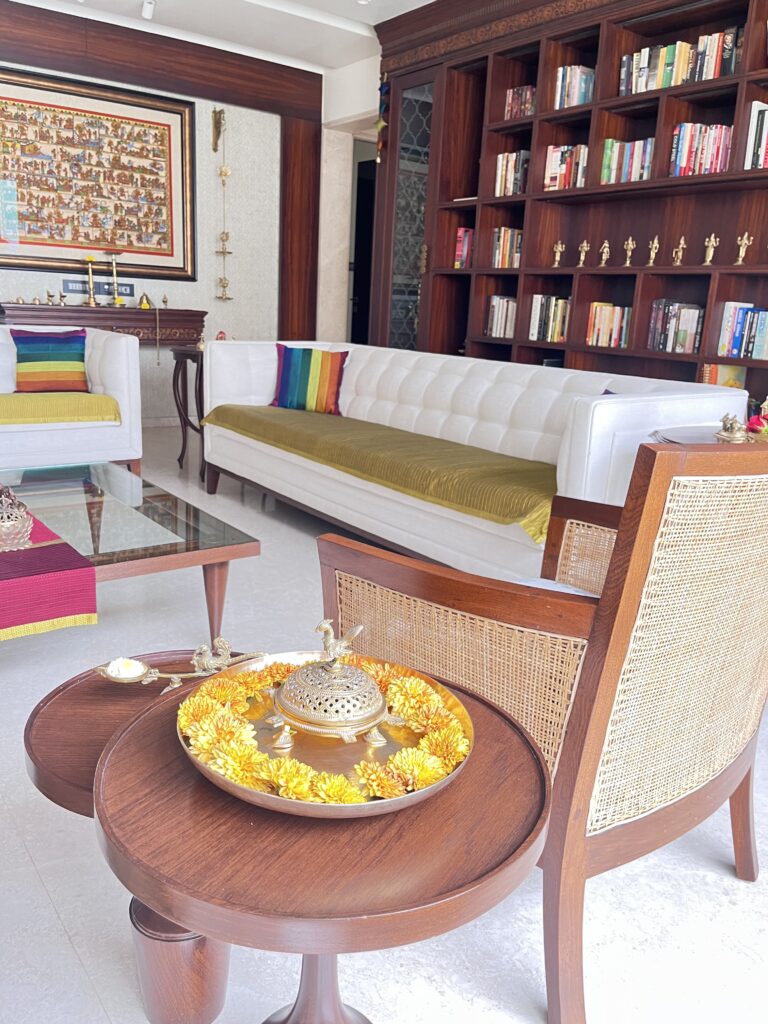 Another festival hack is to use banana leaves in decor. This backdrop sure looks stunning!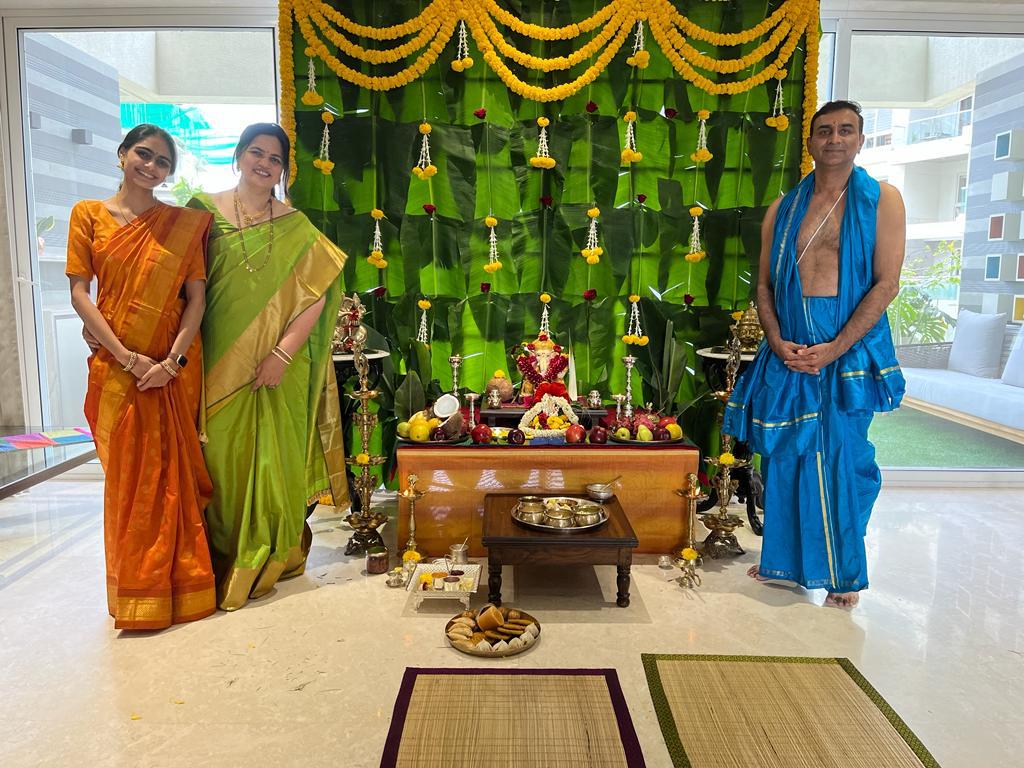 And finally…
I leave you with some of my favourite views of this charming home!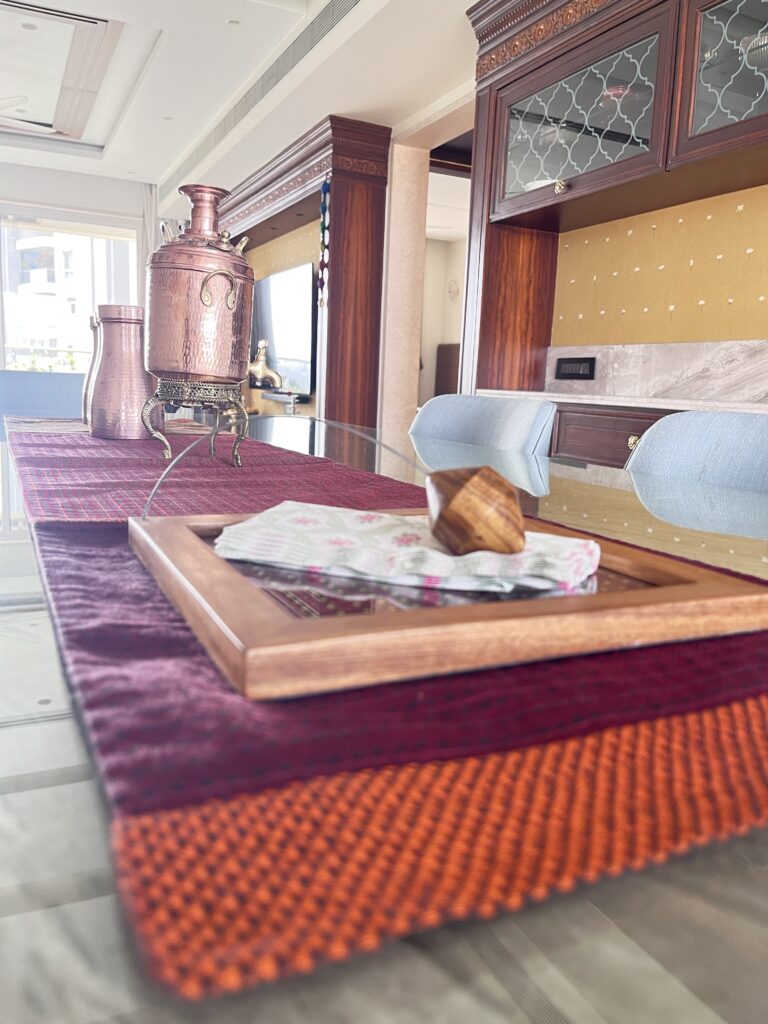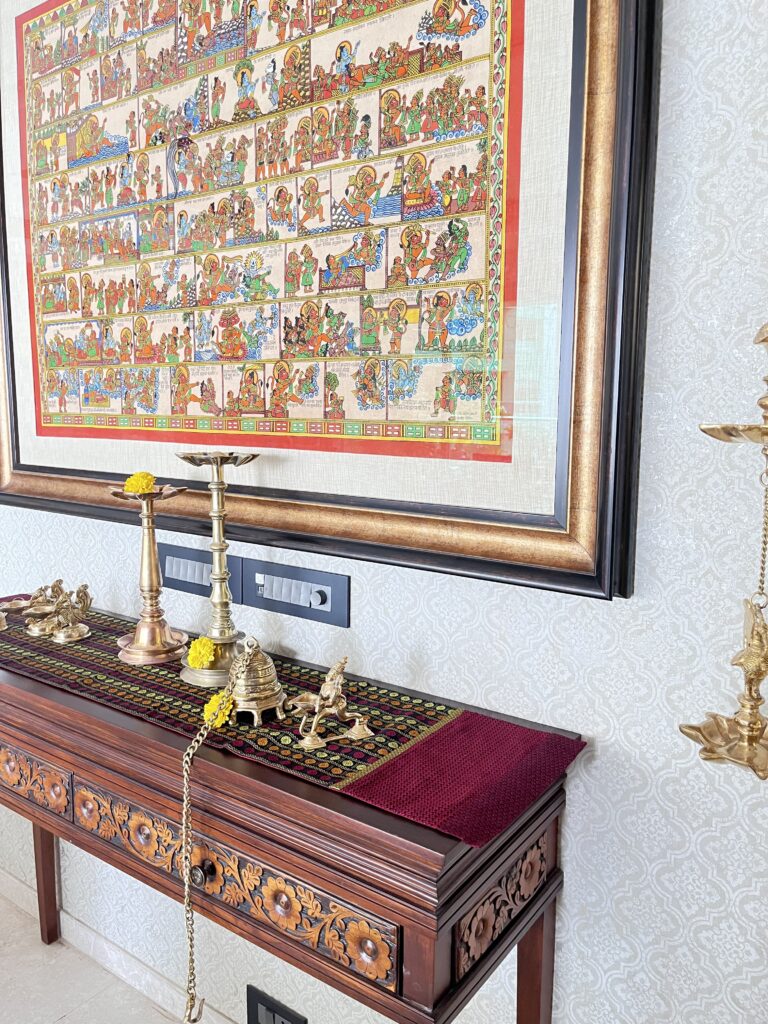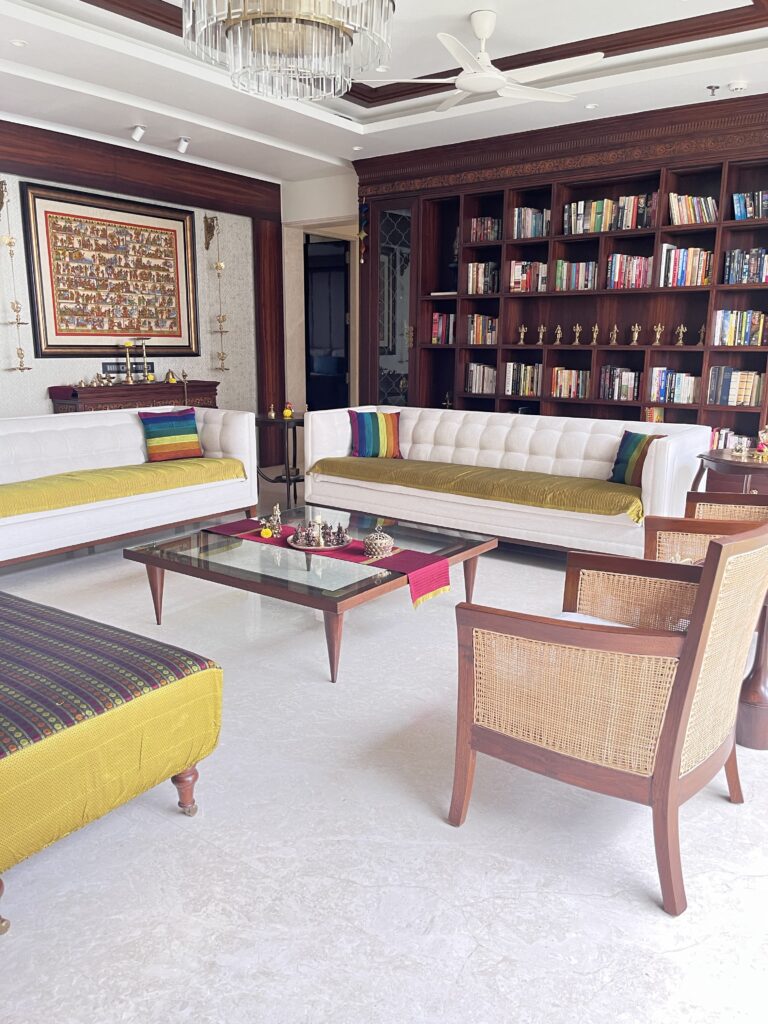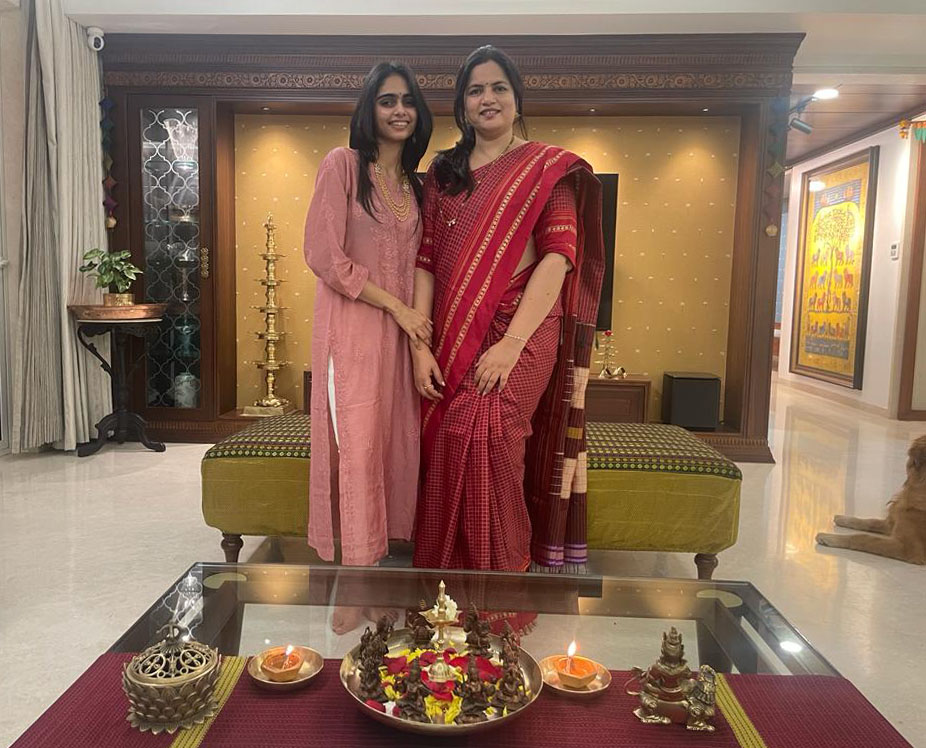 Thank you to Ranjana and her family for having me over, and for being such gracious hosts. I particularly enjoyed the company of her two Golden Retrievers, Pickles and Cookie! Here's a pic of us!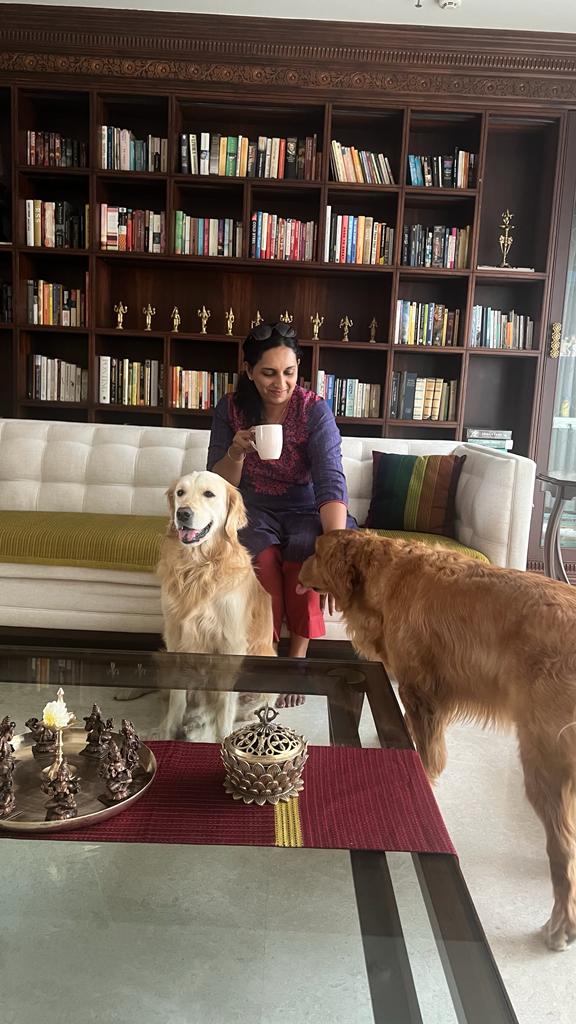 Follow this Pinterest board
In case you want to pin these images on your Pinterest boards, just click here. We have already created a board on Pinterest and all you have to do is follow it, or pin from it!
Interested in more Indian home tours?
Check out these beautiful Indian homes from around the globe featured on our blog!