This is a tour of Meena Harish's home.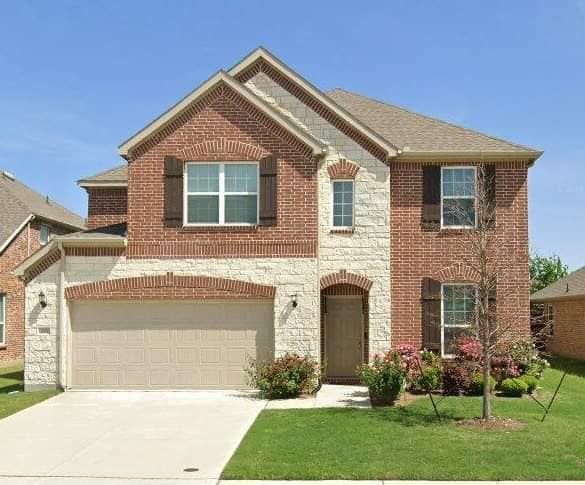 Location: Dallas, Texas
Home: A 3500 square foot 2 story home, in a 6000 square foot property.
Residents: Meena Harish, her husband, their daughter and pet dog
An Indian home in the US, one I am happy to curate as it belongs to a lovely person Meena Harish, who I consider a good friend! Over to Meena!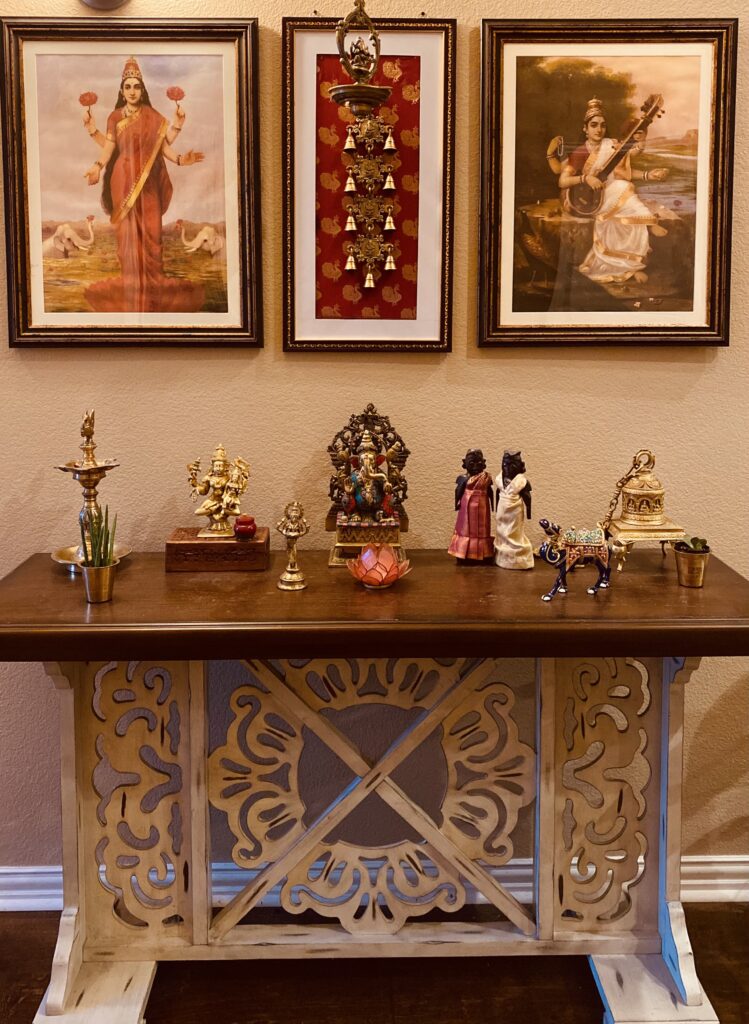 All my decor has been curated or handpicked. Ranging from the streets of India to customized pieces from boutiques, some amazing Instagram sellers, and custom made by carpenters and heirlooms too!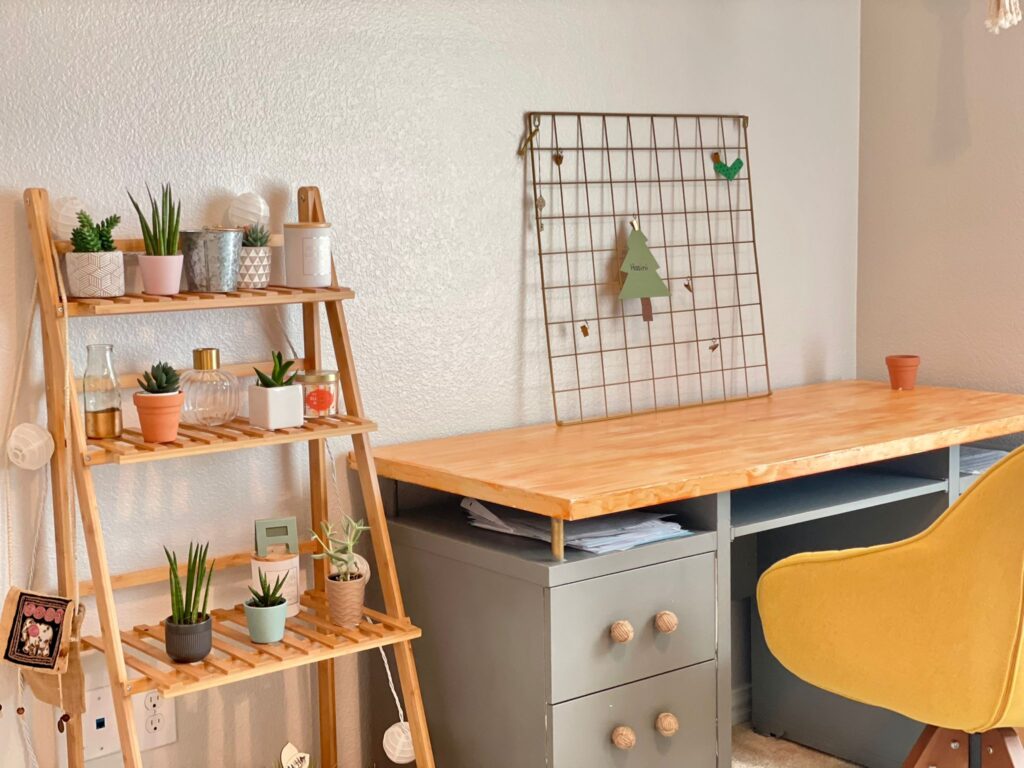 I love to do up a space having the person's interest in mind as the key factor.
I have helped friends and family do up their spaces, in styles they like. I would call my Decor style as transitional. However, Ethnic Style excites the Indian in me the most. I have done Ethnic, Boho, Vintage-Modern, Glam and Sophisticated-moody aesthetic in each room of the house.
I am a true believer of 'Your home is a reflection of you'.
Colors excite me; I am all eyes for carved wood, beautiful brassware, stone sculptures, antiquated heirlooms and simply all things aesthetically appealing. I put my heart and soul into transforming my house to a home. I have my heart set on home interiors and decor and this journey has been therapeutic
Let me take you around, room by room!
Entryway:
In the entryway, there is a framed kolam/Rangoli sticker in a $1 picture frame from the dollar store here alongside a Pichwai cow painting from a boutique seller. I have used a traditional brass cooking pot as a planter. The plant bench has a story of its own, that you will read about later in this post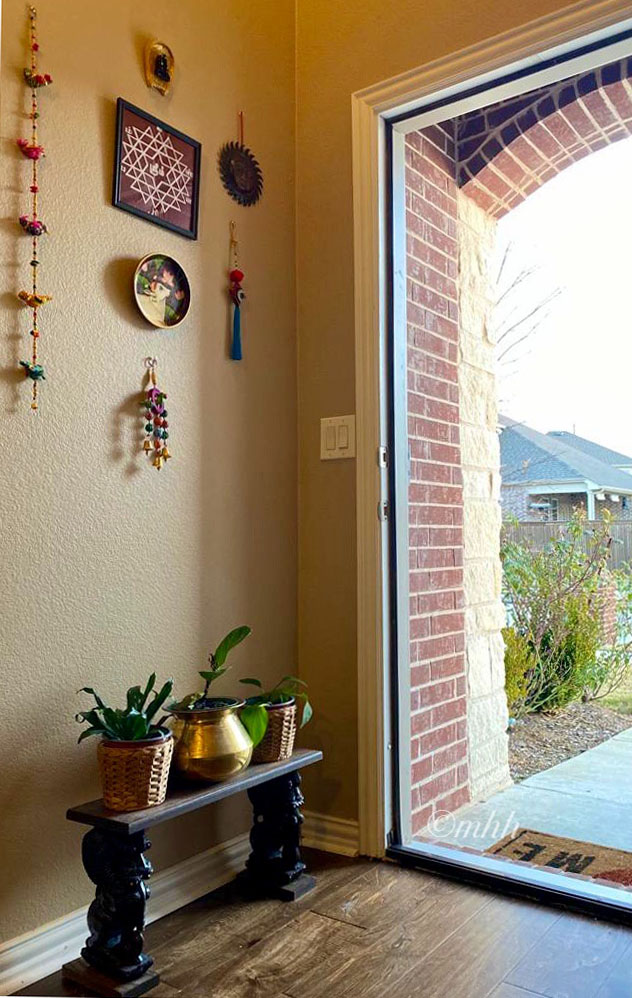 Foyer
I have tried to make the foyer elegant with a beautiful console and arty frames against a pastel wall. It is Indian, but unconventionally so.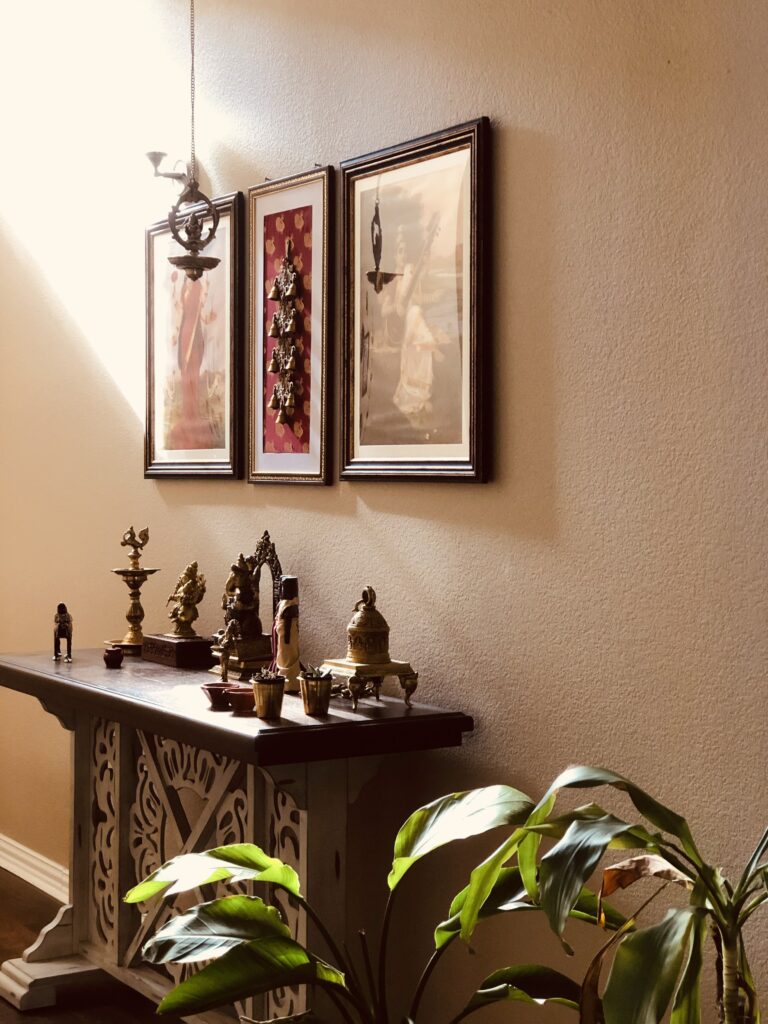 The Hallway
This area deserves a mention of its own. I have tried to make it a distinct sub-area, by playing with the paint colours and art work. This space is visible from almost every part of the house, and I was aiming for a pleasing view, no matter where you see it from!
Living Room:
The living room has a distinct Indian vibe. Colourful sheers carved wooden pieces, and a colourful chest that doubles up as a coffee table.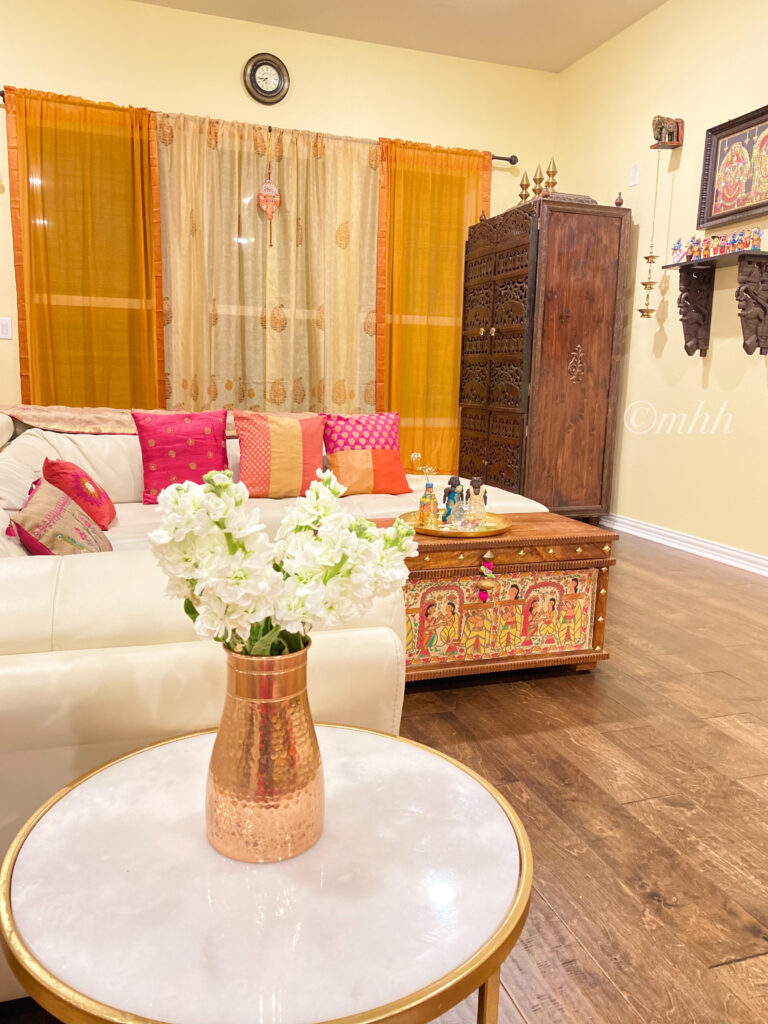 I picked an off-white sectional sofa so I could change cushion covers to have different looks. The coffee table is a treasure trunk on which a Madhubani painting is stuck to make it look unique.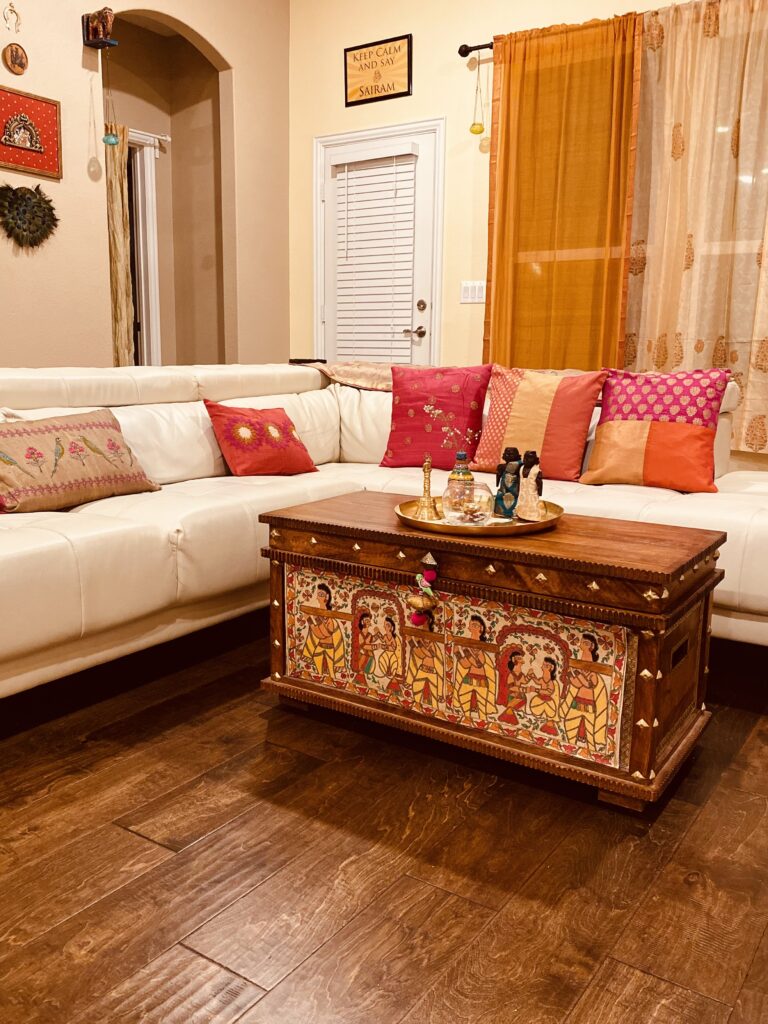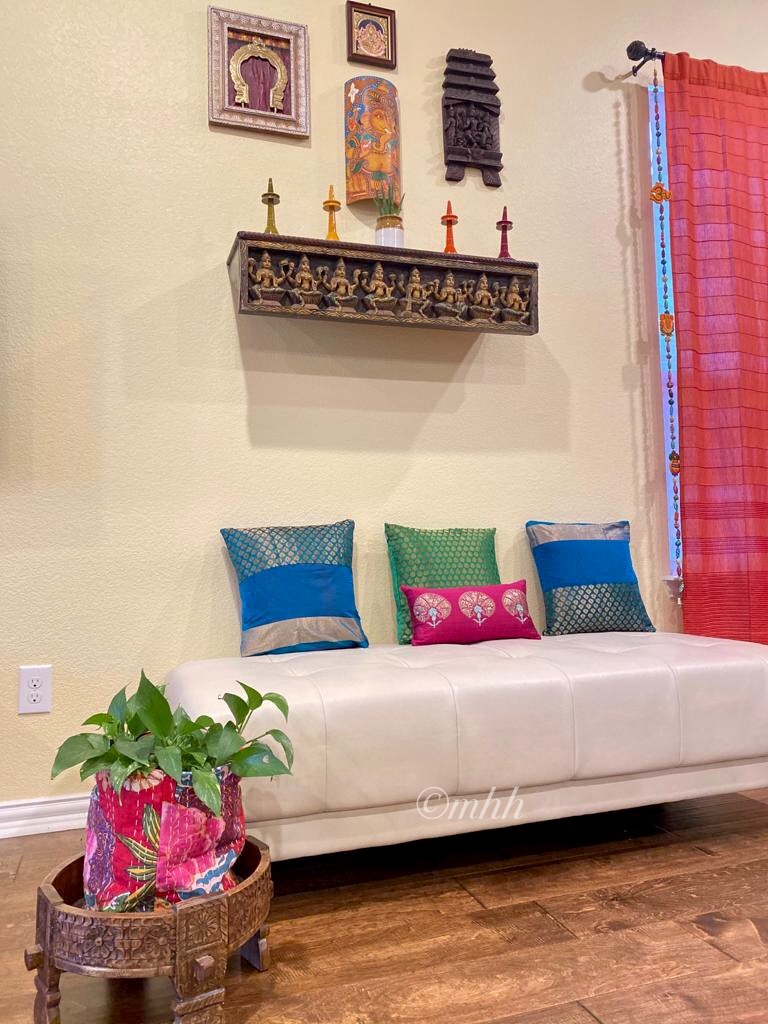 A Prabhavalli framed on a silk blouse fabric that belonged to my grandmother (who I am named after) Kerala mural Ganesha on a Bamboo bark, a carved kavadi and Lakshmi Tanjore painting adorn one of the walls
A piece of our past!
Now that you have seen this part of the home, I would like to share something that many of you may possibly be able to relate to! It is the story of these wooden panels that we carried all the way from India.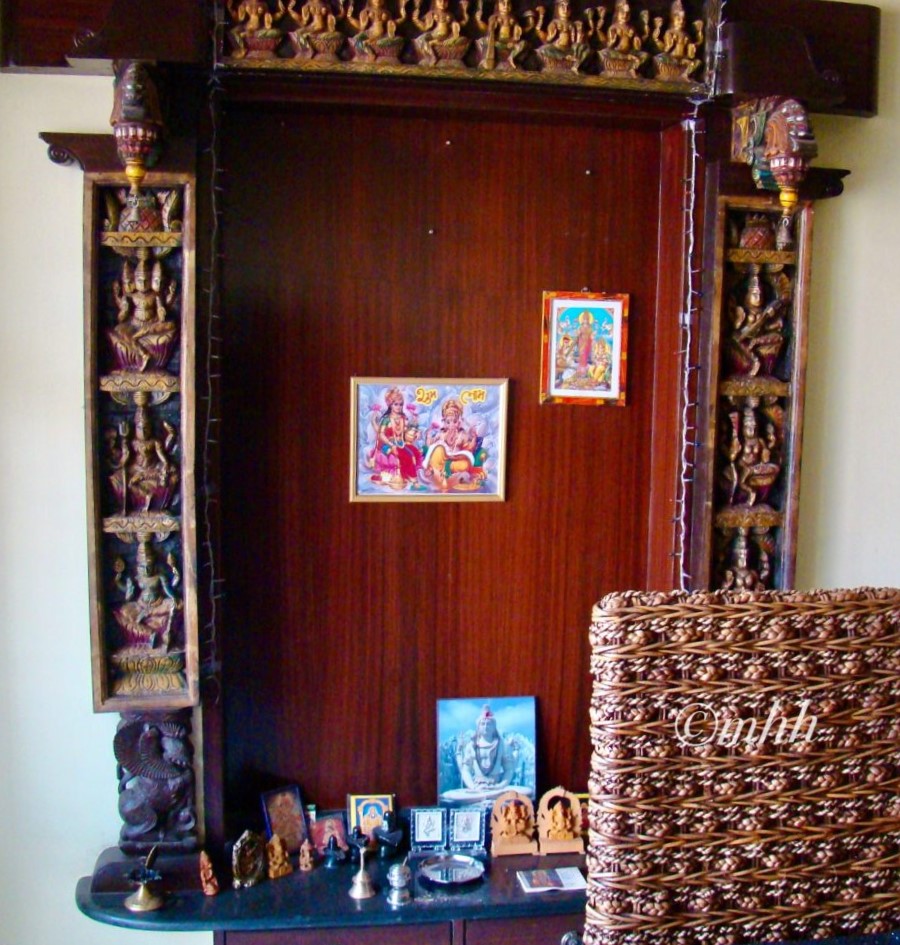 We bought our 1st property after marriage, an apartment in Bangalore 18 years ago. When we chanced upon some beautifully carved wooden panels in Isckon temple, Bangalore, I knew that moment that would be our Pooja room.
On a 2 wheeler, my husband and I drove up and down with rain showers, from 1 end of the city to another and we brought home all these panels. Needless to say, this is priceless.
When, we sold that apartment, 10 years later, the buyer willingly let us have all of that. My husband dismantled, carefully packed and flew them here to US.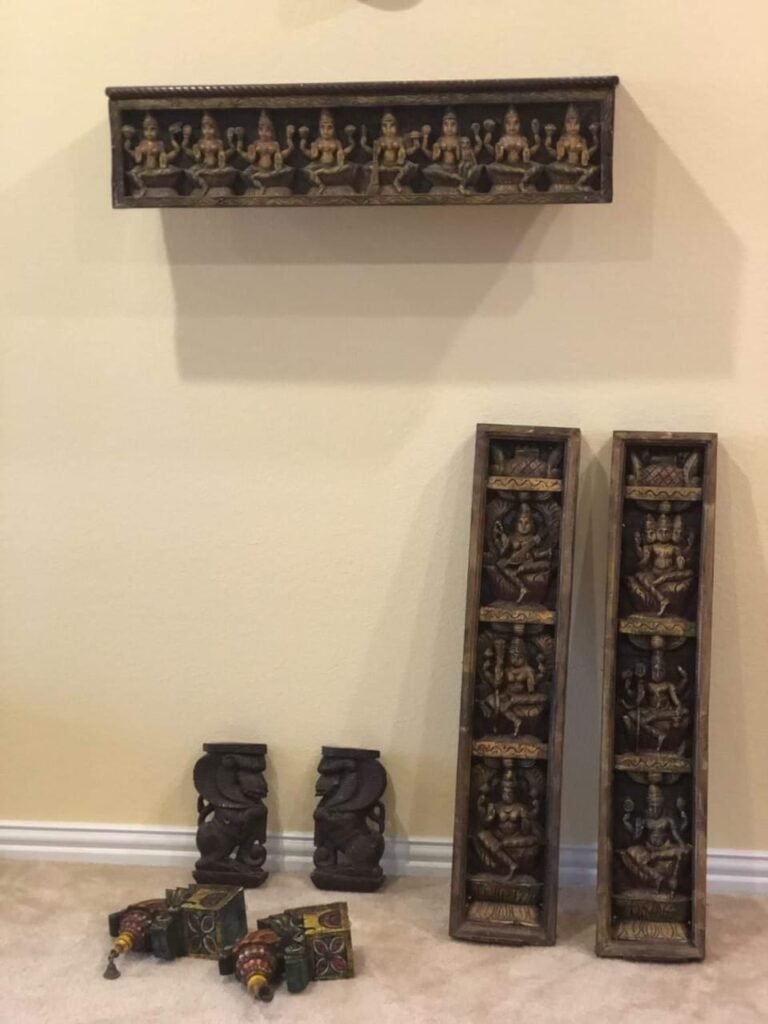 The images below show how they have been repurposed!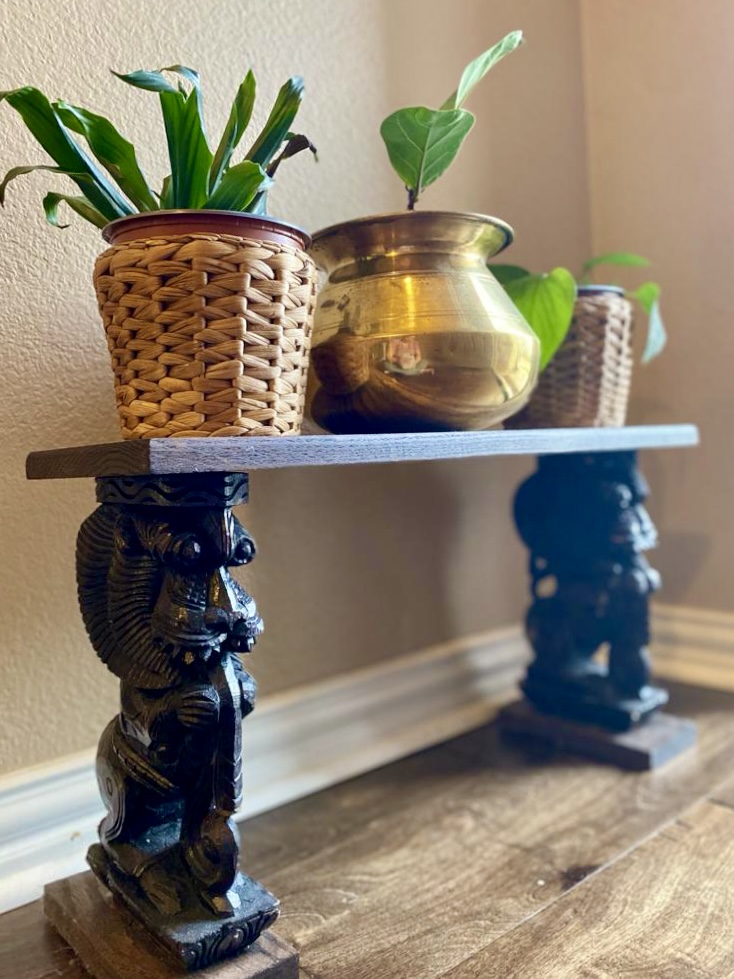 I have converted 1 panel to a wall ledge, used in living room, 2 corbels and 2 panels displayed in the Foyer and hallway. And, 2 Yaazhi (Yaali) brackets converted to a plant stand.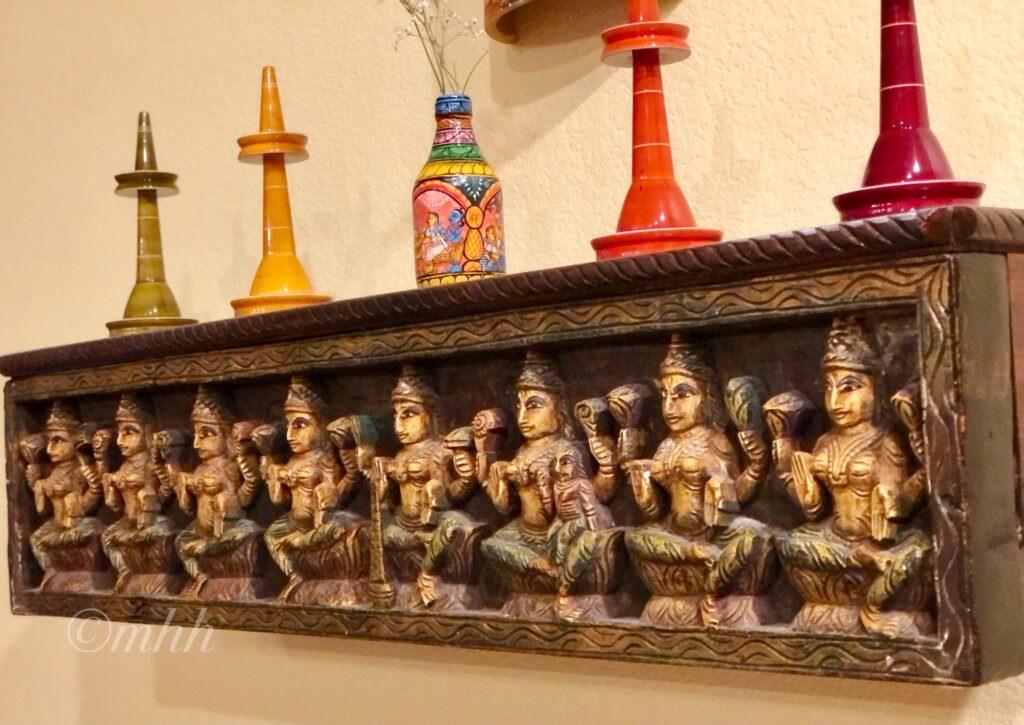 These top as one of my most treasured possessions. This is a full circle moment, thinking how they have found their way back to my hands, after over a decade. I am over the moon that we still own a piece of our 1st property.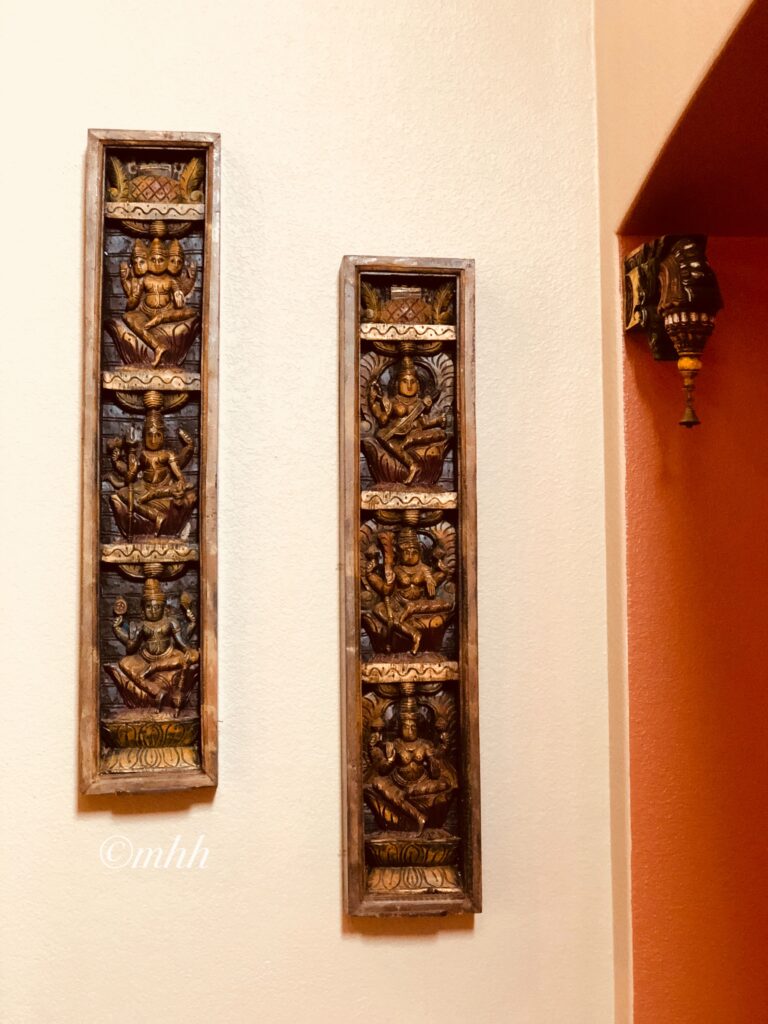 Dining Room:
The main living area is an open floor plan with my kitchen on the left, dining and then living area to the right. This is the dining space.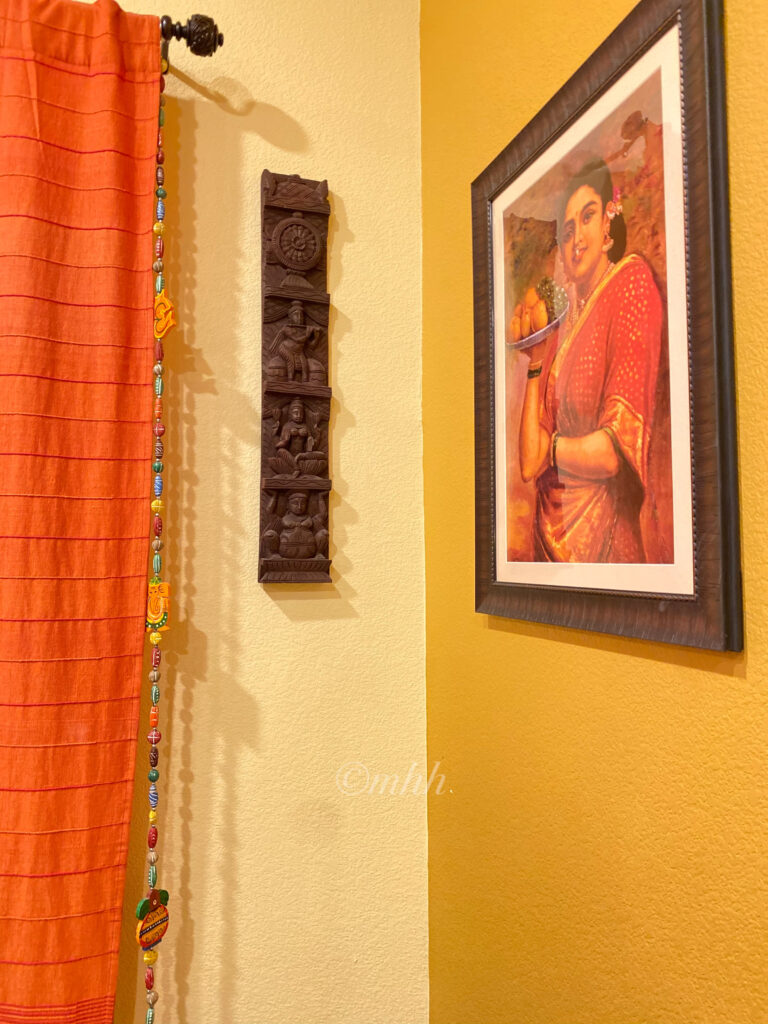 On the wall, you will find Ravi Varma's Maharashtrian lady, preserved Peepul tree leaves from the tree in my parents' house, Jamini Roy painting on a serving tray, Brass plates, Brass ladles, Goddess of food – Annalakshmi on a Tanjore painting and the Annapoorani brass statue.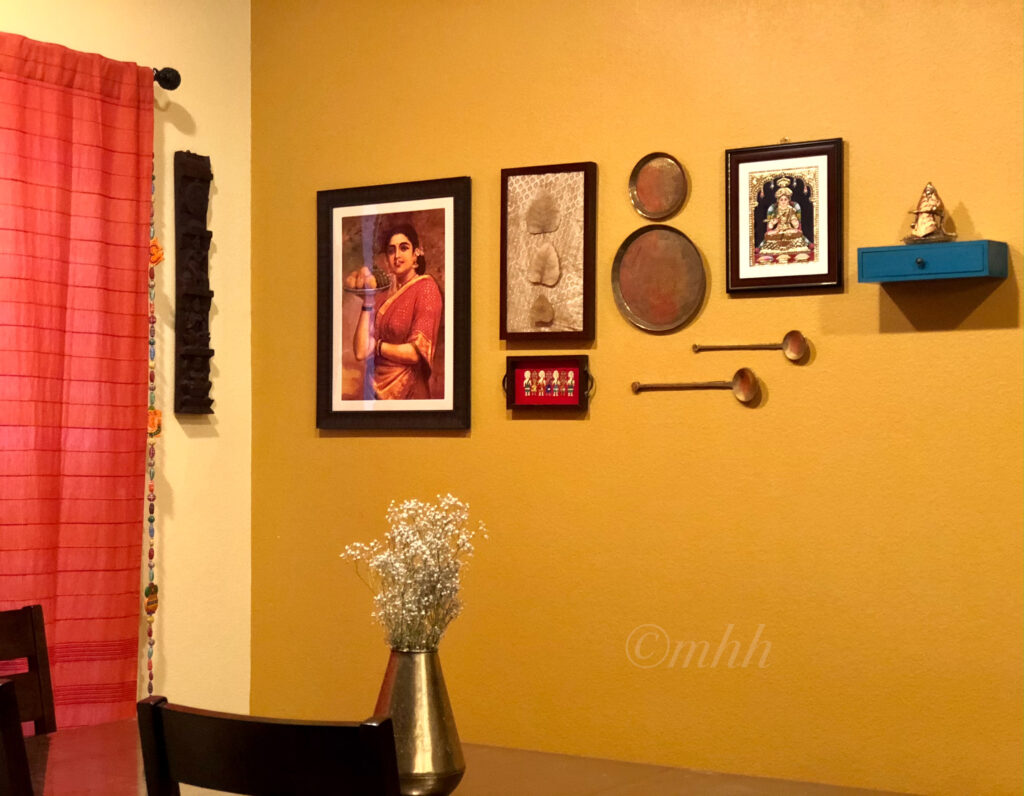 Game Room: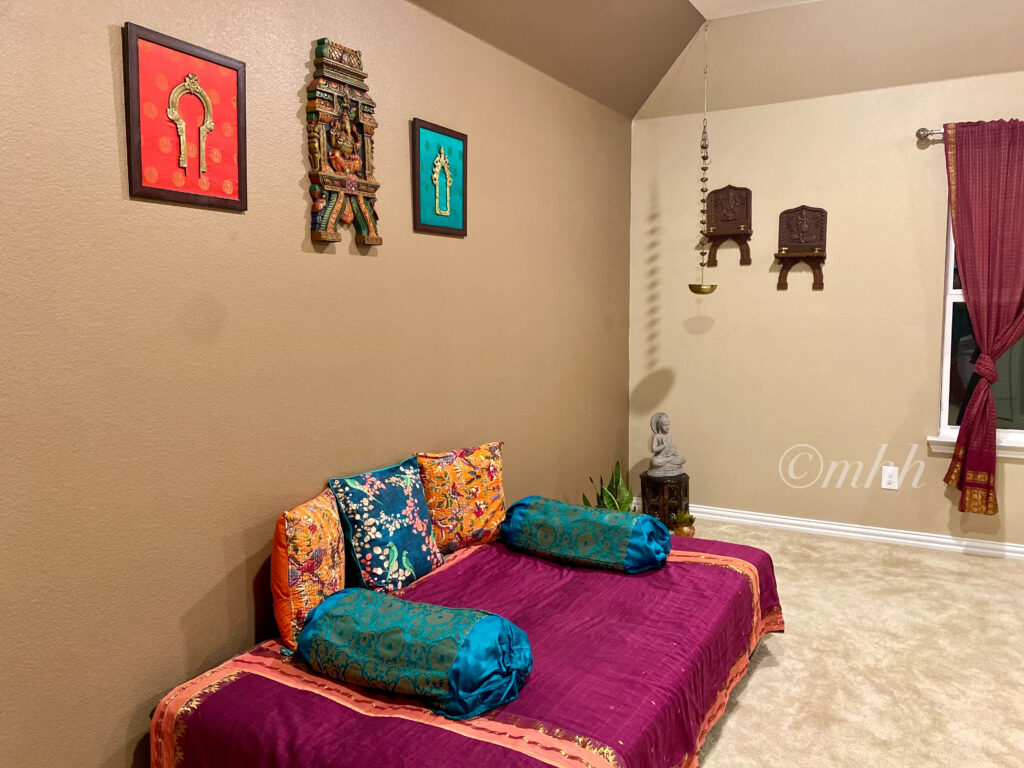 This is like a second living room upstairs, where an old mattress is used as a Diwan. I have added Bolster pillows, and a quilt made from my Mom's old saree. A Buddha statue in a corner and wood kavadi and a framed Prabhavalli on the wall.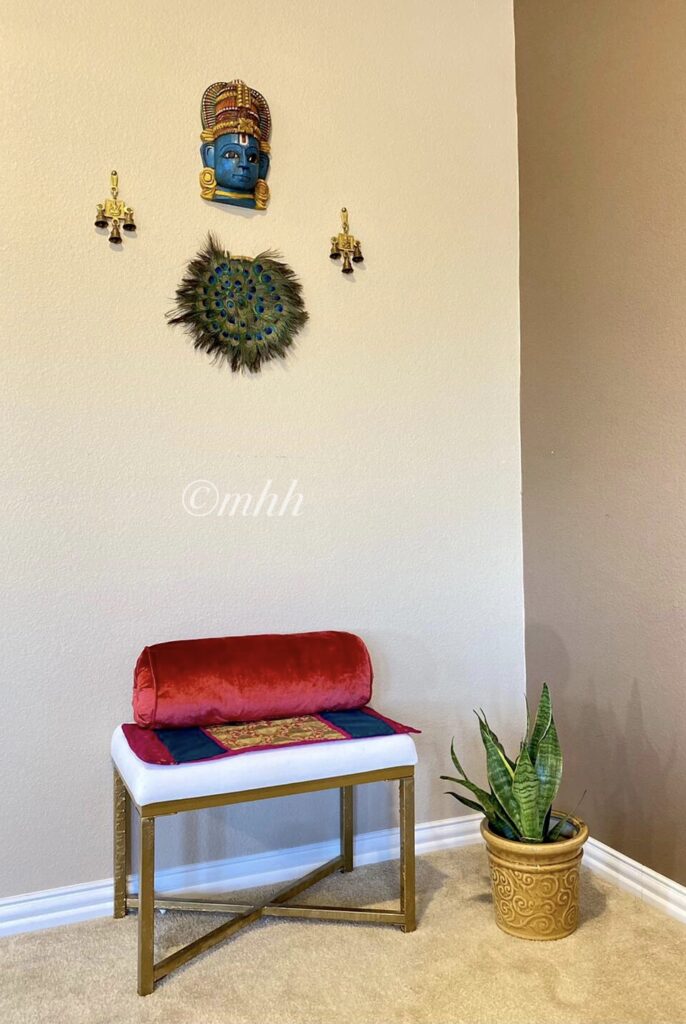 Kitchen: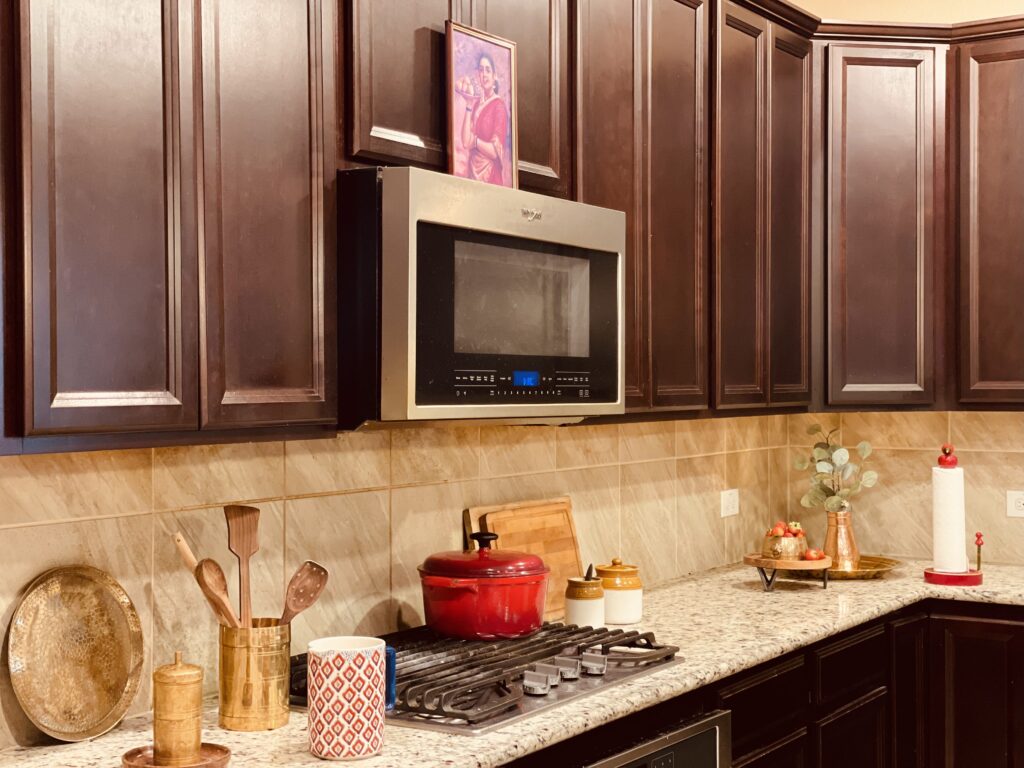 Who says your daily chores have to be boring? 😉 I spiced it up by adding colourful cookware, brass kitchenware, an Aloevera plant to come handy for burns in the kitchen and a framed Ravi Varma painting from our home in Bangalore.
Guest Bedroom:
Simple accents, Ravi Varma's Radha and Krishna paintings on the wall, block print pillow covers and block print throw.
Home Office:
This room was transformed during the pandemic when work from home started.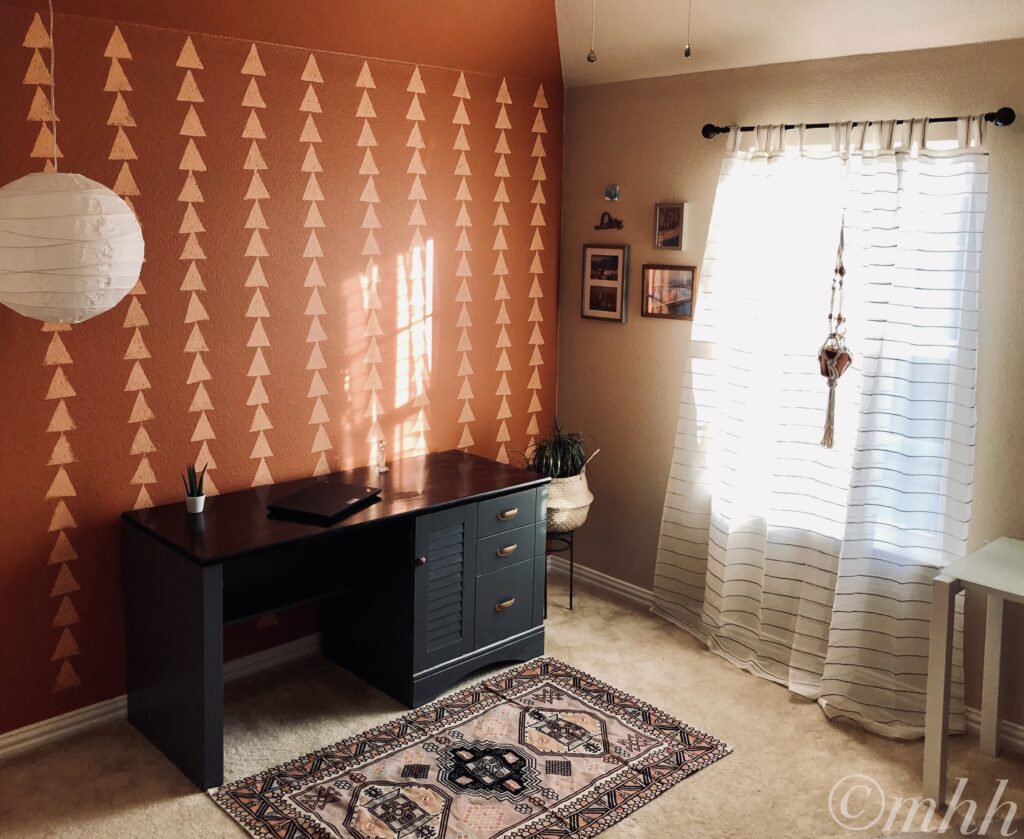 This was designed Boho style for my husband's office room at home.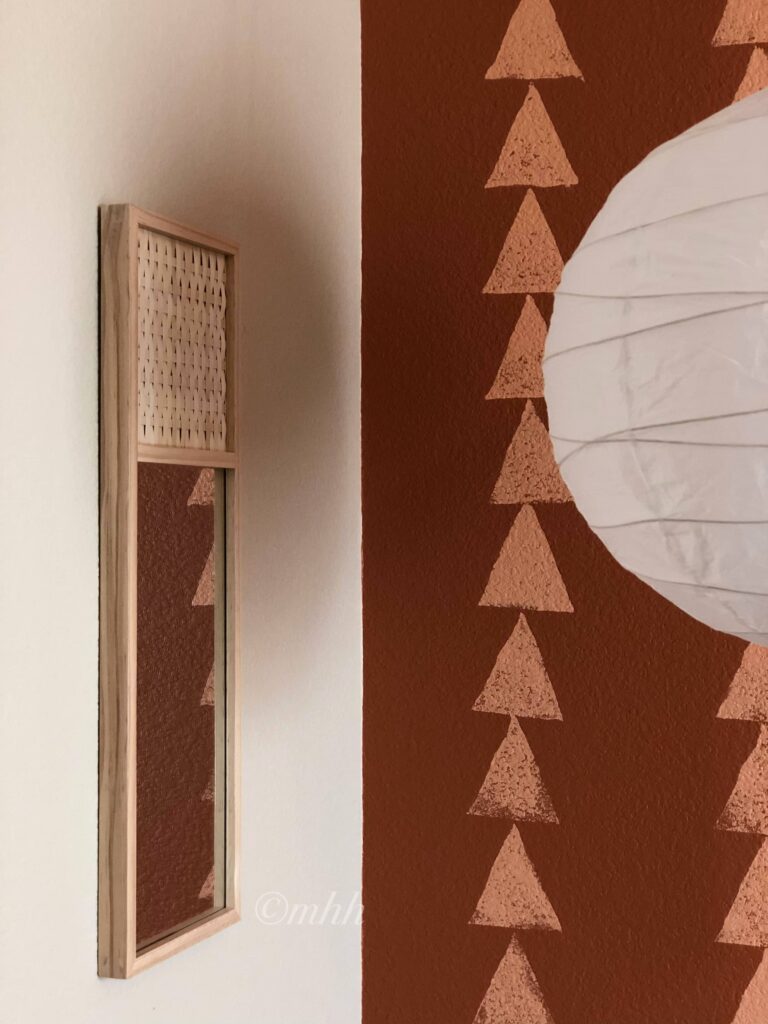 He loves maps, mountains and travel. So, I cut up a kitchen sponge in a triangle shape, bought sample paint and sponge stamped them on the wall, to make it look like mountains.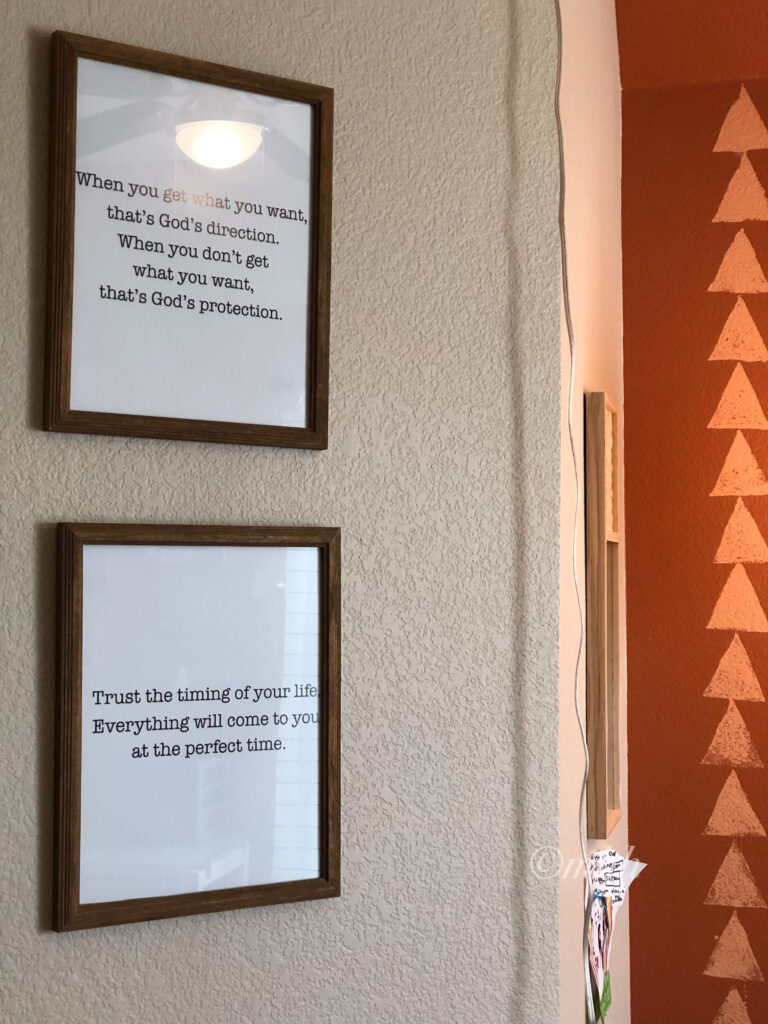 This was a under $10 wall make over.
I printed and framed pictures of scenic landscapes on the walls. We hung a globe-shaped paper (travel themed) lampshade. Added a $5 rug, jute lined curtains and the furnishings, and we were done. We also repainted his previous office table and changed a knob on the drawer.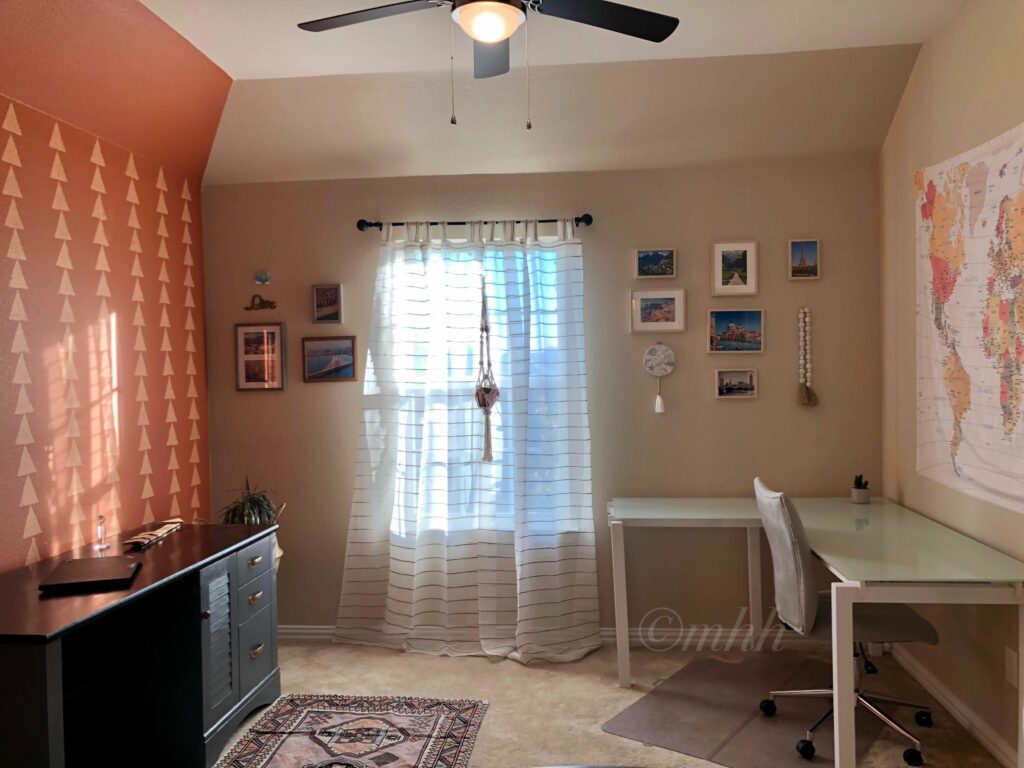 This transformation instantly had a positive effect on him. When we were all stuck at home, I brought the outside indoors.
Master Bedroom:
Painted in one of my favorite colours, Turquoise, I wanted to design it Peacock themed. Seen on the wall above the bed is a customized Banarasi Peacock in Pink from the renowned Architect Dipa Desai's product line, A beautiful Radha Krishna painting from Meenal (paintpotteryproducts).
I wanted to keep it symmetrical, seen are 2 lamps on either side on end tables. Above the lamps is a brass candle wall sconce and a cloth bag with Radha Krishna painting that I found in the temple streets of Madurai.
I love block prints. So, the quilt has a peacock feather motif block print and the curtains are custom made Tanjore Thalaiyaati bommai (dancing dolls) native to the state I am from, printed on Indian Zari-bordered Dhothi.
I wanted a moody sophisticated decor style and I was able to bring exactly that to this room.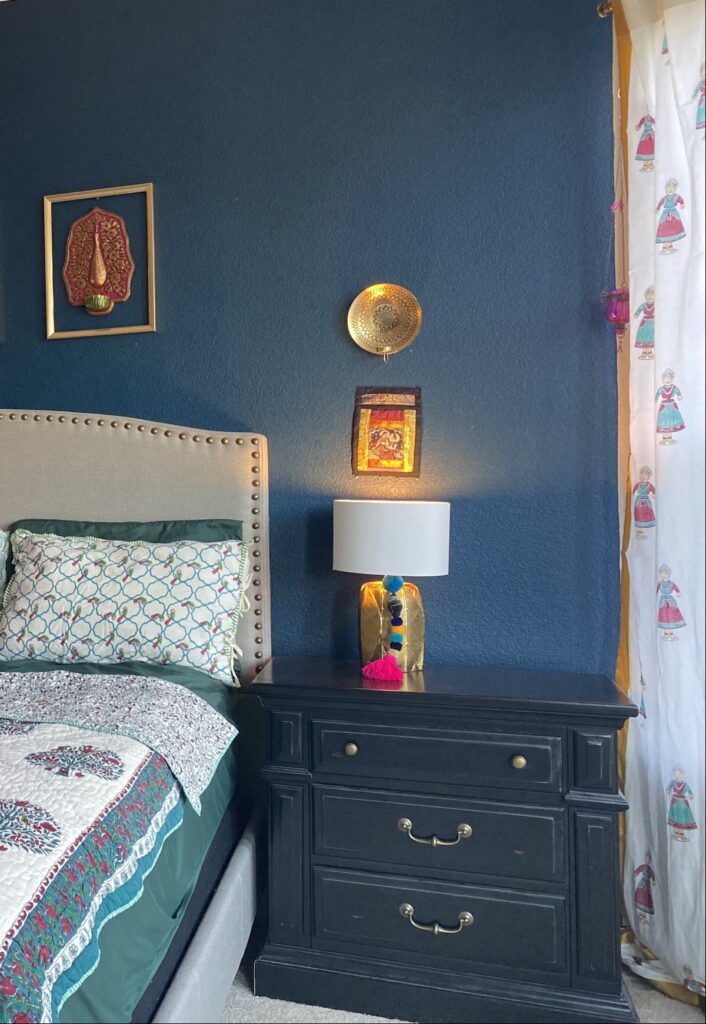 Pooja Room:
Growing up, we have always had a dedicated Pooja room in our home. To have a dedicated Pooja room outside India is a luxury and to have a customized carved one is not easy. So, I converted an elephant carved room divider that I bought in a store in US, into our pooja space and I am so fortunate to have found someone locally who brought my vision to reality.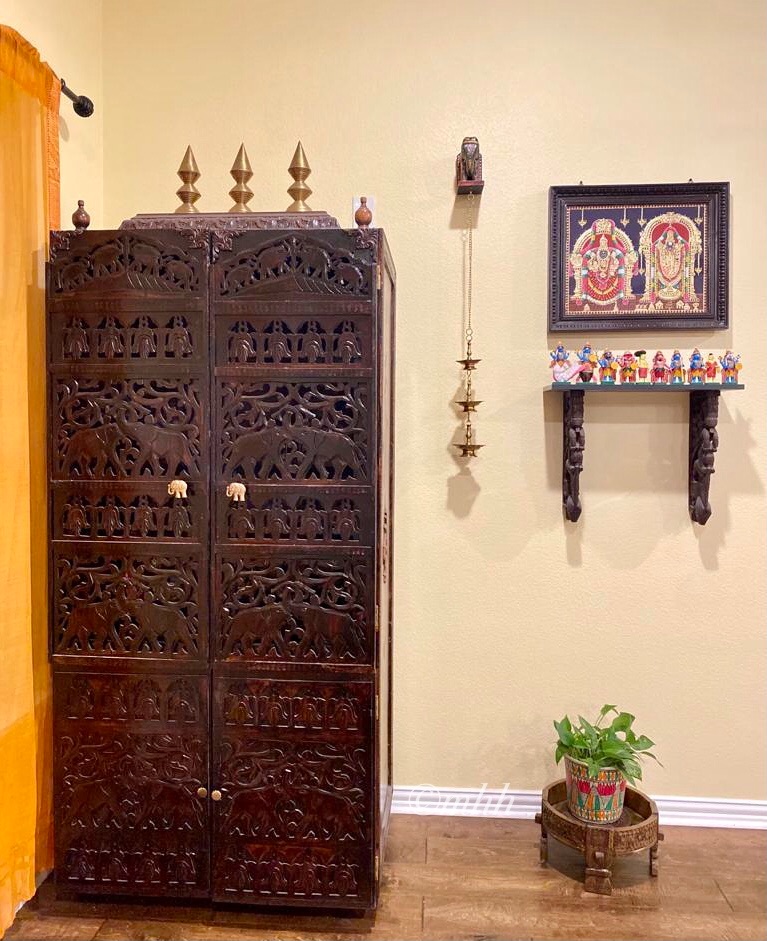 Also, I have added brass Elephant knobs gifted by a dear friend.
Kid's room (Royal Blue):
Royal blue was a bold colour choice made by my then 8 year old daughter. She wanted butterflies, Letter H, a canopy and an Eiffel Tower painting in her room. With that colour on all walls, I had to make it girly and glittery too. So, I did this as a surprise.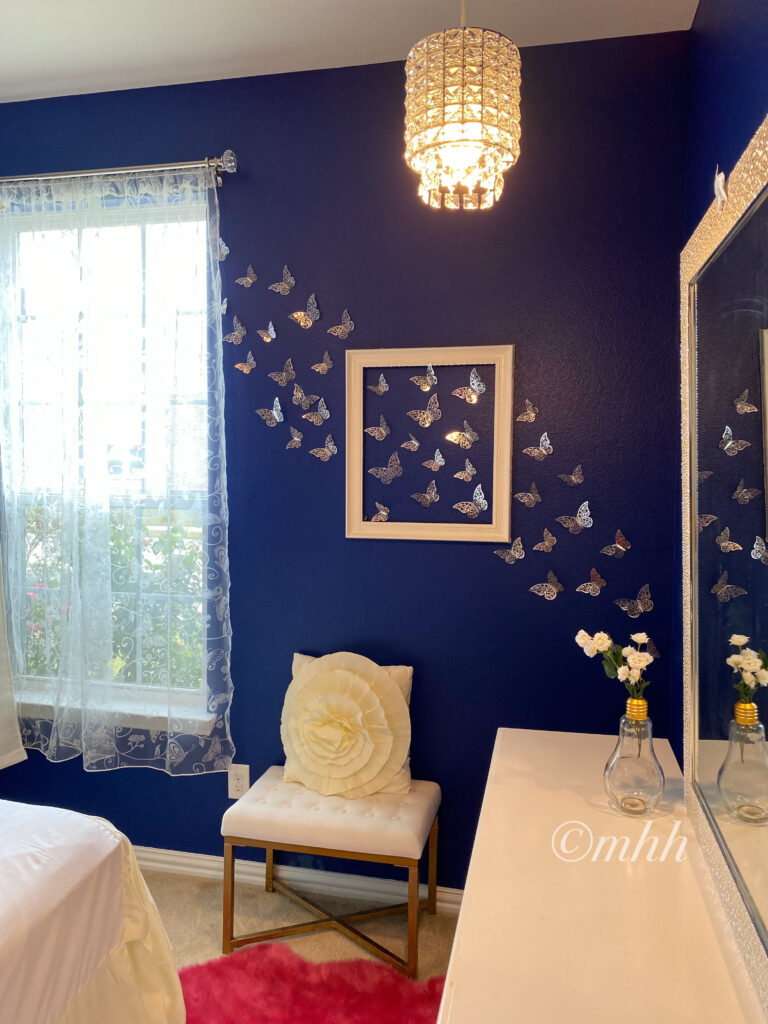 I accentuated with soft creamy white and silver accessories and soft furnishings, Stuck up 3D butterflies like they were flying out to the window and hung the lacy canopy over the bed that enhanced it to a dreamy girl room.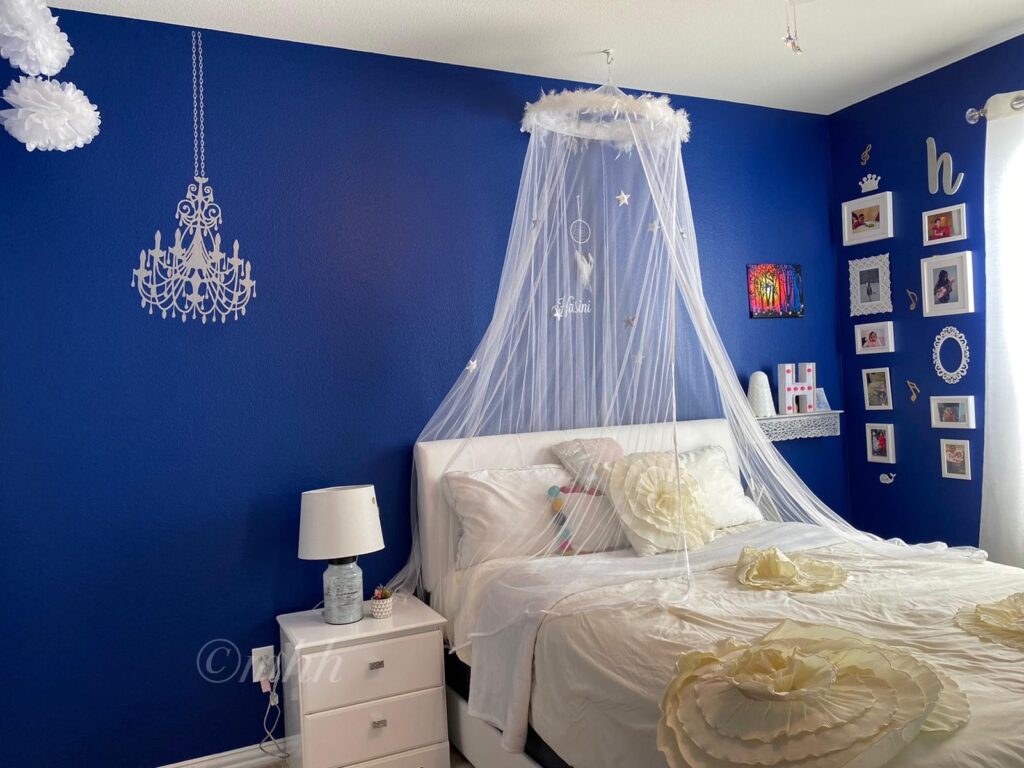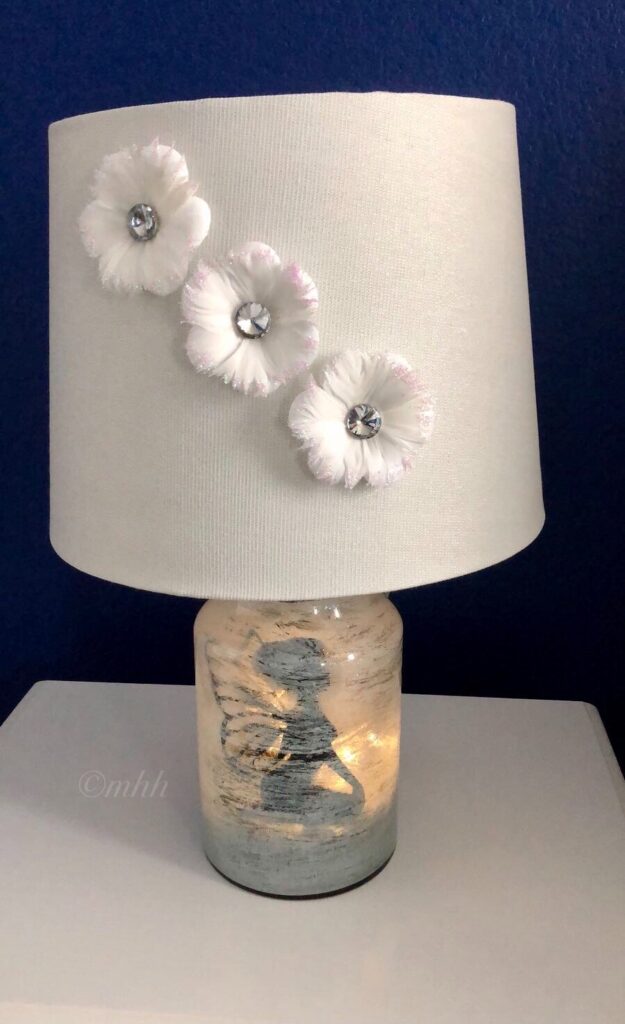 Play/Study Room:
The play-cum-study room had pastel pink, mint and gold for the bling and an accent striped wall.
On the wall was a Ukulele, a ceramic plate with my daughter's hand print and her pictures as an infant.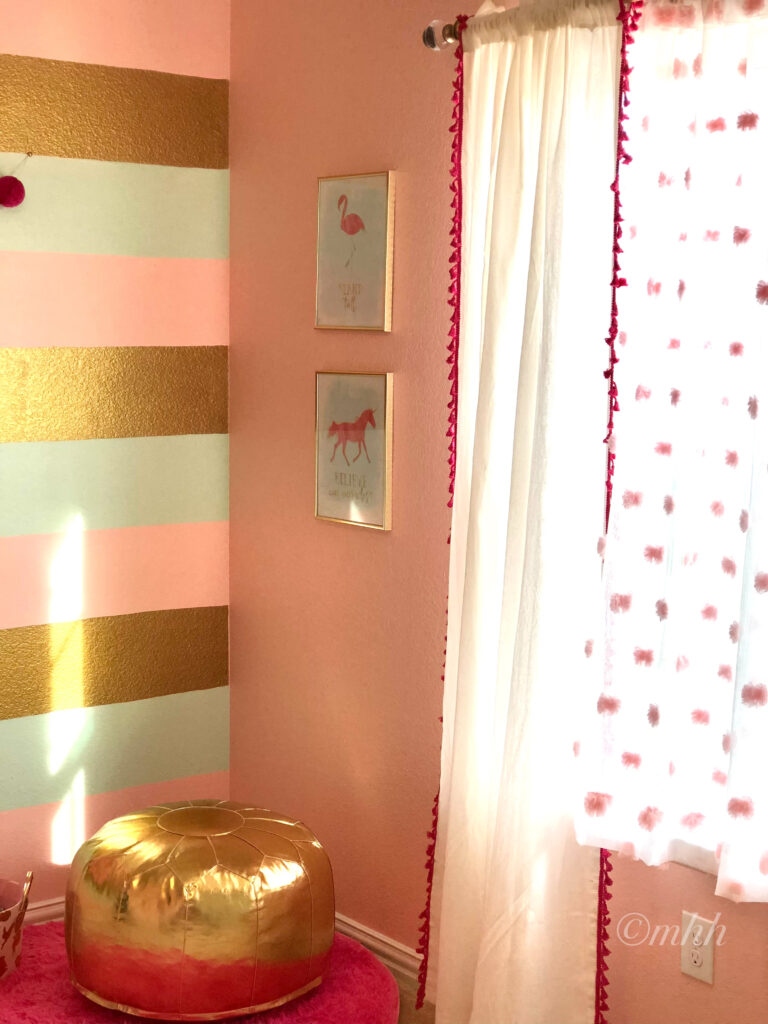 Teen Room:
That very same pink playroom room is changed to the Teen room now. We repainted after 5 years, and it was during the pandemic. The new paint is a dark grey accent wall and a very soft grey on the rest of the walls. I painted her study table to a medium grey. We changed her Crystal knobs to jute knobs, to suit this decor style, Boho-retro. Also, added a plant ladder, block print bedspread and a jute swing!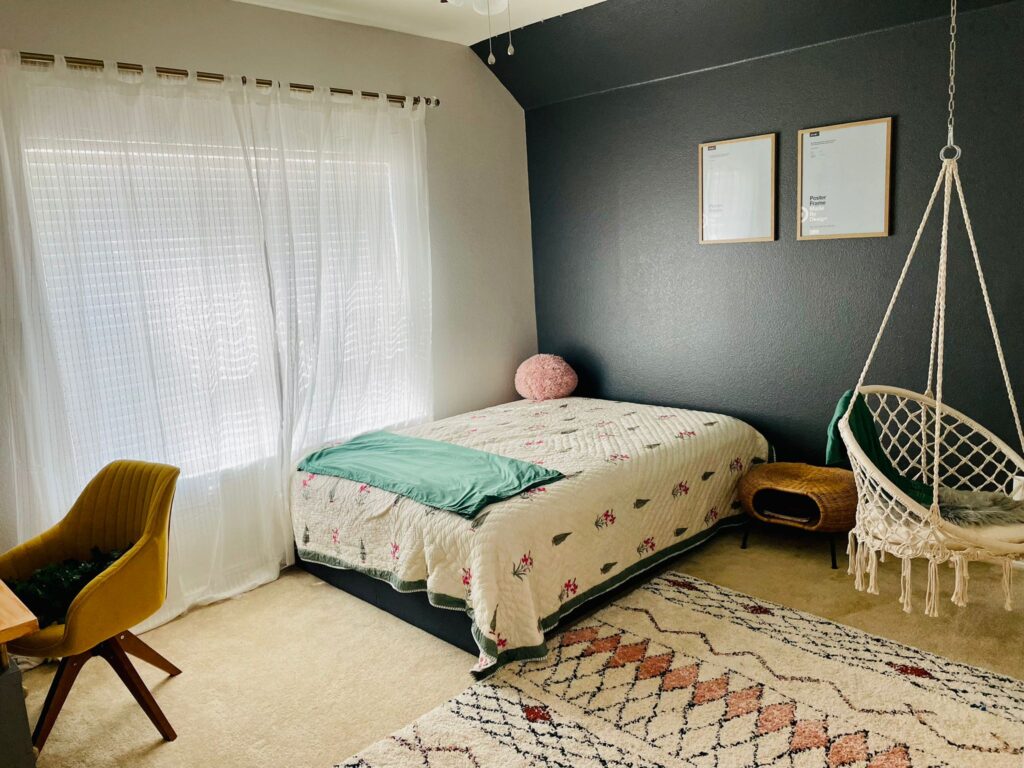 Don't be afraid to add colour and accents to your space/home. Decor does not have to break your bank or be expensive. I have found some amazing decor pieces on the streets of India for negligible prices.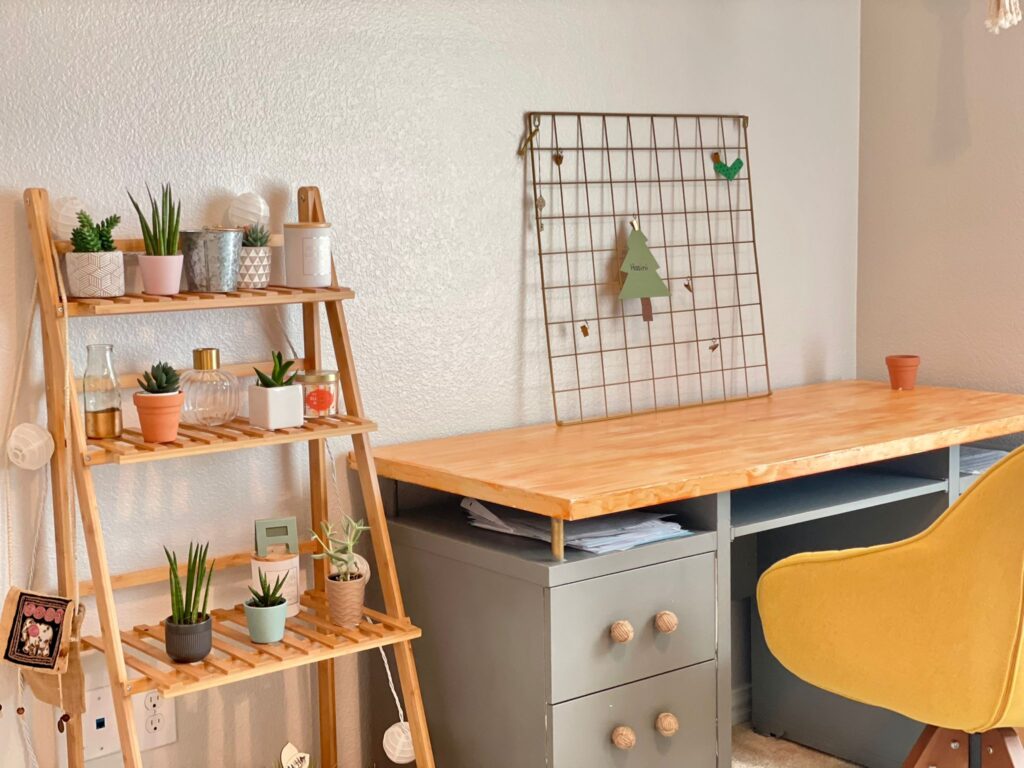 Transform a space to your taste for a cheery effect This will positively impact your mood and mental health. I know this, having transformed some corners in our home.
It's one life, live a colourful one!
Thank you so much Meena. It was a pleasure hosting your home tour on my blog!
Key take aways from this beautiful home tour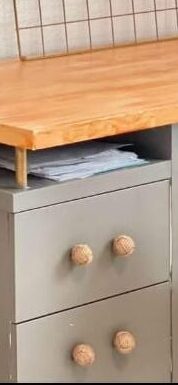 The most striking part of Meena's home is her passion for all things Indian. The home is interspersed with little memories and symbols of India, not easy to pull-off when trying to have a functional home that works for a lifestyle in the United States.
The biggest takeaway is the way Meena has repurposed the antique panels, and brought a piece of her time in India, to her current home in the US. I think the way the pieces were re-used in different areas of the home is something we can all get inspired from!
Not withstanding her love for Indian decor, Meena has aced her daughter's room and the play/study design in an edgy, contemporary way. laudable.
The use of colours is not random. From the pastels in the foyer, to the pops of colour in the living room, the bedrooms in blue – Meena's creative use of colours all over her home, without going overboard is something to learn from!
When it is time to do a makeover, a simple hack we learn from Meena is to change the knobs as well. Many of us repaint, but changing knobs on cabinets and study tables adds so more to the theme!


What did you like best about Meena's home? Let me know on Instagram or comment below!
My personal favourite from this home tour
It is customary for me to add my personal favourite at the end of every home tour. The huge fan of Vintage Indian Modern that I am, it is no surprise why I chose this. This living room photo absolutely encapsulates my fav ever home decor style!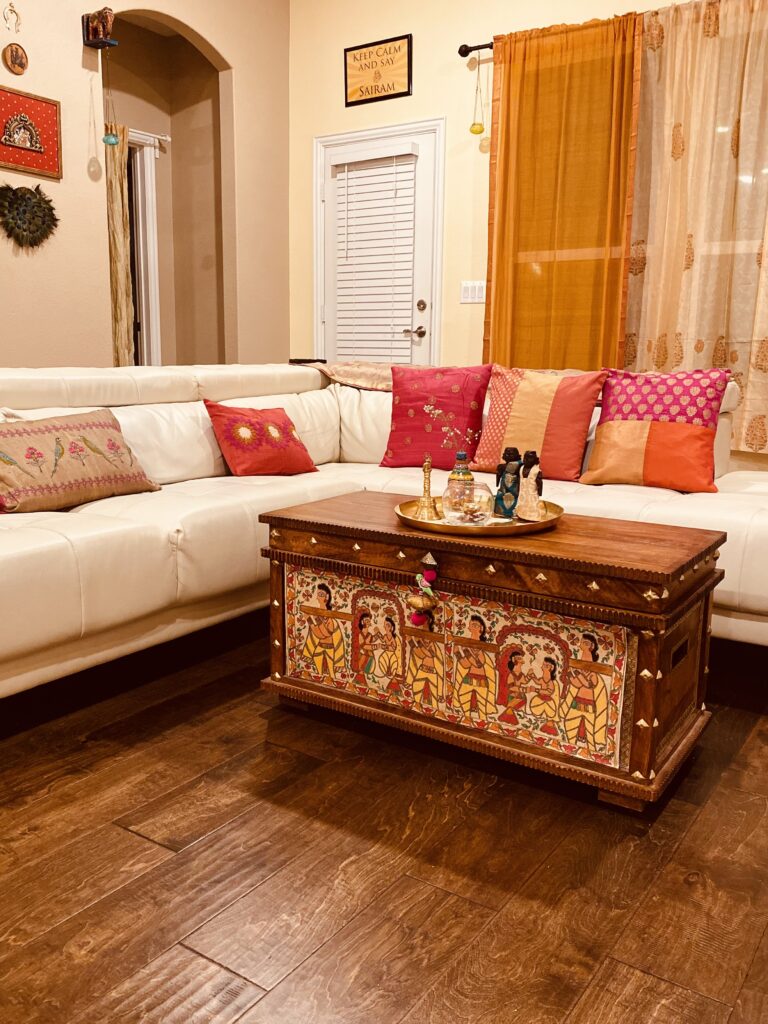 In case you would like to pin the images from this home for inspiration, do check out our Pinterest board! You could also follow the board for new updates from Meena, as she makes changes to this space.
Follow Meena on Instagram for regular doses of gorgeous decor pics.
Thank you!
Thank you for reading this blog post! In a world of fast content consumption…it means a lot that you stayed here to read the whole blog post!
In case you want to immerse yourself in more home tours, please bookmark this blog. You can spend hours browsing through some really amazing home tours. Here are some picks!