Hi! I am Sharon DSouza, co-founder of this blog! I absolutely love the beauty we find all around us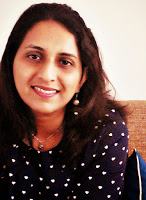 everyday. It's everywhere really. It is up to us to stop and smell the roses, and take time out to enjoy this amazing world!
I love simple and colorful design – the kind that speaks volumes about the people who use that space, and the kind that evolves over time.I'm also passionate about antiques and I absolutely love the combination of old and new in decor.
Over time this blog has evolved from solely decor to food, travel and lifestyle.

 The Keybunch and Me
The Keybunch is my place to relax, unwind and enjoy the little things in life. Whatever catches my eye, warms my heart and quickens my pulse, I share with you here.
I am always on the lookout for new spaces and  new products to feature, and designers and artists to interview, stories about sustainable living and healthy, wholesome food ideas. So if you want to connect regarding these topics, please go ahead!

Why do I blog?
I like making small moments spectacular, and this blog will have ideas and tips to help you do this too.
Homes are our 'safe places', families are special, so it's all the more important to lay claim to the space we call home, and make it our own. The key to a good space is personalization, and through my blog I try to inspire my readers to do just that. When I have a new home or space to blog about, it is difficult to contain myself – I dream about the space, and dream about what I am going to write about it. This excitement – a combination of my interest in living a meaningful, beautiful life as well as my interest in writing – is WHY I blog.