Us Indians have beautiful old treasures. With our close knit family structures, and large family gatherings, we have had the opportunity to visit our home towns and be an integral part of the family fabric throughout our growing up years.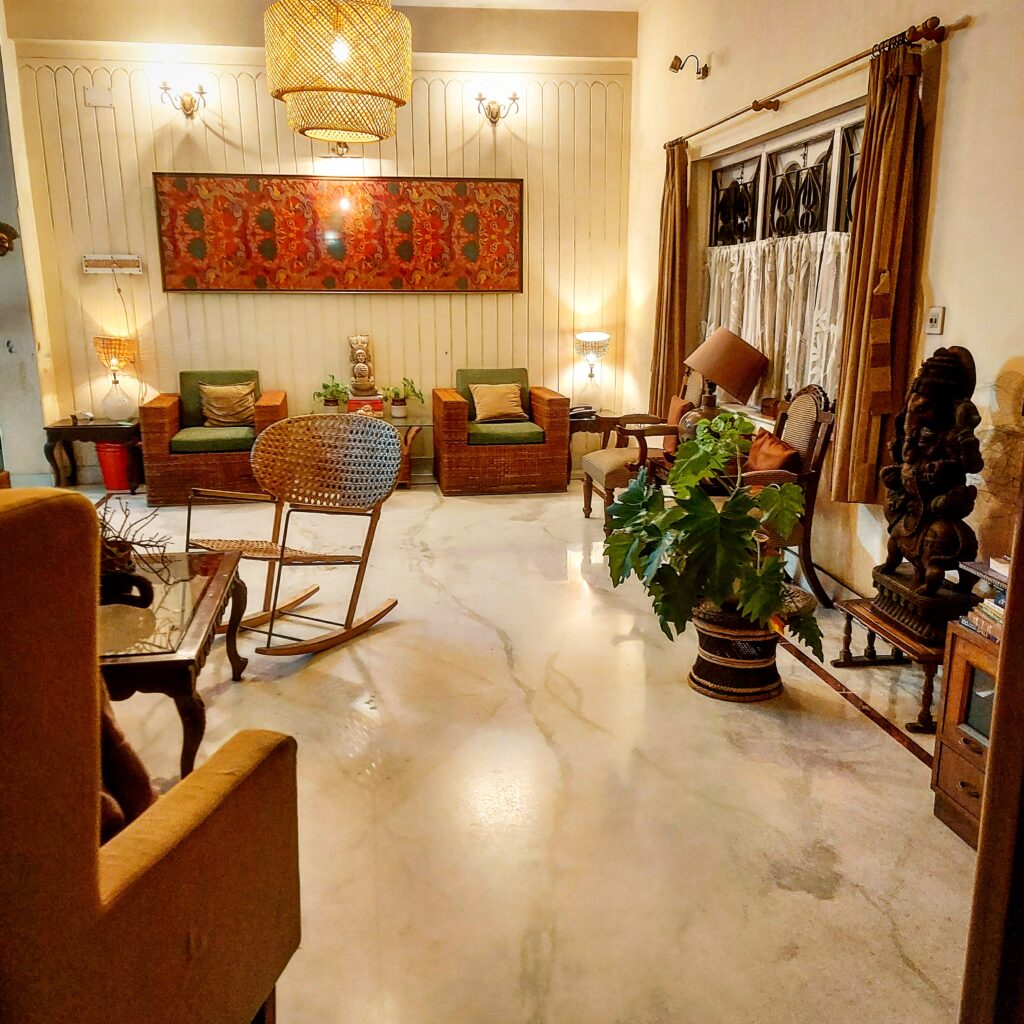 "Something old, something new
Something borrowed, something blue!"
This old saying is the perfect gist for the vintage modern style!
There are many in India who talk about mixing the old and the new, but there are few who have actually analysed it and bracketed it into a decor style coming into its own. Hopefully this post will help you, as I seek to cross that bridge!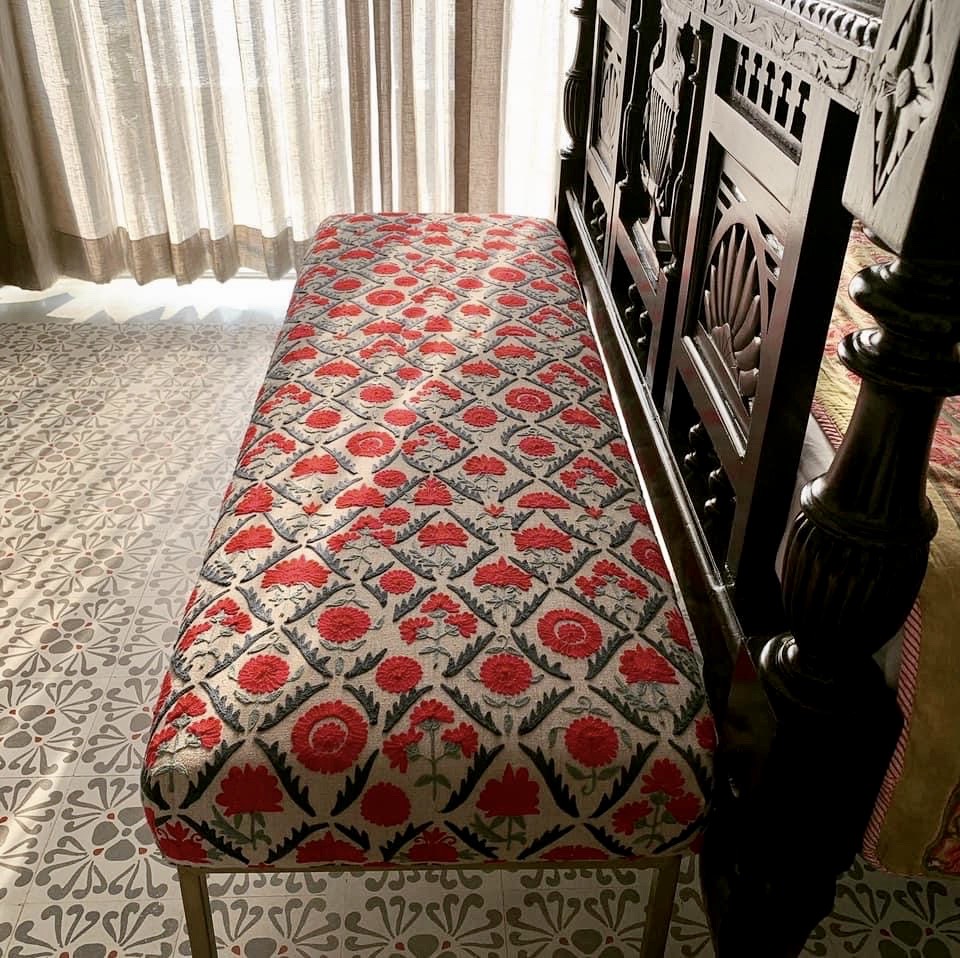 Tips for the Modern Vintage Indian look
Use a lot of brass and wood + a 3rd element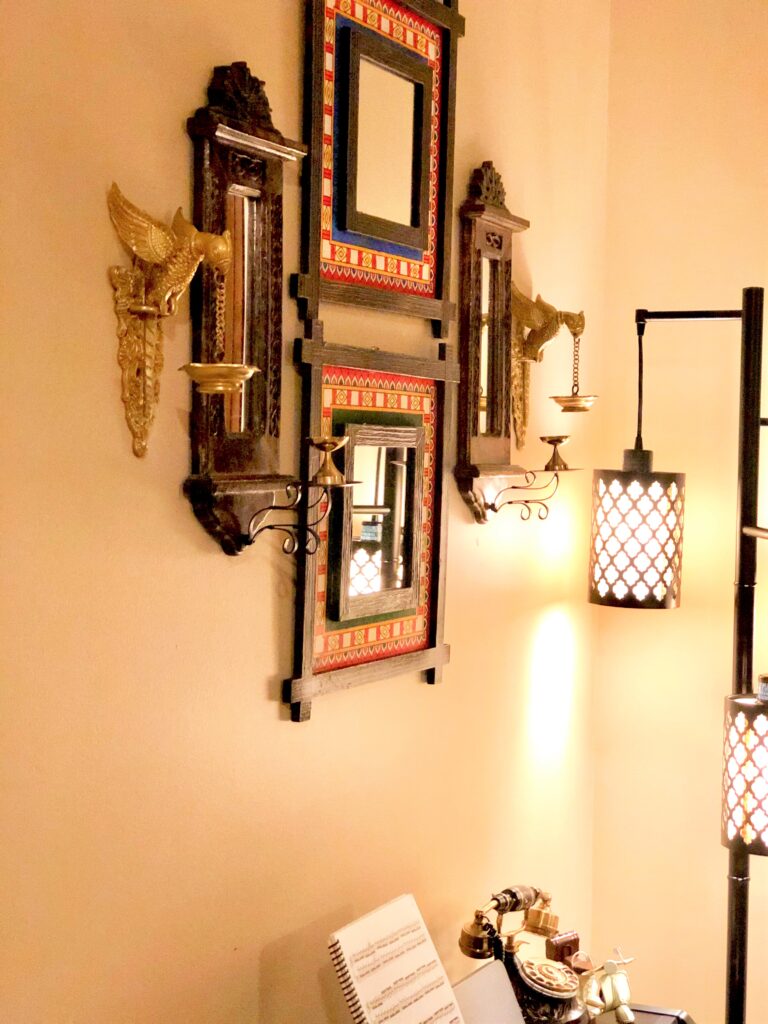 Brass and wood look amazing together! imo they haven't gone out of style ever, and they never will! For your vintage modern look, mix up your style by adding a 3rd element to brass and wood. This third element could be anything – a brightly painted wall, or modern wall art, or an accent chair close by, a geometric rug – the options are endless! Just remember that you need brass+wood+modern 3rd element to make it work!
Valli Chidabaram's home pics are beautiful illustrations of this style. She has an abundance of wood and brass with modern pieces creatively juxtaposed against them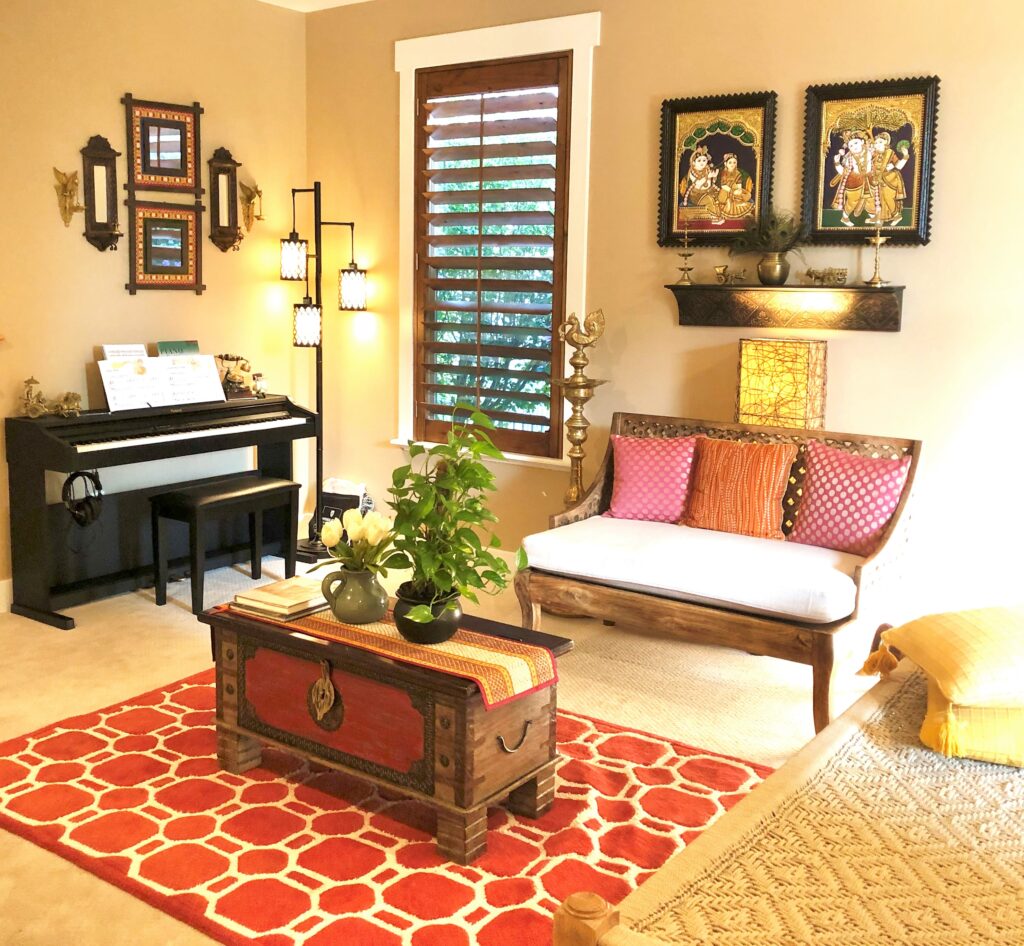 To paint old wood or not?
In India, many of us have colonial era antiques. And I know many want to paint them – but I have a thumb rule and I would like to say if it is teak or rosewood, do not paint it! If it is saal, or strong local woods that are found in Goa and Mangalore (often used for the rafters, but furniture was also made with it), then yes, go ahead and paint!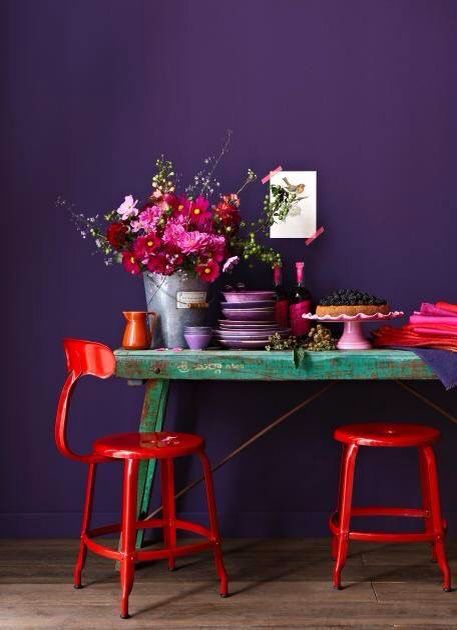 Also, you can buy pieces, newly recreated in the old style and paint or distress them if you love the look of old plus new but can't get your hands on something genuinely old!
I also love what Anuradha Singh has done to this table top – with little fabric squares displayed under the glass!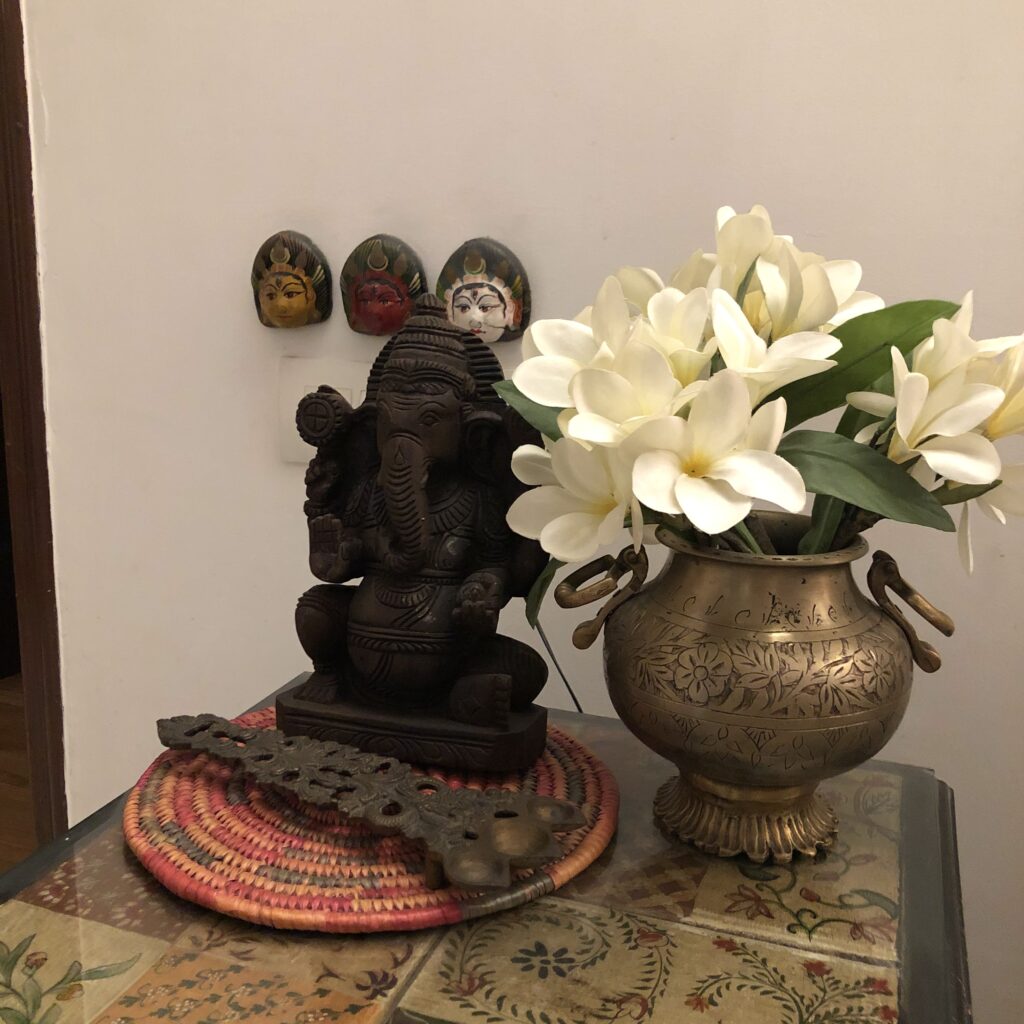 How to blend one old piece into a modern setting?
Say your whole space is clean, minimal and modern. Yet your grandfather's rocking chair keeps calling out to you, and you really want to incorporate it into your decor. Just bring it in, and it can be your "accent chair". Here, the easiest way to get it to "talk" to your other furniture, is to play with interesting modern fabric.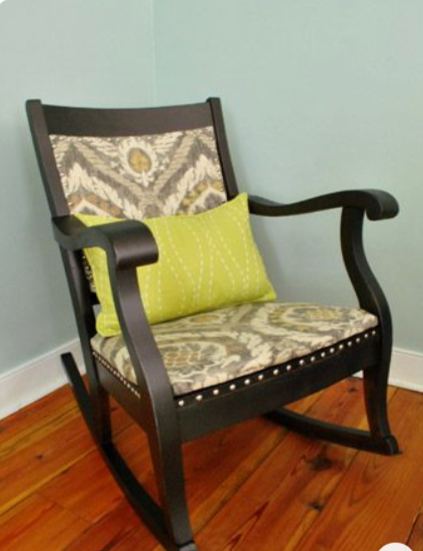 A lovely modern throw, geometric pattern upholstery or rug, are really easy ways to achieve this. You could also read this little post by one of my fav blogs Young House Love from where I have sourced the image above.
Go all out with a mix of many old and many modern elements!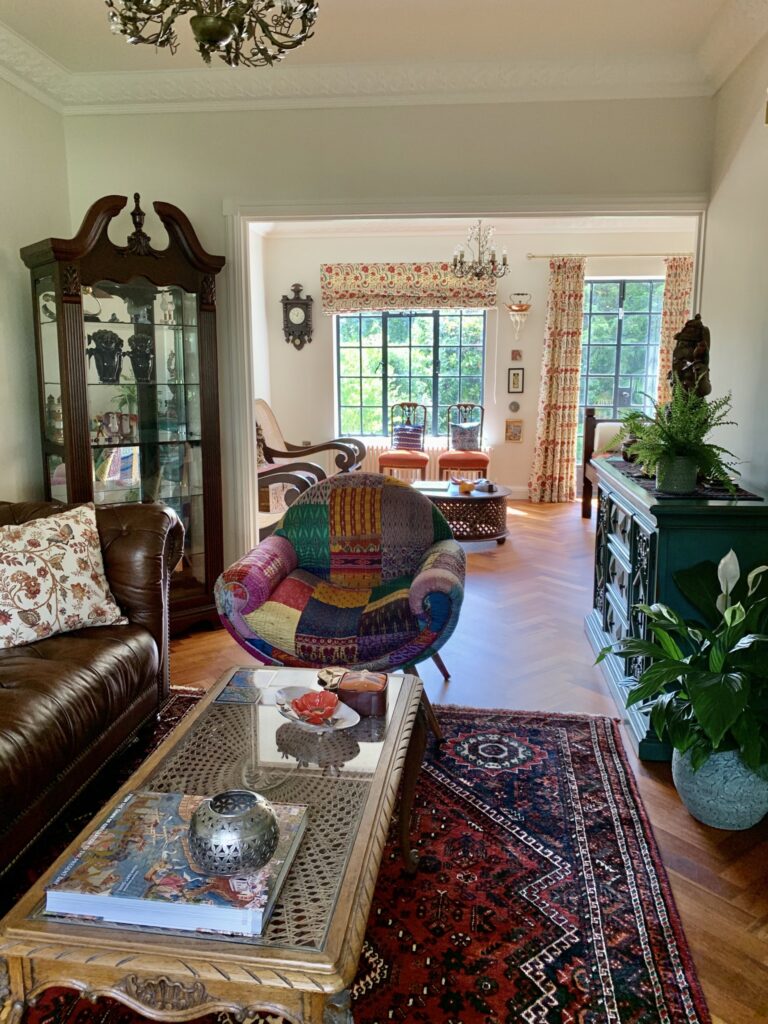 UK-based Devina Dhar Roy has explored this style quite successfully in her home |reference the pic above. She says, "My decor style is quite classic and traditional with some elements of fusion. As you can see the traditional English chesterfield sofa placed in harmony with armchairs upholstered in Kantha fabric and a French style antique display cabinet. I have kept the wall and ceiling colours really light so they can act as a good backdrop for the jewel tones of other furnishings. While doing up our home, I had retained some period features like the crittall windows and added Victorian cornices to enhance the look of the room."
Go bold
And if you want to do something really different with antiques, you could scale up your imagination, and pick up something large and stunning, as the antique element in your home.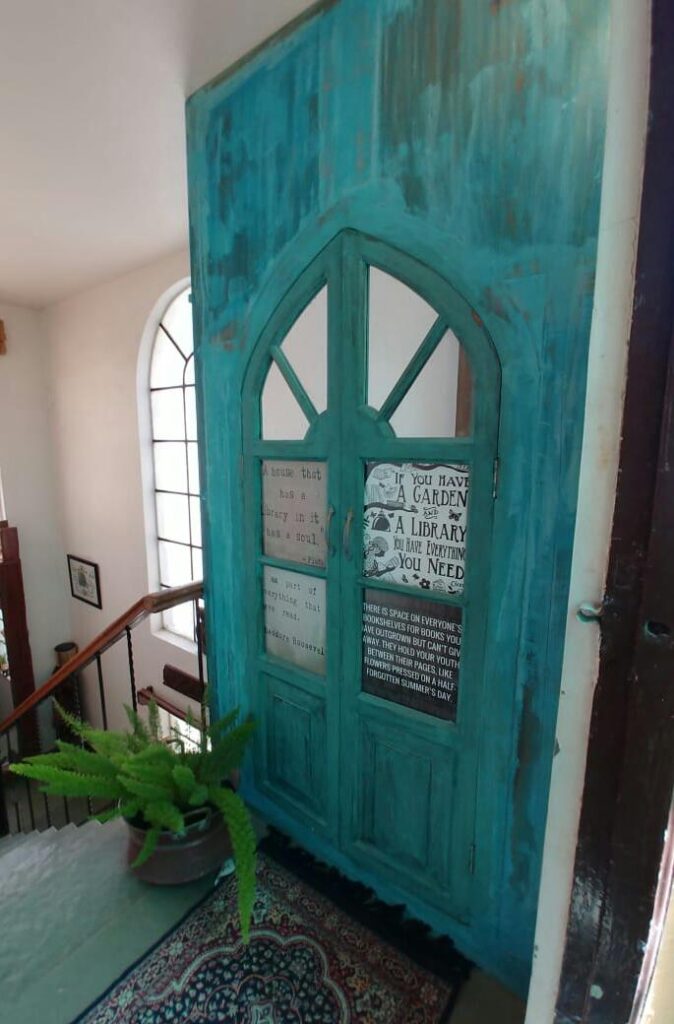 Check this post on this very blog about Radhika Yuvaraj's transformation of an old church door into a gorgeous library door. You will love it, I promise!
Want to pick up antiques? Join our antiques page Antiques India – Antiques|Vintage|More on Facebook today!