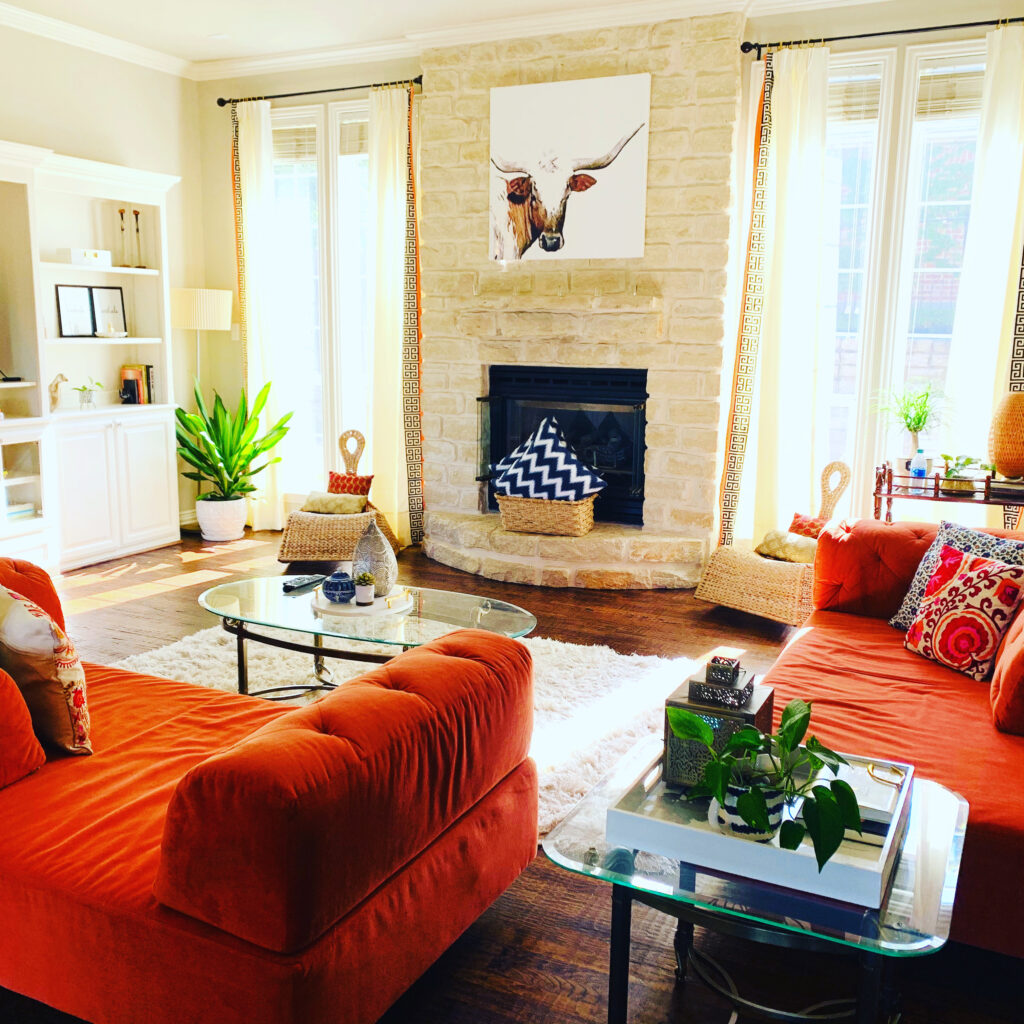 I'm here with a home tour, and there are certainly more lined up! This is a beautiful Indian home in Texas, and I can't wait to start the tour. But first…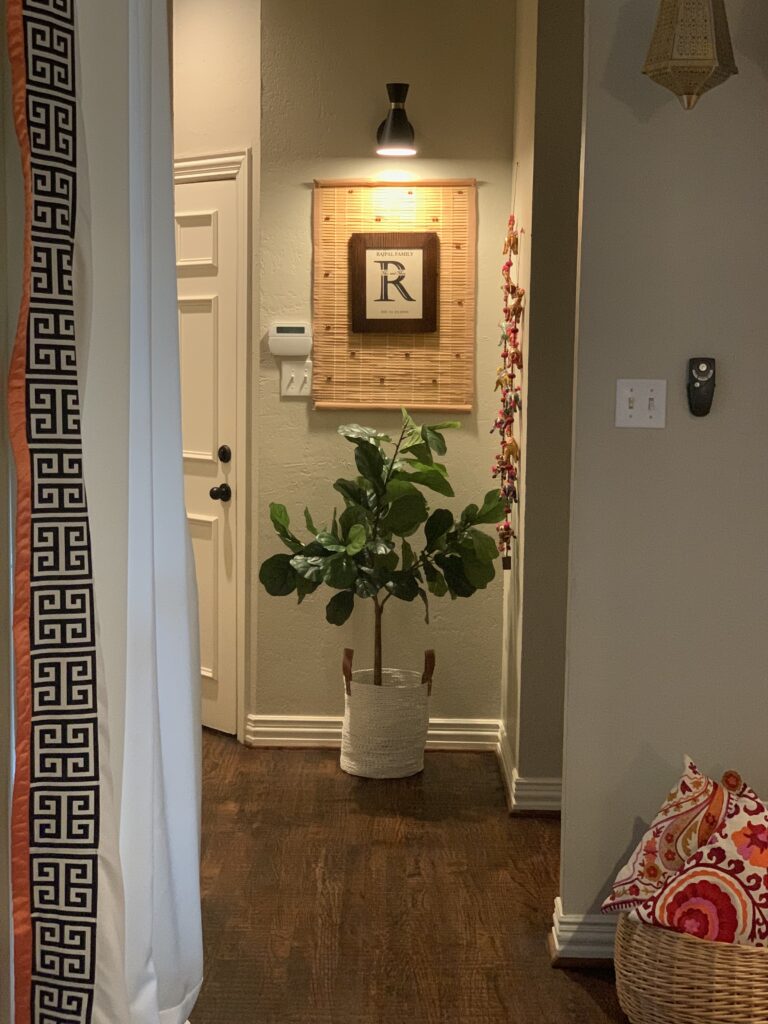 An update from me!
It's been a while since my last post, because a lot has been brewing in the last month.
A. We got re-accepted into India's top blog list, and it is the only list we believe in. We are giddy with happiness!
B. Our product portfolio has grown and along with blogging, Pinteresting and instagramming, I now talk decor through my products as well – most of them designed by me, and produced in house, and some of them curated, or outsourced for production. Look for the little widget on the side bar to see a carousel view of some of our popular products.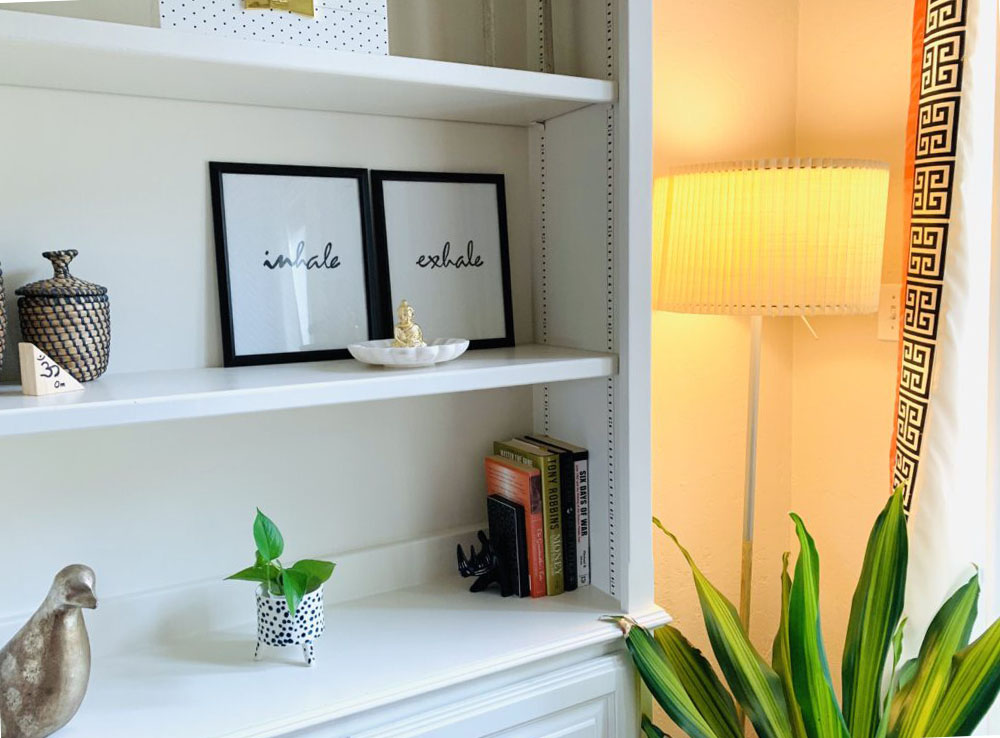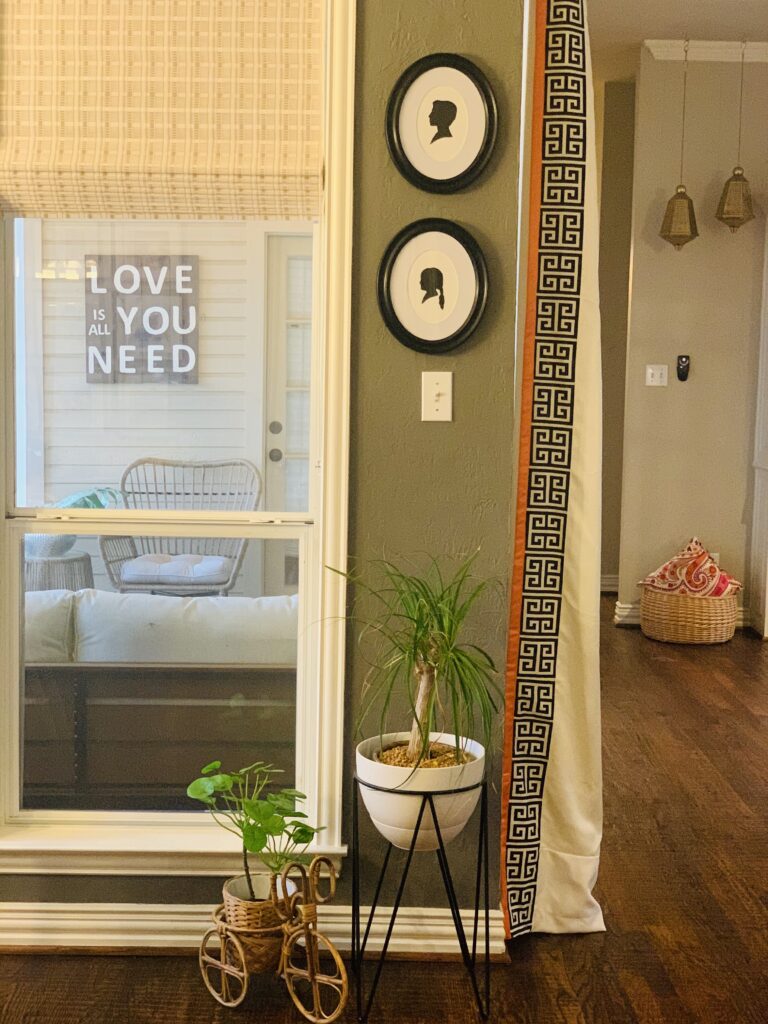 It's been quite a ride over the Covid months, but here I am, stronger, better and thankful for those difficult times that made me tougher! And what better way to tell you that all is well with me, than by giving you a home tour. Something I enjoy to the hilt! So here I am bringing you Ruma's beautiful home in Texas. Grab a cuppa because you will love the tour and Ruma's first person account; and also because you will linger over the pictures. Let's wait no more!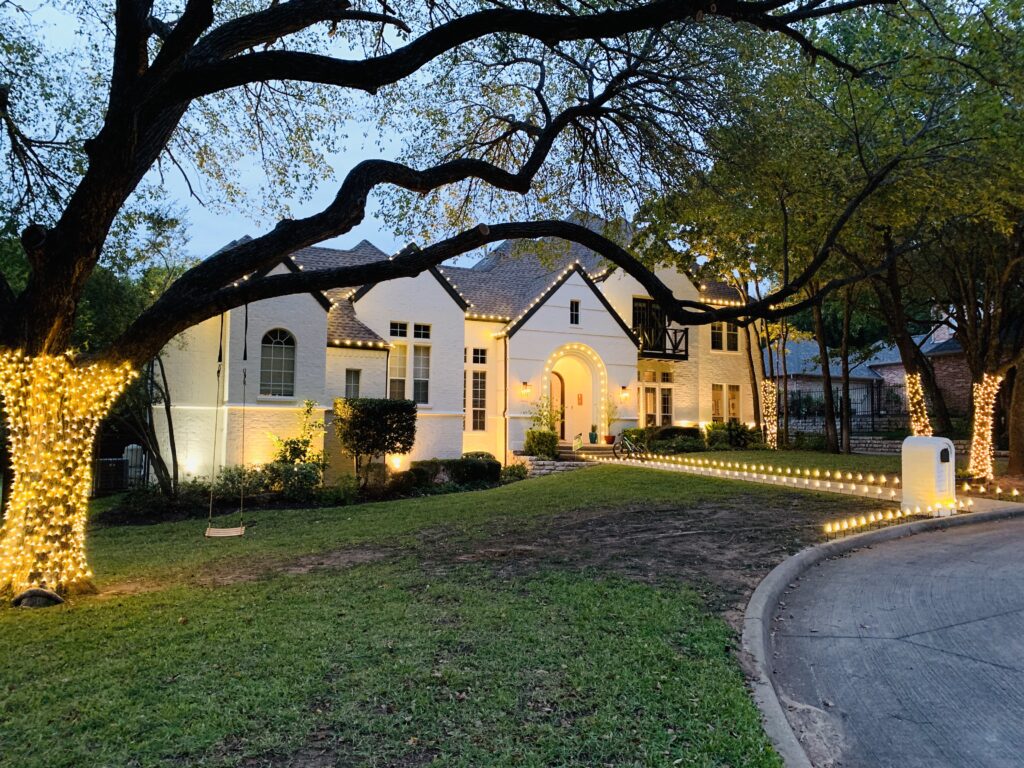 Hello, I am Ruma Rajpal, an internal auditor by profession and a décor enthusiast by heart. I live in a 4100 sq ft lake side house in a quaint suburb near Dallas, Texas with my husband and 2 very active kids. It's a house full of life, cheer and "Good Vibes Only".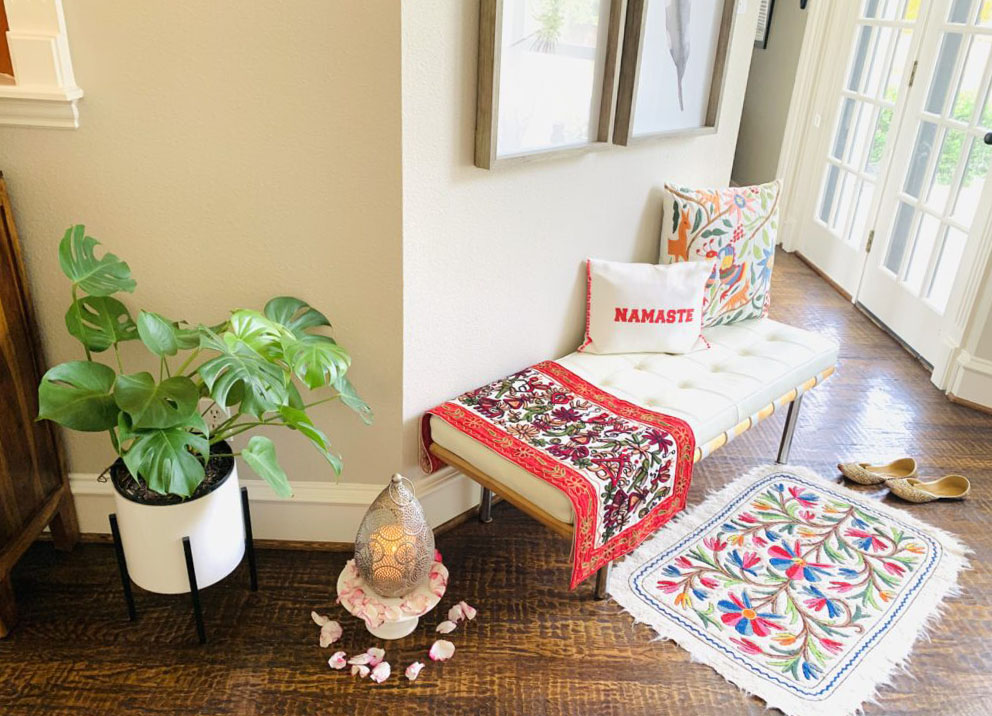 We moved to Texas leaving our, what we thought "forever home" in New Jersey to pursue a career opportunity that my husband got. We never thought we would move out of New Jersey where we had lived for about 15 years but when out of the blue my husband asked
me if I will be open to moving to Texas, my 1st thought was
"I will get a new house to decorate all over again!!!! "
Sitting miles away in a different time zone, we looked at lots and lots of houses online and sometimes on Facetime with our very helpful real estate agent, until we saw this one nestled in the trees on a peaceful cul-de-sac by the lake…we knew we had found THE ONE!
Whenever we tell people that we bought our home after seeing our real estate agent walk through the house on Facetime, they think we are crazy but when you see the pictures you will understand it wasn't that crazy of a decision.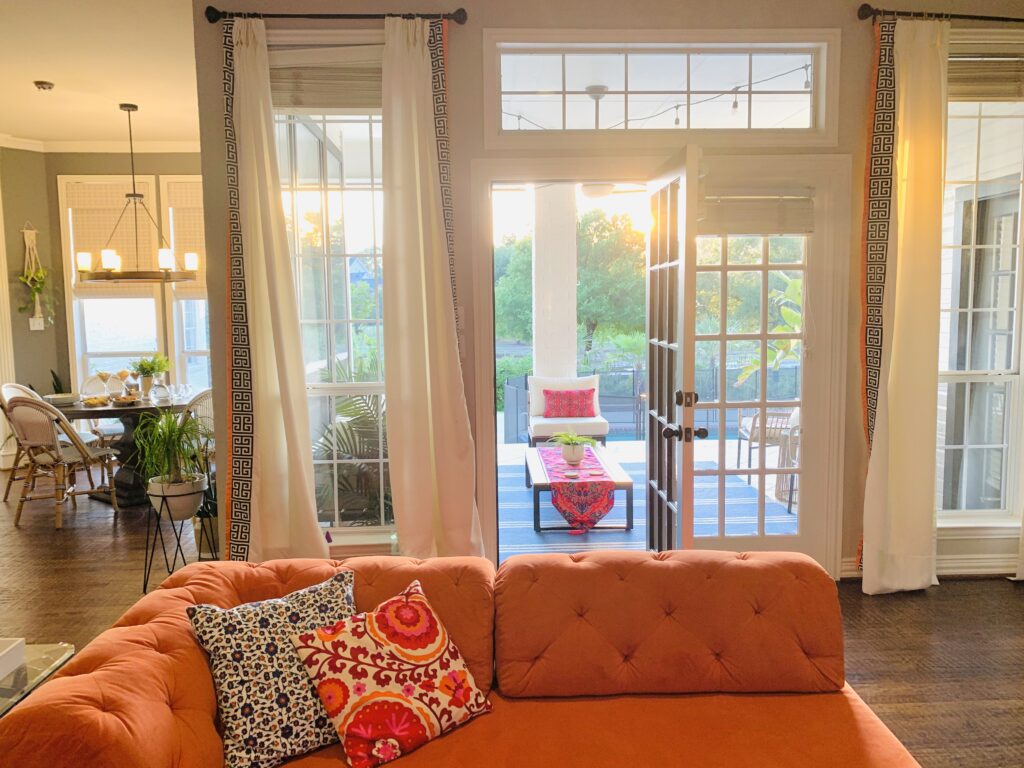 Slowly we have been making this house our home…adding warm touches to
the modern grey painted walls, sprinkling ethnic Indian accents to the
contemporary beach house look and adding lots and lots of greens to
bring the outdoors in.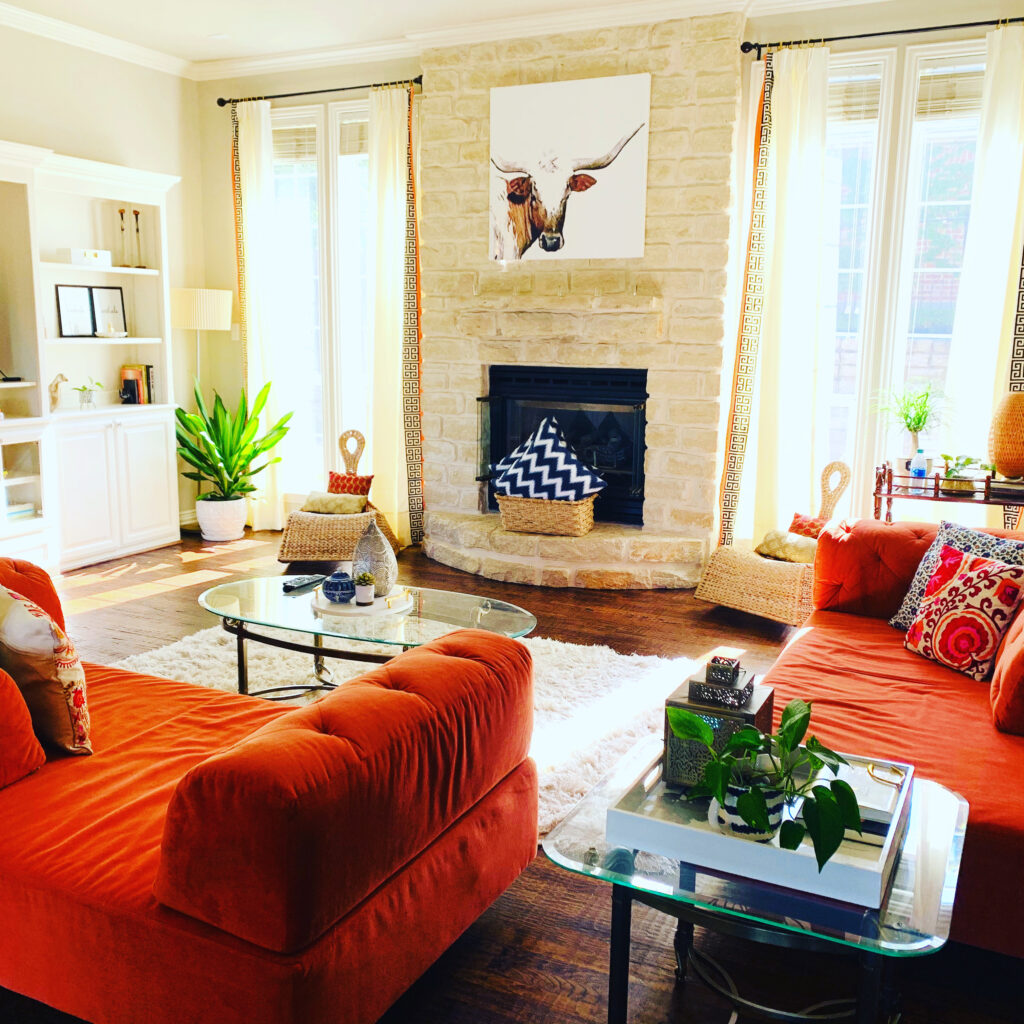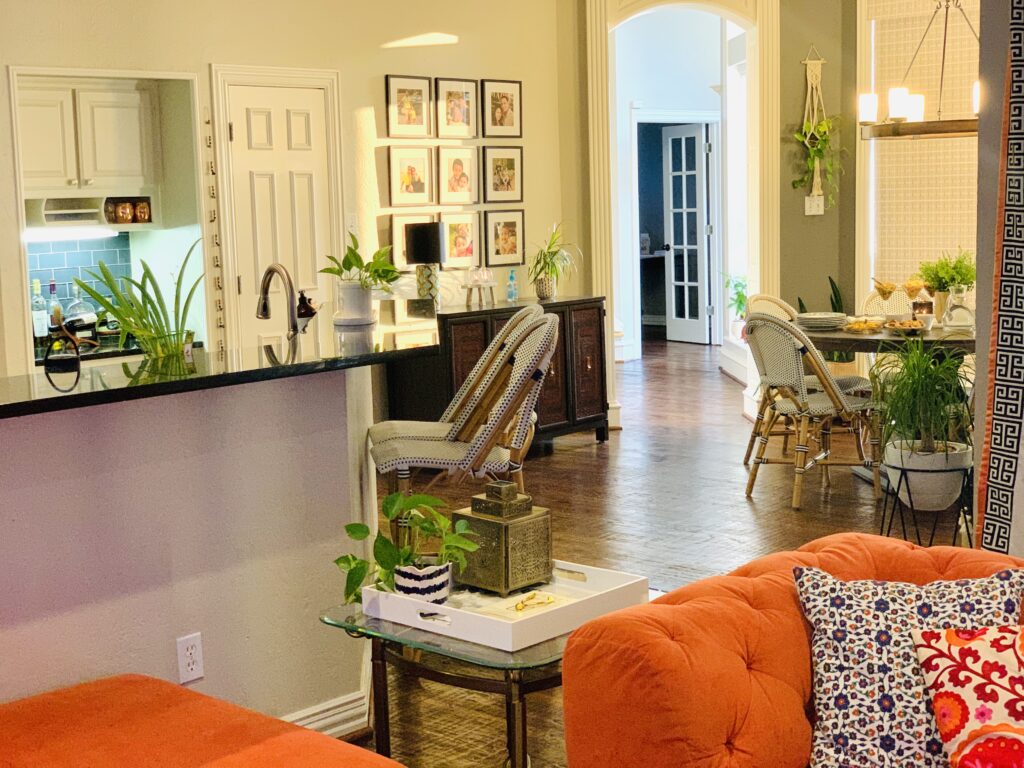 Our house has a warm cozy vibe, nothing that screams extravagance or flamboyant but very tasteful and personal. Nothing formal or "touch me not" rather inviting and "make yourself at home".
THE BREAKFAST NOOK!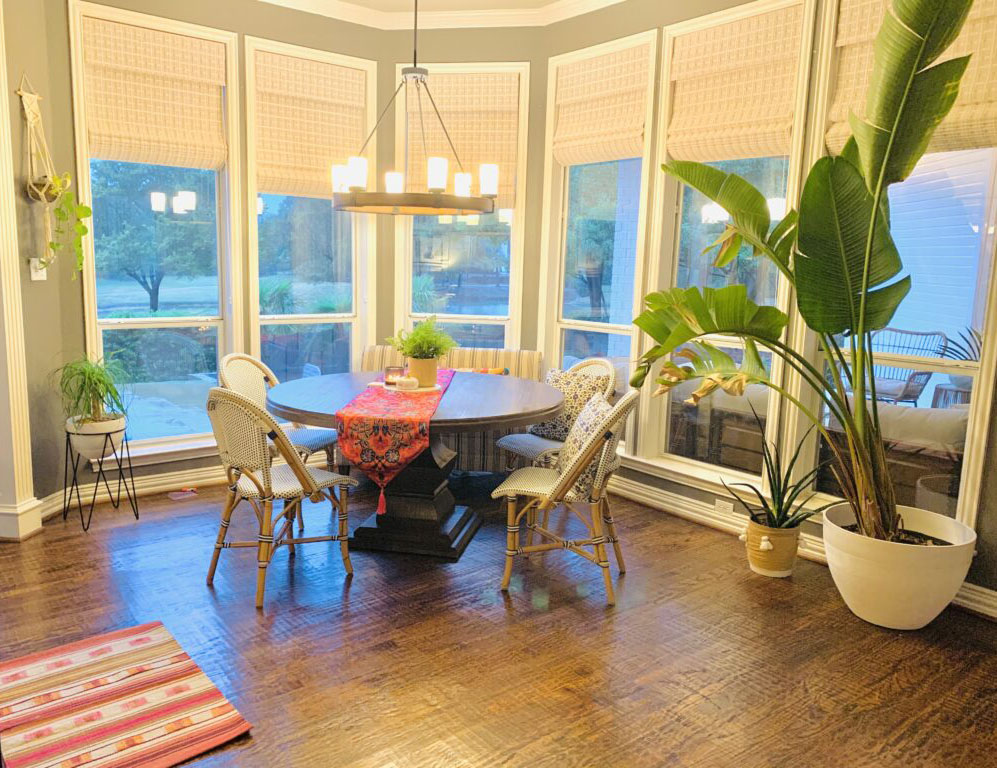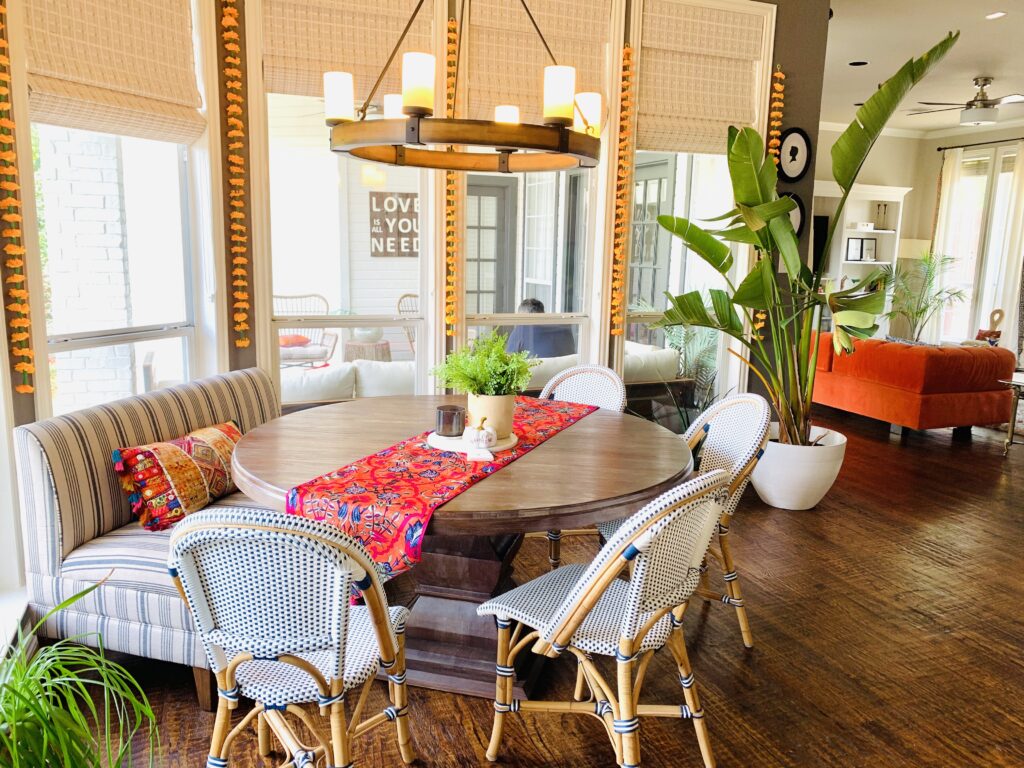 BEAUTIFUL INDIAN TREASURES
I have many treasures that we have brought all the way from India and bring back fond memories. Here are some of my favorite ones –
my grandmom's 80 some years old brass 'paraat' in which she used to knead the dough. I now use it to display rangolis or floating flowers and candles.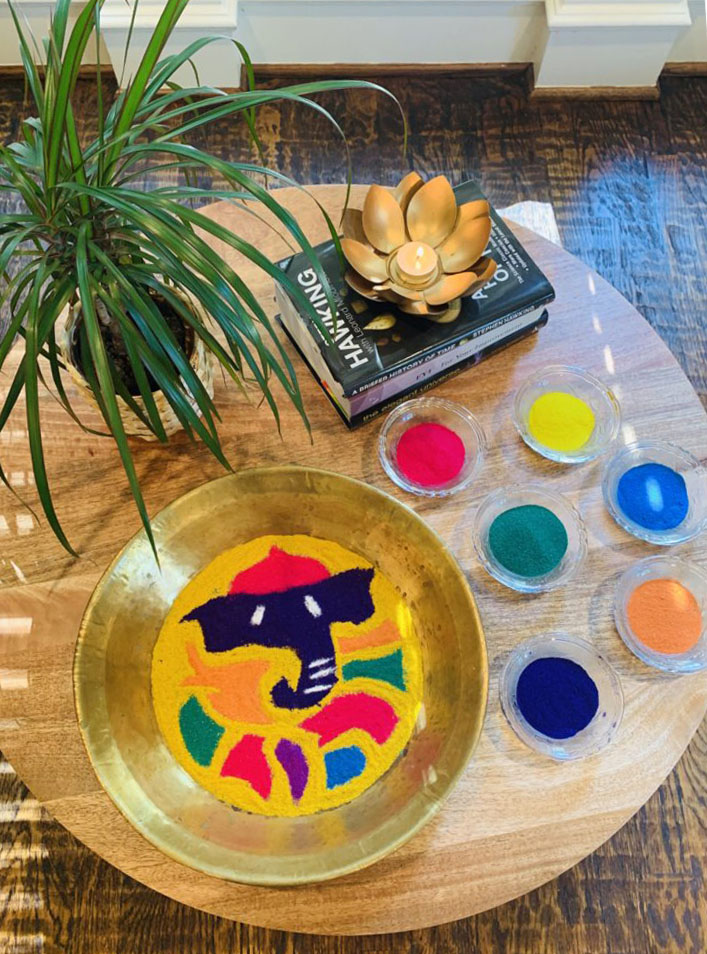 – the carved wood tea trolley that my in-laws gladly gifted us since they knew how much I loved it.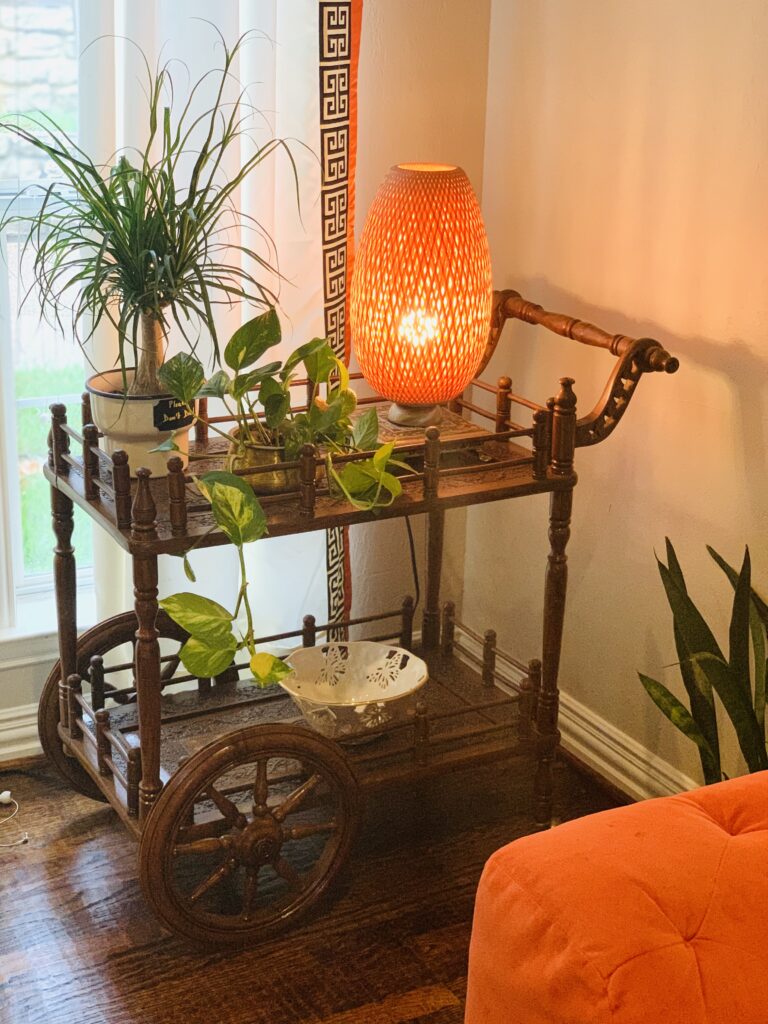 – 45 year old tea set from my mom's wedding trousseau now proudly sitting in my kitchen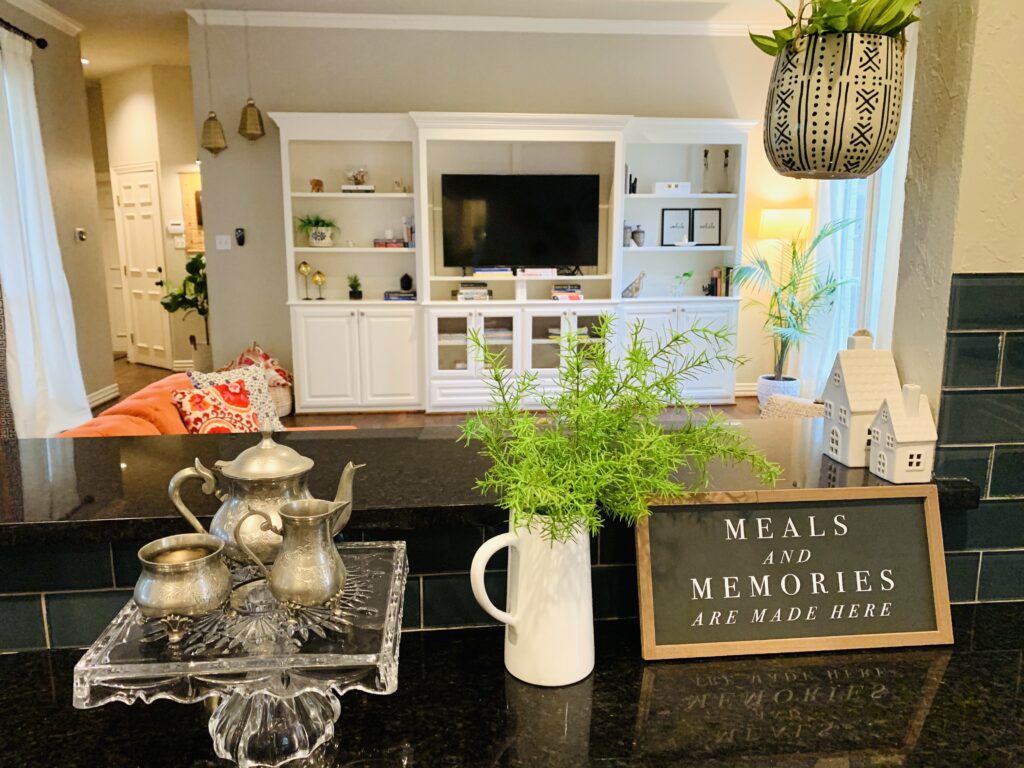 Even here in the US, I am always drawn towards made in India stuff.
And, the shoe cabinet at the entrance and the china cabinet in our breakfast nook that houses my collection of formal serve ware are some of my favorite 'made in India' finds.
THE KITCHEN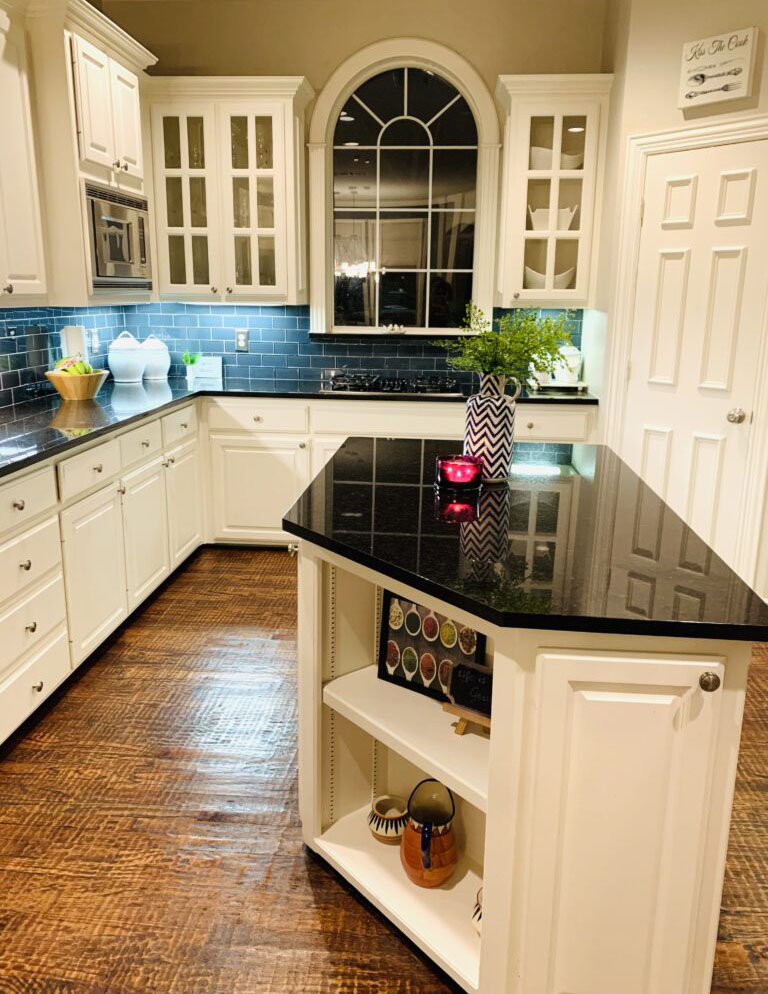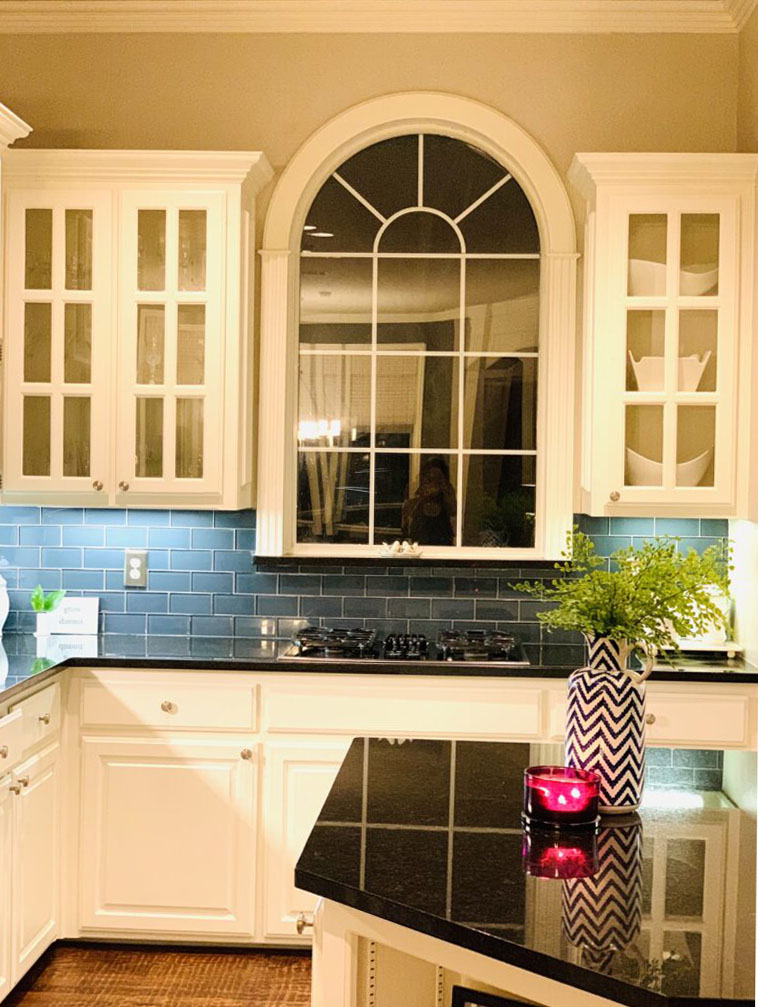 THE READING LOUNGE
The reading lounge is our most ethnic room in the house. It houses all the endless, small yet mighty knick knacks.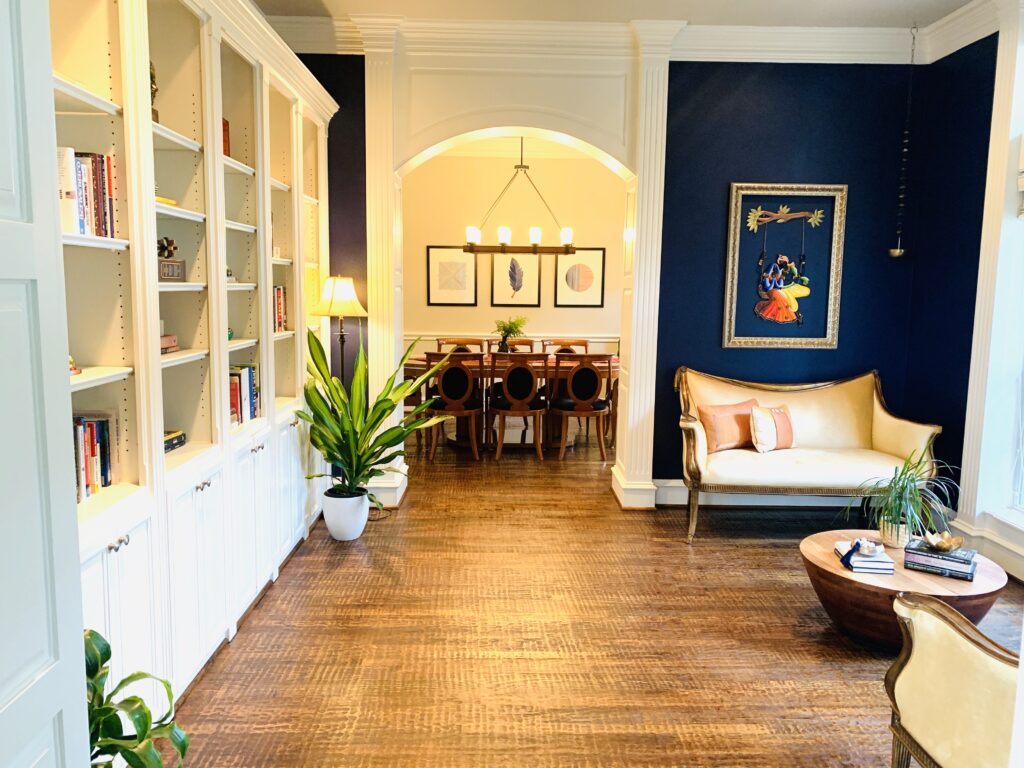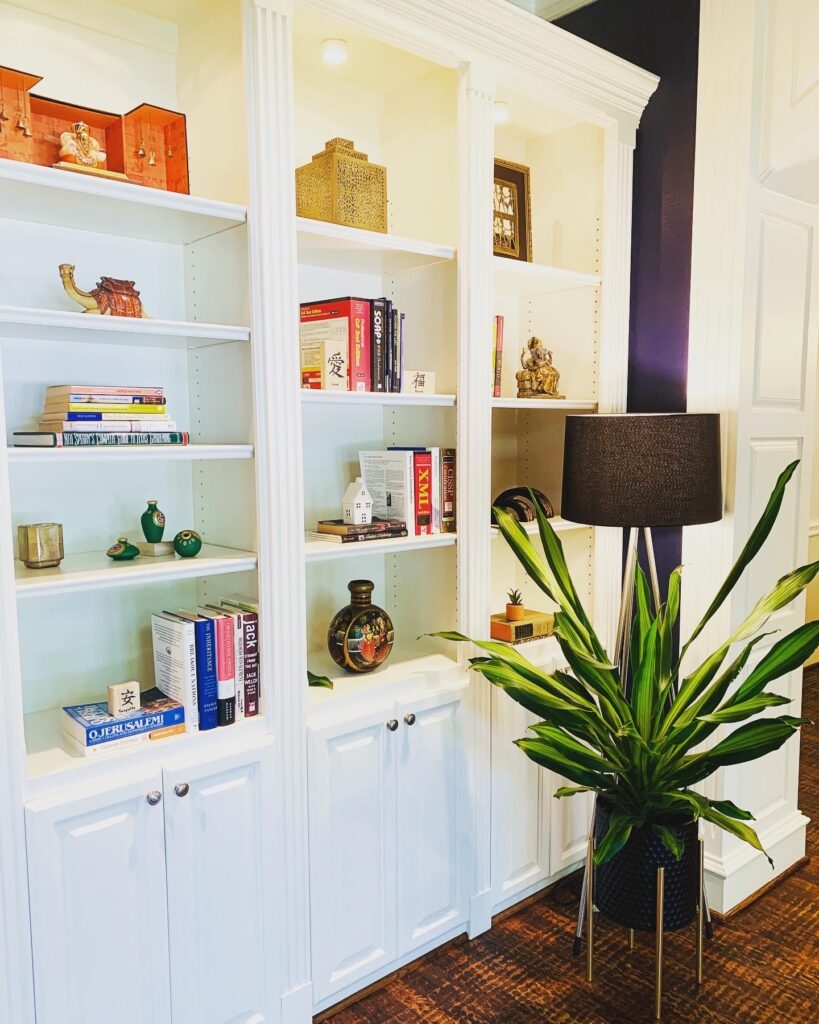 The most interesting one and one of my favorite here is the Marble Shri Ganesha statue adorning a beautiful orange and brown temple set up with brass bells hanging. It is actually a wedding invite and again, my in laws knowing our decor penchant for all things different, saved it for us.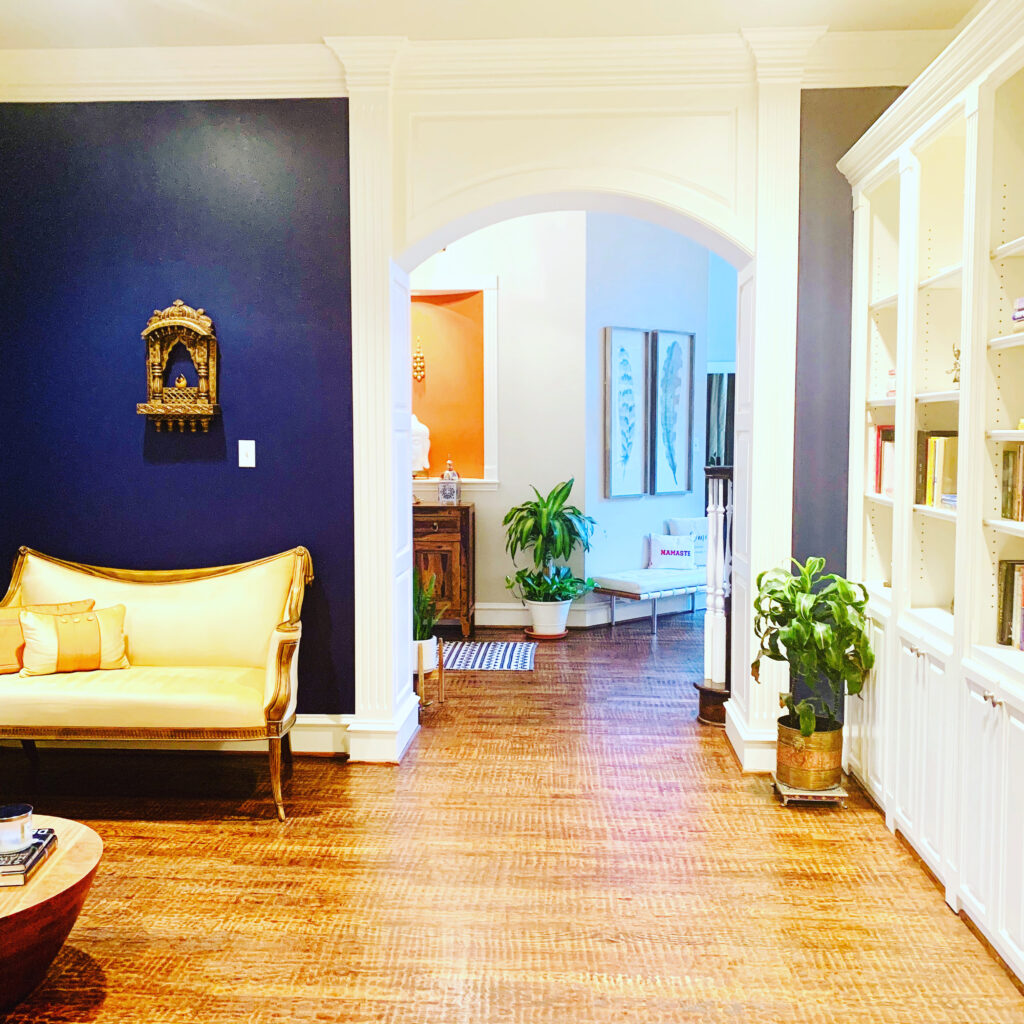 On one wall we have the jharokha that my parents gifted knowing I have have always wanted one and on the other we have Radha Krishna wall art that we hung inside a hollow frame bought locally just to accentuate it a bit more. The bright blue wall color envelops the room and helps in stand out from the otherwise modern decor.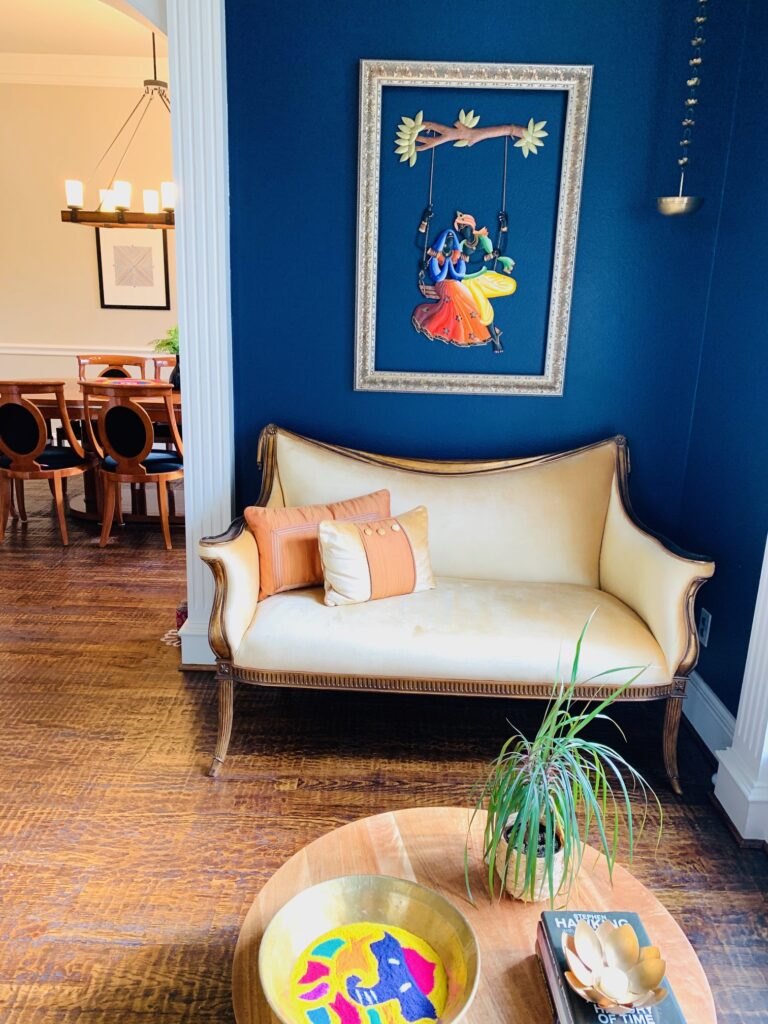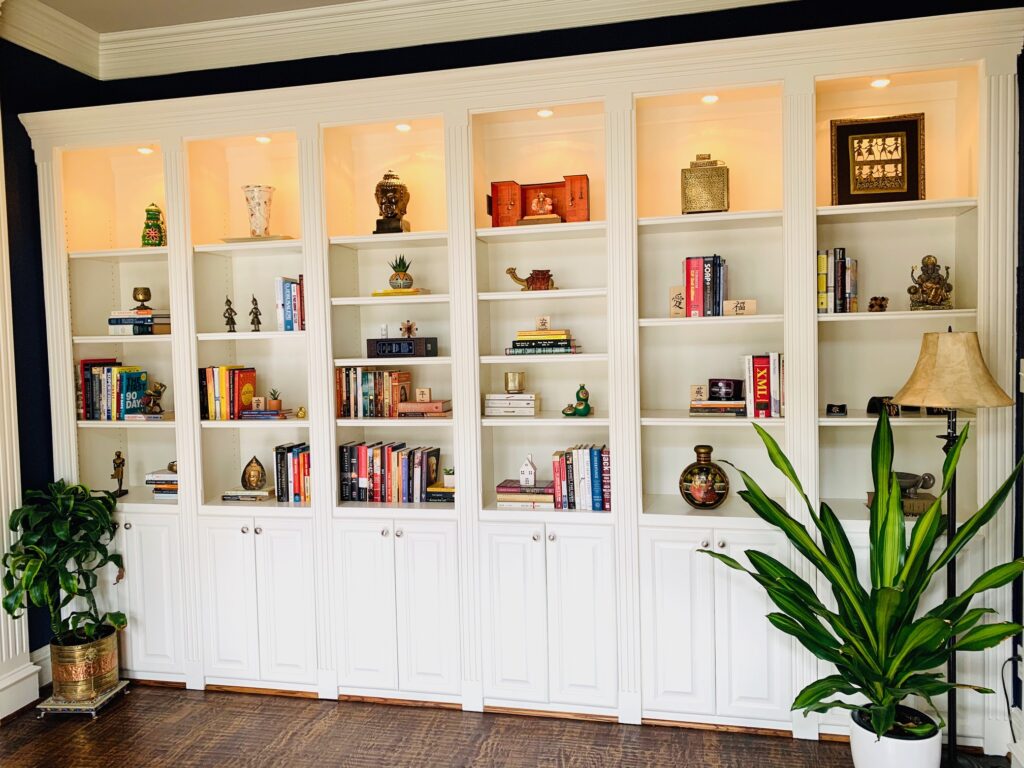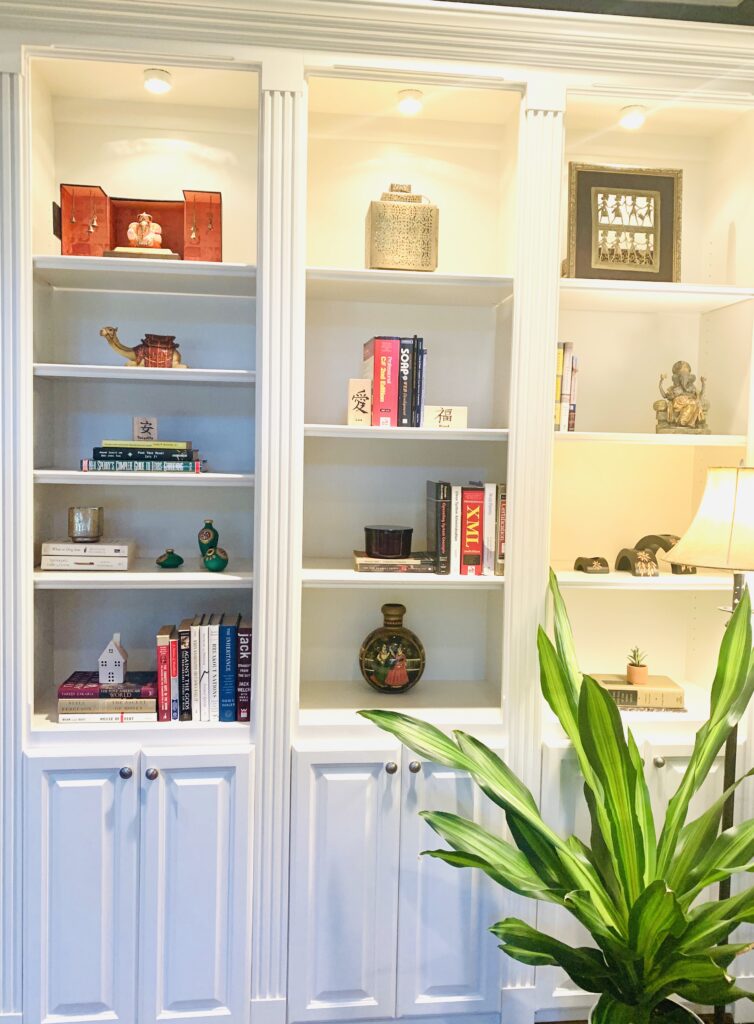 FESTIVALS OF INDIA!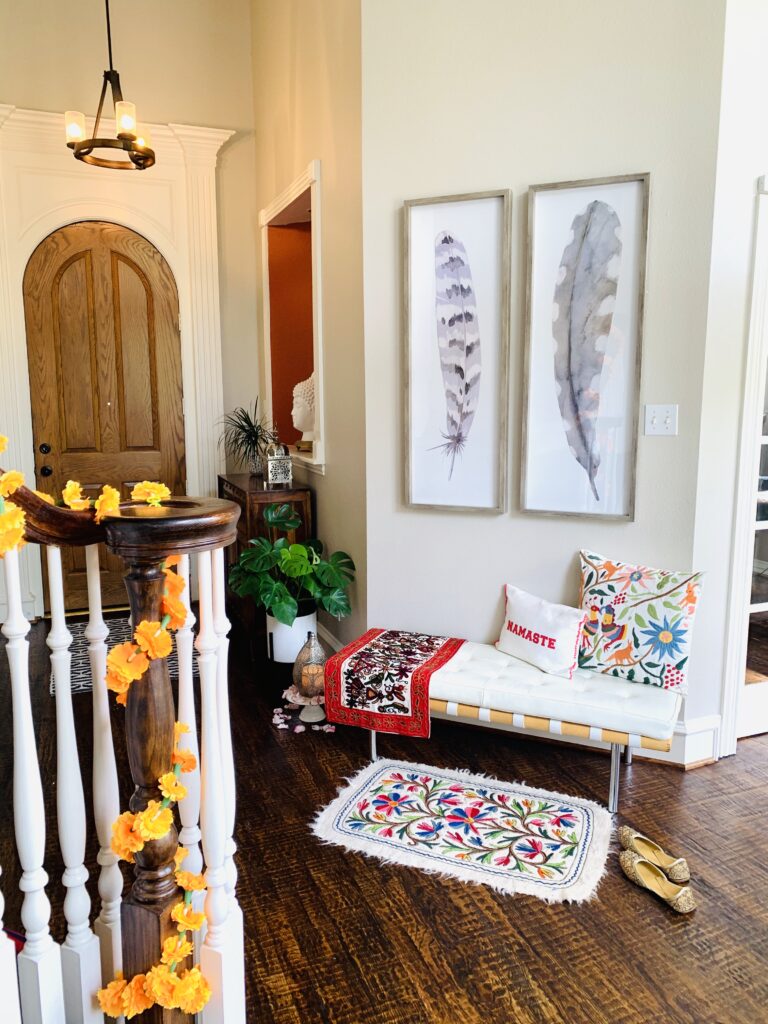 We celebrate our Indian festivals and I do up the home accordingly.
THE BACKYARD PORCH
The thing we like the most about our home is the view. Because we can have our tea in the backyard looking at the lake and listening to birds
chirping.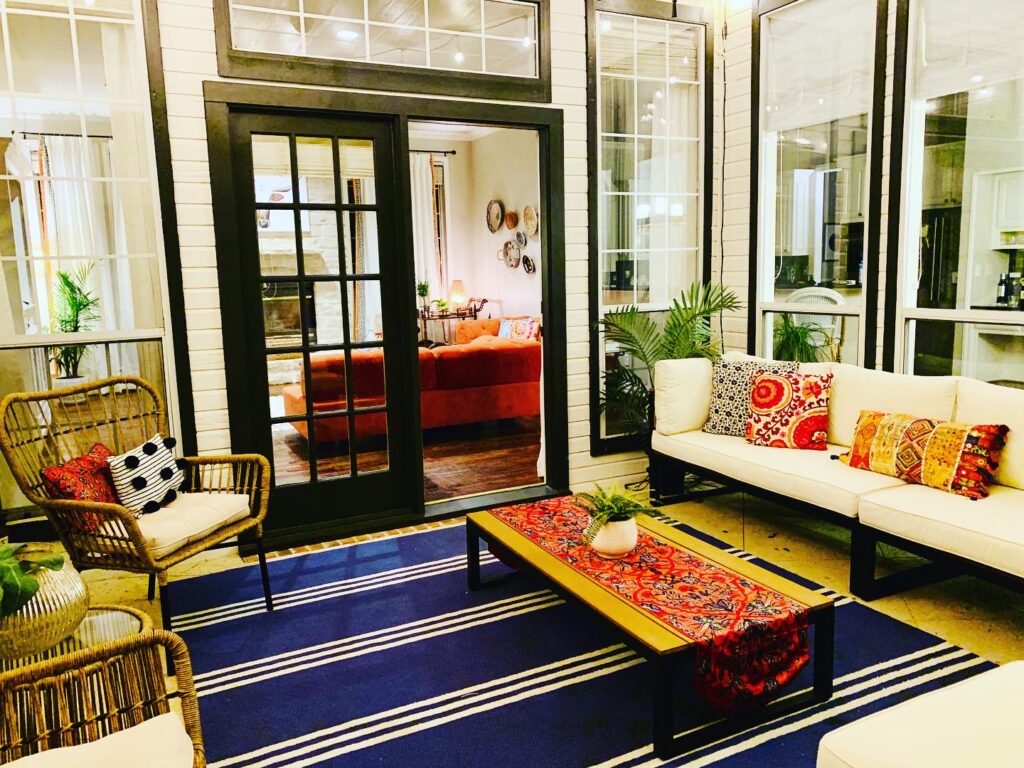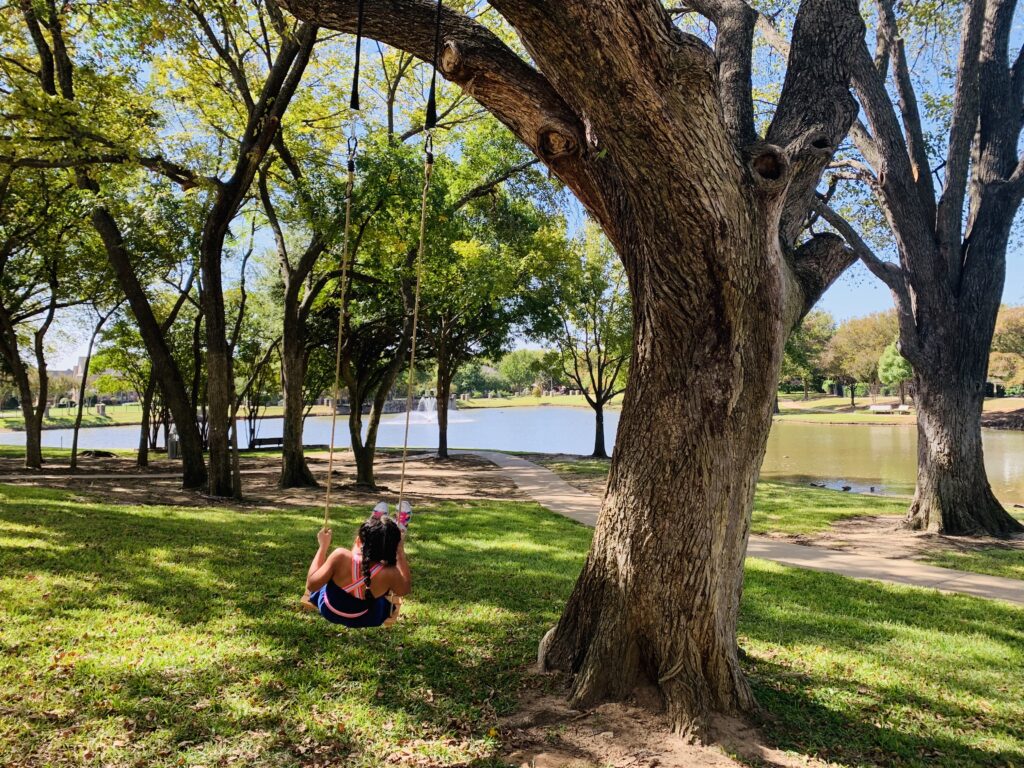 You step out of the house to go on neighborhood hiking
trails and ducks come greeting you. We are so grateful to have found
our "forever" home!
THANK YOU dear Ruma. It was a pleasure collaborating with you and working around our different time zones to get this tour up! Thanks for the lovely narrative that I am sure made this home tour all the more interesting for our readers!
KEY TAKEAWAYS FROM THIS TOUR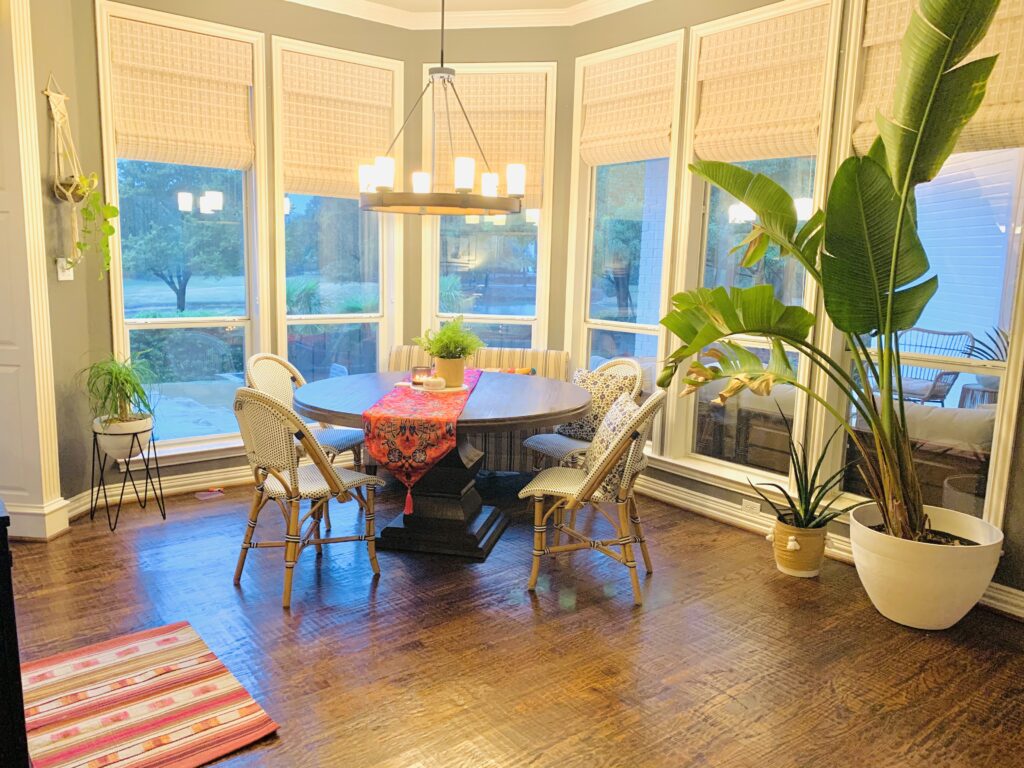 Subtly Indian The thing that astounds me about this home is that Ruma has managed to practically stuff her home with Indian elements, yet they are never in your face. Now that is a skill! Indian elements tend to overwhelm us, even the most subtle ones – but when you see this home, it is subtly Indian. Something I personally love!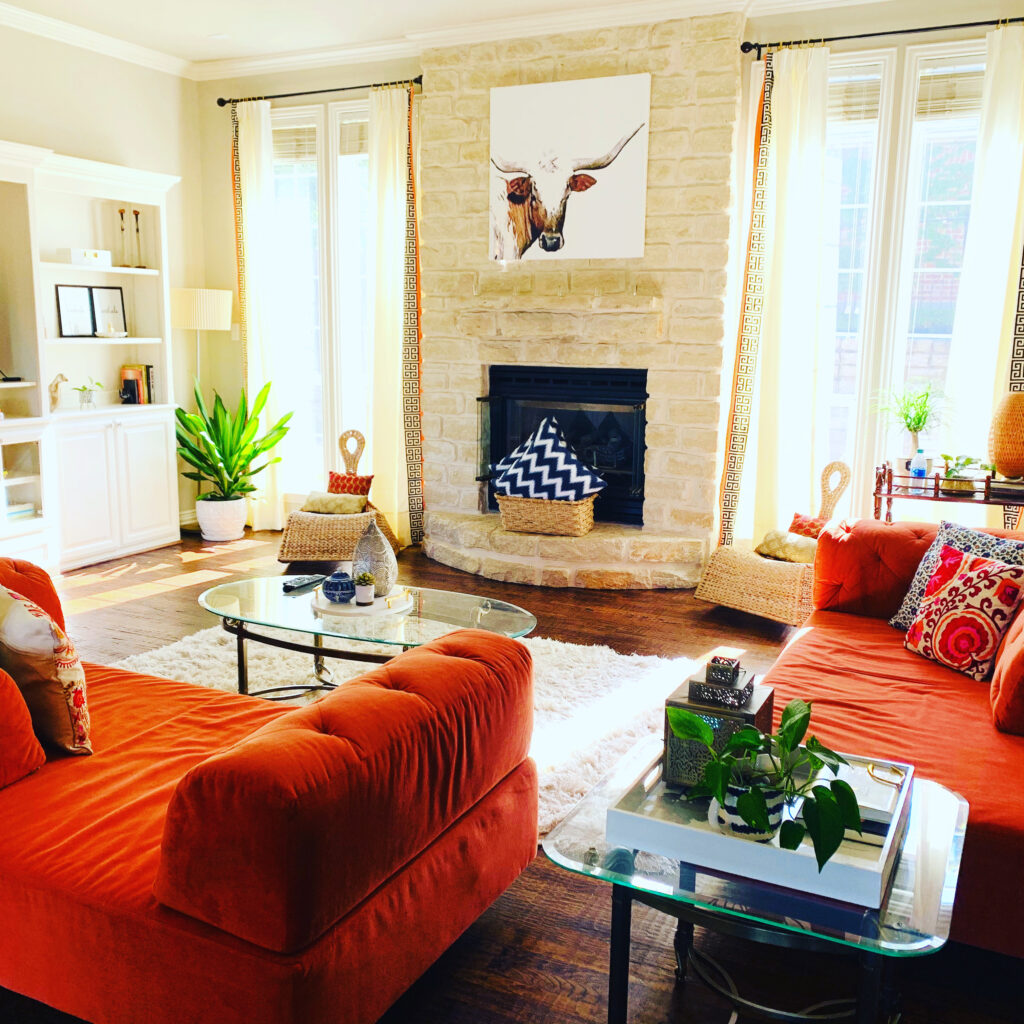 Good view? dress down your windows! The second big takeaway is that the family has not overwhelmed the windows with heavy or showy drapes – because, the views are stunning from every window! And what better way to highlight the views, than keep your window dressed very minimally?
What did you love best about this home? Tell me in the comments, and also do follow Ruma on instagram for regular updates and the latest pics of this gorgeous home!
MY FAVOURITE PIC!
It is customary for me to end every home tour feature with my favourite pic from the post. Here it is!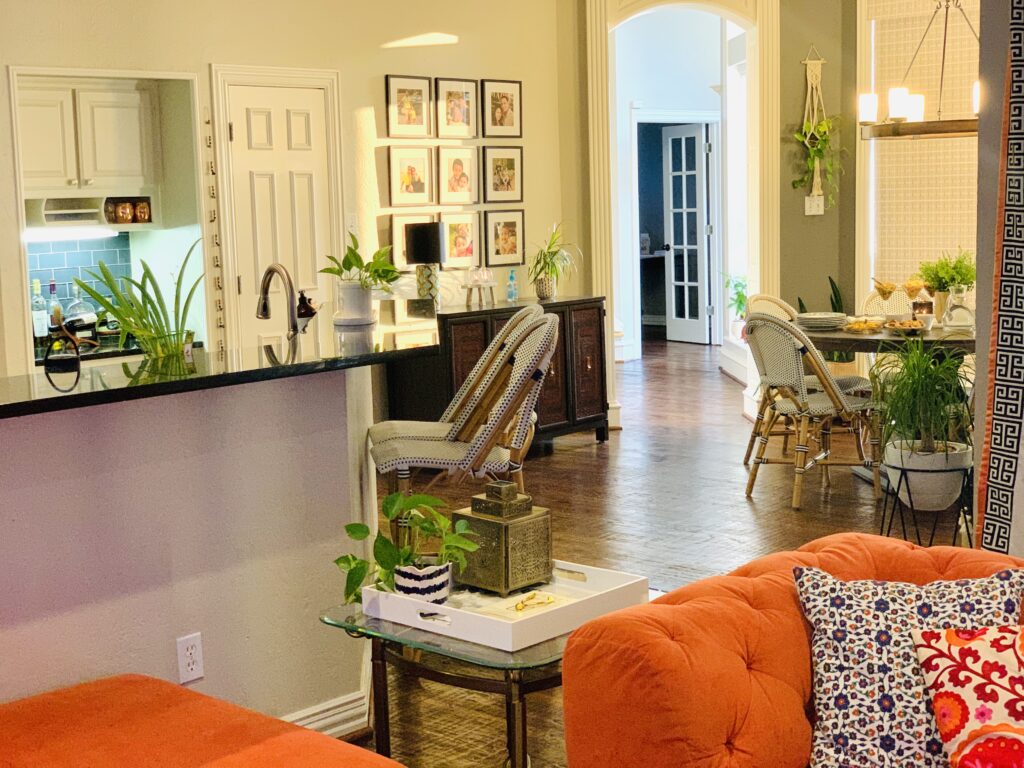 Why is this my favourite pic? For a while now I have been talking about mixing Indian with modern, or Indian with vintage, and also mixing it all up! This pic resonates with this style, and I can see all the elements for my #vintagemodernindian hashtag right here!
Want to tour another comfortable yet lovely home? Anuradha's home in Delhi will delight you!
To pin these pics on your Pinterest board, you could just head to our Pinterest, and follow this board, where both Ruma and I have collaborated and she will be adding more of her home pics in future!
Stay safe, and do connect with us on our social media handles – Instagram, Facebook. I would love to get to know my readers better!