This is a late post, and I am so sorry – but I didn't want to not document my Christmas 2021 images.
This year I was excited about the new doughbowl that we had made and the Etikoppa Nativity Set that is really a milestone product for us, as it will set the tone for future products on our store.
The Bhavnagiri Jhoola was the first part of my home to get ready for Christmas. I found this lovely checked red and white fabric at Dastakar Pune, and I instinctively knew it would look good. It is extremely soft, handwoven, and I am so glad that I picked it up!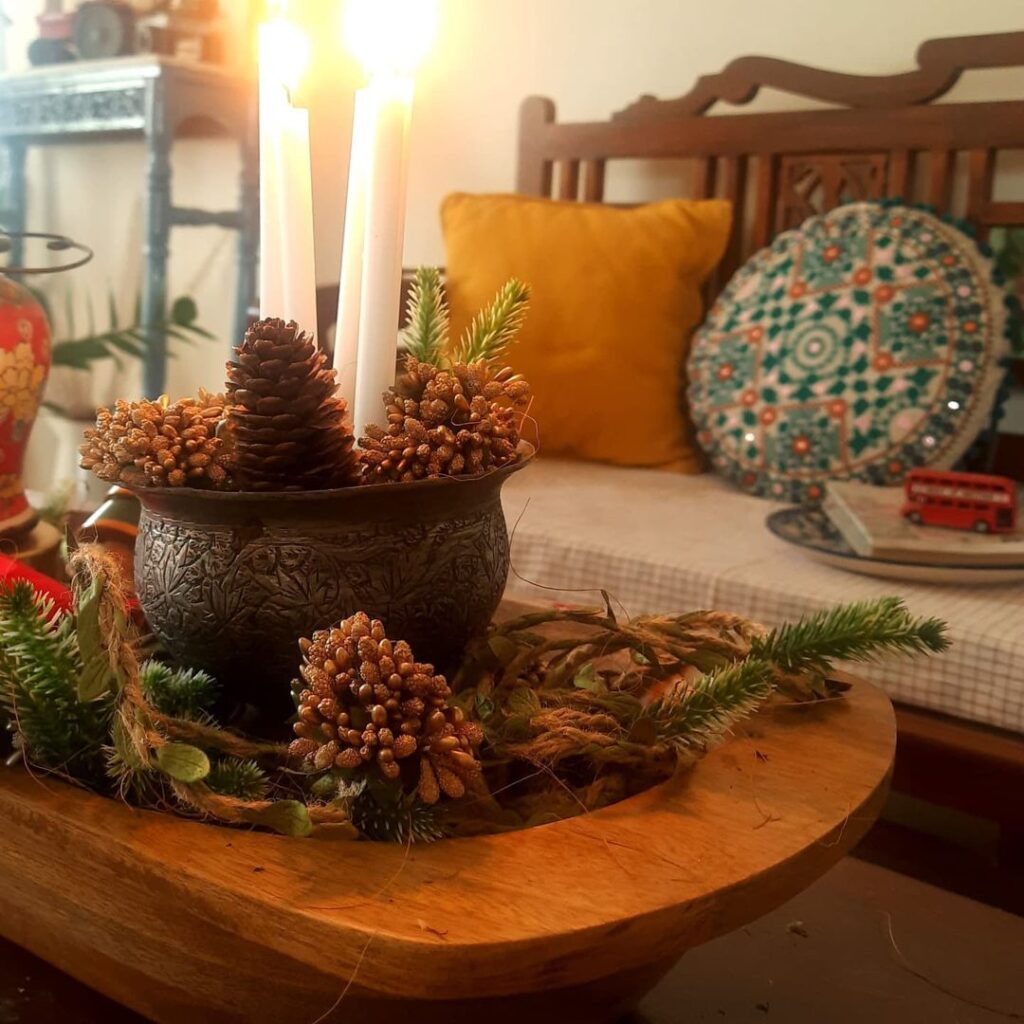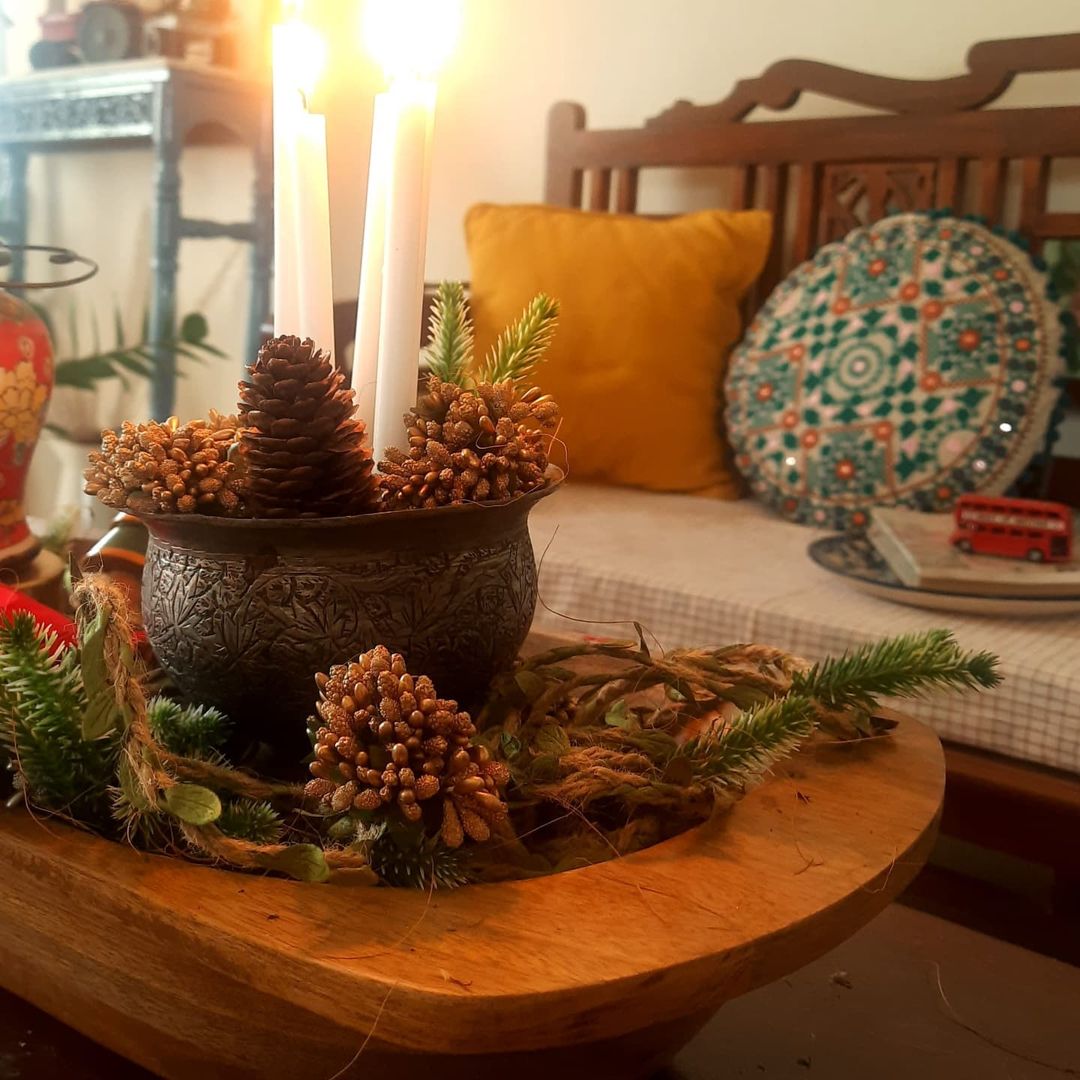 This was the first CHRISTMAS look for my doughbowl. I didn't have too many doughbowl fillers, but by the end of the Christmas season, my doughbowl saw a couple of transitions. I sourced all my doughbowl fillers from Amazon.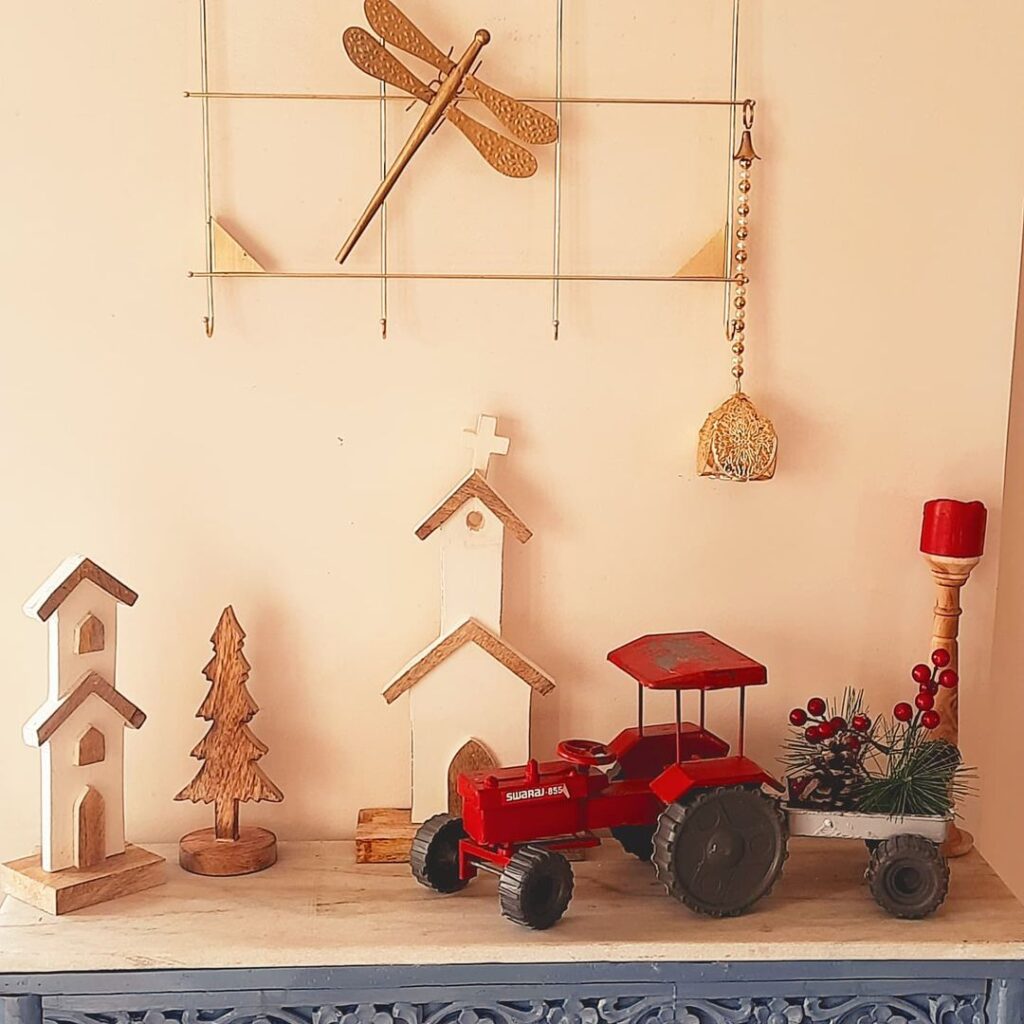 This is one of my consoles, featuring the houses and tree from my Christmas Village collection. You can buy them here. The tractor will come to our store soon, and I use it because of the nostalgia associated with my childhood, when my family managed a company coffee estate, and sometimes my dad would take me for tractor rides.
In the first week of Advent, the colours are purple, so I created a purple accented look on the doughbowl. The little trees are actually chanaptna bottle stoppers!
This image won a lot of hearts on my feed this Christmas. The stockings are made by a dear friend Soumya Thomas. You must bookmark her for beautiful stitched accessories through the year. The cycle will be another addition to our Christmas 2022 collection. The house on the far left was part of our Christmas 2020 collection, and currently out of stock The candles are from our teak wood collection.
Another look for the doughbowl. It is such a versatilepiece, and this look includes a few tea pot collectibles, and you will remember the tree and candlestands from the previous images.
This entire look actually came about to complement the stunning red Gujrathi wall hanging that I picked up from Dastakar. Only the bottom edge is visible here.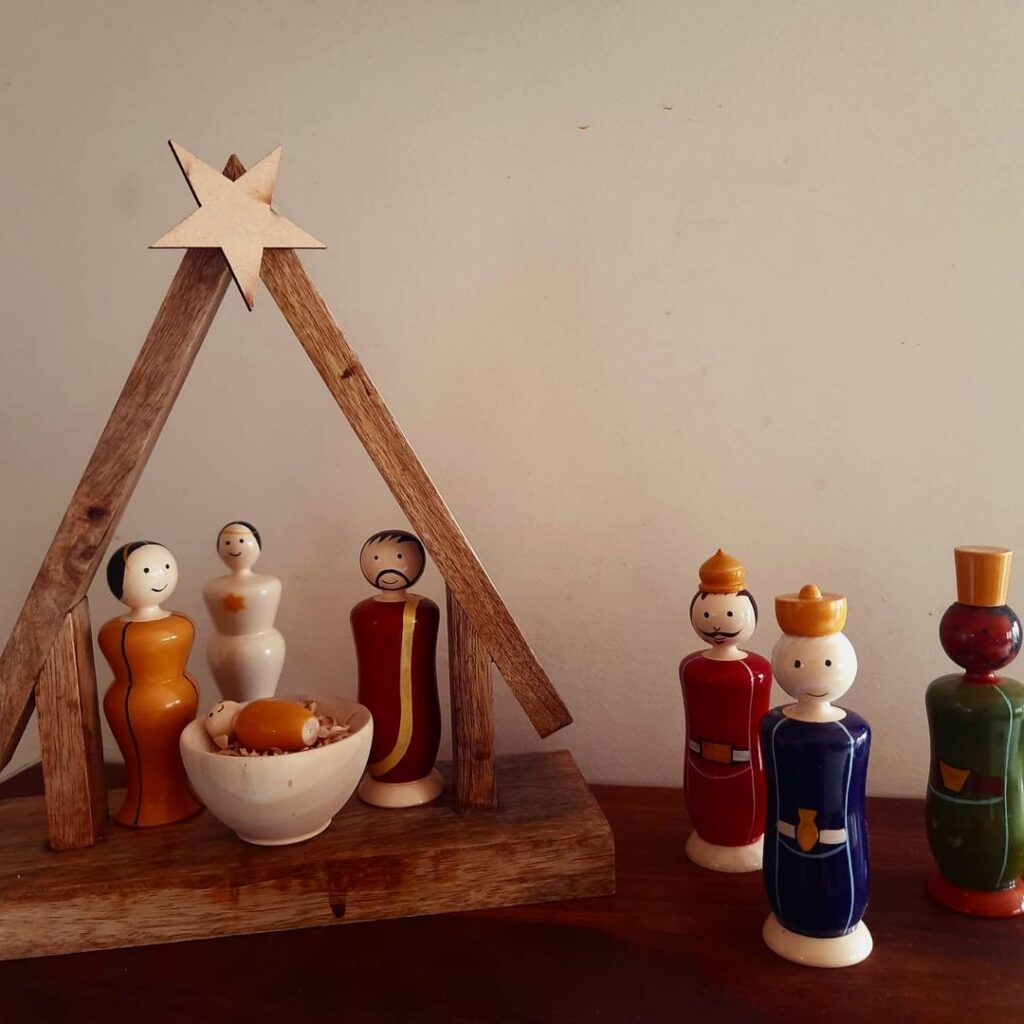 The Etikoppaka Nativity Set was our star product this year. Here's a link to read more about how it was made via my collab with Tvami.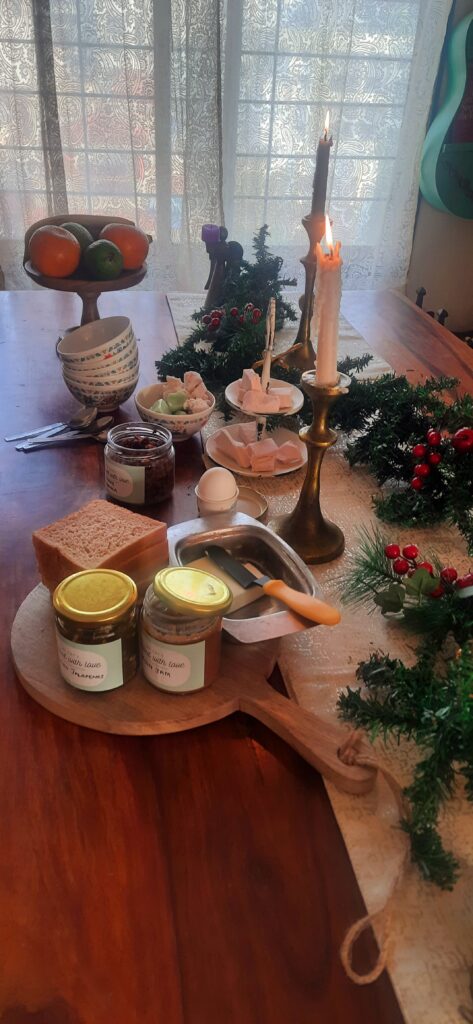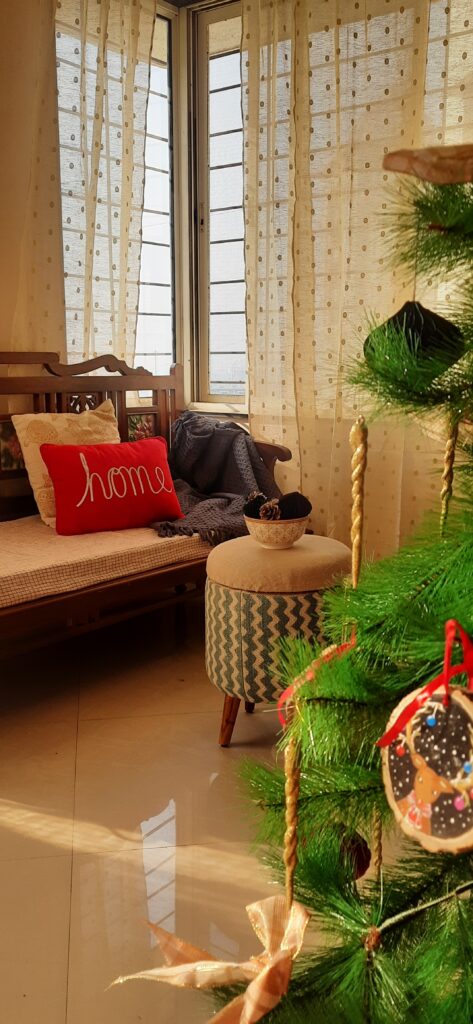 This year, the tree was adorned very simply. Our wood slices were the stars. They were one of our most popular items this Christmas, and are painted by artist Christine Kale. I also picked up little paper ornaments from Priya who creates handmade products under the label Crafted Tales. Pretty plaid bows with ribbon sourced from Amazon, finished our tree nicely.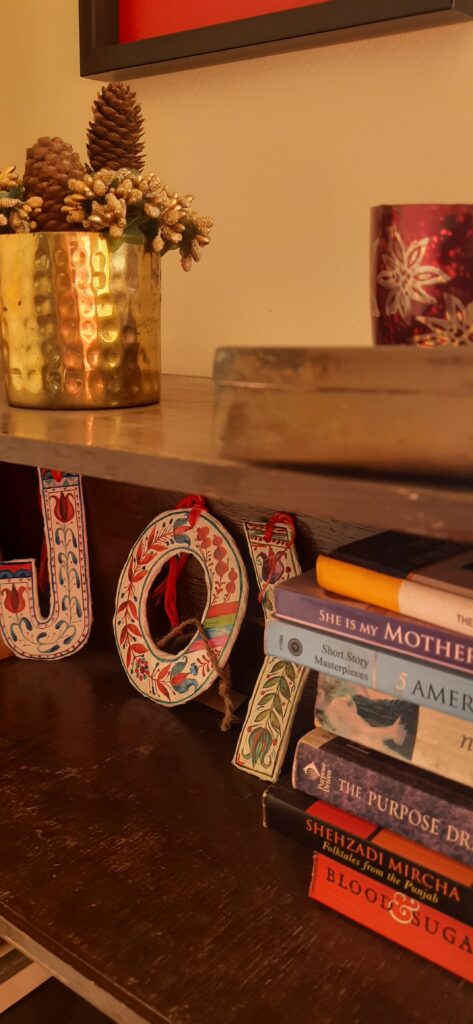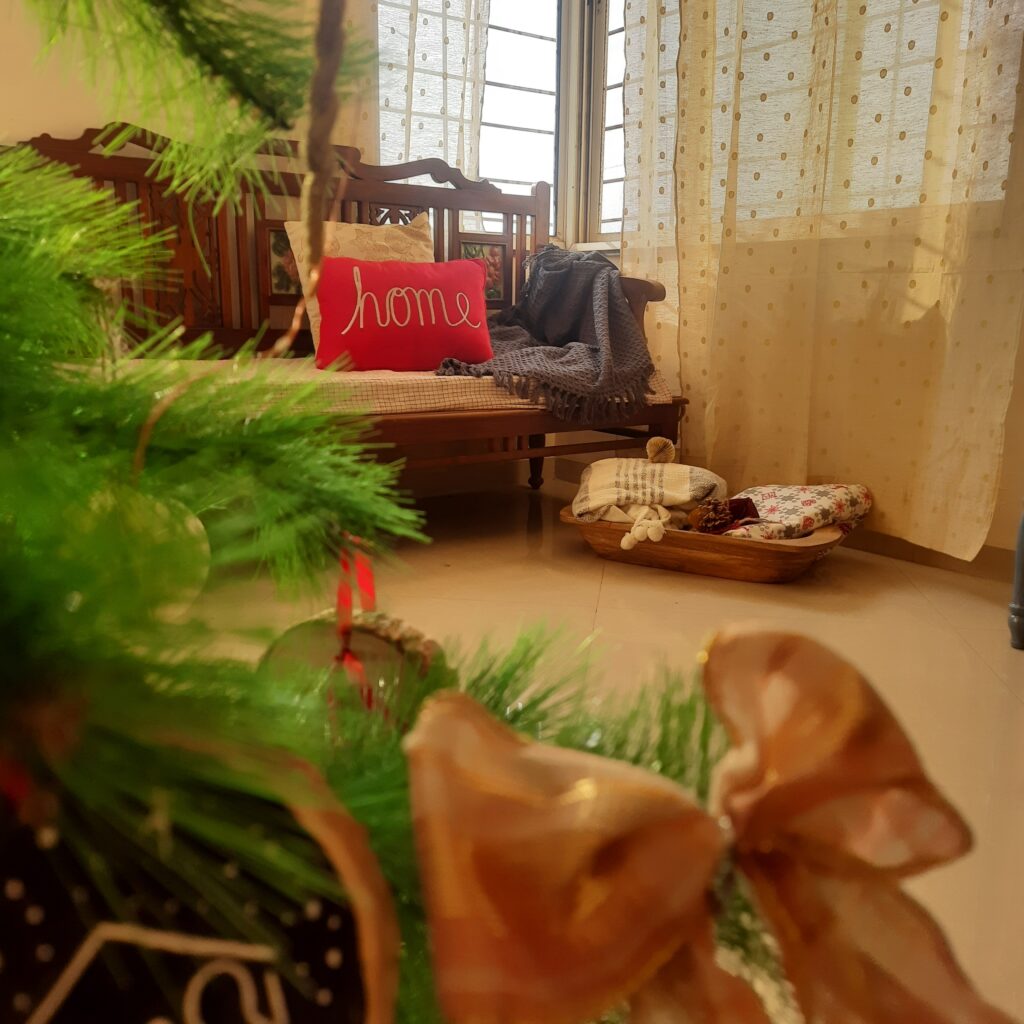 My doughbowl also held our spare throws for part of the Christmas break. We watched a ton of movies, and it was so easy to just pull out a throw and snuggle! It also gives a warm, lived in feel to use your doughbowl as decorative storage sometimes!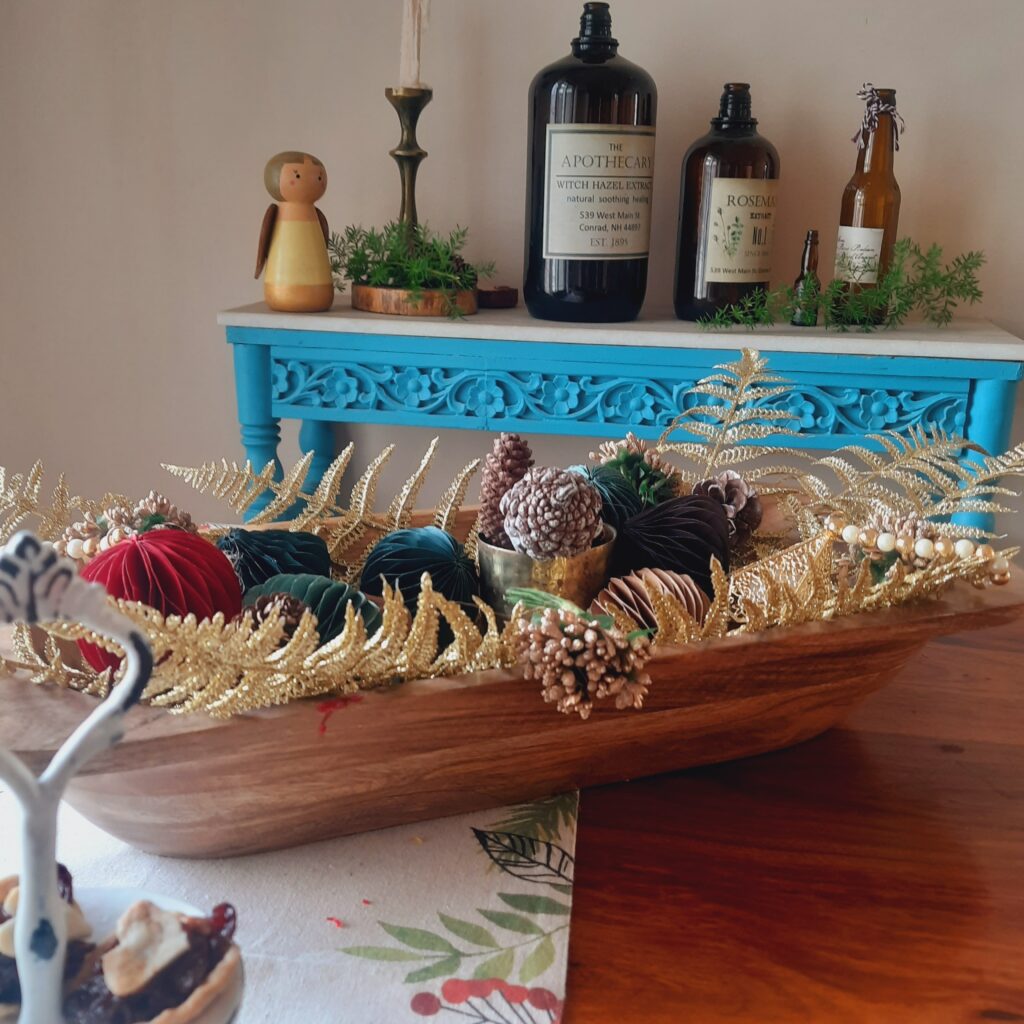 TWe keep our Christmas decorations on all the way up to Jan 6, and I really enjoy changing things around New Year's. This was another look for my doughbowl. his was my New Year look for the doughbowl. It is mainly a whole lot of gold leaves sourced from Amazon, and Priya's handmade paper ornaments, with some pine cones that my family and I picked up during a holiday in Kodaikanal years ago!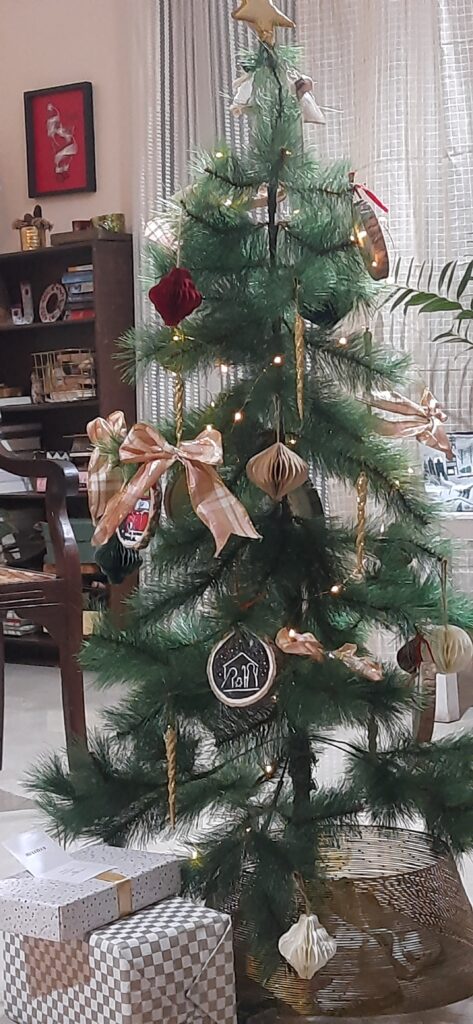 A not so perfect picture, but this is the only pic I have of my full Christmas tree. It also beautifully shows off the wood slices, Priya's ornaments, the ribbons, etc. And don't miss the pretty tree collar that will be available in my 2022 Christmas collection!
Head to our Pinterest board – where we have all these images already pinned!
More Christmas 2021 posts
If you would like to see more of our Christmas posts, here are some links
More doughbowl decorating ideas using our doughbowl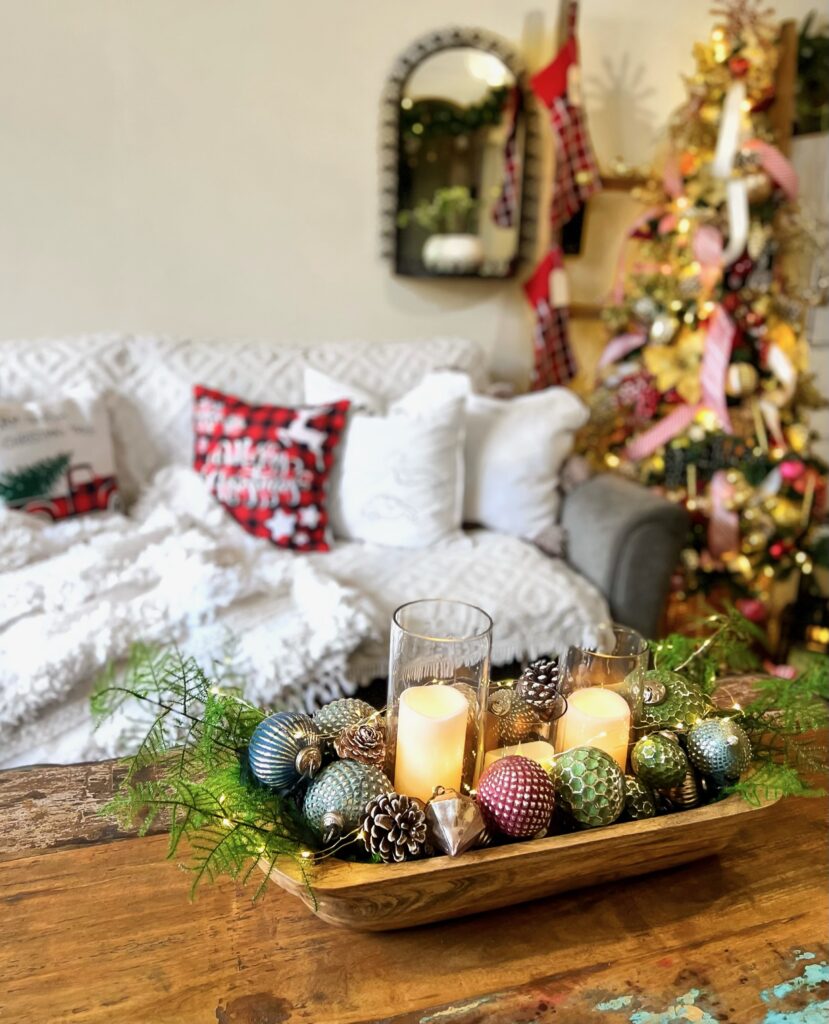 The Etikoppaka Nativity Set from our store