Chitra's joy-infused boho-eclectic home that makes the eyes dance everywhere you look!
Visit a home that is generously sprinkled with beautiful textiles, colour, and quite simply, joy.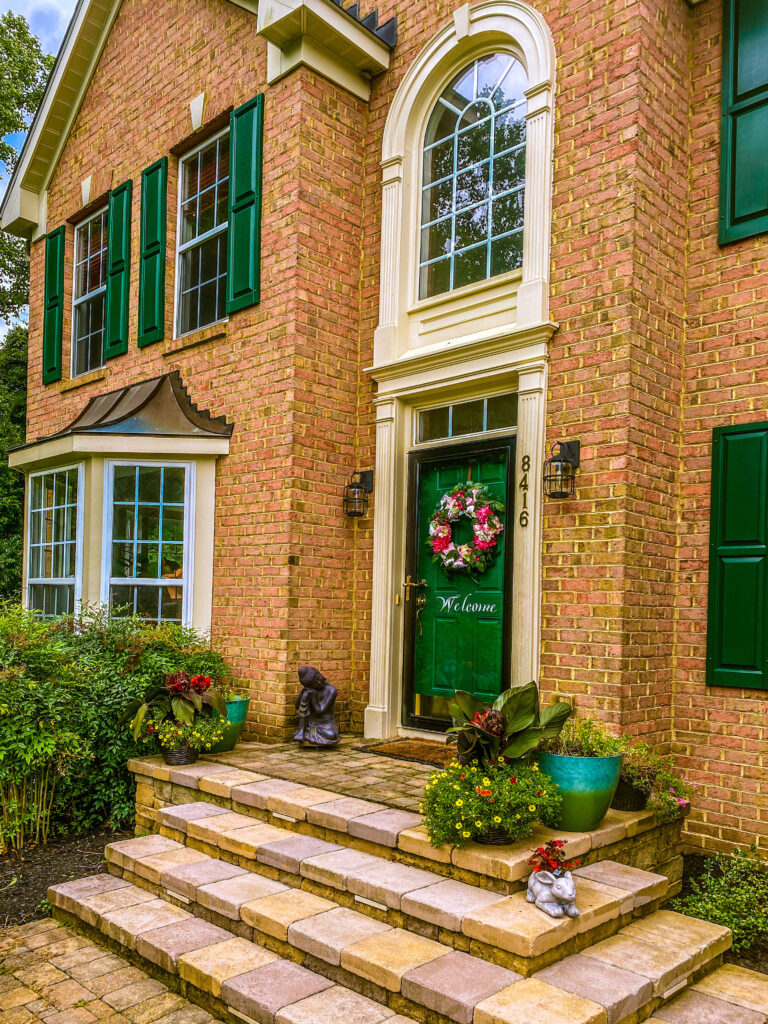 I had one look at Chitra's grand old colonial home exterior and I was in love. The red bricks and the green windows beckoned, and here we are with a tour of her stunning home!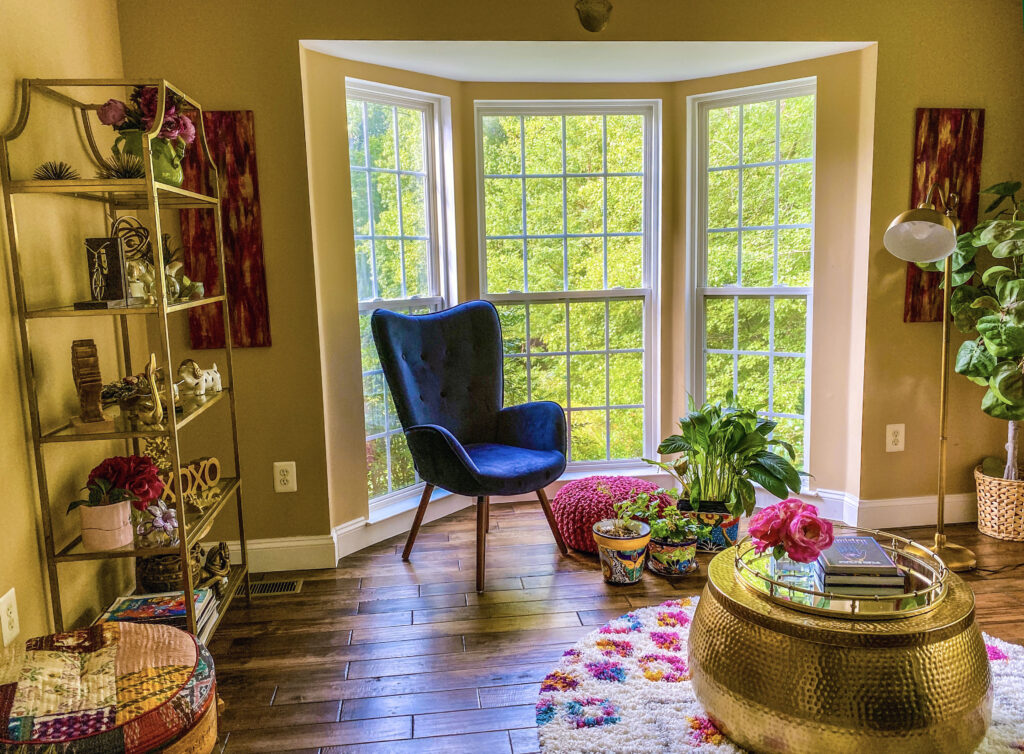 What: A colonial style family home; 3,900 Sq Ft with 3 levels, including a basement
Where: Ellicott City, Maryland USA.
Who: Owned and Inhabited by Chitra and Ajith Menon, both of Indian origin, and their kids Nirmayi and Pavitra, 9 and 4 yrs old respectively.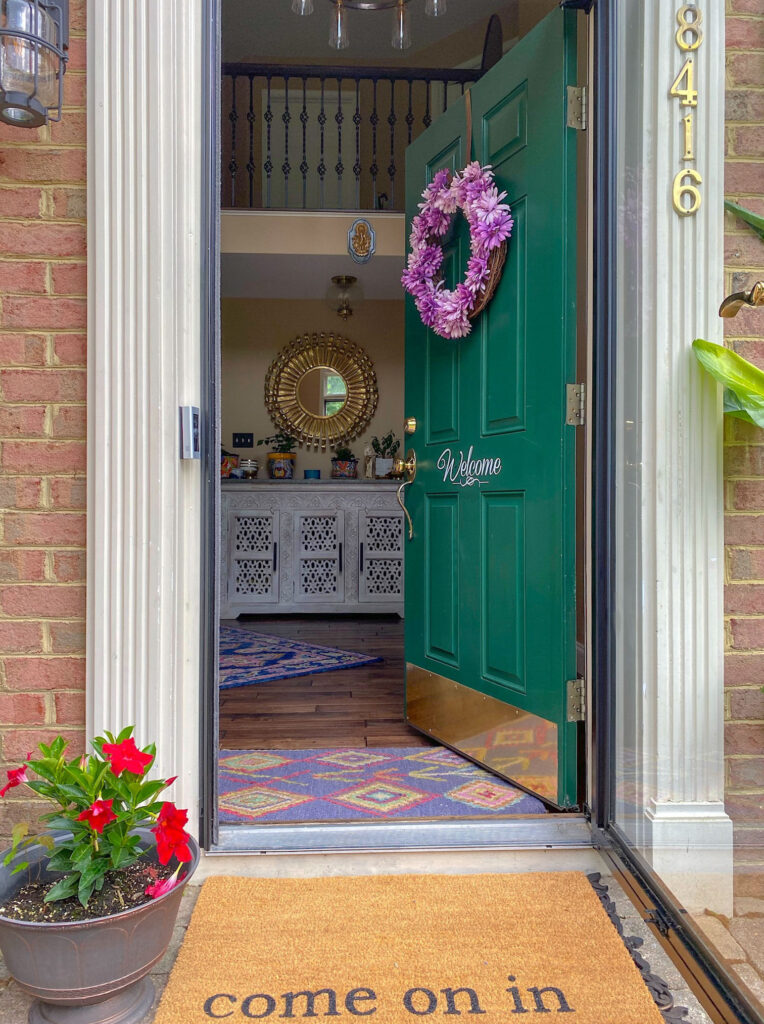 I decided to throw a few questions to Chitra, and she caught them beautifully. So come on in, and see the house!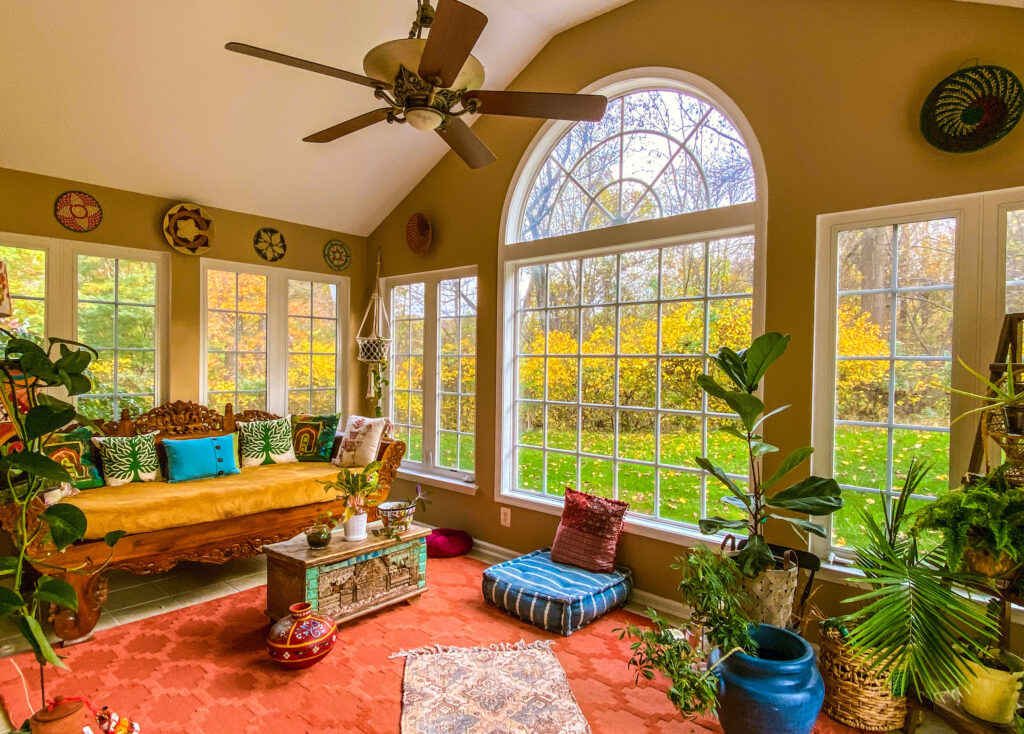 How do you define your joy-infused decorating style?
Boho Eclectic Mix with a focus on colors. I believe that my style is still evolving as I explore more ideas and designs along the time.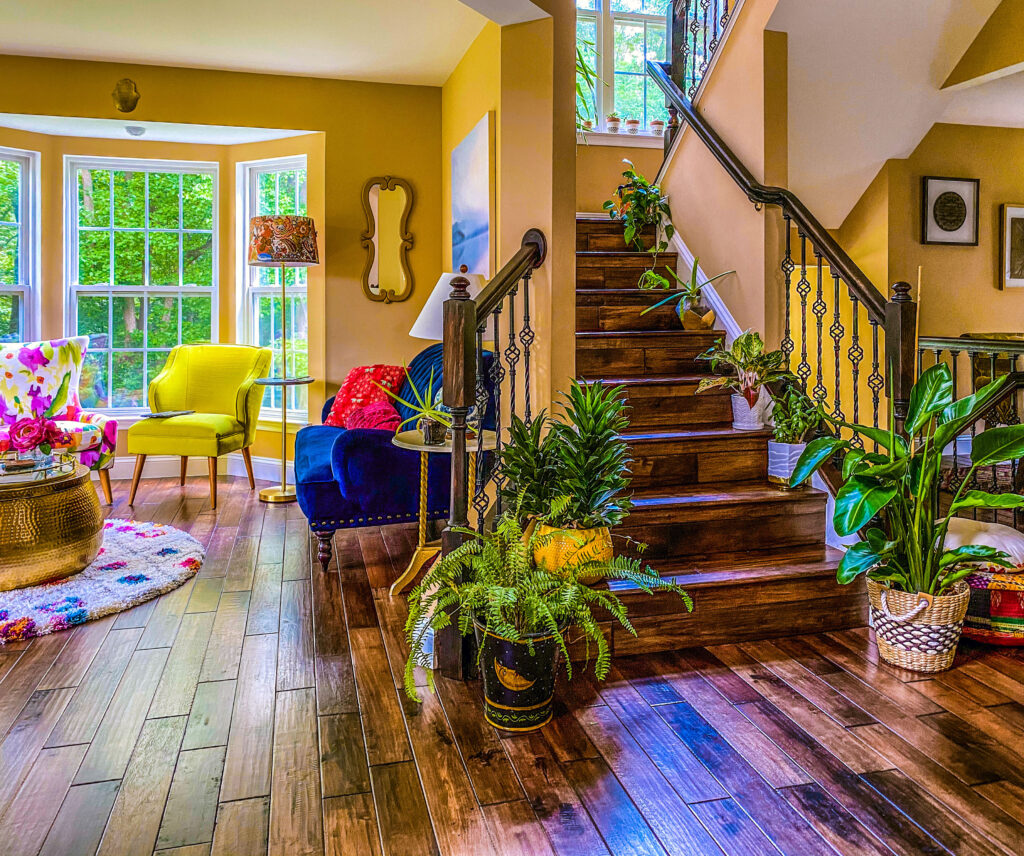 I see that you love textiles, and you use them creatively. Do you have a background in textiles?
I don't have a background in the textile field, but I just love to collect different materials and styles from various regions.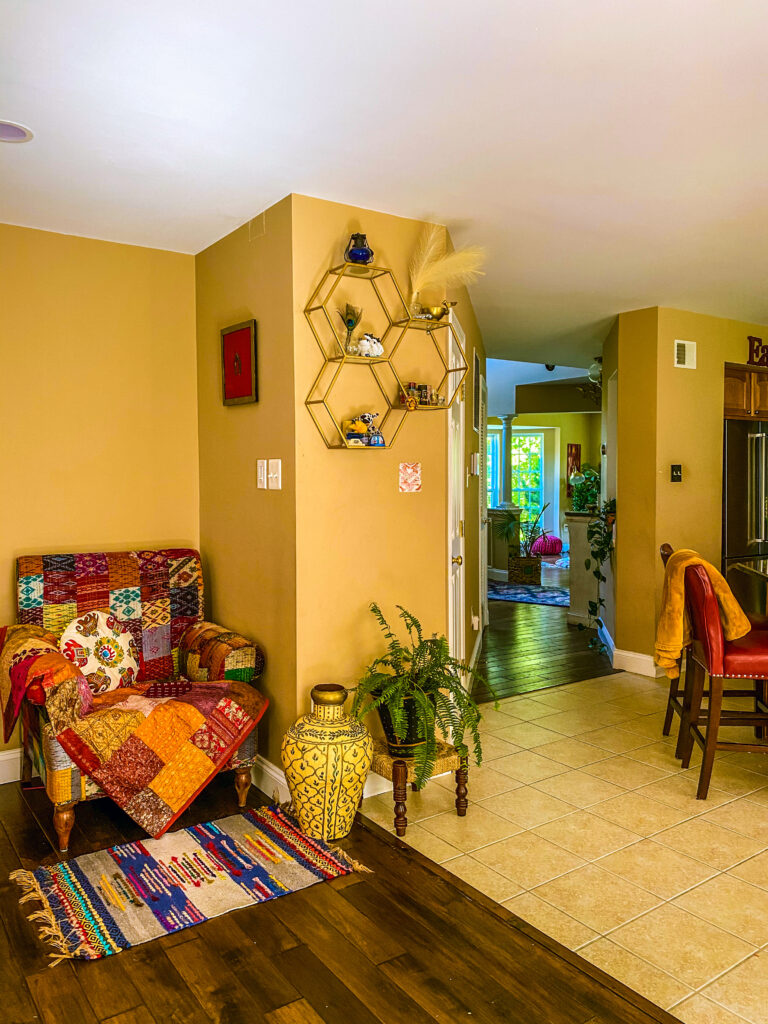 Prints and patterns are fun to play with when you are creating a space. Especially Indian textiles have a wide variety. Any textile lover would love to own the beautiful colors, patterns and stitches/embroideries.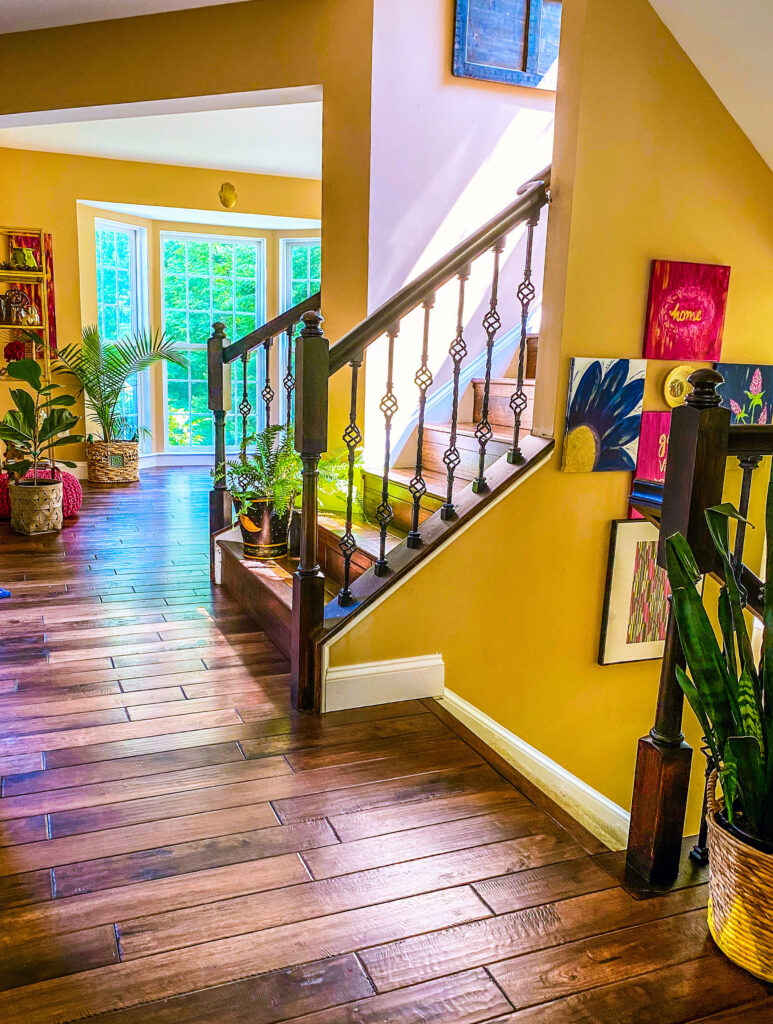 What are your main inspiration sources for your joy-infused space?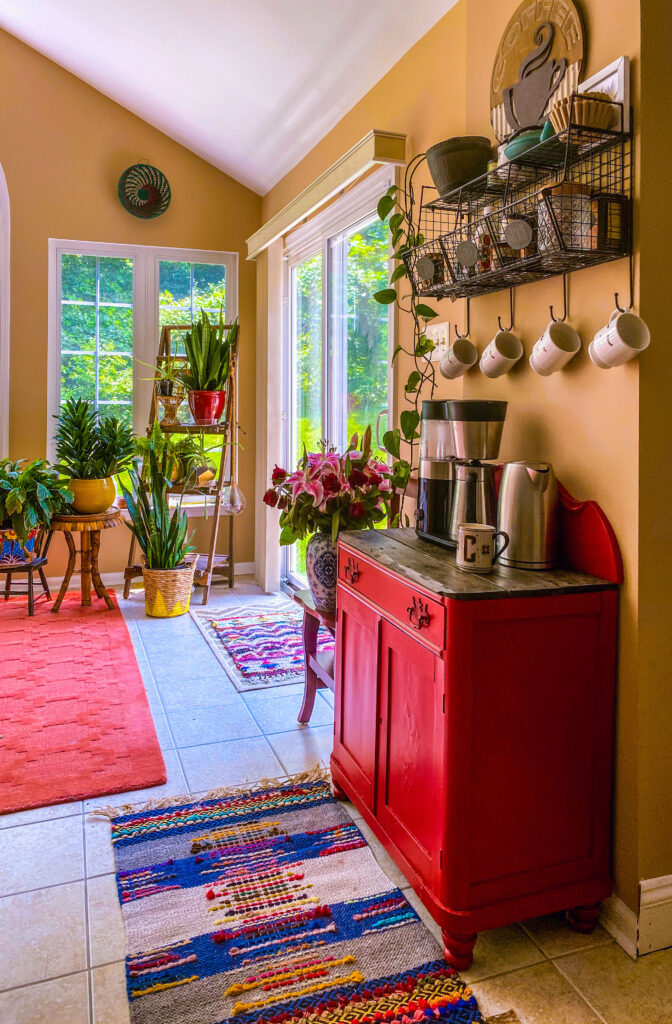 Instagram is my daily dose of decor inspiration. Pinterest and Houzz are my favorite sources too. I love to browse through the blogs/ interior design pages, HGTV shows and home decor magazines.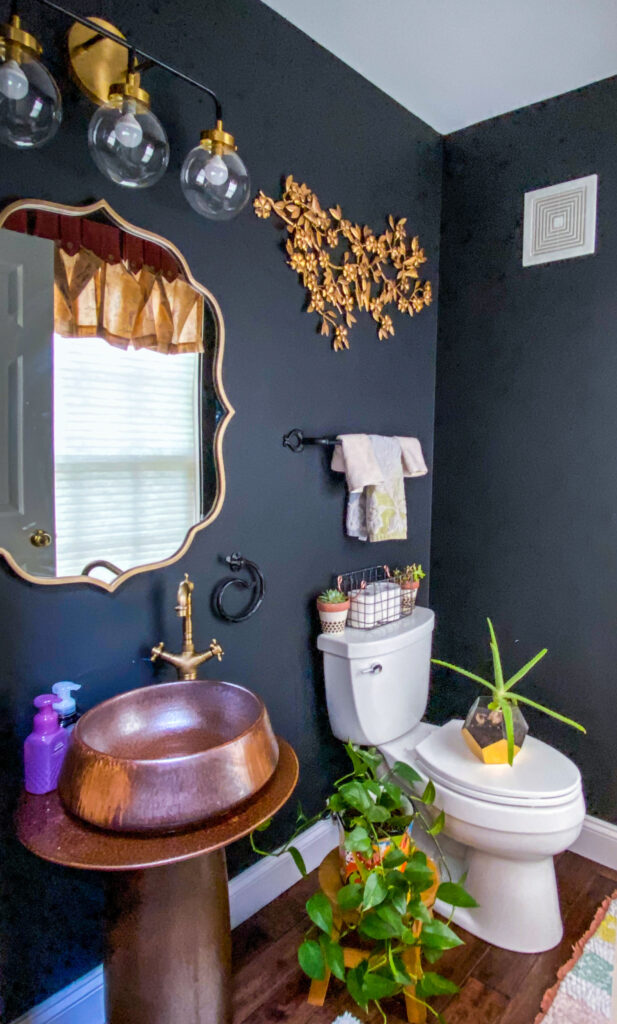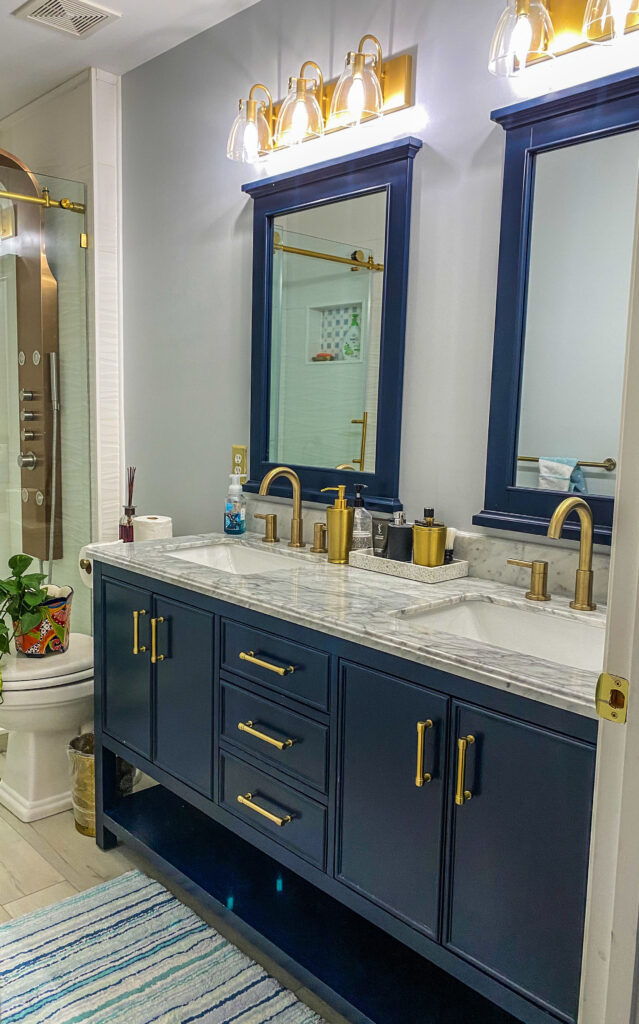 Where do you shop?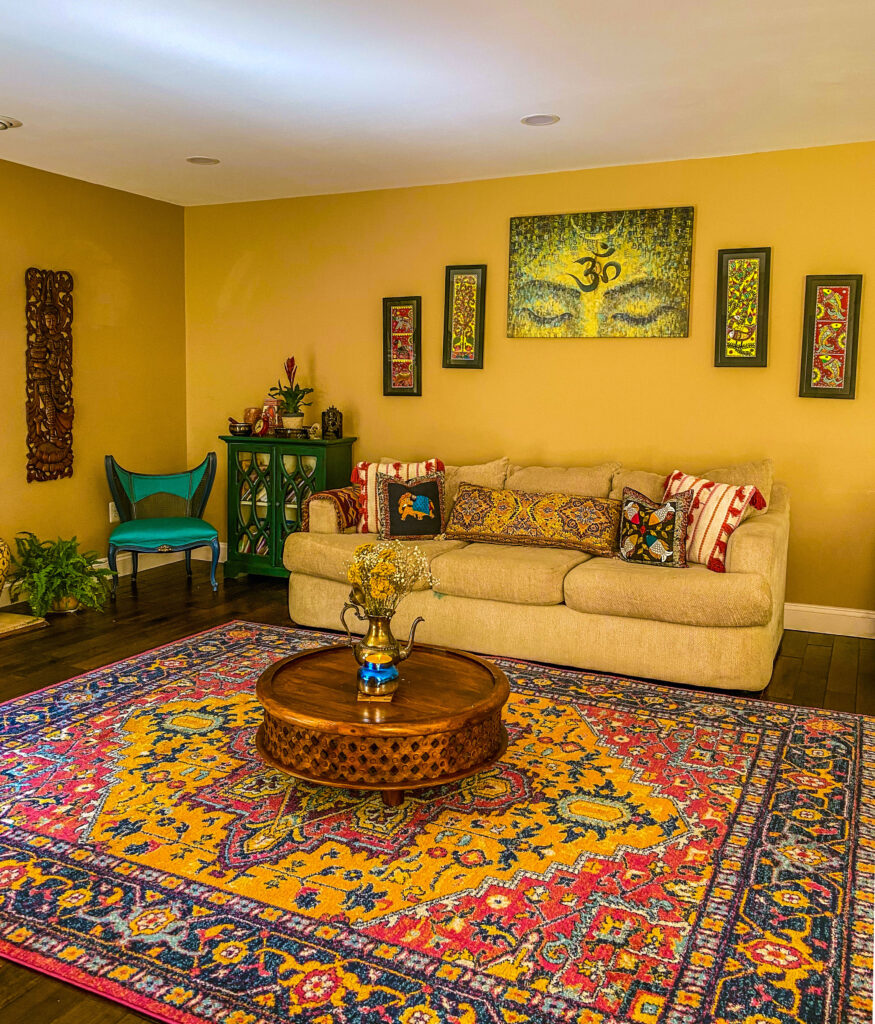 I use a wide variety of sources to shop from. More than ever now the online shops are accessible and sources like Etsy and Wayfair have large variety of products. I love to do my research before buying a product. Some of my favorite decor shops are Worldmarket, Nadeau, Homegoods, Pier 1 (now online presence only) Anthropologie and Target. I like to go through Facebook marketplace for unique things. Sometimes you find one of a kind pieces in the most unexpected places like an antique store or FB marketplace.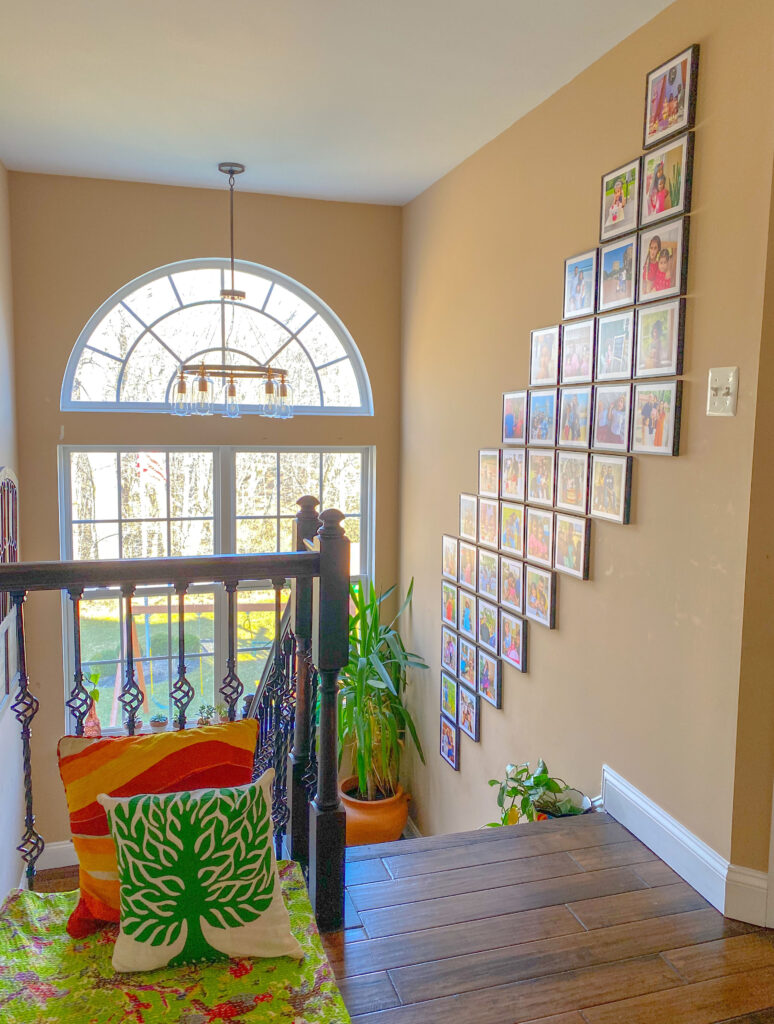 How do you incorporate Indian elements into your decor?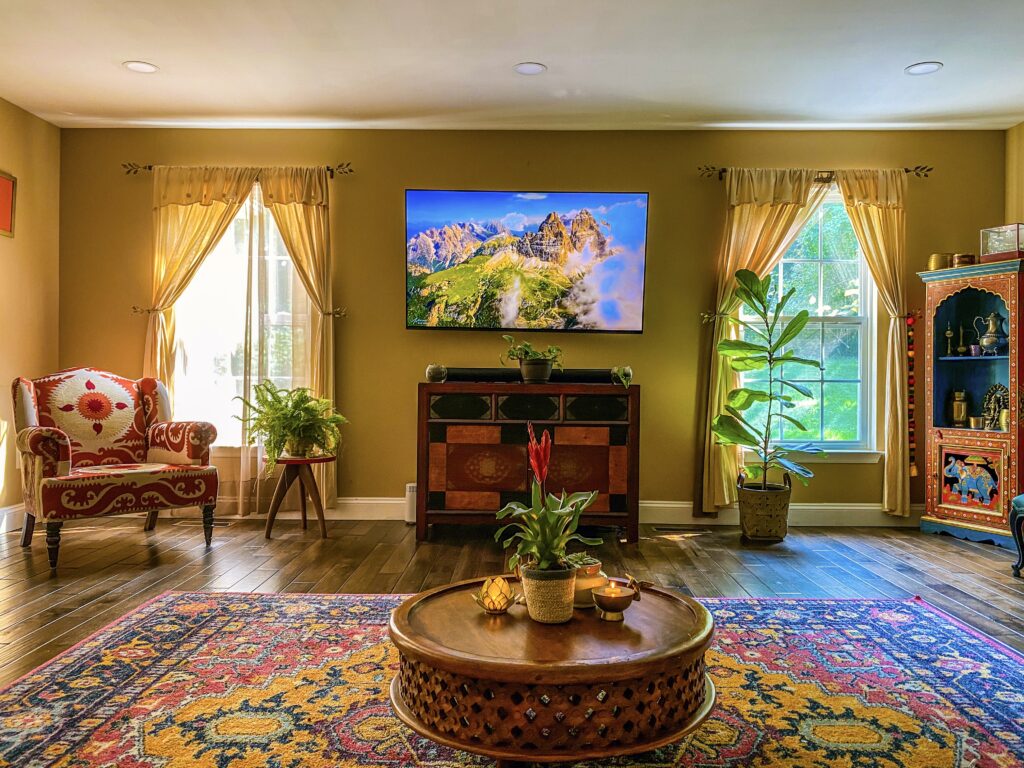 I like to mix my style with a few Indian pieces here and there to bring out the eclectic look. I like to use Indian art and colors in my decor style. I have created my family room, where we hang out the most in Indian style with lot of bright colors, Indian Fabrics and wall decor pieces. I believe that there are a lot of untapped/ unexplored arts and crafts forms in India the world has yet to see and enjoy.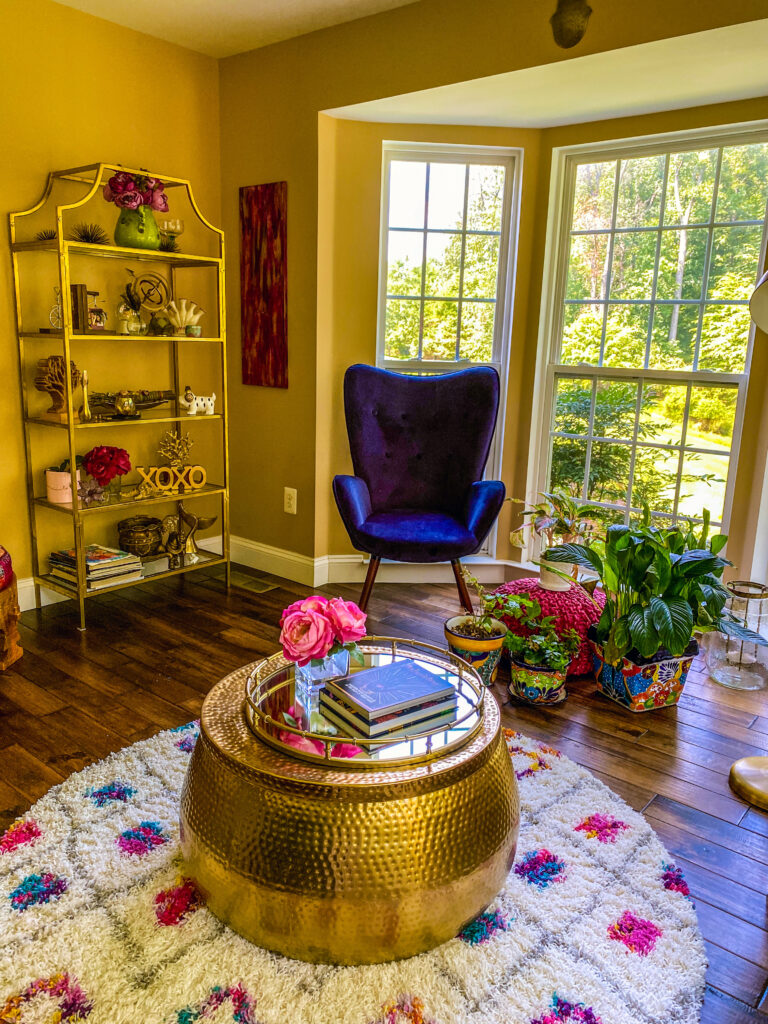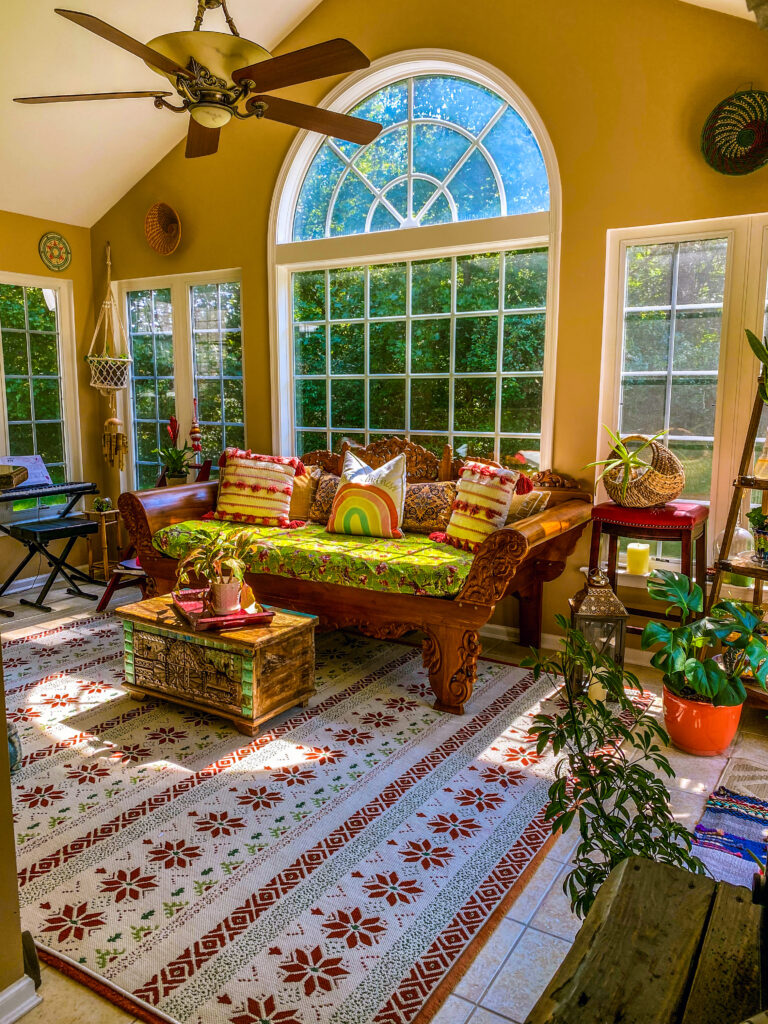 Colors are an integral part of your space – they are happy and unconventional colors, and infuse joy. Tell me more.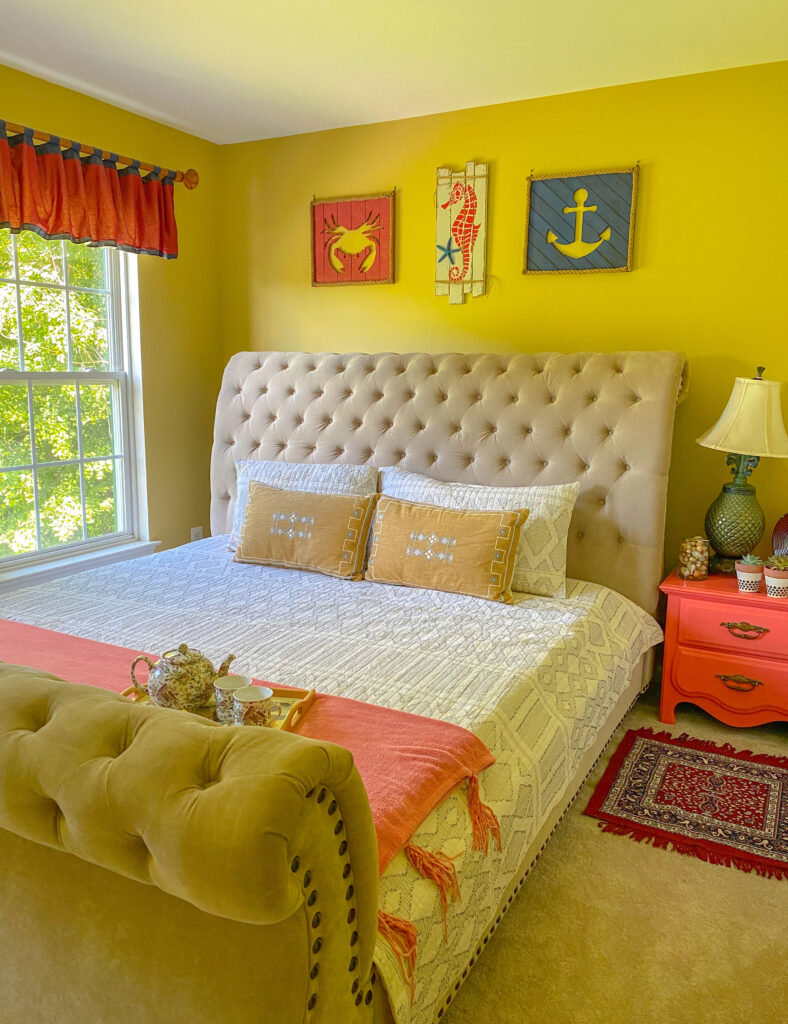 I believe in bringing the bright and bold into your happy place-Home! Colors bring a lot of happiness and life to any space. Your home should be a reflection of the people who live in there. I want my space to be infused with colors to reflect the zest for life, passion and growth. My house is an absolute representation of who I am and the family we are.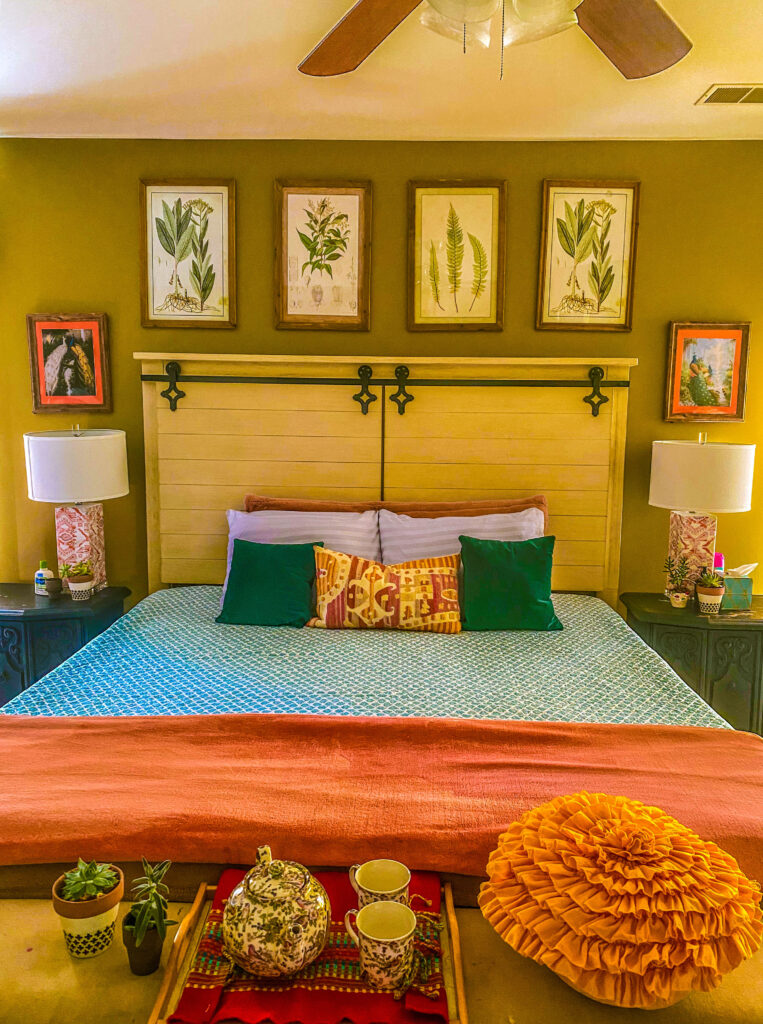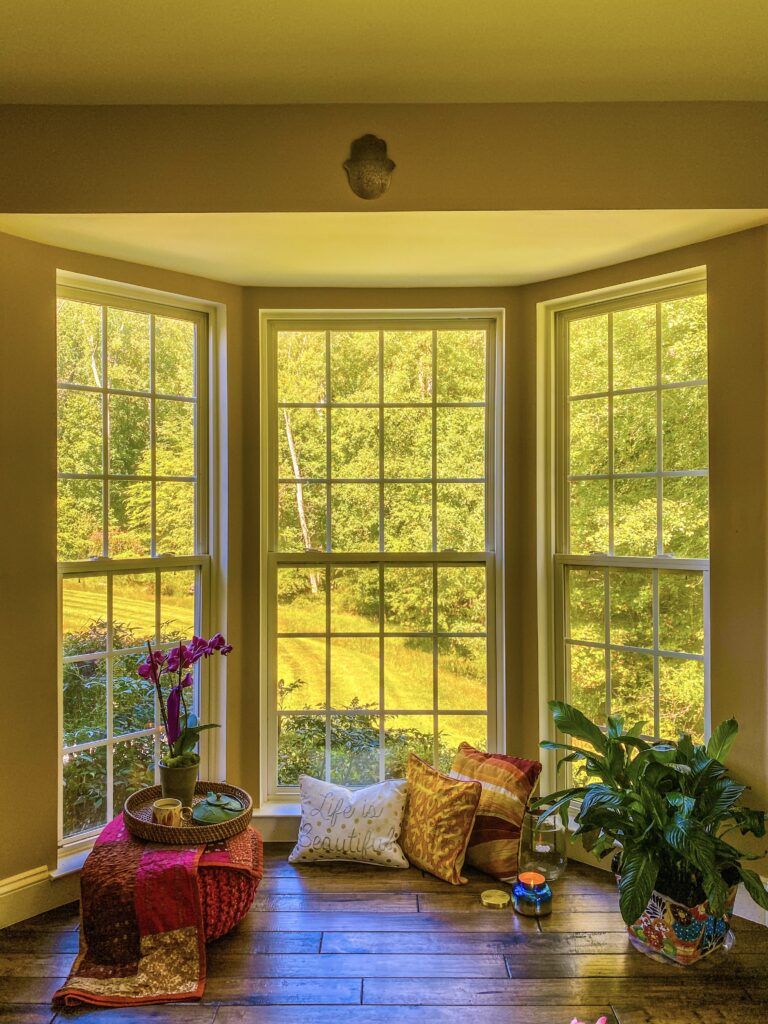 Any fun or poignant stories associated with any part of your home, or the stuff you have in it?
As we walked into the house for the very first time when we were doing the house hunt my husband and I looked at each other as we both had the same feeling for this house, we gave an offer as soon as we finished the touring. We liked the privacy as it is the end house next to a preserve with a very private backyard facing the woods. we had a house in New York before this, since it was an inter state move we didn't carry the furniture and most of the decor along with us except a few pieces which are close to us.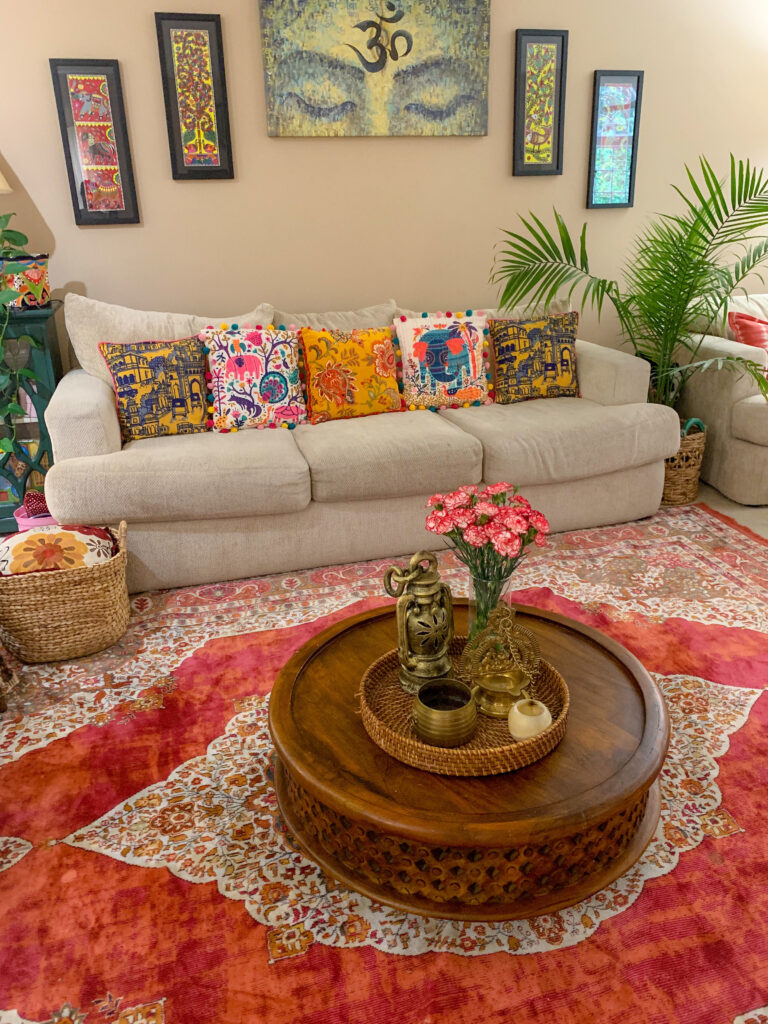 The "OM" painting in our family room is one among them. So we had to start fresh and I think that was the most fun part. The entryway console and the saree patchwork chair were the very first furniture pieces we bought for this house. The wooden carved daybed on which I always get a lot of DM's in Instagram asking the source, I got from a family who imported that piece from Bali as they were living there before, when they moved down to US they brought that along with them. Since they were moving from this area they put that in a website called Letgo/Offerup for sale. As I was in search for a wooden furniture piece I Instantly fell in love with that piece when I saw the pics. And now it's one of the most cherished pieces we have.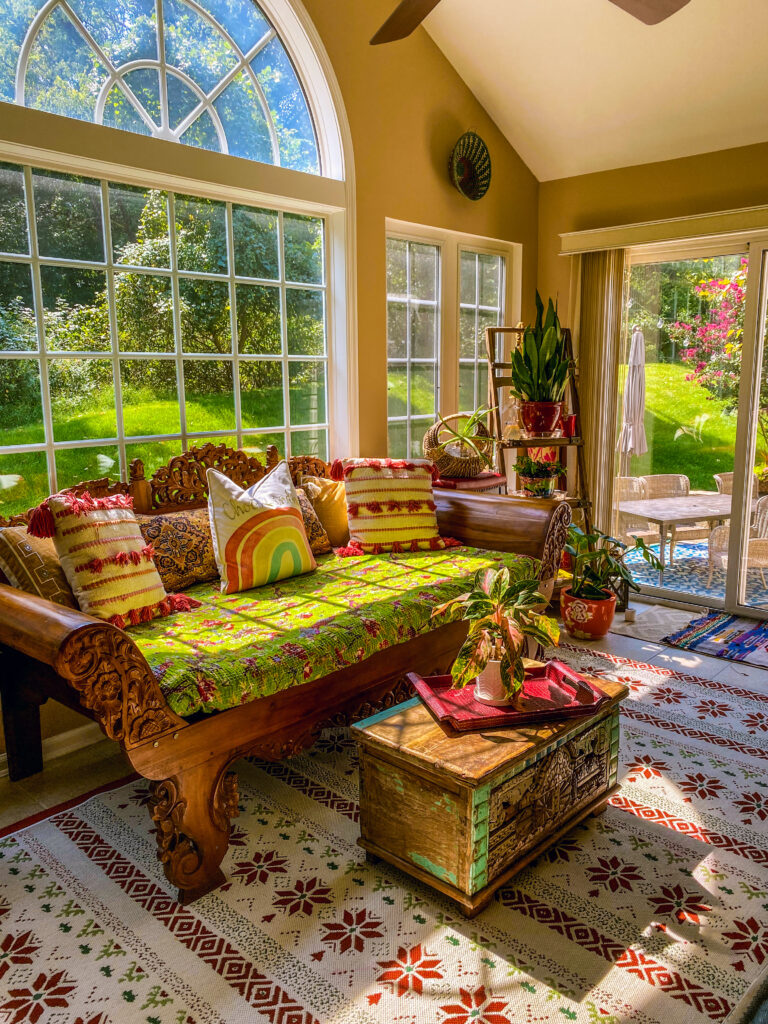 Any antiques or vintage pieces, and stories associated with those?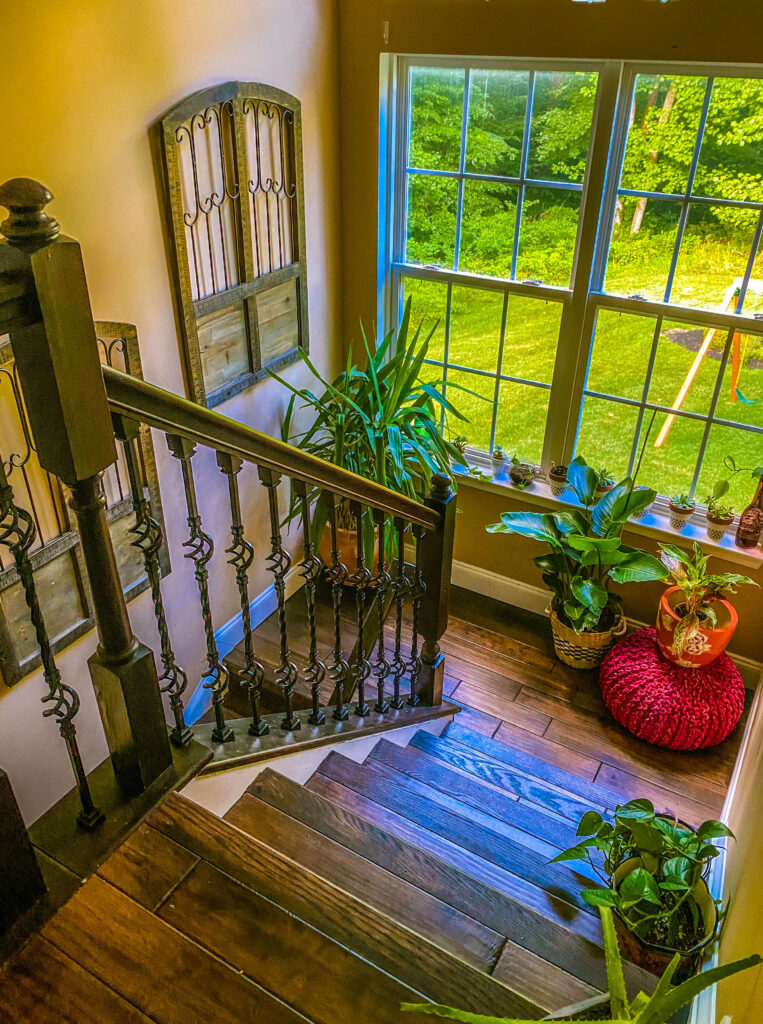 I do have a few pieces which I have bought and collected through some antique dealers in India. Also I have a few silver pieces I bought from the antique stores over here. I have a set of unique Italian silver plated Cups and Saucers I got from the famous Portobello Antique market in London. Visiting antique and vintage stores are one of my absolute favorite things to do. I still have to bring down a few ancestral antique pieces from India.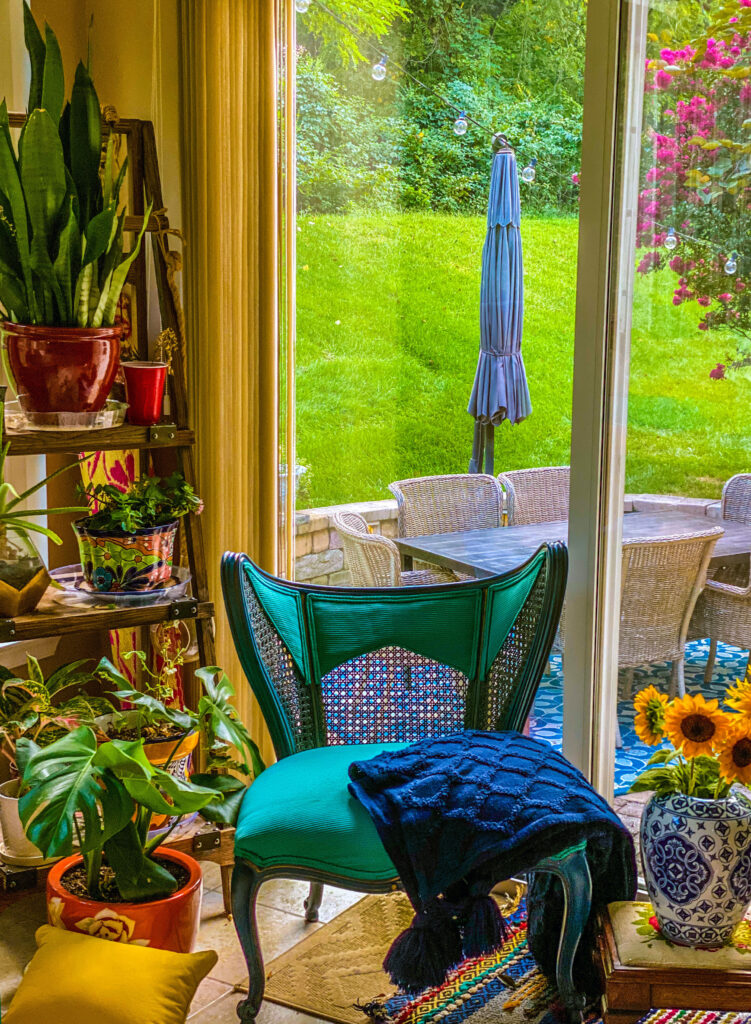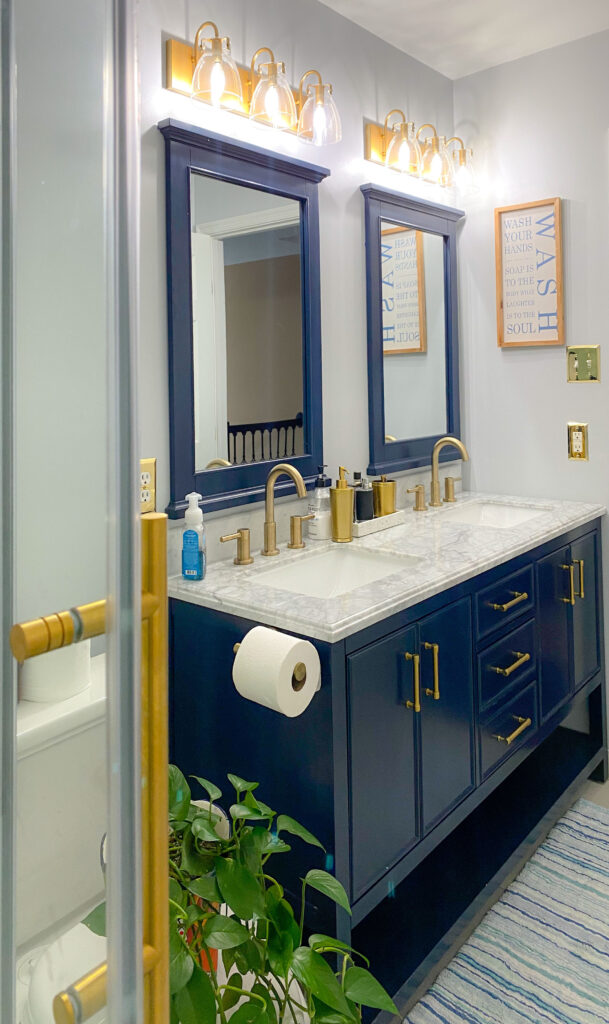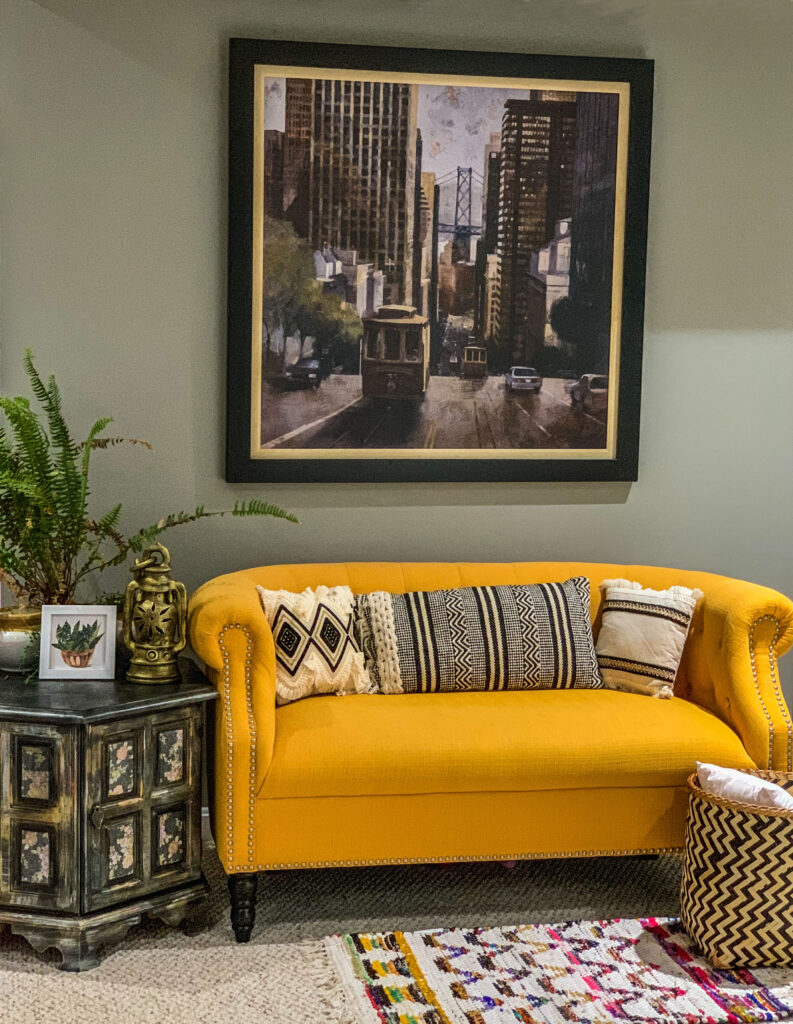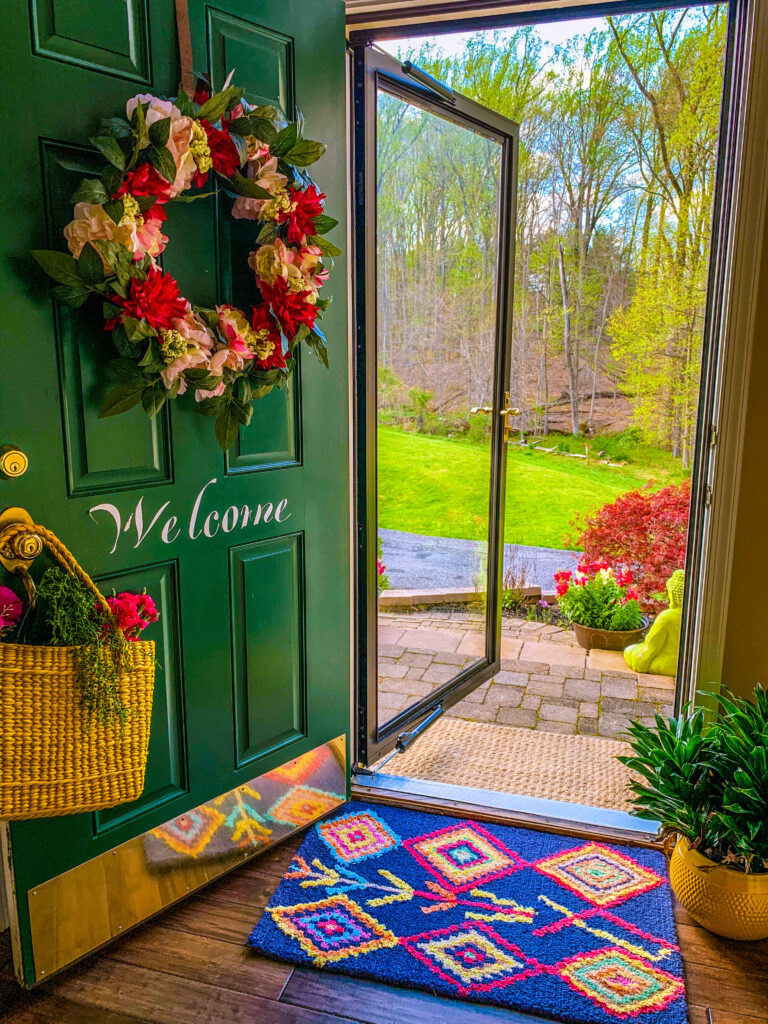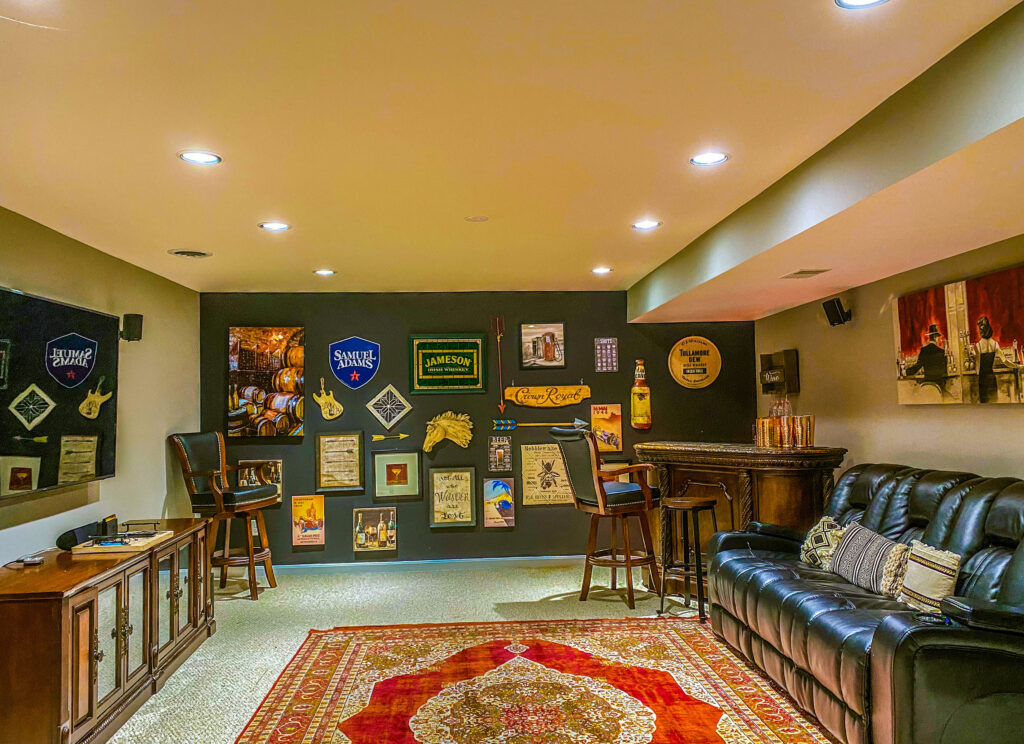 Key takeaways from this tour
I love how fun and welcoming Chitra's space is. Here are the key takeaways from this space.
Infuse joy into every part of your home! When decorating, always try to bring elements that bring joy to you that will definitely resonate the vibe you wish to see around.
I like to go with a complimentary color scheme, i.e., colors opposite to each other on the color wheel. I believe contrasting colors attract the attention and create a high impact in any room. Also when redecorating or adding a few colorful elements in the existing room especially when you don't know where to begin, look at the colors in the largest pattern in the room, it could be from any upholstery fabric, drapery, rug or a piece of art in the room and you can choose colorful accessories based on that.
Restyling is an easy way to make a big impact. I like to add plants or a floral arrangement to the mix of elements in any space. I think they offer balance and harmony. Pillows are one of the simplest ways to add color and whimsy to room. Also mix up different styles and sizes to create a unique style. Alongside, you can use your favorite style of fabric/textile to decorate as an art piece, tapestry, curtains or as throws anywhere in the house.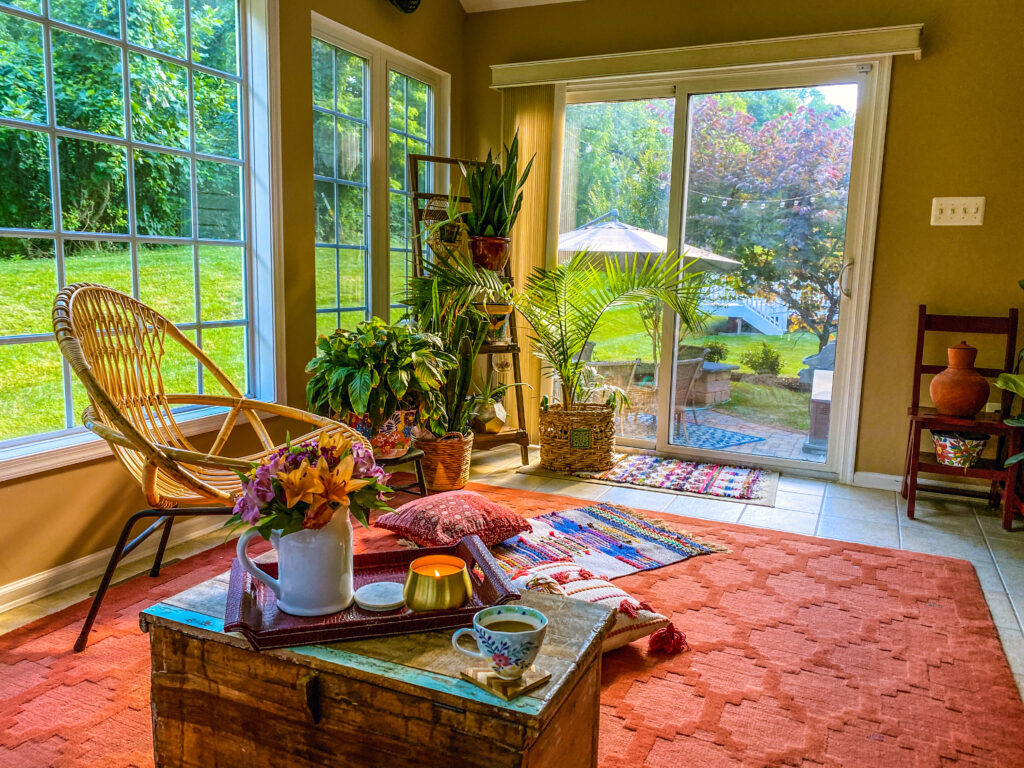 Thank you Chitra, it was wonderful touring your joy-infused home!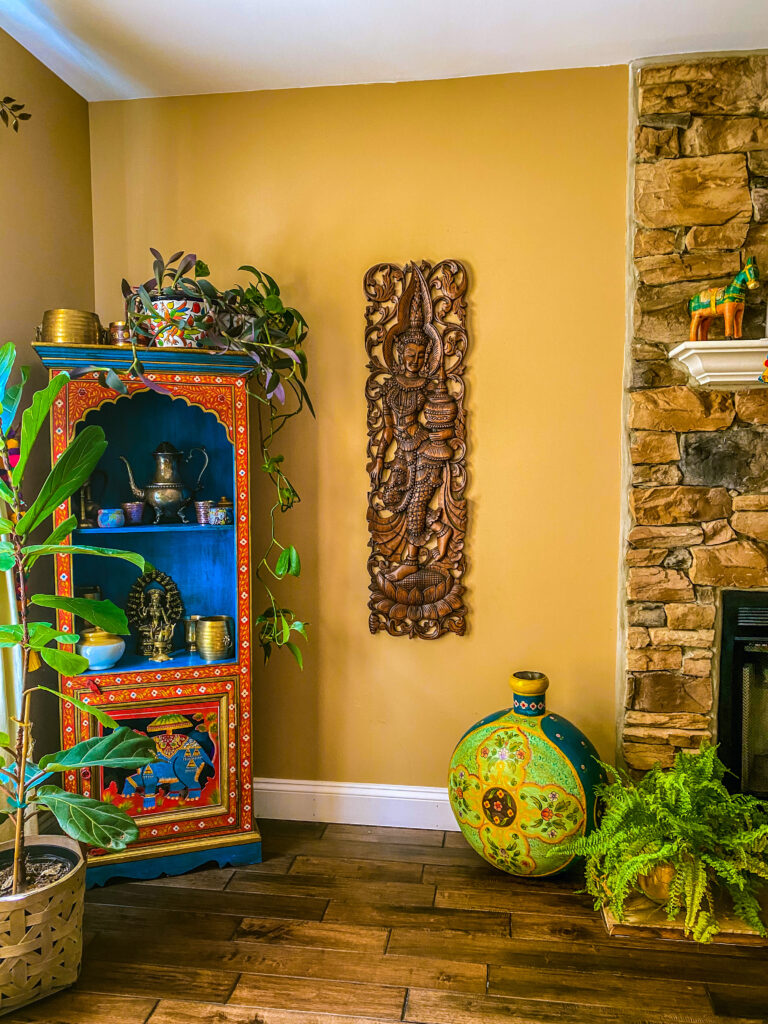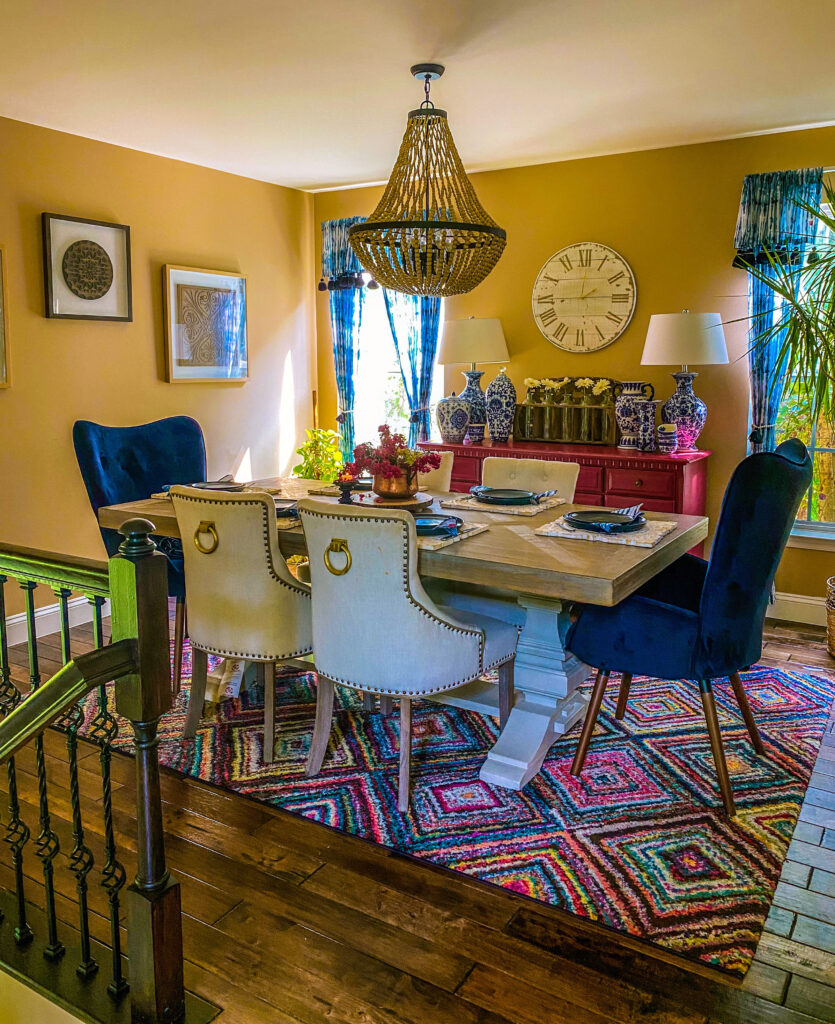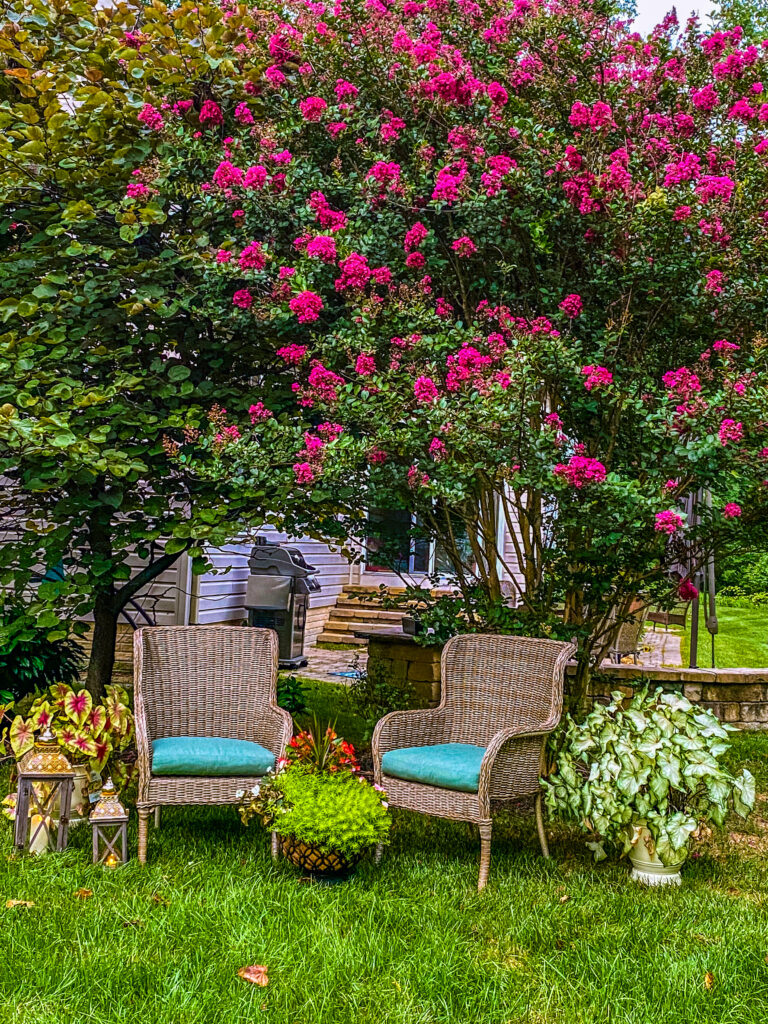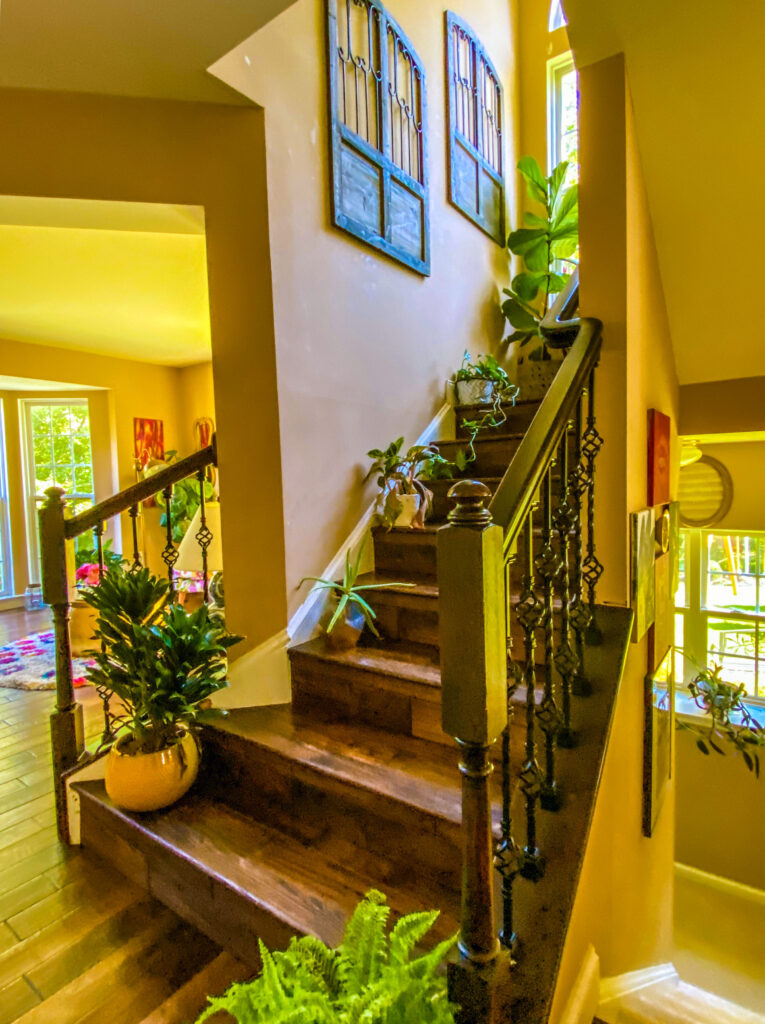 If the images in this tour inspire you, head to our Pinterest board for this home tour, and pin away!
For more inspiration from this home, and to see this space as it evolves, follow Chitra on Instagram.
Want to see more Indian homes in the US, featured on this blog?
We love to see the interesting way the Indian diaspora decorates homes in the US and in other countries. Here are some of the Indian homes in the US that we have featured on this blog.