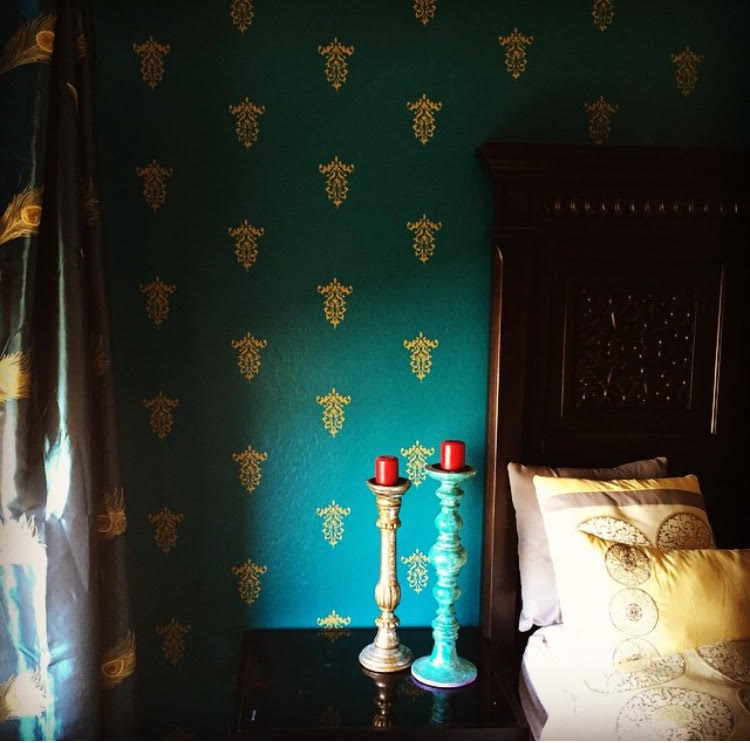 It all started with this gorgeous blue motif wall. I saw that wall, and I wanted to see more of the home, sure that it would be as delightful. That's how I got hooked to Shweta Mark's IG feed. I was not disappointed! This home tour has been in the pipeline for many months now. I have been longing to share it on this blog, and finally, the time is right!
This is the home of Shweta and her husband Harshad Markandeywar and their two young boys. They have very kindly shared pictures of their home in Phoneix, Arizona, The total area is 5000 sqft and the actual floor plan is 2500 sqft with 5 bedrooms. Says Shweta, "Our home is bold and colourful, and we like it that way. It helps keep things fresh and fun. It's an ideal mix of colours, patterns, new and old, somewhat eclectic!"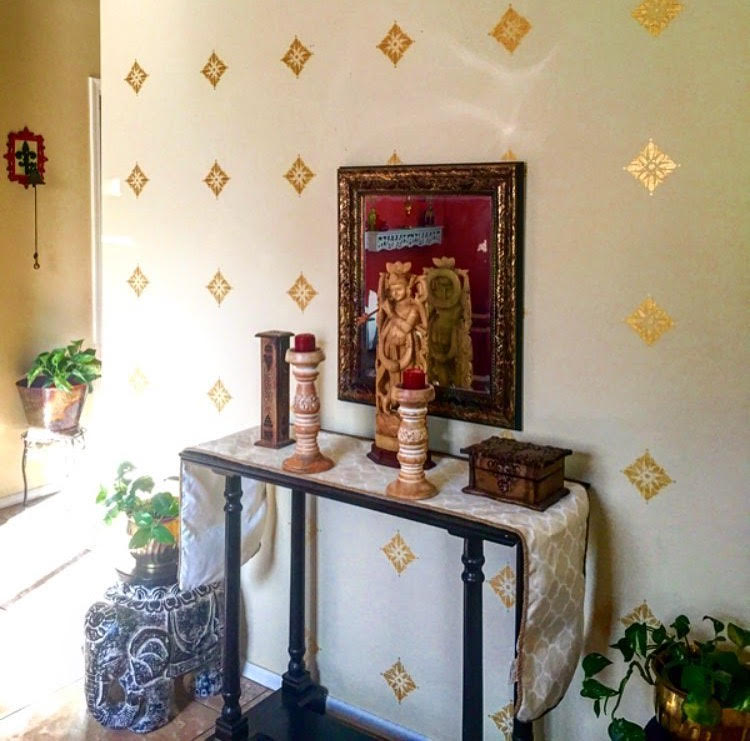 The foyer wall with gold stencils
Let's begin with their foyer, the very first space you see when you enter their home. Shweta wanted the entry way inviting and clutter free. She placed a console table with her absolutely favorite Krishna statue. She had ordered it from Mathura with wooden candle pillars. The gold stencilled wall serves as a beautiful backdrop.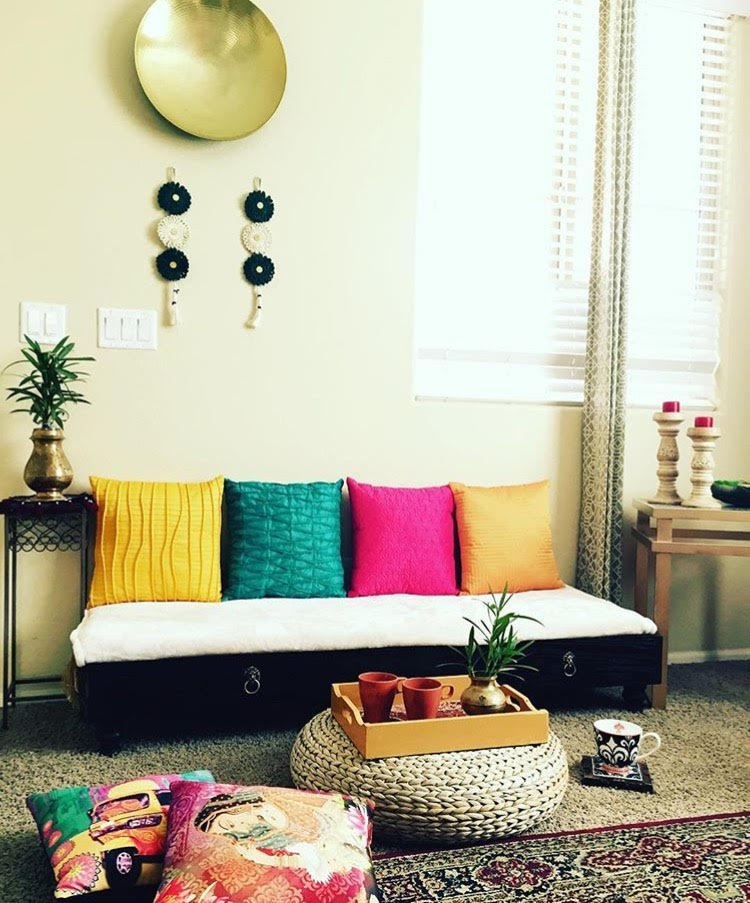 Baitak in living room
The living area has an ivory sofa set and the baitak that Harshad built. She painted one wall brick red and she says she absolutely adores it. She says, "My white couch just shines against that red." The coffee table and the end tables were originally black; she spray painted them gold and is pleased that they now add a wow factor to the room.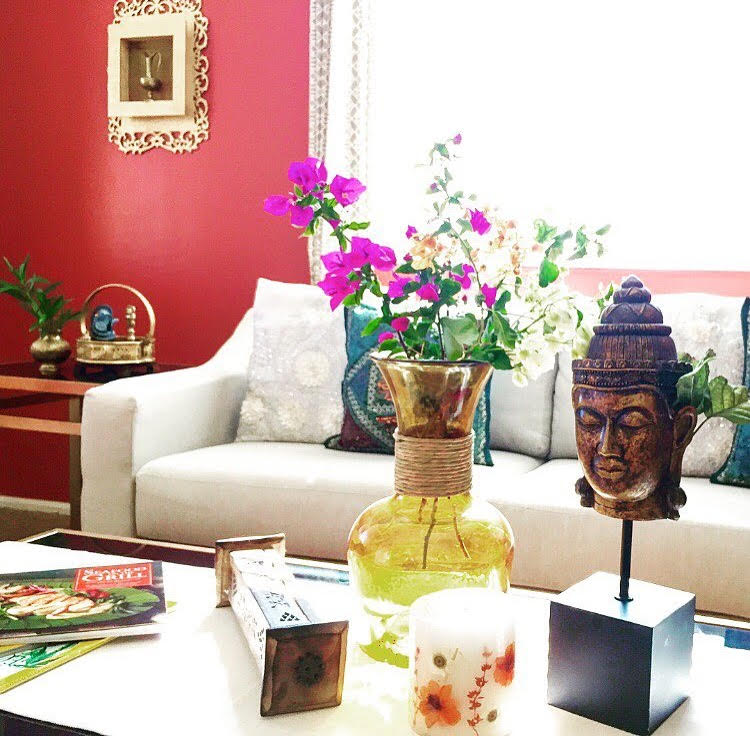 Another view of the living room
Above those end tables, she has DIYd jharokha frames. She uses them to showcase her brass artifacts, and keeps changing the display, as she has so many pieces! On the other side, hangs beautifully carved wooden shelves which she says were a lucky find from Home Goods. They are made in India, to her delight!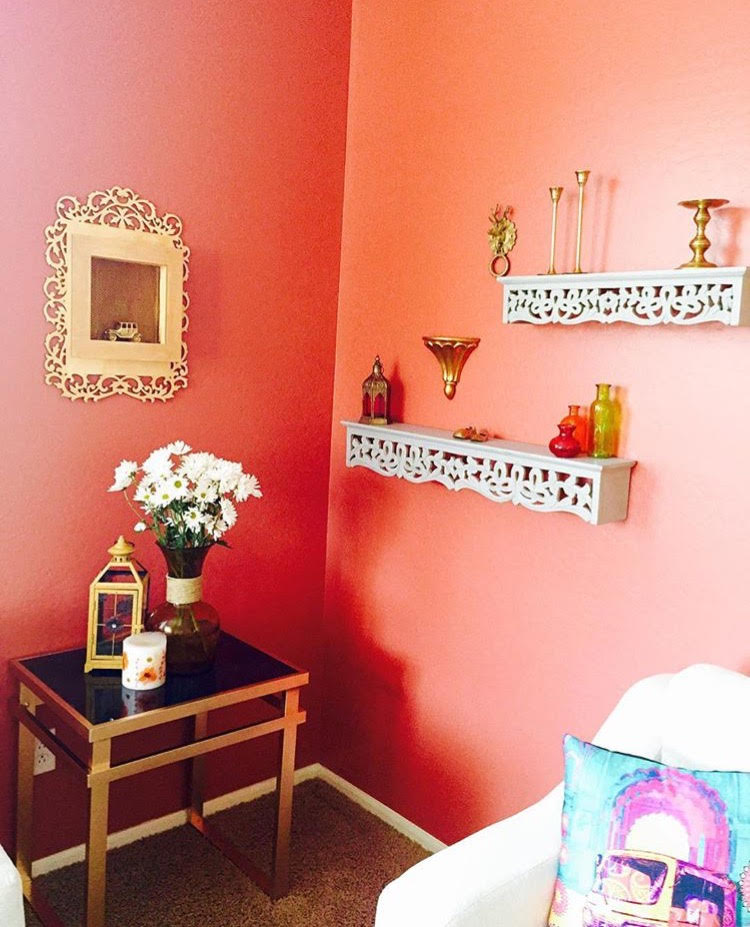 The jharoka pieces are a brilliant DIY. Here's a quick guide on how she did them (refer pic below). She had some sari blouse fabric she got as a gift. She used this fabric to line shadow boxes to which she glued pretty laser cutr wood frames from Michael Stores. A gold metallic coating all over finished it beautifully. Thank you Shweta, what an ingenious idea!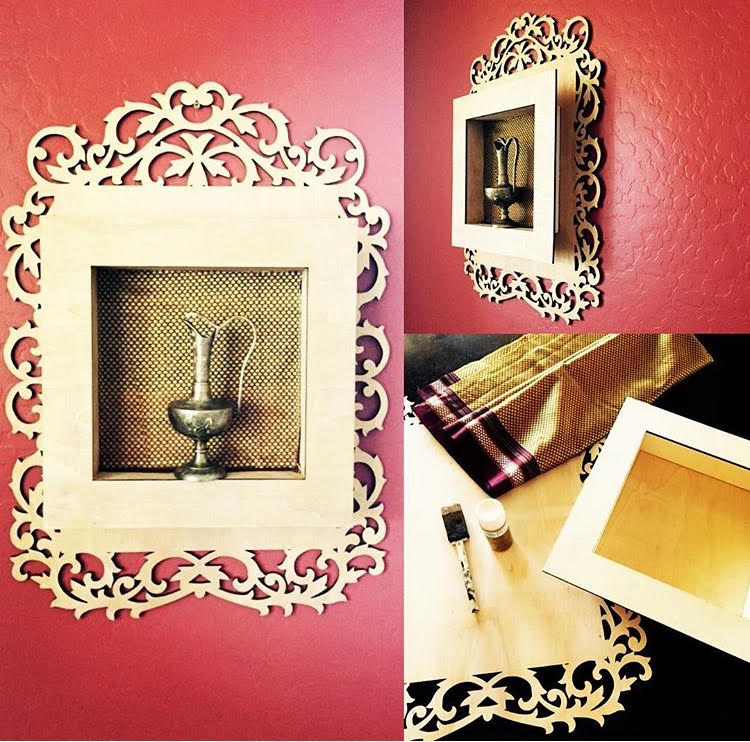 The plate wall is a charming addition to the dining area. Says Shweta, "That wall next to the pantry was screaming for some art. I didn't want to hang a frame or a mirror but something relating to kitchen. And what is better than a plate wall.. It's still work in progress as I'm planning to add some more to it.. Some of the plates I got from a local thrift store.. These Goodwill stores are the best to find something fun and one of a kind.. My favorite is the large green plate wooden one.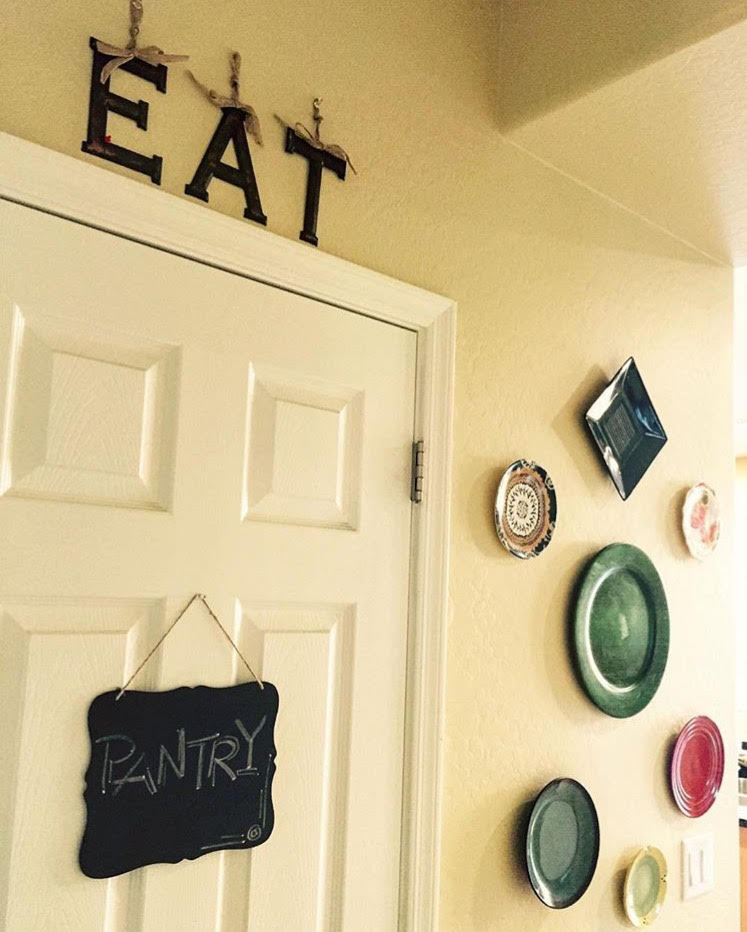 As is evident from the text so far, Shweta and Harshad both love DIY projects. They painted the whole house themselves. They also built a lot of things in their home, on their own.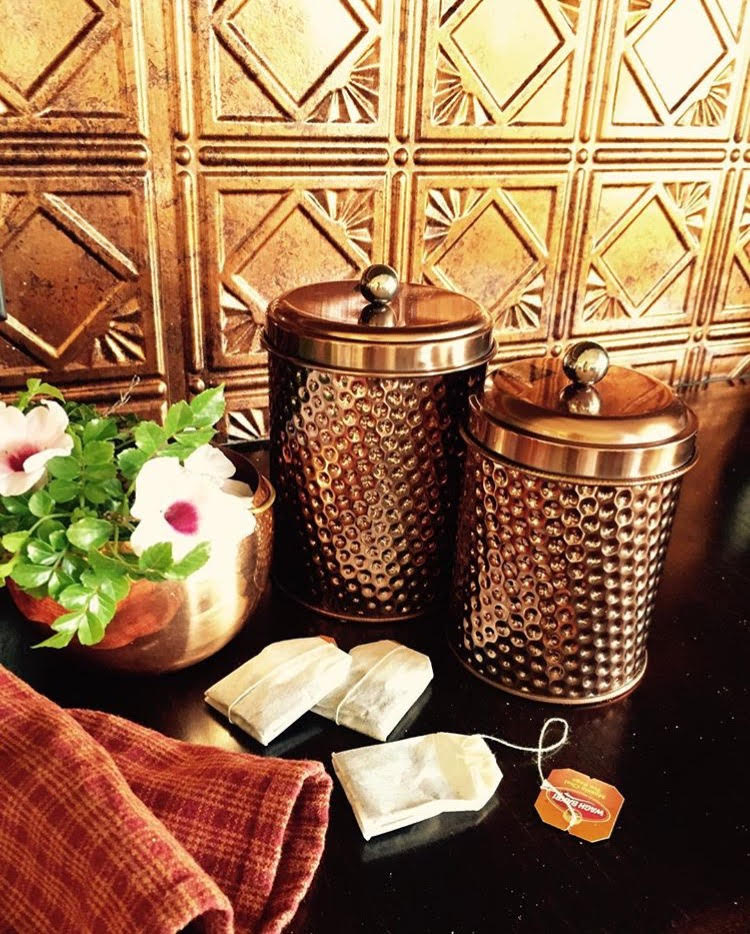 For instance, they installed a metal backsplash in a copper tone in their kitchen which goes beautifully against the black granite. Shweta found these lovely lion head copper pulls for drawers and maple leaf ones for cabinet doors which she drilled and put together herself.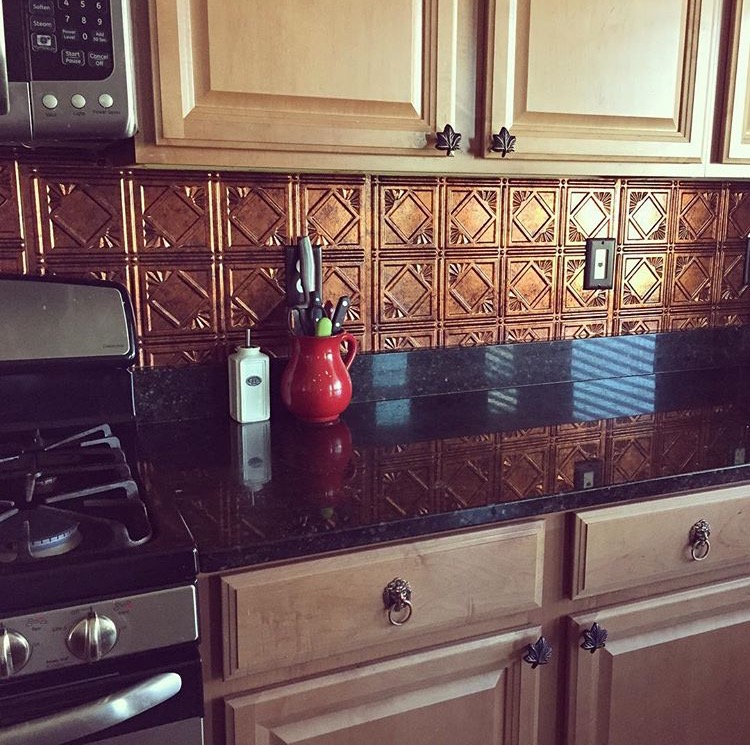 And Shweta adds, "My absolute favourite DIY is our master bedroom wall which I stencilled. Our home is bold and colourful and we like it that way.It helps keep things fresh and fun; it's an ideal mix of colours, patterns, new and old, and its somewhat eclectic…"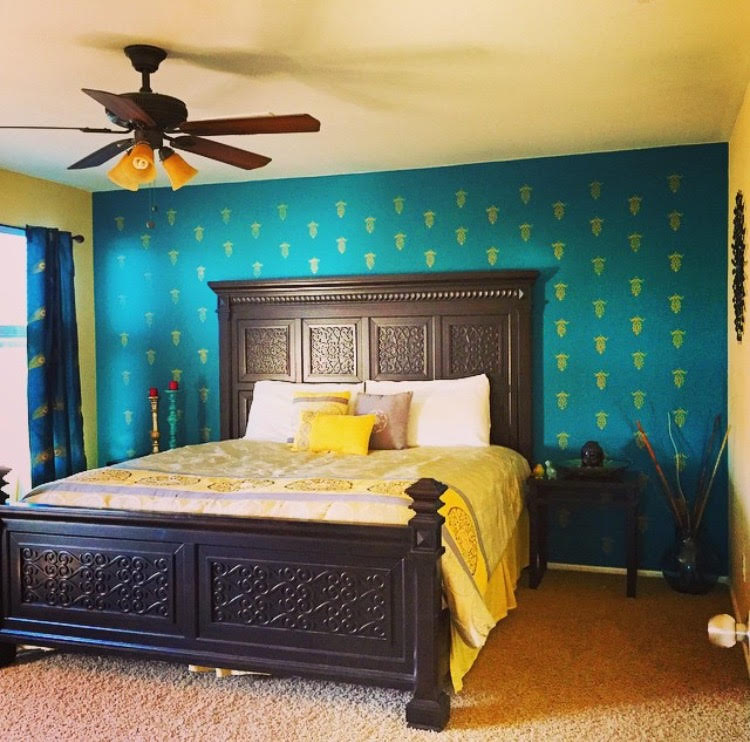 I love peacock colours, I am kind of obsessed with the turquoise, royal blue & green. So I painted one wall with turquoise as an accent wall and stenciled it with a damask pattern I picked up from a craft store. I used pale gold colour for my stencil. I love patters, bold colours and this wall just delivers all of that. The rest of the walls in the bedroom are cream (Banana Cream from Sherwin Williams)."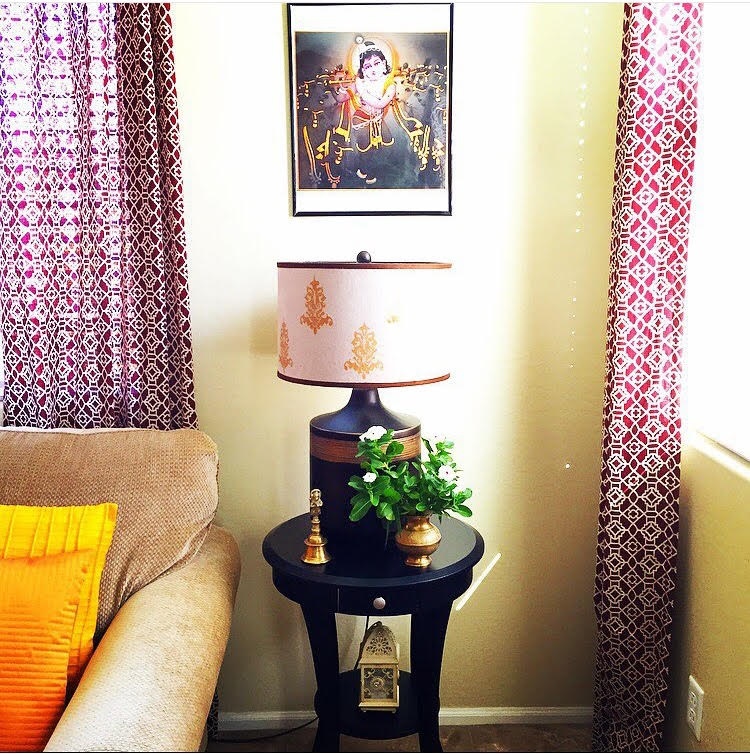 The bedroom set is from a store called "room store". It was love at first sight for Shweta when she saw the wood work on the headboard. For the bedroom windows, she bought gorgeous peacock feather curtains from Pier One Imports. She says, "They are the perfect shade of turquoise in raw silk. With so many colours and patterns going, I kept bedding simple and subtle…but I couldn't resist piling it up with different cushions and shams."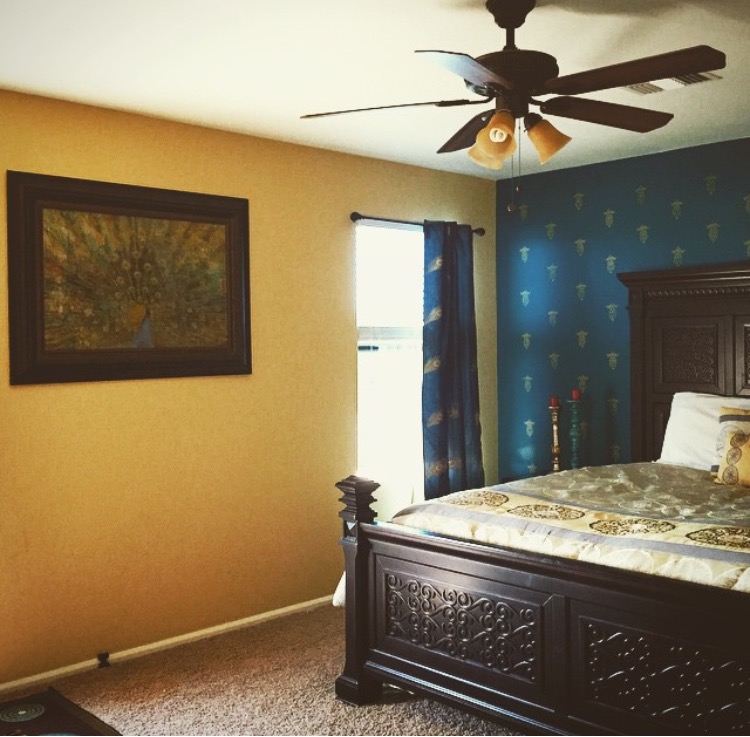 So what did you think of this Indian home in the United States? We are looking to feature more homes of the Indian diaspora the world over, so do send us pictures of your own homes, or those of your friends.
And here are the key takeaways from Shweta and Harshad's home:
* When living outside India, do incorporate a touch of the desi look, or opt for a desi-global style.
* If you live in a country that has a lot of DIY stores, then do get hands on. There is nothing more satisfying than enhancing your decor with elements that you have created with your own hands. Harshad's baitak, and the many DIYs including the stencils are very cost-effective decor touches, but they give an amazing layer of personal style to the space.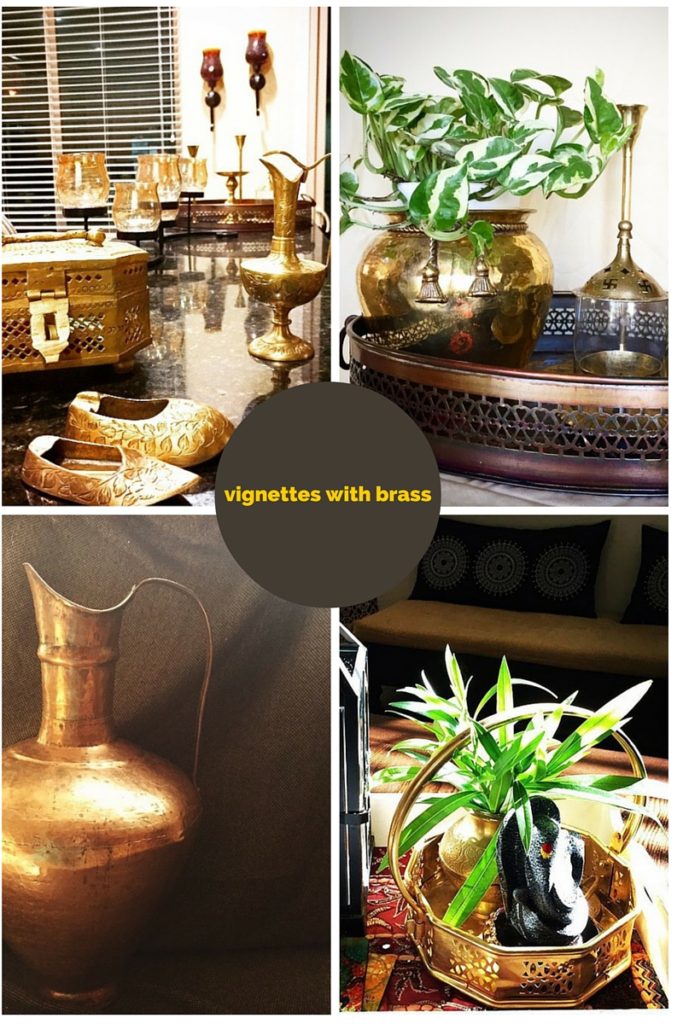 * Carry a bit of India back with you during each of your trips. This (pic above) is Shweta and Harshad's brass collection, picked up from various stores, or collected slowly over many trips back home. In fact, Shweta describes herself as an ethnic-global-brass-copper-lover on Instagram! You can follow her feed here.
Follow The Keybunch on Instagram and Facebook for regular updates on home tours. This month we bring you a home tour every week, so stay tuned via social media so you will never miss a post!