…in an article that speaks about blogging on topics totally unrelated to one's professions. Both Shashi and I are freelance business/ technical writers, and I guess that's why we were interviewed. We were happy to get featured, moreso because our blog was mentioned 🙂
It's the monsoons and getting to do any work is pretty difficult – all I want to do is have some nice hot pakodas, washed down with fragrant filter coffee or milky tea, and then curl up on the couch with the latest Inside Outside, dreaming about my new home! The rains have a way of making you slow down, and just enjoy the freshness in the air! That I am off on a 2-week break tomorrow onwards, is not helping either!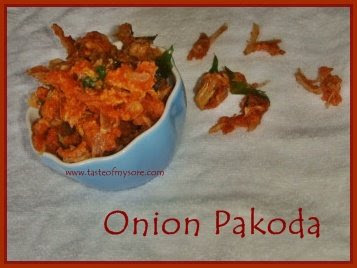 Too lazy to even click my own chai-pakora pic, I borrow this one featuring onion pakodas from one of my fav food blogs, A Taste of Mysore. Thanks Lakshmi! A tea pic folks, may or may not follow 😉
And oh! the fab pendant light giveaway is still on, so do spread the word, and/or participate!