White and neutrals are extremely gorgeous and versatile decor pallettes. Let's tour a UK Home with a Gorgeous White Pallette. Silpee Mishra's apartment in London is tastefully decorated in an all-neutral palette, with white being the dominant colour.
Where: London
Who: Silpee Mishra, her husband Lok, and their 13 year old daughtet Ruhika
What: Victorian Build red brick mansion block, approx. 1200 square feet
I spoke to Silpee about her decorating style and she was gracious enough to also share insights into decorating with whites and neutrals. Read on.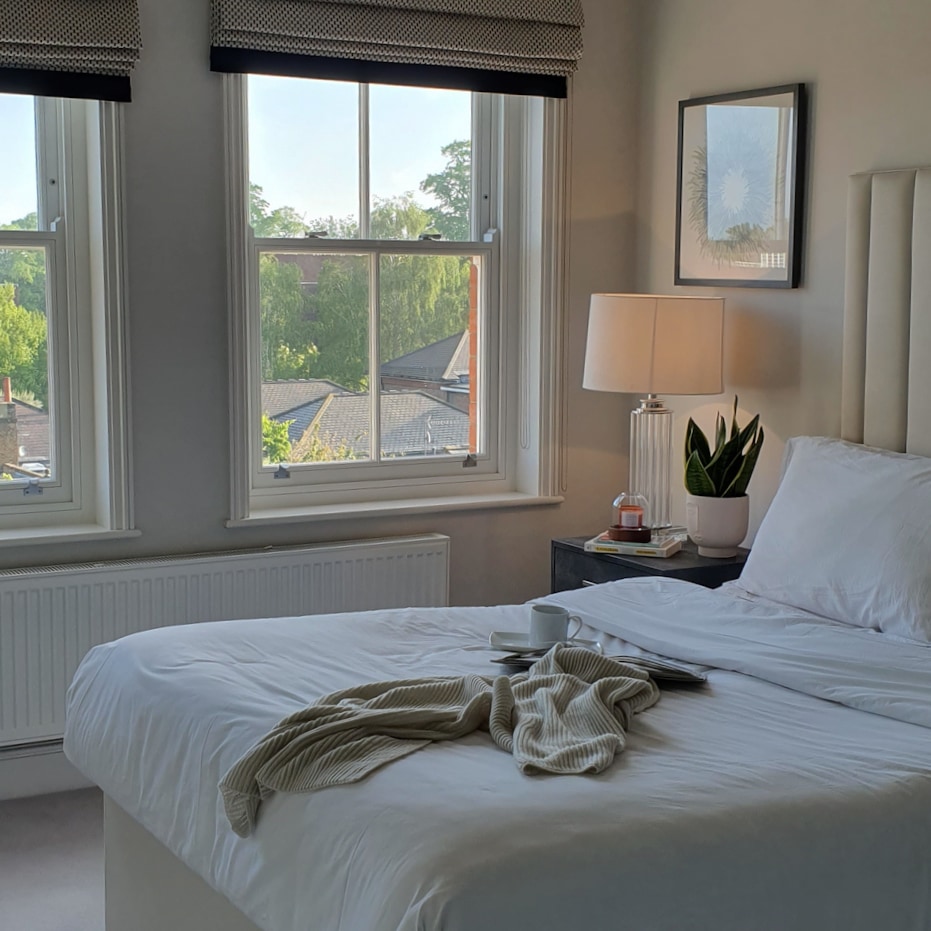 Reason for this gorgeous white palette
White is timeless and can never go out of style. It's the most versatile backdrop to work with and when punctuated with colour it looks quite striking. I am a fan of neutral aesthetics and minimal decor, white looks a lot more airy and bright especially if you live in an apartment. Far from being austere, they open up a plethora of decor opportutities as we can play around with huge variations in textures, patterns and accents. As I see it, it's more about a sense of calmness and simplicity. It may not add much drama but enhances the beauty of our surroundings. Whites brings a certain effortless zen appeal into our surroundings and a home is all about peace and positivity
Where does Silpee shop for her white and neutral decor palette?
I don't buy too much as I dislike hoarding and I feel it adds to clutter. Less is more when it comes to decor. But H&M home, Tk Maxx and West Elm are my favourites for home decor accessories and soft furnishings/ linen. I am a huge connoisseur of thrifty chic and bargain buys so I love to frequent the Sunday antique and vintage markets for great pieces at throwaway prices.
Kitchen
Our kitchen is a typical western style one connected in an open plan style to the dining and living areas. It's one of my favourite corners of the house and is honestly everything that I ever wanted in a kitchen. The white countertop and cabinets blend seamlessly offering a streamlined, unfussy look.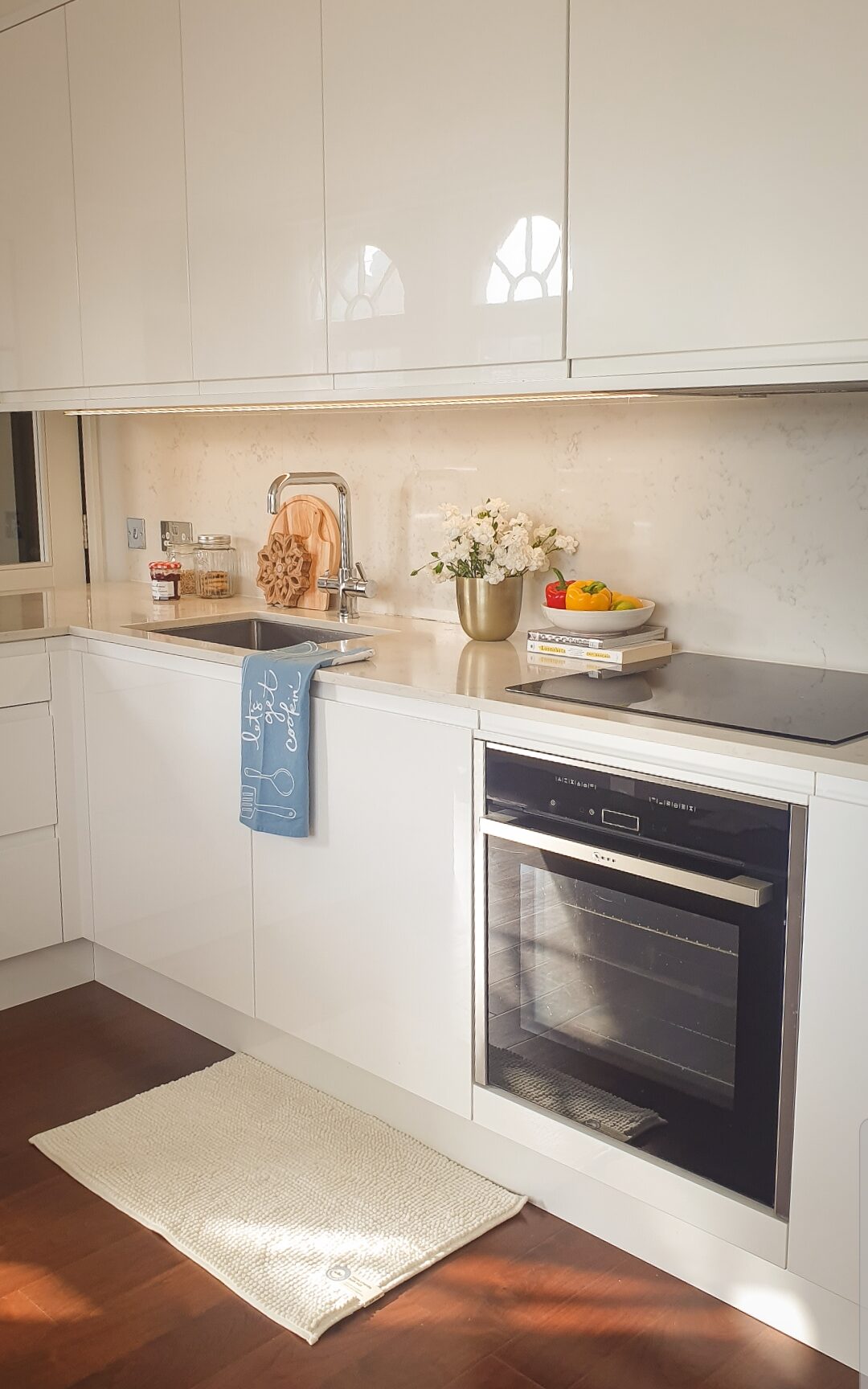 With their glossy all white, clear finish, the cabinets not only provide fuss free storage but also maximize light and create a feeling of space. The wood flooring adds warmth and makes the space look cosy. The central kitchen island is complete with pull out drawers, a fitted wine cooler and a built in induction hob and oven. Dishwasher, fridge and washing machines are disguised with matching door fronts to minimize the level of equipment on display. With lots of worktop space and a sensible layout the space looks uncluttered naturally.

The kitchen counter, for me, is not only about food preparation but also serves as a decorative piece. So how do I accessorise a kitchen counter? My most prominent items on display are small appliances like a toaster, cooking tools, cutting boards and cook books which besides being essential are just as effective in improving the look and style of the kitchen. There's not much pattern in the kitchen so some days I add 'prettiness' to the dining table or the island with the use of handpainted ceramics, glazed pottery, a vintage fabric or aromatic candles just to make the place look homely. Decorative kitchen accents like pitcher jugs tea pots or cake stands can also be used as display. I also use a lot of organic items like flowers, fruits and branches to make vignettes come to life. With a bit of smart organizing and routine cleaning, it's quite possible to maintain a fresh and bright kitchen at all times. So, here's me hoping to spend many happy hours cooking and entertaining for family and friends in the heart of my home.
TIPS FOR THE KITCHEN
1. Use wicker baskets for fruits and vegetables and shelf risers in the cabinets which optimise space and make it look neat and tidy.
2. Clean as you go and keep surface clutter free. Use wipes or disinfect at least once a day.
3. Tackle spills and splashes as soon as possible to prevent staining.
On gardening – pops of colour against white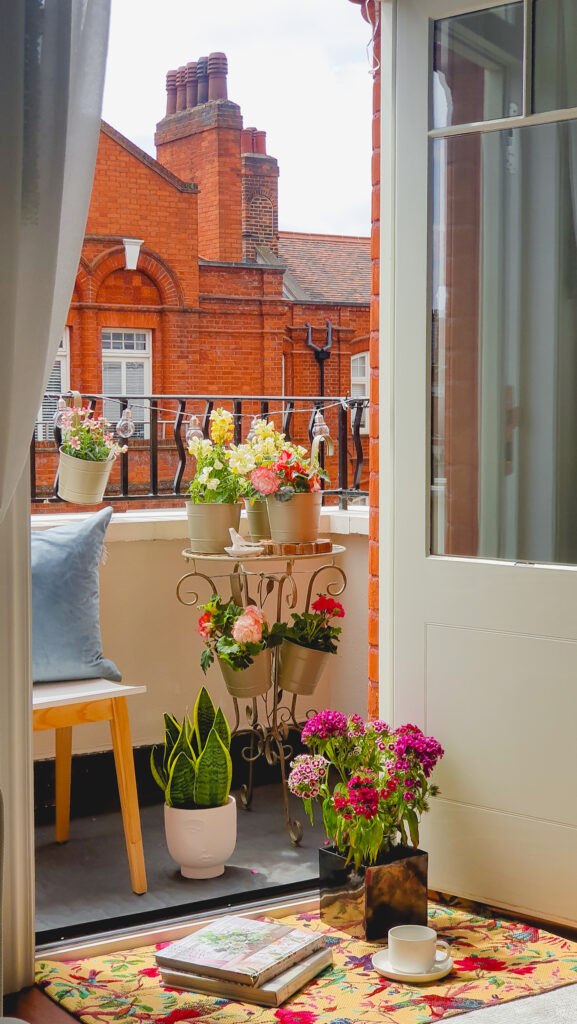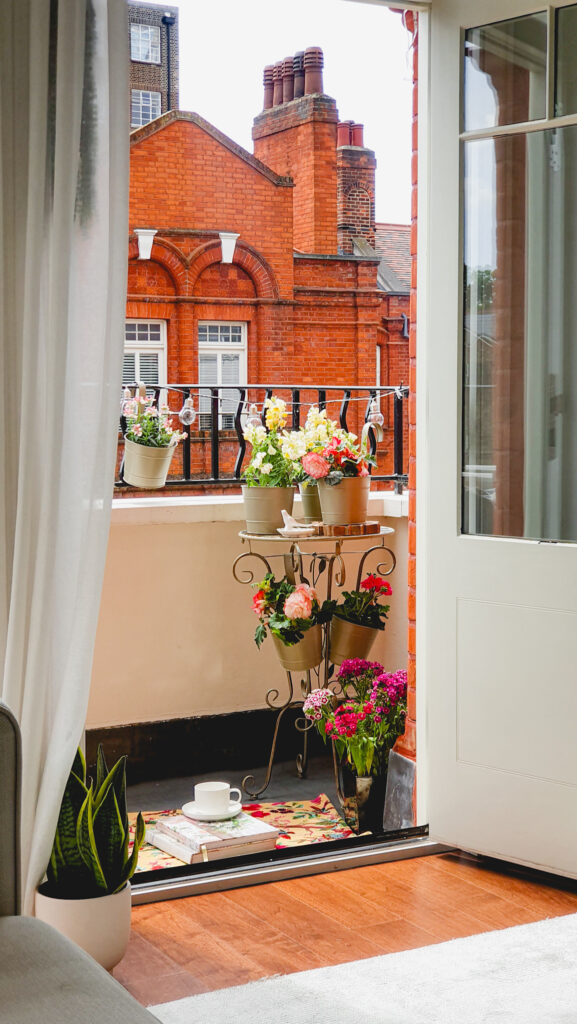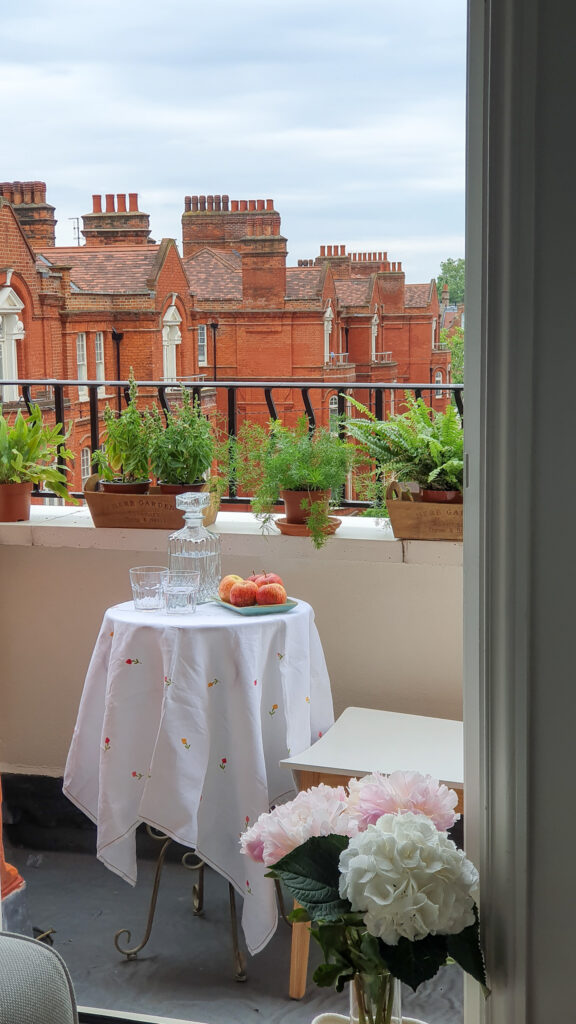 Being an apartment dweller in the heart of the city, we have a small balcony space which is an extension of the living room actually. I am generally not passionate about gardening during the winter months but come Spring, I am very excited and go crazy about flowers. I browse through many nurseries and florist shops and pick up a lot of seasonal flowers and plants to bring in that spring/ summer vibe.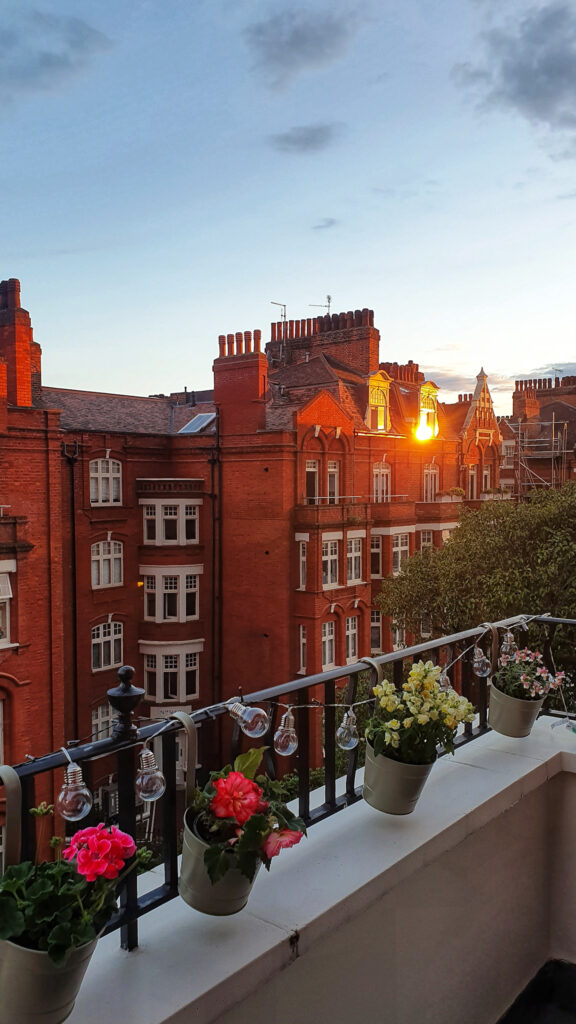 Basically, all I have is a narrow balcony space with a basic wrought iron railing and I suspend a few potted plants and flowers along it which makes the place look vibrant and beautiful. It's a small outdoor space and has just enough seating for two but a spectacular view! On most good weather days we prefer to have our evening tea there enjoying the last rays of the golden hour.
Gardening tips:
A. Have a mix collection of herbs, blooming flowers and greens in the planters so that there's always some greenery. As the season progresses, I replenish/ replace.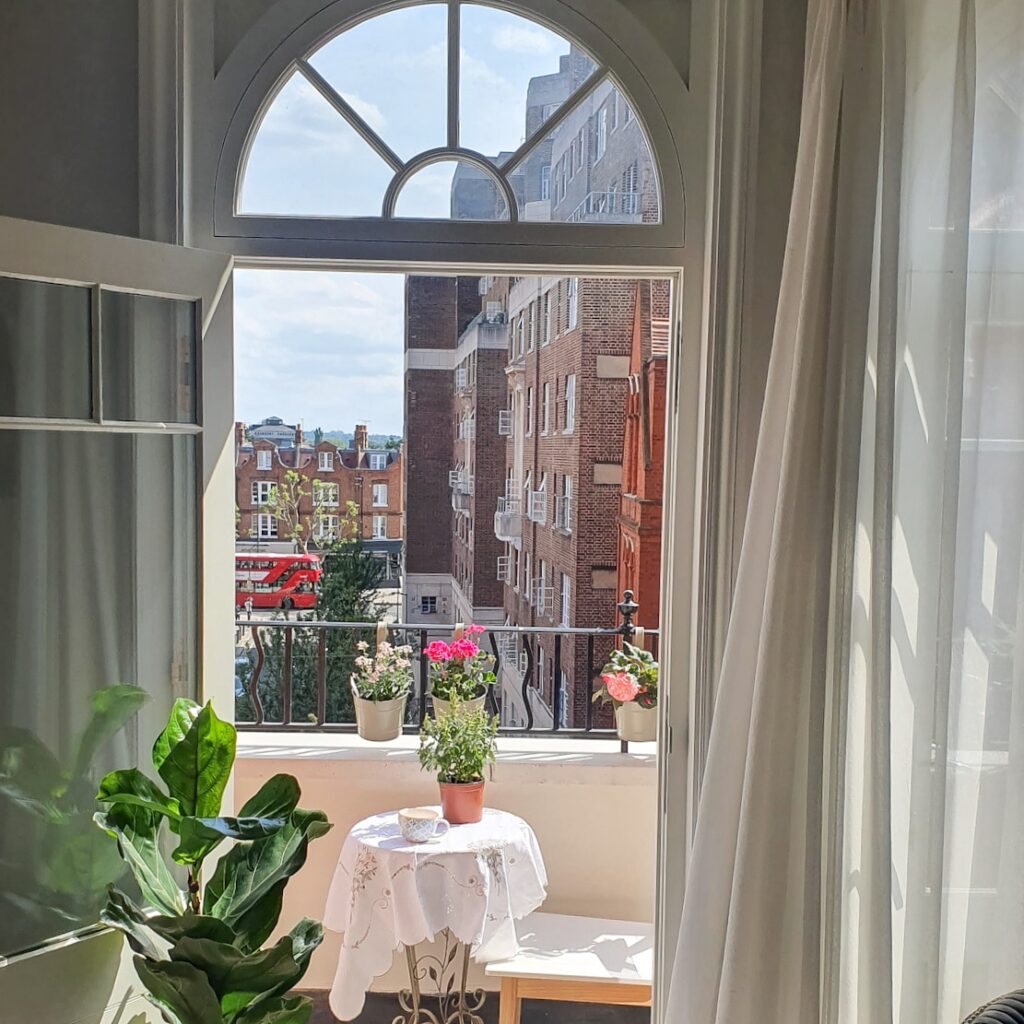 B. Watering of plants should be need based. I water few of my flowering plants daily as they are in full sun for several hours and tend to dry out fast. But I also choose a few plants that can withstand a bit of neglect.
Design tips for decorating with a white or neutral pallette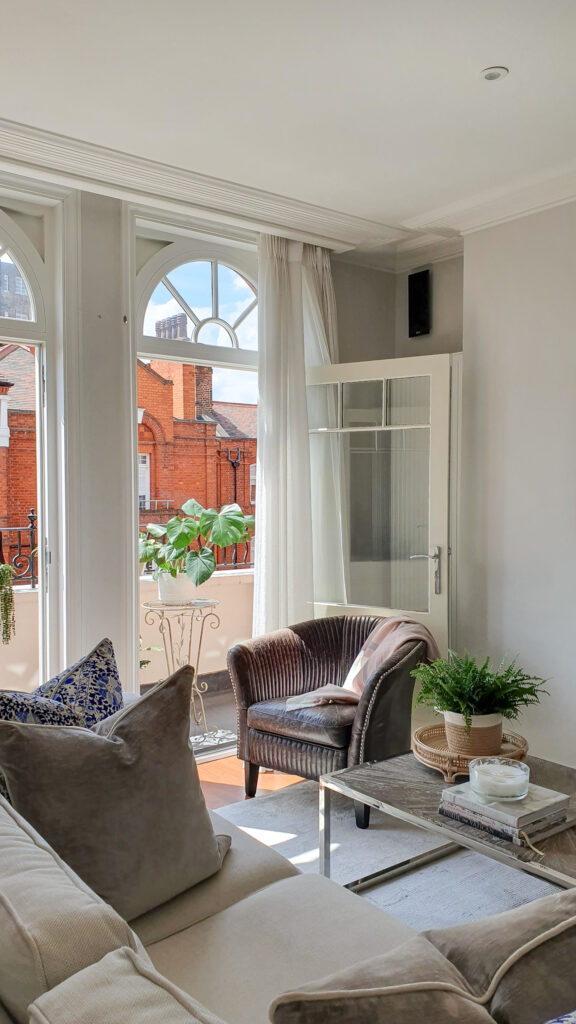 Choose and create a look that's right for you and your home, one that is practical and realistic. Tastes and trends in decor come and go but the most important question to ask yourself is whether or not it's really practical for our day to day life. I prefer a low maintenance style, which is fuss free and doesn't require much effort to stay looking good. So tailor it to suit your needs instead of following decor trends.
Your home is a reflection of your personality. So, if you want it to feel like home, forget the fashion gurus and decor pundits. For example, you may stare longingly at some glossy white or black schemes in magazines but would feel uncomfortable with the end results in no time. So it's better to be true to yourself and play by your choices. After all, it's your own space. Styles come and go but don't follow trends blindly. The best policy is to stick to a classic element and tweak it a bit to suit your aesthetics and temperament.
Include some natural elements in decor. Wood, stone, bamboo or even a branch of green can bring so much purity, naturalness and harmony into modern living.

On Minimalism and Restraint in Decorating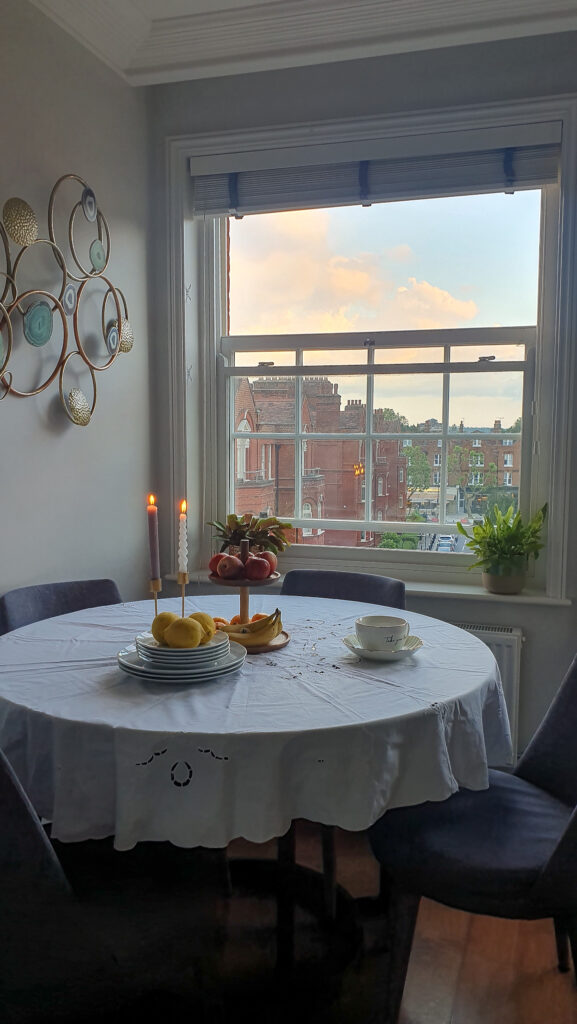 There was a time when my younger self would buy lots of objects, furnishings, decor pieces for the home and every corner of my home was filled with things, most of which were bought without careful consideration and it seemed very disturbing. But with age and time, my thoughts and choices have evolved and now I look upon minimalism and I enjoy living with a few objects in my life. Let's not surround ourselves with too many objects and things which are nothing but impulsive buys. Now I think before buying and I generally ask myself if there's a place for me to keep it and if my life would be less without a certain object. If the answer is no, then out it goes. This, I think is the art of living well.
Wasn't that insightful? I am leaving you with a gallery of more of Silpee's home images. Savour them and if you draw inspiration from them, don't forget to follow our Pinterest board for this home tour where Silpee and I will continue to update it with images of her home!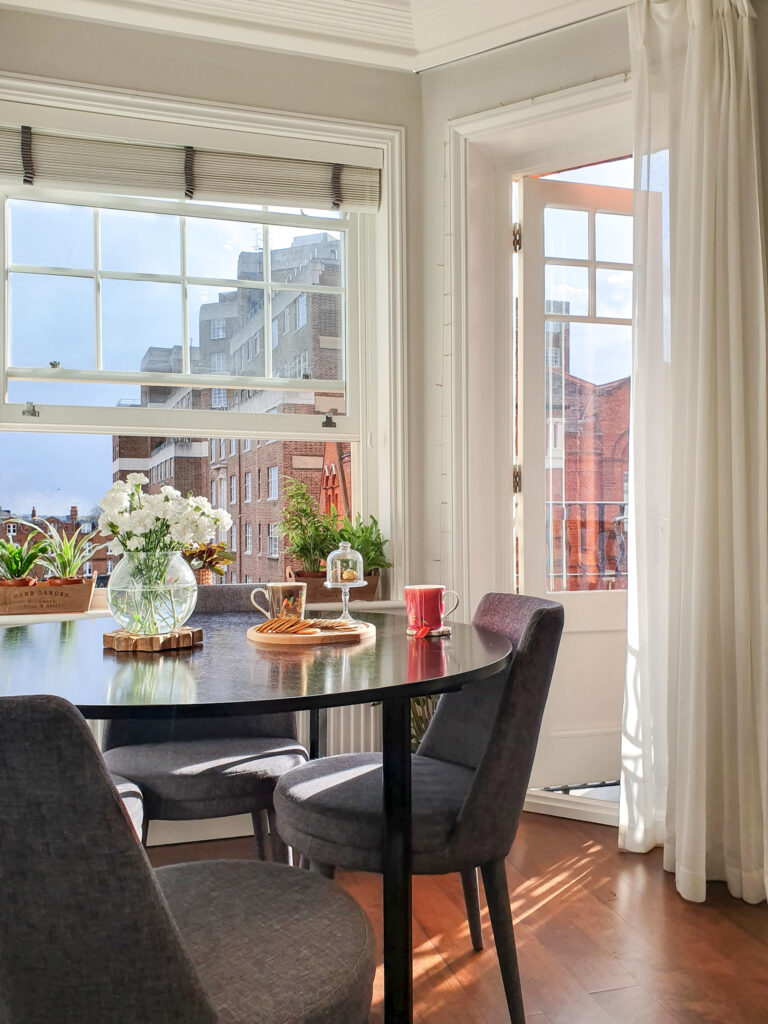 Are you interested in homes with white or neutral palettes? Here are a selection of other homes we have featured on this blog.
Kaho's home in The Philippines