'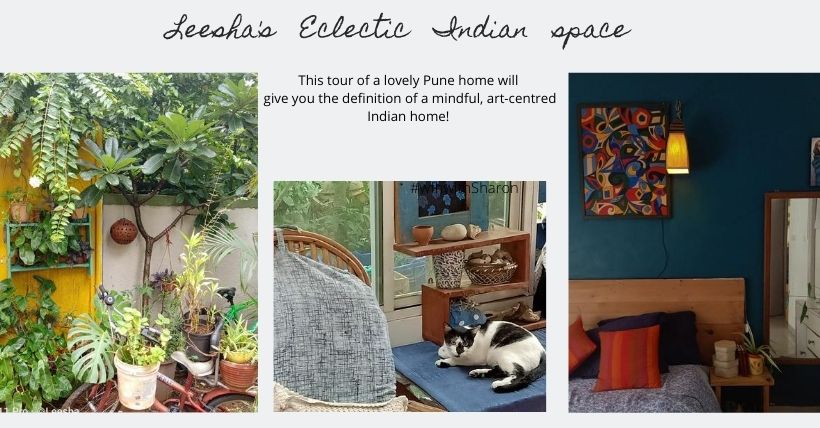 Leesha Manju, a Consultant to NGOs and a documentary film maker has had an opportunity to travel to the most interior parts of our country. And her home in Pune is a treasure house of collectibles, aptly reflecting the variety of art and craft our country produces. She is also an artist, and all the artwork seen here is Leesha's own. Look through these beautiful images, and tell me, can you also figure out that she's a plant lover and a cat mom? 😉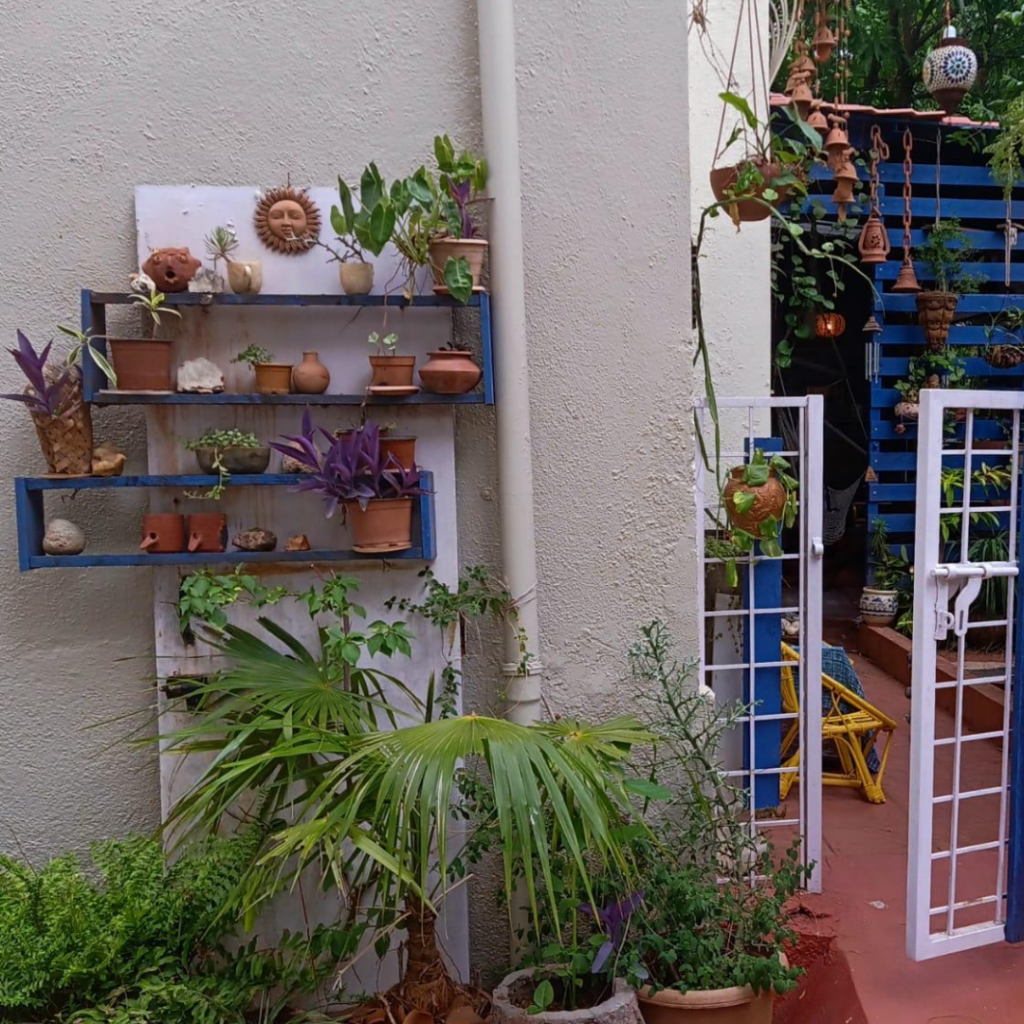 When you see an entrance approach like this, you know the home owner has got to have an arty streak! I pause a moment to admire the beautiful little upcycling effort – the old door and shelves juxtaposed like that – with plants and little pots all around. I also peek excitedly at the assortment of lamps and terracotta bells that I can see against a blue slatted structure.
Welcome to Leesha's utterly homely, beautiful, creative, heart centred space in Pune.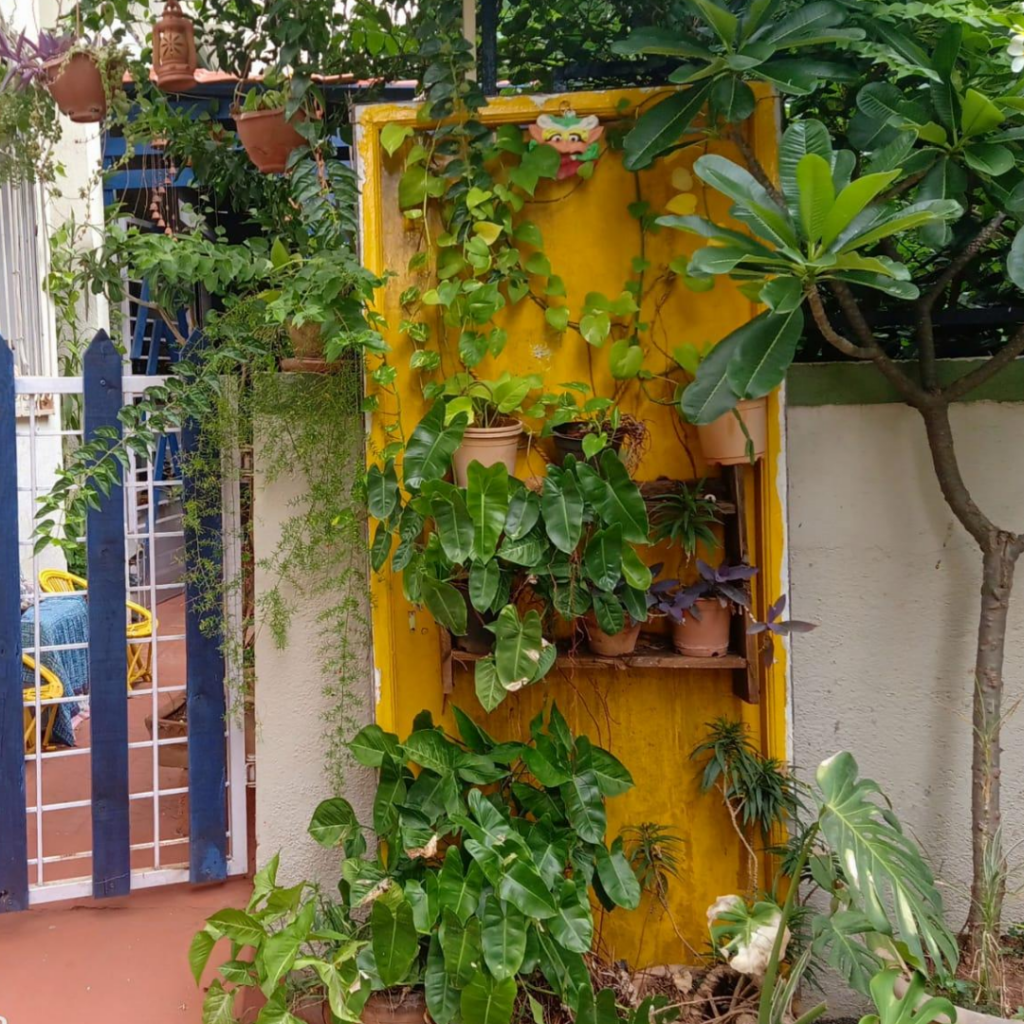 This is the other side of the gate, with another dose of upcyled creativity, with a yellow painted door, and plant-laden shelves!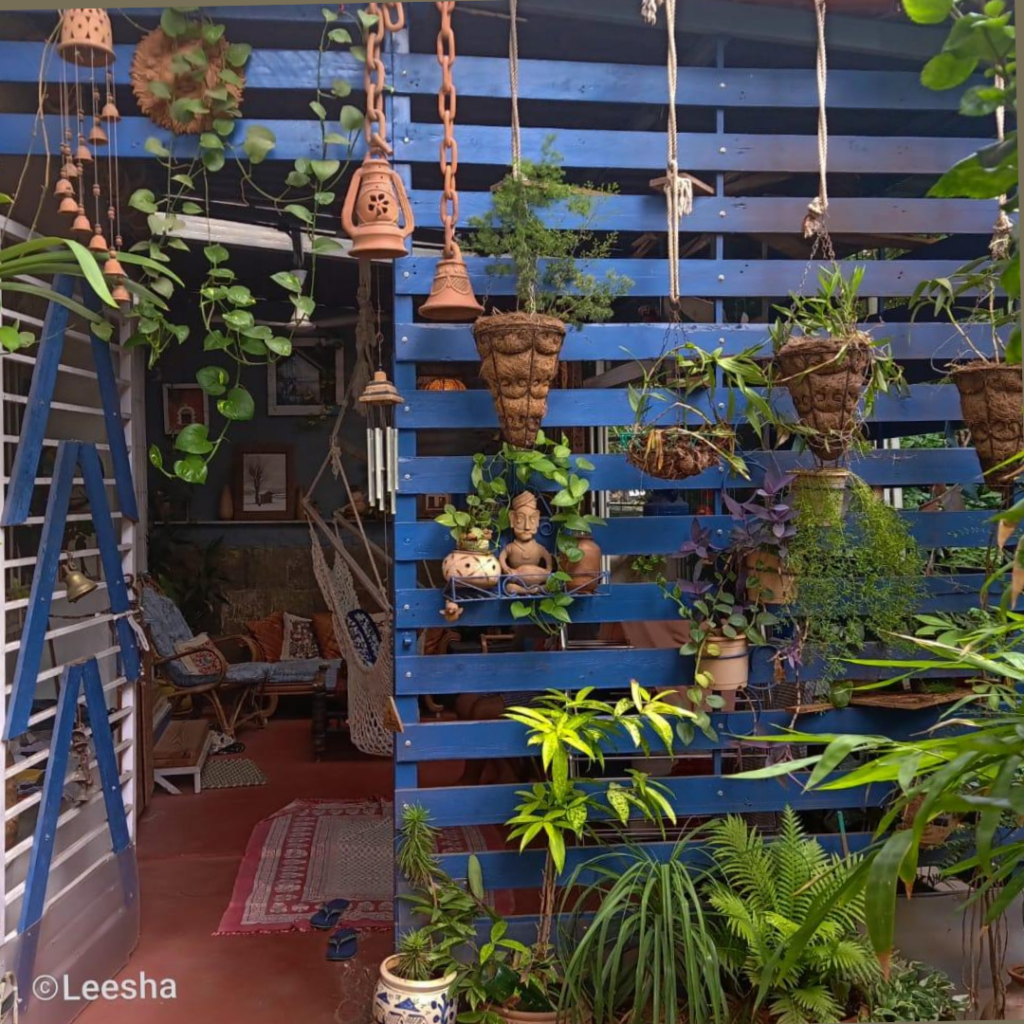 This is a lovely inside-outside seating area with a view of the garden, reminiscent of the verandahs of old houses, just perfect for lounging!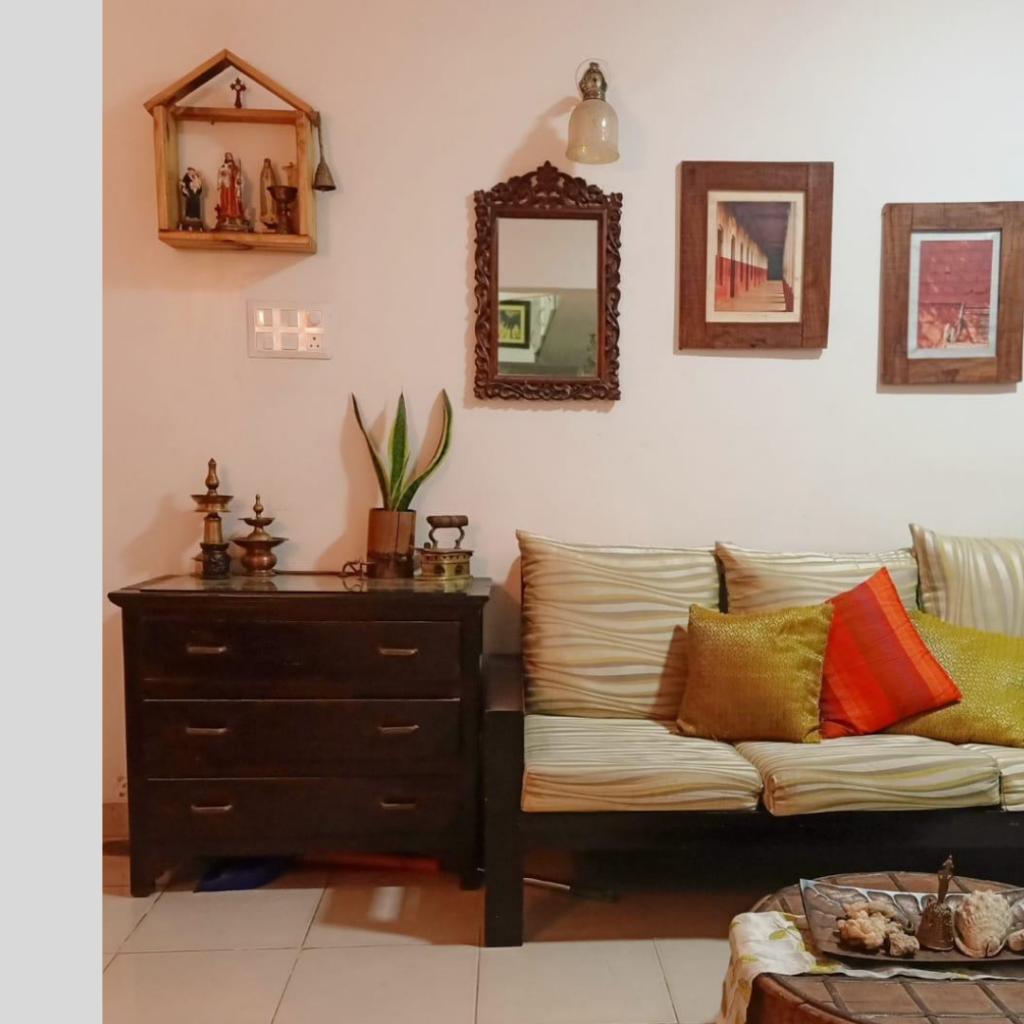 Interspersed with antiques and interesting collectibles, Leesha's living space is cosy and welcoming!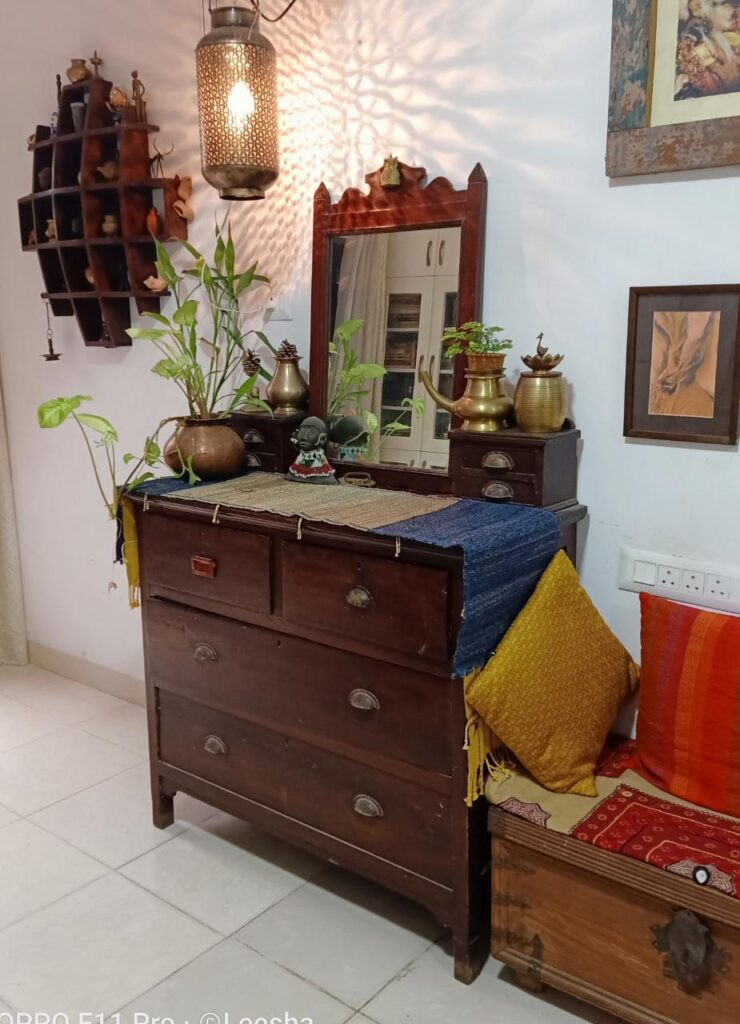 Lit lamps and warm colours, beautiful antiques make this living space very interesting!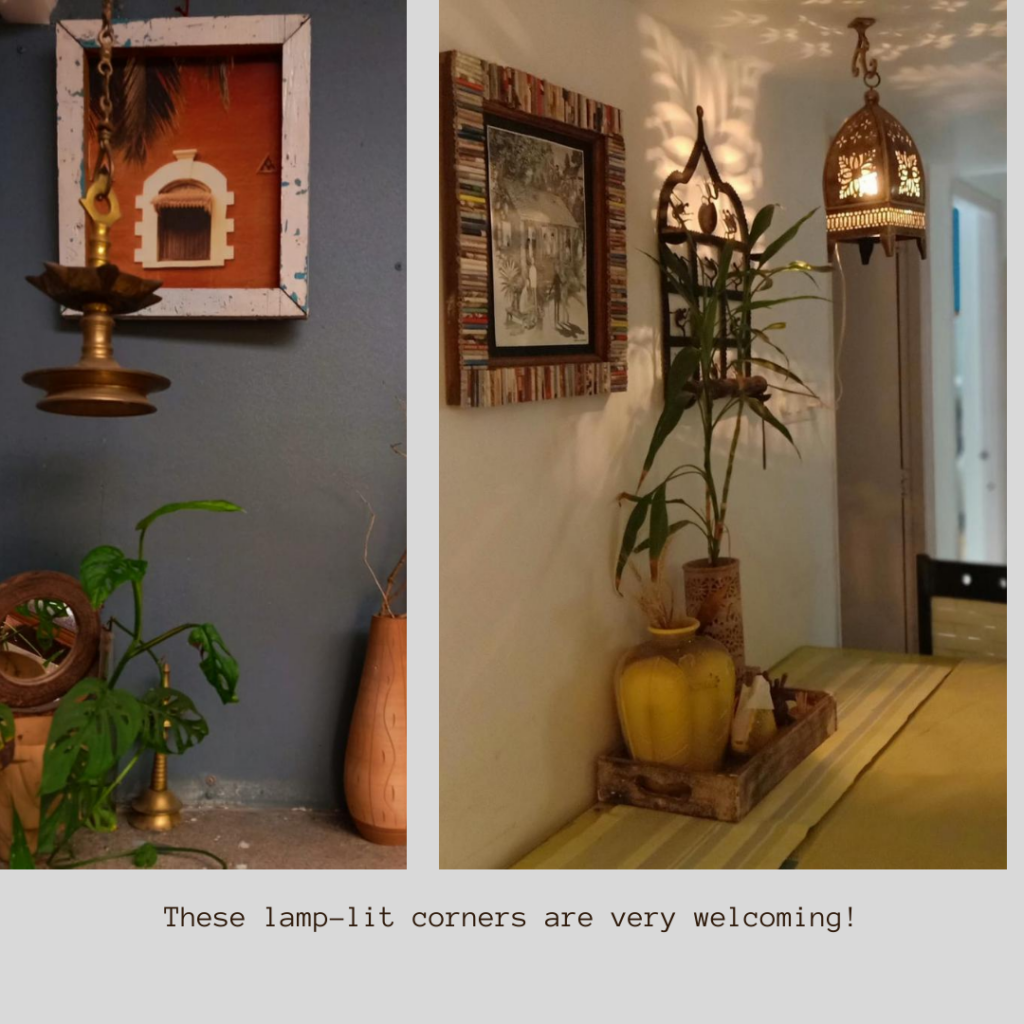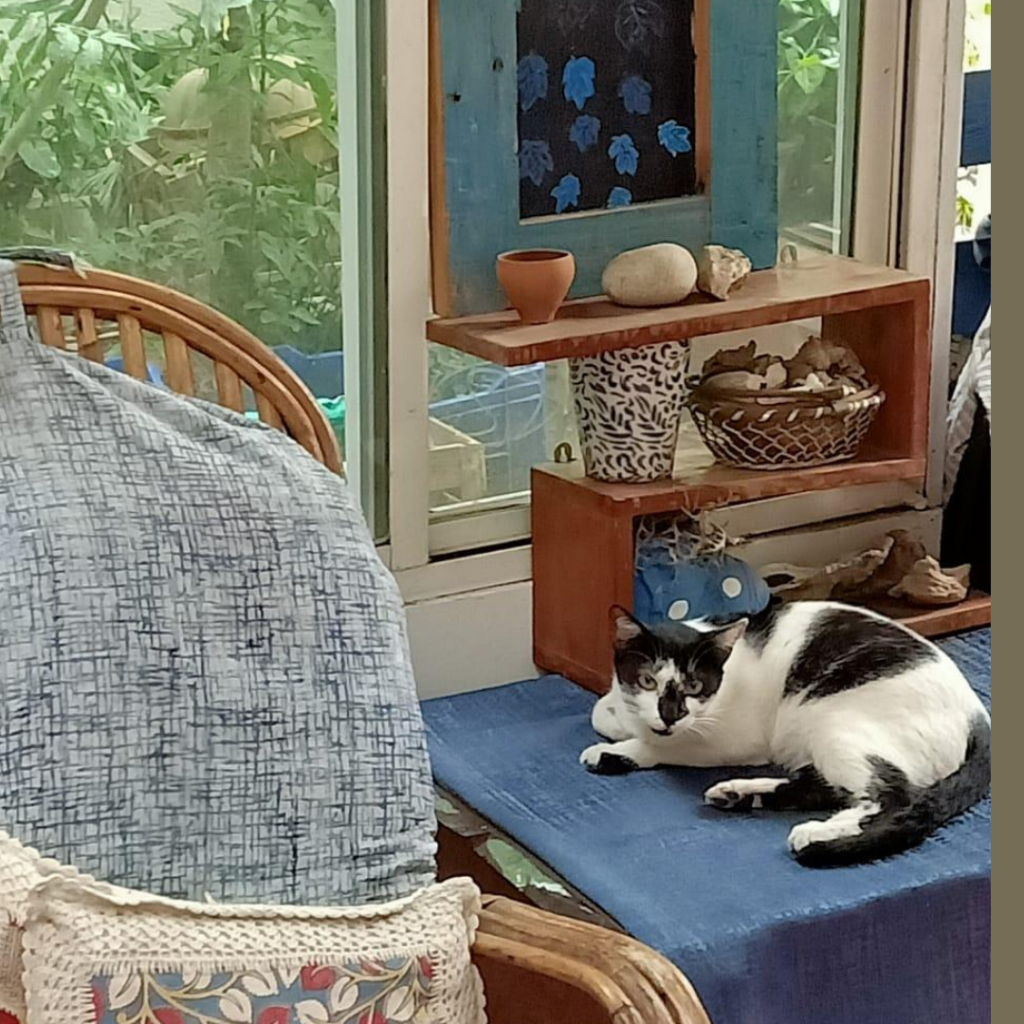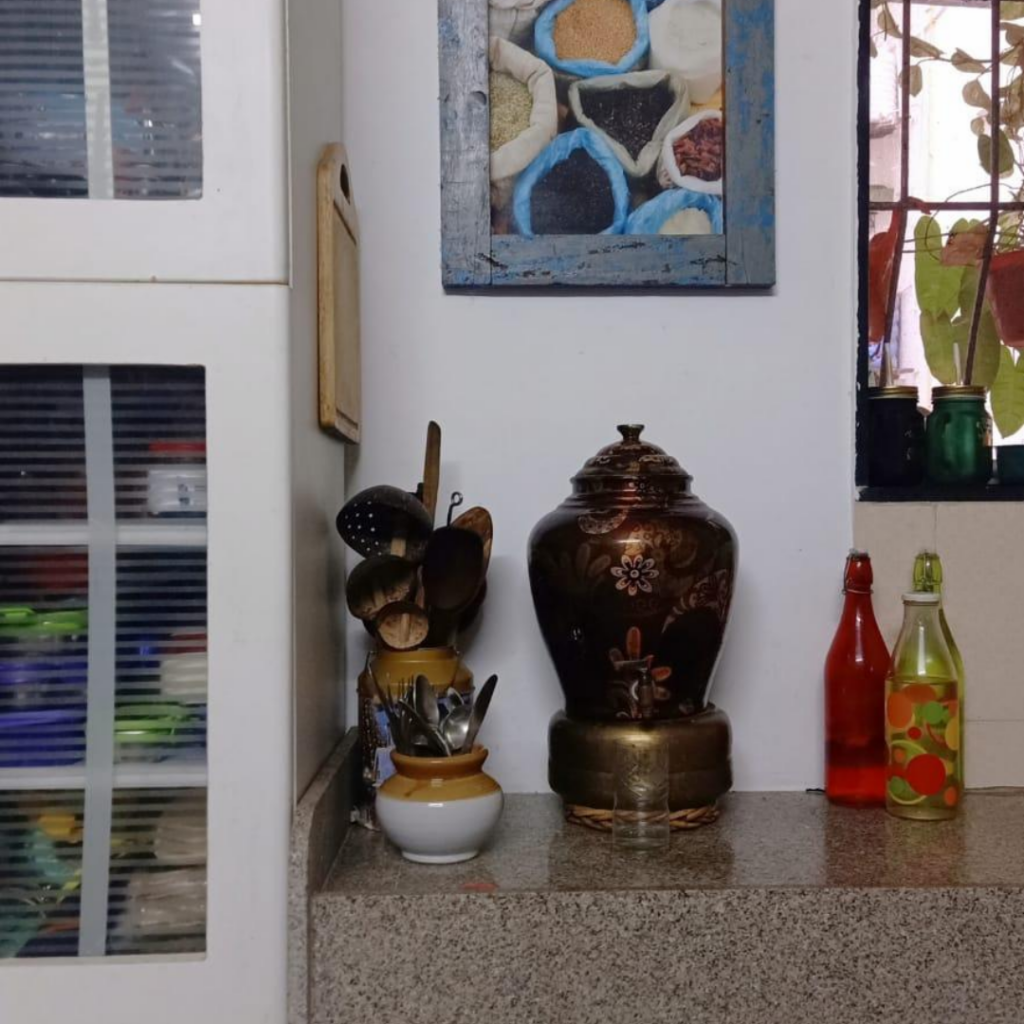 Everything is arty in this kitchen – and I love the framed spices visual!
Takeaways from this home tour
Travel Keepsakes
Leesha's job entails a lot of traveling, and she has had an opportunity to travel to tiny tribal settlements and interact with the locals. These are some of the gifts and purchases she has brought back from these areas. Displaying keepsakes creatively is a great way to keep those travel memories alive, and we love the way Leesha has displayed some of the pieces she has brought back from her travels!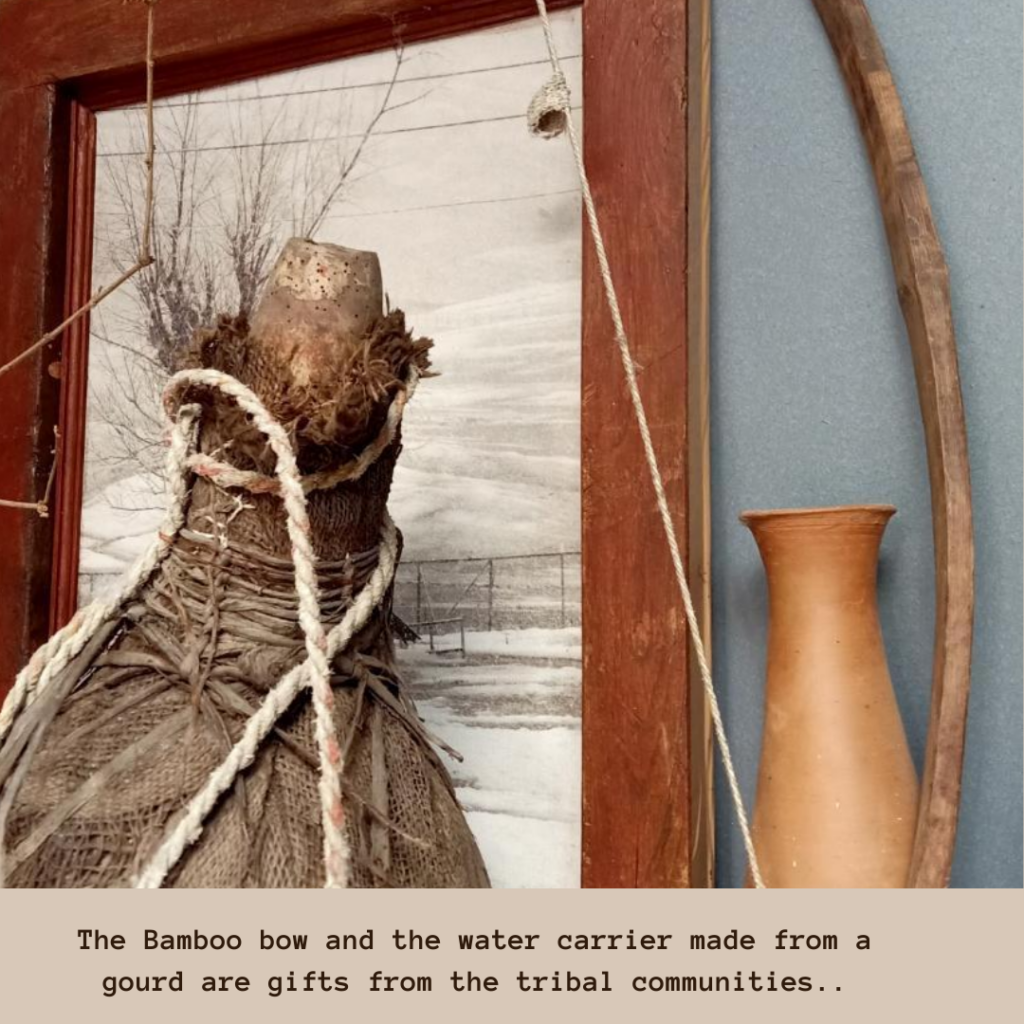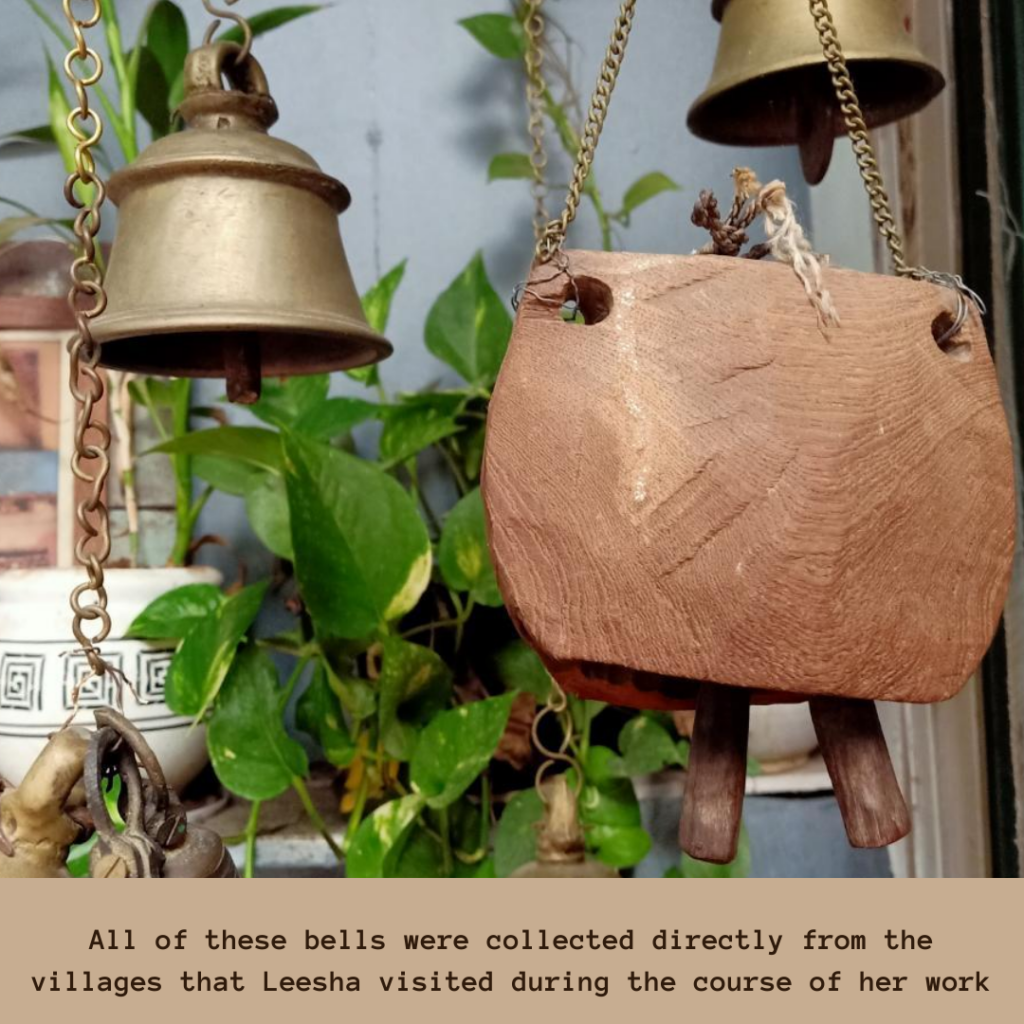 Colour Theory
Have you noticed the colour play that Leesha has introduced in her decor? She mostly plays with shades of blue, but you could try it out with a colour that you love!
Lighting
Warm, beautiful lighting in the corners of your home add a welcoming touch, and both inmates as well as guests feel enveloped in its comforting warmth!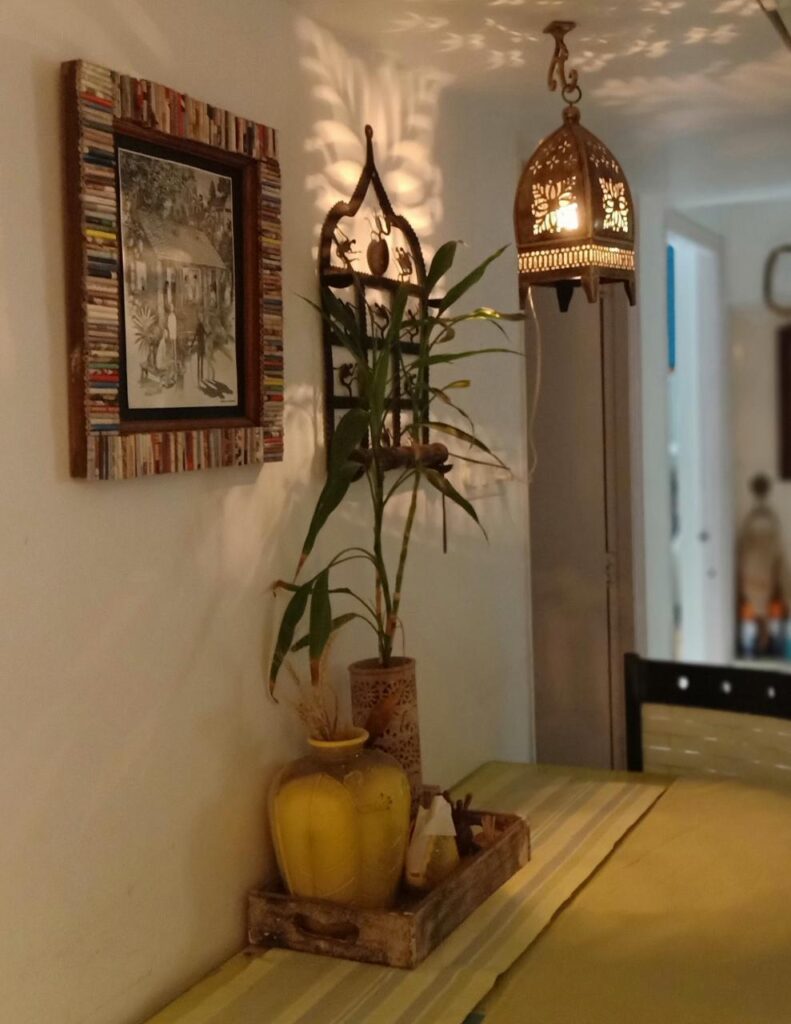 Upcycle everything!
Have you seen the beautiful upcycled old doors in Leesha's garden? The creative use of old shelves fitted interestingly on on old doors, painted in bright colours, surely adds life to her beautiful garden!
I also love how she has used an old bicycle to create a stunning garden vignette!
Antiques and Plants!
Because antiques and plants are an unbeatable combination! Leesha's arty arrangements take this combination to a new level!
Thank you Leesha, for sharing these beautiful images of your eclectic, heartc-centred home! And, as always, I end every home tour with my favourite pic from this post, which is this one! 🙂 The cat and the shades of blue – just purrfect!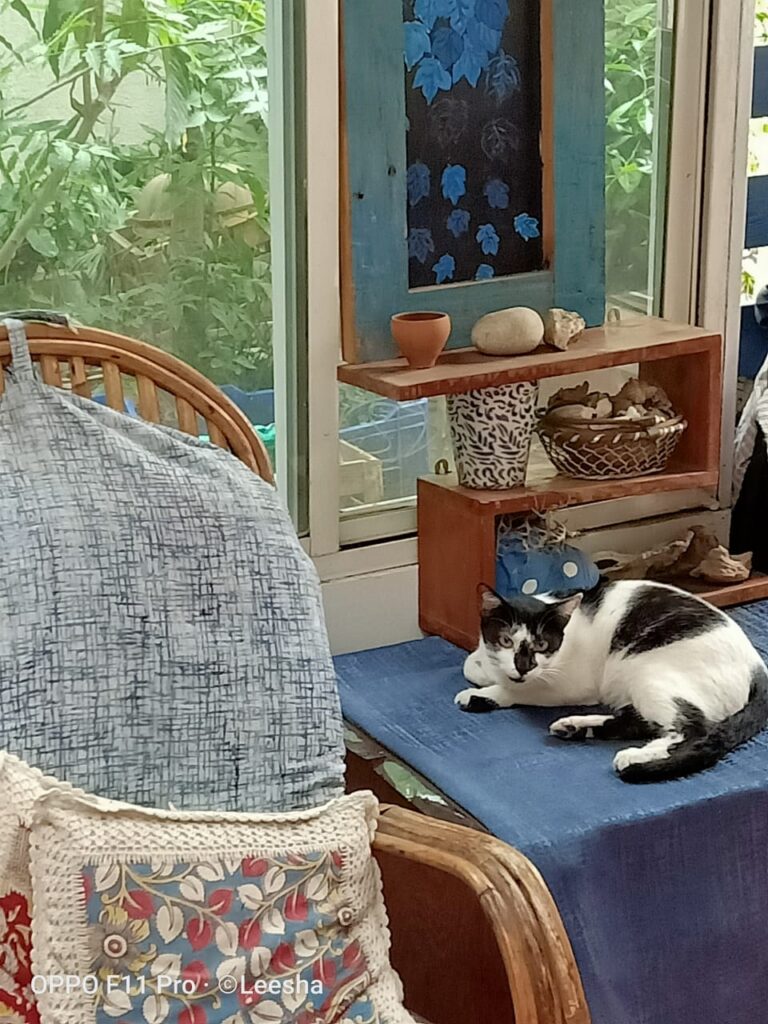 Thank you for joining me on this tour! If you wish to pin these images, simply head to our Pinterest board for Leesha's home, and pin away!
Do you love craft-centred Indian homes? Check this recent tour of Anuradha's home, right here on this blog!