I am encouraged to see so many of you confirming your participation in our October Carnival. I have a kitchen pic to share with you all. It belongs to Aditi Prakash who runs Pure Ghee Designs.
Aditi has a beautiful home as well, so watch out for my next post showcasing some of her very pretty corners. Until then, here's her lovely kitchen!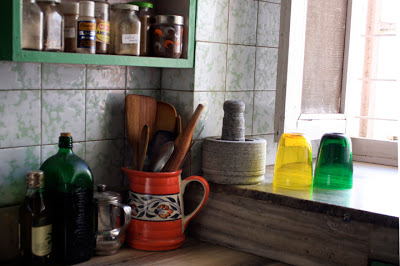 On the window sill is Aditi's favourite mortar and pestle from Madurai (she has a collection!). Also seen are assorted wooden spoons, oil containers and masala dabbas
Isn't it warm and lovely? Thank you Aditi!
We would love to see more kitchen pics here. I am sure you have a lovely kitchen corner that you are so proud of. Come join the carnival, and show off your cook's nook!