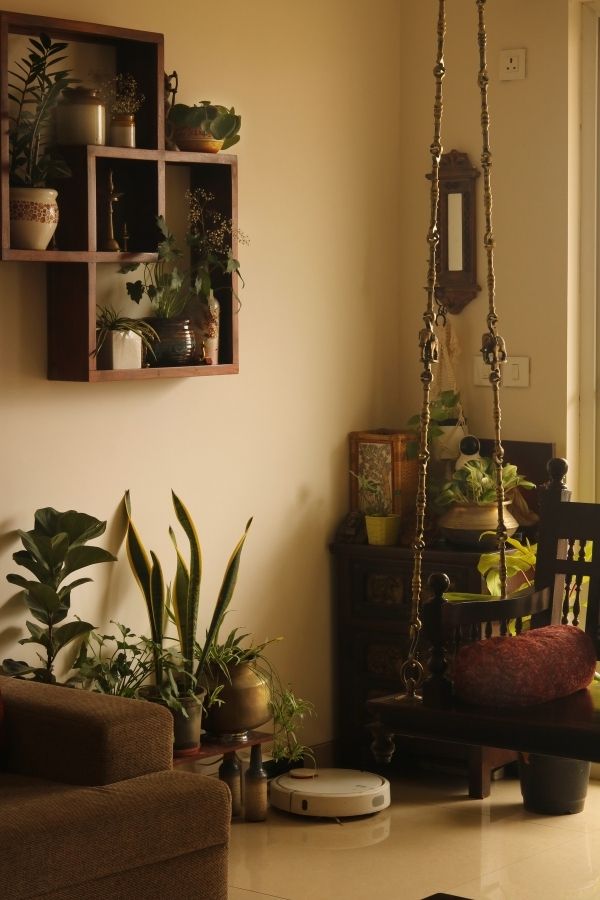 Where: Bangalore
Who: Indira, Prashant and their 2 daughters
What: A spacious 3350 sq ft single level antique modern apartment, occupied by the family. Prashant's parents live independently in the same city, and stay over often. The third bedroom was meant for them, but it is currently a guest bedroom. The fourth bedroom is used as a study.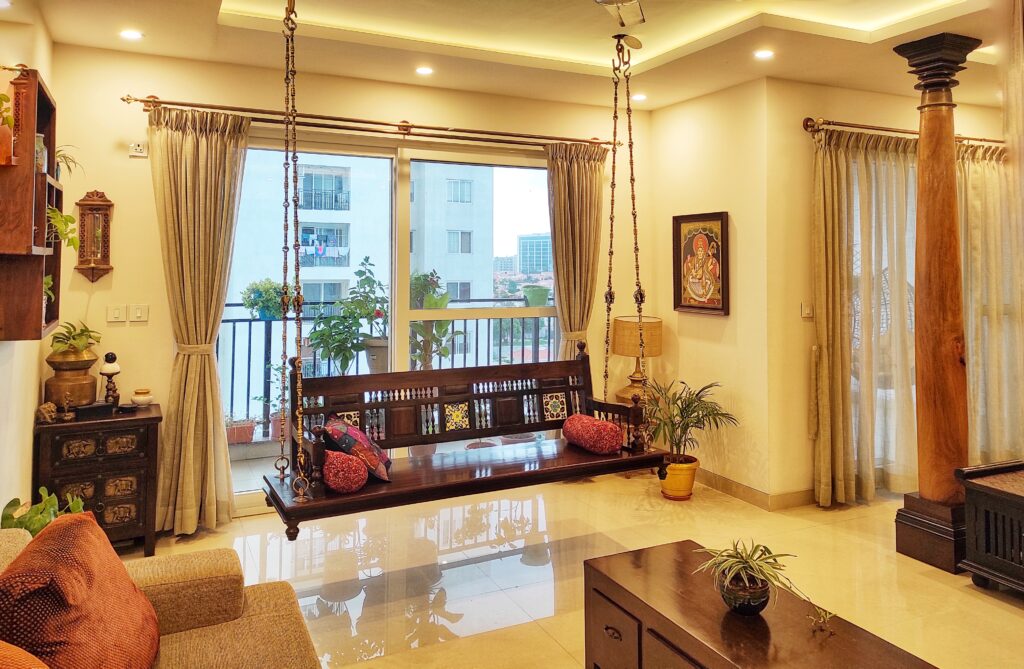 Let's begin
Indira and Prashant live in a home that successfully blends a great deal of old things – antiques, vintage items etc. with modern elements. I call this style Vintage Modern Indian, or Antique Modern. And this home is the epitome of this style. Keeping this style in mind, I have asked Indira very specific questions, and tried to group together images that reflect her answers. This home tour is a break from our traditional home tour formats.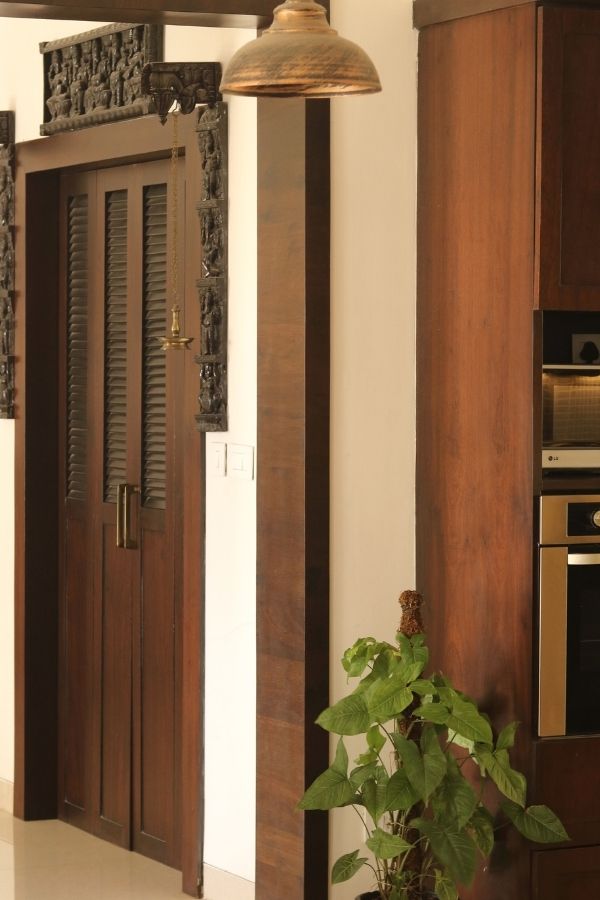 So let's go ahead and see the gems that Indira reveals to us, as she talks about this beautiful home she has put together with Prashant.
Indira, what family heirlooms or keepsakes do you currently use as decor props?
Prashant and I both love pieces which have a history, and a story to tell. We consciously try to bring in these pieces and find ways to blend them into the house. These are some of the old keepsakes that I use in decor:
Great grand father's brass "paanai", fused with my wedding "vilakku" to make a table lamp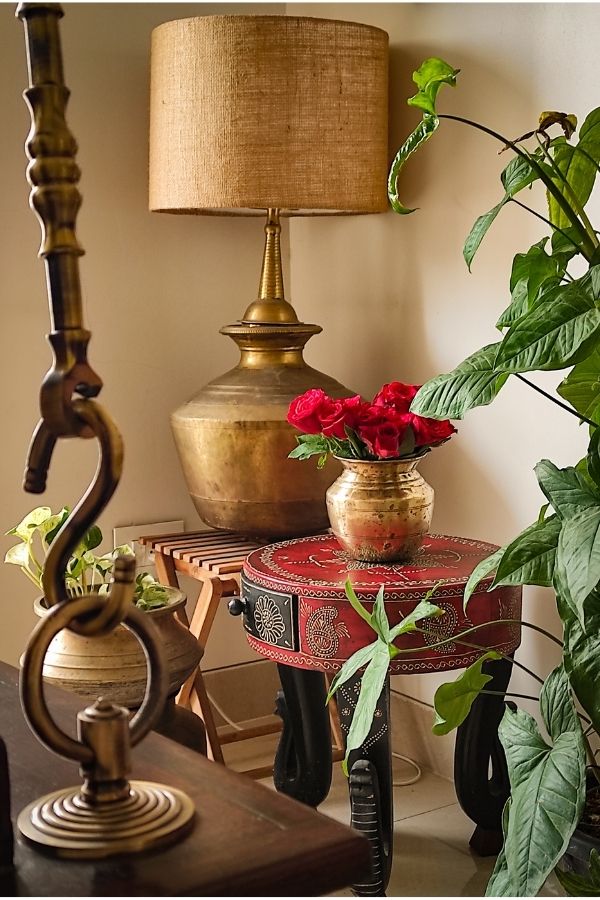 Footstools and settees handcrafted 50 years ago, during my FILs time in Kalimpong when he was with the Indian Army
A vintage trunk with legs added – as a sideboard in the study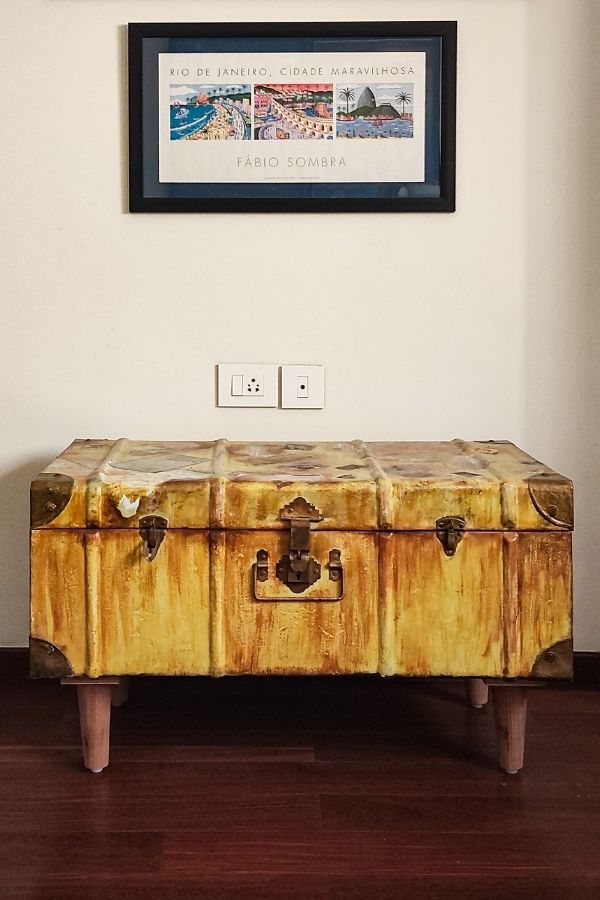 A floor lamp made out of shell casings (again from my FILs time in the Indian Army)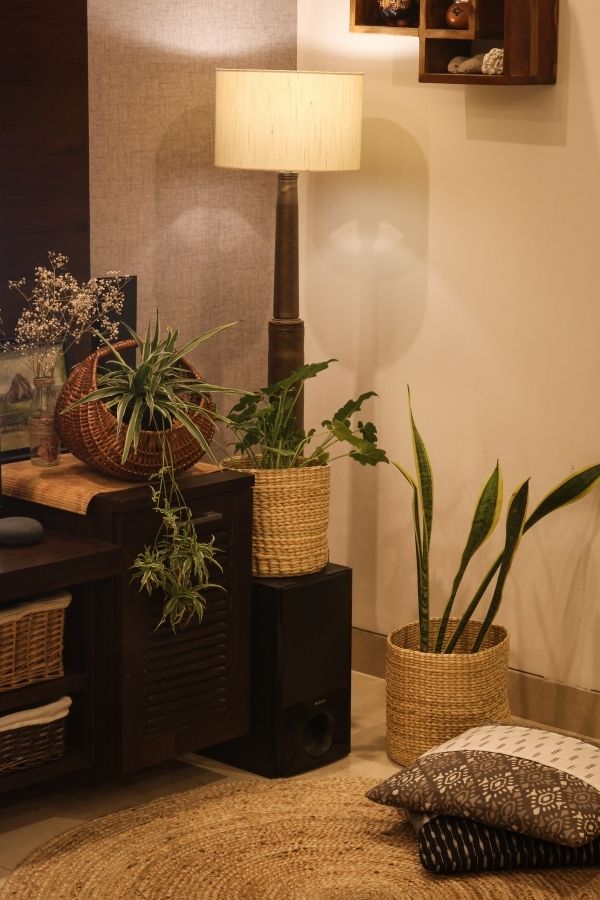 Pillars installed in our living room – they're tall 8ft pillars from Tamil Nadu.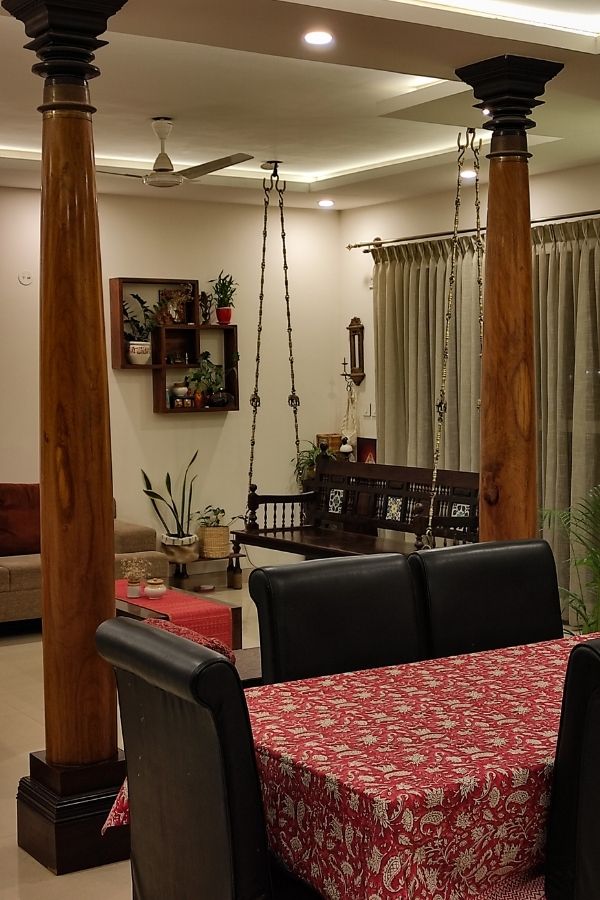 Any fond memories wrt any of your self acquired products?
Our recent prized possession is a vintage teak door, that was reclaimed during a demolition. This is special because I have been personally working on restoring it. The cleaning, the sanding, varnishing and installation. As the grain gets revealed with each sanding, it deepens my connection with the piece. It is like I know every stroke of it's finger print. I love this kind of connection with art. I enjoy recreating art masterpieces on canvas as well, for this very reason – to know every square inch.
Another such piece is our swing set. It was custom-made. That's because the size we needed (based on the beam spacing) wasn't readily available. The craftsman who made it for us – recreated a whatsapp image to the T. When we went to inspect the piece, we discovered that the family who's hands created this masterpiece were living in abject conditions. They were entirely sincere and honest with their work. We have stopped negotiating with artisans and craftsmen since then, and have nothing but respect for what they do. We would support this tribe any day.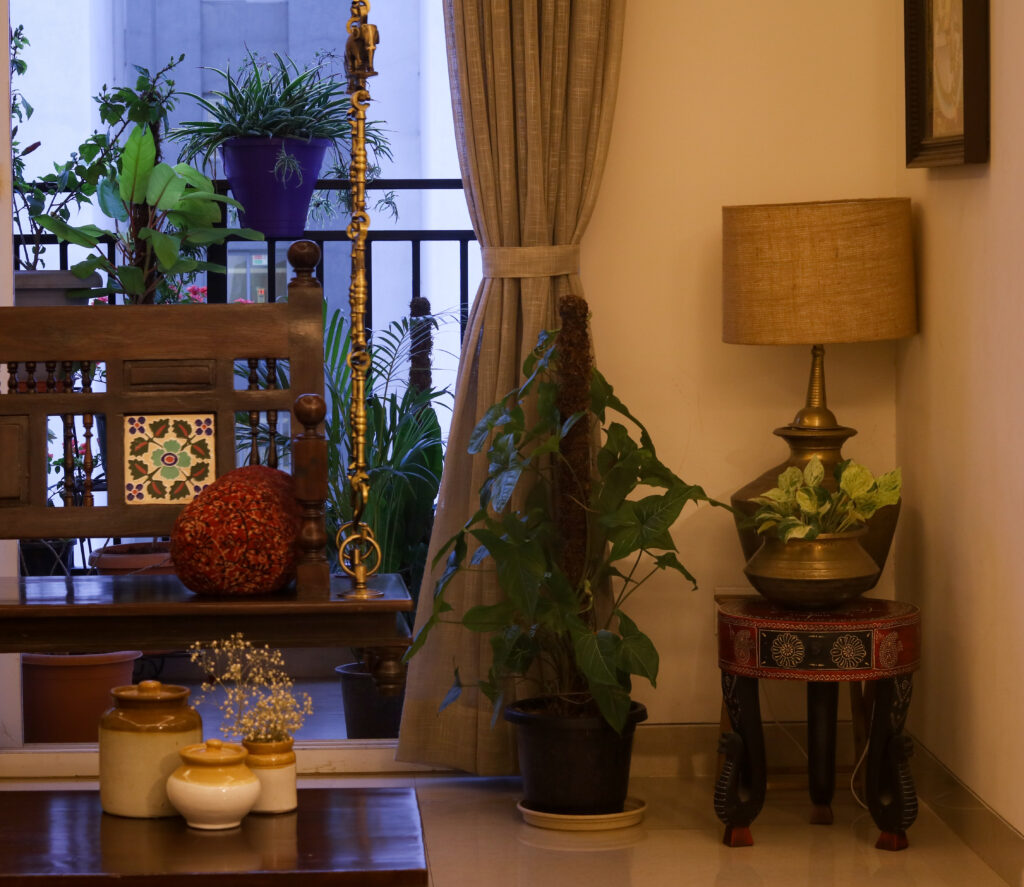 I call your style Vintage Modern Indian or Antique Modern. But Indira, how would you define and describe your decorating style?
I don't even know if I have a specific style, because my bedrooms are all fairly contemporary looking. But if I am alone at a yard or a market – I'd definitely be drawn towards the vintage and unique looking pieces – and as a couple, we both are this way – so decorating has been easy and conflict-free.
I don't like crowding the house and filling it up with things. I would rather have 2-3 statement pieces that fulfill the criteria. These statement pieces would scream art either in the way they are crafted; or art in fabric and art on canvas.
In a nut shell – I'd say our style is timeless and classic – rooted in tradition, yet muted and not heavy / overwhelming.
What tips would you give others who wish to style like you do.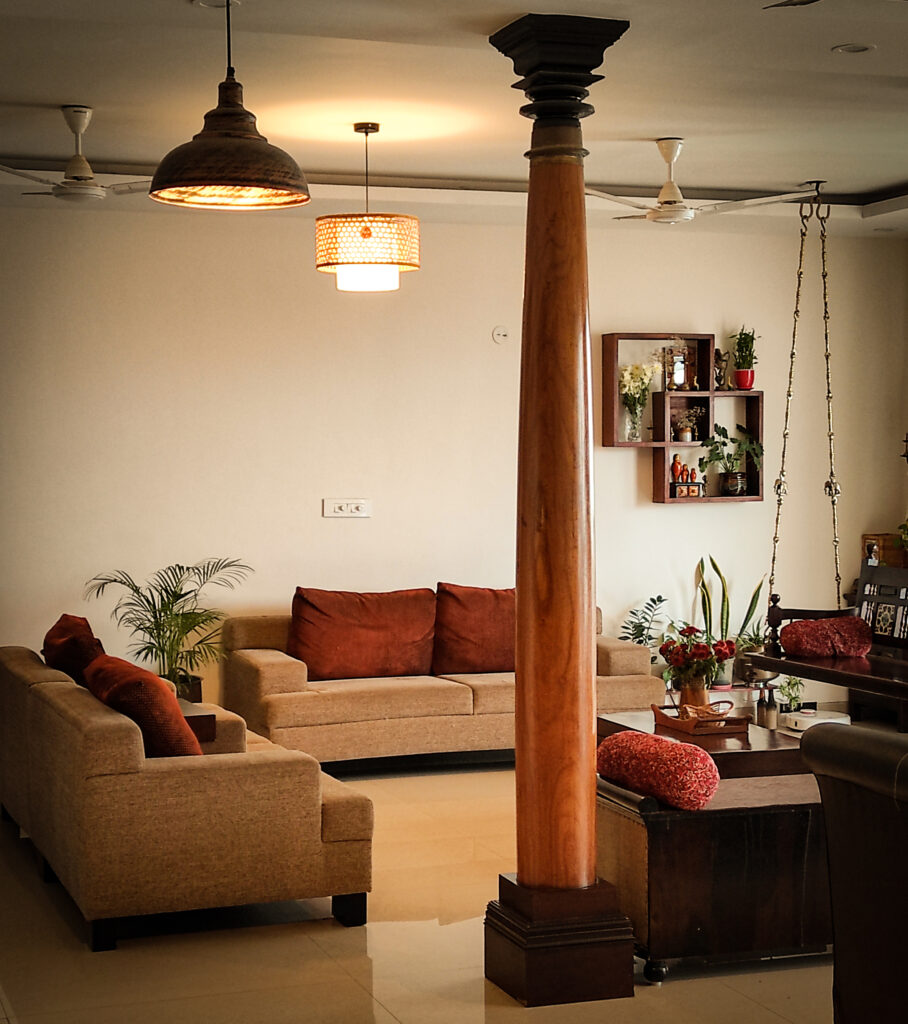 If you have hardwood, show off the grain – it's the best art you can infuse
If you'd like to bring in metals, go for metals like cast iron / brass / copper – which are earthy and natural (personally don't like stainless steel / aluminium)
Bring in natural material as far as you can – reed planters, plants etc.
Fabric is a fantastic source of art – Paste it on your shutters for an instant transformation, frame bits of fabric to decorate an accent wall.
The most important element in a house is space, so no matter how large or small – never crowd the house with things – especially space to move around
Go with a few statement pieces
Try to minimize horizontal spaces – there's a tendency to fill it up with every day objects (bags / keys / etc) –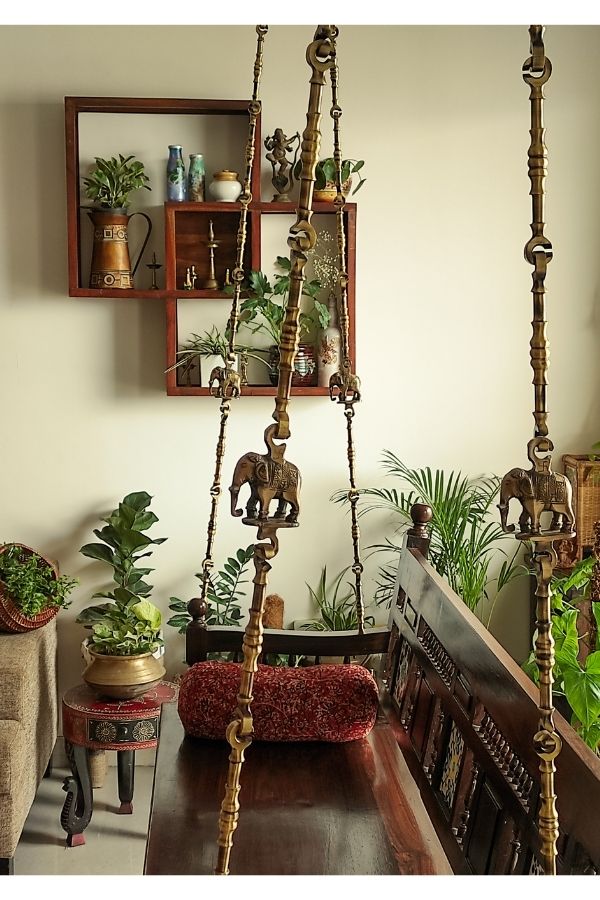 Where do you source your decor items from?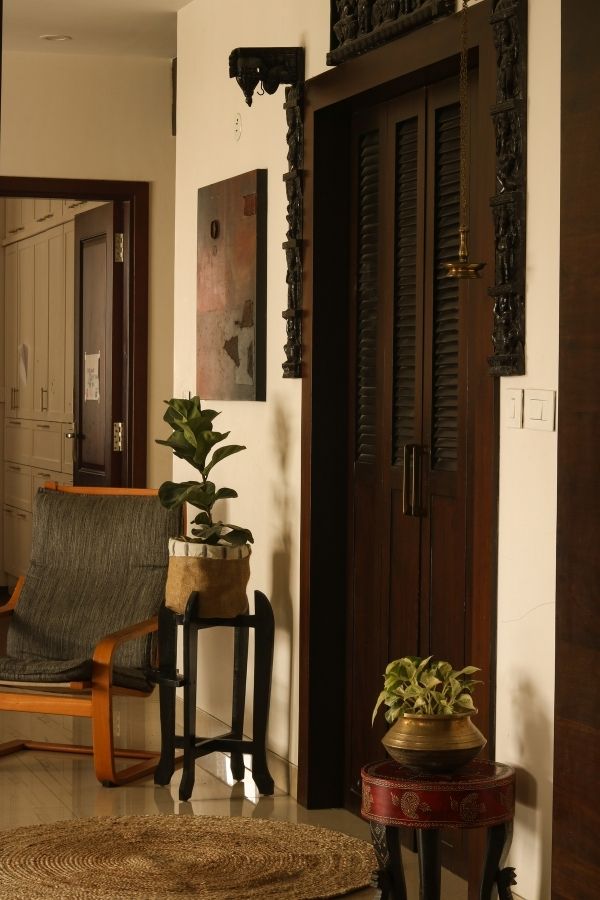 I like traveling to the source – i.e. visit Karaikudi / Pondicherry / Pattamadai etc.
Old furniture yards – I have a few trusted vendors in Chennai / Bangalore
Vintage showrooms – Commercial street / Indira nagar / Shanti nagar
Instagram has been a great source of discovery, but we haven't bought anything – because we don't need anything currently
Most of our baranis and brassware are hand-me-downs
If any of my aunts / uncles is looking to give vintage stuff away, I always let them know I'm first in line! I recently got a set of wooden puzzles from the early 1900s. I am yet to put it together and display it!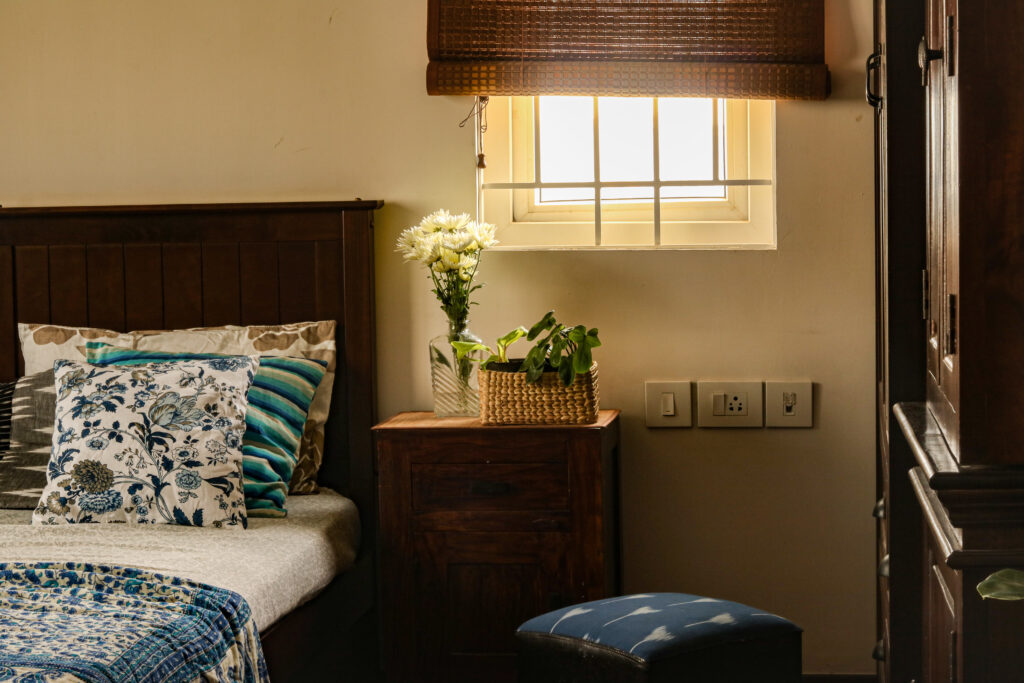 Tell us something about your living and styling choices – what inspires you, what kind of products do you prefer using, etc.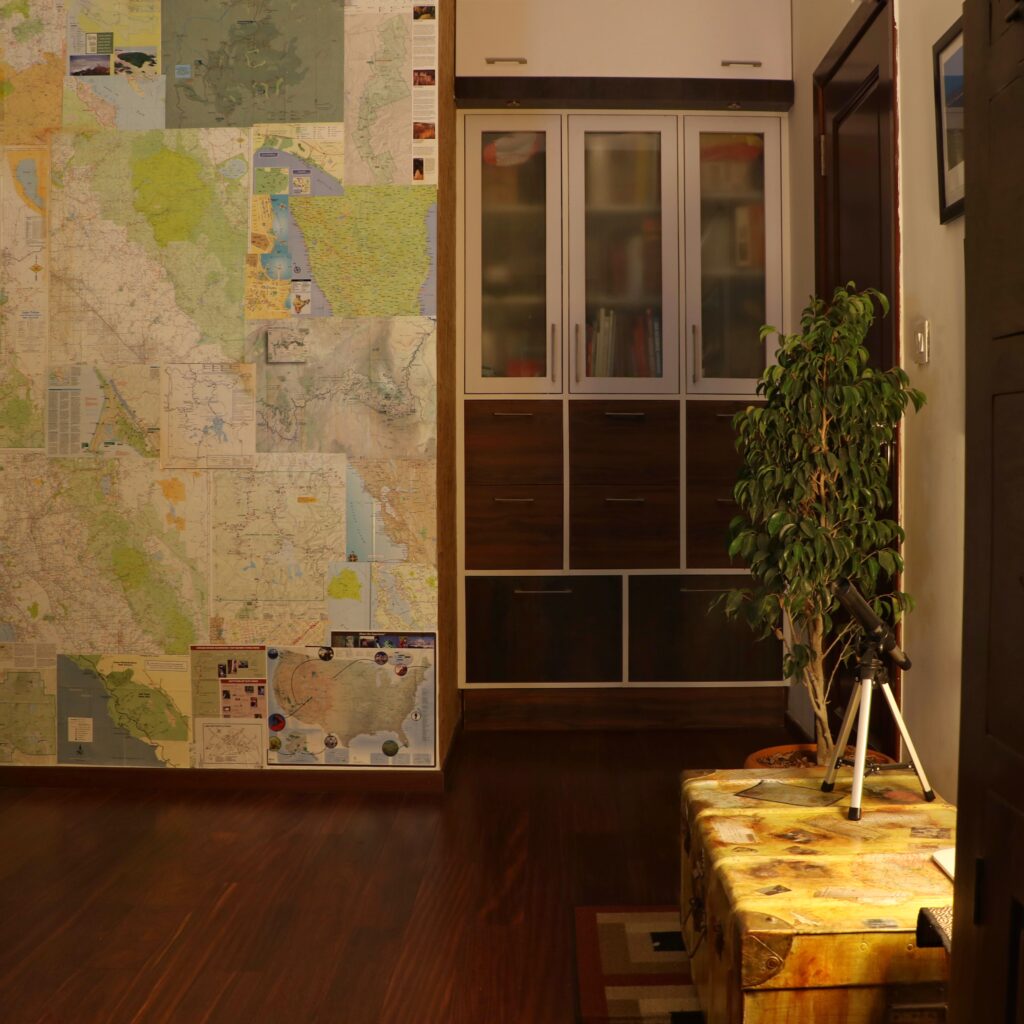 Our home is our world and where we feel rooted and anchored. For me this literally goes back to my roots – I keep getting drawn to the traditional decor styles in southern Tamilnadu- whether it's Tanjore / Chettinad – all of it – the tanjore paintings, brick cladding, brass, natural granite, rose wood.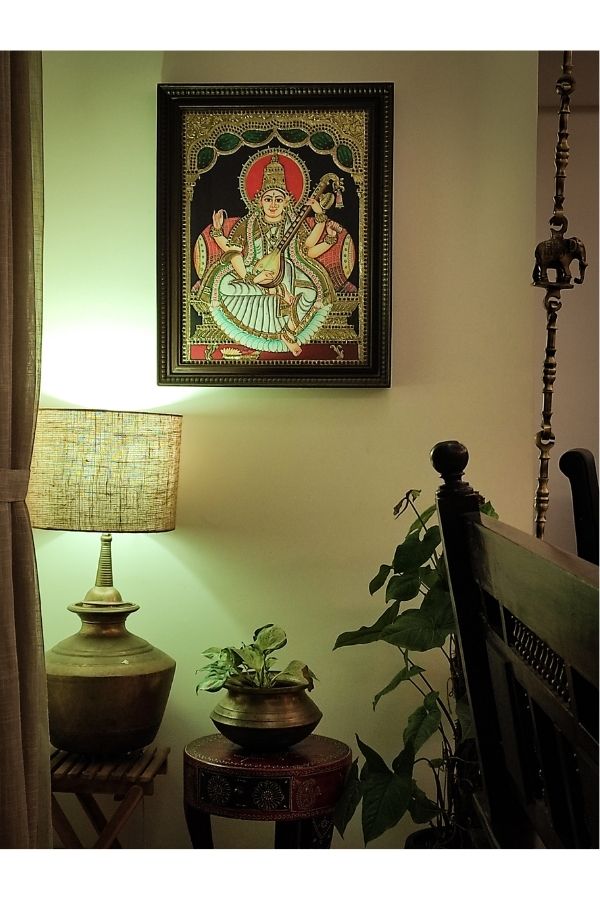 I've explored and spent time in Rajasthan in my late teens; I am drawn to the fabrics of that region. I have a weakness for block prints / kalamkaris and try to weave them into decor as well. I have woodwork pieces that are pasted with indigenous fabric and sealed. That in itself is functional art (pic below).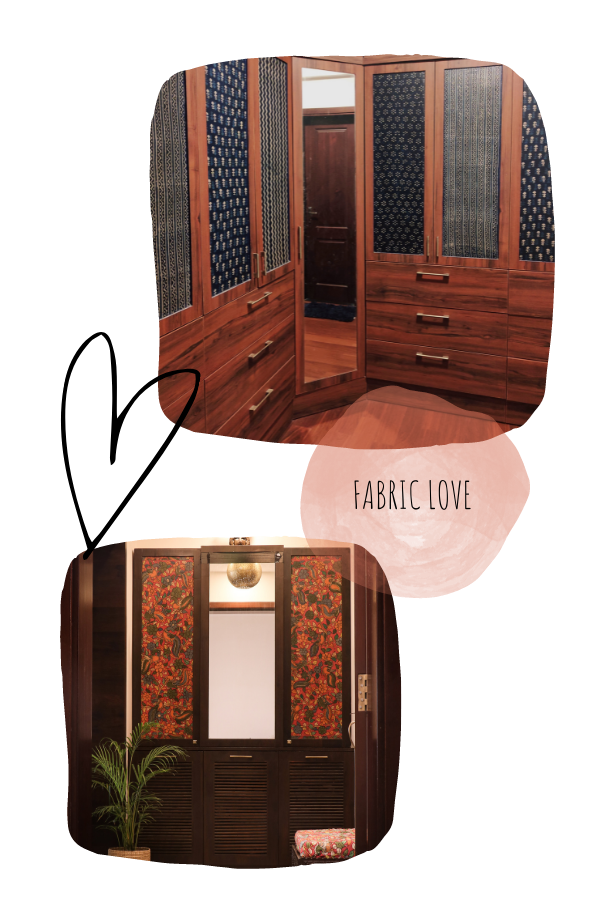 Pieces with history and that tell a story
Hard wood and gorgeous wood grain are on top of the list – my heart literally skips a beat when I see a vintage rosewood chair in all its grainy glory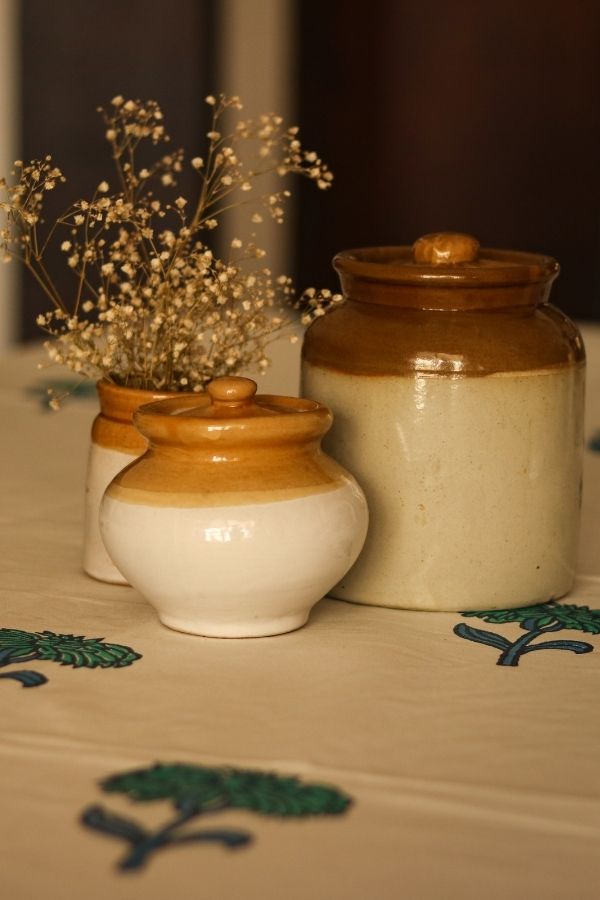 Warm earthy colours – brick cladding (still in my to-do list), Jaisalmer stone flooring (currently still a dream), athangudi tiles – All have a certain ancient feel to it & provides a very comfortable and anchored feeling at home.
Brass, ceramics, terracotta, and natural fiber (reed / banana fiber / bamboo / fabric)
I love to play with fabric – I try to bring "fabric art" into decor as much as I can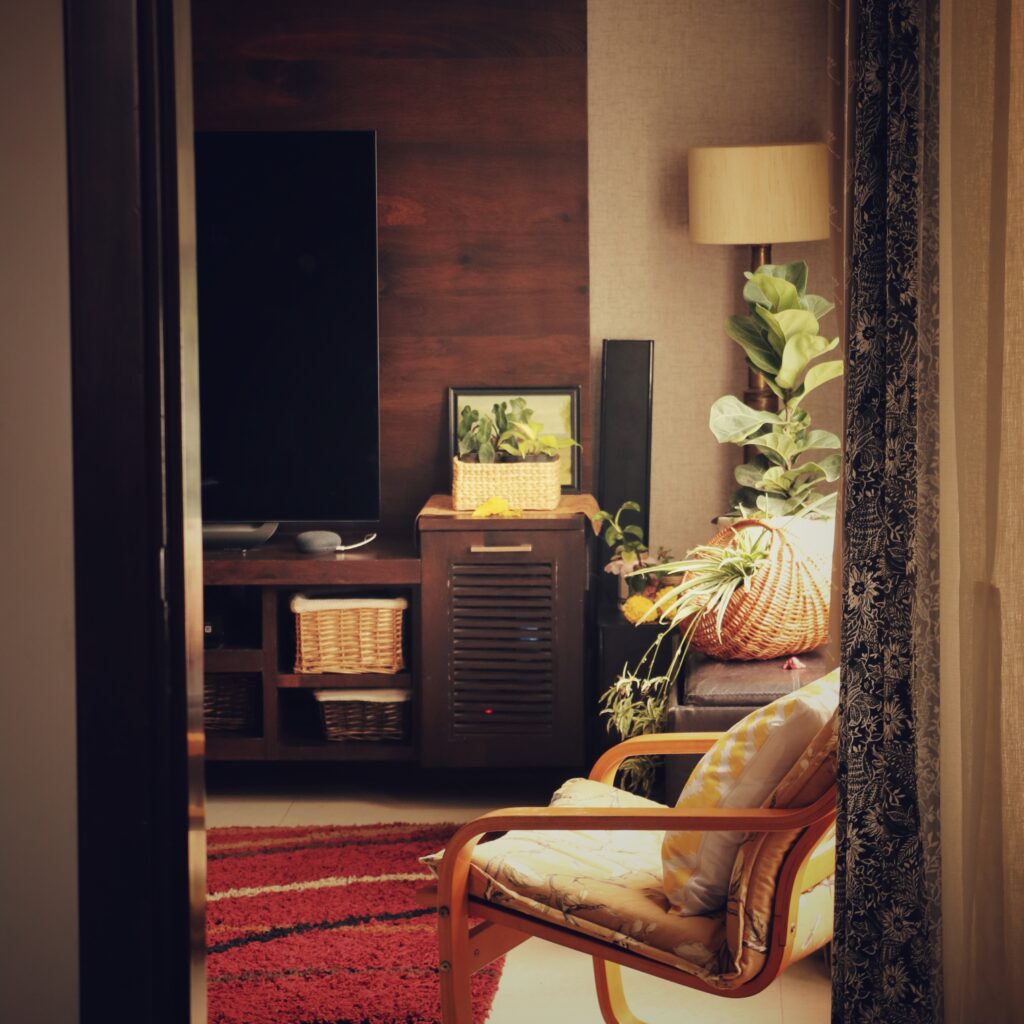 Wasn't that wonderful?
Indira's home is a blend of the old and the new, and here are a few takeaways from this home tour
Indira's home speaks of a great deal of love and respect for all things old. They have an almost revered space in her home, and the polish and great condition they are in speak volumes about this facet. In turn, it makes the home look absolutely stunning!
Don't be afraid to portray what you love in your decor. For Indira, it is her love of blockprints and fabric that inspired her to add them to her doors and cabinets, making for a truly beautiful outcome. Her love for her roots – Tanjore paintings, Chettinad items, old pillars and vessels, etc is also very visible in her decor.
Don't limit yourself to a single store to source to shop at. Scour local markets, pick up items when you travel, and network with local art and antique dealers so that you have a wider range to choose from, and who knows what will catch your eye, when!
Don't crowd the house with things. Negative space is as important as owning beautiful things, and the best way to make your beautiful collectibles stand out.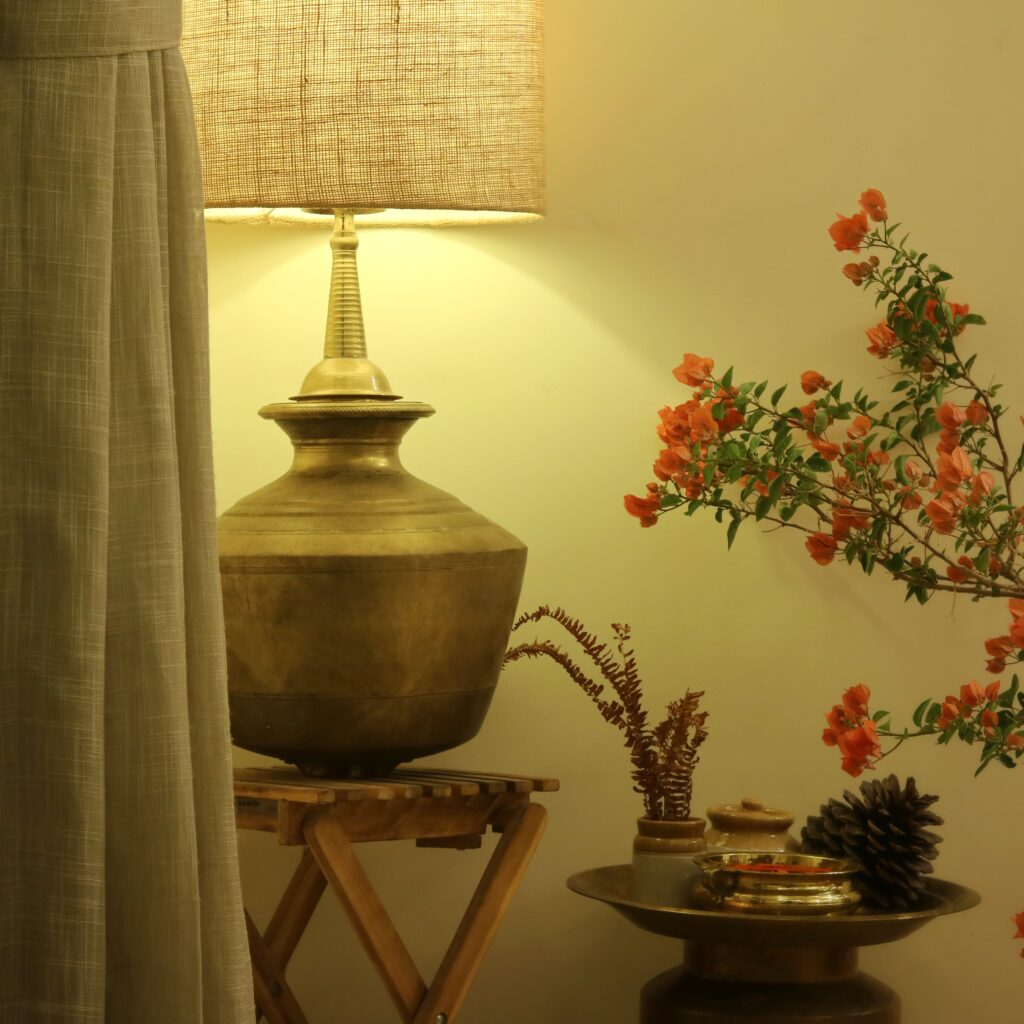 Thank you dear Indira for being so patient and for generously sharing all the pics and information with our readers. Your home is an inspiration and I am so glad for the opportunity to showcase it.
I usually end a tour with my fav picture from the space, so here is my favourite from this home tour.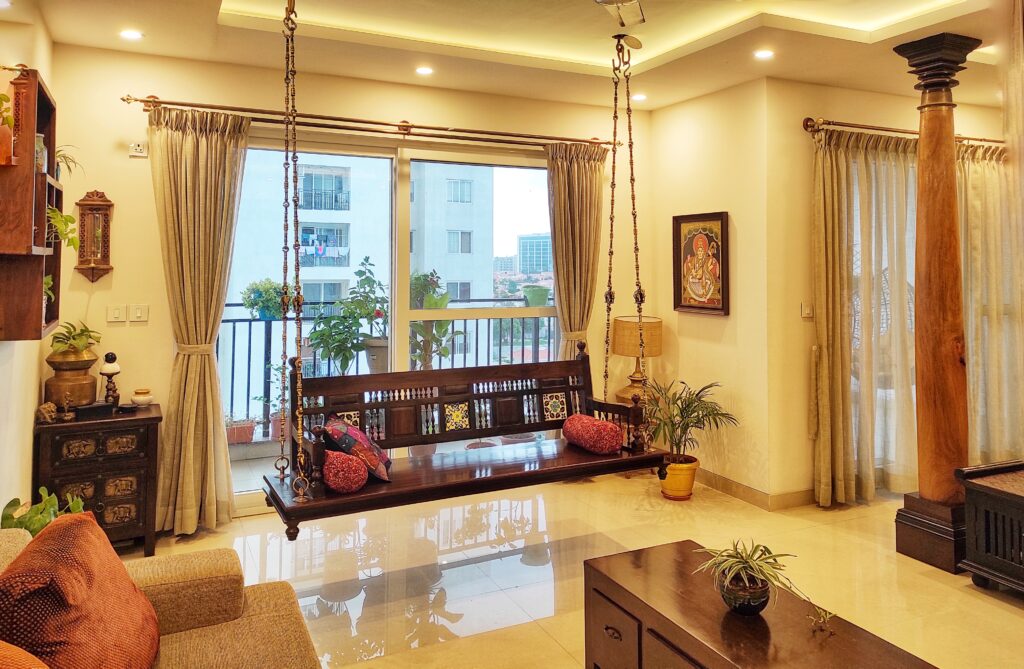 If you wish to save any of these pictures, just head to our Pinterest board (we have already pinned these up there), and pin away!
More from this blog
If you liked this style, I am sure you would love these home tours on our blog too.
Jyoti Mallude's Unique Desi Boho Pune home
Asha & Vidya Sagar's Amazing Home built in the Old Style