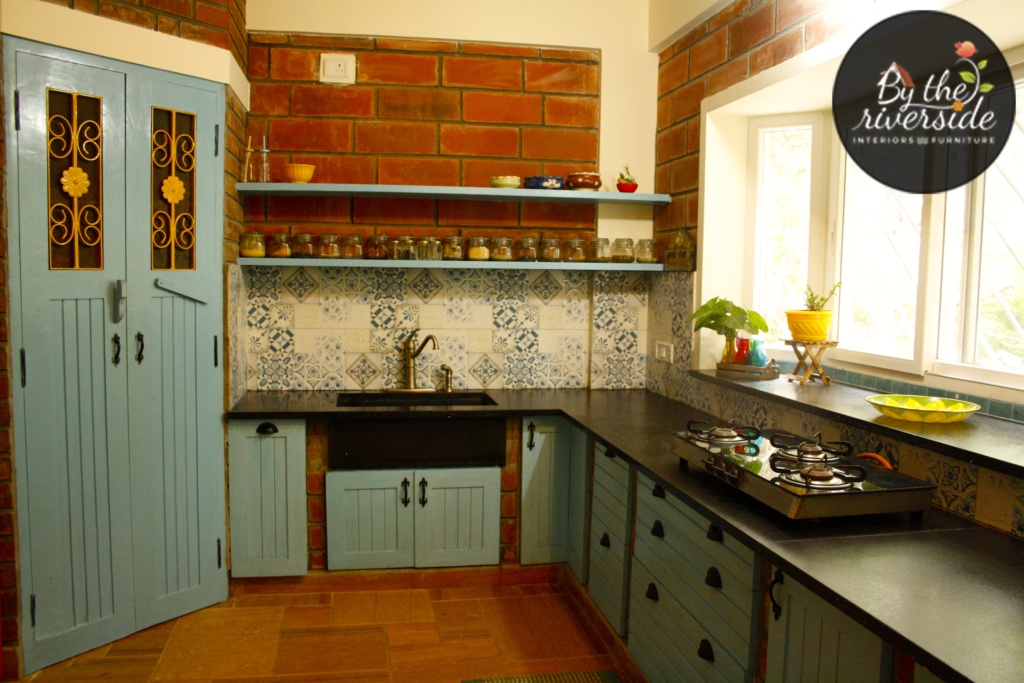 ALSO SCROLL DOWN TO READ 5 MYTHS ABOUT COUNTRY KITCHENS BUSTED!
The charm and charisma of an old world country kitchen appeals to many of us. However, when it is finally time to install a kitchen, most of us think that a country kitchen is not practical and modular components cannot be incorporated. What if I told you that you can have your country kitchen and a modular one too? In fact Swati Seraan does just that. By the Riverside is her brand that invokes the earthy, the outdoors and the simplified. And her kitchens embody these ethos beautifully.
If you thought there was only one rustic, bareboned country look, think again. Swati specialises in creating exciting new looks within the rustic country theme. In fact, here are 5 different kitchens that you will agree are rustic in style, but they look so gorgeous in their individual avatars. Let's explore!
A traditional farmhouse kitchen
This traditional farmhouse style kitchen actually sits in a high rise apartment. The wood boasts an authentic farmhouse wood colour and the kitchen wears a warm, rustic and organic look. The handmade Italian tile backsplash augments the rustic Italian feel. And they perfectly compliment the kitchen. Rustic blue pottery elements and a window shelf for plants give it even more charm!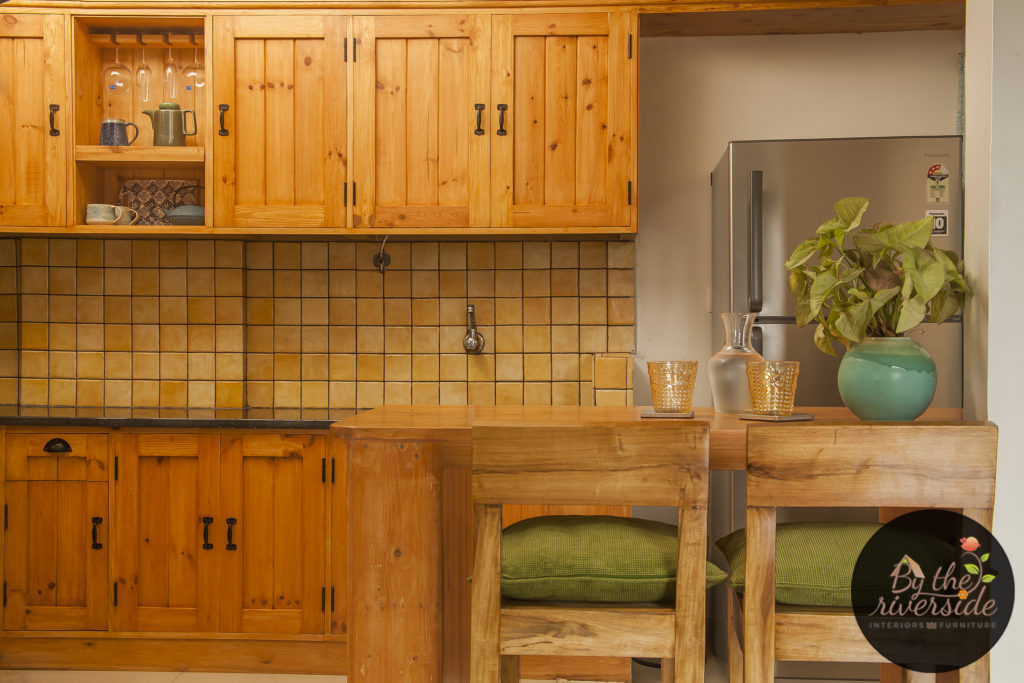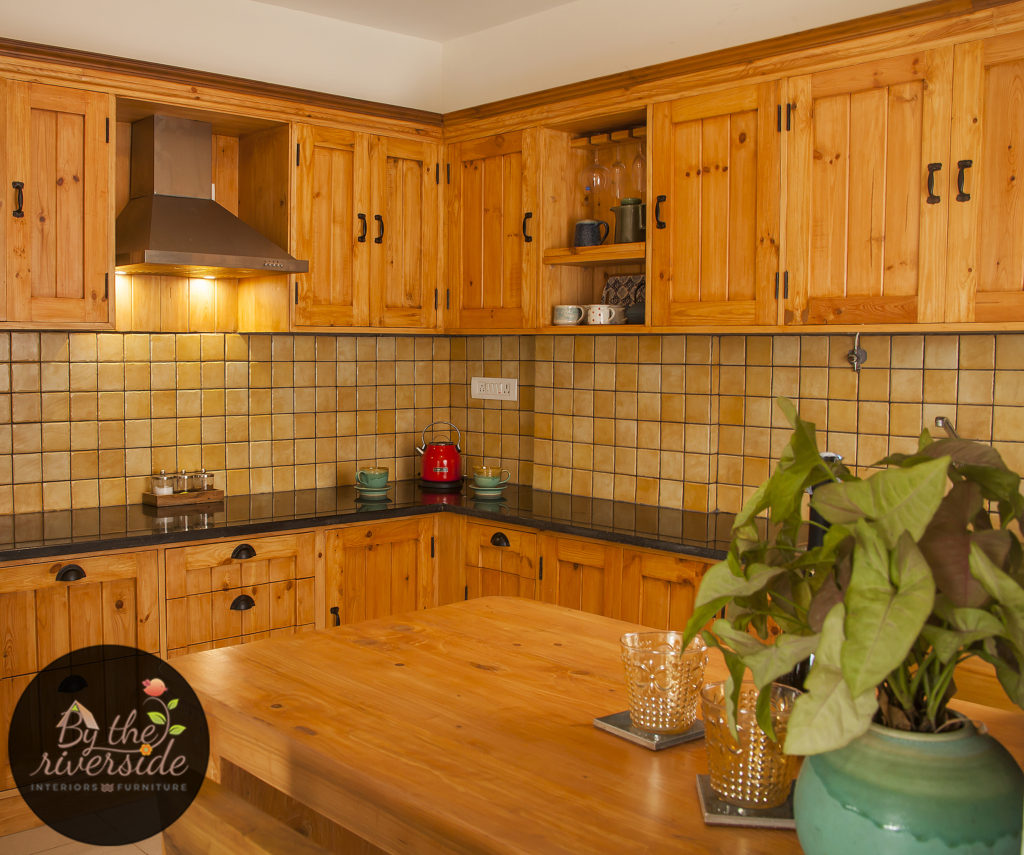 Muratara Kitchen with blue cabinetry and red brick work
Muratara is an Italian concept were the wall / bricks are exposed between cabinets. There is no functionality to this concept, but it adds a huge dose of aesthetic charm to country kitchens The natural look which Swati specialises in worked wonders to lift a minimal kitchen to one that looked more pleasing and attractive. She paired red exposed bricks with blue cabinetry and a blue-white backsplash and tile work reminiscent of European country kitchens.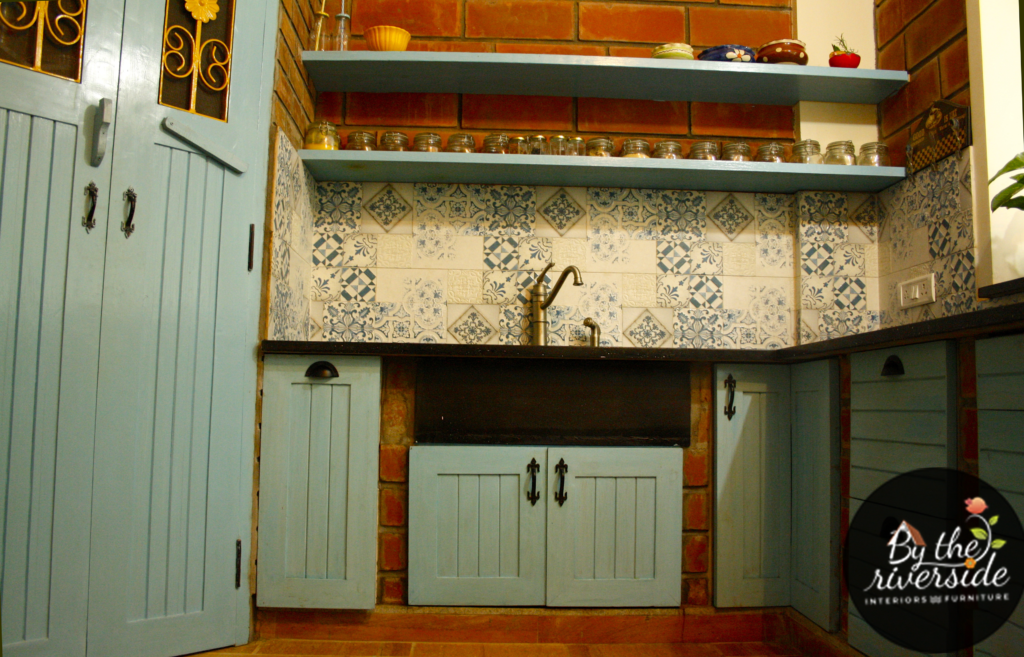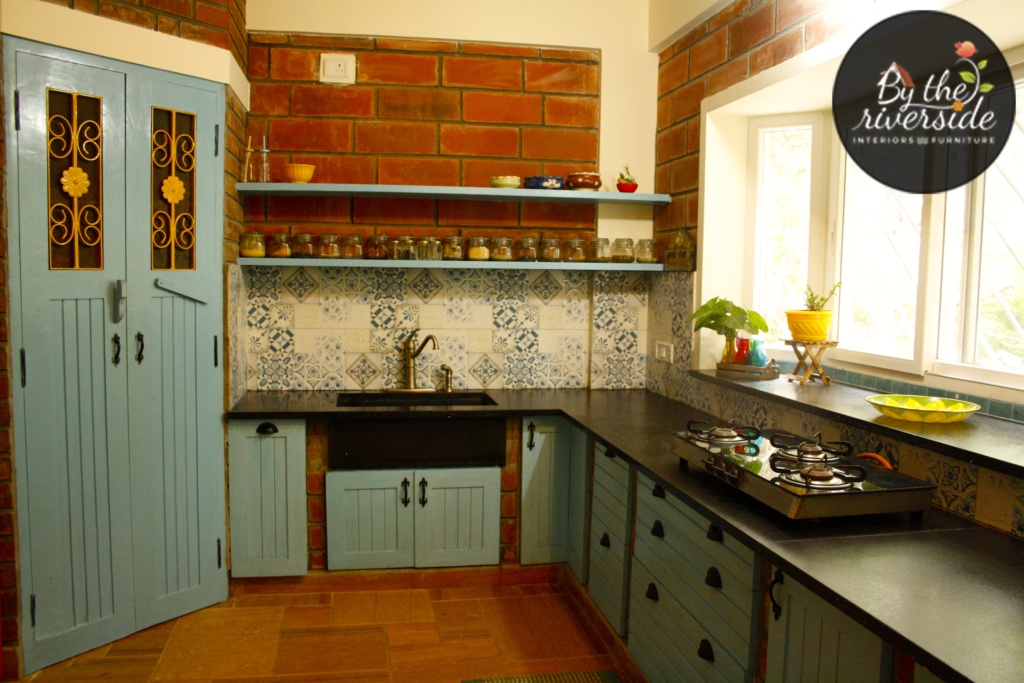 Muratara Kitchen with contrasting cabinetry and exposed brick variations
This Muratara kitchen is actually part of the same house as the first Muratara kitchen above. This is for the second floor unit. It has pronounced country accents like faucets, grilled doors, a country style sideboard and the contrasts in cabinetry as well as wall tiles, lend an air of authenticity to this Italian country style kitchen. What impressed me the most was the varying colours of exposed brick that broke the monotony of one single brick colour throughout the kitchen.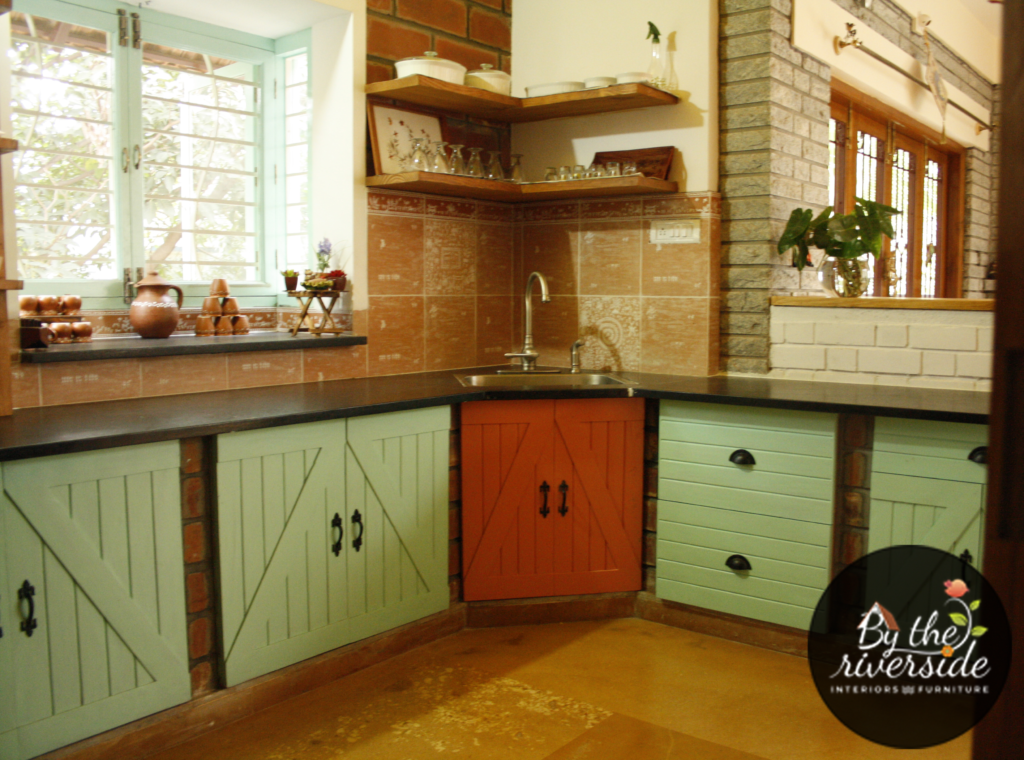 The handmade backsplash tiles lend a lot of interest too, and the tribal motifs add a pleasing touch of the ethnic to this look.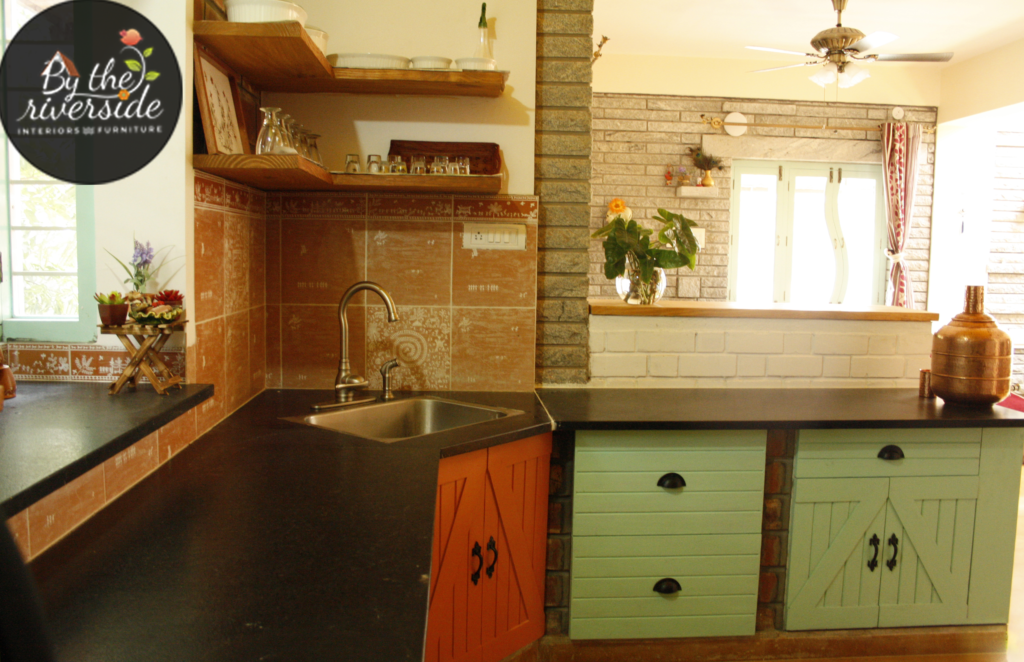 The door handles and the rustic just "leap" at you here, and they are in fact the distinct points of this kitchen.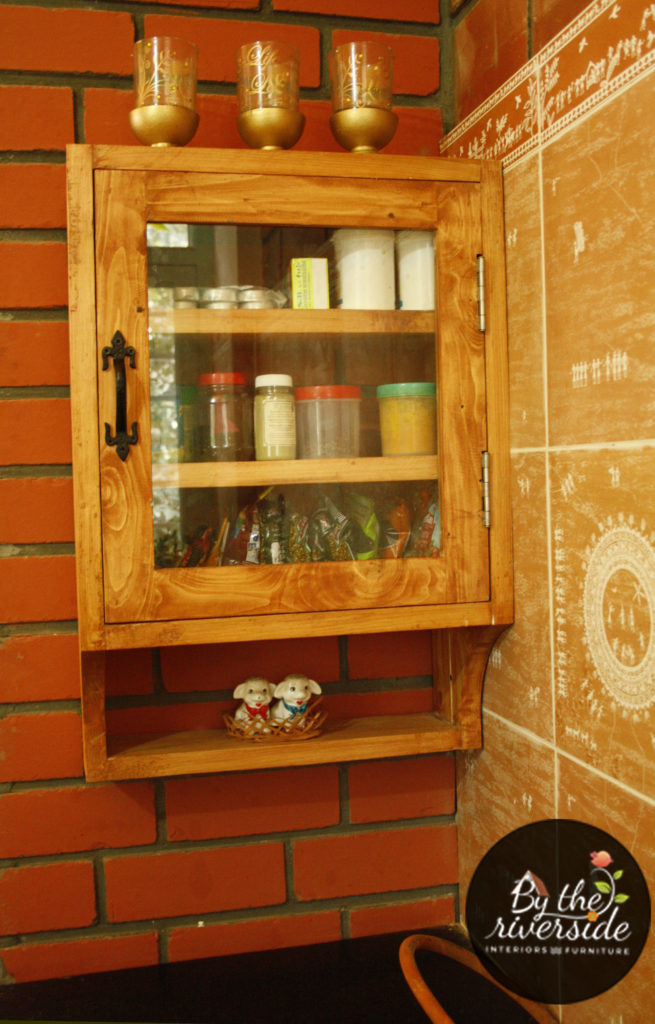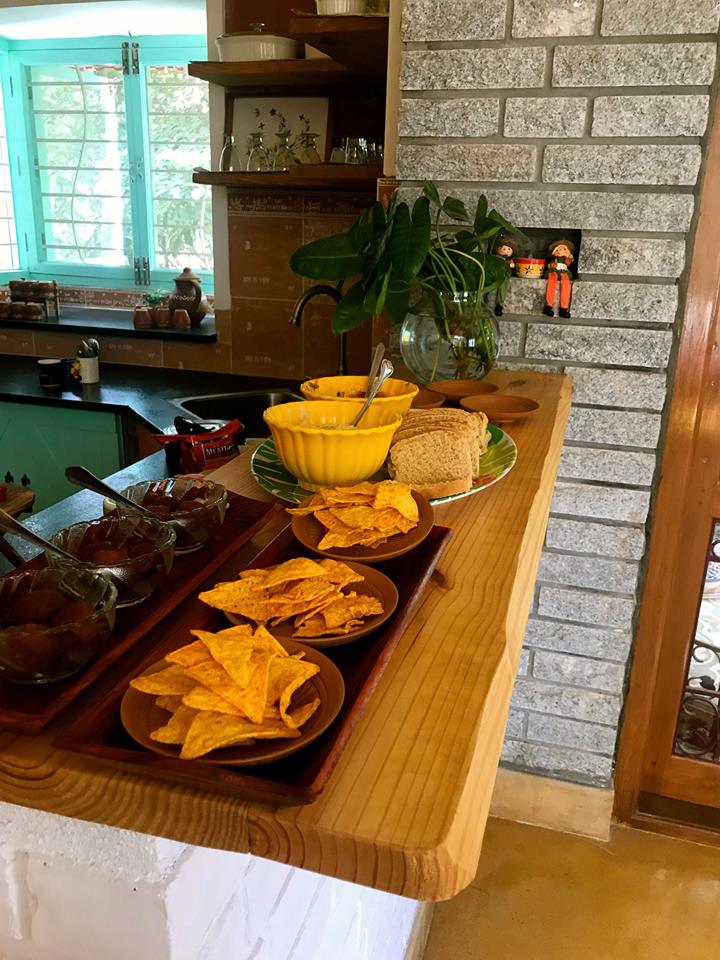 Country kitchen Peninsula styLe
Swati is especially proud of this Peninsula kitchen done for a large apartment, and she calls this her best work so far. I asked her why she thought so. And she told me, "It is an integration of different types of materials and finishes, it has all the modern fittings like tandem boxes and auto close channels, yet it is distinctly countryside in style." I agree. The open arched racks for display of plates and printed tiles in some areas are the highlight of this kitchen.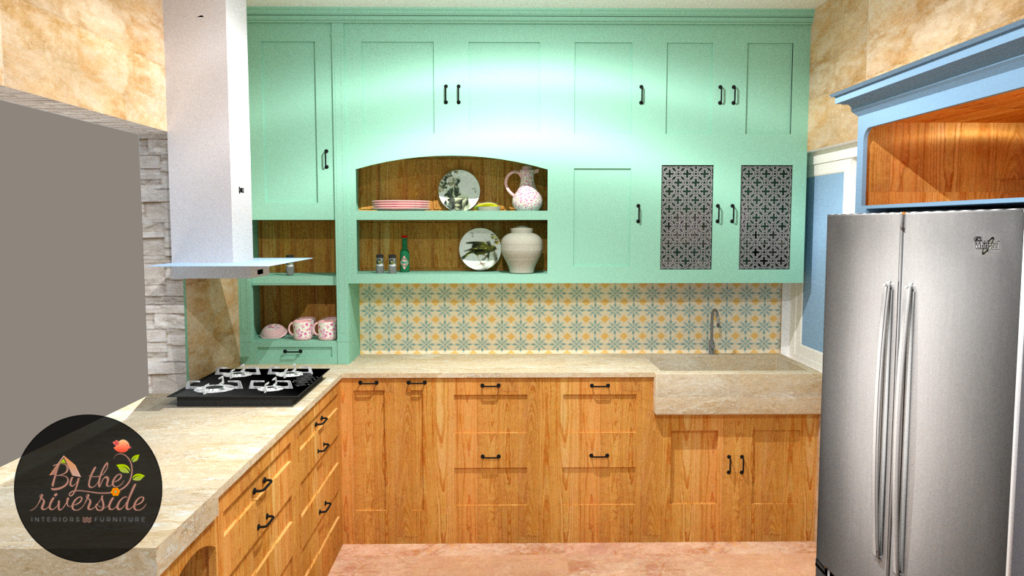 The word 'Peninsula' is an offshoot of the word "kitchen island" So the grographic reference is an analogy here. What island is to a peninsula in water, so it is in the kitchen! 🙂 So you will see that while an island is a stand alone unit, a peninsula is actually an almost island – it juts out like a peninsula, as an extension of a L shaped kitchen (usually) to form a U shaped kitchen.
In other words it is the "extra" counter that becomes part of the counter line, and serves the purpose of an island. Usually it is used as a bar/ breakfast nook because the other side is adjacent to a dining or living space.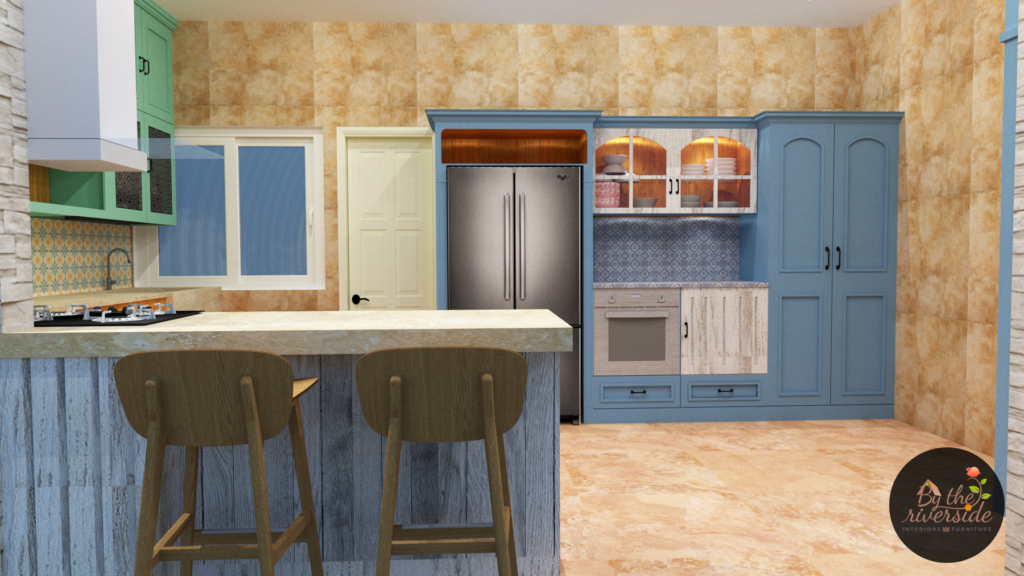 A Traditional Style Kitchen
It's all about the details in this classy kitchen. Made in teak, the door work needs to be appreciated – it has tiny details with V groves and cast iron handles.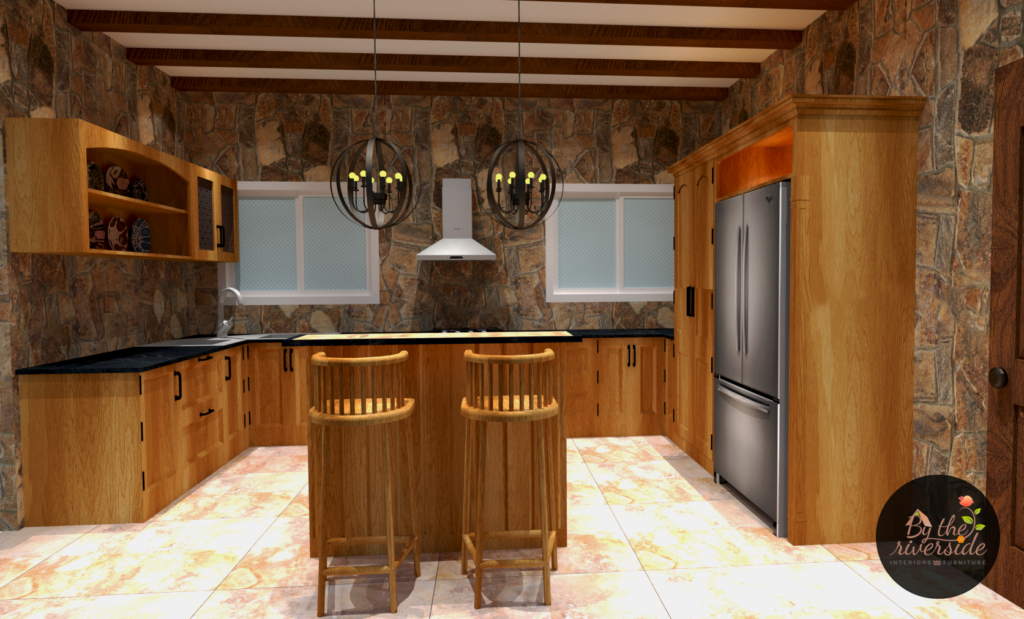 5 MYTHS ABOUT COUNTRY STYLE KITCHENS THAT WE BUST FOR YOU!
MYTH The grooves and curves of countryside kitchens are not suitable for India because of the need for daily dusting and cleaning
FACT: These traditional designs have been in use since centuries and there are no issues with maintenance. We use high quality top coat to protect it from water and stains.
MYTH: The old style design of cabinetry are not functional as we need a modular pullout system to access kitchen storage
FACT: These kitchens are installed with modern fittings like tandem drawers with auto close mechanism, branded Hettich / Hafele bottle pull-out and pantry units and other storage solutions
MYTH: The au naturelle look won't last as it will cause the wood to warp and bend
FACT: This is where working with someone with expertise protects you. We take care when selecting the right wood and the materials used. Moreover, our workmanship plays a key role in ensuring that all our wood kitchens are problem free. Our clients will vouch for this!
MYTH: Indian kitchens are messy with the all the masalas and oil. A country kitchen deteriorates rapidly with all the heavy duty use.
FACT: We use high quality top coat to protect the cabinetry from water exposure and stains. In fact, the worn look adds to the country side look. Wouldn't it be really nice that the kitchen slowly ages to give that lived-in feel? That's the real charm of a country kitchen!
MYTH: Wood kitchens / distressed kitchen could be extremely expensive and above our budget
Fact: By the Riverside kitchens are competitively priced. The cost of kitchen is worked out as per budget and we have the expertise in combining different materials and finishes. This gives us the advantage to control the cost as per client's need!
COUNTRY STYLE DINING AND SEATING
A great extension for country kitchens are dining and seating areas that emphasise the rustic charm of country living. I loved the workmanship and distressed finish as well as bright colours on these pieces.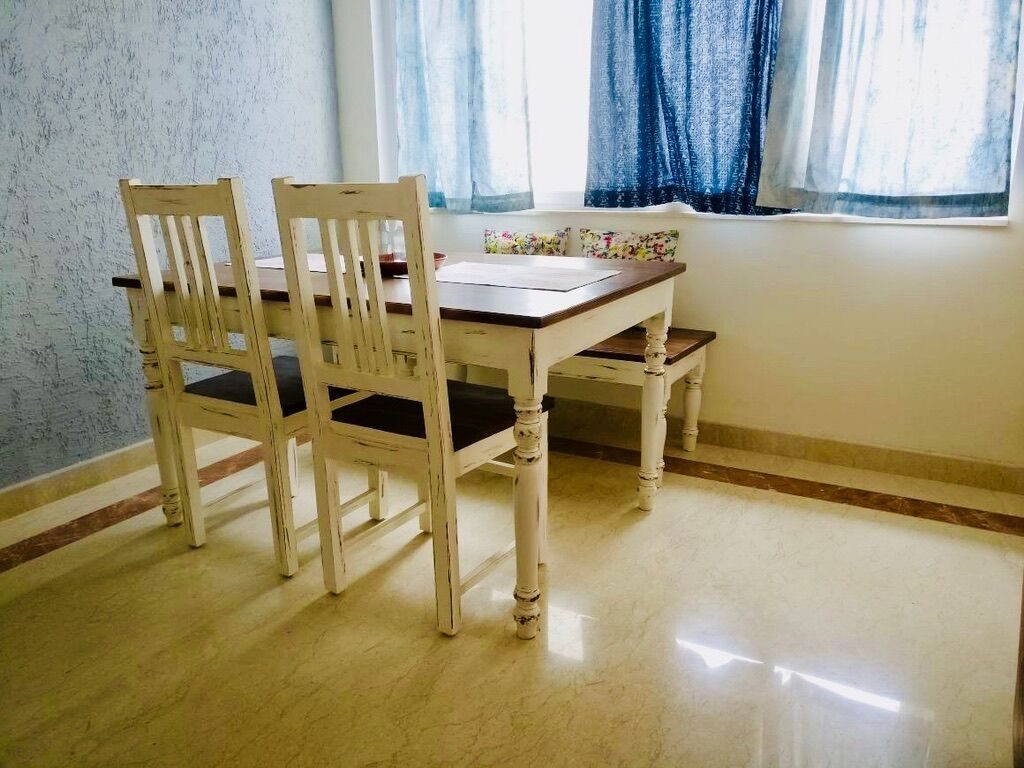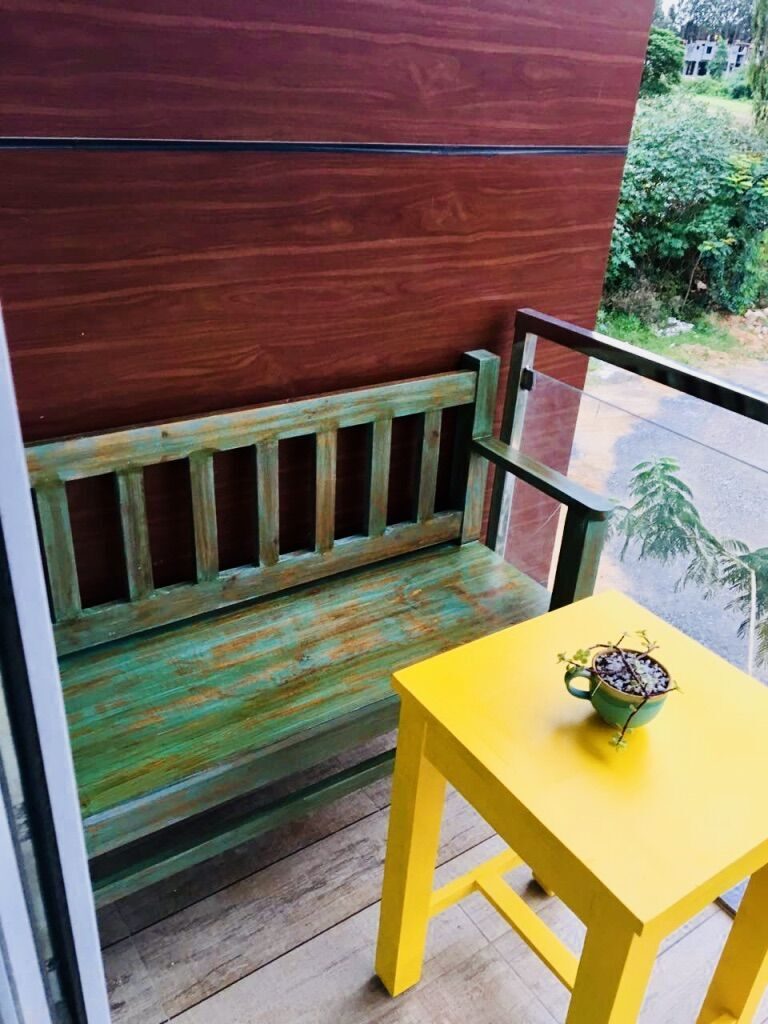 I am happy to announce that sometime soon, there will be a giveaway in association with By the Riverside on my instagram page. So do follow us both on Instagram @bytheriverside.in and @thekeybunchdecor as the giveaway will be held exclusively on Instagram.
Swati Seraan owns and runs the interior design firm "By The Riverside" She is based in Bengaluru and is known for her aesthetic, natural designs in wood. They are a refreshing change from the sleek and shiny interiors that are so common today, and she makes her clients' dreams come true with the beautiful interiors she designs.
Swati can be contacted on 9886439231 or email her on [email protected]