Hunting for the right X'mas tree is fun, no doubt…but nothing beats the excitement of making one yourself. Kavita, a freelance artist sent us this super easy Christmas tree tutorial. Kavita takes art classes and also shares some interesting art and craft ideas in her blog Kalalayaa's art studio.
Over to Kavita now..
"It's my pleasure to share the tutorial with the readers of The Keybunch. Let's get started. You need chart paper, green colored papers, stars, and glue and in five simple steps your Christmas tree is ready!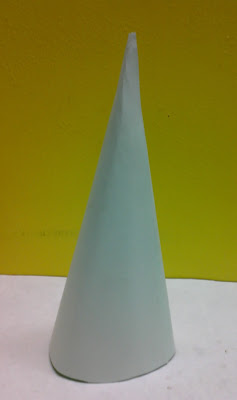 Step 1: Take a square piece of chart paper and roll it to get a cone shape and stick the ends together. Trim the base to make it stand properly.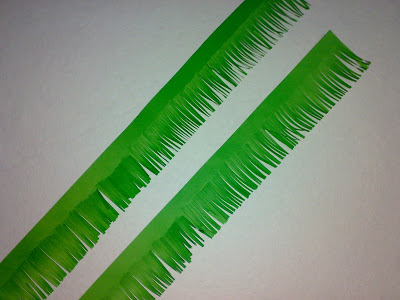 Step 2: Take 11/2 inch width green papers and fringe (cut) it finely till 1 inch.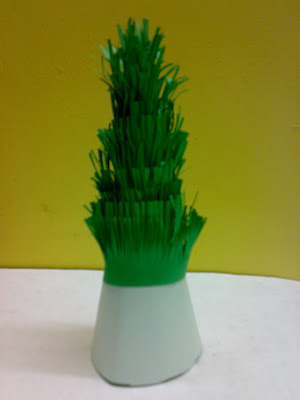 Step 3: Start sticking the paper from the top of the cone.
Stick in such a way, each overlaps the other so that the base colors don't show off.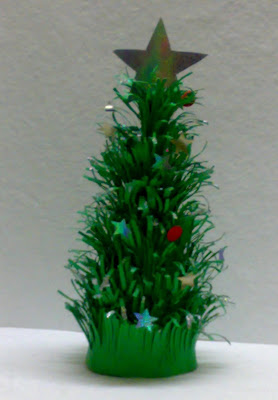 Step 4: With the help of the scissors or any plastic tool curl the leafs and bring it outside, so that it get a nice tree shape.
Step 5: Apply little amount of glue in the edges with a brush and sprinkle some glitter powders. Decorate it as you like, I have used some punched stars and sticked it.
I have done a small size, it can be done in any sizes depends on the size of the cone you make. For bigger size trees ready made paper trims can be used.
I enjoyed doing the tutorial for Thekeybunch, hope you like it. 🙂
Wasn't that super easy? Would you try it out? Check out similar easy crafts at Kavita's blog here.
Linking this to our Christmas Carnival too.