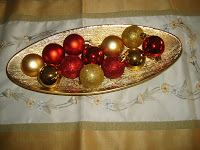 My Christmas holidays are always spent with family back in Mangalore. However, this is our first December in our new home, and I thought it appropriate to bring Christmas in a bit early. At least this way, our home won't feel too left out when we leave for Mangalore later in the month. Then when we come back soon after New Year, we can still enjoy the decor until the 6th, when the decor officially changes back to normal.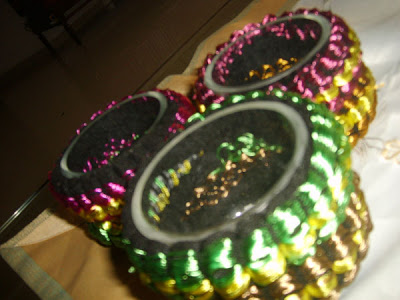 Colored hairbands add some zing to plain glass tlight holders.
I am infusing a bit of red, green and gold into my usual orange decor.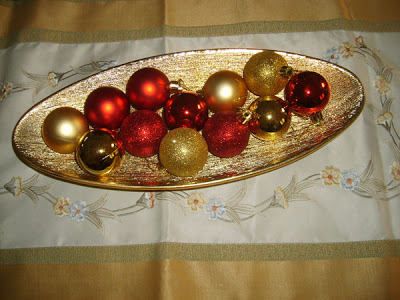 X'mas baubles in a gold bowl
This year I was keen on trying out the ever-popular orange and clove idea, and it works brilliantly!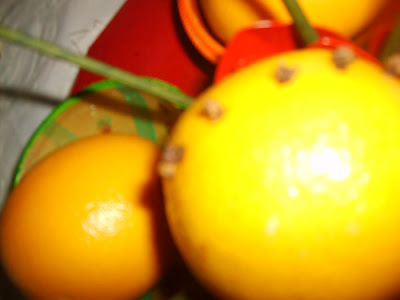 Orange-clove decor
I didn't want my decor to be entirely Western so I used these diyas on my dining table, and did it up with a lotus candle holder (that I just received in the mail from a dear friend), with the experimented orange-clove idea on top. I will probably try piling on more clove-pricked oranges later.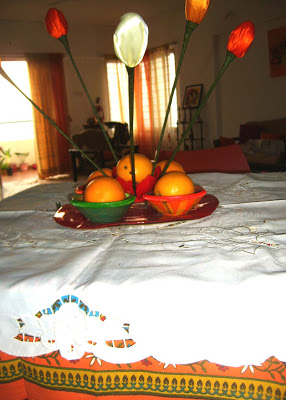 Indo-western xmas decor
Easy Xmas Wreath Tutorial
I found the wreaths way too expensive in the stores, so I decided to make my own. It will hang on my front door in a few days.
I used:
1 length of green fir trimming
1 cereal box
a piece of red ribbon
and a few store-bought Xmas motifs
Scissors
Needle and thread
Open out the cereal box. Then trace 2 concentric circles on the cereal box.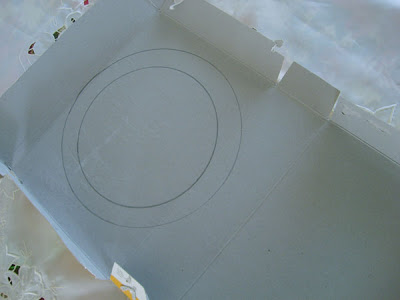 Then cut them out in a doughnut shape.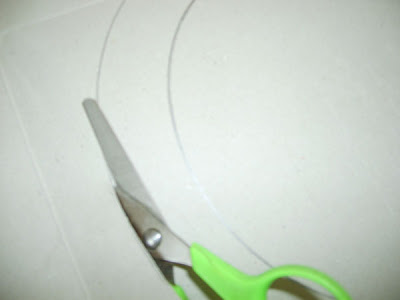 Now start wrapping the green fir trimming around it until the cardboard is fully covered. Staple the ends so that it stays on.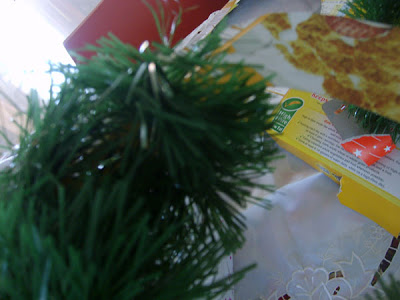 Now thread your needle, and carefully stitch your motifs to the box, trying to avoid trapping the fir. Leave the top of the wreath free, because that's where your red ribbon will go. Tie a bow to the top, and your wreath is done. Now attach a pretty ribbon and hang it up!
What have you planned for your Xmas decor? What delights are you dishing out in your kitchen? Whether your interest lies in food or decor, the December Blog Carnival is a great opportunity to show us your flavor of this season. What colors are you decorating with?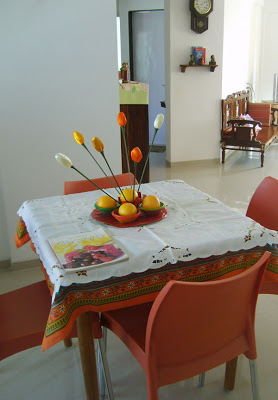 Another view of the orange diya centrepiece
Keep posting your ideas, goodies and decor through this month. You are not restricted to one post, so link up as often as you have something new at your place! I look forward to all your posts!
Here's how you join in the year-end fun!
1. Do a "Christmas decor and delights" post on your blog. The post can be just about anything related to December 2010 festivities. Please use an original photograph clicked during this month. Please do not use images from other sources.
2. Then link back to this post as follows:
– Copy the 'permalink' from your post (in other words the URL of your post, not the URL of your blog).
– Add your 'permalink' to the 'inlinkz' at the bottom of this post.
3. Inspire and get inspired by leaving a comment on the participating blogs.. after all it's a party! 🙂
4. You can link in as many posts as you wish, the more the merrier.
5. If you don't have a blog, you can always email your pictures to me at [email protected] and I will post them here, as well as link back from the party page.
I am linking this post to Weekend Wrap up on Pat's blog, Southern Hospitality and to Emreen's Itz Festival Time