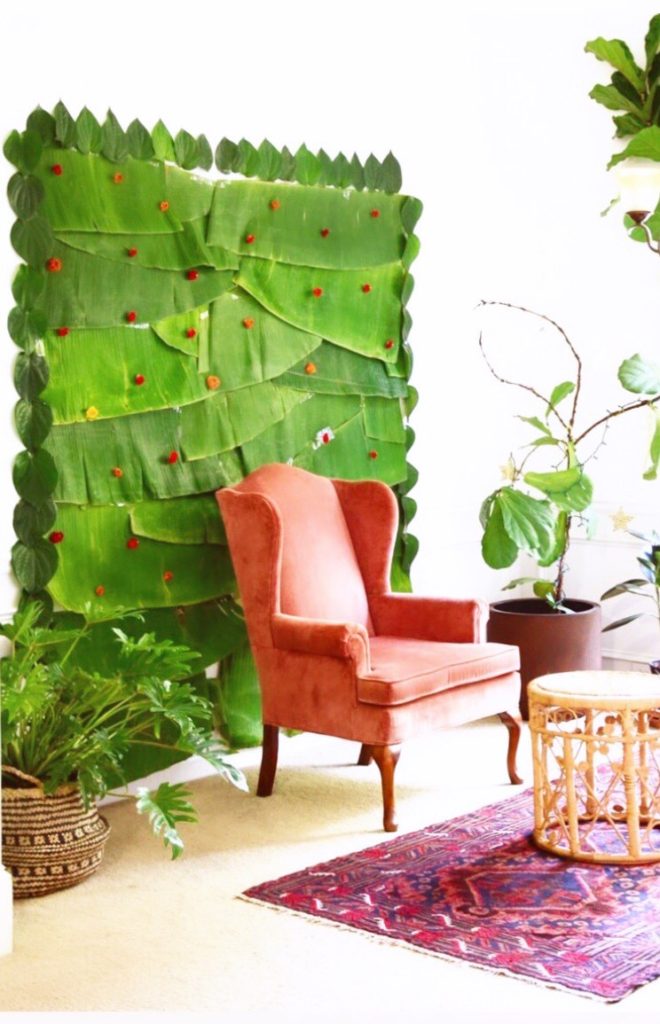 Saranya Padmanabhan recently stunned Instagrammers with this beautiful banana leaf backdrop. What's more astonishing is that she is based in the US. We invited her to do a little tutorial on festive ecofriendly decorating for us, and here she is!
I love hosting. From simple dinners to potlucks to parties, I really like bringing in people into my home. But, hosting always brings in guilty feelings of the waste generated at the event. From all the trash from the single use plates & cutlery to décor items such as balloons, single use tablecloths etc., the amount of waste each event/party generates for the few hours of fun is mind blowing.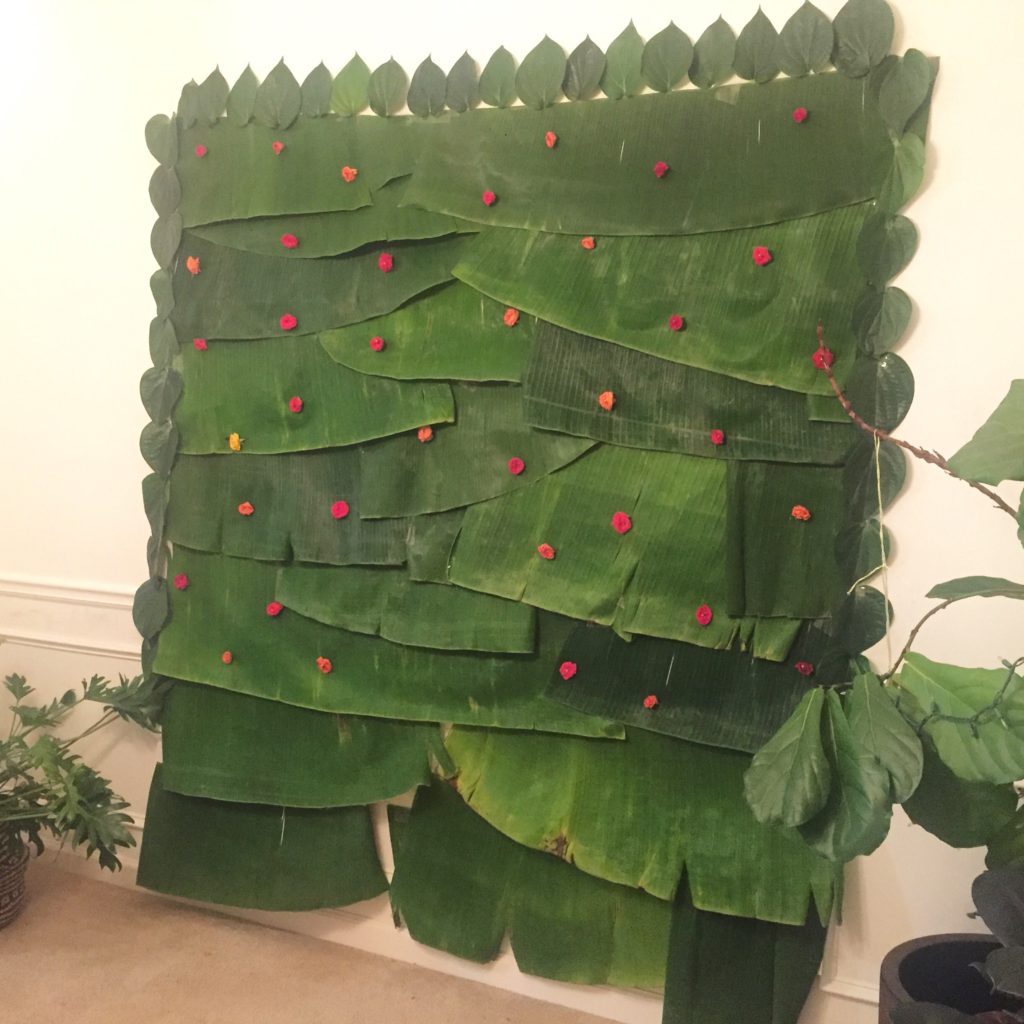 And, without further ado, let's go into how to make them.
The backdrop I made was about 6 feet tall & 5.5 ft wide.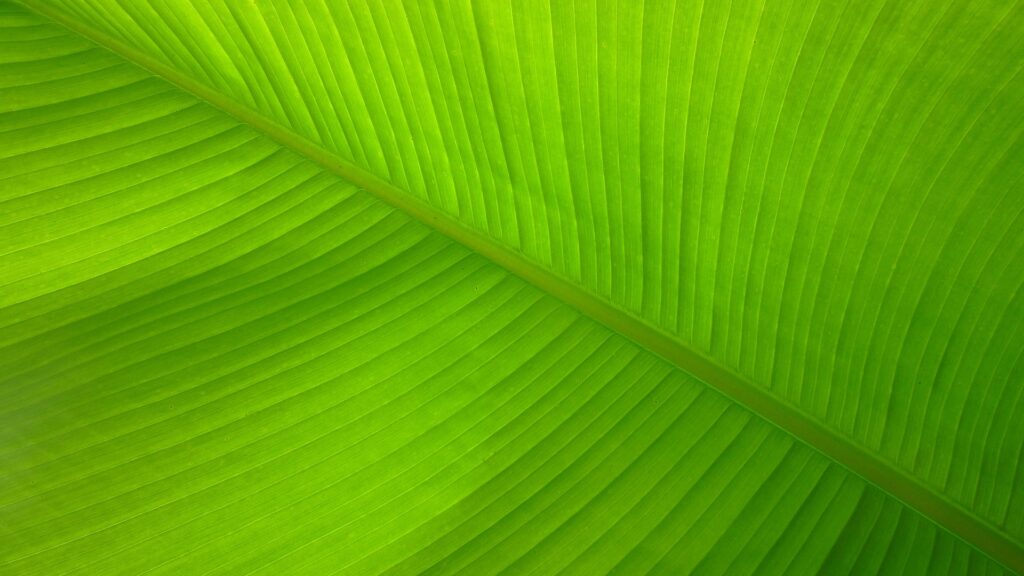 Things used:
5 project display boards or any cardboard boards
fresh banana leaves. I got about 15 long half blades.
fresh betel leaves for the sides. Used about 30 leaves.
cello tapes
push pins
steps
Define the area where you want to set the backdrop. I chose a relatively empty wall where there is plenty of natural light. The area we had was enough to accommodate 2-3 people (when taking pictures) but when there was a larger group, the backdrop area wasn't enough. I would recommend going wider.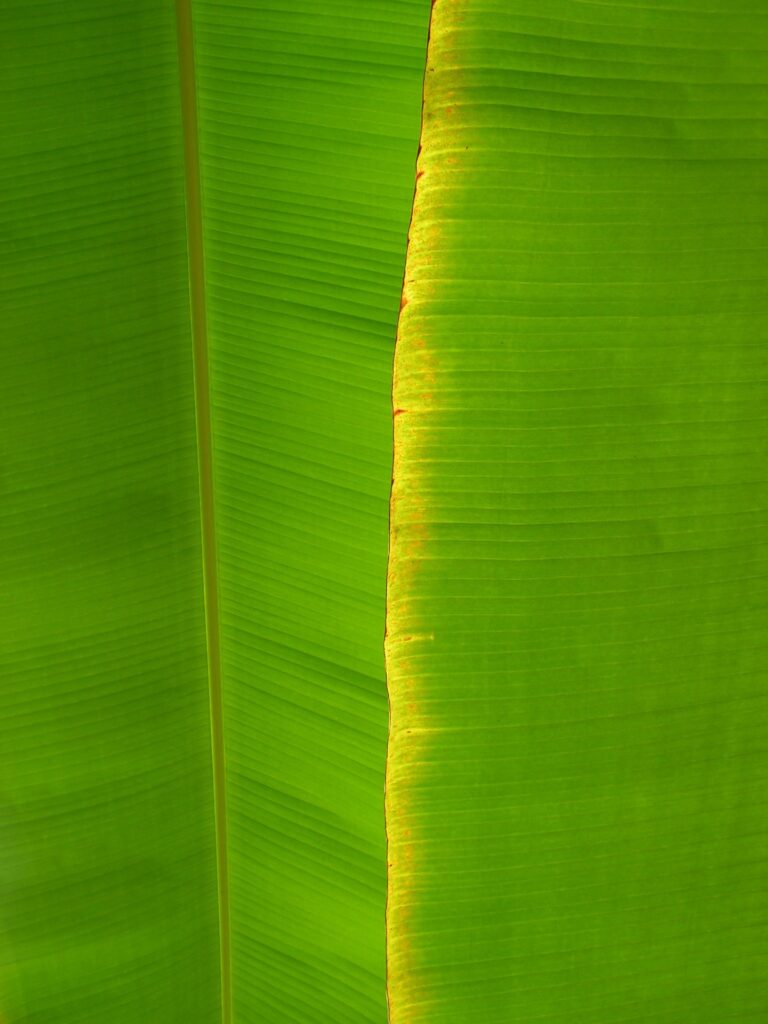 Pin the boards to the wall. This creates a strong base to stick the leaves on and it is also easy to stick to stick in more push pins (for the flowers) on the board instead of puncturing the wall multiple times.
Next come the leaves. Procure leaves that aren't folded.
The leaves must be fresh, I cannot emphasize this enough. My event was on Sunday morning. I got a batch of leaves on Friday evening & another set on Saturday evening and as I couldn't keep them in the fridge, few of them had turned yellow & few of them had begun to warp around the edges.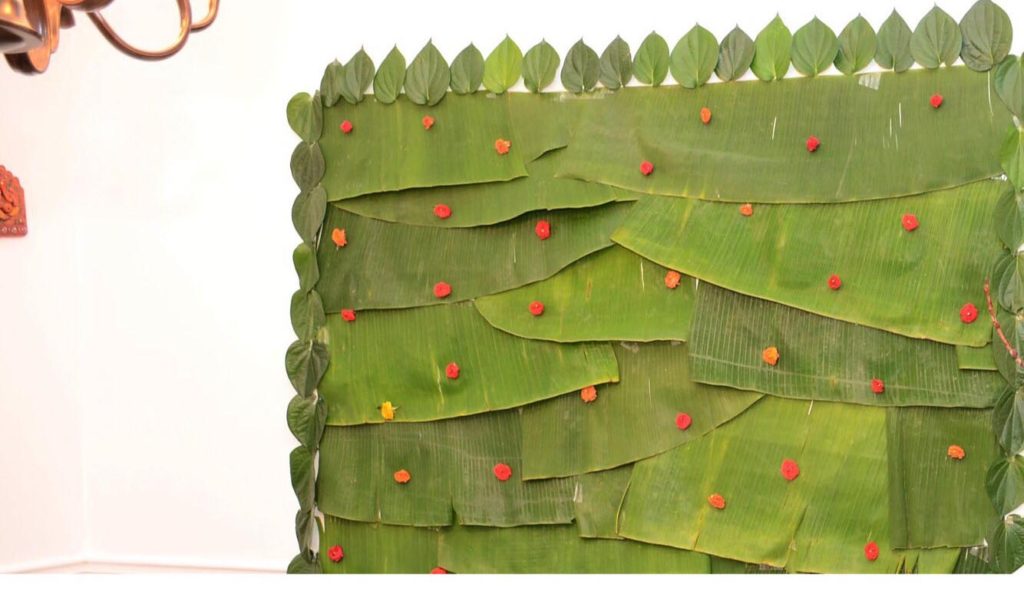 Start from the bottom and layer the leaves. I used cello tape to stick them to the back. As they are layered, the cello tapes were hidden.
Try mixing in different shades of green and different sizes for more pattern & interest.
Repeat till you have covered the entire area.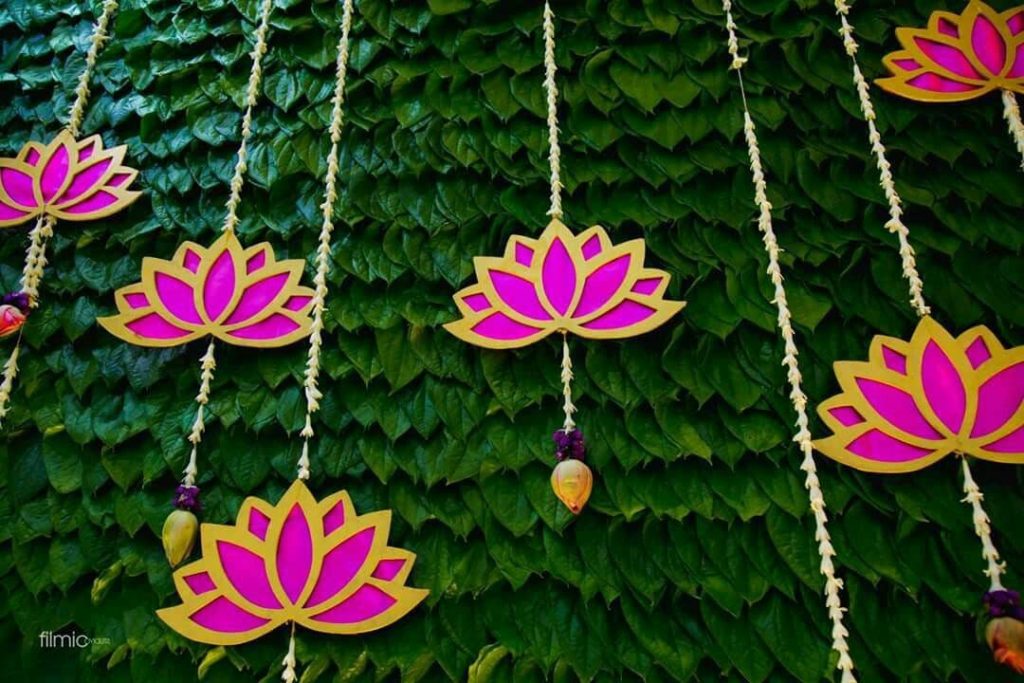 For the border, the original plan was to use marigold strings, but we went with betel leaves instead in the last moment. It was green on green, but it looked exotic!
The betel leaves were stuck individually in upright position on the sides and upside down on the top.
Mini roses were pinned randomly for some color. We used thin pins that are used for hairstyling (my mom had them, no idea why!) Else you can use push pins with small heads.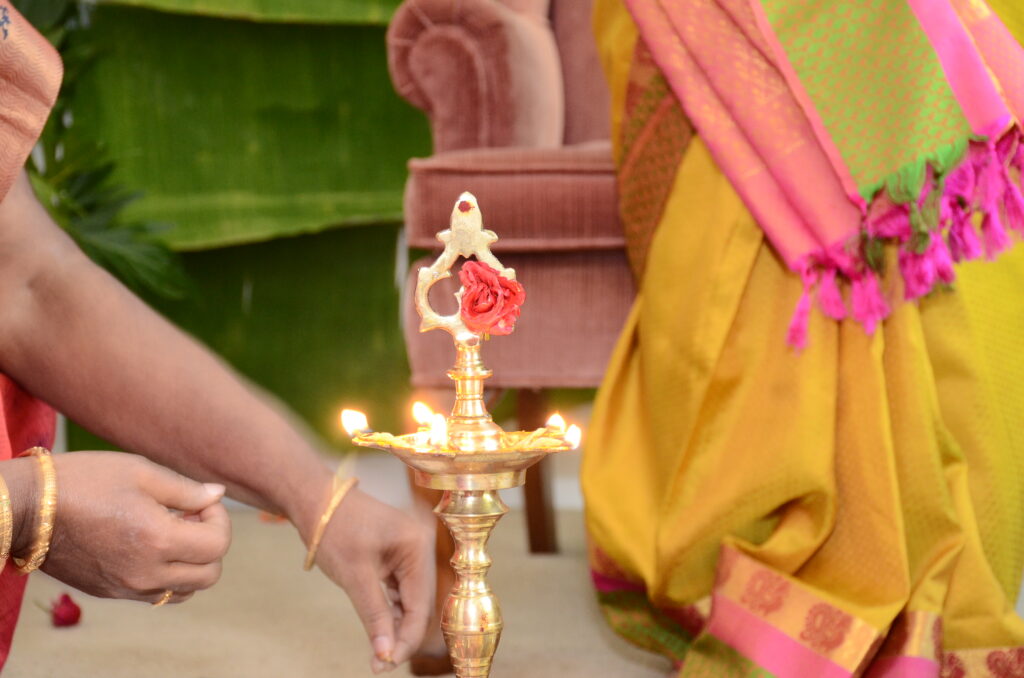 And that's it! You have a beautiful backdrop that is very ecofriendly but not compromising on beauty!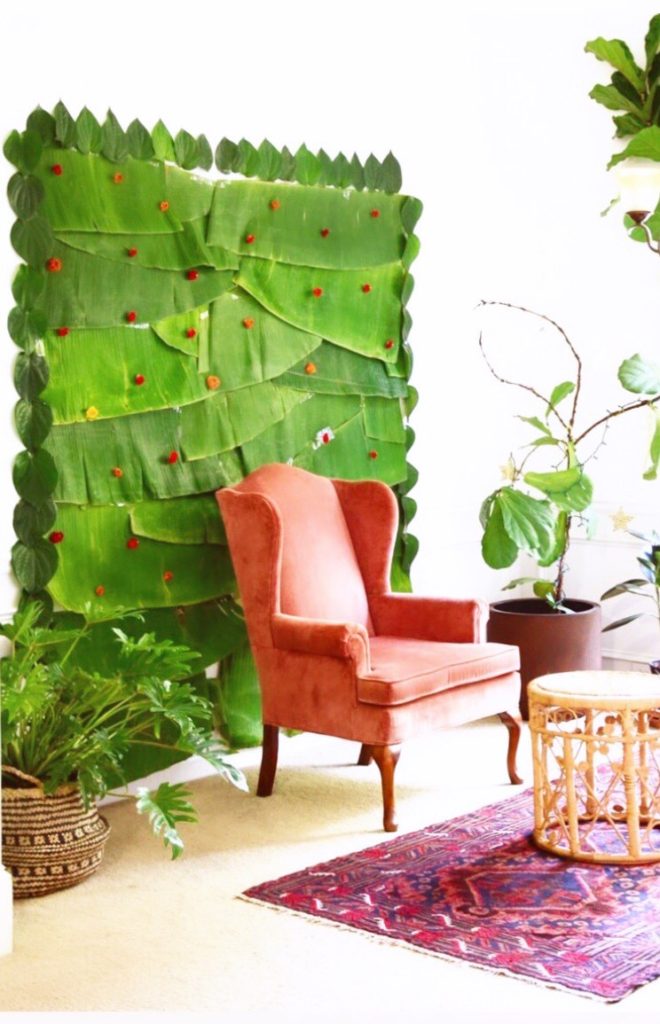 Thank you Saranya, it was a pleasure having you here. We are sure the Indian diaspora will love this idea!
And, if you wish to save these images to your idea boards, head to our Pinterest board (we have already pinned these up there) and pin away!
Want to see more DIYs? How about this DIY Aakash Kandil – it is pretty, unique and so easy to make!
Check this link to see all the Diwali ideas on our blog