We are in Singapore and soaking in the earthy, aesthetic, comfortable style at Asha's home!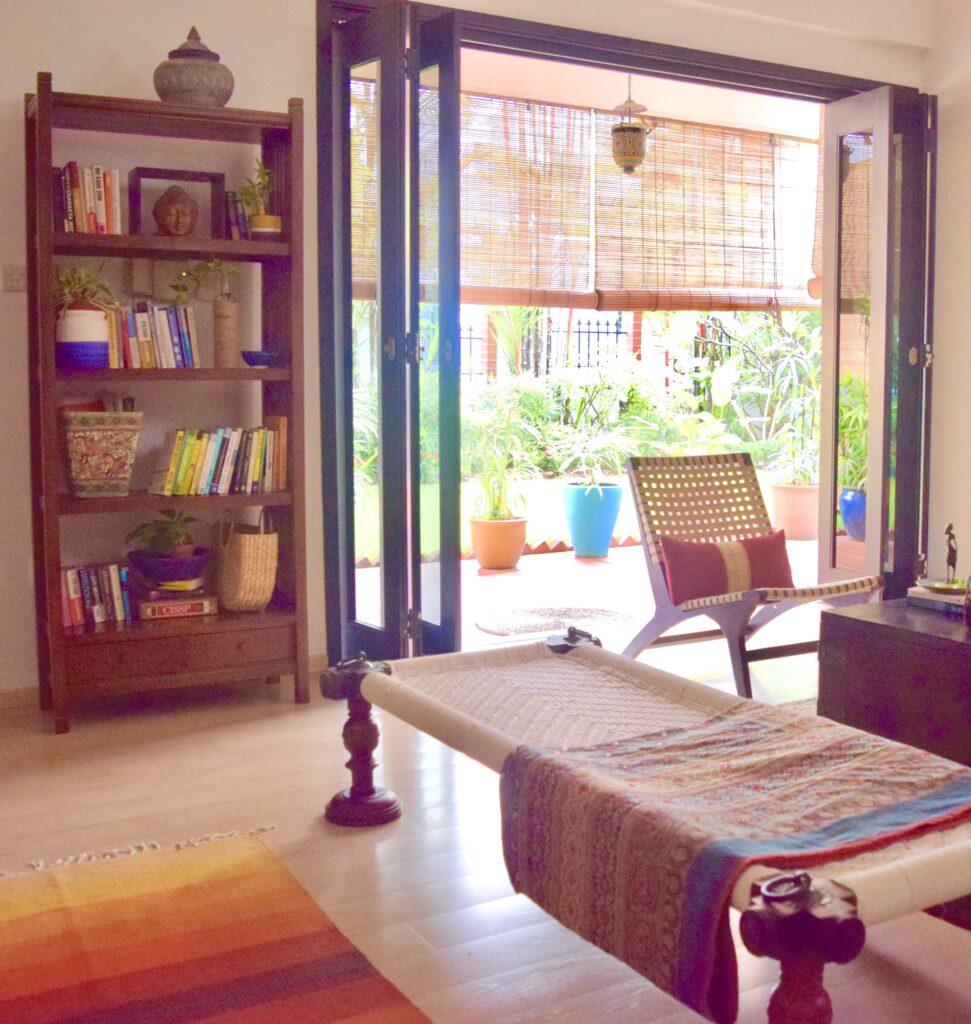 We are taking care to present homes that scream comfort, safety and cosiness. You will love the style + comfort here . So get ready, let's go! Asha will show you around!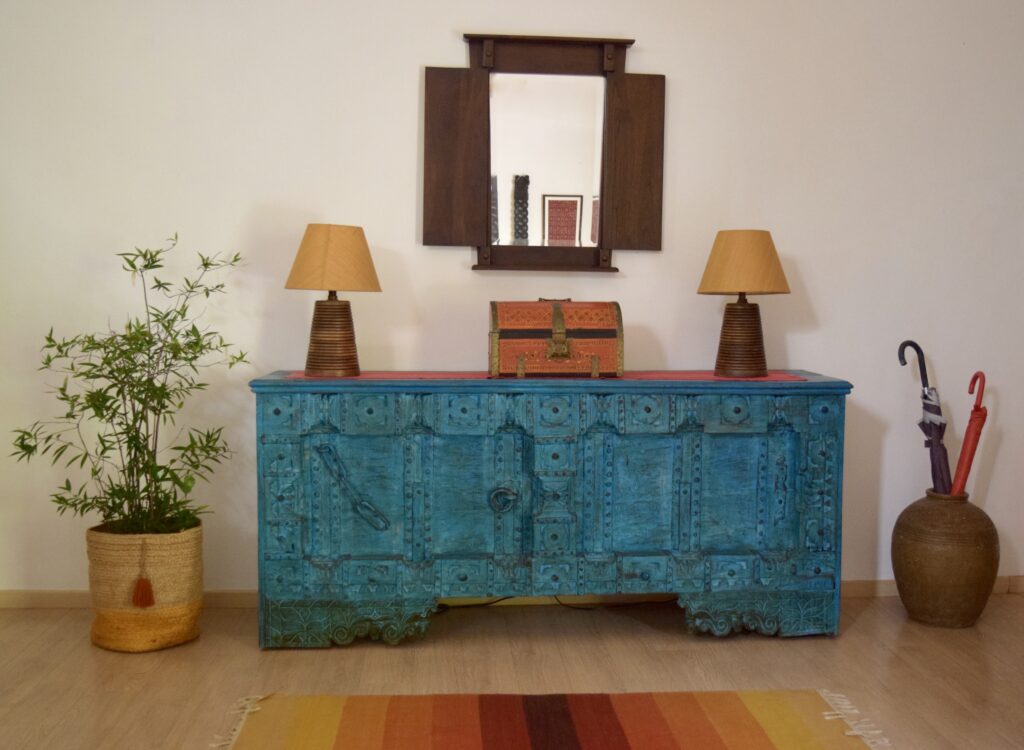 What: A 3000 sqft terrace house in Singapore
Who: Asha Raj and her husband. Their son is away, studying overseas.
They did not engage the services of an interior designer. Instead, they chose to work with a local carpenter, who executed Asha's remodelling and design plans!
Over to Asha!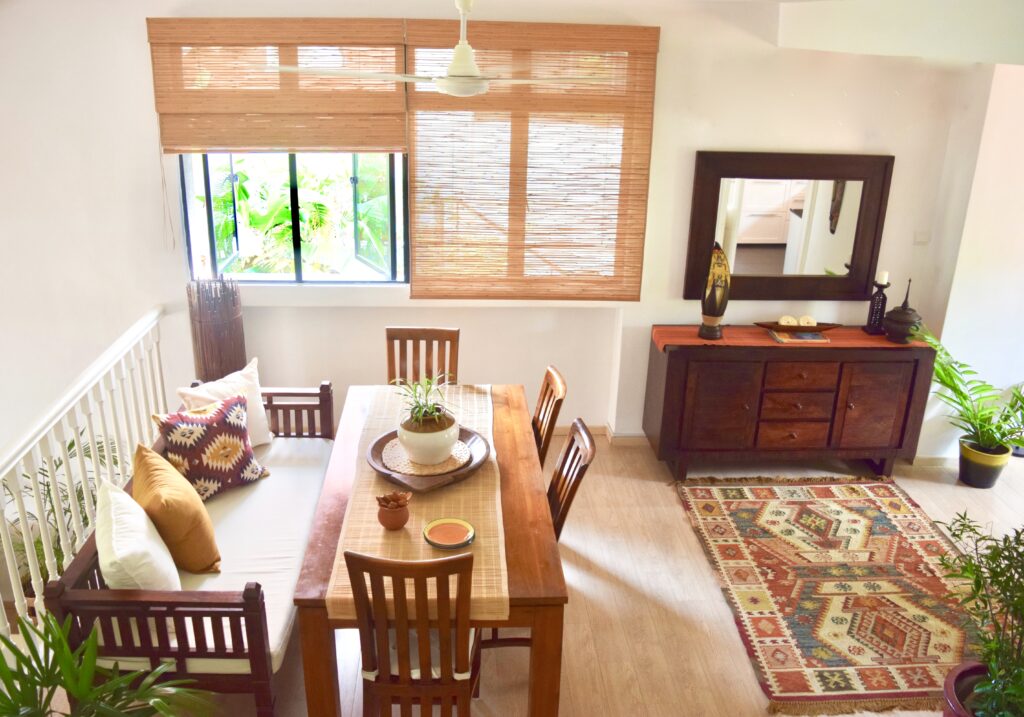 Ours is a 4 bedroom house with a very interesting layout and architecture. It is built on a slope hence we have many split levels. It does involve a lot of climbing 🙂 but I'm glad that the builder respected the terrain and built accordingly. One of the things we love about our home is the ample natural light it gets!
The house opens into the living room, the dining area and the kitchen are a few steps above that. On the next level upstairs are 3 bedrooms and a small cozy family area.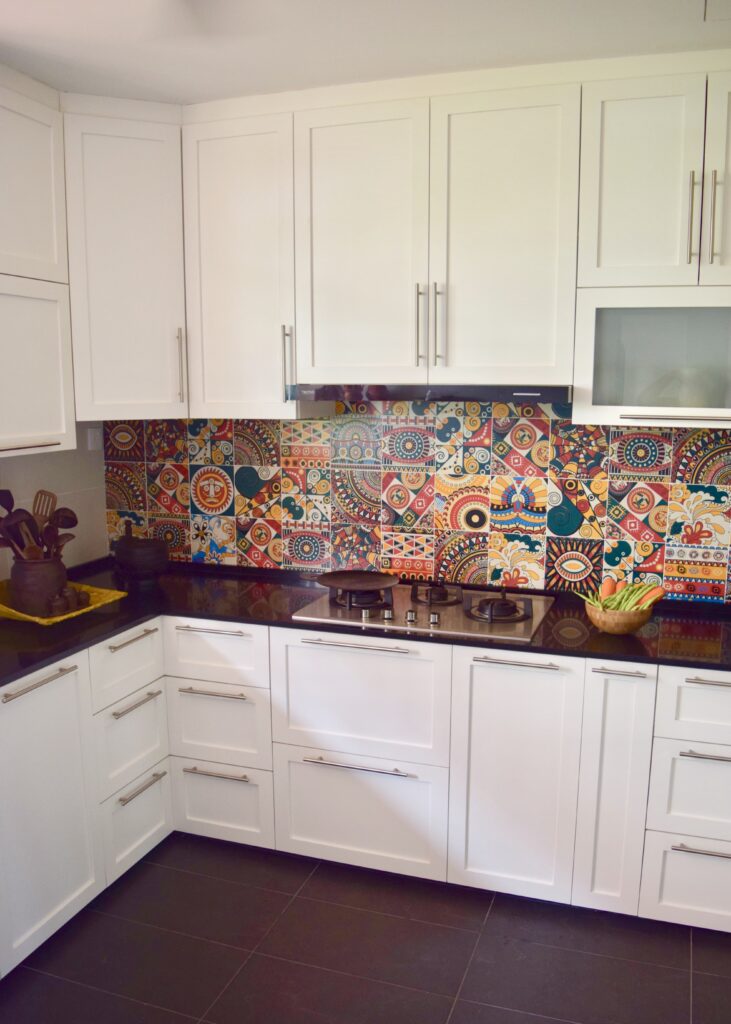 But the interesting part is the basement that is a few steps below the living room. It is not a regular dark and dingy basement. It's a light filled space that has a family room and the guest bedroom and it opens out into the backyard.
We have a small garden that we absolutely love – in the front, side and at the back with banana, mango and chikku trees. It also has a small Balinese water feature.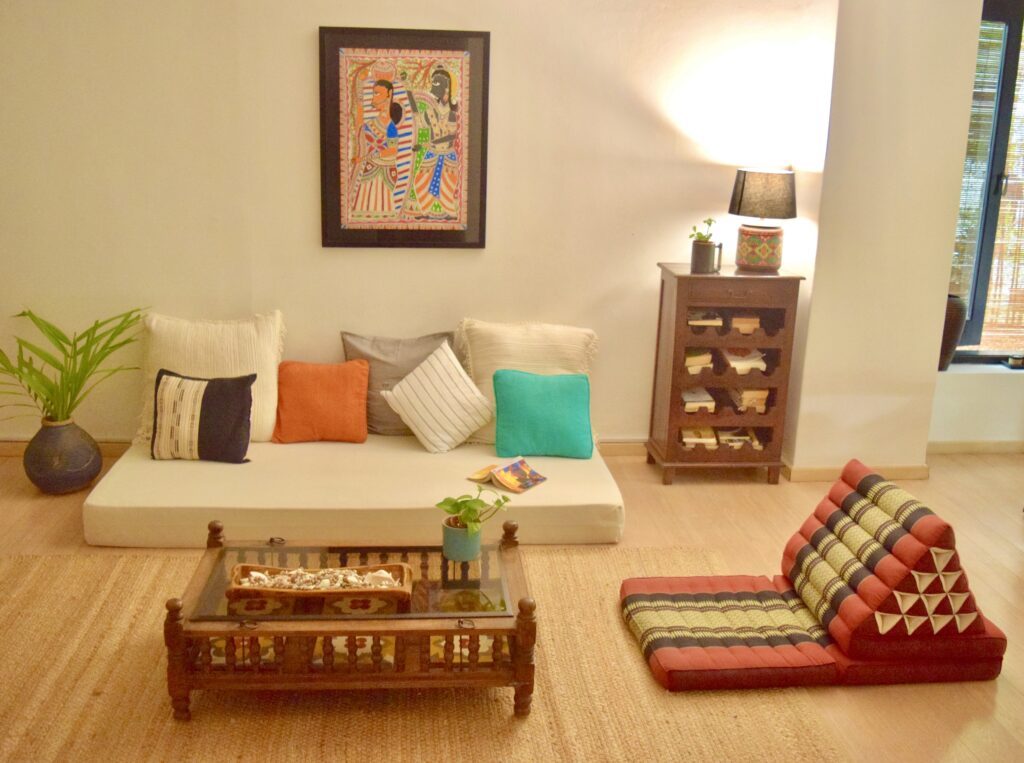 On her style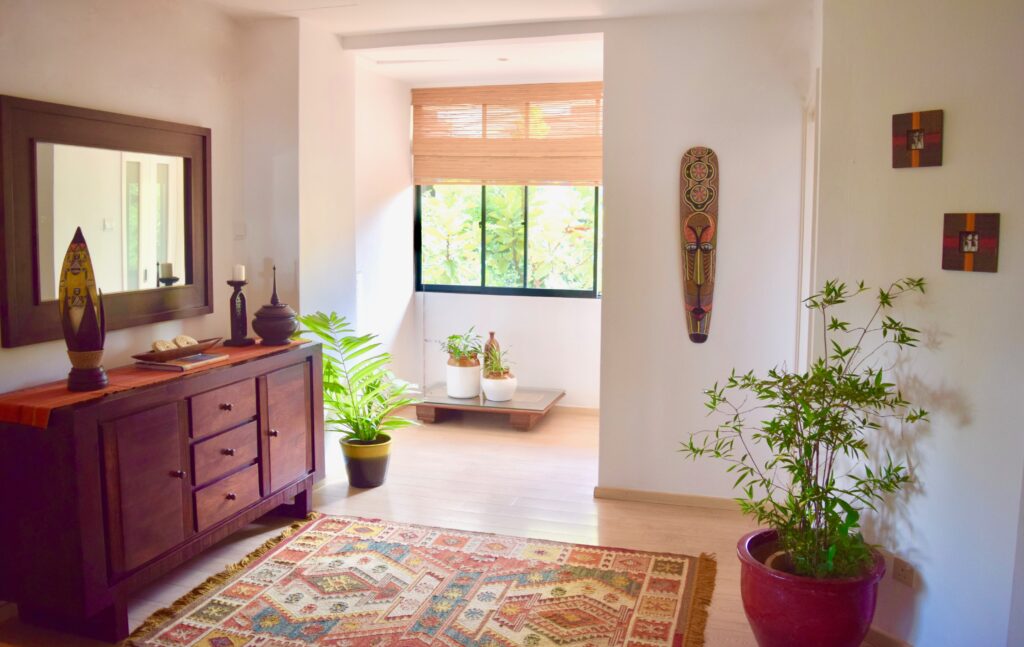 My style is simple, uncluttered and earthy with a good connect with nature and some old world charm 🙂 When we bought the house the first thing I did was open up the house by adding large folding doors, a big window in the family room, plant new trees and try to blend the indoors and outdoors as much as possible. Like you mentioned, I use a lot of natural materials like cane, wood, bamboo, terracotta, banana fibre etc in my decor. I love everything that is natural and handcrafted and I love using handloom textiles as well. I truly believe that sustainable living is no longer a choice but the only way forward.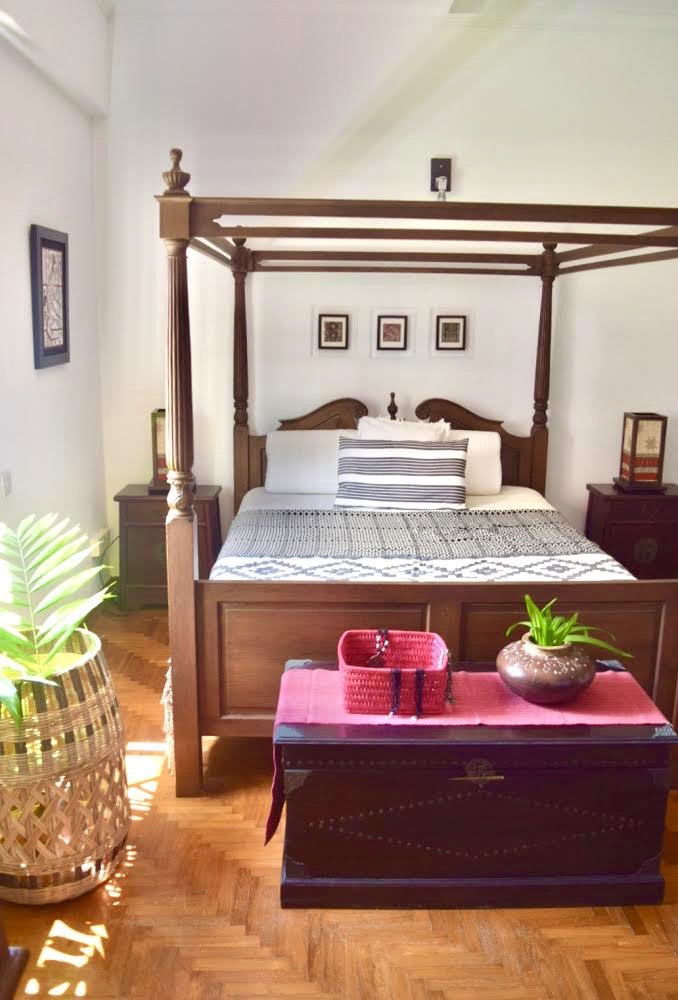 On her decorating influences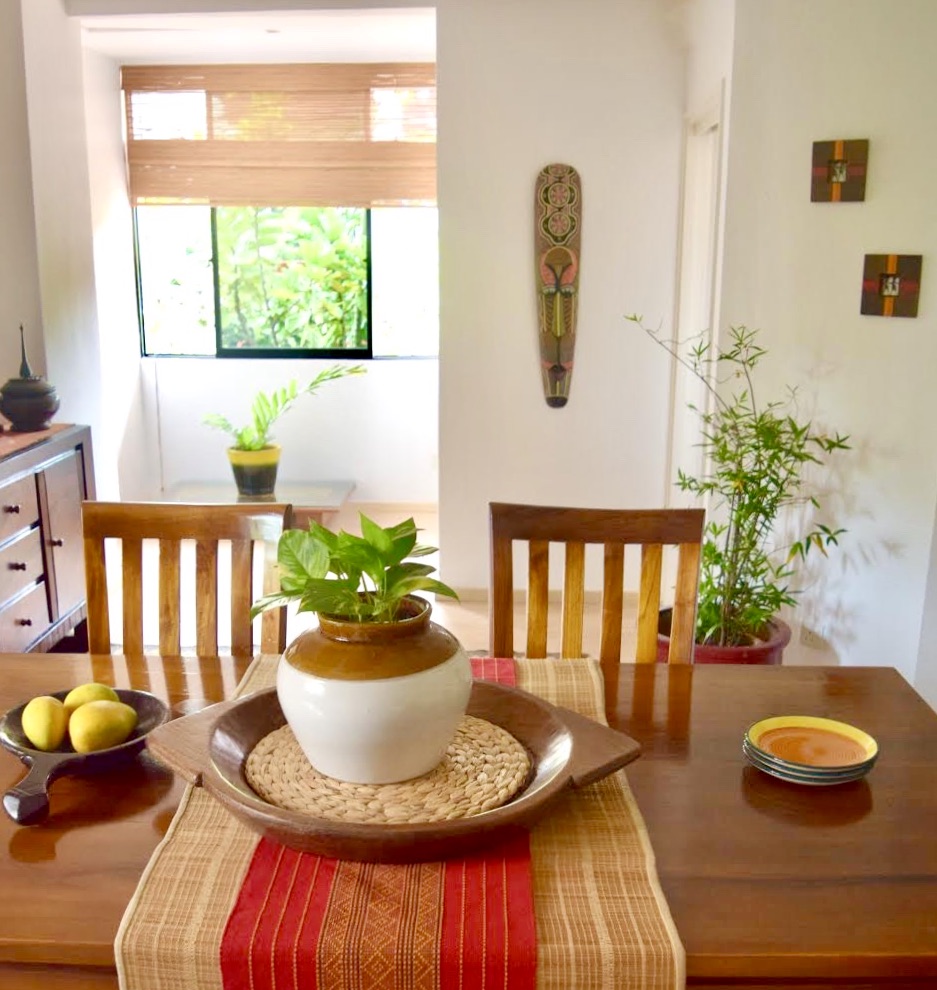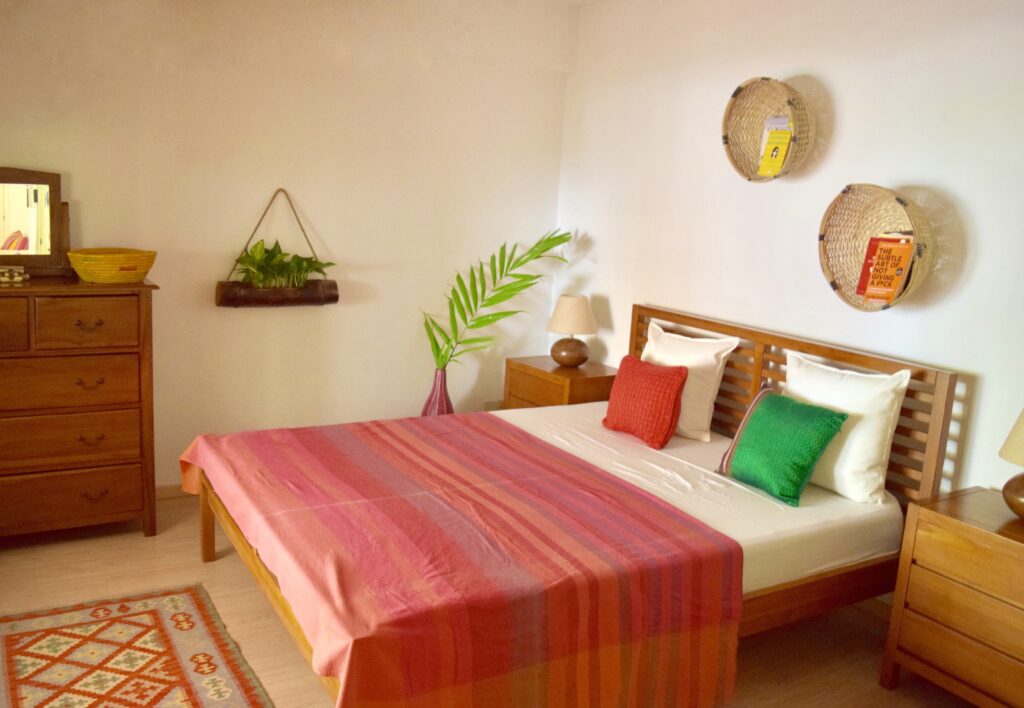 There are a lot of Indian and S.E Asian influences in my decor but with clean lines and a juxtaposition of old and new. I believe that balance is key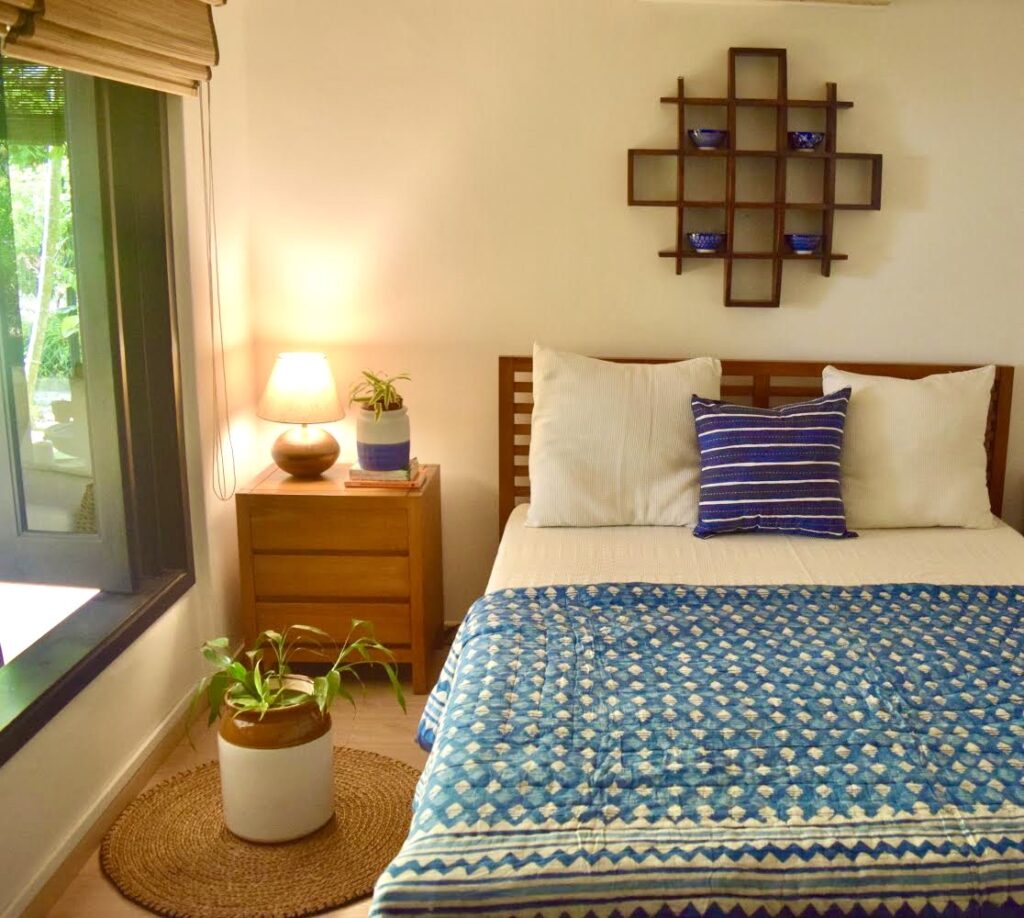 I used to read a lot of lovely blogs like yours and many others (This was before Instagram and Pinterest became the platform for decoristas :)) I would devour any decor magazine I could lay my hands on especially Inside Outside… When I started decorating our home, I wanted a comfortable, earthy space that was unpretentious and an extension of our personalities.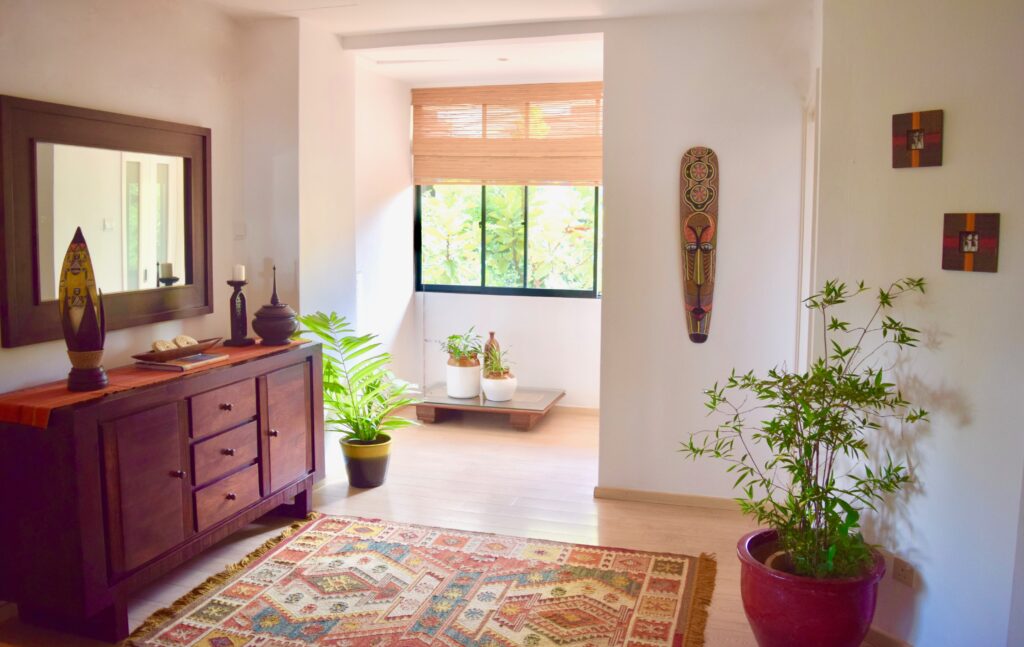 Our home has evolved organically over the years….We didn't buy our furnitures and artefacts all at once. They have been lovingly put together over the years and through our travels. Nothing in our home is overly expensive but they're all precious and close to our heart.
On where she shops for her Earthy and Comfortable Style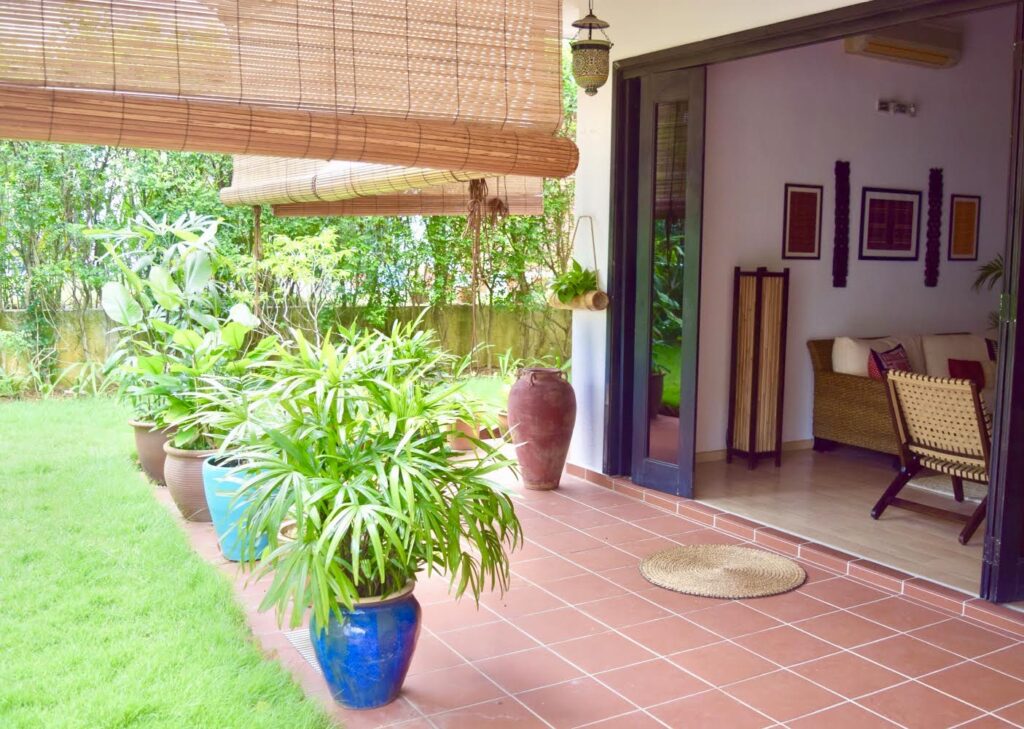 Fab India, Ikea, Jew town in Kochi, The purple turtles in Bangalore, Wild ideas (a community outreach programme in Thiruvannamalai where the women make home decor items from palm leaves), Online shops like Pepperfry and lovely stores like Earthy hues, The Homedream, Vajor, Karmadori and many others that I found through Instagram and of course many local shops in Singapore. Some of the wooden artefacts are from Bali and Thailand.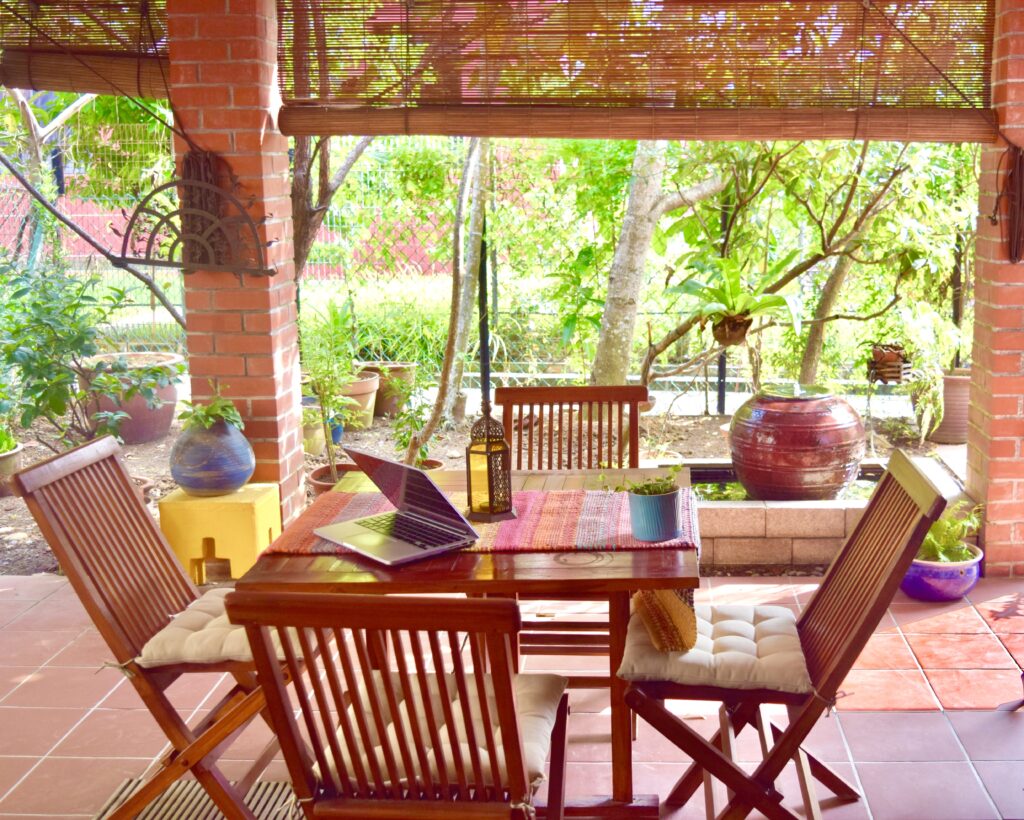 On special stories related to decorating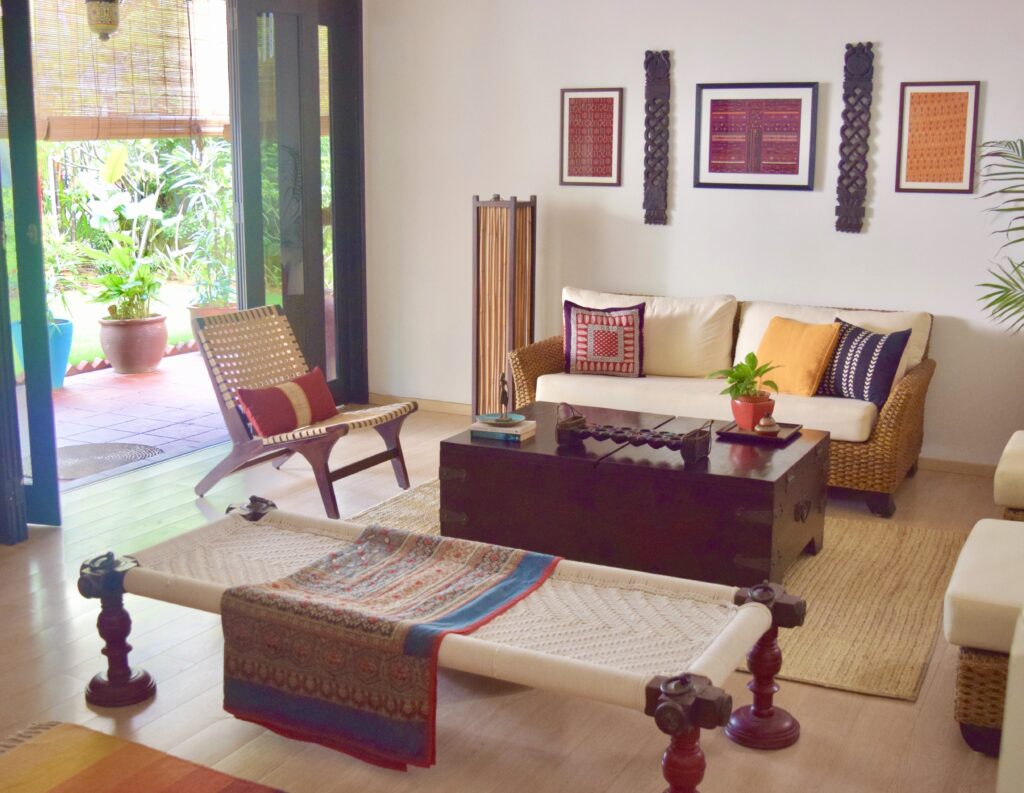 Everything we have is very close to my heart… but some even more so, like the framed textile in the living room (the one in the centre in the pic above) is actually a part of my son's old jacket that we had bought from Thailand many moons ago. The jacket had started to fade but the embroidery on it was intact so I got it cut and framed. A mirror work skirt that my Dad bought for me from Gujarat when I was in college is something I hope to get framed someday too…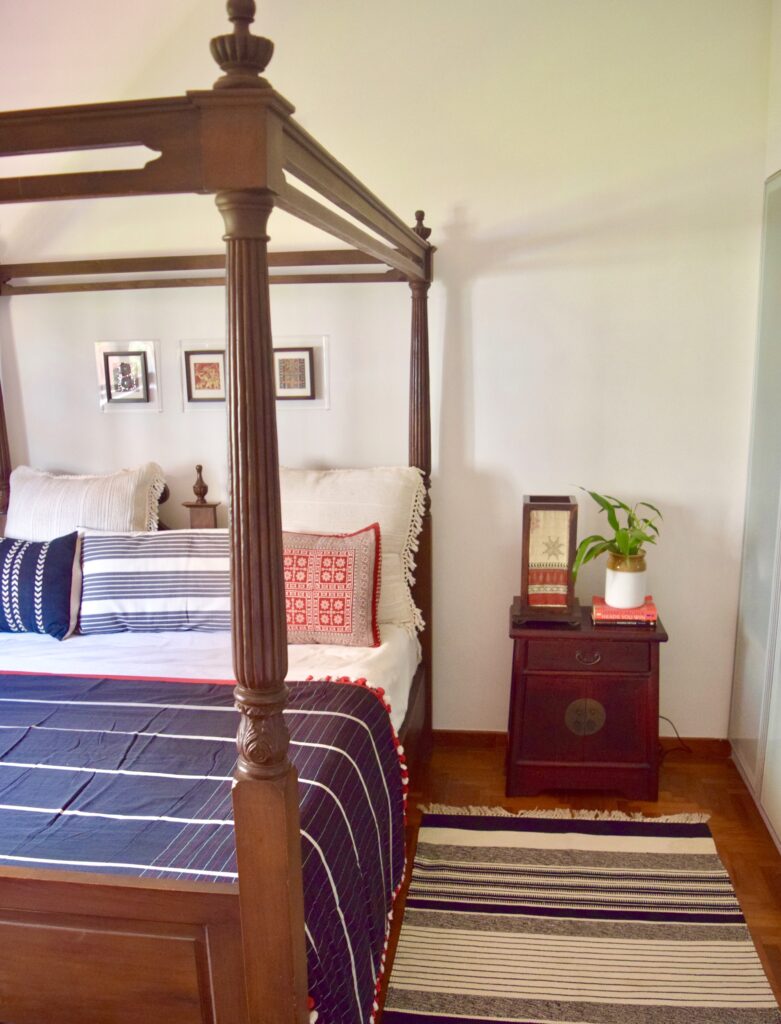 The table lamps in our bedroom were given a facelift by us recently… they're quite old (made of wood and bamboo) and the bamboo was dull and faded. So we covered it with some unused blouse material and gave it a fresh look.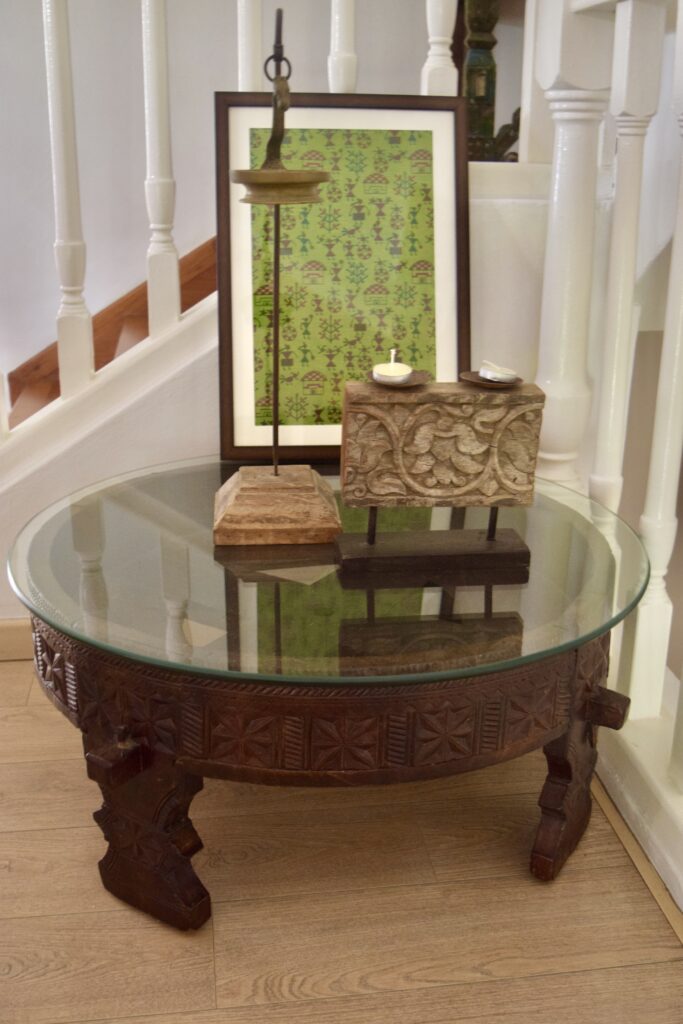 I would also like to mention my contractor Mr. Yap, who has helped me renovate this home and the previous one. He doesn't speak much English and I don't speak Mandarin yet he understands exactly what I want!
Thank you dear Asha, for the tour of your lovely home. Thanks for the info you shared. We have a lot of pointers on decorating with a simple, yet sophisticated palette and the use of earthy elements, as well as reuse of unused or cherished stuff!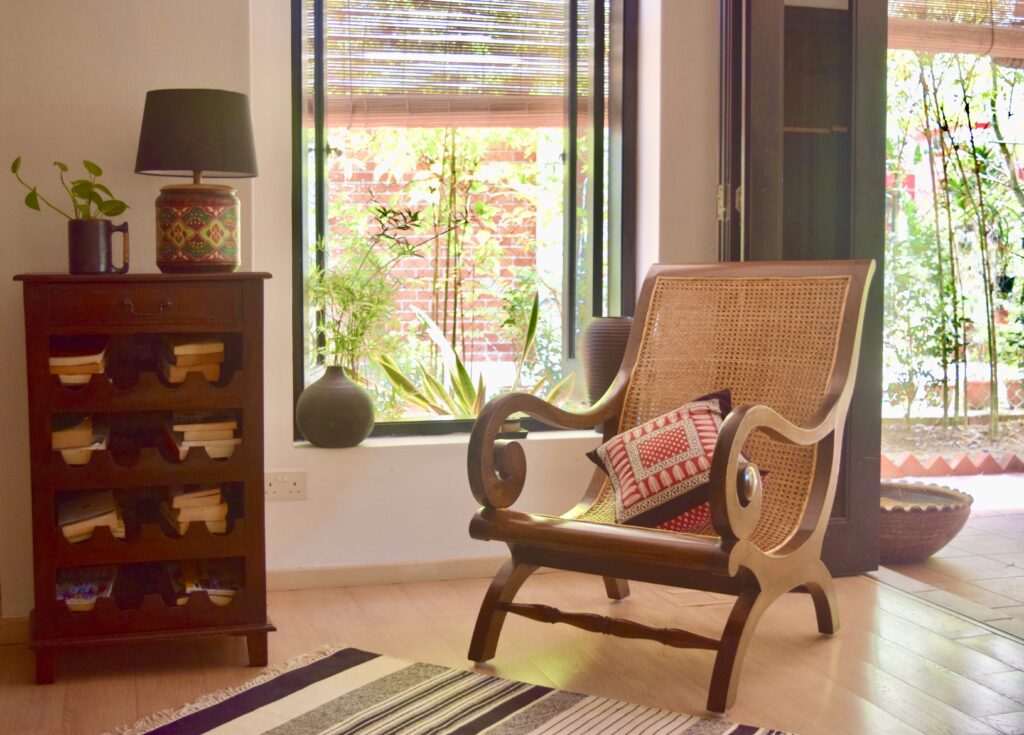 Loved this Indian home tour? Are you looking for more Indian home tours to browse through? Do check out Chandana's Indian style home in the US. We are sure you will love it too!
Do check out our feed on Instagram as we bring you daily updates from my home as well as products that we have launched.
And here is the pic I love best in Asha's beautiful home. This little space on the staircase landing is so welcoming with its book nook and chair.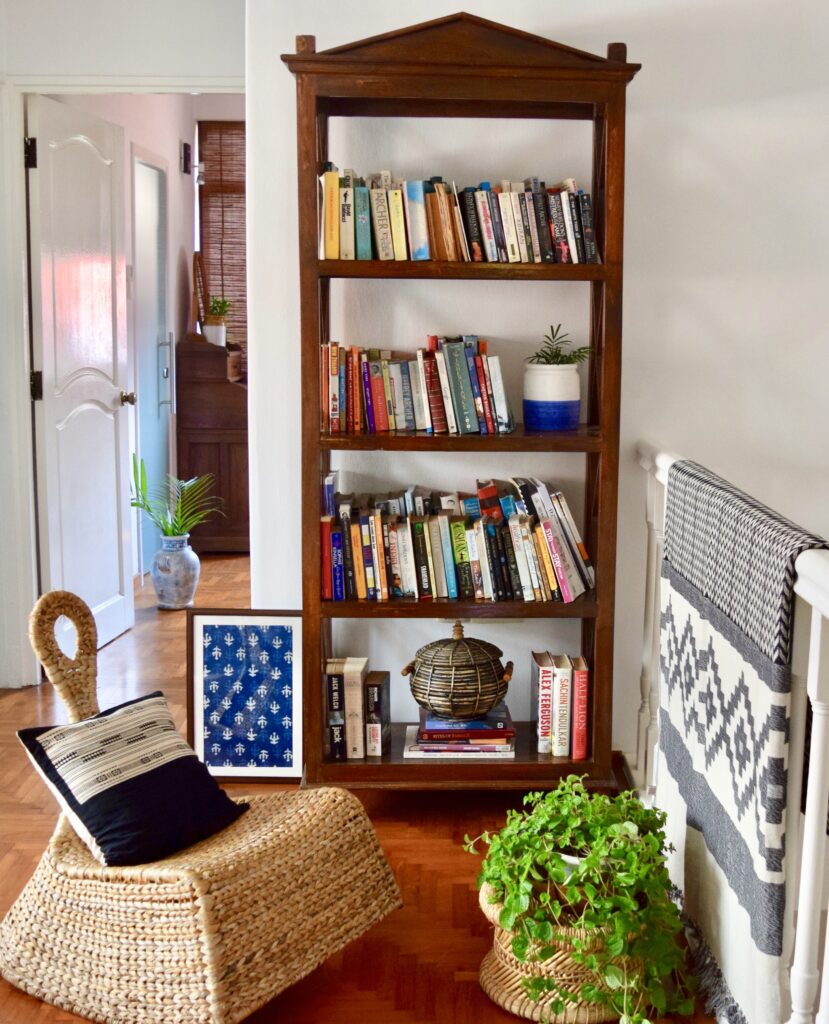 And, if you wish to save any of these pictures, just head to our Pinterest board (we have already pinned these up there) and pin away!