Dear Reader,
We are carrying a guest post by one of our earliest wellwishers, Prachi Grover. Prachi blogs on interiors and decor too, over at purplehomes, an amazing blog! This is the first in a series of guest blogs commemorating our first anniversary. Watch out for great guest posts right up till October 25th.
– Team Keybunch
---
I was pleasantly surprised and happy to get an "email id please" request from the very creative Sharon of The Keybunch. And happier, when she asked me write a Guest Post for her awesome blog. Why?? The Keybunch is one year old, that is why!!! Congratulations to both Sharon and Rekha for writing such a lovely blog and making us wait eagerly for new posts. Here's what I have to say…Festive Gift Ideas
I absolutely love this part of the year. Starting with Eid, followed by Dusshera, Diwali, Christmas, New Years…for me it doesn't end here…there is Lohri and finally Holi. That is officially the end of the festival season for me and the next six months are spent waiting for this part of the year once again. Of course there is décor theme to be planned for each festival; there are menus to be decided, flowers to be bought, family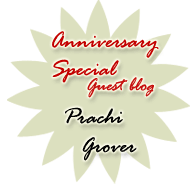 and friends to be invited and finally gifts to be bought for people who matter to me. Thoughtful gifts that they will cherish (not the last minute biscuits and juice hampers…please). As much as I like giving gifts I also like wrapping them up creatively. I love it when they go oooo…aaaahhhhh just looking at the gift wrap. So here I have put together for you loads and loads of very easily done gift wrapping ideas for this BIG celebration season. I hope you enjoy trying out different wraps for a various festivals and surprising your loved ones (Don't forget to include all the people who help you run your life and home all the year round 😉 )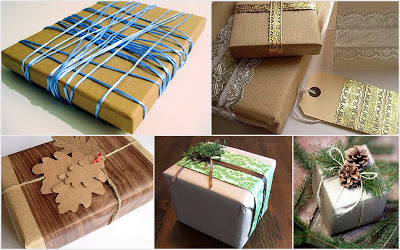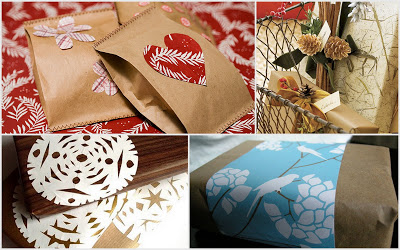 This is indeed one of my all time favorites, I am very partial to brown paper…yes the same one that kids use to cover their notebooks. Tie a string around it, a shimmery ribbon, throw in some dried leaves and pinecones and any box would look great. Wrap up some patterned paper on it or simply paste paper cuts outs…the dreary old brown paper suddenly comes to life.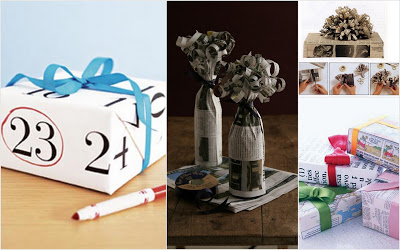 Another idea that helps us go green is to use old newspapers, books that you are planning to discard, glossy magazine sheets that anyways you are going to give away. Tie a bow made up bright ribbon or simply make loads of tiny spirals of the newspaper to give the gift a life. I have to admit out of all these I have a special fondness for the calendar idea where I can wrap up the gift in an old calendar sheet and mark out the special date. Sweet.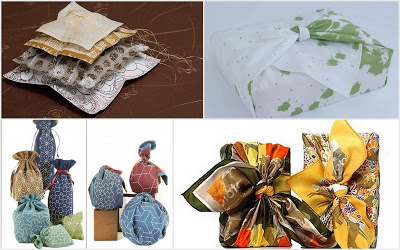 What can be better than giving two gifts than one…wrap up the gift with a silk scarf or a cotton napkin. Get some tiny potlis or simply stitch pretty pouches to gift jewellery. Your loved ones will cherish both the gift and the gift wrap for a long time to come.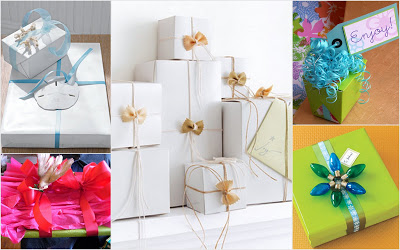 Embellishments definitely make the plain and boring wraps look special. A nice little brooch, some pretty beads, shells picked up on a holiday…all look so good. I love the one with the bow shaped pasta…really that is pasta…isn't that super cute!<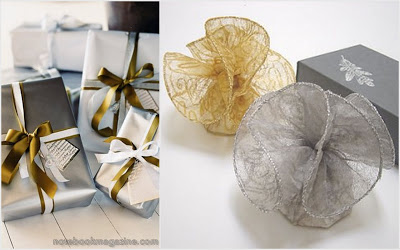 No festival season can be complete without a sprinkle of gold and silver. I absolutely detest the shiny gold and silver sheets…they remind me so much of mithai shops. But these here I heart! Really classy thick gold and silver paper can add a lot of elegance to a gift. I also like the pretty flowers; one can easily make these at home. Also I think it's a great idea to paint a silver leaf on to an otherwise plain black box.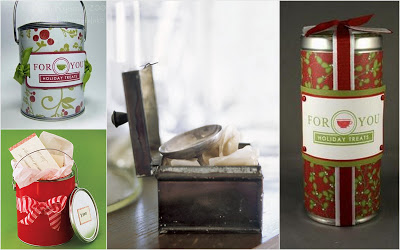 I am often ridiculed by my family because I can never make myself throw old biscuit tins, chocolate boxes, empty glass jars…I end up repainting them and using them as gift wraps. So I got really excited when I came across these pics. The old paint tin in its new avatar with all those goodies inside…doesn't it look divine? And the old tin box…I love-love-love it.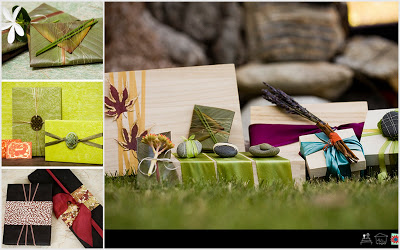 So use whatever you like, whatever you can lay your hands on…leaving you with another awesome idea I came across…twigs, pebbles, leaves…oh so gorgeous. I'd love to hear from you, if you try out any handmade gift wraps this season, inspired by someone or creations of your own, do drop me a mail with the pics of course, at [email protected] so that we can all go ooh-aah seeing them 😉 Loads and loads of good wishes to each one of you. Have a great time celebrating!!!
Images: All from the internet