Too much has been written about Bollywood and Indian décor…and too many people (living overseas) have tried it, often with disastrous results. Carrying off a desi interior look is not easy. Because you are working with so many colors, you have to balance them out, or you are bound to end up with a garish, tasteless blend of Indian colors. Here are some tips for success.
Tip #1: Don't go all out on the colors.
Yes, India loves colors. Walk on an Indian road and you will see a variety of paint colors on building walls. Walk through an Indian village and you will see colorful clothes, bright blue doors, and temples in multicolor glory. But when people replicate the look, they either overdo it, or fail miserably. Here's how you can manage your color palette:
– Stick to one or two colors
– Don't go all out on rich shiny fabrics. One jazzy/bright/ rich fabric is enough. Accentuate the rest of your décor with throw pillows or pretty block print or sari drapes for balance.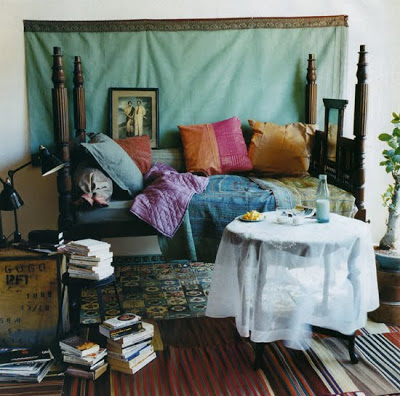 Tip #2: The Indian look is not generic.
You can either have a look of opulence, or a look of rundown country living, but definitely not both in the same room! A bright green village door, and maharajah drapes just won't do!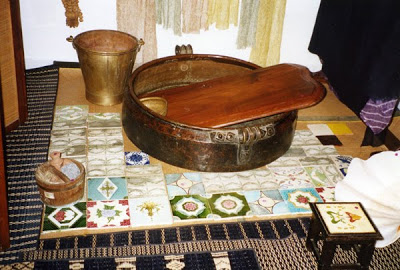 Tip #3: Don't make the usual mistakes.
Most people who write in for advice send pictures of their Indian theme homes, and ask me what went wrong? What do I see in these pictures? Too many cheap touristy souvenirs, wall hangings, and cloth lanterns…they almost look like a souvenir shop! What can you do instead?
– Pick up just a few tasteful pieces. Stay clear of souvenir shops when you come to India. Instead visit Indian-themed lifestyle stores – Bombay Store, Fabindia are the most popular ones with a presence in several Indian cities.
– For an authentic Indian look, display brass in pretty clusters, or use window blinds made from printed paisley fabric…you get the idea.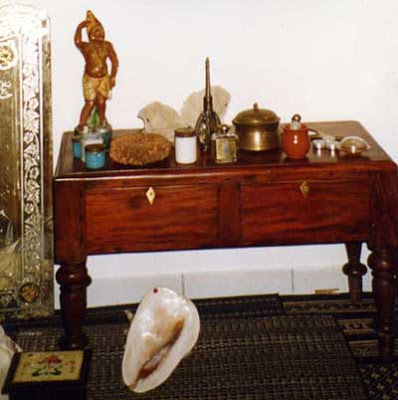 You can even mix up South Asian pieces in a corner. A few tasteful pieces of furniture, a glass mogul lantern, and you are done!
Tip #4: Use furniture.
India has lovely furniture. Bring home a few solid pieces of Indian furniture, and you would have managed half the Indian look already! Some pieces to look out for – diwans, mudas (they are quite easy on the wallet too, look out for these on your trip to India), joolas or swings.
Tip #5: Indian Kitsch is always an option
If you can't pull off the elegant Indian or village Indian look, why not try Indian bollywood kitsch? In just one room of your house of course, or even one corner!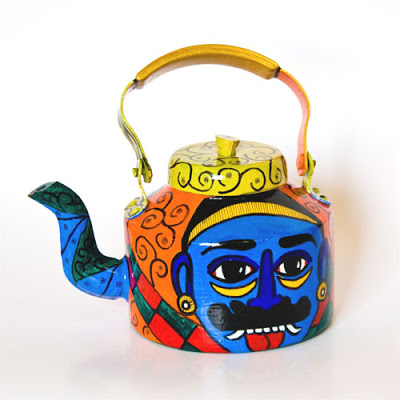 Aarohi's painted kettles and buckets – readymade kitsch
for your kitschy Indian space!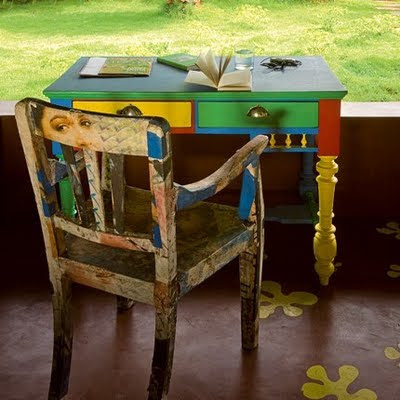 French artists Michel and Carol Arnaud Goddet created this kitschy Indian look
for an eco hotel in Pondicherry (Pic via Urban flea design)
Tip #6: Don't try too hard
Most Indian homes are as simple and aesthetic as the one in the picture below. Keeping it simple will help you make it look more authentic.
For more styling queries and help, write to us. We can guide you to the right stores in your country or online, or give you advice on what to pick up and where on your trip to India, to complete your Indian look.
Unless otherwise mentioned, all pics are courtesy lebateaudesafran and google