Villa Rashmi is a one-of-a-kind over 100-year old heritage villa in Mumbai with over 50 rooms, located on a dead-end road in the heart of the suburb of Malad.
Villa Rashmi is situated in the High Security Military COD (Central Ordinance Department) vicinity. It is surrounded by over 10,000 trees on three sides. I think of it like a well-set solitaire on heirloom jewellry. And she holds a lovely secret close to her bosom.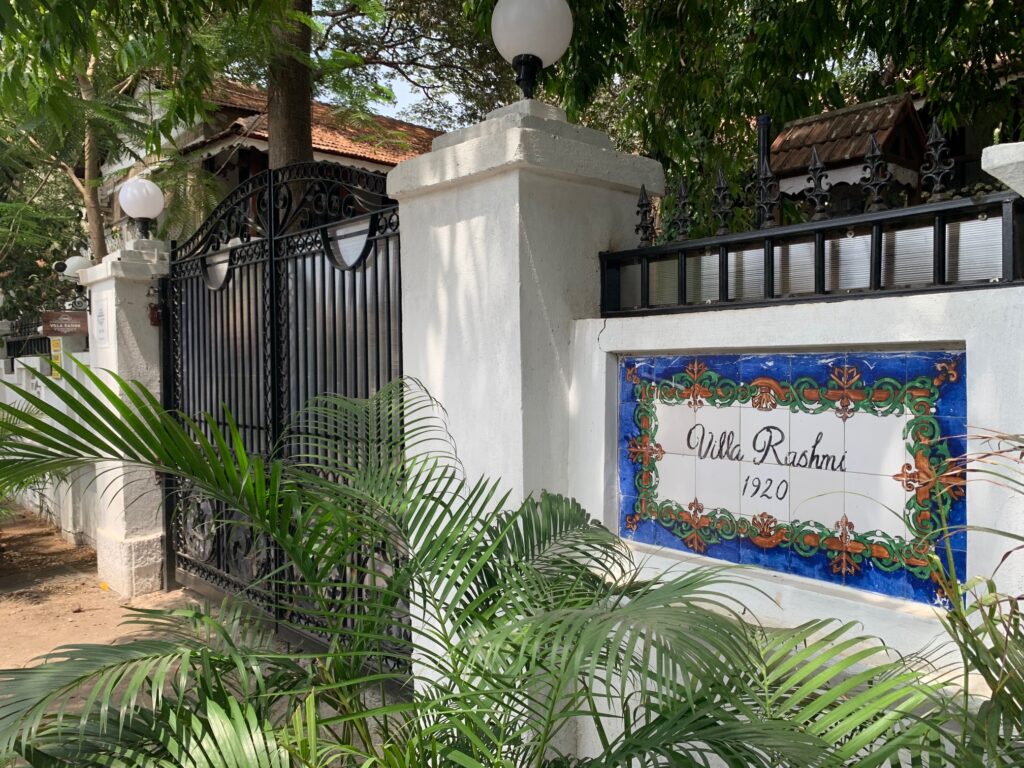 Villa Rashmi has an interesting history. Though privately owned, its history is deeply entwined with the history of Mumbai's early development. And that is why I cannot feature this home without telling you first about this little snippet of Mumbai history. Villa Rashmi boasts of the most gorgeous architecture, beautifully restored spaces, and stunning interiors! So come along!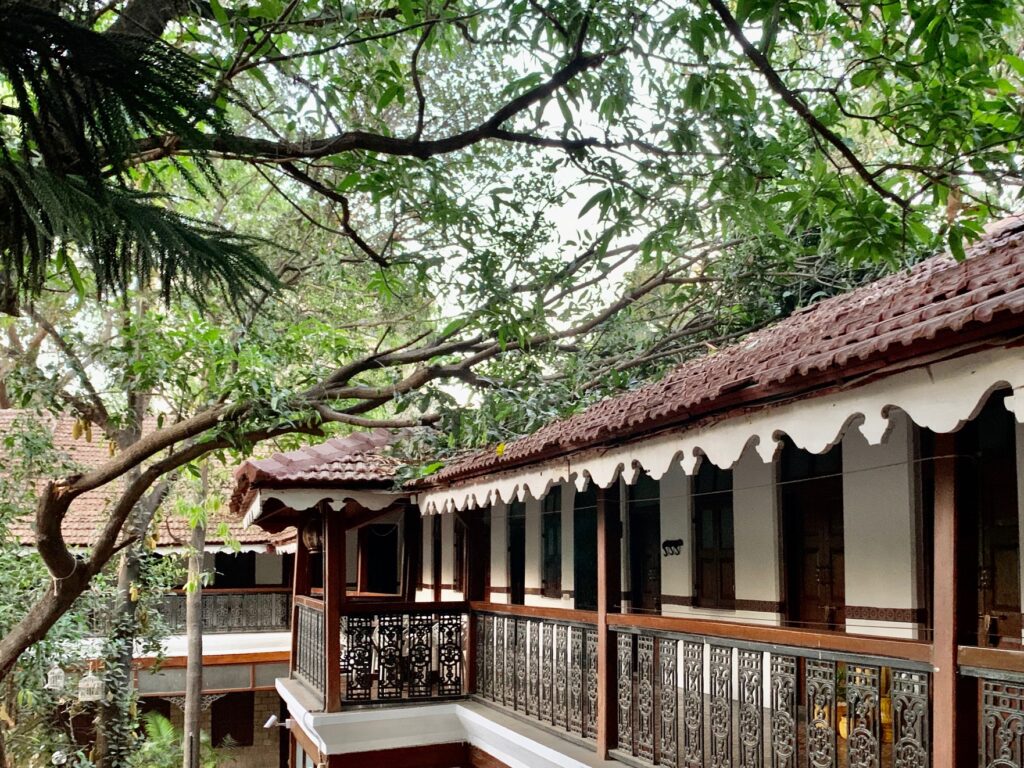 History of Villa Rashmi
Manibhai, an architect by profession, came to Mumbai from Bhadran to earn a living and build an empire with real estate. He did not have much money to begin with and his ambitions were larger than life. Bhadran is one of the 6 villages in the Kheda district and Charotar region of central/ southern Gujarat, inhabited by landowners.. It was a close-knit community, and marriages happened within the community of these 6 villages, usually. However, Manibhai defied the norm and chose to marry a rich girl who was not from the 6 villages. Samjuben was the daughter of a rich Nagarsheth of village Panetha, who brought a lot of wealth with her.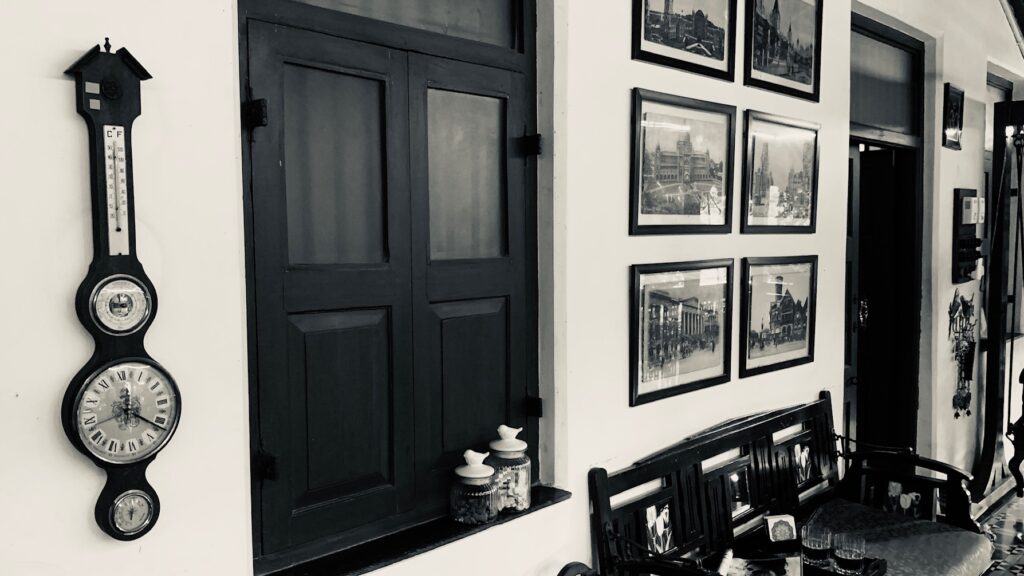 Armed with confidence and his wife's stridhan, Manibhai bagged a sub-contract for the reclamation of Marine Drive. After several failed attempts by others, including the architect who built Eiffel Tower, in 1912, the team led by Bhagojisheth Kher and Pallonji Mistry decided to award the sub-contract to Manibhai as he was confident of being able to reclaim the land with the use of Malad Stone and a total of 27 items from all over India. Besides, he funded the project himself and asked to be paid after 5 years – that's how confident he was. He was awarded the contract . Construction of Marine Drive (then known as Kennedy Sea Face), began in 1915. It was named after Sir Michael Kavanagh Kennedy, an engineer who was Secretary of the Bombay Public Works Department, and a General in the British Army.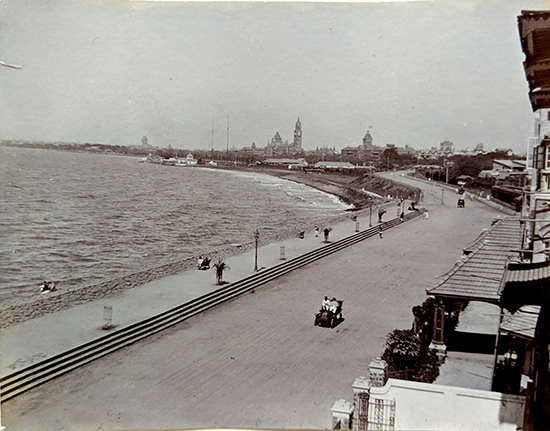 In order to execute this prestigious project, in 1912, Manibhai purchased a plot of land in Malad East, at a strategic location close to the railway station. Special goods trains were commissioned to run before and after the peak hours for Manibhai, to transport the material from Malad to the reclamation site near Chowpatty.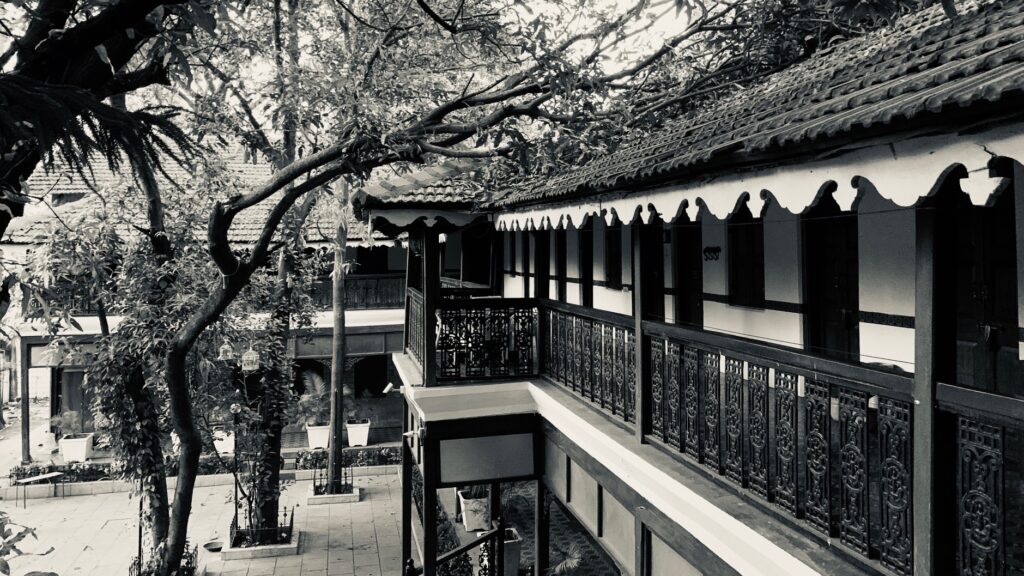 He built a house on that plot of land, a beautiful villa, that he named 'Bhadran Bhuvan'. Even in those days he knew the importance of a strategic home location. Today, Bhadran Bhuvan is known as Villa Rashmi, and continues to be well-connected. It is located within walking distance of the western express highway, the arterial S V Road, Malad railway station, the local bazaar, post office and the just a few metres from the railway subway that connects the eastern suburbs to the western suburbs.

The Grandeur of Bhadran Bhuvan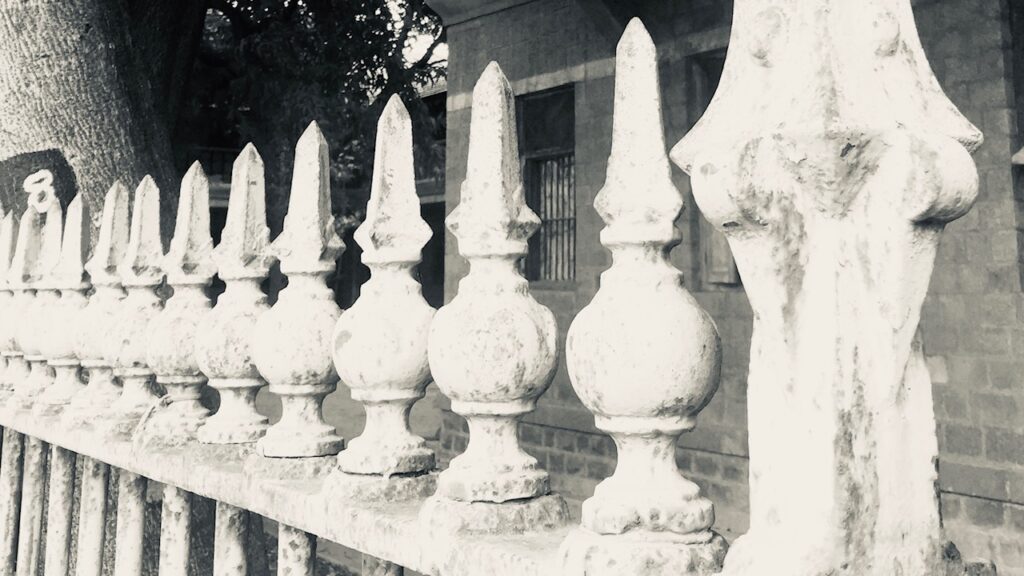 Bhadran Bhuvan was designed on the lines of a Spanish villa with a high stone plinth, solid Malad stone walls without any use of cement, wooden pillars to support the 15,000 square feet teak wood roof covered with Mangalore tiles. The flooring was Italian mosaic, designed like a carpet in each room.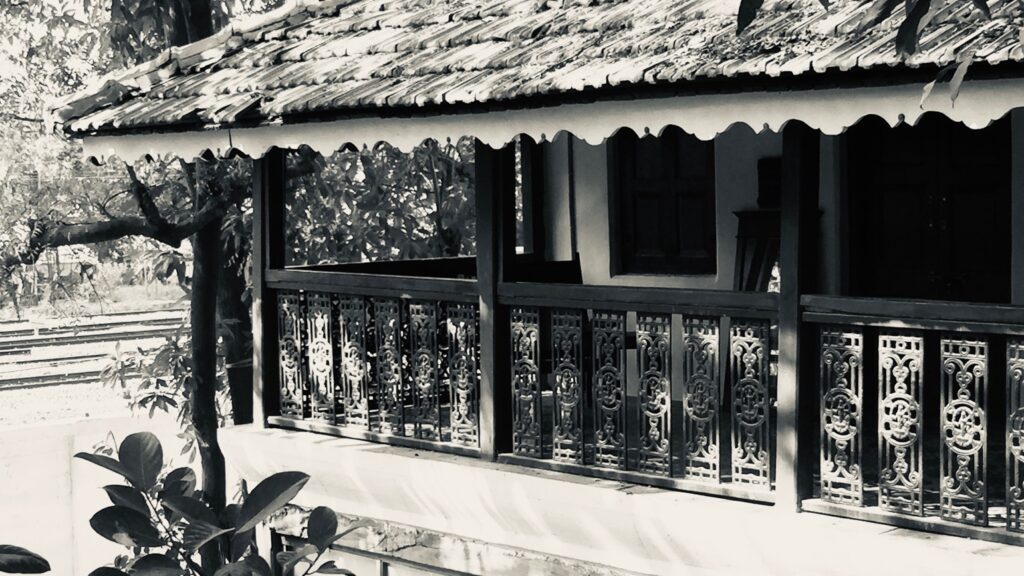 Manibhai had specially commissioned the cast iron grills running across the entire first floor of the villa with Goddess Laxmi incorporated in the design.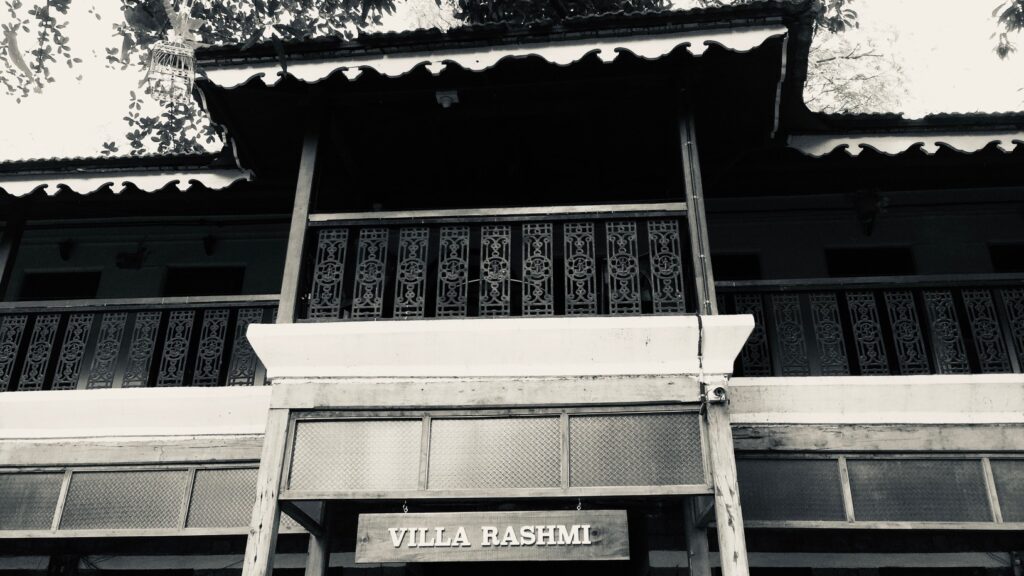 It is believed that anyone who stays at or is in any way associated with the villa is endowed with success and wealth. There are plenty of examples proving this theory, starting with Manibhai himself.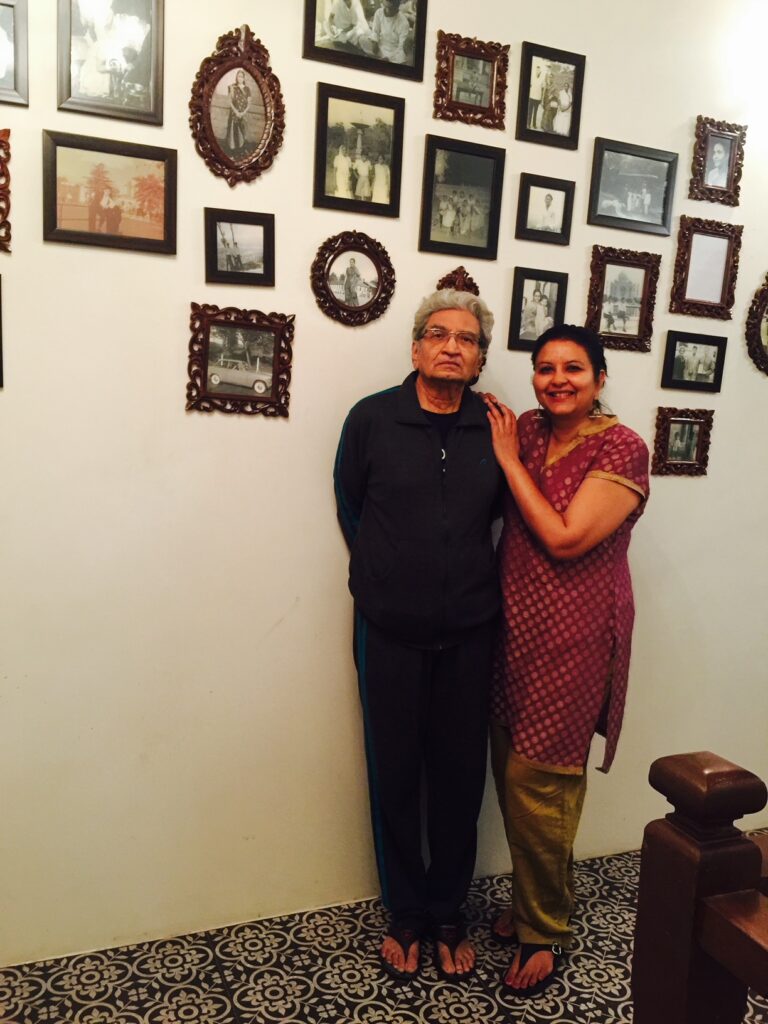 The villa could host more than 36 families. Each family had an individual bedroom, bathroom and living room.As was the custom in those times, the toilet block was away from the main building, in the backyard. The kitchen was joint and managed by Samjuben herself.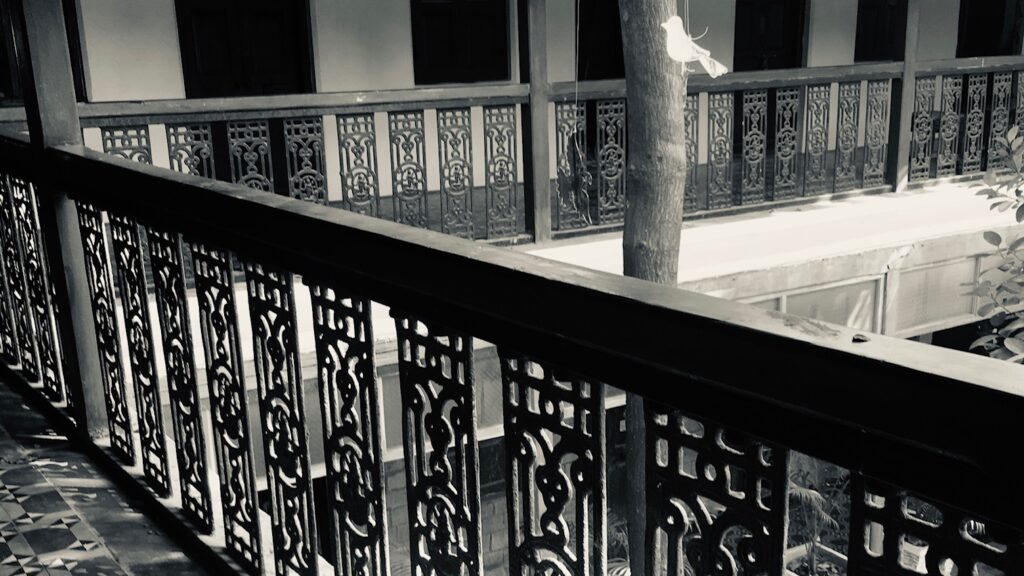 The current owner, Haresh Patel was born in this historical house. He is the youngest son of Manibhai and Samjuben.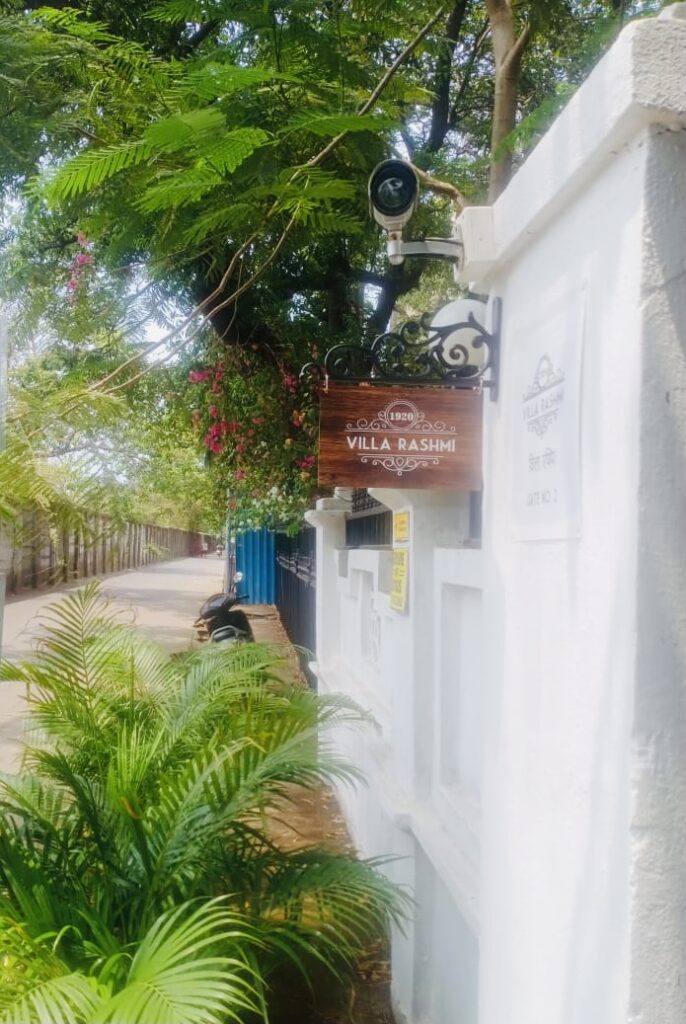 The private residence area of Samjuben was decorated with intricate colourful Italian mosaic tile work, that has been painstakingly preserved, and is in fact, for me, the most eye-catching feature of this villa.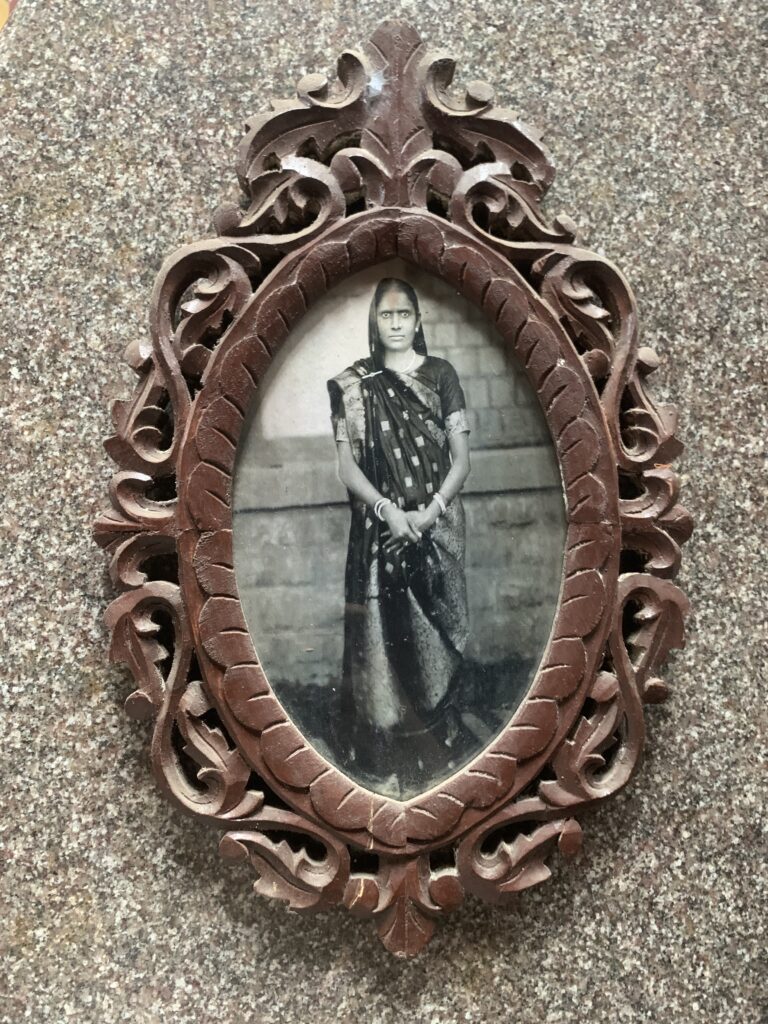 The Defence Ministry of India requisitioned the Estate including the villa, in 1943 for the residence of senior army officers. It was only returned to the family as recently as in the 1987, in a state of disrepair. Haresh Patel started recieving calls from builders and politicians to hand over the estate to them at a meagre price. He also faced threats. Some wanted to convert the villa into a public school. He withstood all this pressure and harassment and maintained that he would protect and preserve this property because it was a blessing he had received from his mother.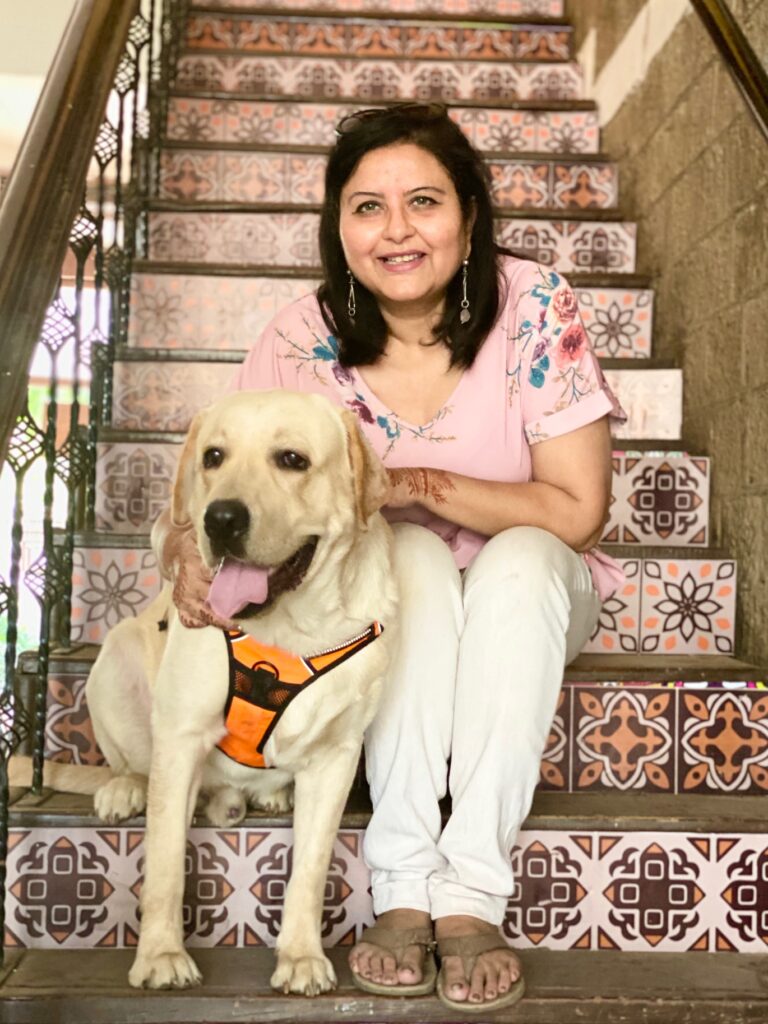 Deval Patel, his daughter has singlehandedly carried out the restoration of the villa, without engaging any architect or interior designer. Initially she undertook the project as a surprise for her parent's golden wedding anniversary in 2017. Over 50 rooms of the villa have been renovated with different themes and colour palettes, keeping the heritage look intact. Work on the remaining rooms is still in process. And thus Bhudran Bhuvan transformed to Villa Rashmi, now named after Deval's mother Rashmi, who was closest and dearest to Samjuben.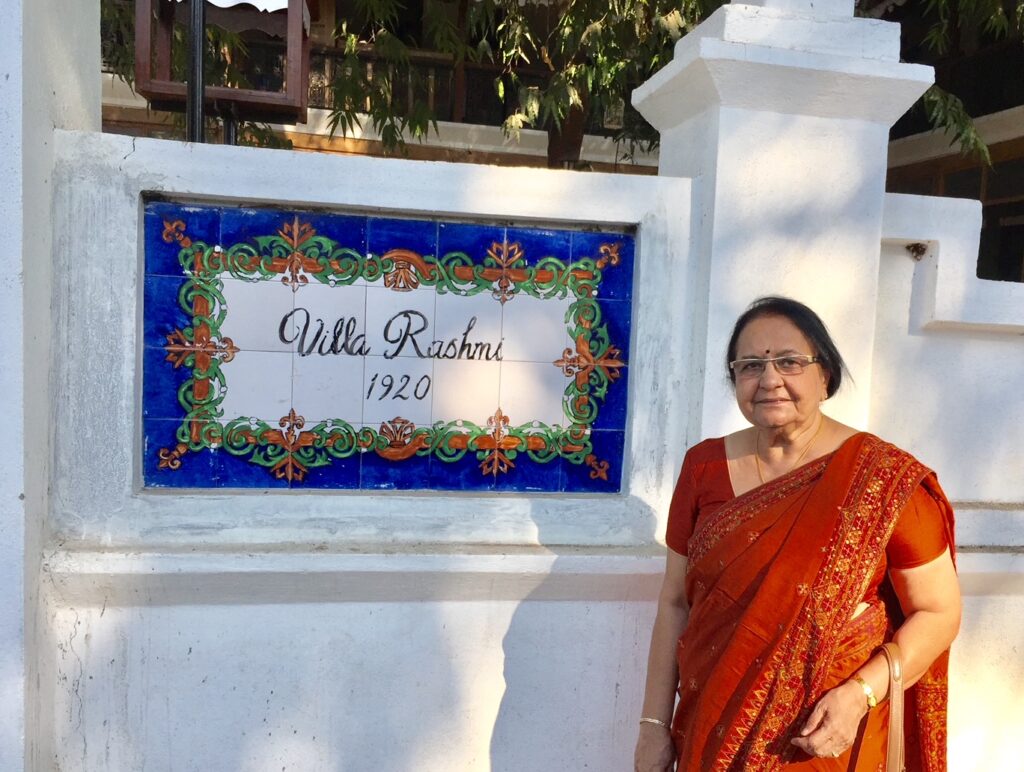 The villa now serves as a retirement holiday home for the enjoyment of the family. On other days certain areas are available for use by guests, photographers and film makers, who value and appreciate heritage properties.

The Architectural Elements of the Villa
Villa Rashmi has been carefully restored to its original state similar to when it was built in in the 1900's. It has authentic Victorian antique furniture, high wooden sloping ceilings, spacious and bright rooms with heritage tiles, private balconies, large verandahs, courtyard et cetra, but fitted with modern amenities for today's living.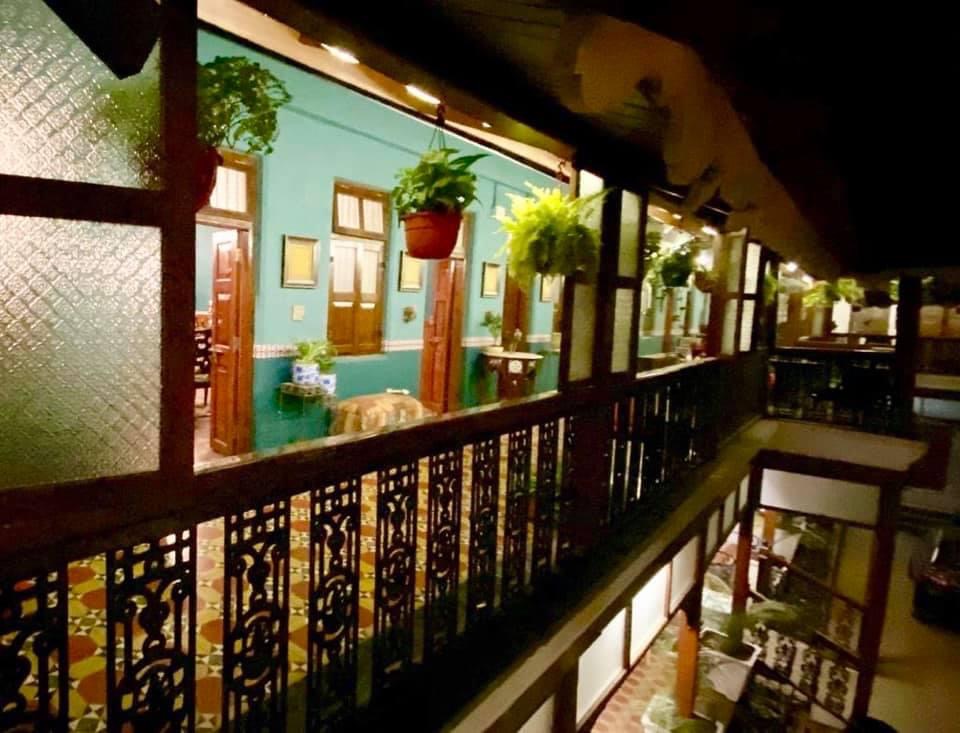 The property on which Villa Rashmi was built measures approx 40,000 square feet, about 1 acre of land. The floor area of Villa Rashmi is approximately 13,000 square feet, with two levels of 6,500 square feet each.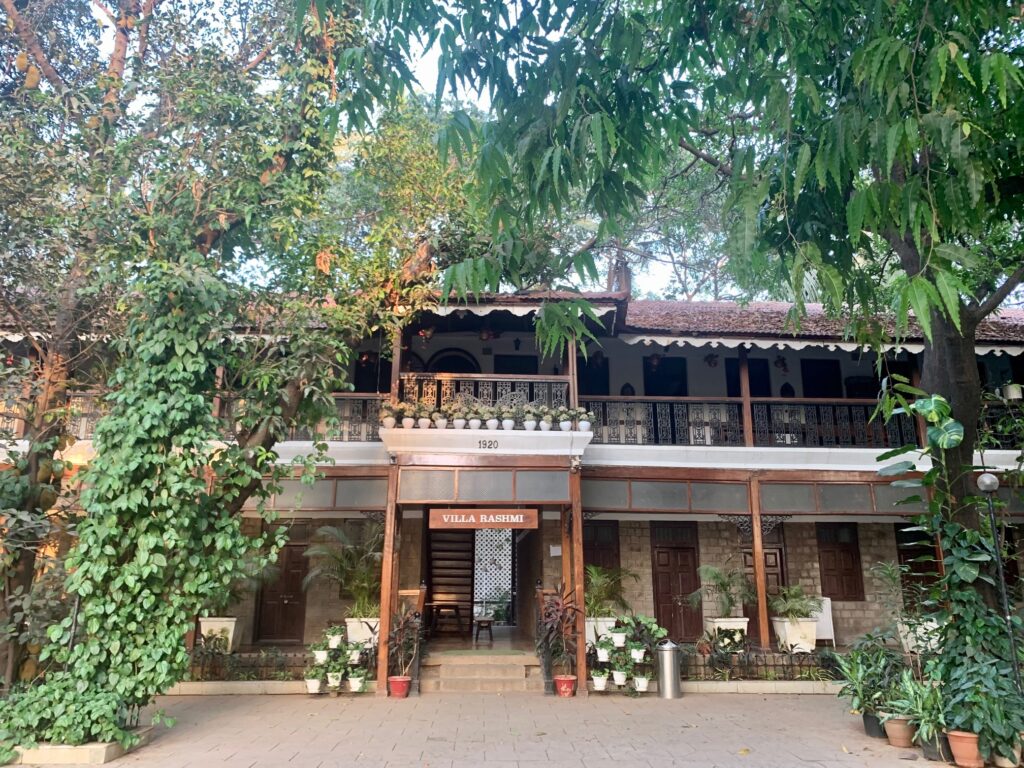 The stone used in the construction of Villa Rashmi is Malad stone, obtained by Manibhai from a nearby excavation to prepare a mix of debris for his reclamation project at Marine Drive.
The architectural style is Spanish Colonial Revival Style (Spanish: Arquitectura neocolonial española) an architectural stylistic movement arising in the early 20th century based on the Spanish Colonial architecture of the Spanish colonization of the Americas.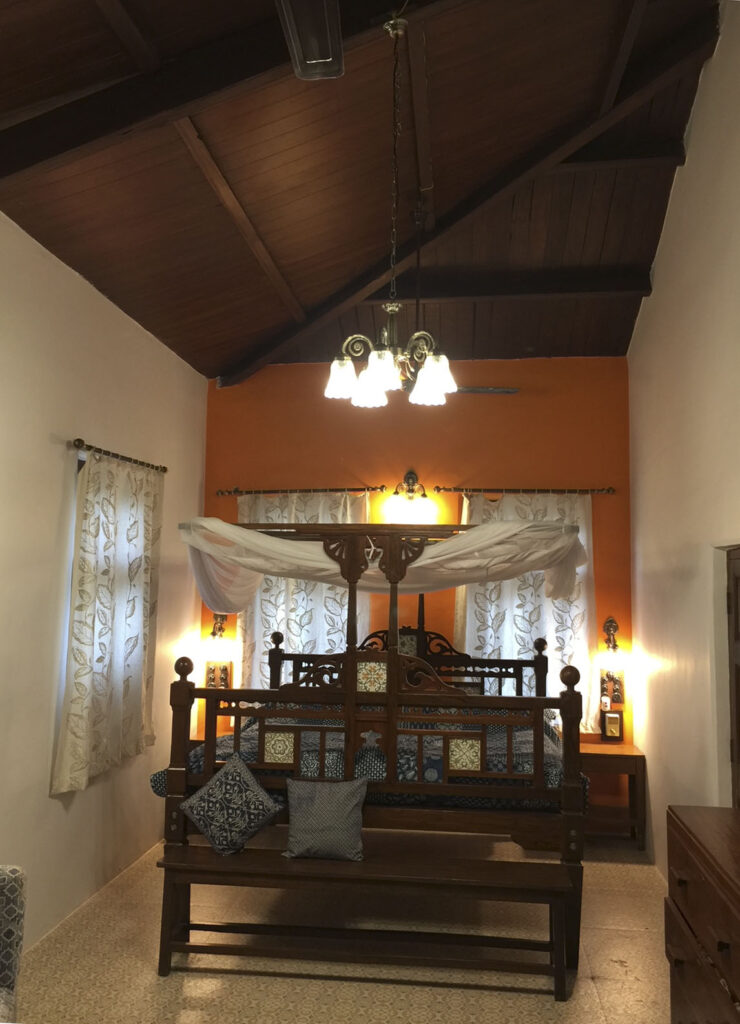 Typical elements include:
1. Arches and curves
2. Wooden sloping ceilings
3. One floor
4. Terracotta tiles on the roof
5. Intricately designed mosaic tiles on flooring
6. White stucco exterior and walls
7. Balconies
8. Ornamental cast iron and wrought iron work on gates, fencing and grilles
9. Courtyards and backyards
10. Arcades, verandahs.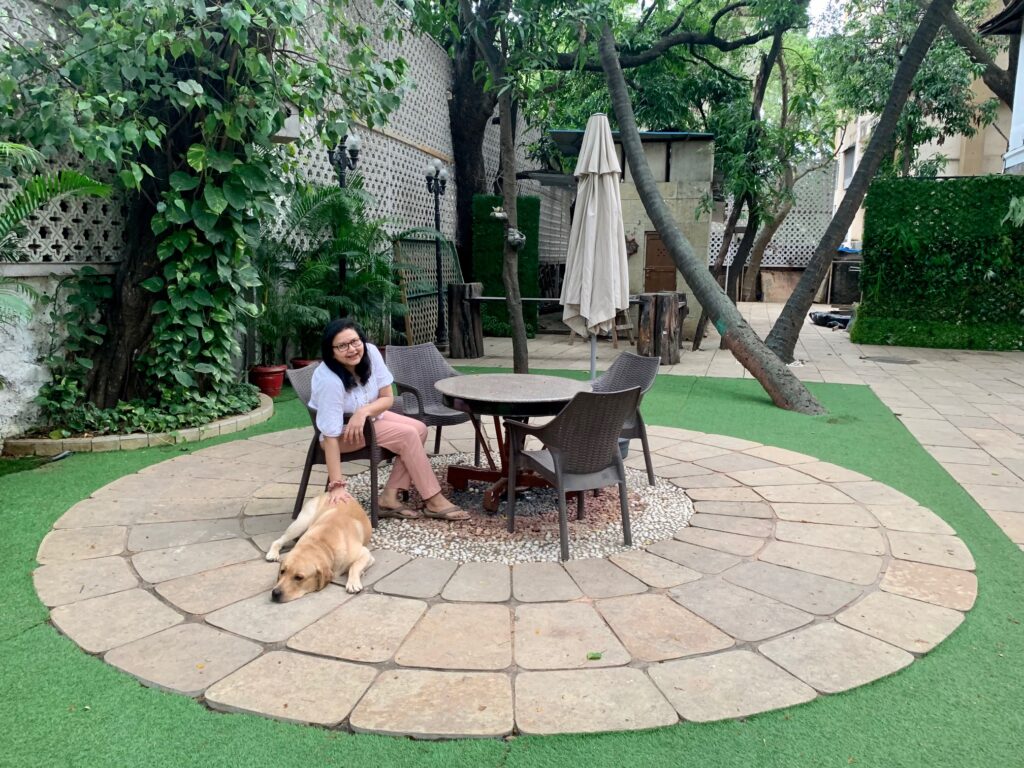 The floor level of Villa Rashmi houses the office and the library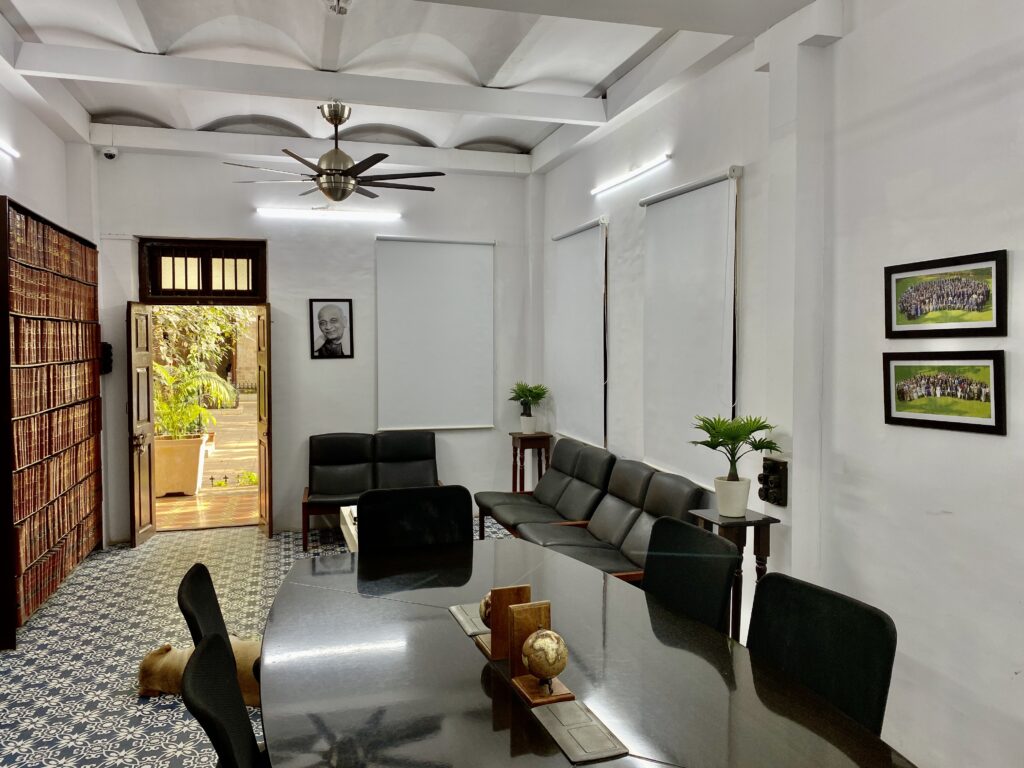 Haresh Patel is an avid reader and has huge floor to ceiling libraries in each of his homes. His book collection spans diverse topics, such as law, medicine, music, politics, health, etc.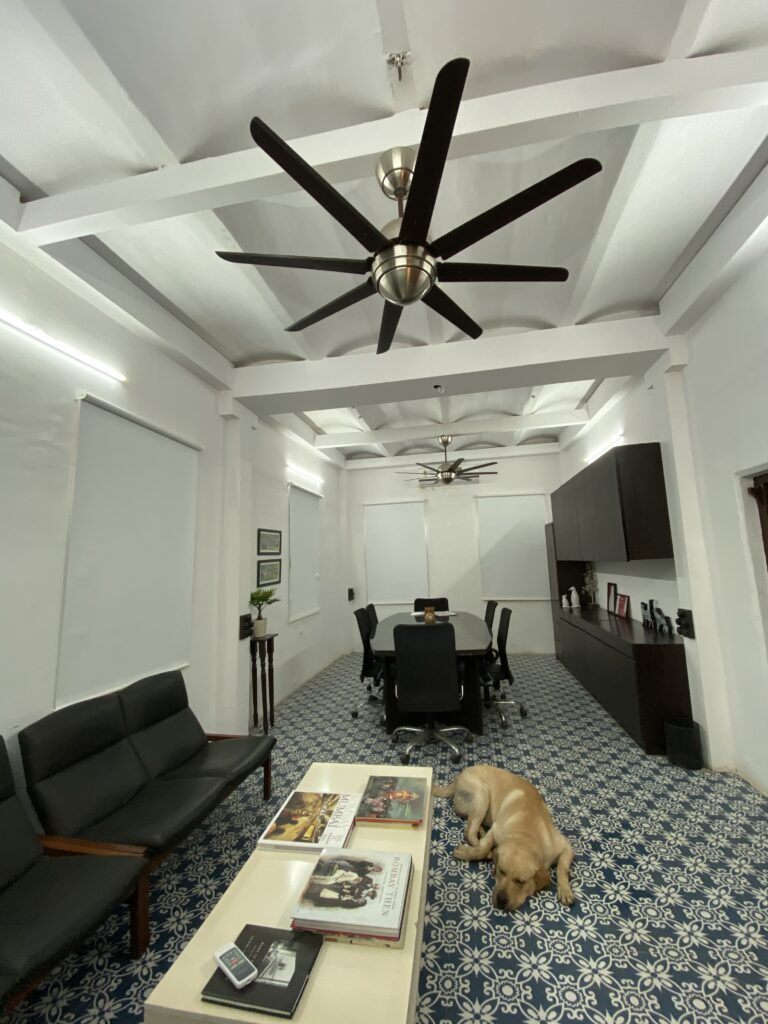 He calls himself a knowledge worker and you will rarely see him without a book with a reading light in his hand. Even when he is in a theatre… what if the show or movie is boring, is his logic! "If I can't take my books, I won't go," he says while packing for holidays.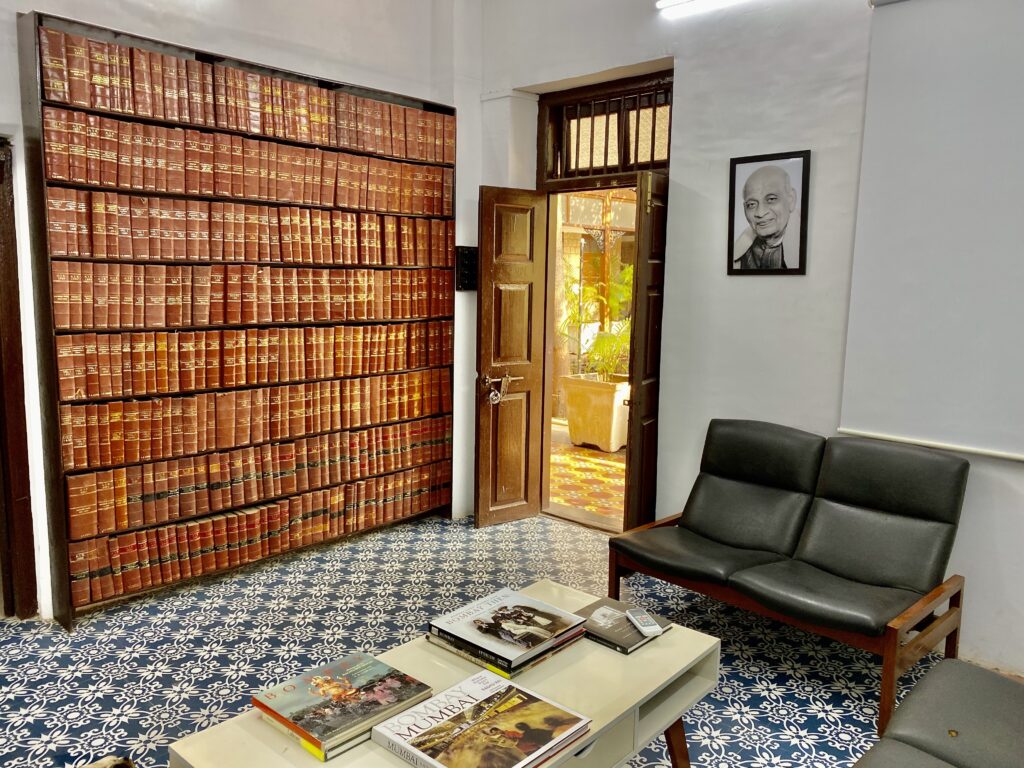 He believes that a room without books is like a body without soul.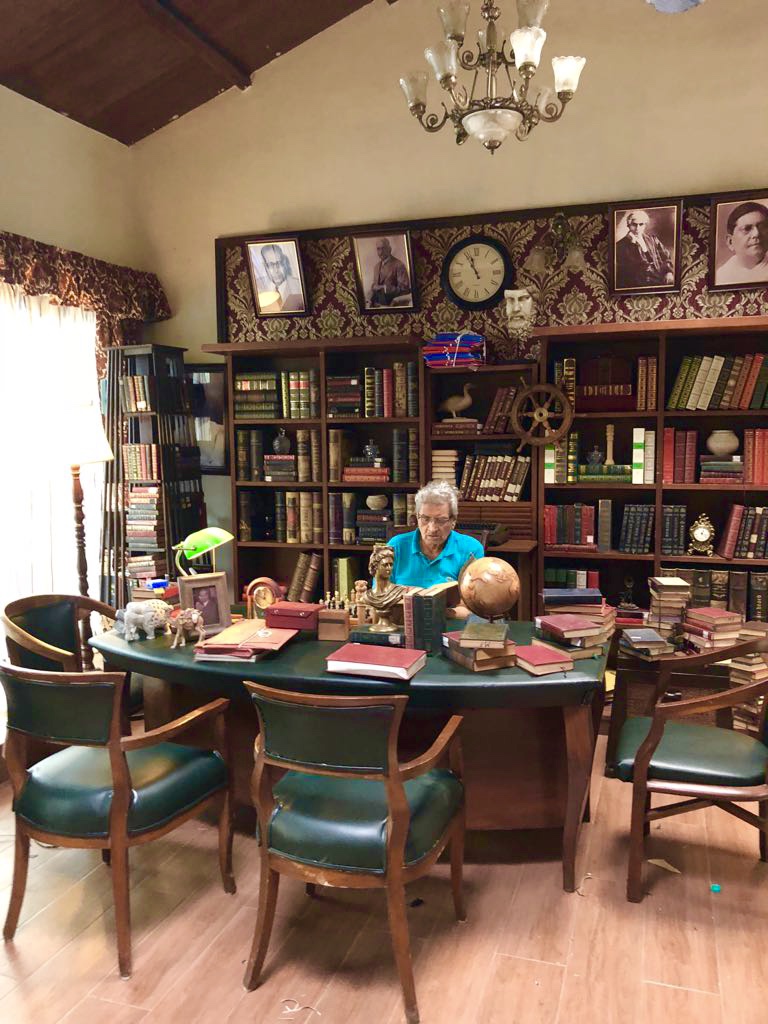 The Tiles at Villa Rashmi
Villa Rashmi has beautiful flooring, original hand painted tiles, original Italian/ Spanish mosaic tiles with intricate European patterns, carefully laid with utmost precision in the designs.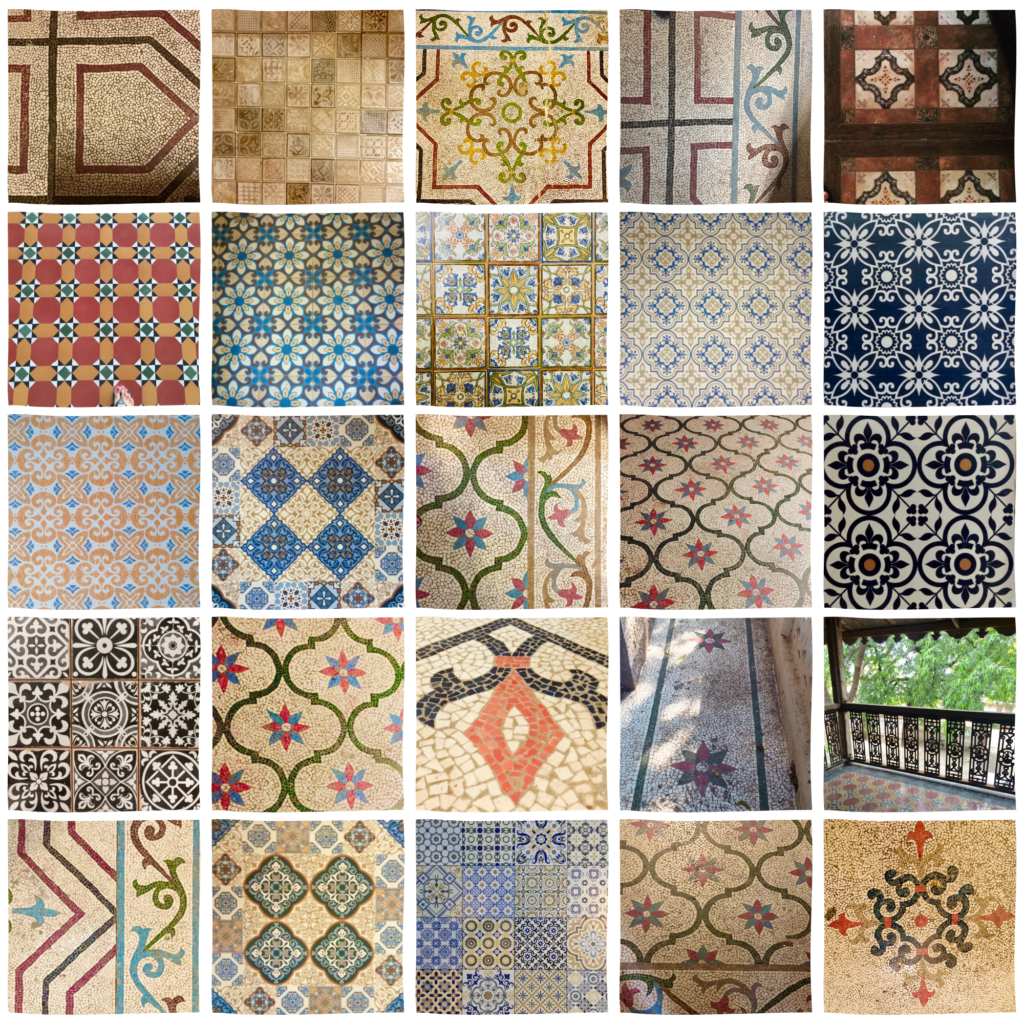 While restoring the villa, the owner's daughter has sourced handmade tiles from Athangudi Palace and tiles from Spain to retain the original look of the villa. It is impossible to replicate the mosaic flooring. Several artisans have been invited to see the flooring but none have the skills required to replicate the original work.
The Furniture at Villa Rashmi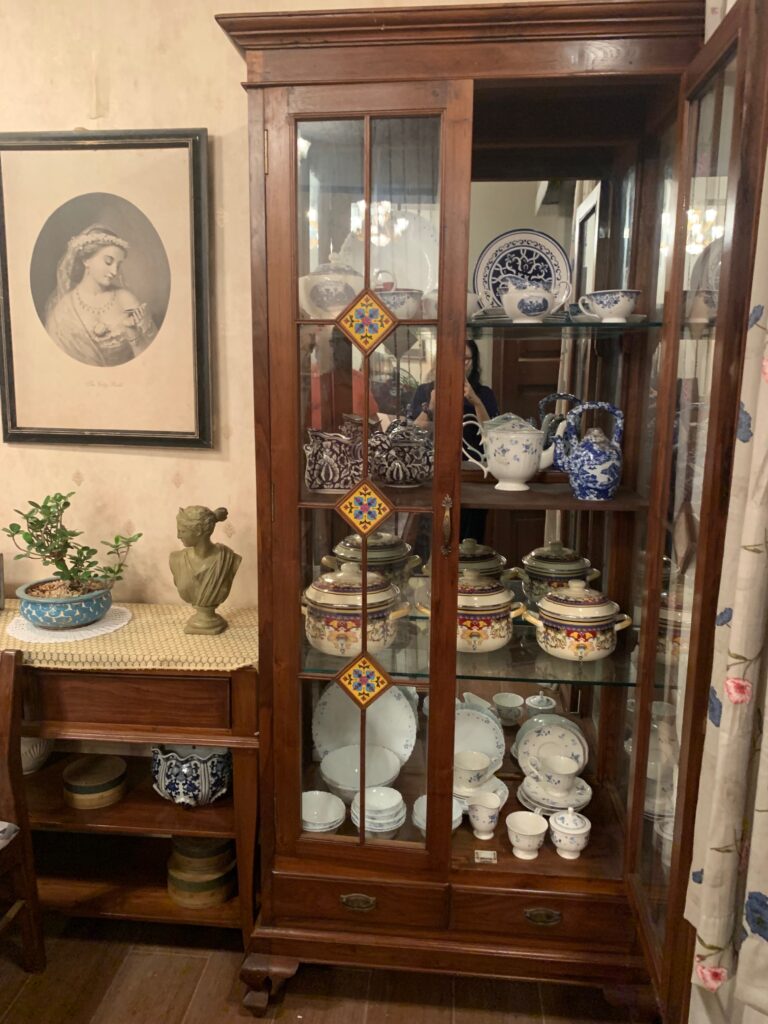 Most of the furniture at Villa Rashmi is authentically antique, dating back to the early 1900s and from the private collection of the Nizam of Hyderabad.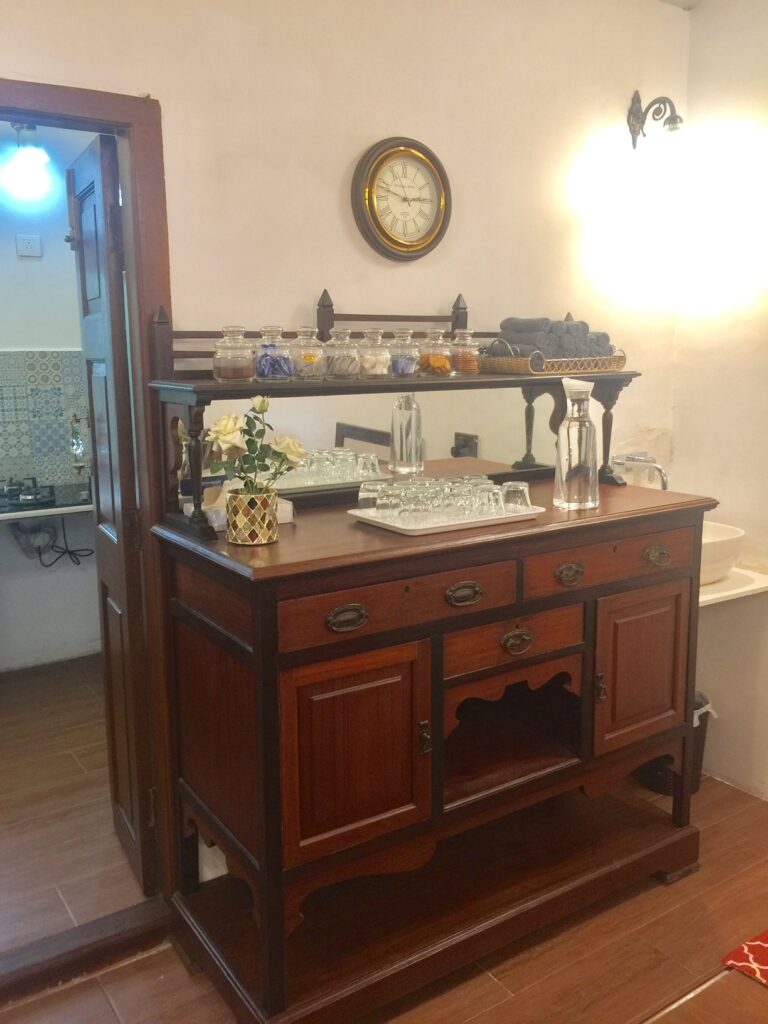 Manibhai had contracted with the Nizam to design and build many projects, notable amongst which was the underground sewerage system of the old Hyderabad City and building of the new palace. New furniture was commissioned for the new palace. The wooden furniture of the old palace was brought to his haveli in his village Bhadran, by Manibhai. That furniture has found its way to Villa Rashmi.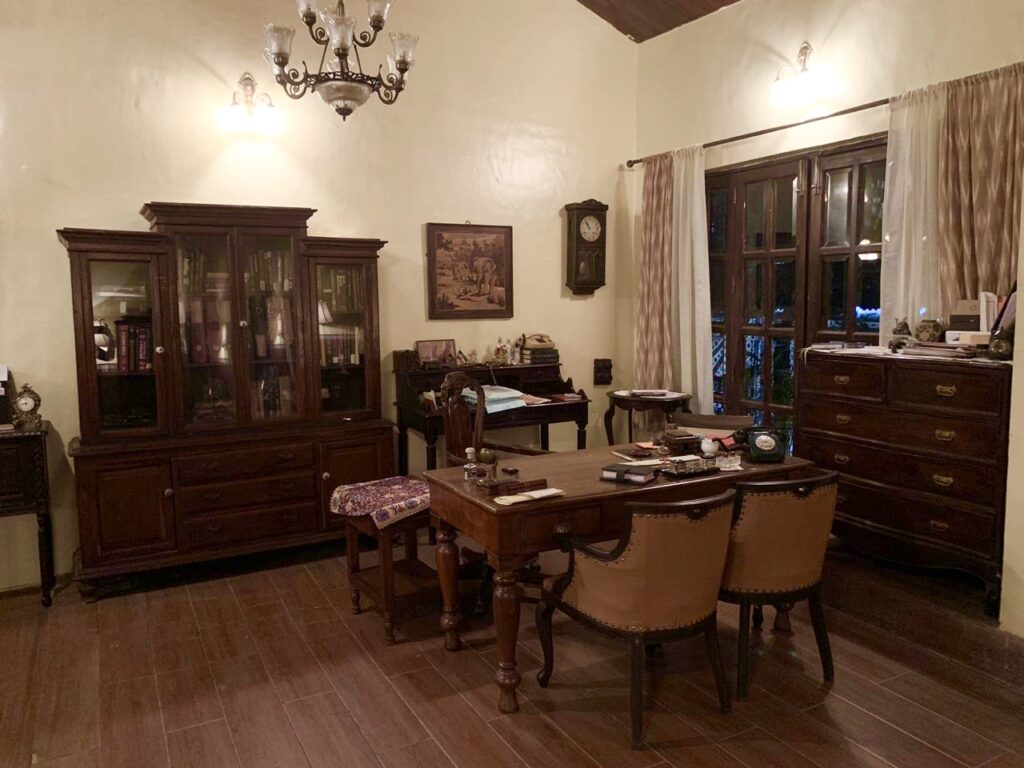 The story goes that the Nizam defaulted in payments and asked Manibhai to take some more of his furniture in compensation of a few of the instalments! Eventually Manibhai filed a money suit against the Nizam and he had to fight it before the Privy Council in London.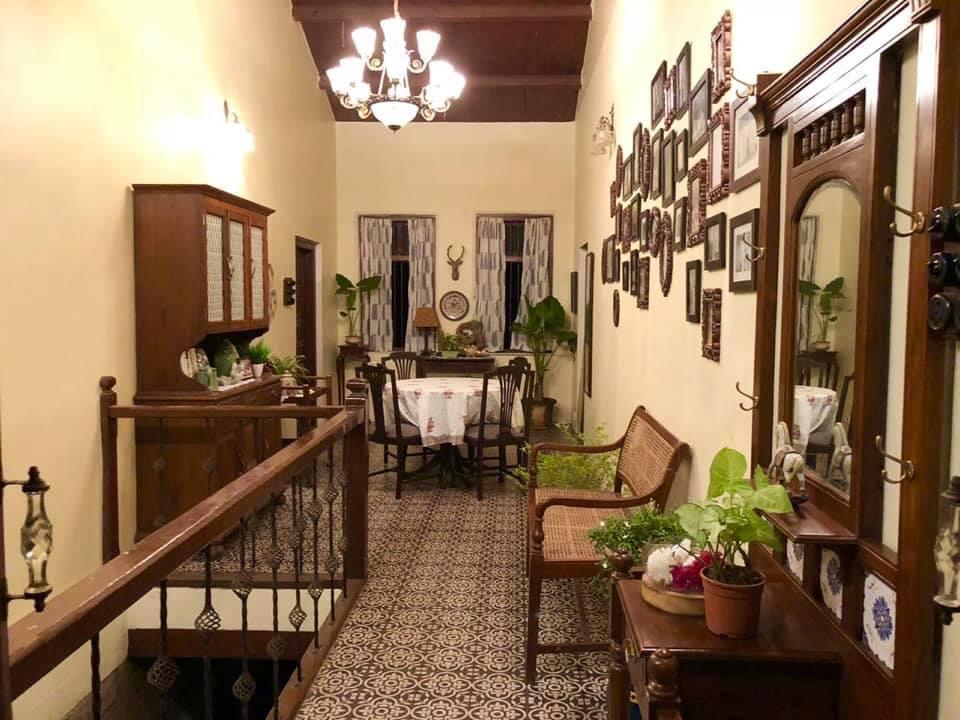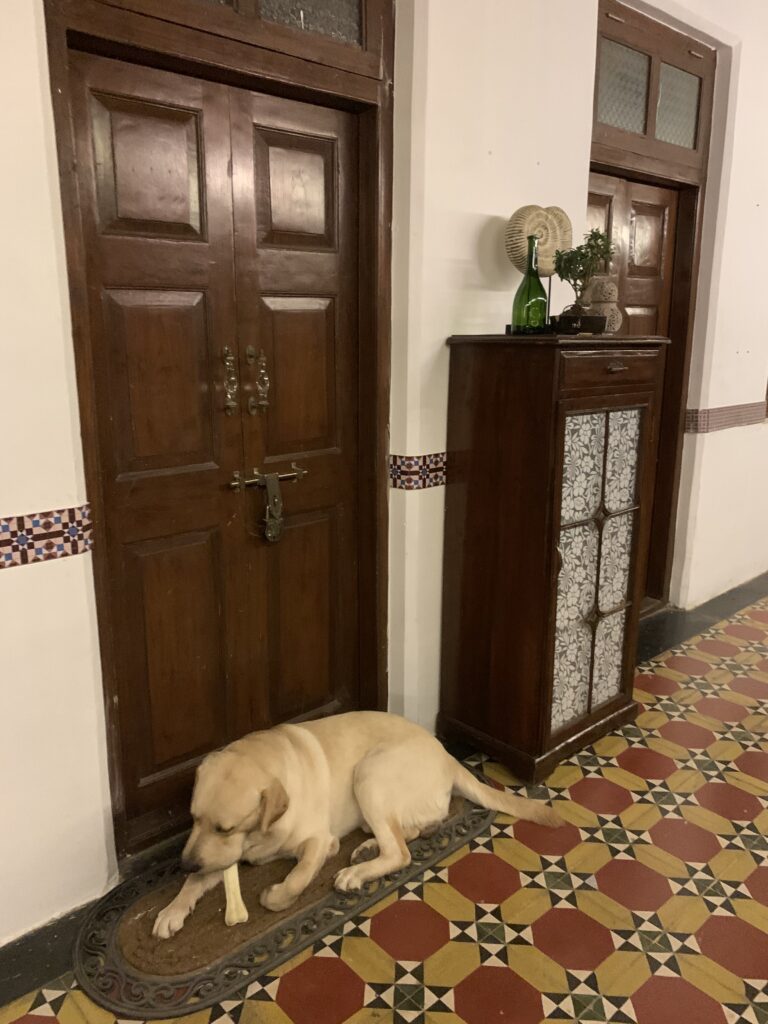 The Backyard – the old and the new blend
A retro-metro look graces the backyard, sometimes making you feel that you are on a sit-a-while bench in an upmarket mall, and sometimes like you are at your grandparents' homely garden. I love the use of natural material even in the garden -live wood seats, terracotta and stone art make it look earthy.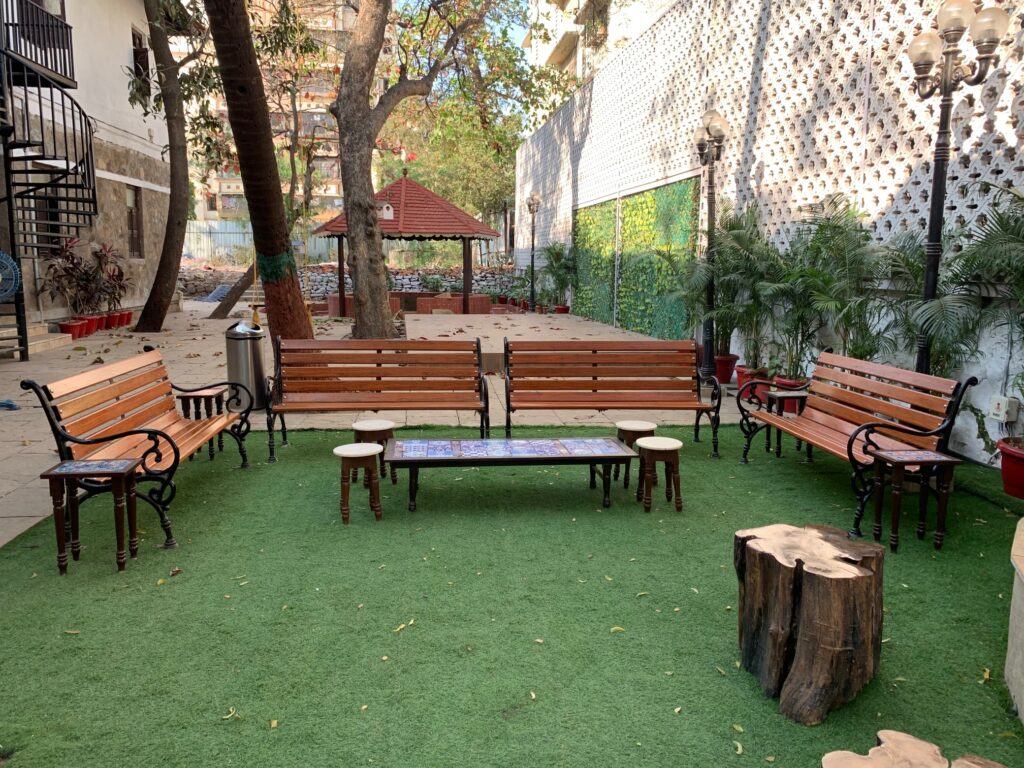 The lamp posts are absolutely gorgeous with the elegant charm of cast iron!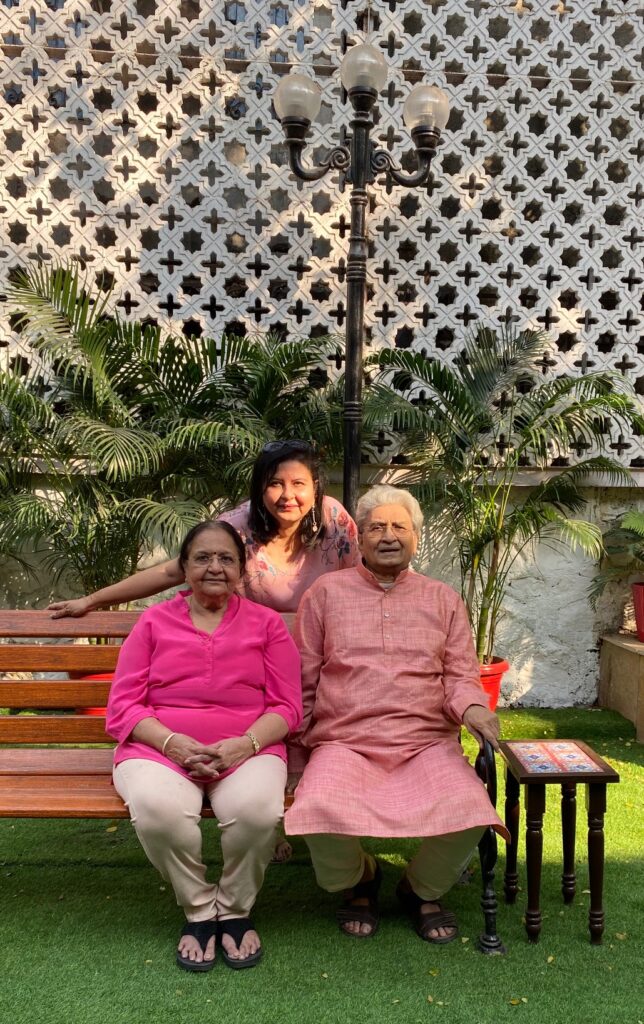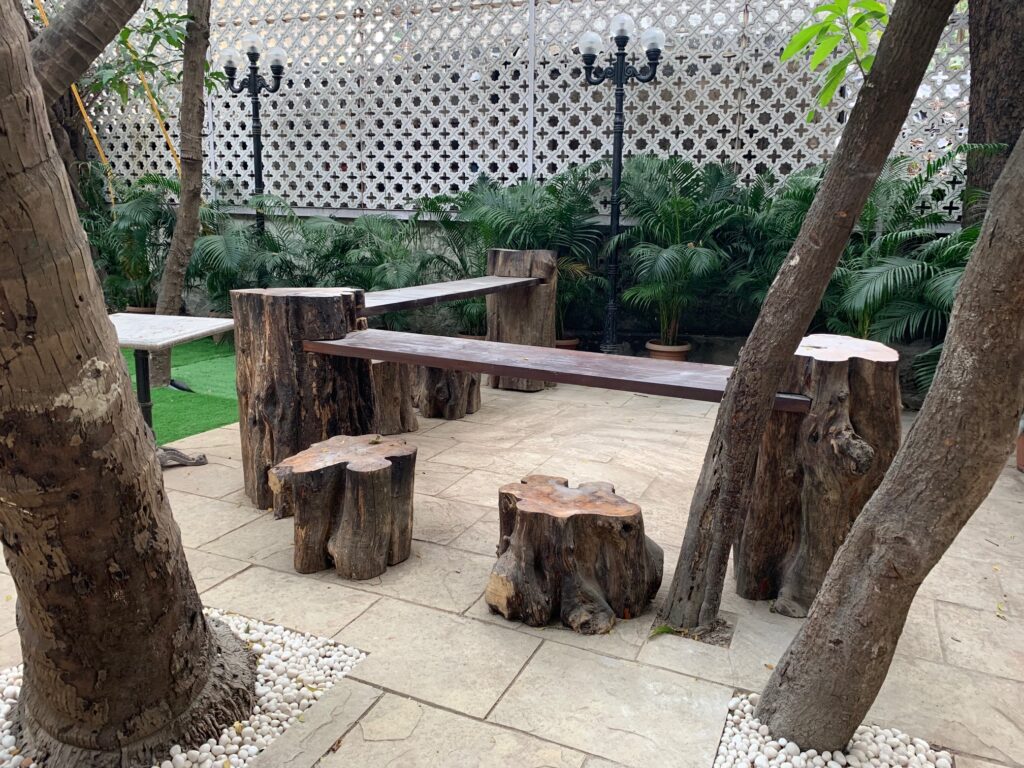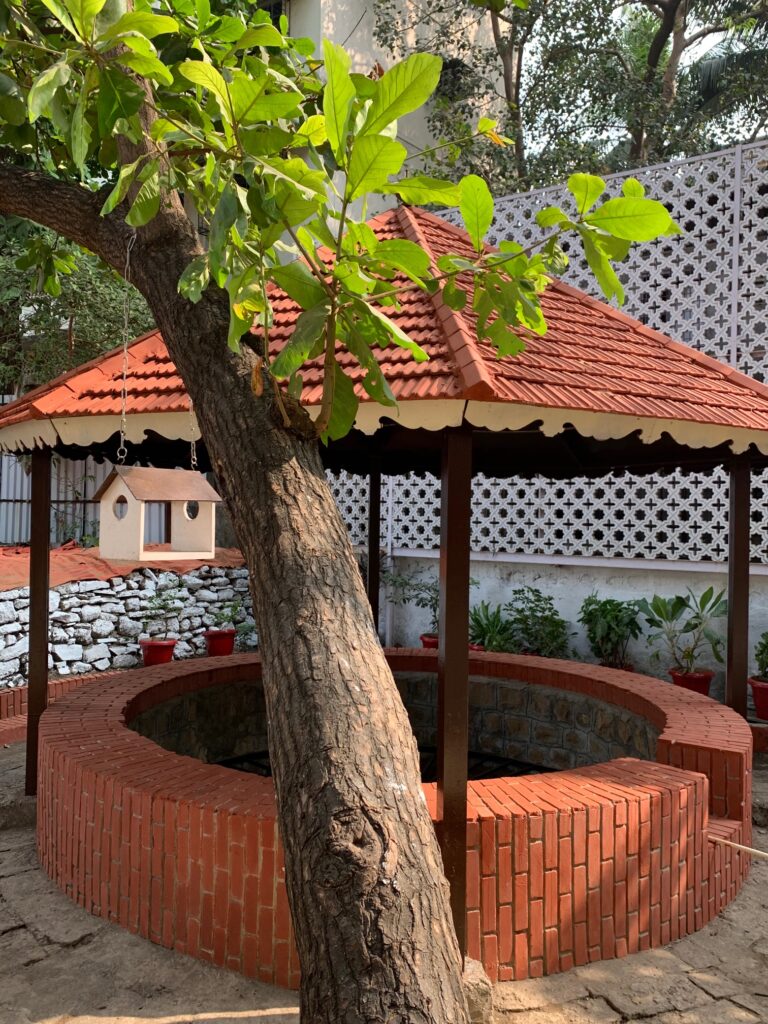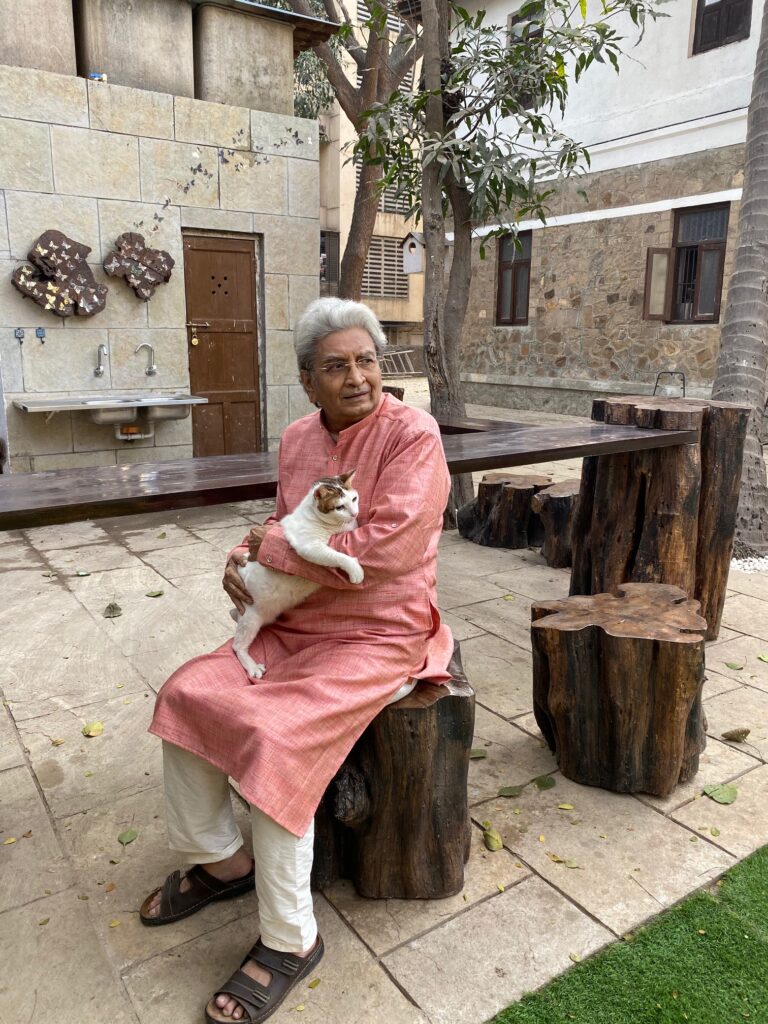 Where the family resides
The private part of the villa where the family resides, is tastefully decorated to keep as much as the old world charm as possible, in a contemporary setting. I love how Deval has managed to bring in pops of current decor into old-world spaces and make them magically fuse!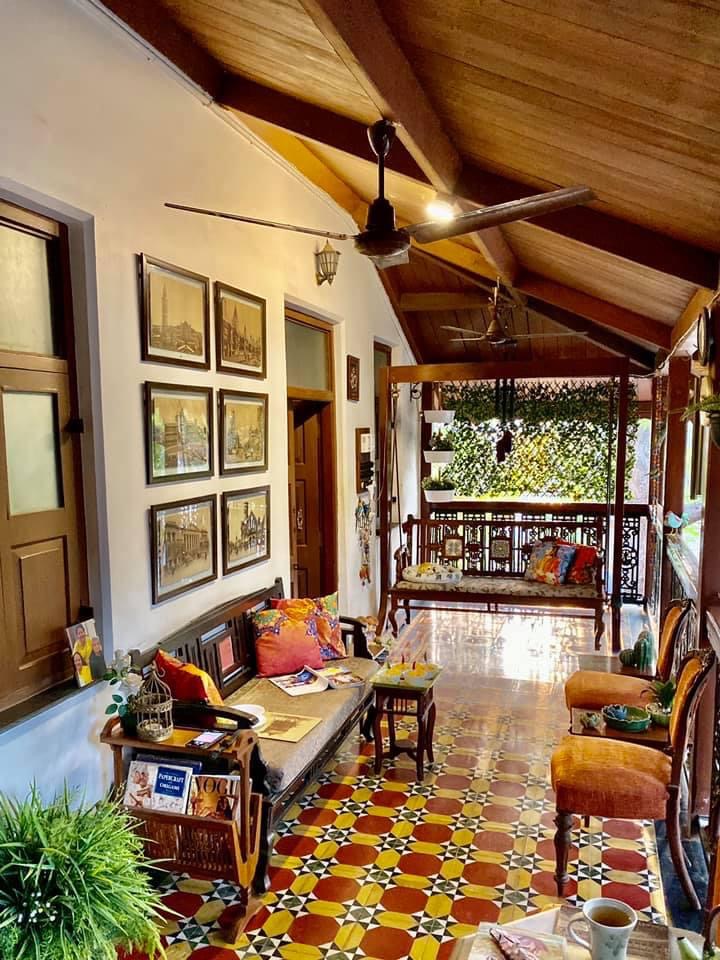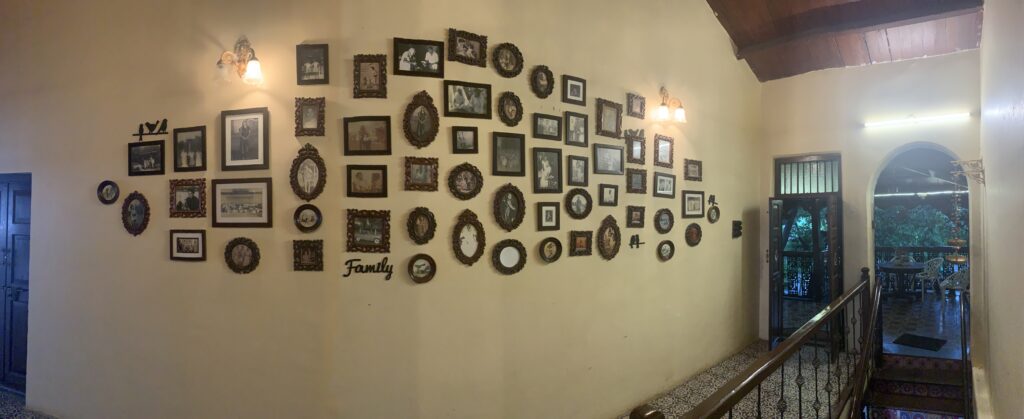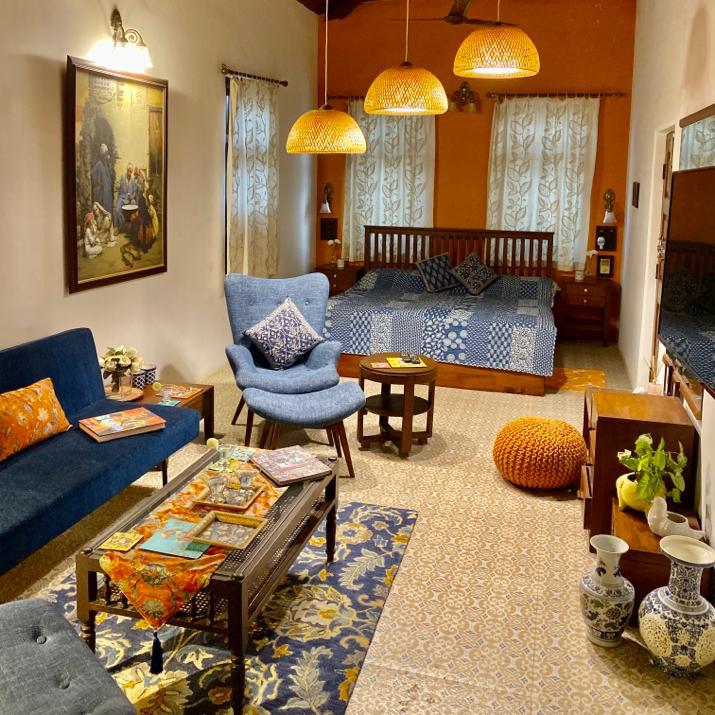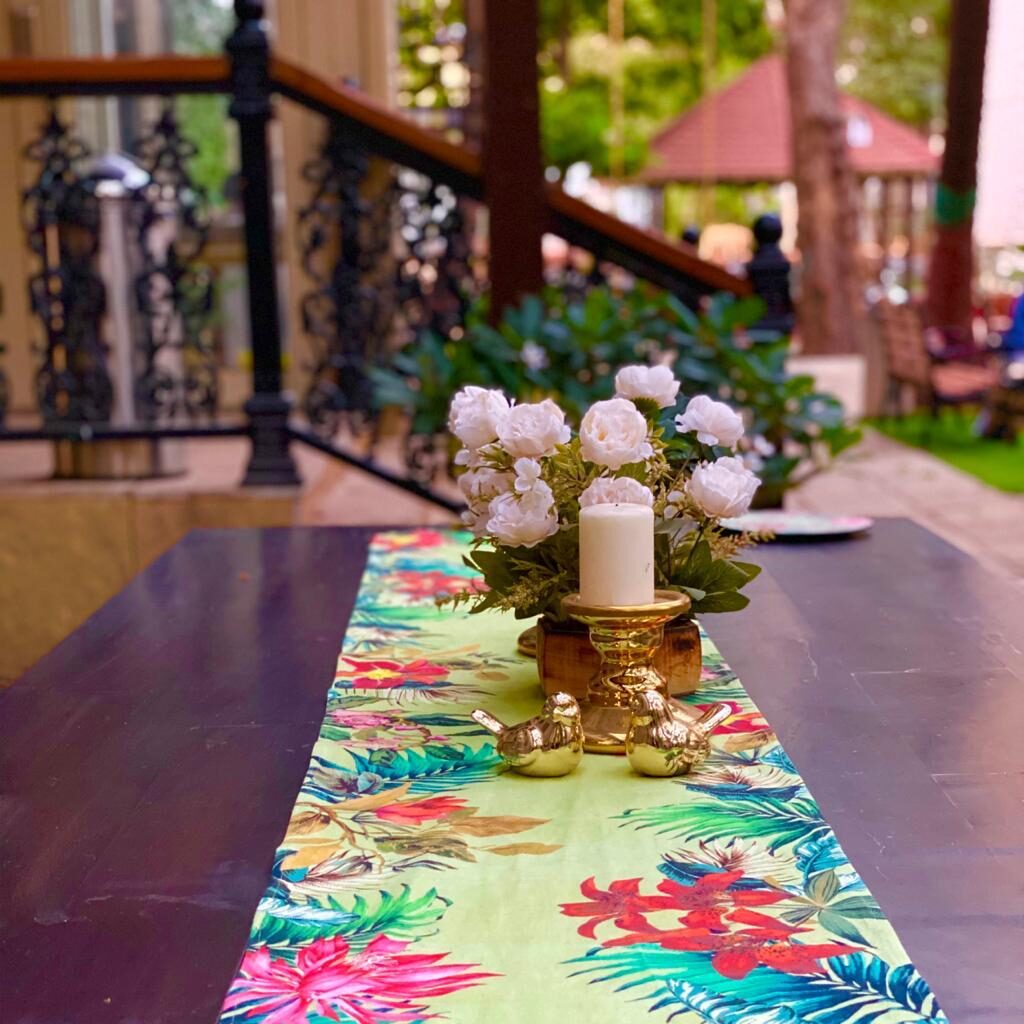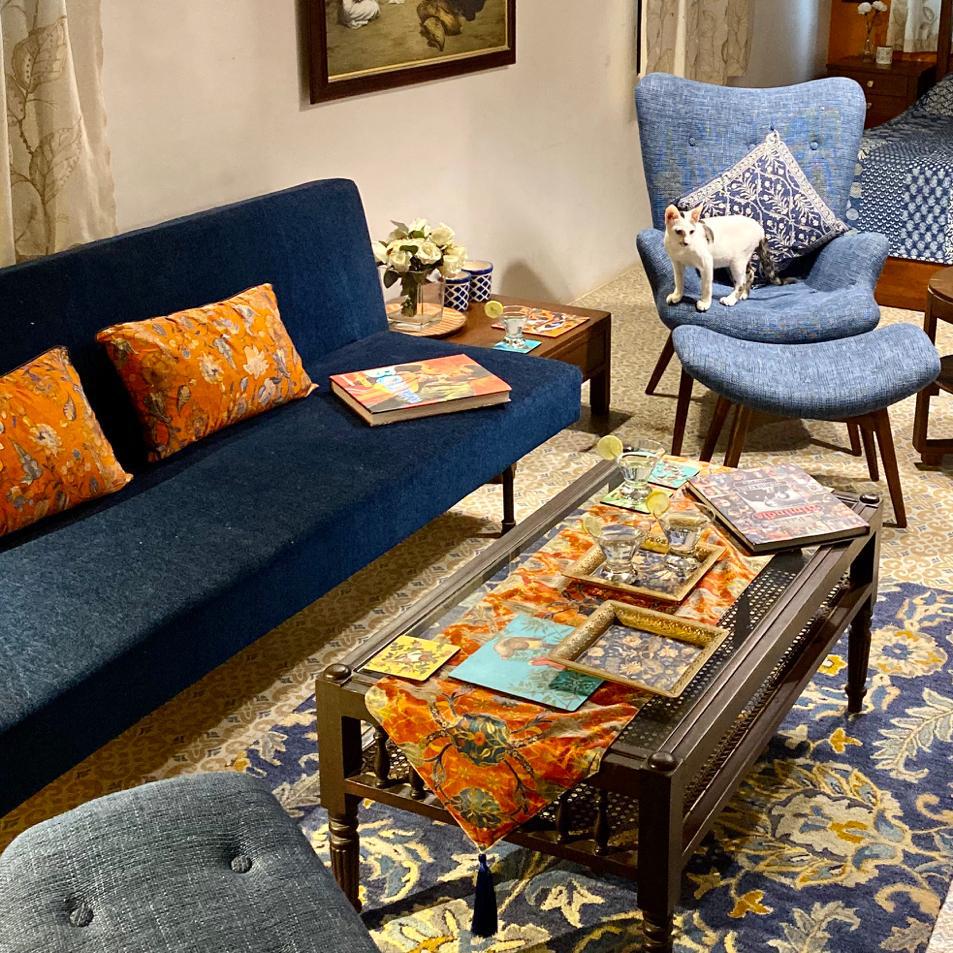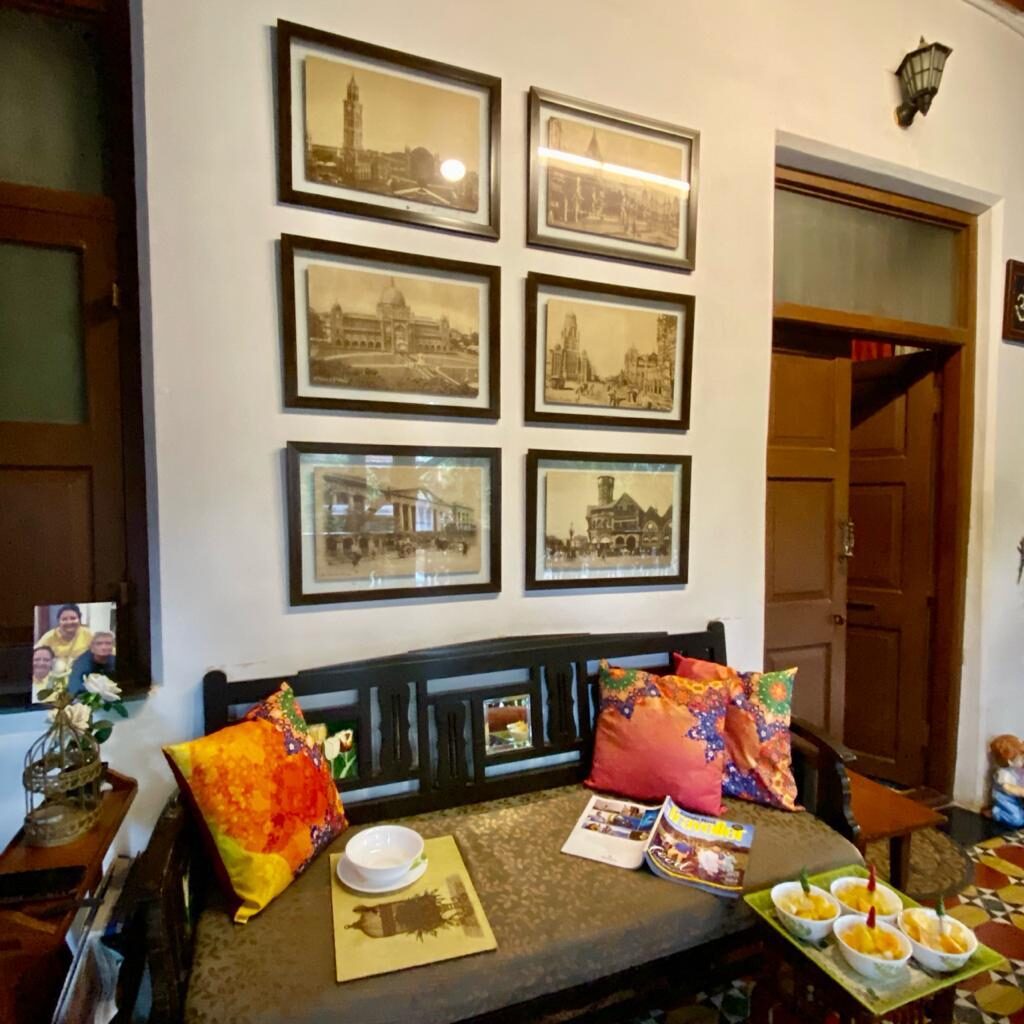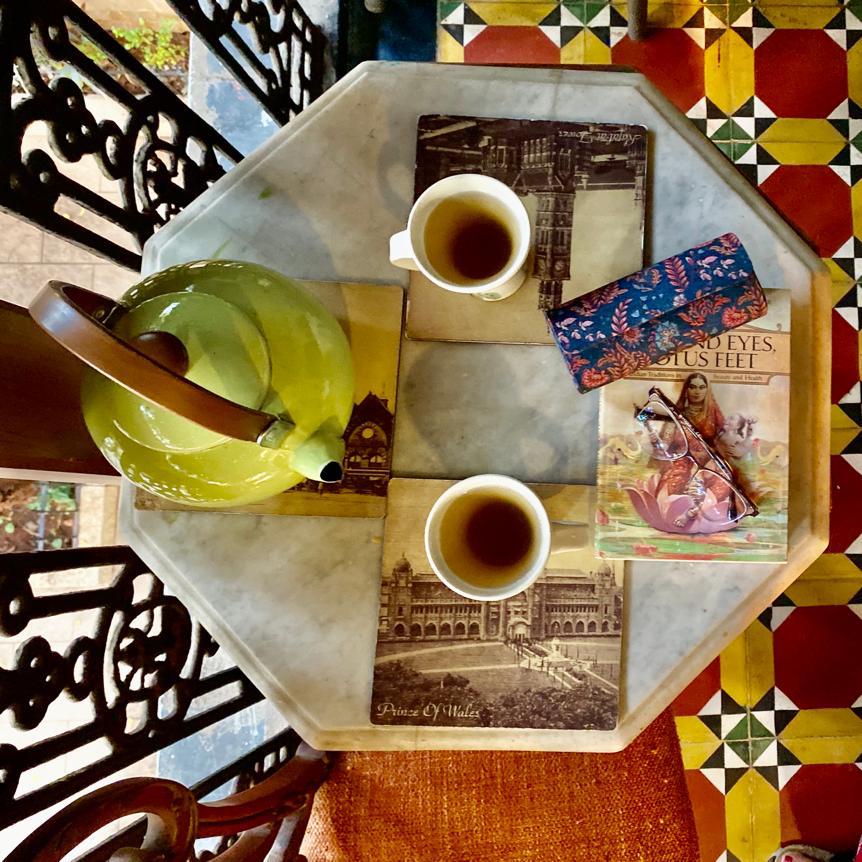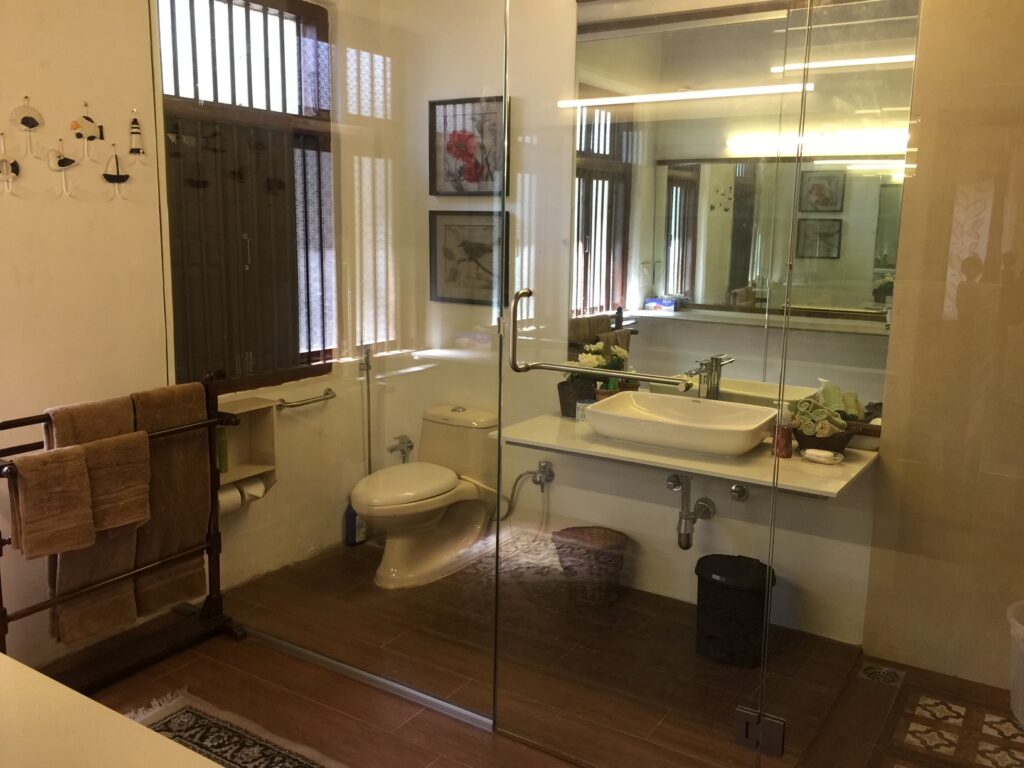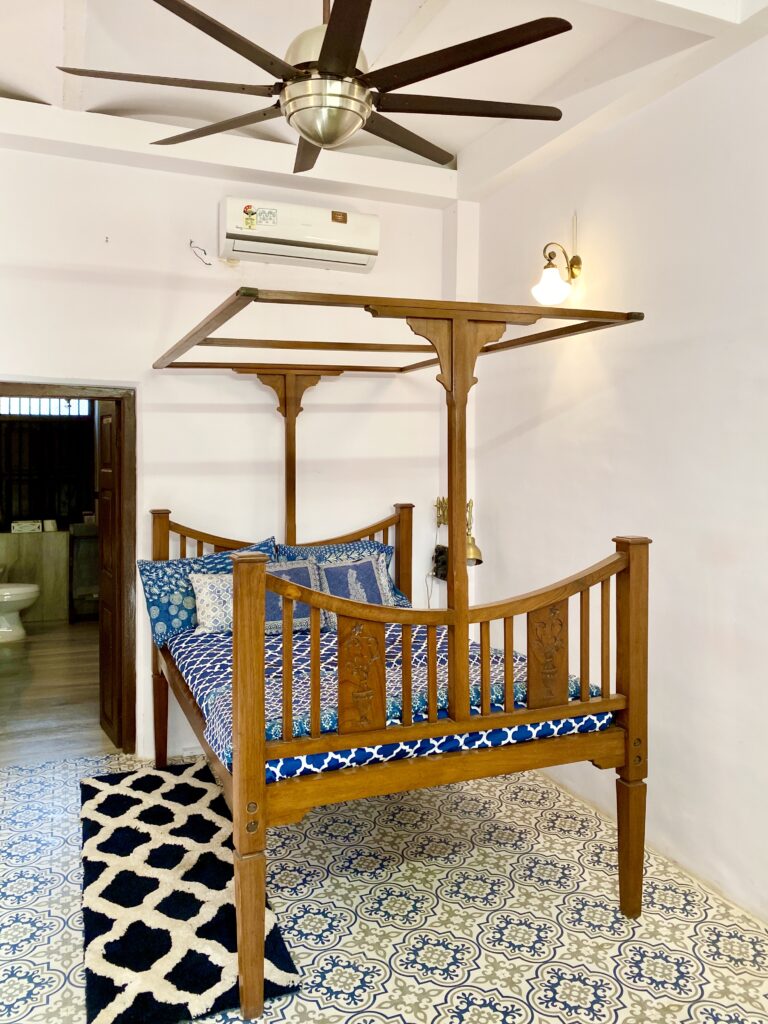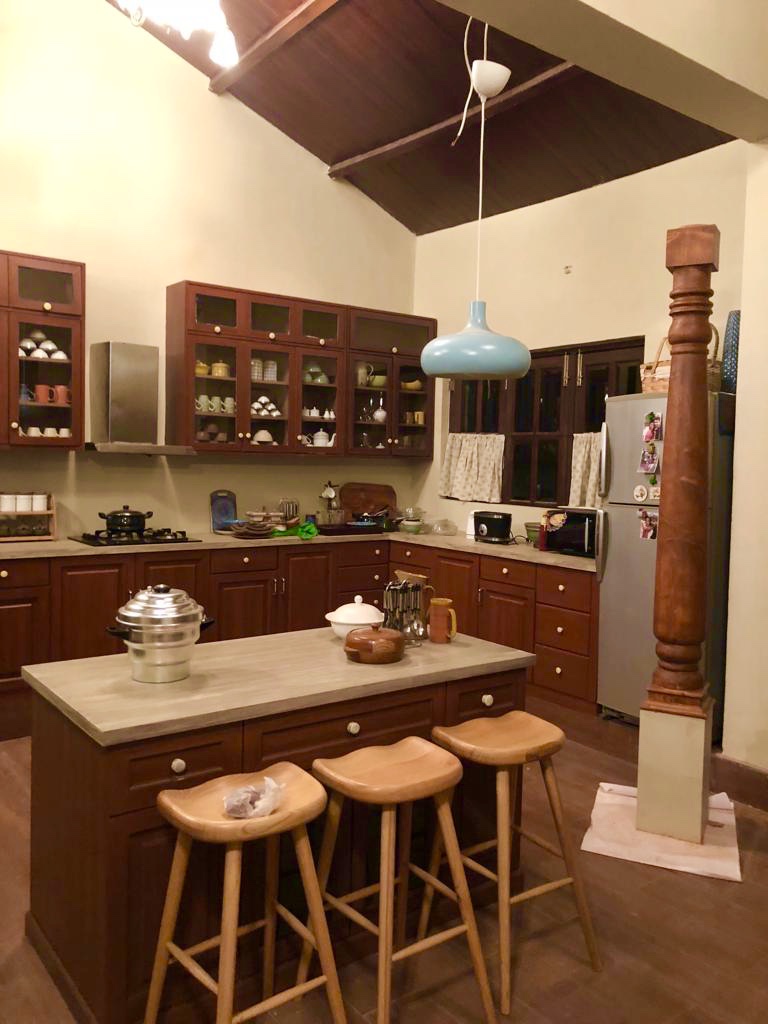 Other parts of the private residence have a more authentic old-world feel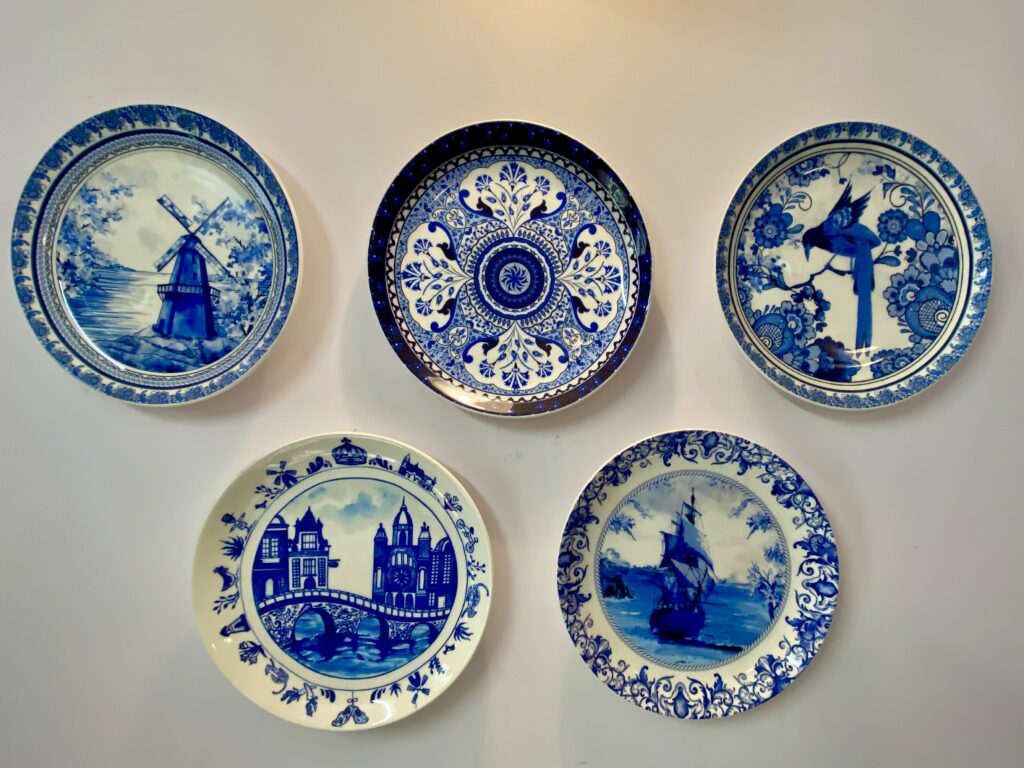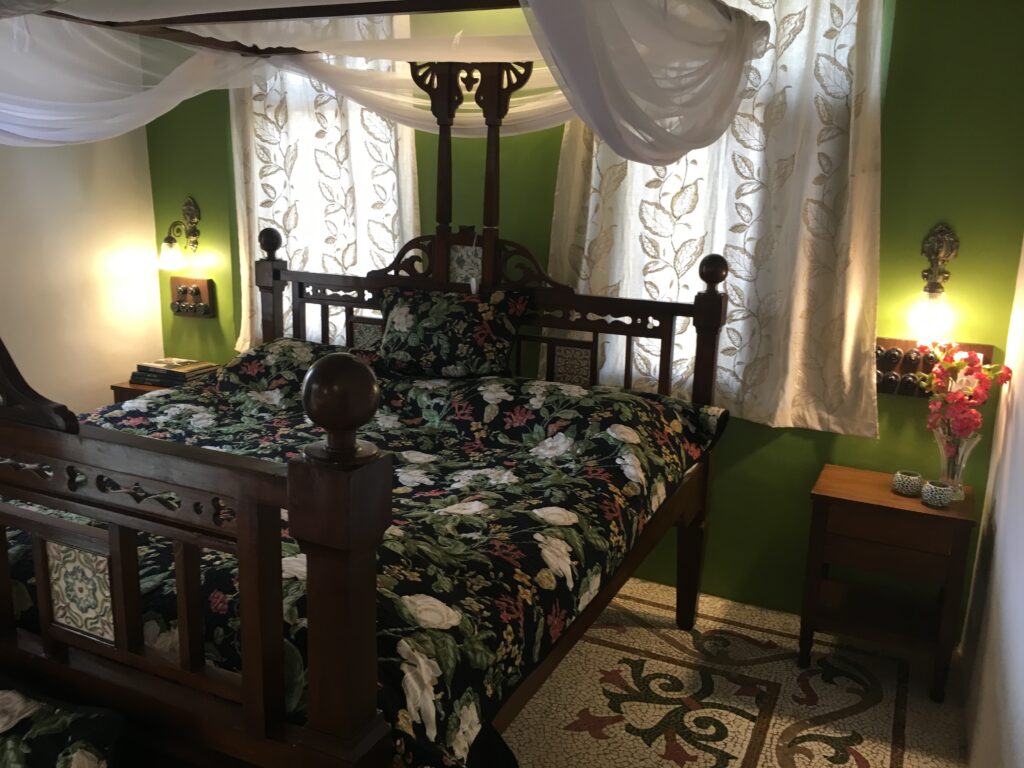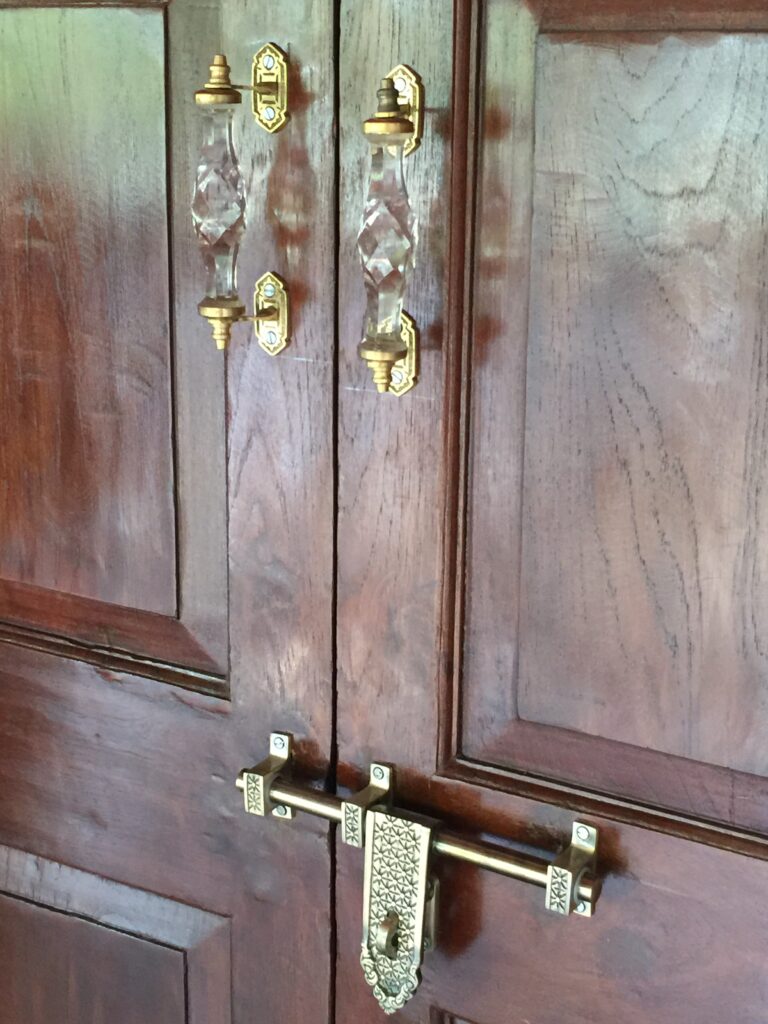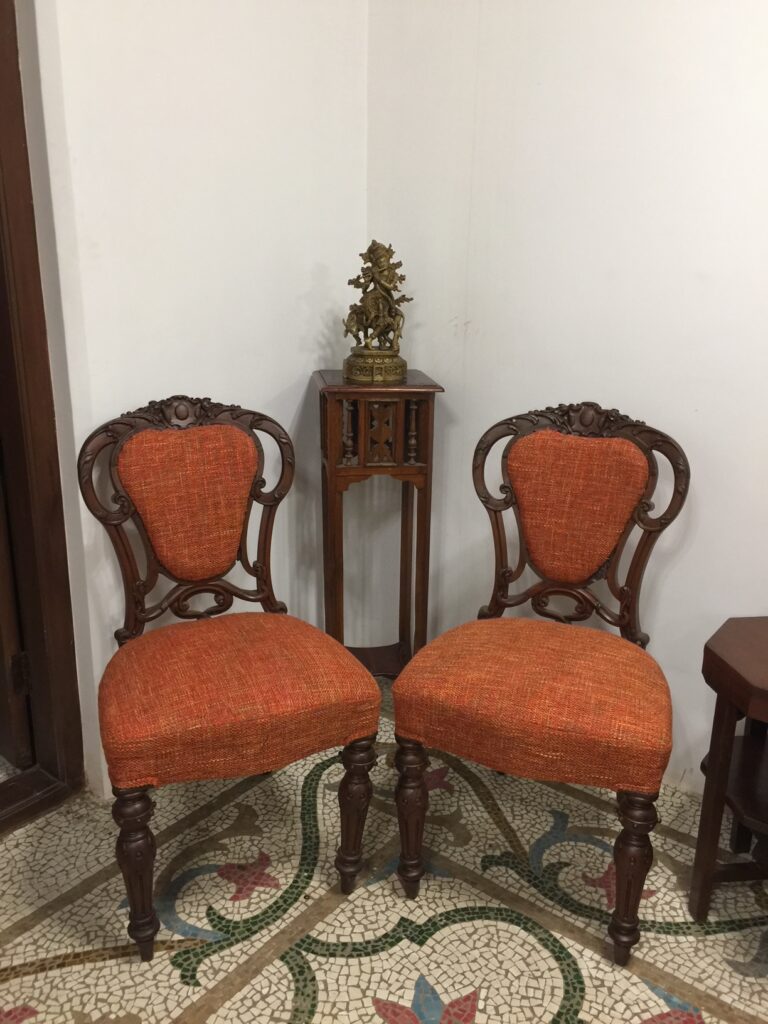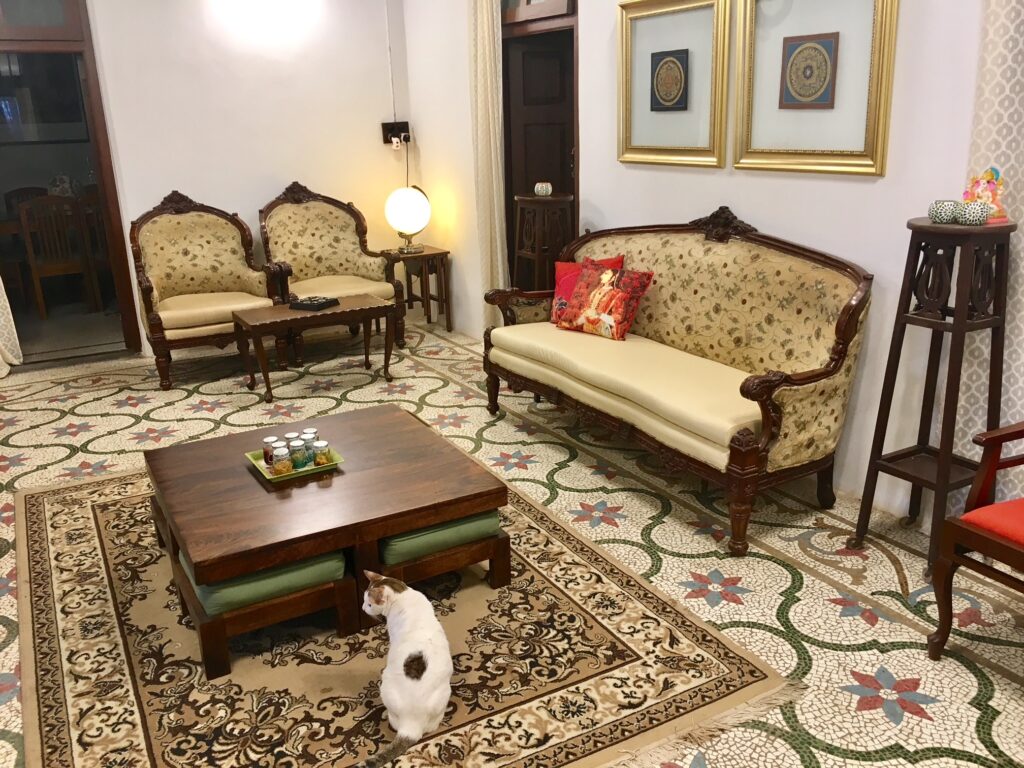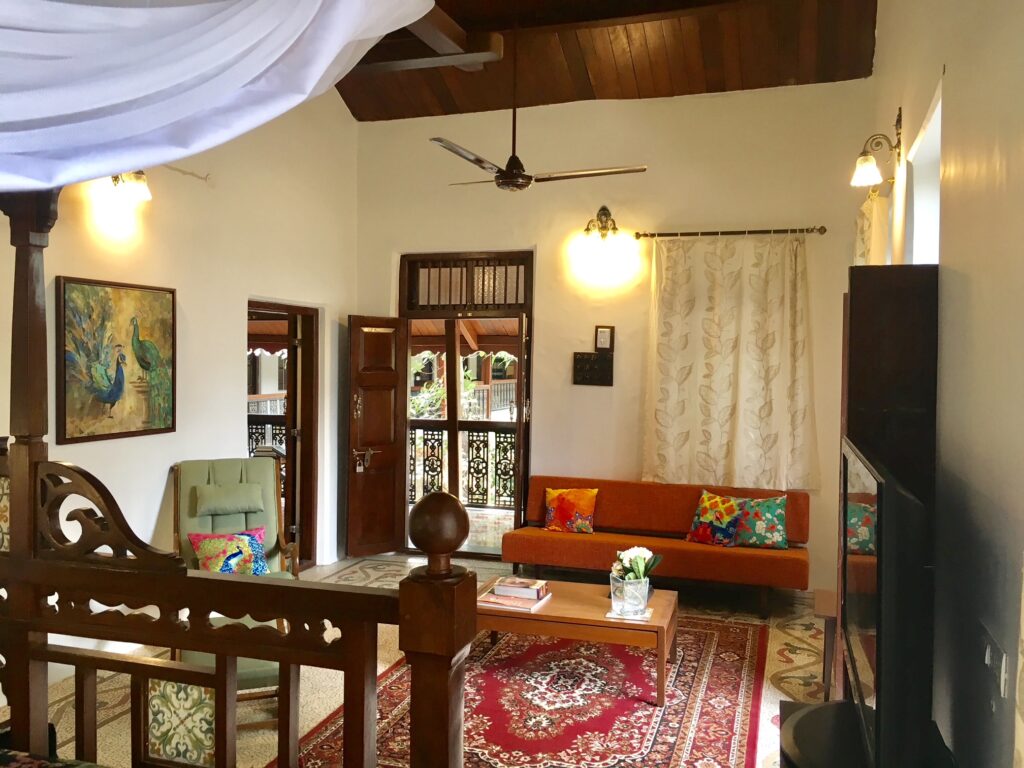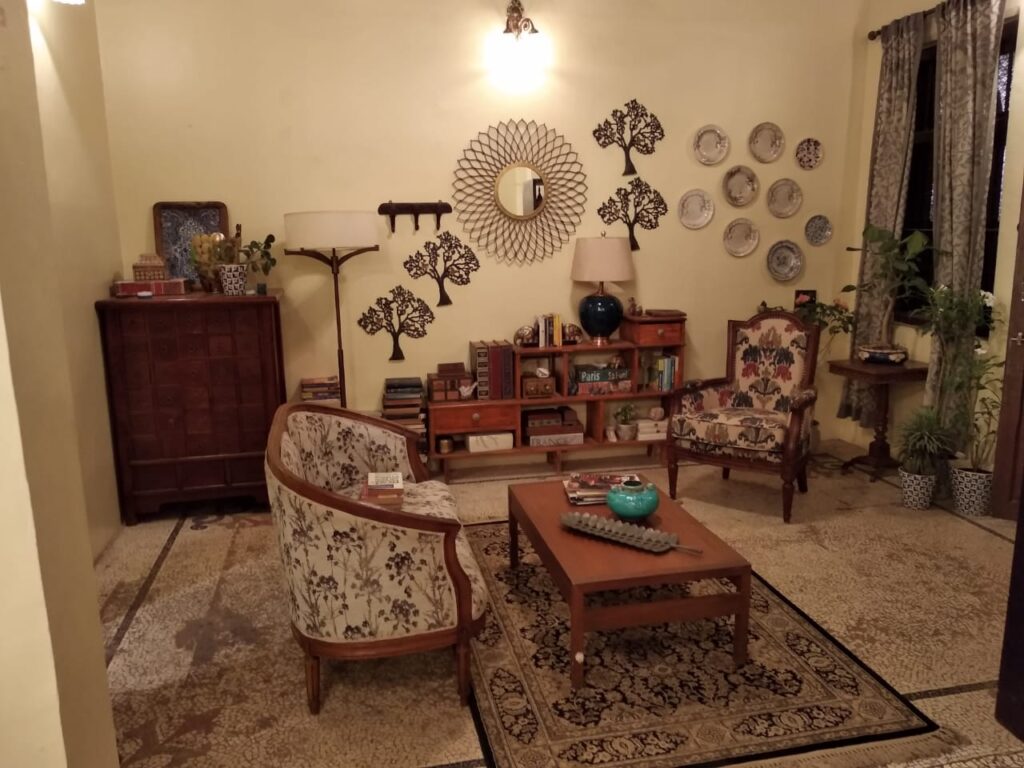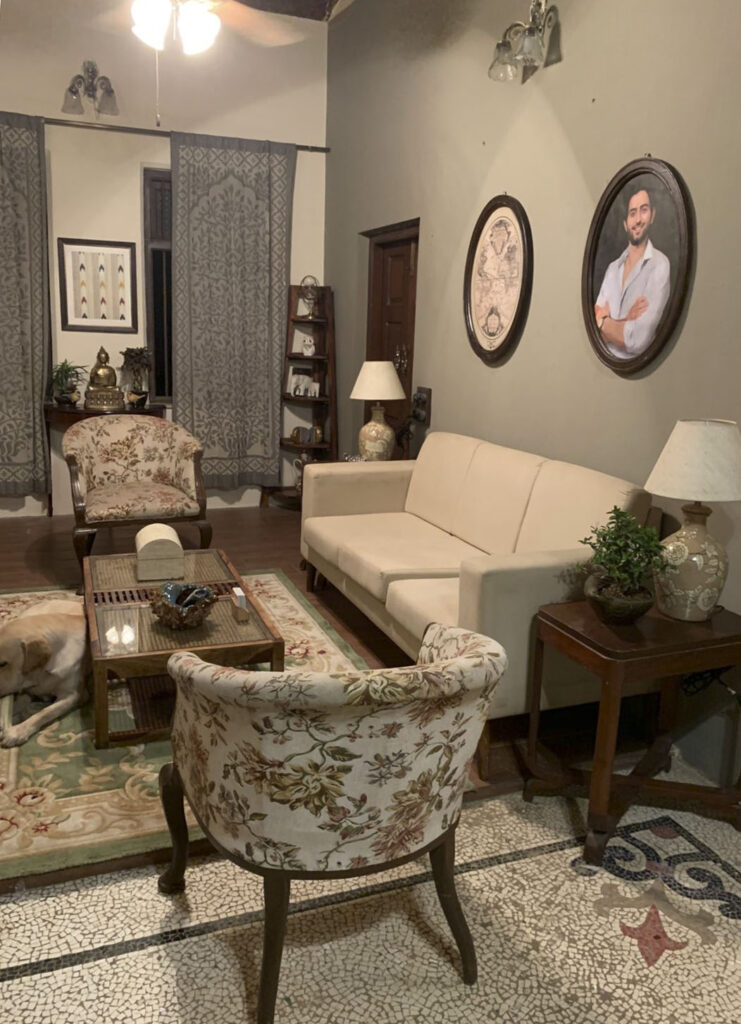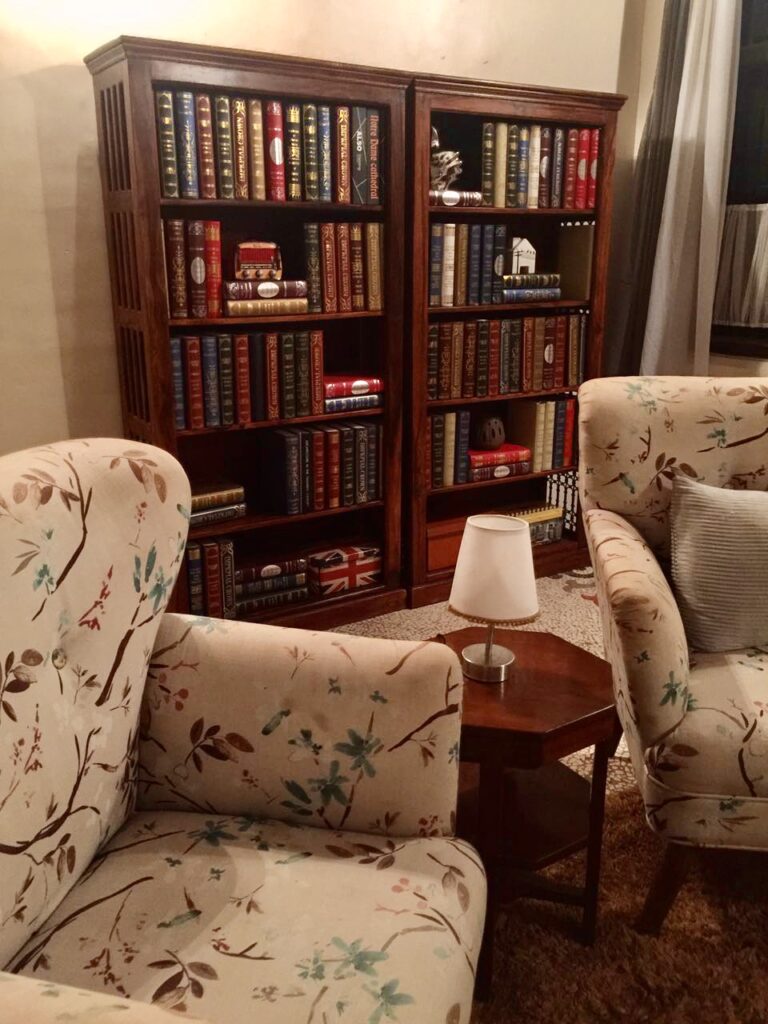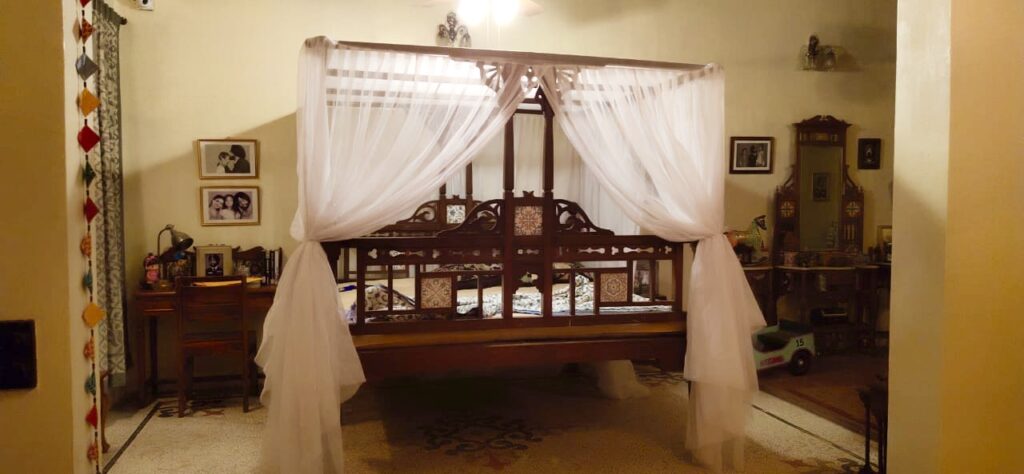 The Themed rooms and suites at Villa Rashmi
Villa Rashmi has some beautifully-done up rooms and suites. Presenting three of the themed spaces here.
The "Green" house – A Suite of rooms within Villa Rashmi
Green walls adorn this particular suite, which is why it is called The Green House.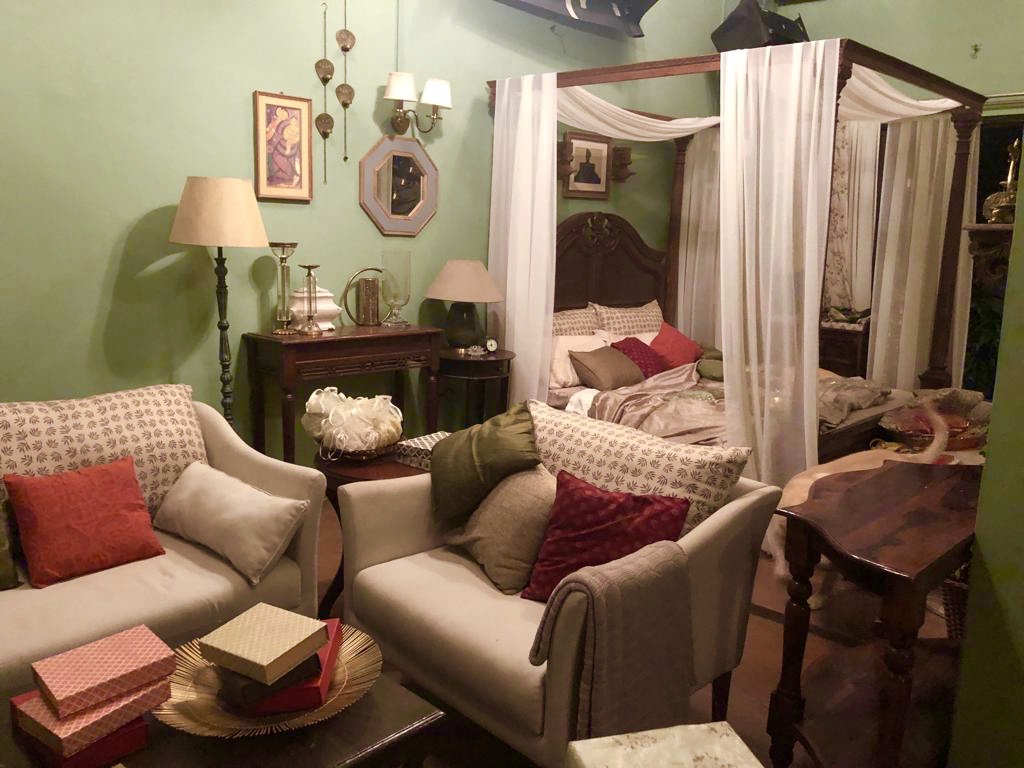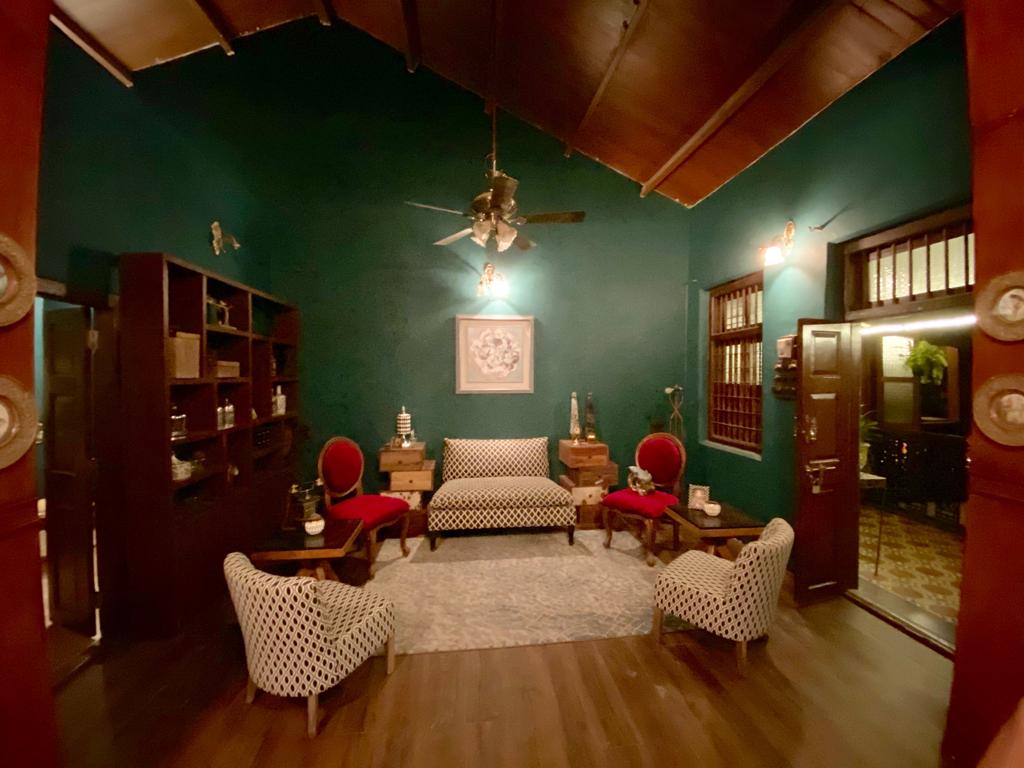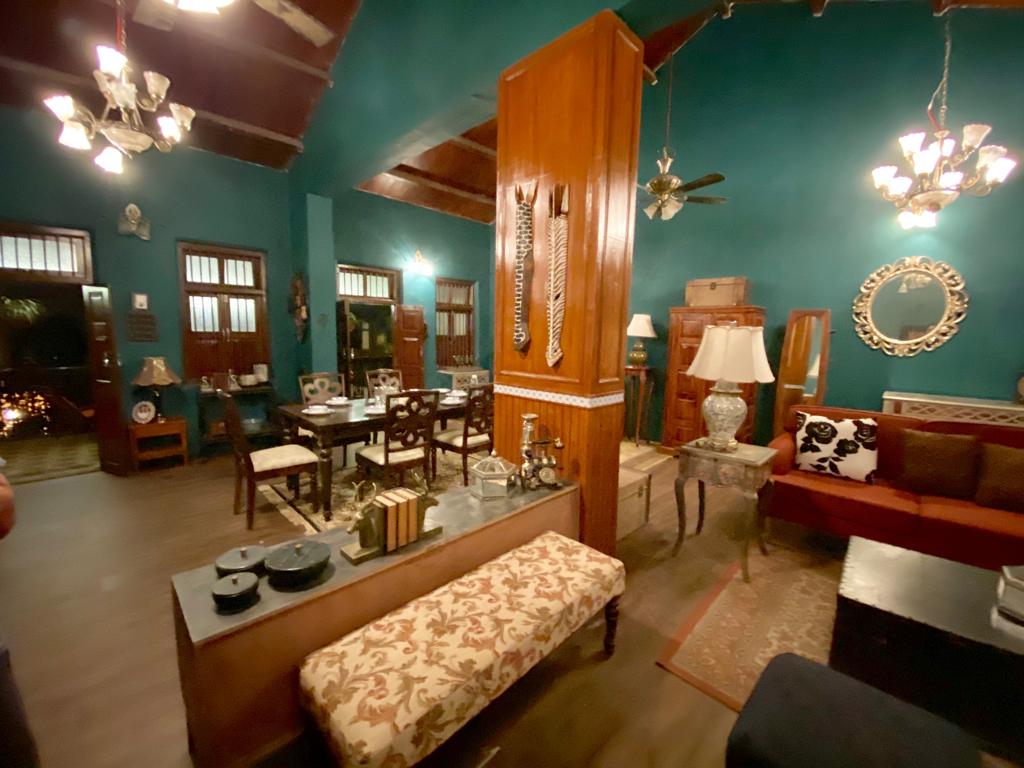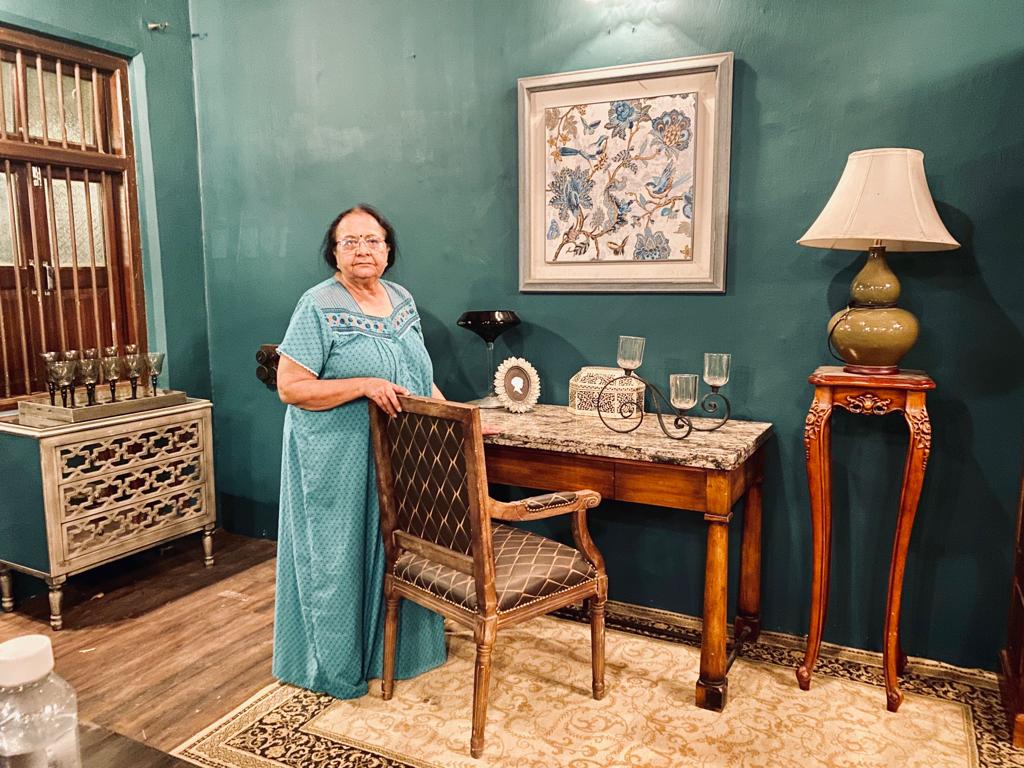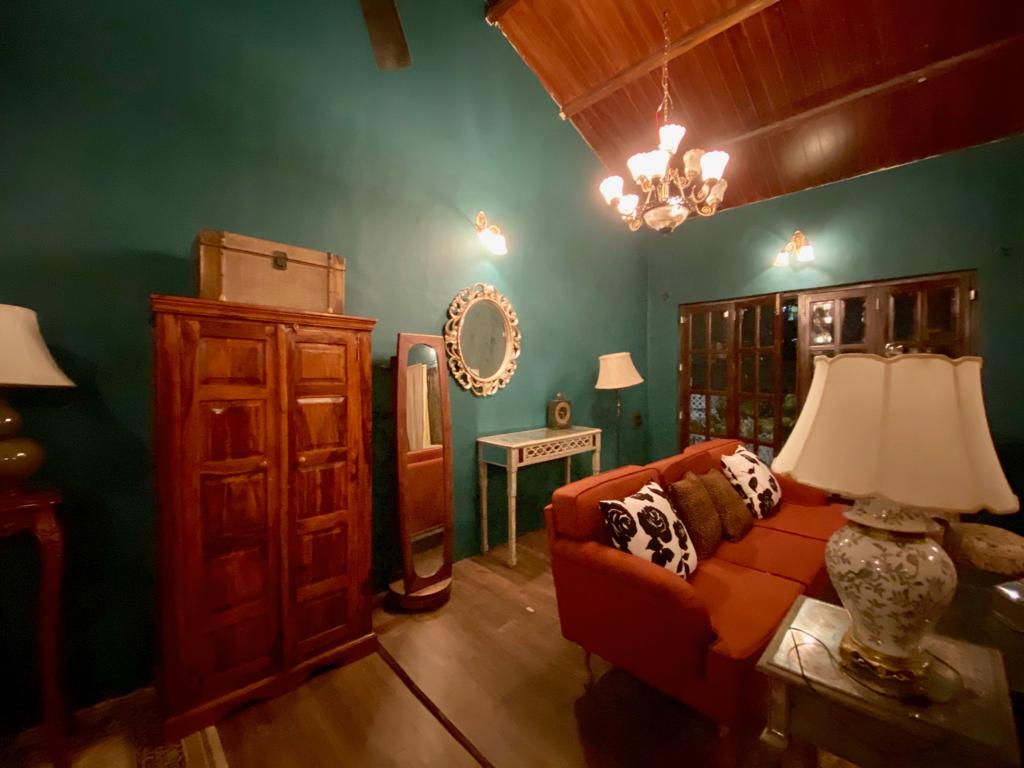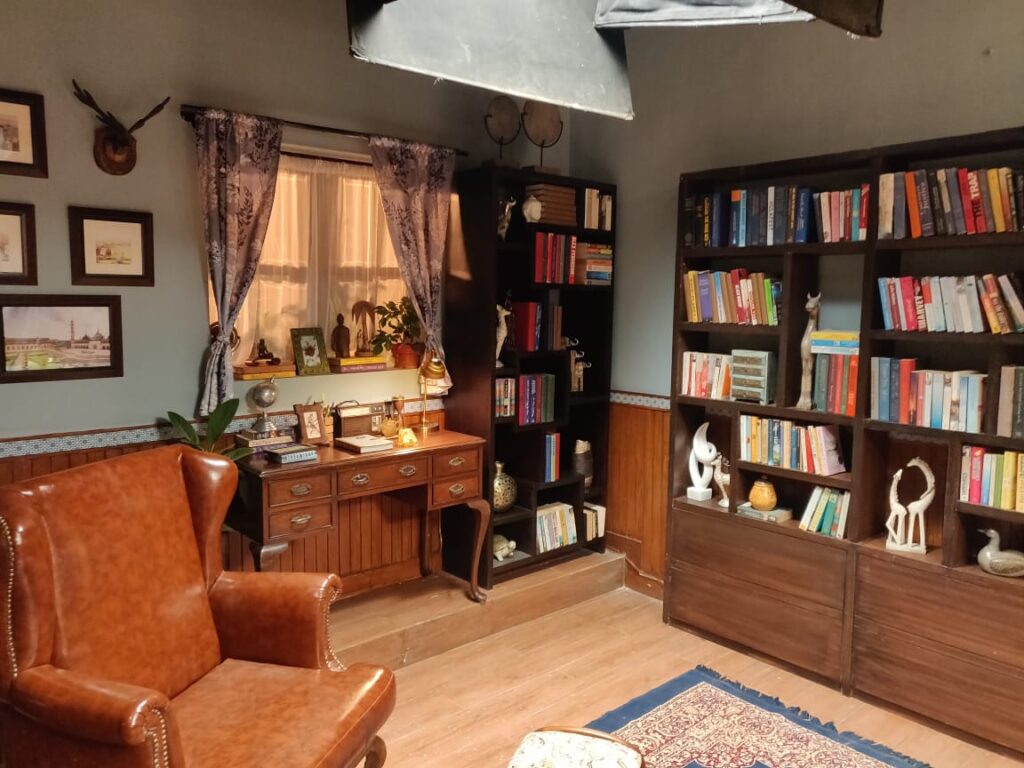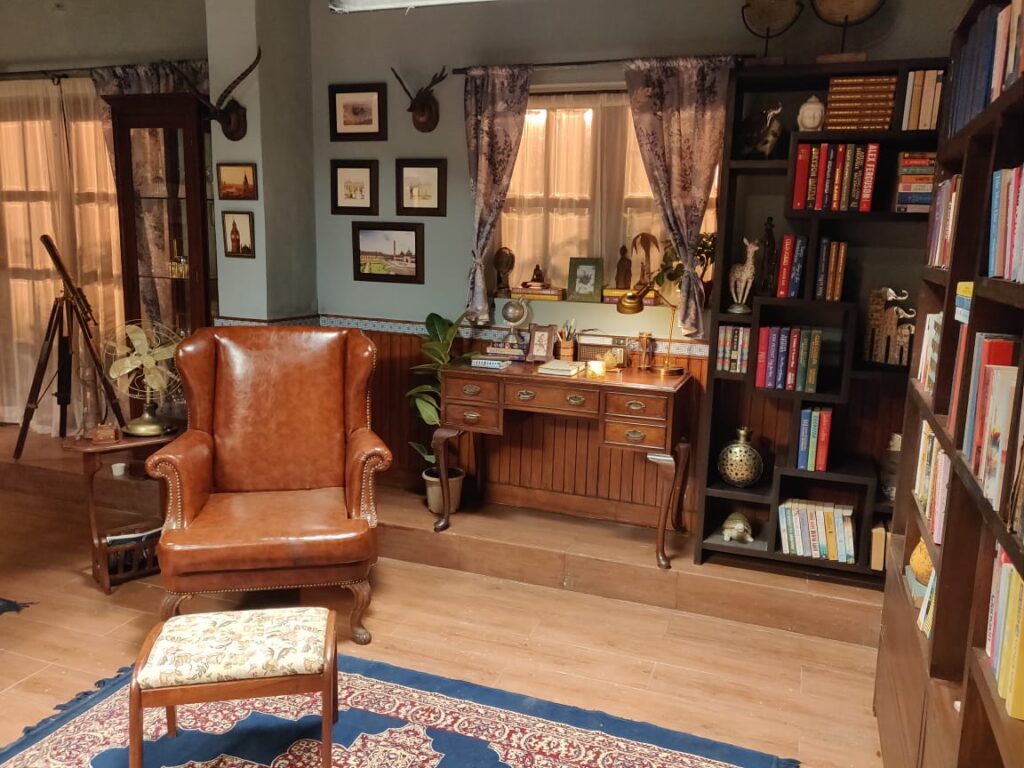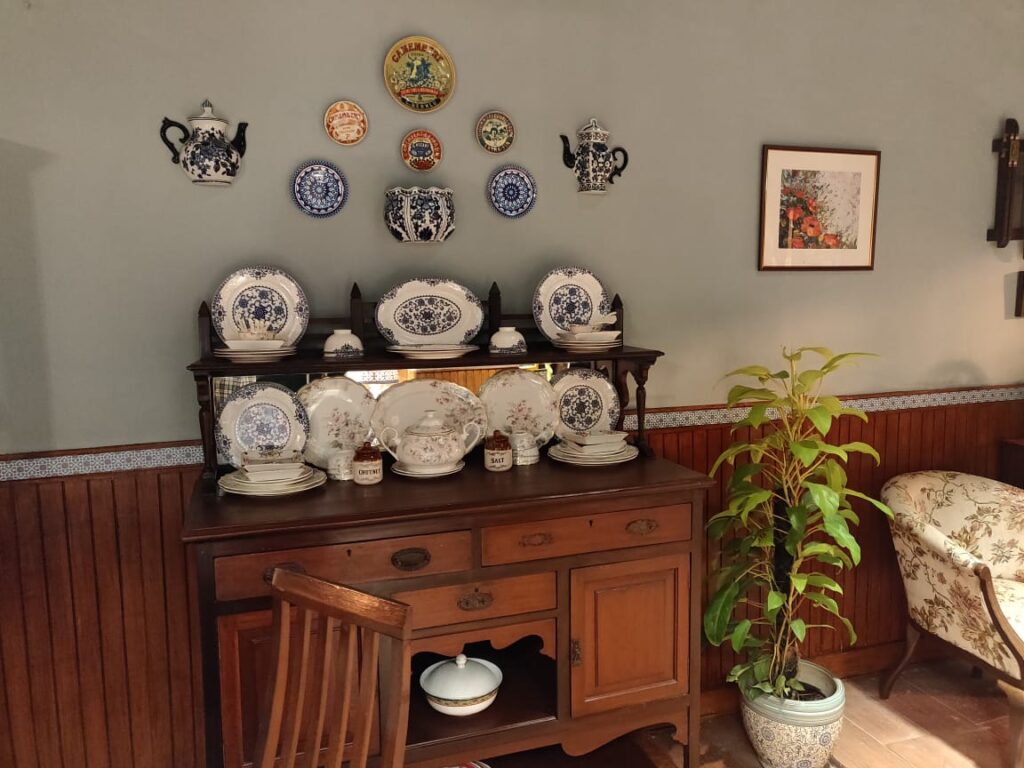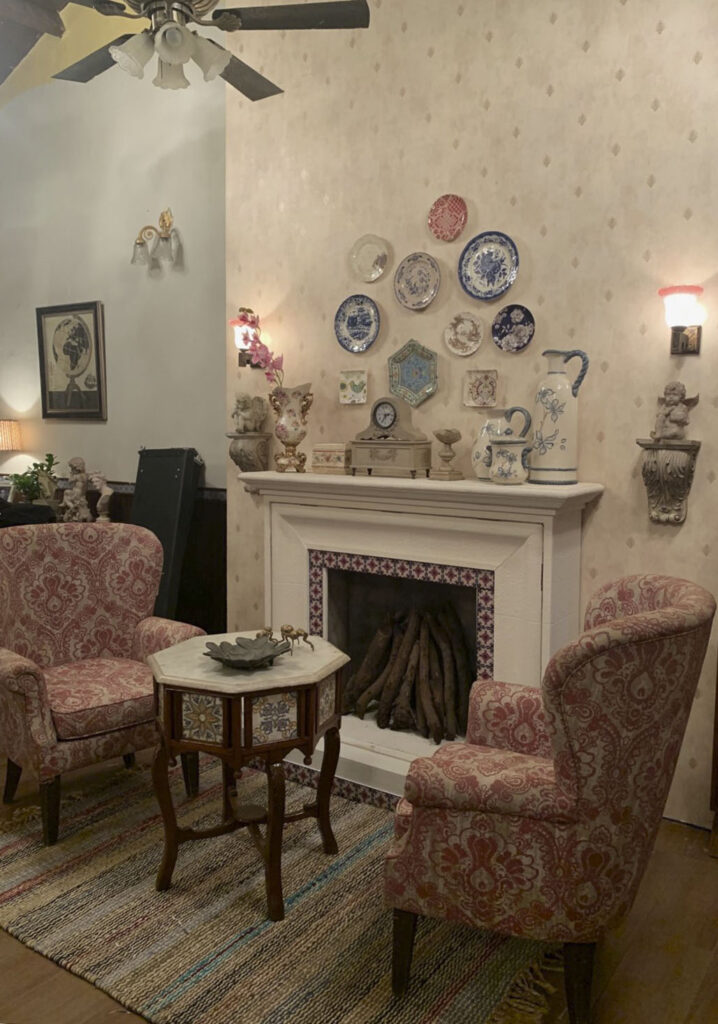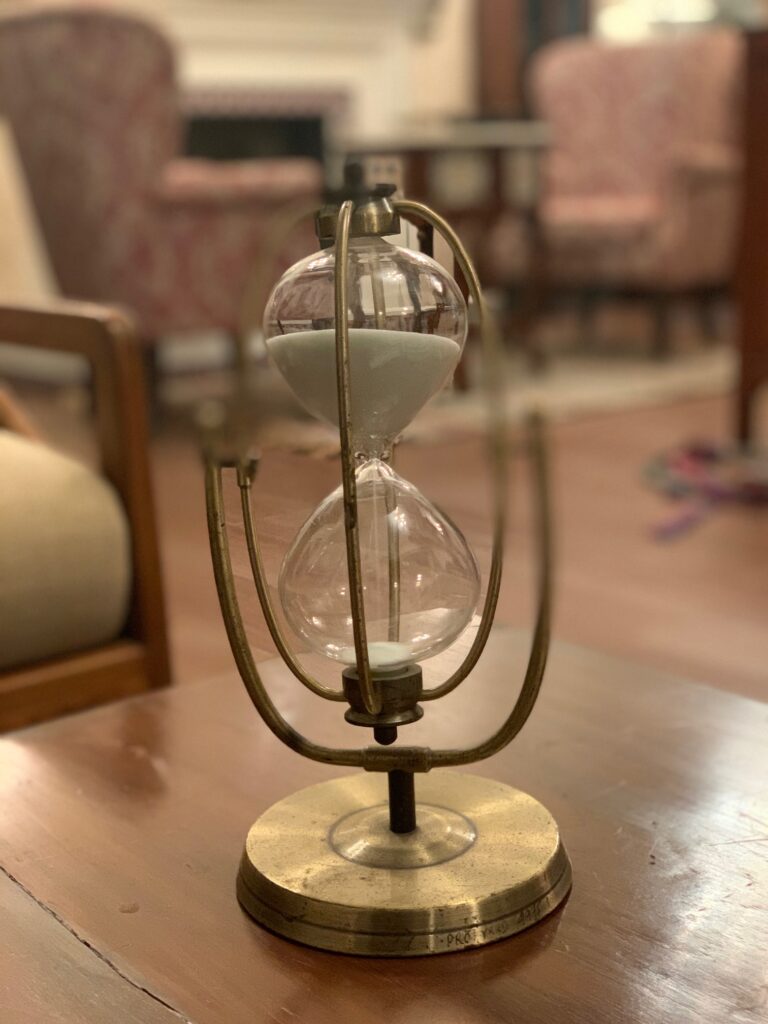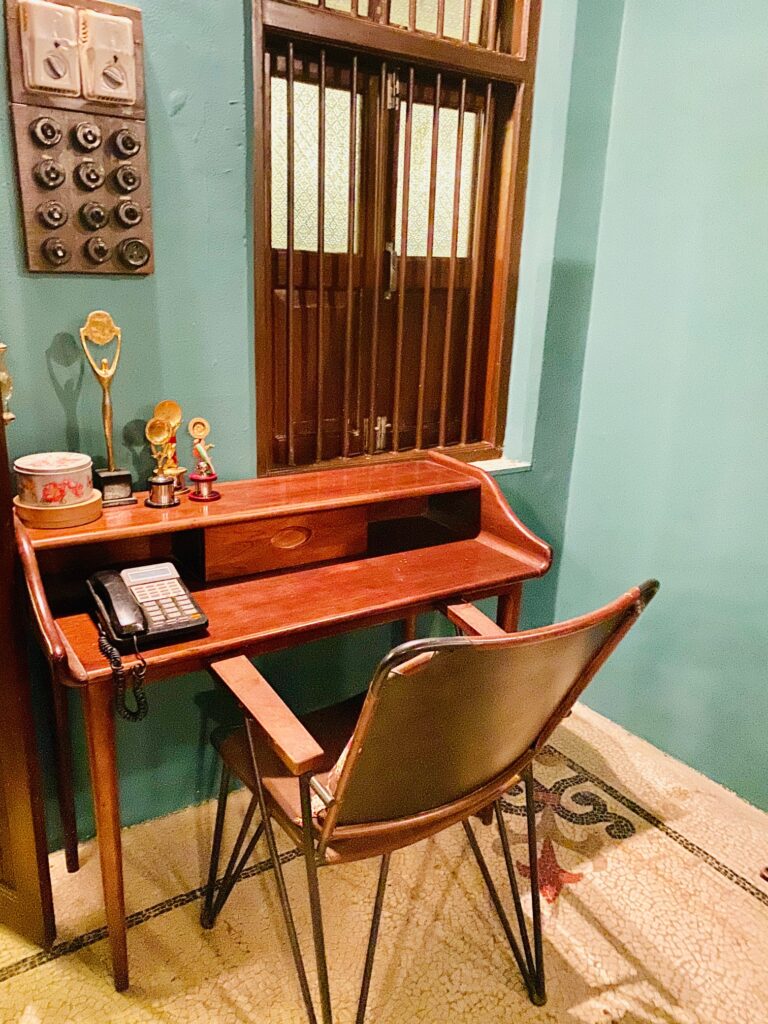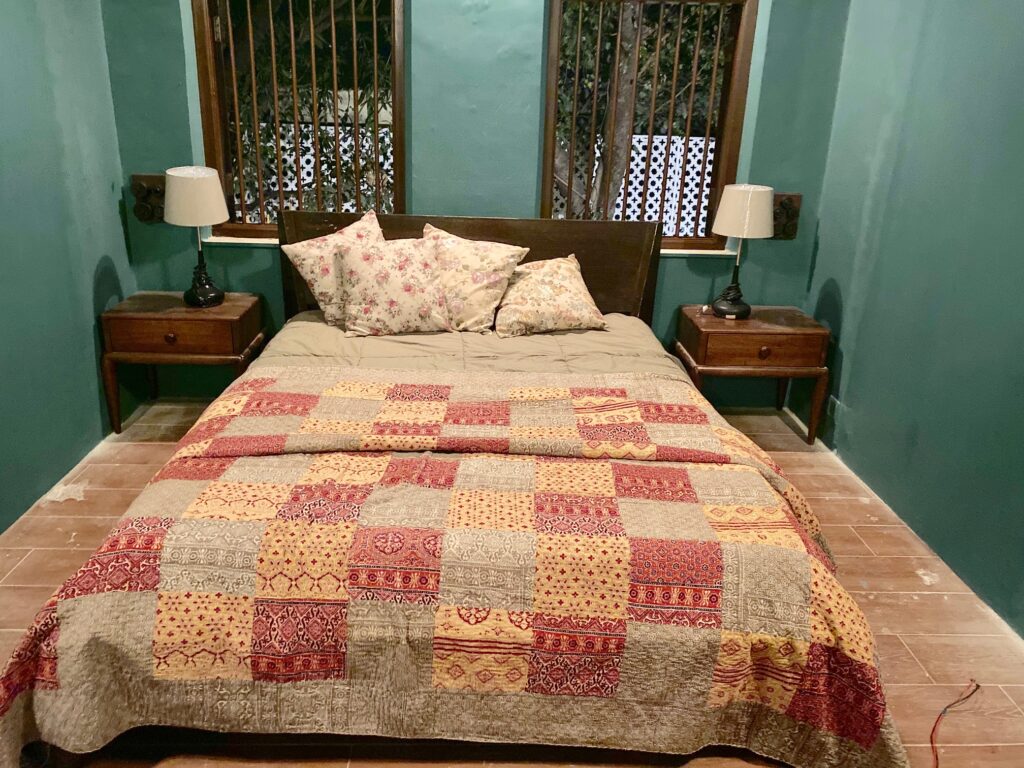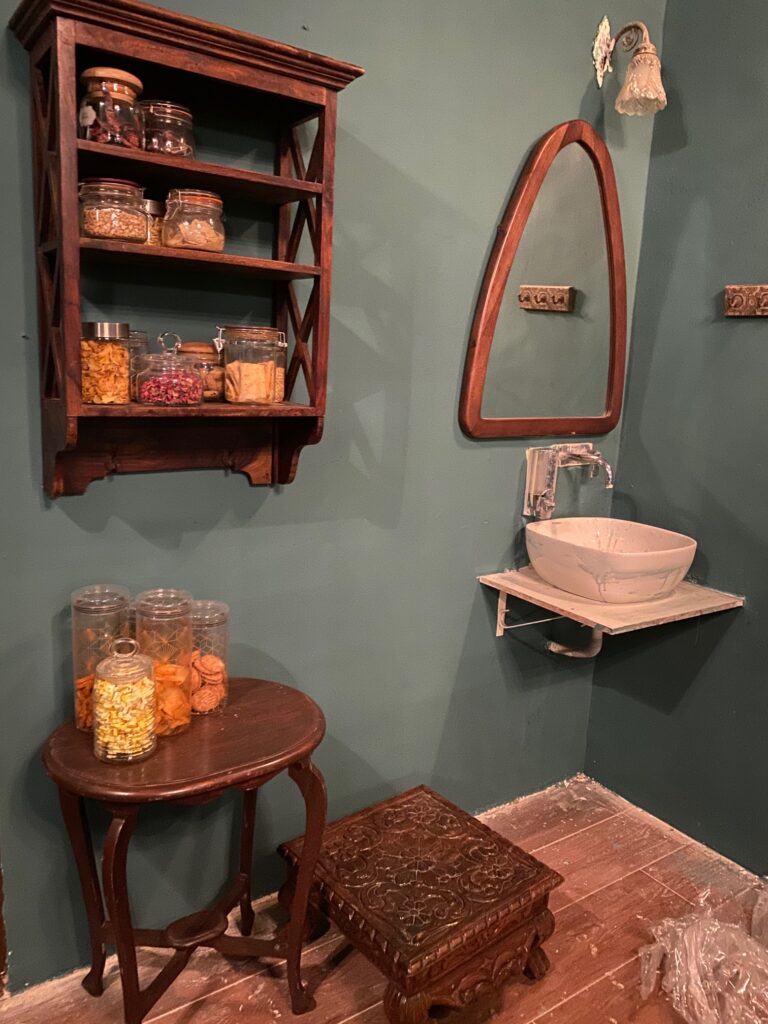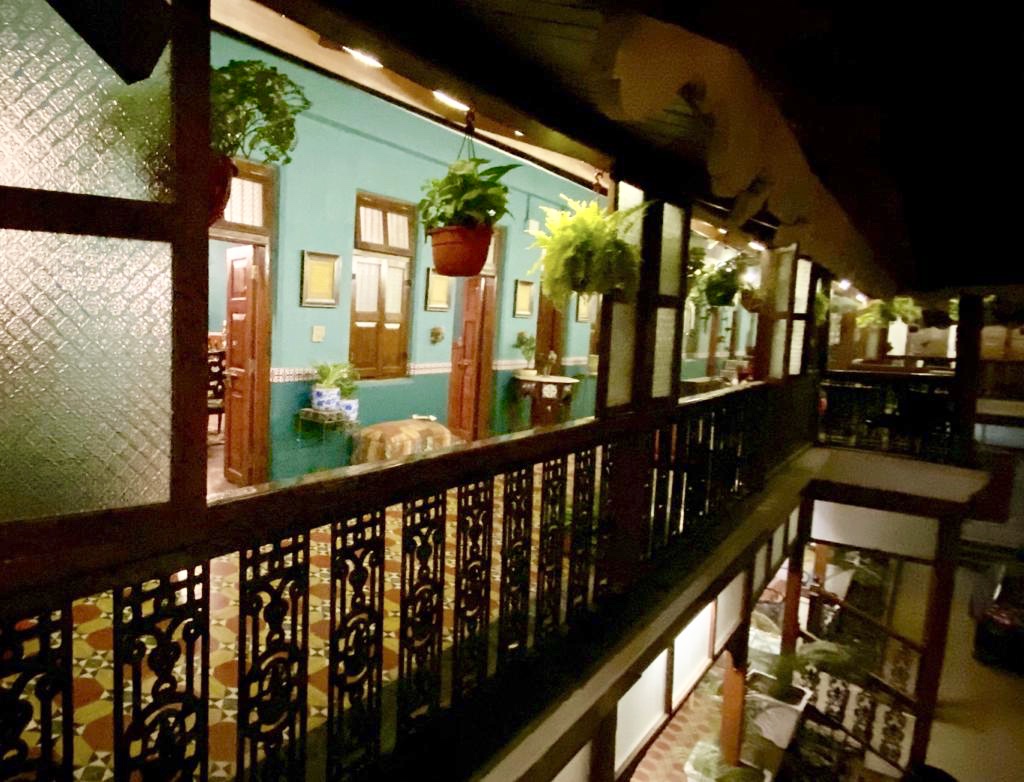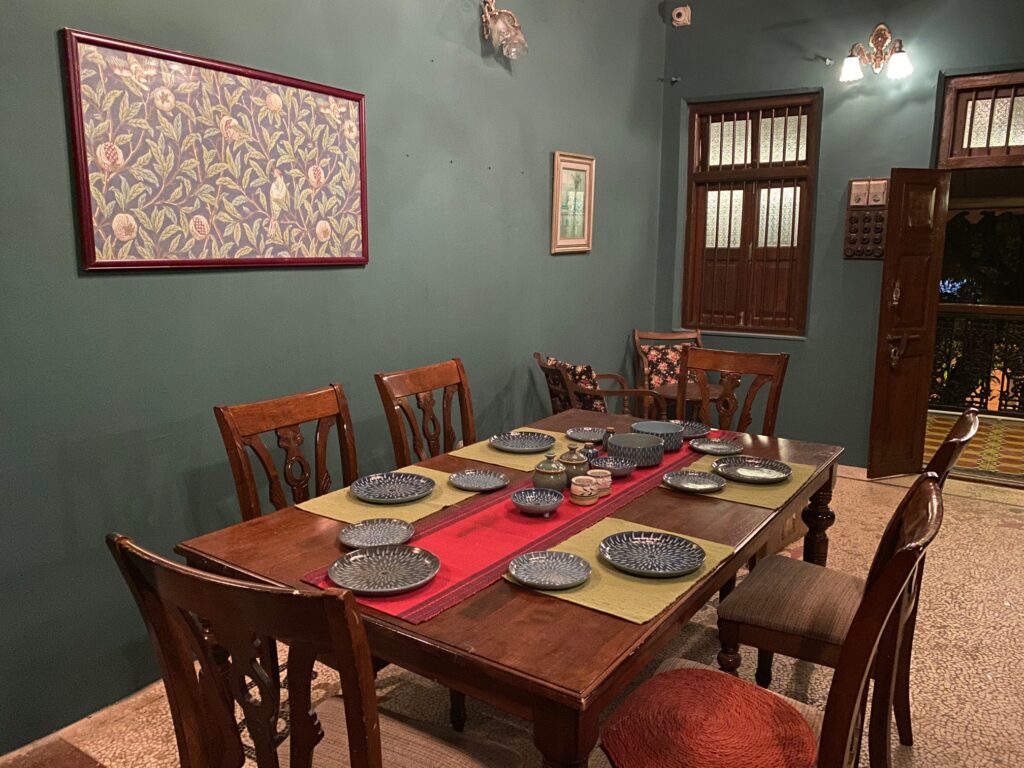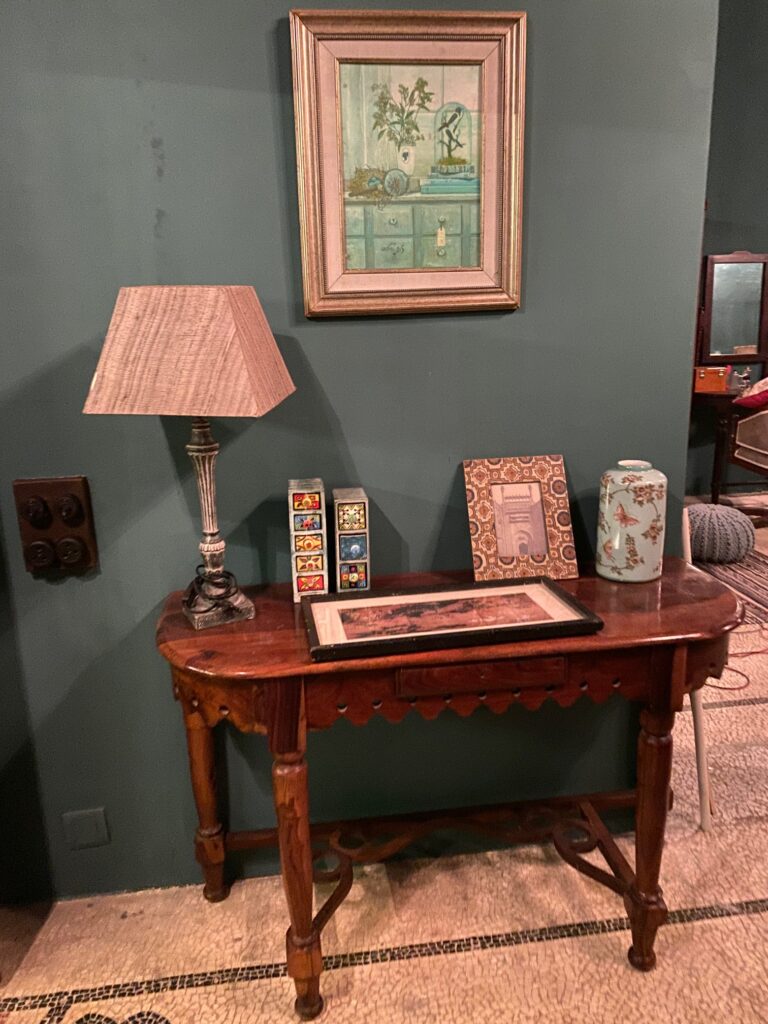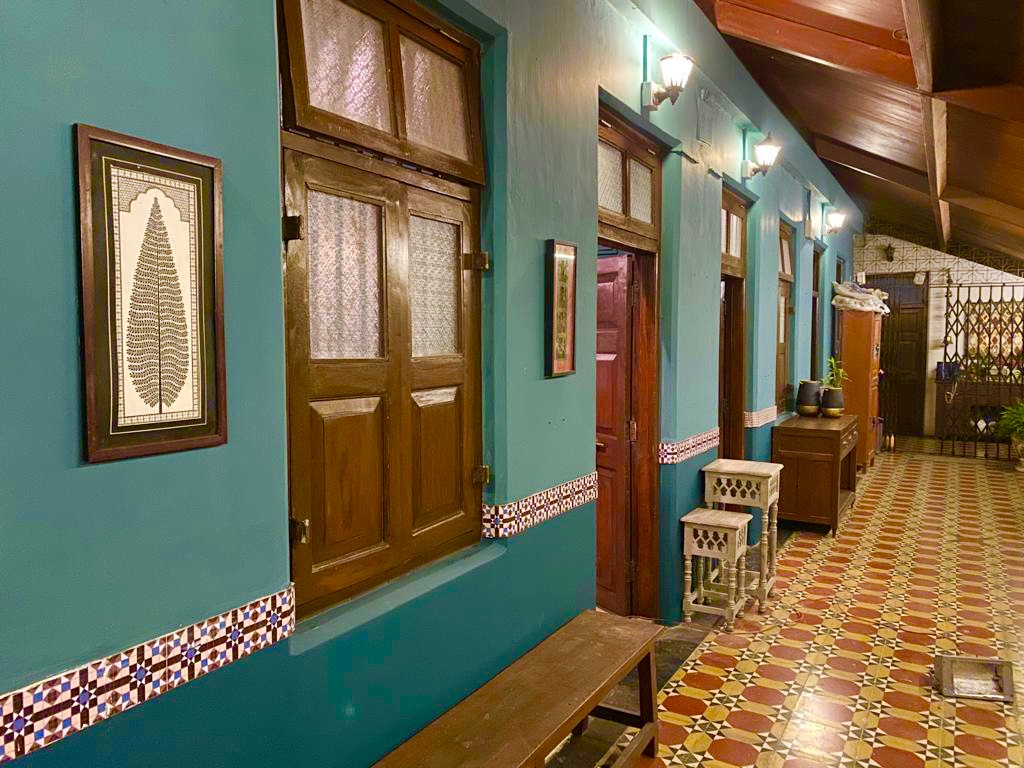 A South-Indian themed bedroom
Brass and wood dominate this large bedroom, and the wall colours complement!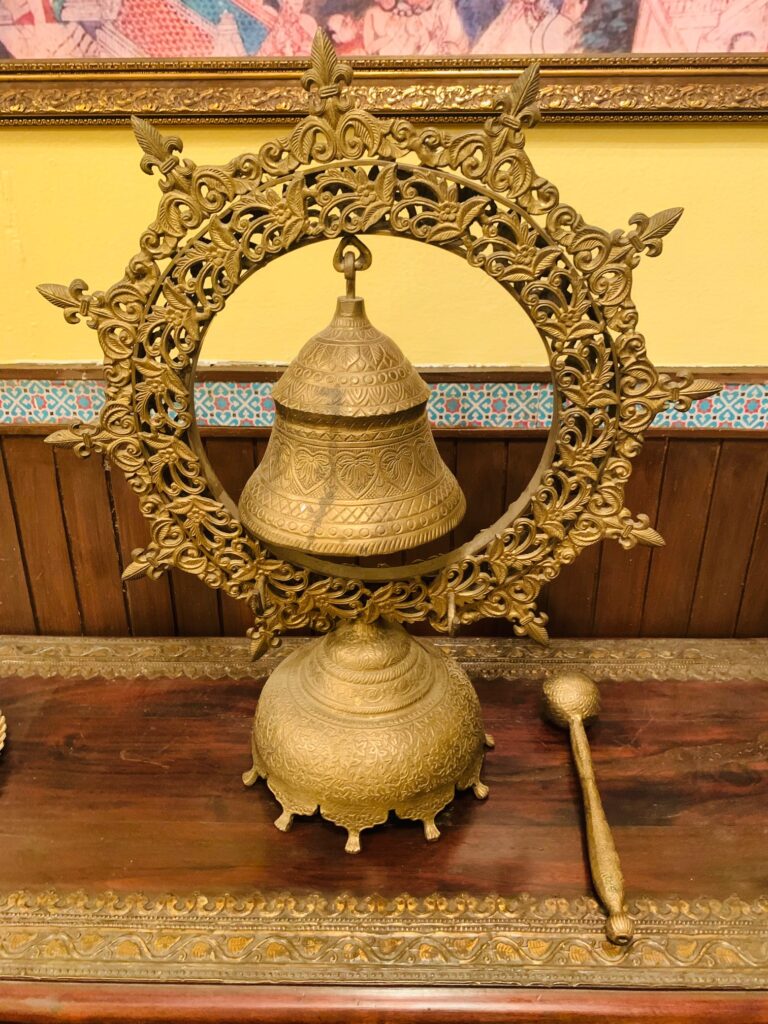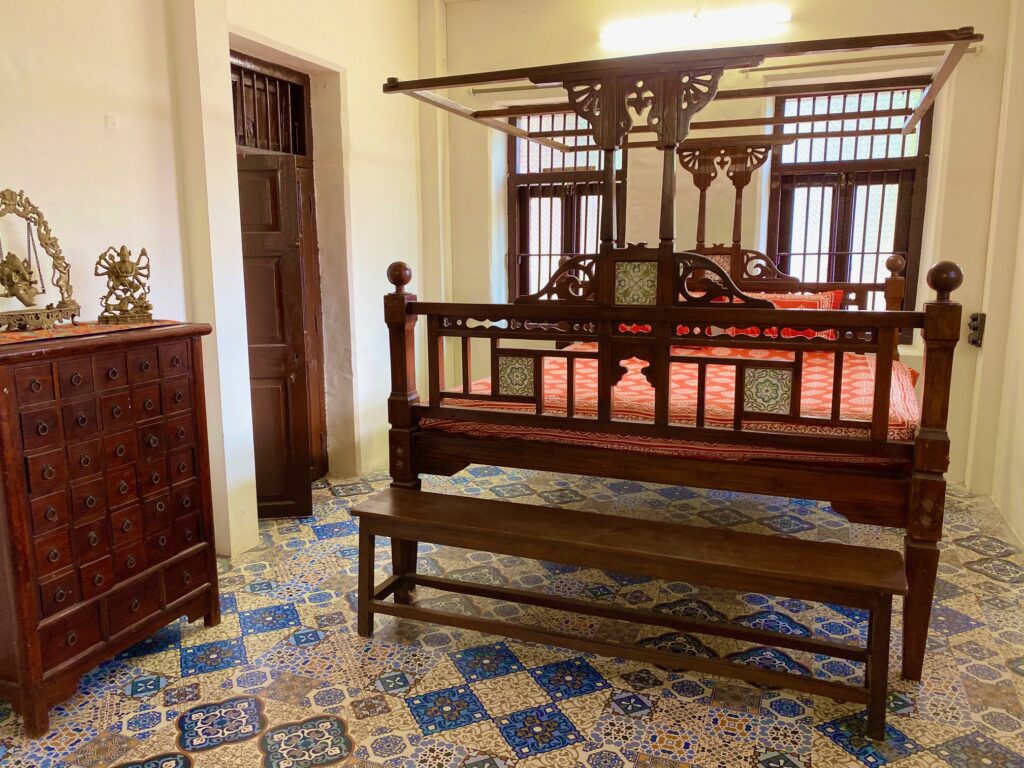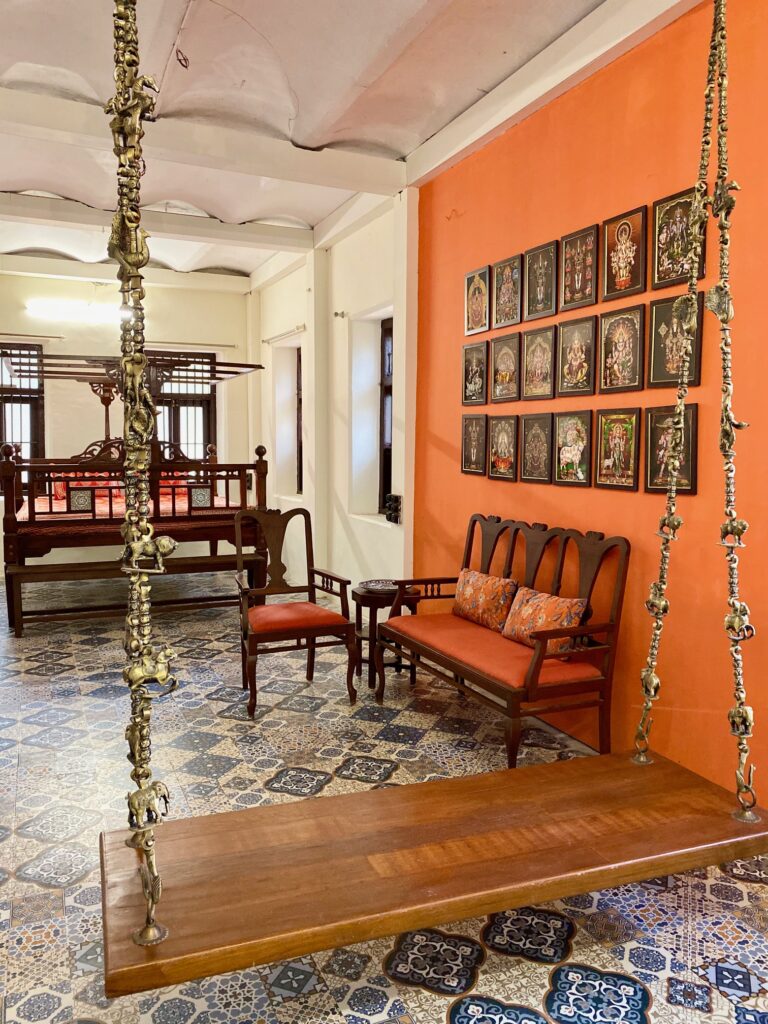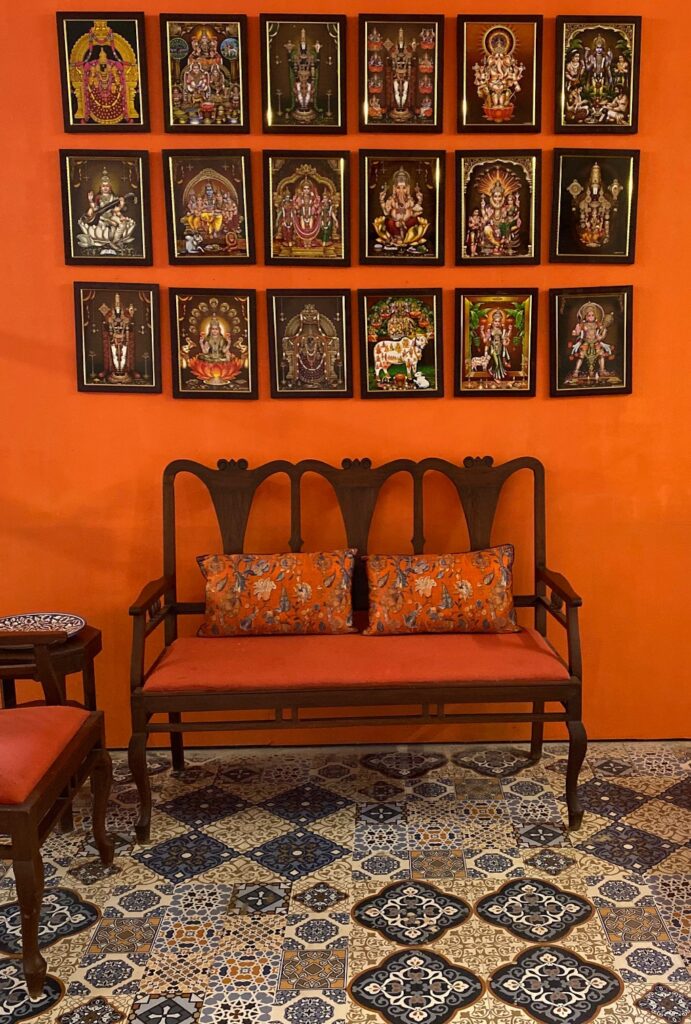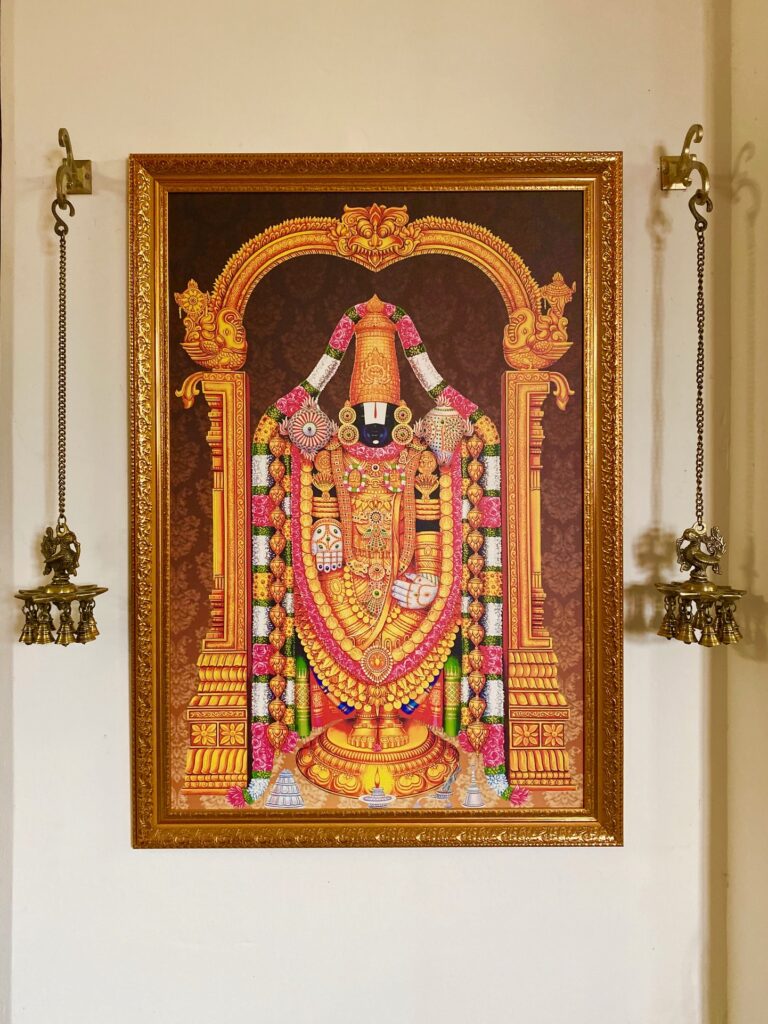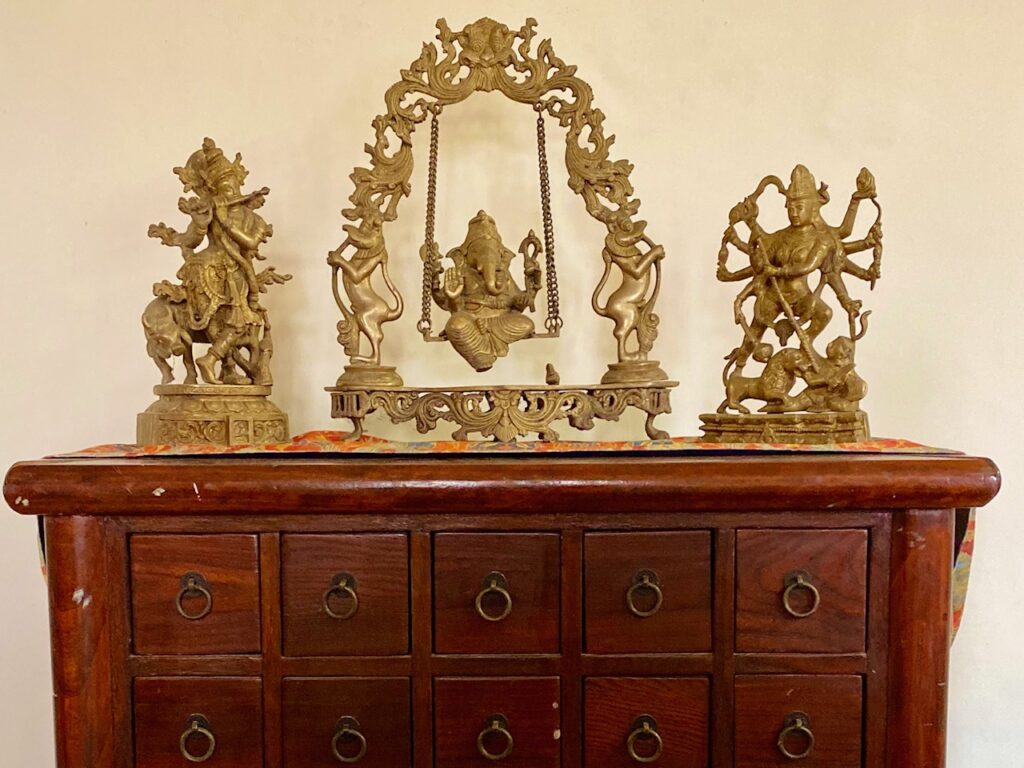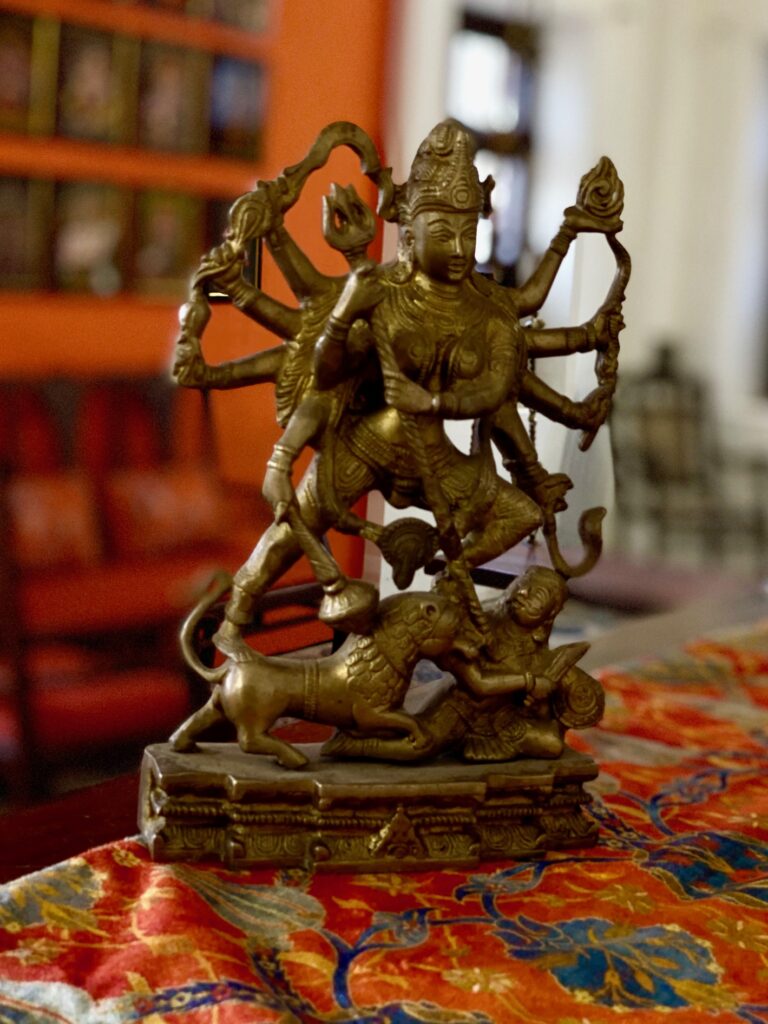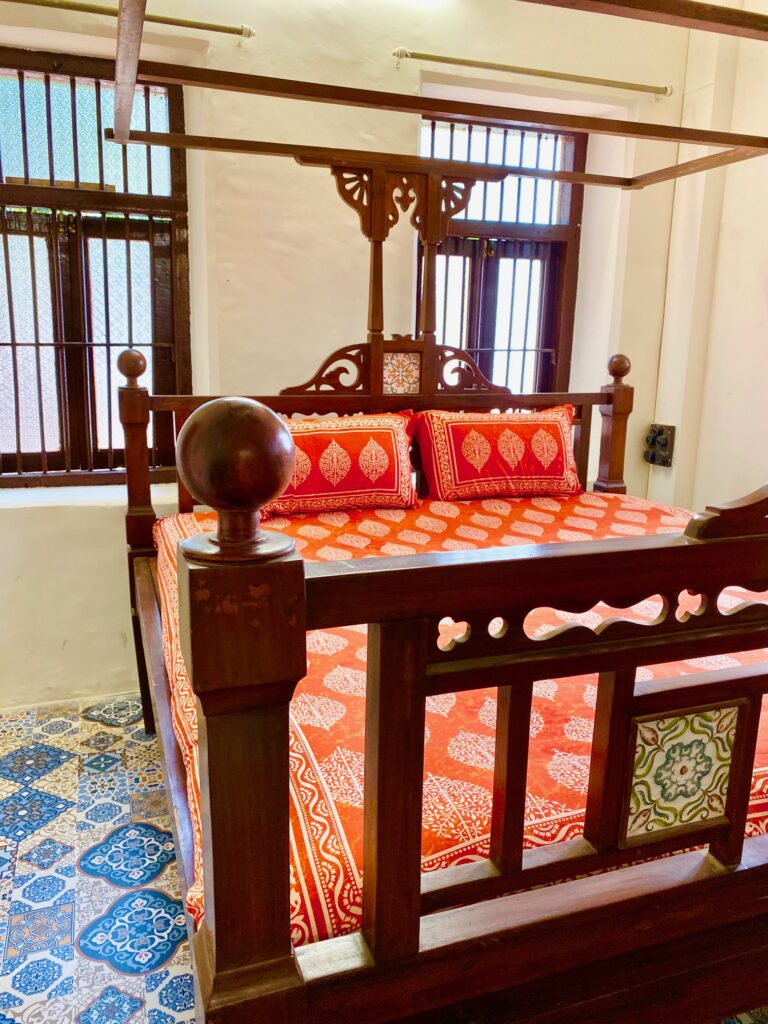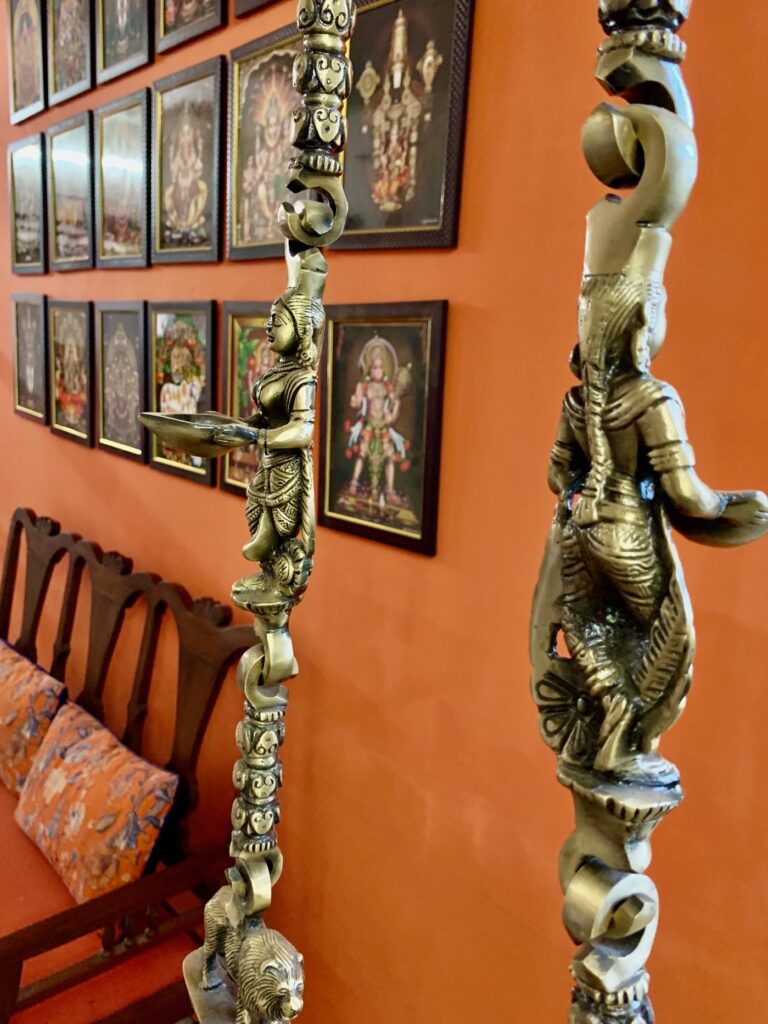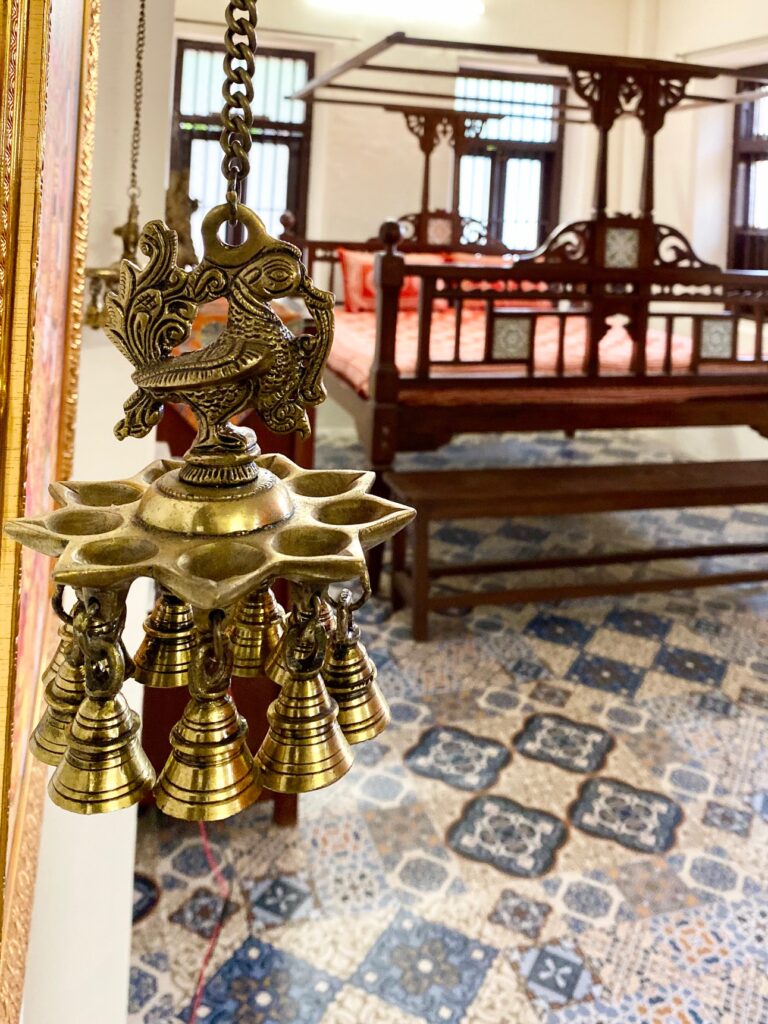 Pastel Yellow Bedroom
Each image carries so much within itself. There's a story that presents itself to us, there are details, and charming old-world touches that will fill us with wonder!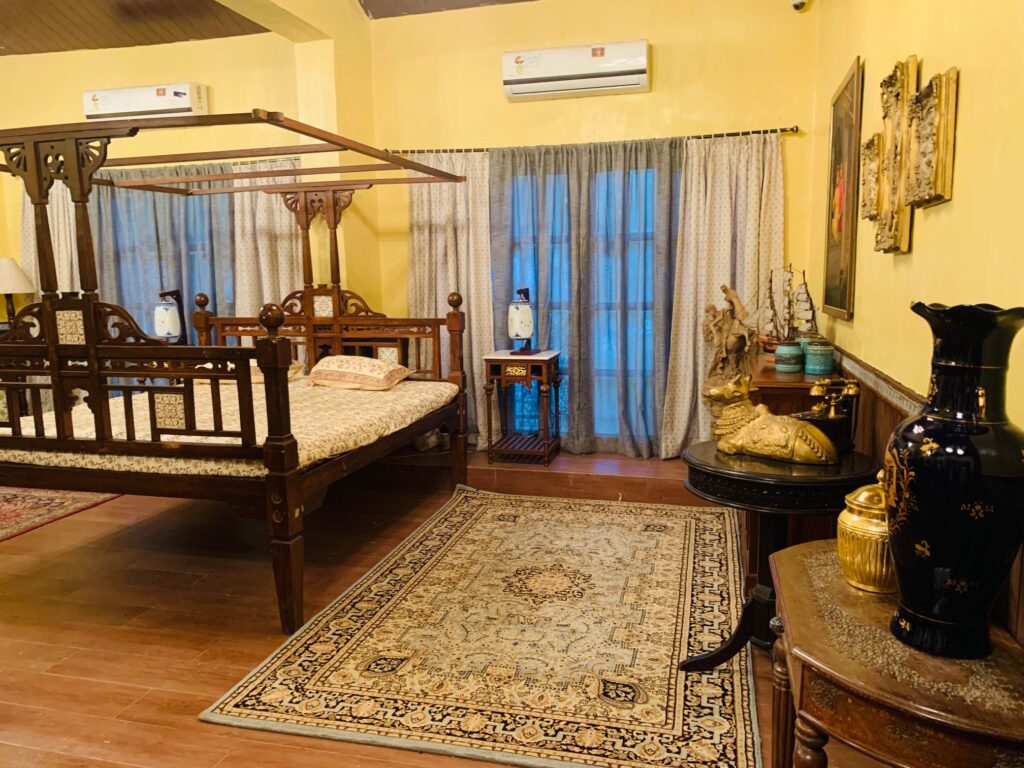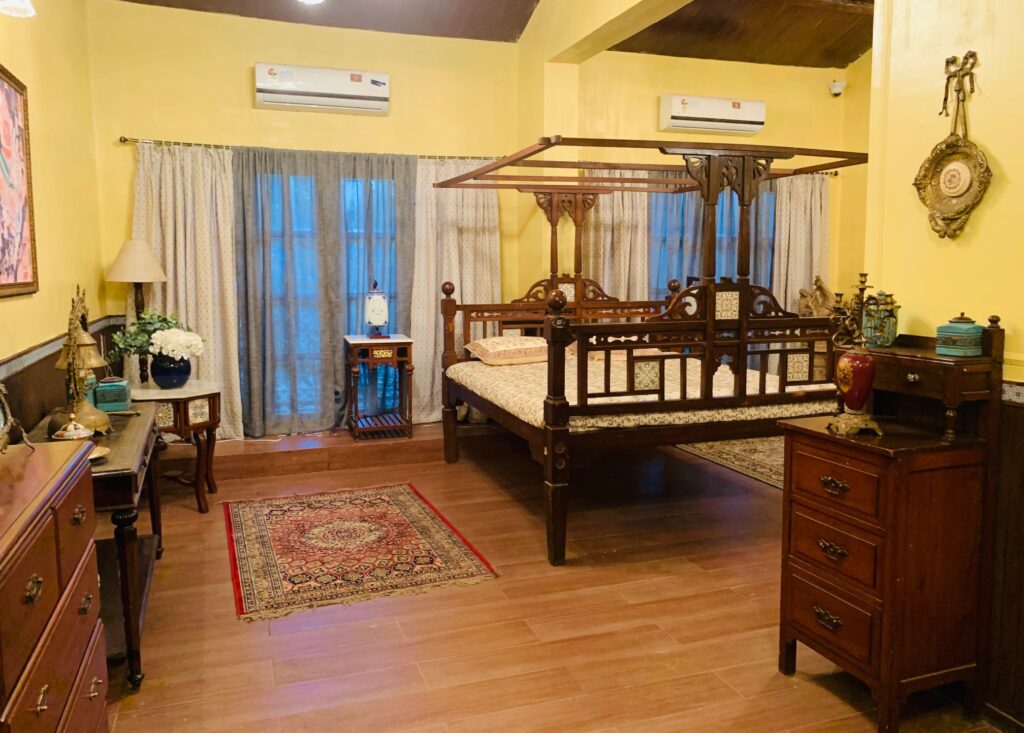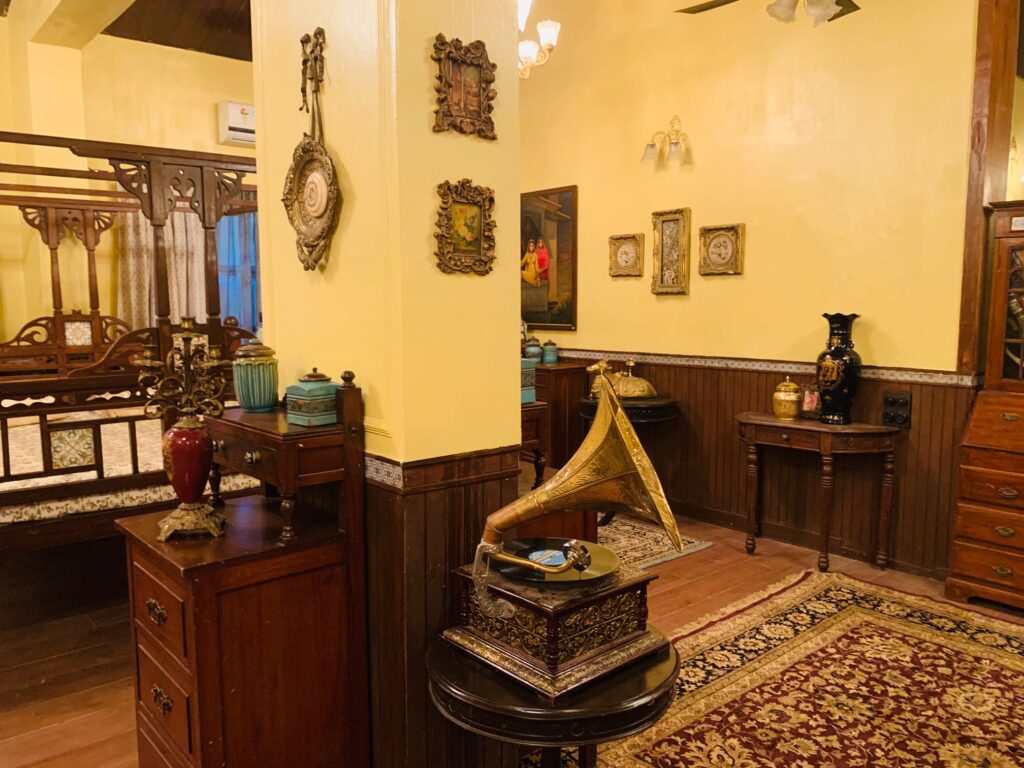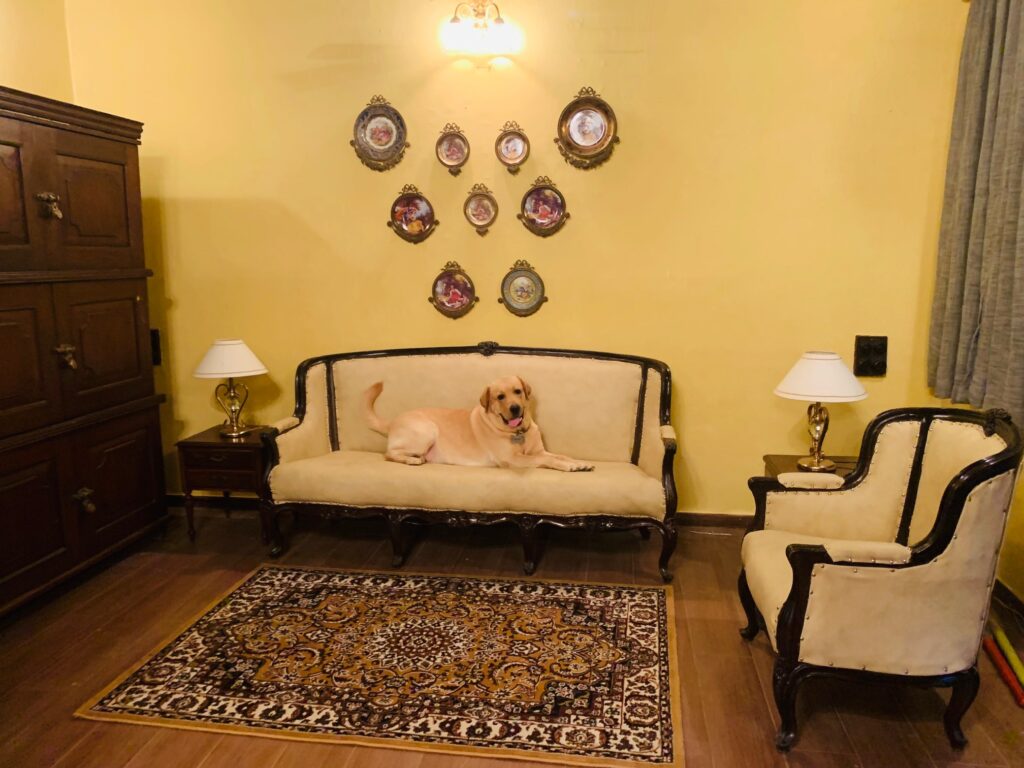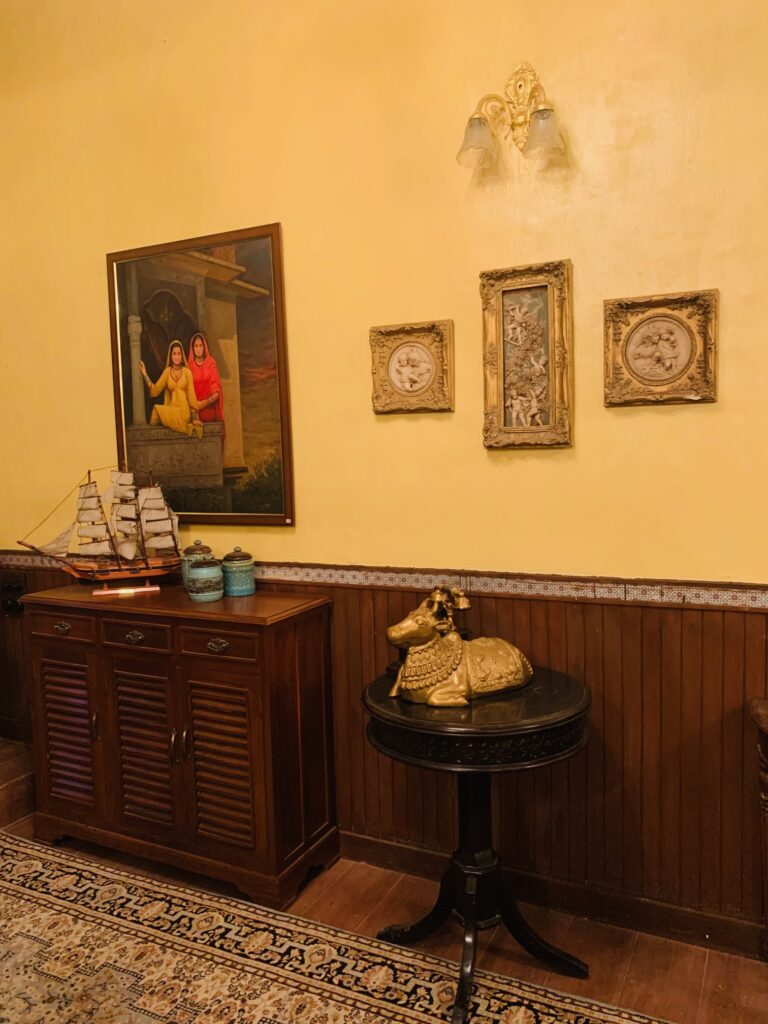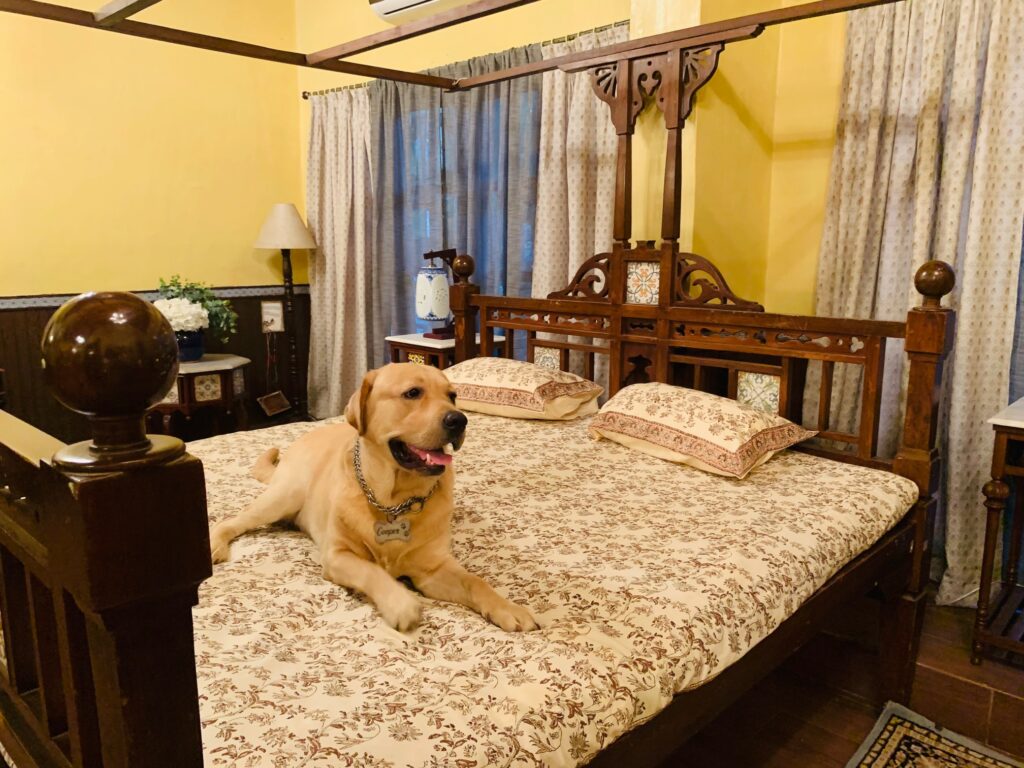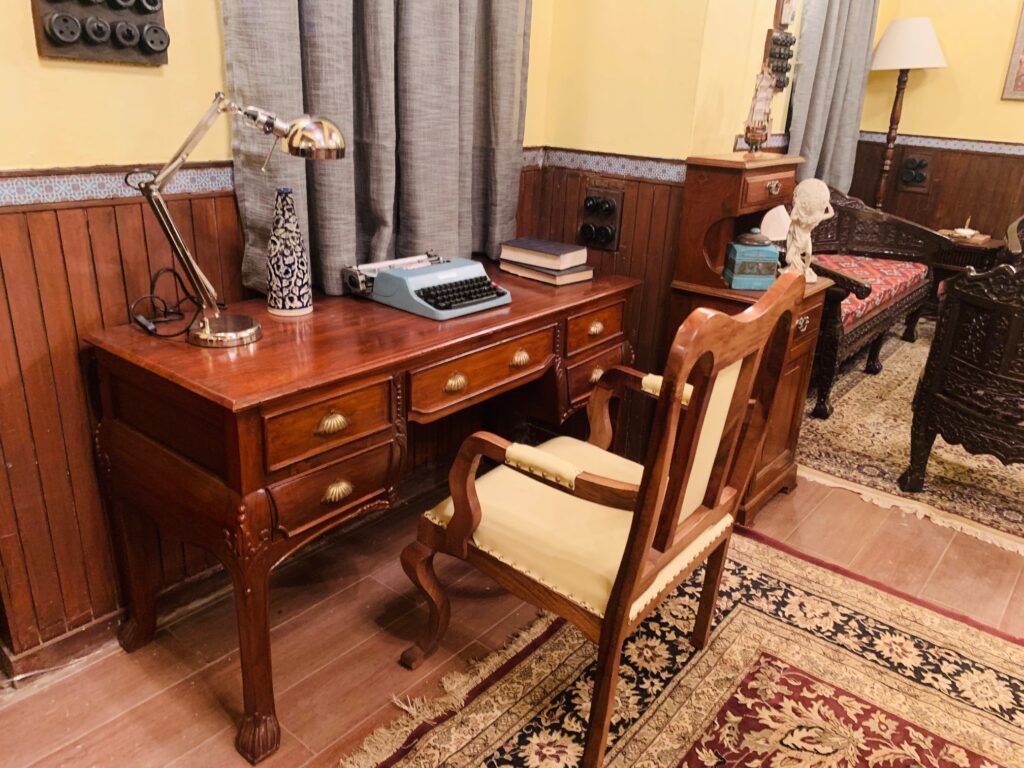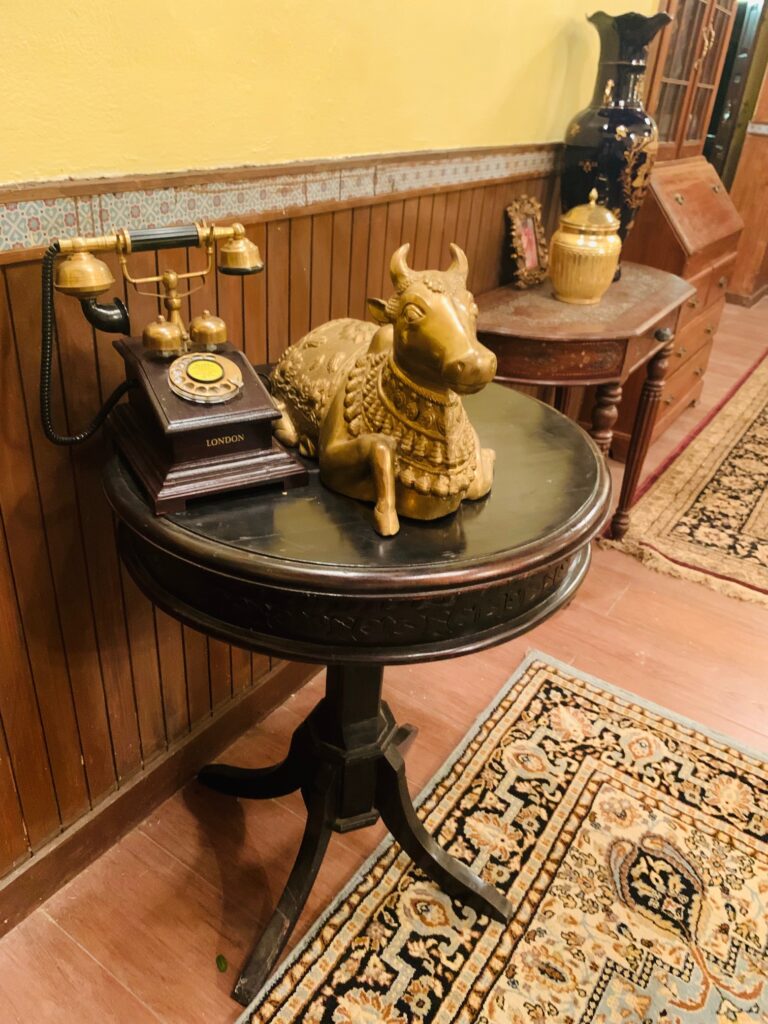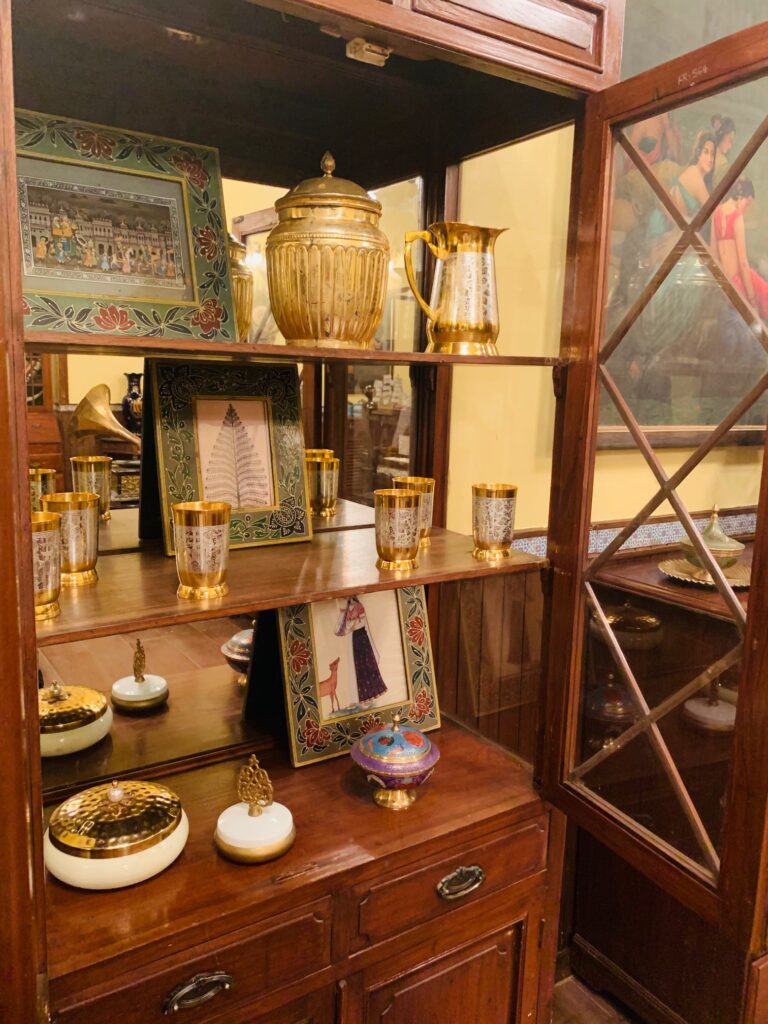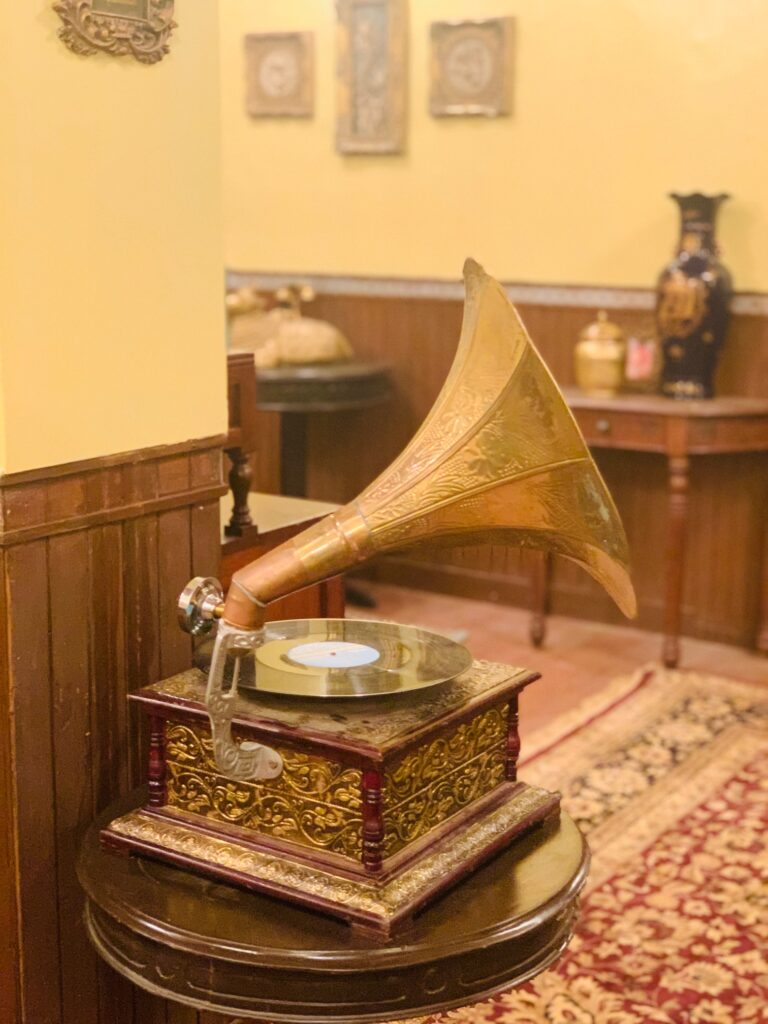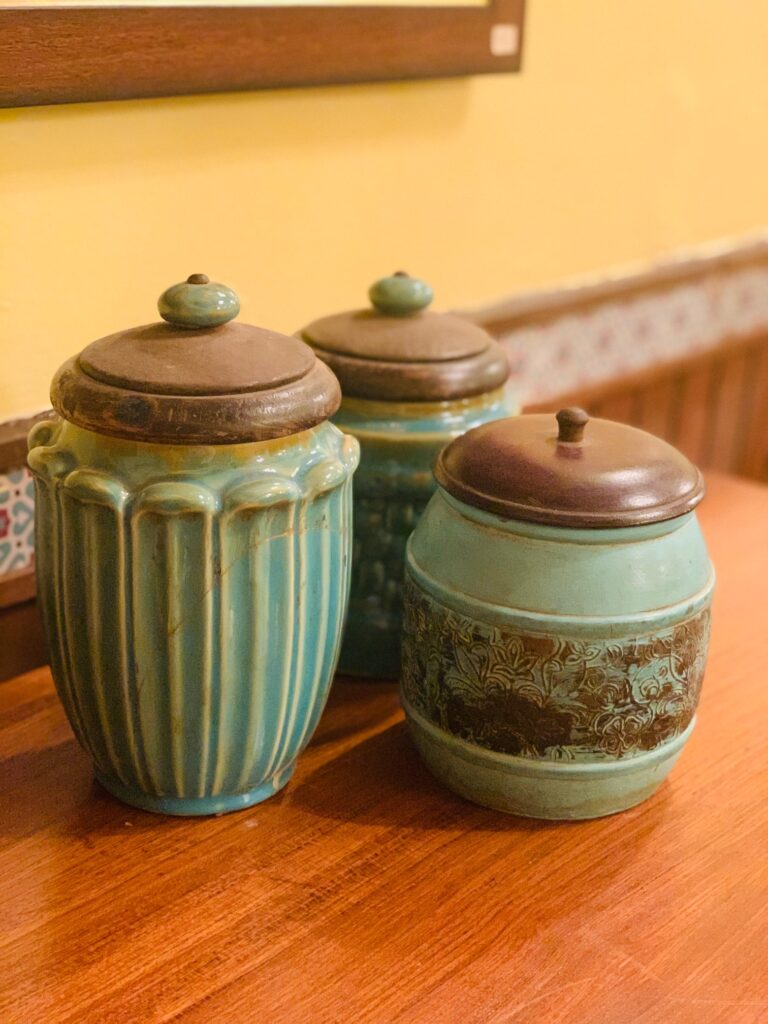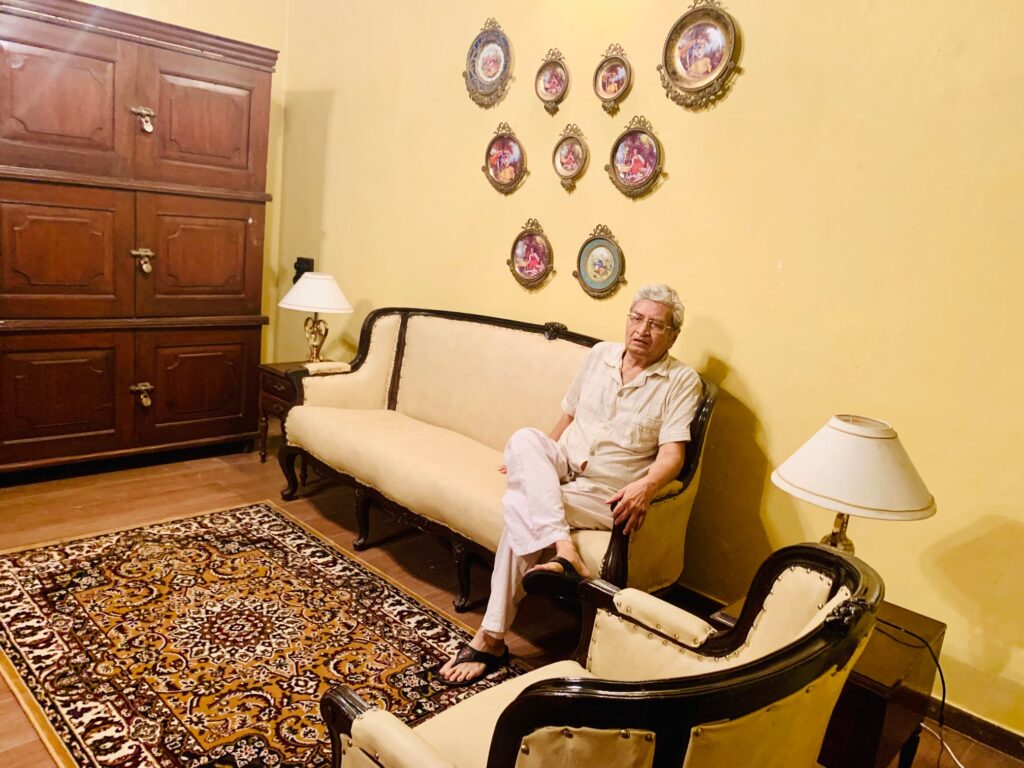 Some Sepia Charm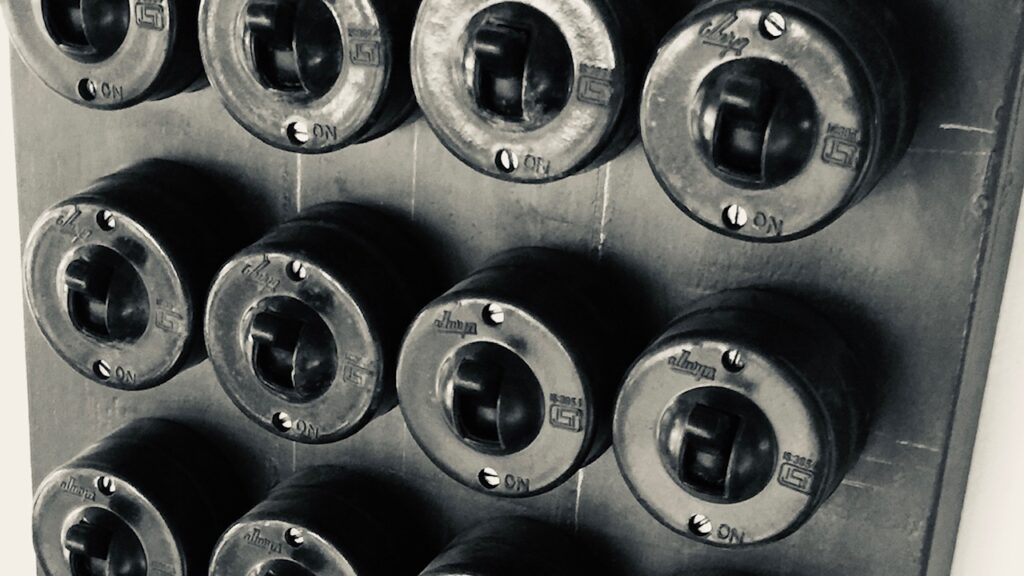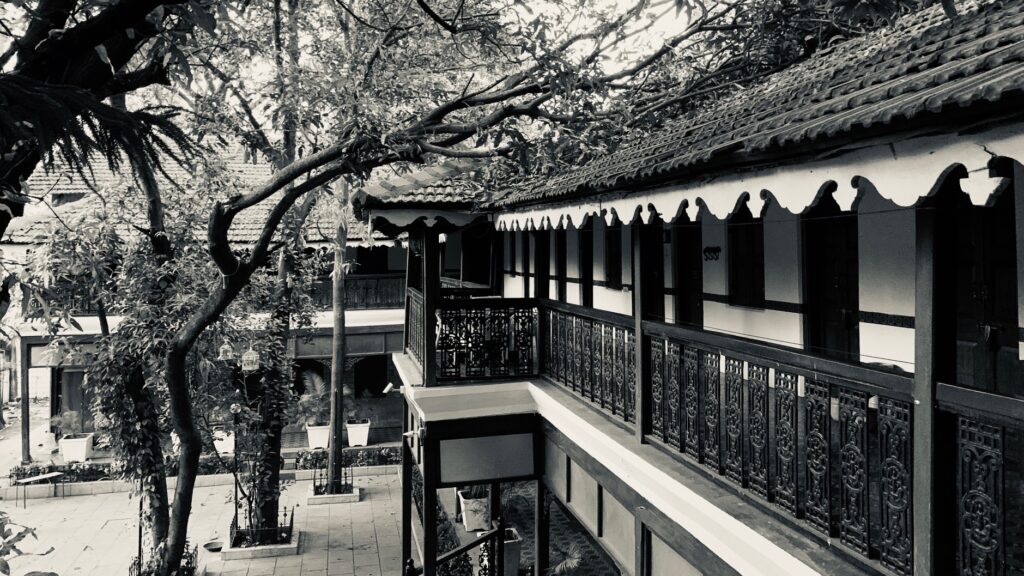 The Gardens
Vast and put to the best use, the gardens at Villa Rashmi provide colour, leisure and bountiful harvests!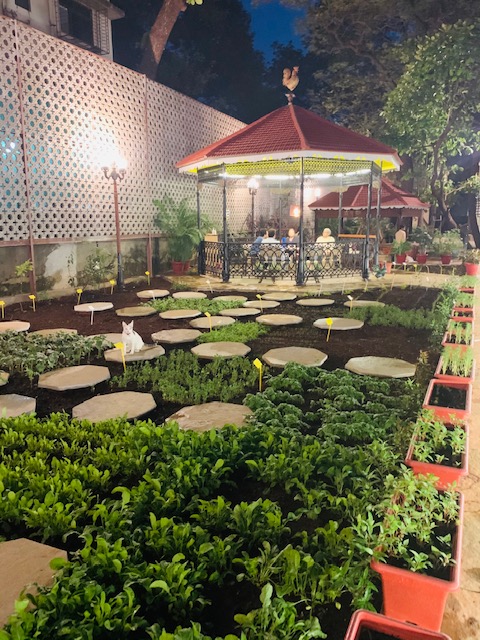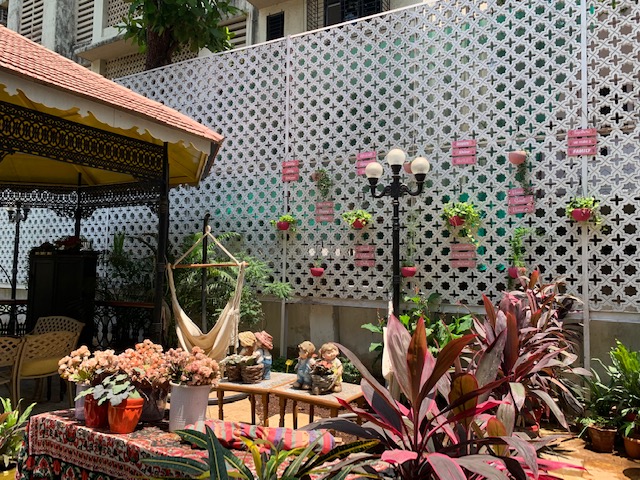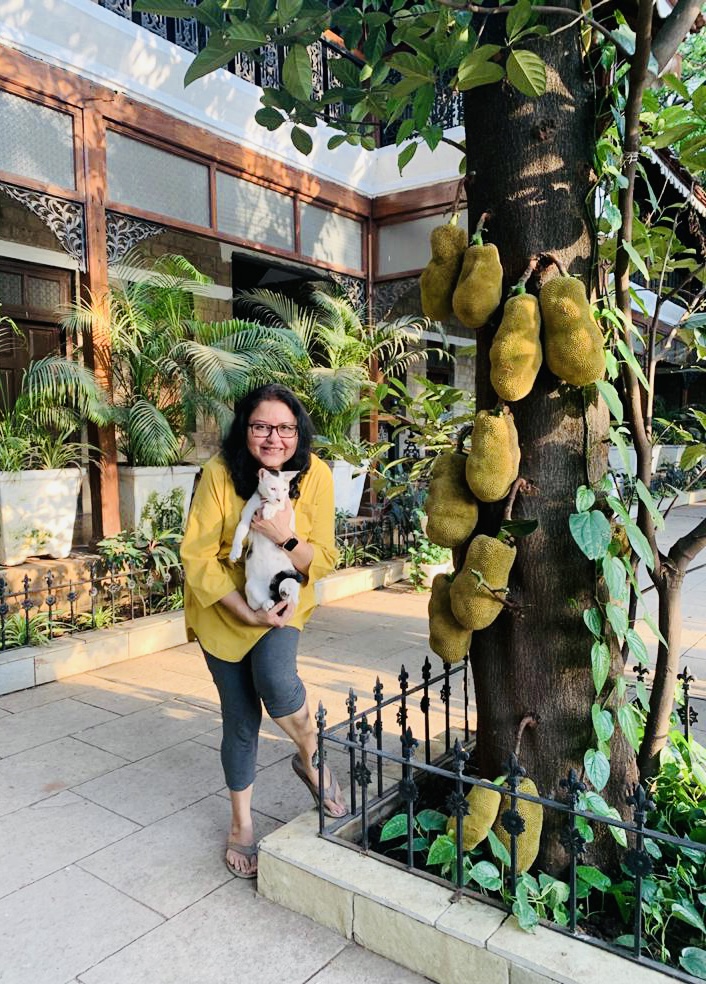 The Verandahs & Balconies
I love the romance of old world verandahs and balconies. I saved this set of images for the end, because they are my absolute favourites. The beautiful verandahs and balconies of Villa Rashmi will charm you!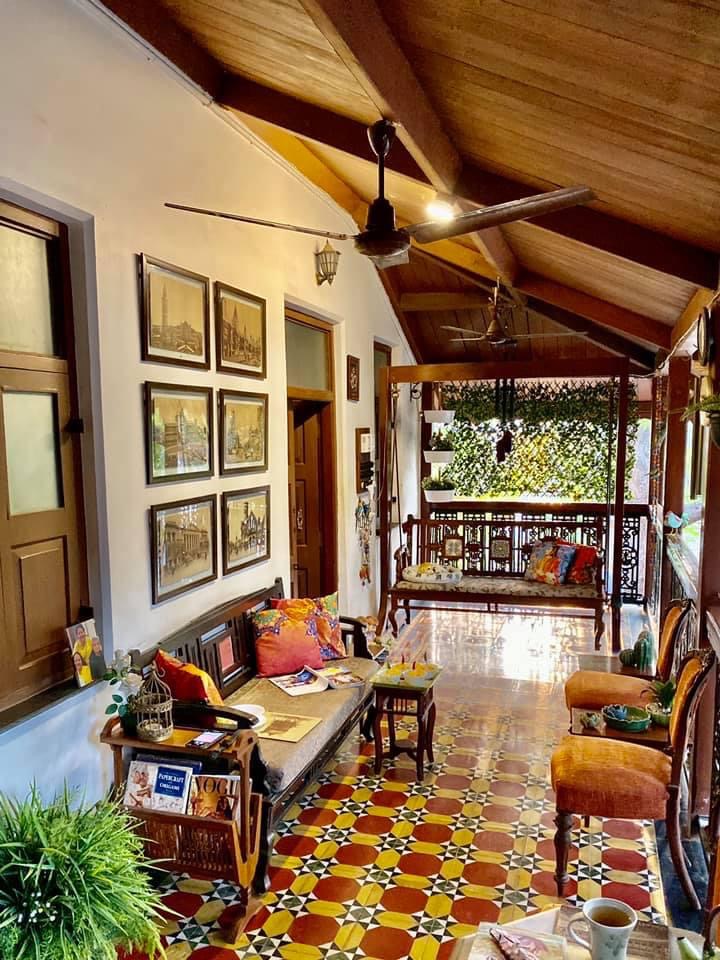 Says Deval, "The Verandahs running through the villa are perpetual wind tunnels, possibly designed keeping the wind directions in mind, just like the verandahs of the Bombay High Court."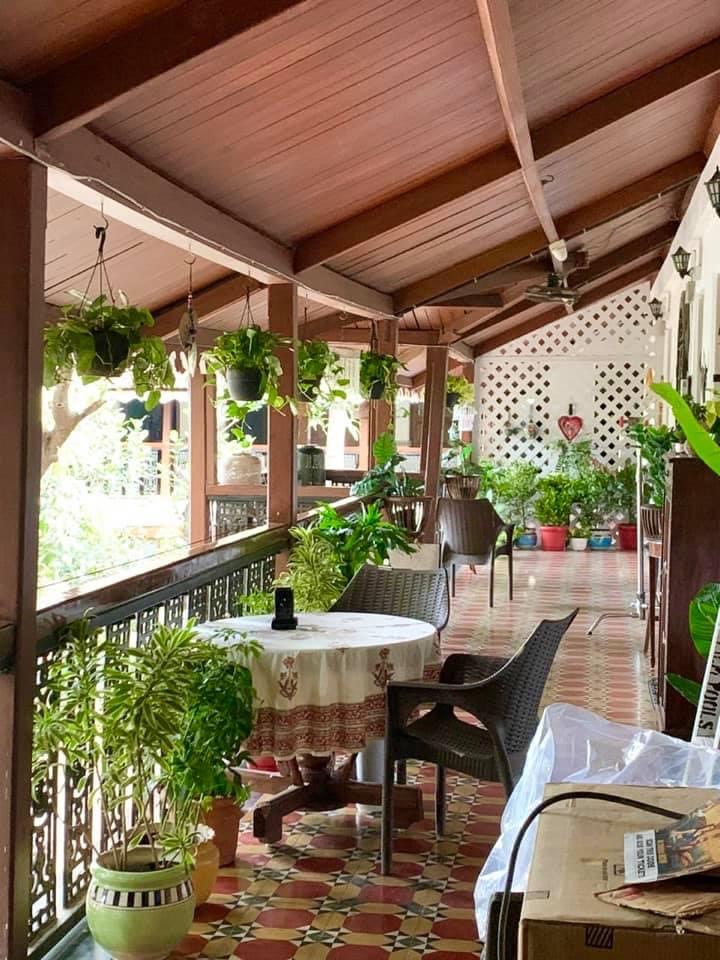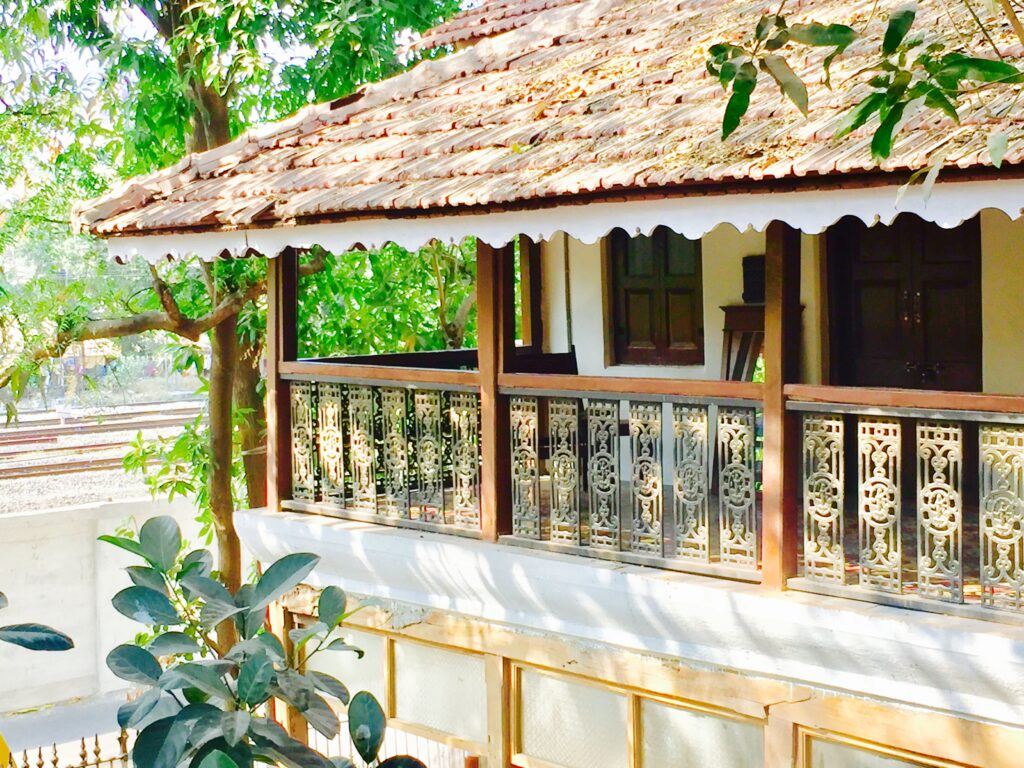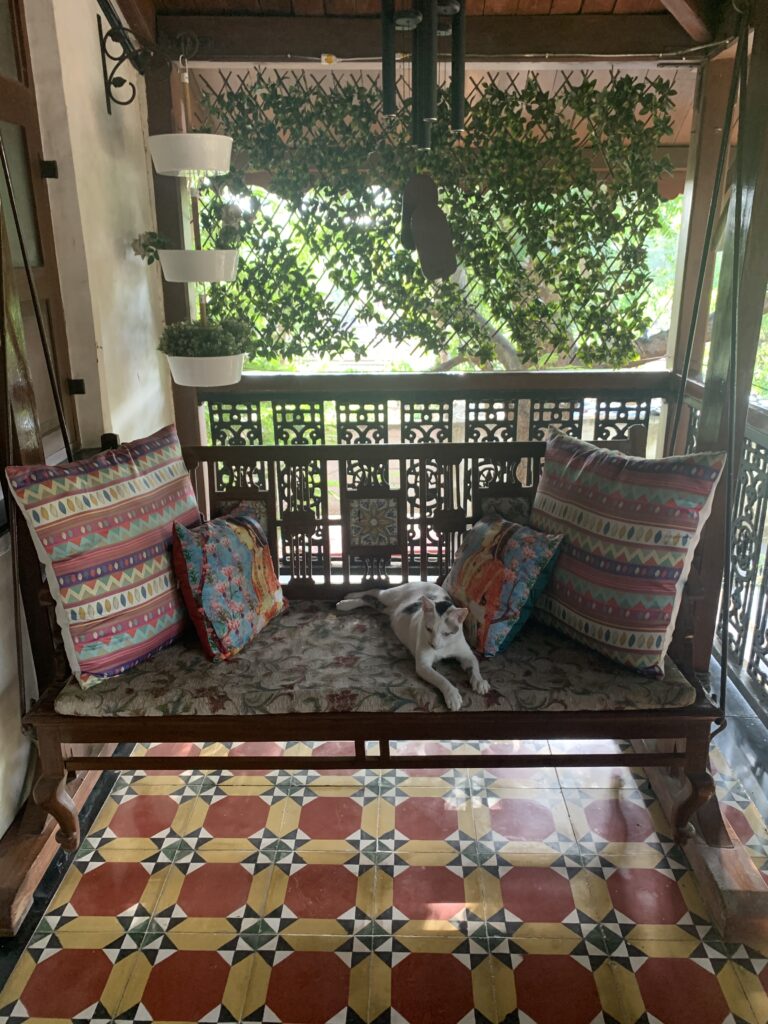 The cast iron grilles running throughout the Verandah on the second level have been specially designed by Samjuben and feature goddess Lakshmi.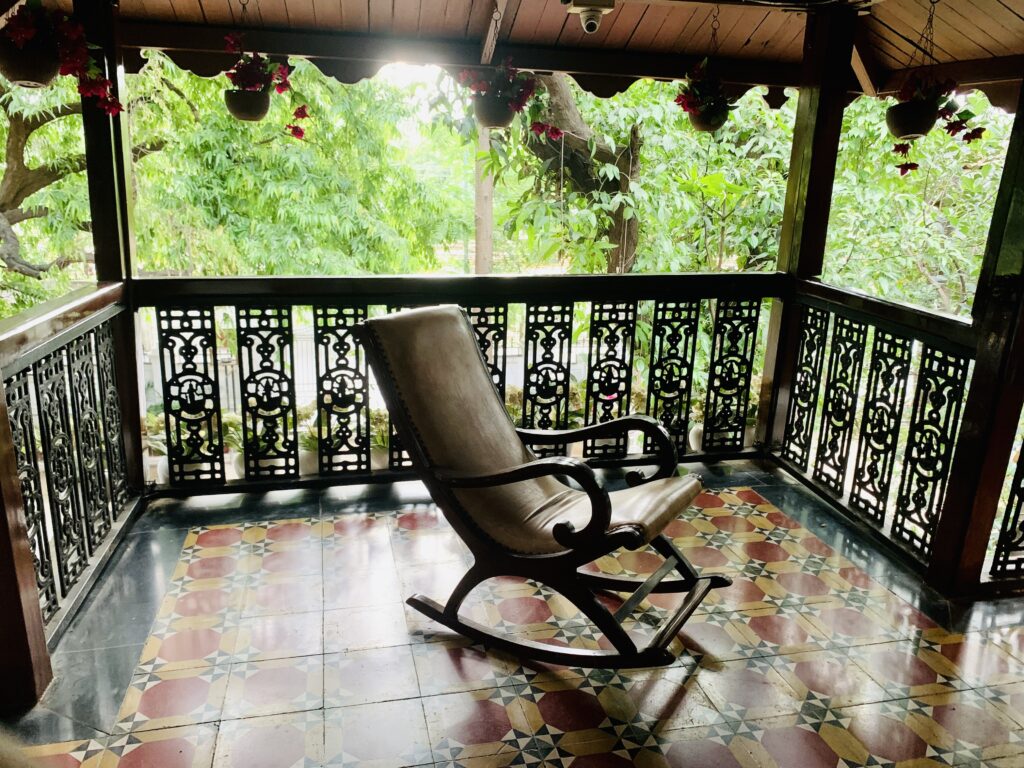 Haresh Patel believes that his father had little or no money when he purchased the land and built the villa. He used his wife's stridhan. But the villa proved so lucky for him that he landed many prestigious projects in Bombay and outside. He invested heavily in property and eventually became one of the largest individual landowners in Bombay.
A rainy Monsoon day at Villa Rashmi
Before we close, let me leave you with visuals of a rainy day enjoyed with bhajiyas and hot chai at this charming villa!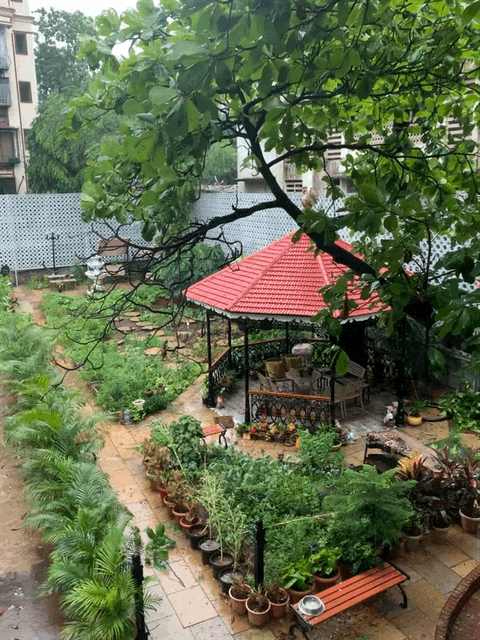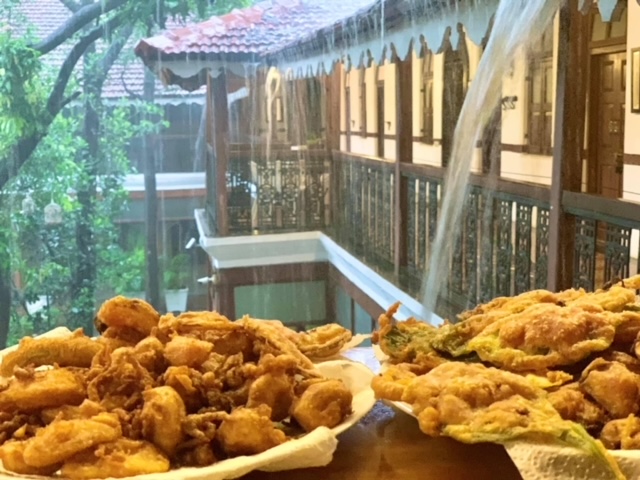 With that, we bid goodbye to Villa Rashmi, and head back to the streets of modern Mumbai. Wasn't that surreal? A warm thankyou to the Patel family who shared all these images, due to my inability to physically travel to Villa Rashmi to click images. Also for being so patient with me as I kept asking questions and begging for more pictures!
Pinterest these images away! You could head to our Pinterest page for Villa Rashmi and simply repin!
If you love old homes, you may possibly enjoy some trips back in time to these beauties we have featured on this blog.