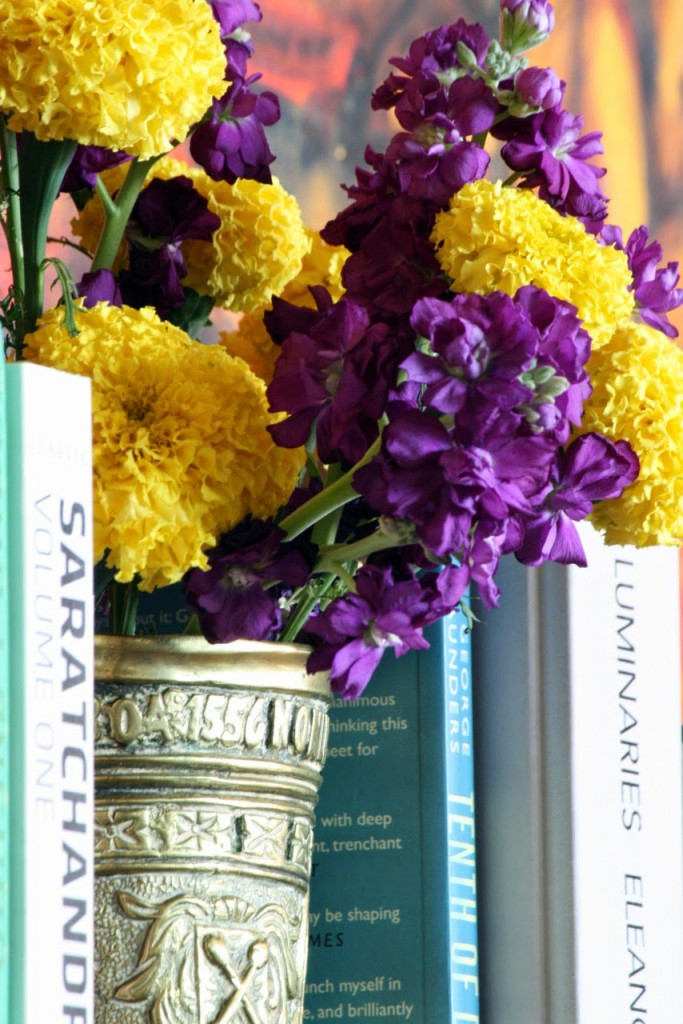 Books are an integral part of the character and decor in our home. Some of Anish's favorite ones find themselves propped against vases on consoles and shelves…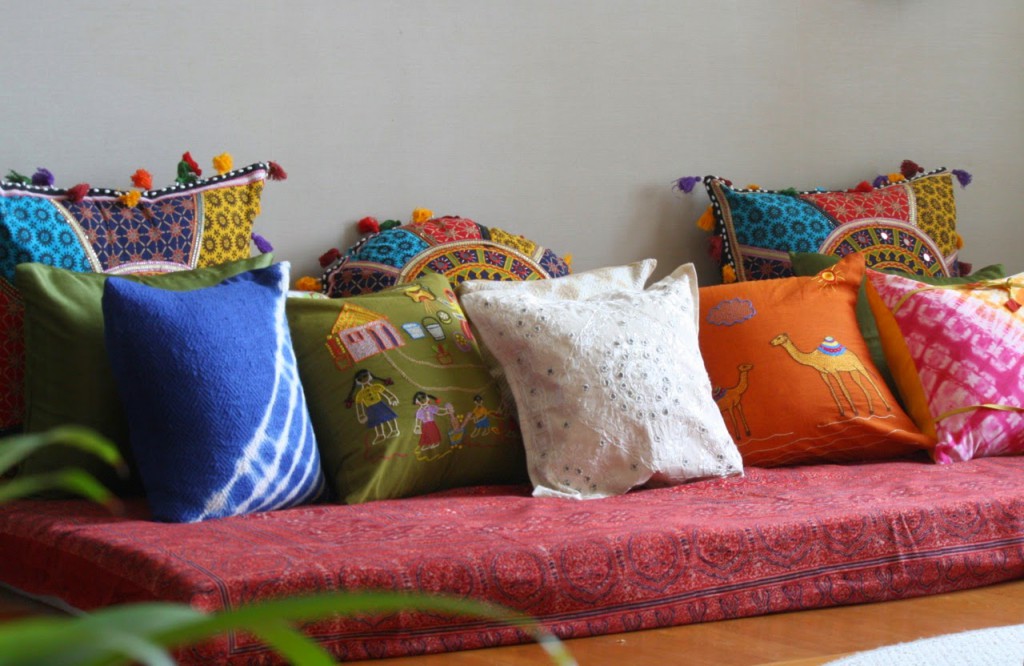 I love, love, love cushions. And the more colorful, the better. I also love floor
seating and here you see one such arrangement with a mattress and some of my favorite cushions on it.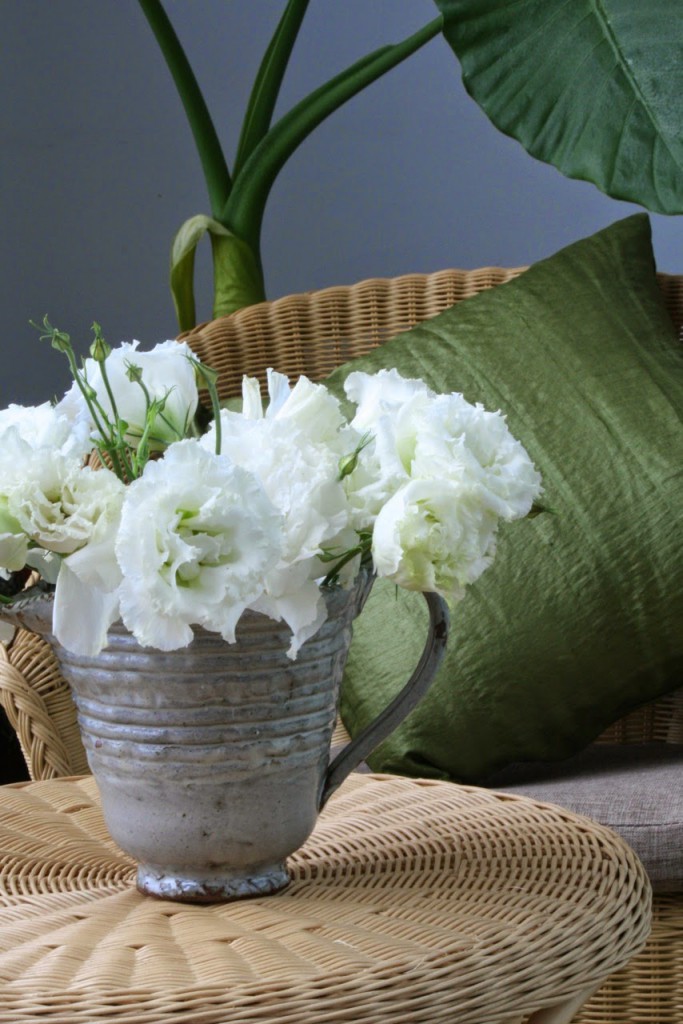 A few plants, throw in some flowers in a nice ceramic milk jug and give me a comfortable cane chair and I can lose myself in my thoughts for hours on end, staring out of the balcony window, watching the world pass by 🙂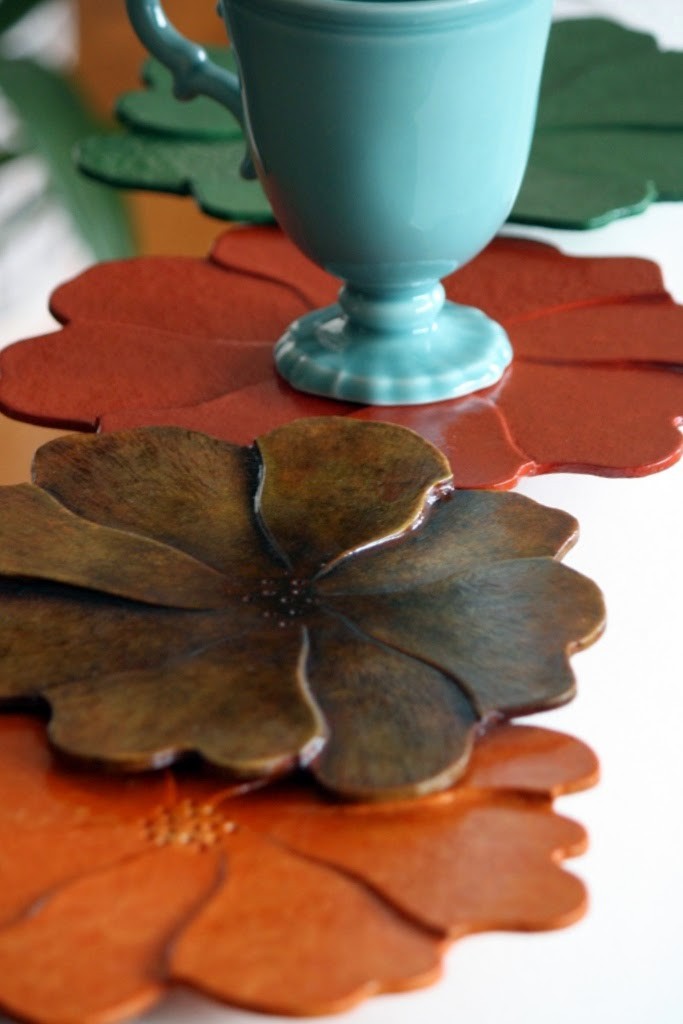 A lot of the stuff you see in my home is the result of DIY projects. Here you see coasters that I made from Korean handmade paper in the shape of water lilies.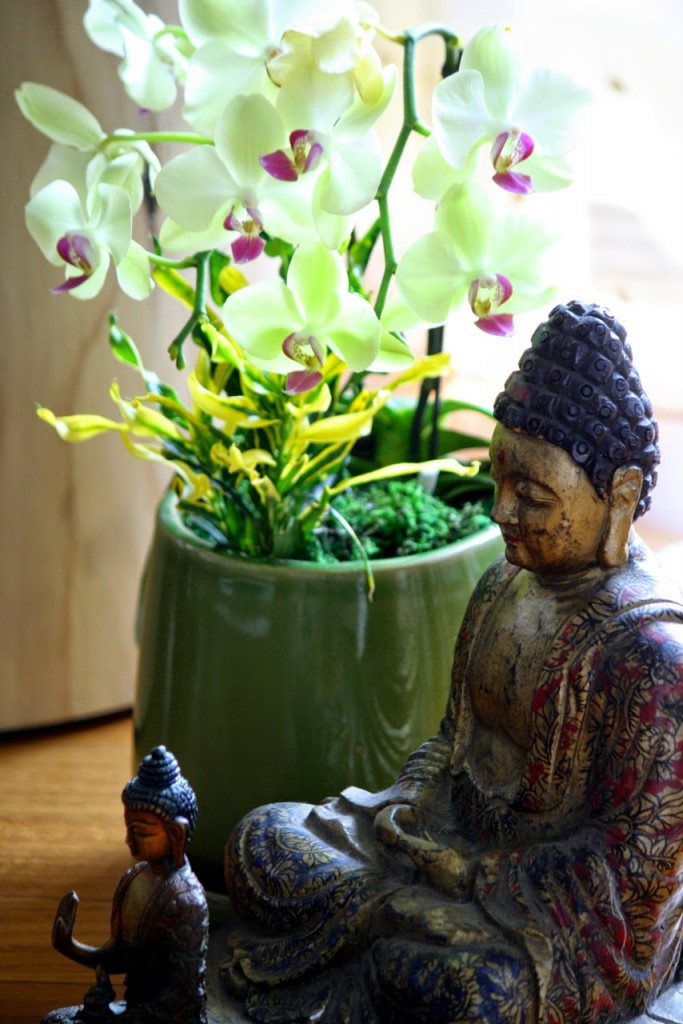 I love collecting buddhas in all forms. Here you see two of them, one that is carved out of wood. The other in brass is one that I really love. It's a gift from my mother in law.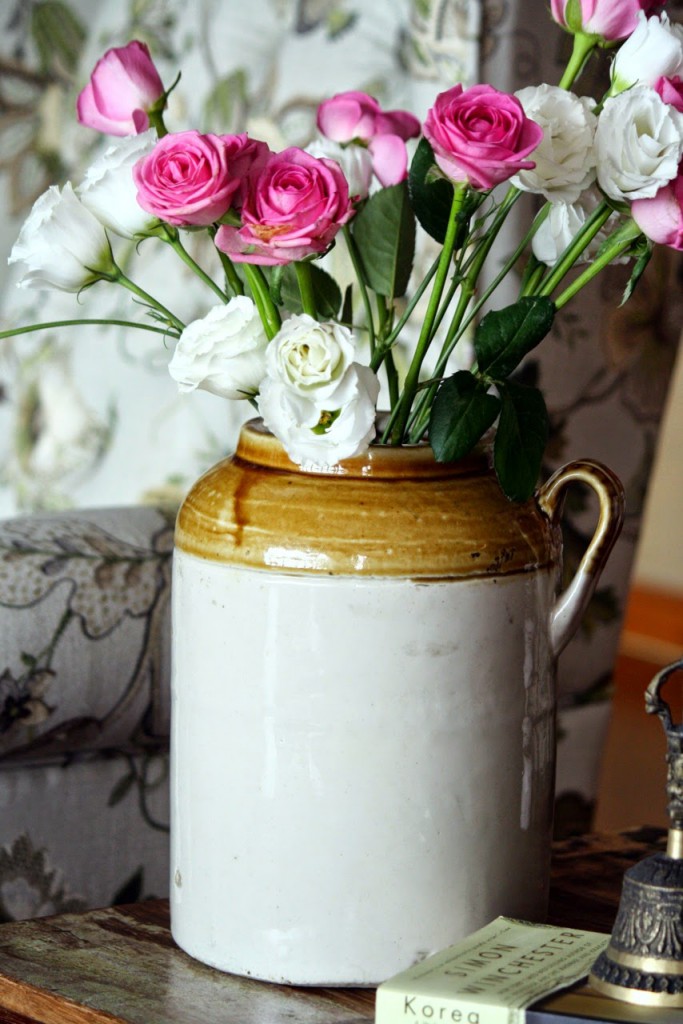 I love rustic decor…such as this 'barnee' that I carried from India and now use as a vase in our home 🙂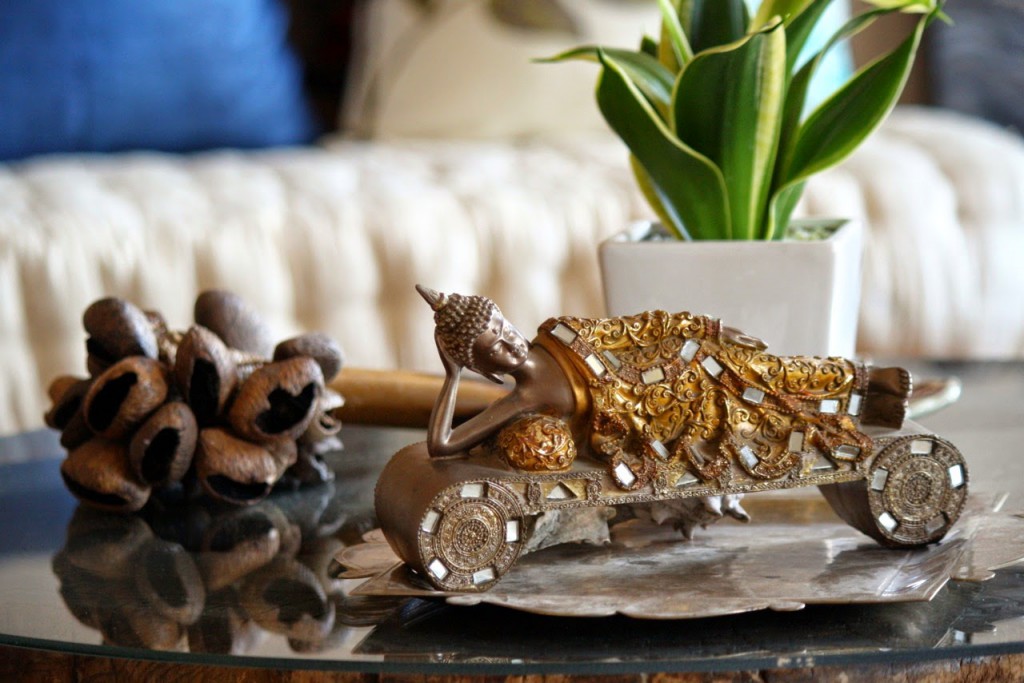 Here's another Buddha, a gift from a dear friend that is very precious to me and was the first in my collection…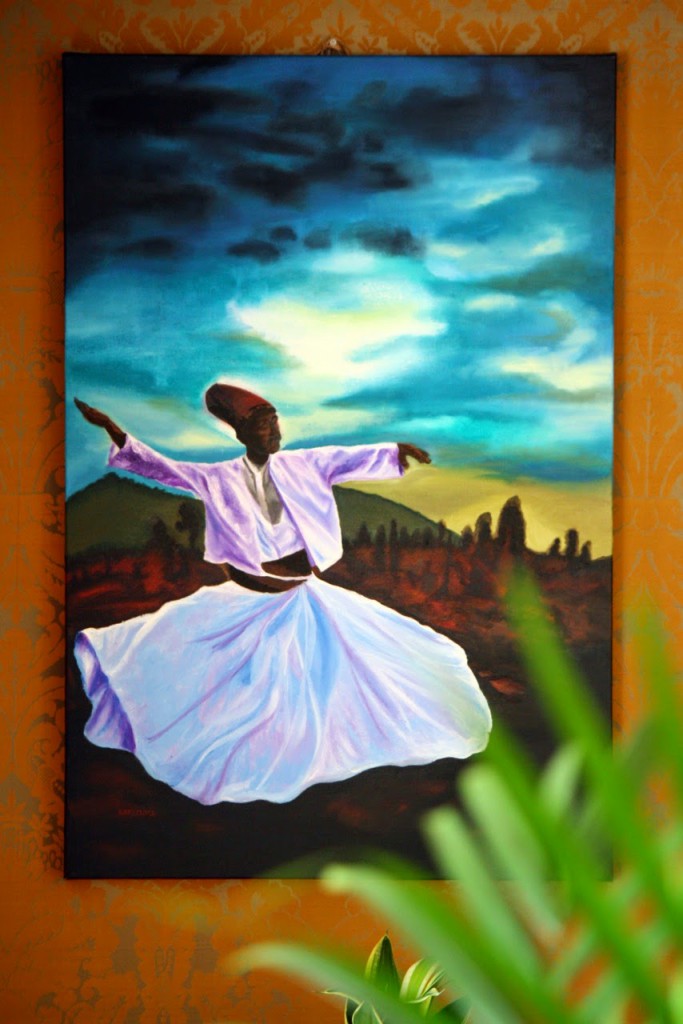 Other than writing and photography, I love to paint and my husband loves to see
my own art adorn the walls of our home. Here you see one of my oil paintings,
titled 'Ecstasy' on the wall.
Karishma, it was a pleasure having you here. Thanks for sharing these beautiful vignettes of your home in Korea.
And for us dear readers, there are lots of take-aways from this beautiful home – For one, it's always a pleasure to see traces of Indianness in the homes of Indians abroad. Karishma's lovely incorporation of the old 'barnee' into her decor is a nice, subtle way of doing this. So also the bursts of color from her cushions.
I also loved the way fresh flowers add so much character to her home.
I loved that Anish encourages her to paint and display her own art in their home!
What did you like best about this gorgeous space? Tell Karishma and Anish in the comment section below 😀
Karishma has a home and garden blog called 'A Treat for the Senses'. You could connect with her on her FB page here.
Pic credit Karishma Banerji Madan. Please do not copy or distribute for commercial or non-commercial purposes without her explicit permission.
(function(d, s, id) { var js, fjs = d.getElementsByTagName(s)[0]; if (d.getElementById(id)) return; js = d.createElement(s); js.id = id; js.src = "//connect.facebook.net/en_US/all.js#xfbml=1"; fjs.parentNode.insertBefore(js, fjs); }(document, 'script', 'facebook-jssdk'));