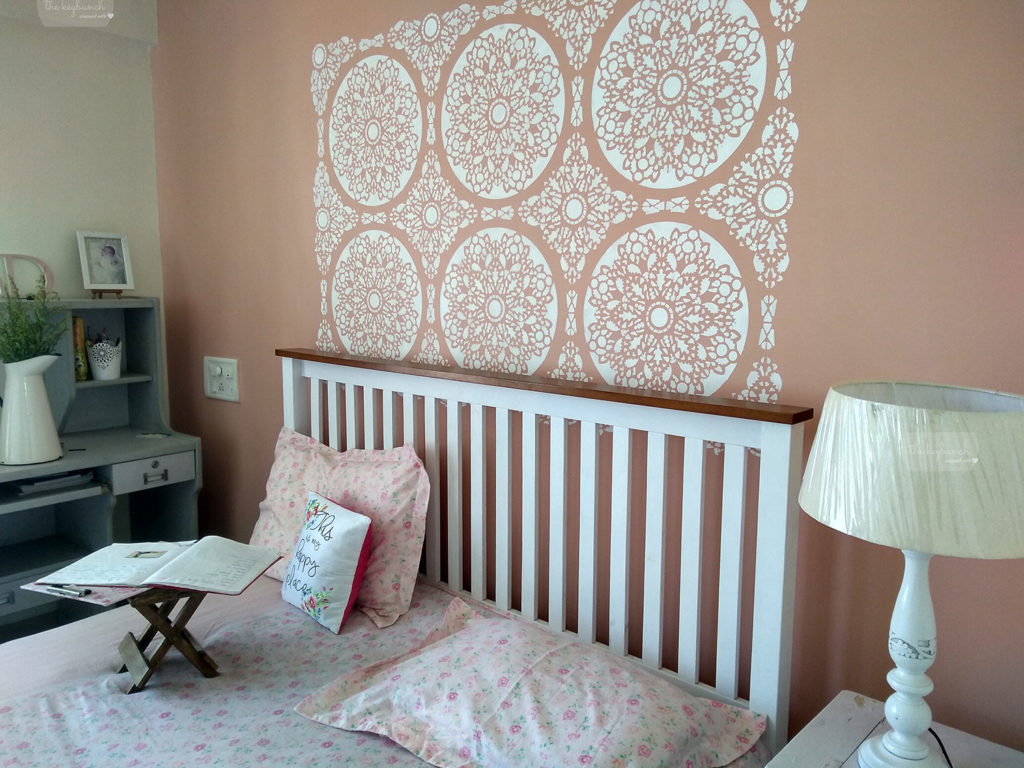 The Client – A tween who is mature beyond her years!
The Idea – To transform a room completely simply by playing with wall colour and a few accessories!
The dilemma – The tween loves sports, but that doesn't mean she doesn't like girl stuff. She is over (actually never was into) playing with dolls, Barbies, and soft toys. She loves music and pastels appeal to her. She loves peace, calm and is always looking for a quiet place to sit down and read her books, or play her favourite tunes.
The Approach
All-out girly stuff was out of the question! Yet some distinctly feminine touches were definitely required. This was the room she grew up in, shared with her little brother, and slept on a bunk bed!
Step 1 was to zero in on a bed
Luckily, we loved the Athens bed from Urban Ladder, and it was right next door in the guest room. So the bed was brought in first. She already had a large 5 door wardrobe in white, so white set the base tone.
Step 2 – Deciding the wall
With the bed, the heaviest piece of furniture for the room sorted, it was time to turn to the wall. All our original moodboards had patterns like chevrons and since she loved chevrons too, we kind of decided that it would be the way to go. But I suddenly had this dream of doing a mandala on her wall… I showed her some samples, and when we tossed the idea back and forth, we realised that it would be too overwhelming in color… So a mandala it would be, but in a monotone. This excited us greatly, because monotone mandalas looked fabulous against any background.
Step 3 – Paint Shade
Picking the paint shade. We had first settled on peach – but with a white mandala that would be too close to a baby pink all and out girls room. "No way!" she said. So we turned to the closest shades on the colour wheel to peach, and this Faded Rose by Asian Paints was an instant hit!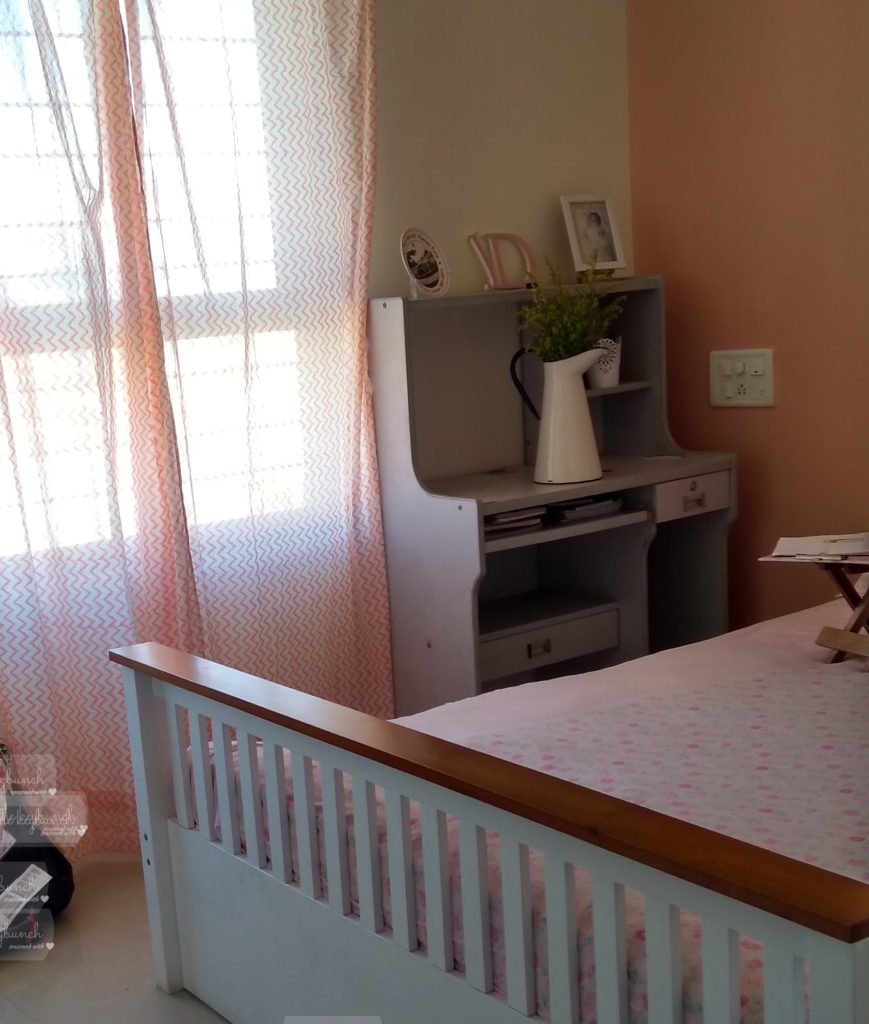 Step 4 – Wall Decal
Ordering the Mandala decal – we found the perfect one from Wall Design – A Mysuru-based outfit started by Rahul and Eva they have the most lovely designs!
Step 5 – Accessories
After this important step, I just went ahead and shopped online for a lamp shade (I look for products that I can rotate between rooms – and this distressed finish base appealed to me greatly!). You can check it out by clicking this Amazon widget below.
I also bought a cute cushion. We had bedcovers and pillow cases already with us – so there was no buying there. Although I have a long term vision for textured white bed linen, and a heavily embroidered quilt to give more drama to the space. Since any room of mine is always a WIP I am sure that will happen too! 🙂
The jug with flowers is something I already had. If you are looking to source it, get in touch with me, I have 5 pieces left.
The initials JD were sourced online too.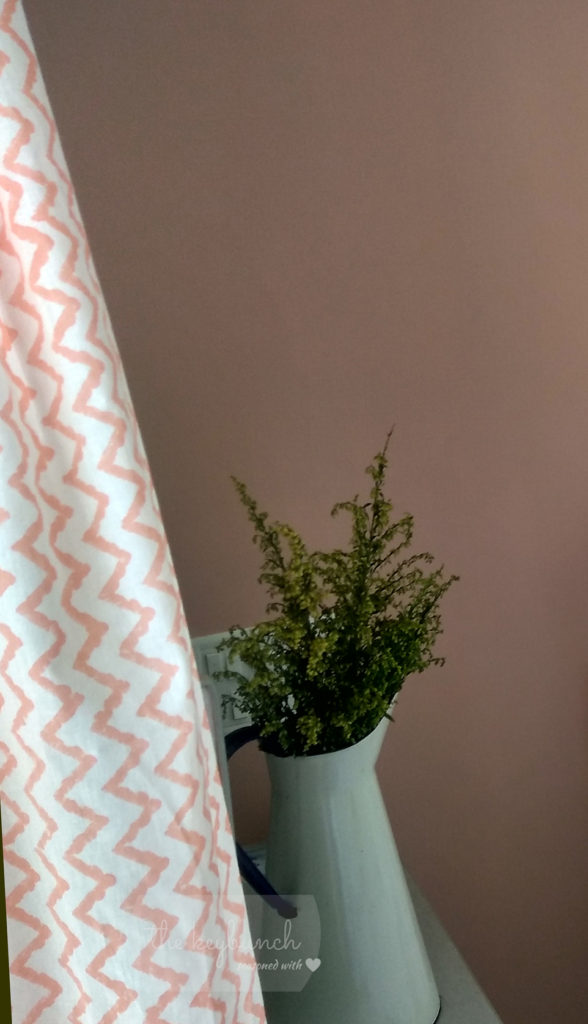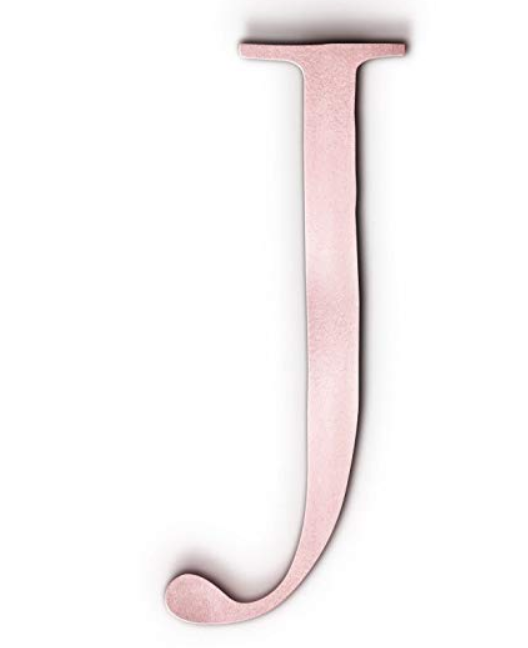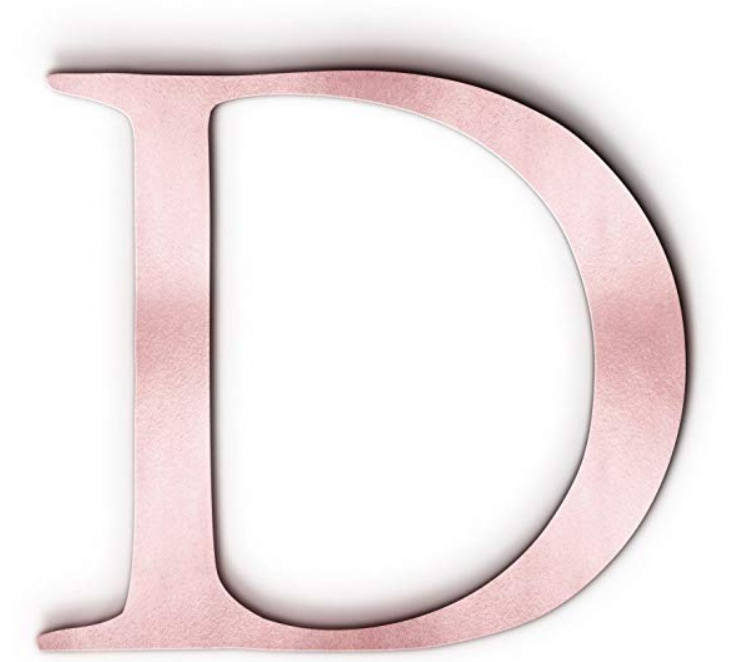 Click here to Buy wooden alphabets of your choice
Step 6 – The chalkboard
Well those of you who know me, will know that I have my own chalkboard paint that I formulated a couple of years back, and my chalkboards go with my distressed wooden frames that I sell. Click here to see the full range of my frames.
So I didn't want a proper wooden frame because the chalkboard I planned would be nothing but a thin sheet of cardboard – all it needed was a light MDF frame – so I headed to a MDF dealer, and I got this frame laser cut. It came in 4 pieces – but that was alright. My team of carpenters were more than happy to fit them together and attach the frame in the middle. The next step was to paint my chalkpaint on the board in the middle, and it was ready! If you are interested, you could send across your boards to me to paint, or you could buy a readymade chalkboard paint available in craft stores, and paint your own boards.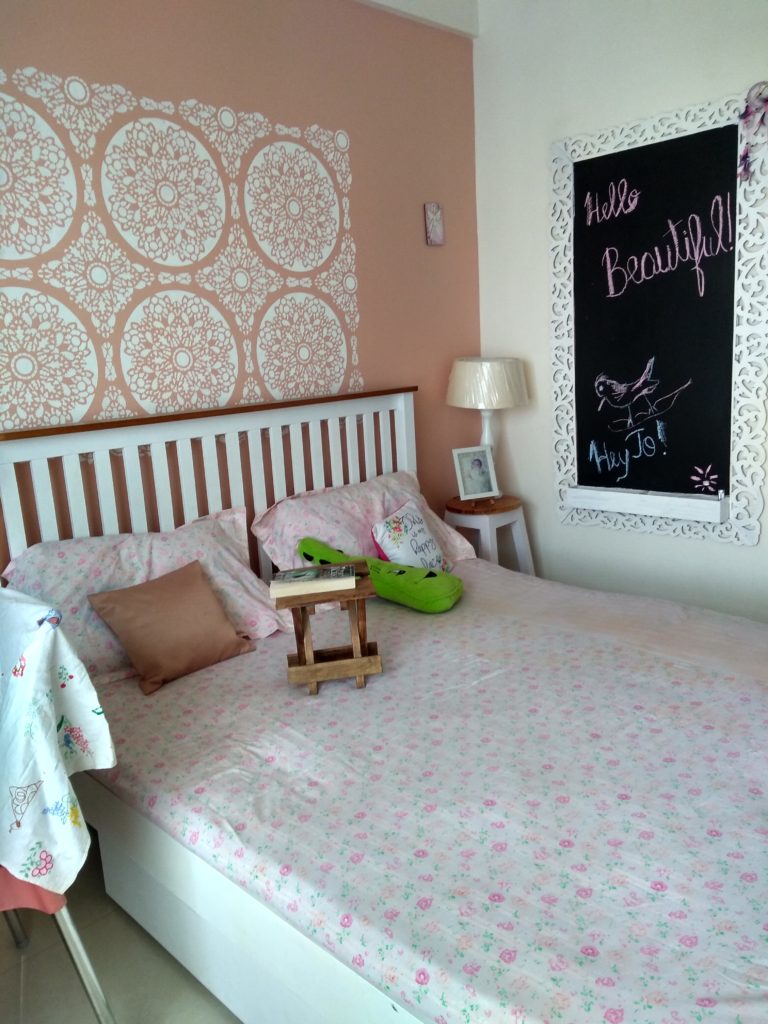 Step 7 is a WIP
I am adding a tiny dresser with a unique storage idea to this room – its still being made, so I will post the pics later.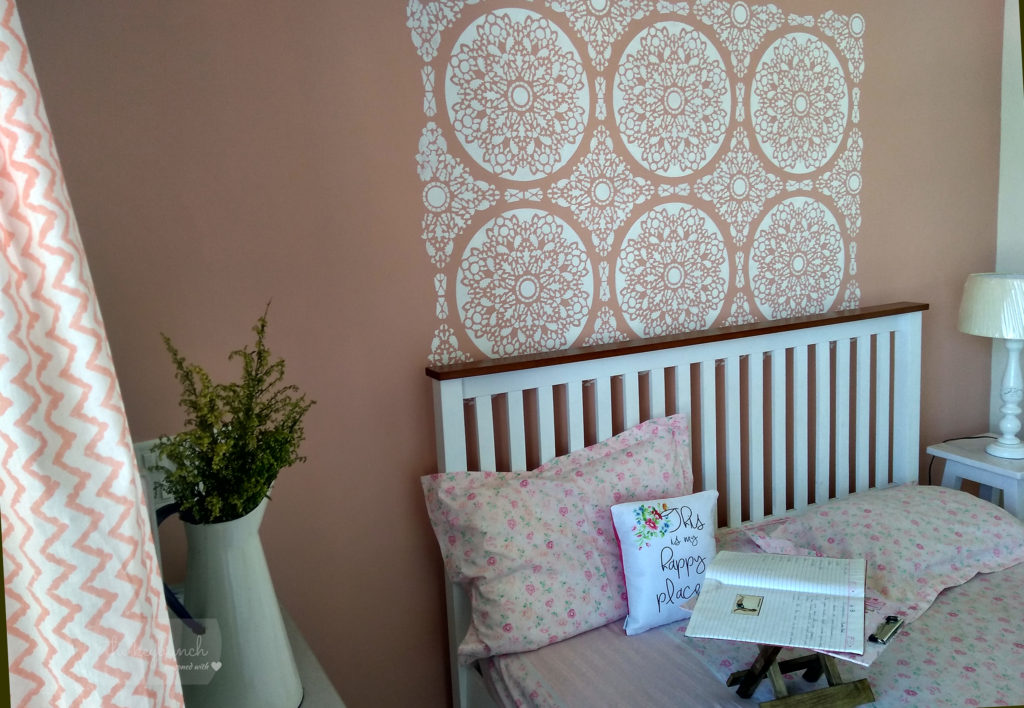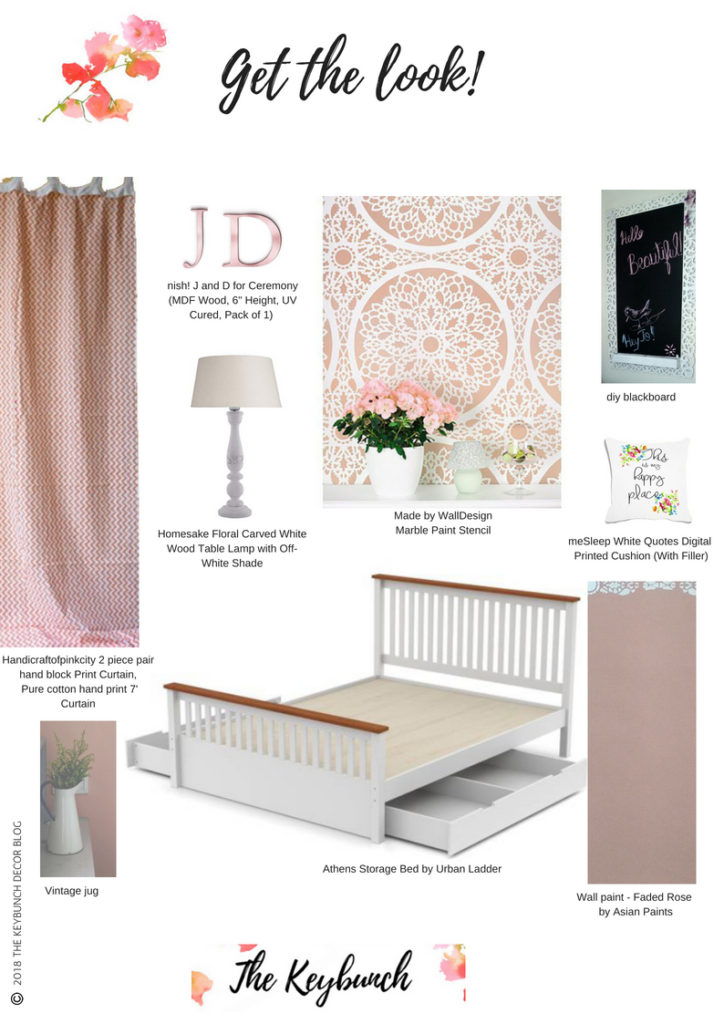 Do know that you can source all of these items through me for a special discount. Connect with me and let's talk!
Here's where you can buy this look
Mandala wall stencil
White lamp shade
Curtains
Queen bed
Chalkboard is a DIY
This is my happy place cushion cover
Alphabets on wall
Pink floral comforter
​Crochet quilt/throw contact me @[email protected]