Yesterday I spoke about Puja Bhargava's exquisite jewelry brand Lai.
Now, Lai is not the only thing Puja is involved with. She has initiated the Indian Jewellery Project (IJP), which she says, is essentially is an attempt to crowd source the visual history of Indian jewellery through personal archives of families. Doesn't that sound interesting? And what exactly does this mean?
Anyone can contribute photos (with emphasis on the jewellery worn there in) from their family albums to compile what Puja hopes, with time, can become a big enough source of reference as to what kind & how jewellery used to be worn in days gone by. It can be a cause for delight and inspiration too, and I commend Puja on this initiative. There might be people out there who are so inspired by the jewelry found that they want to recreate it for themselves, maybe by getting it from somewhere like jacobs the jeweller so they can have a similar item in appearance.
Here are some of the submissions IJP has already received.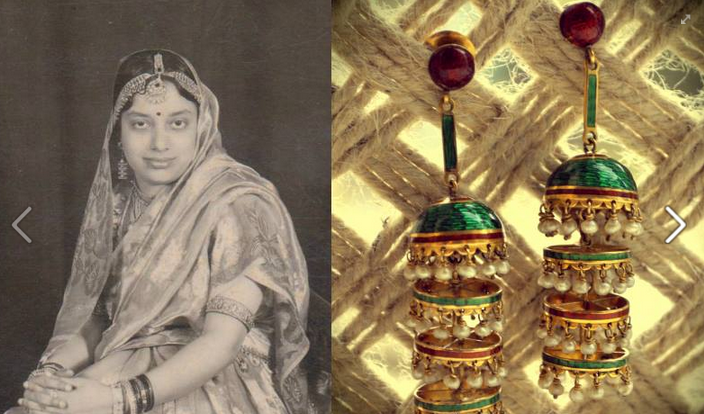 Source: Anu Varma from My Dream Canvas blog
Description: This image is of my Nani, Mrs Kusum Sinha. She belonged to a prominent Kayastha Family of Bihar. This photograph was taken in Feb'1939 by my Grandfather RK Sinha. He was an avid photographer & had a dark room ("photo karma") & printed his photographs at home. She is wearing is a bright wine red Benarsi tissue sari, gold & Kundan matha patti, 4 tiered Jhumka in gold & minakari & kundan kadas. The kadas & earrings have been passed down to me.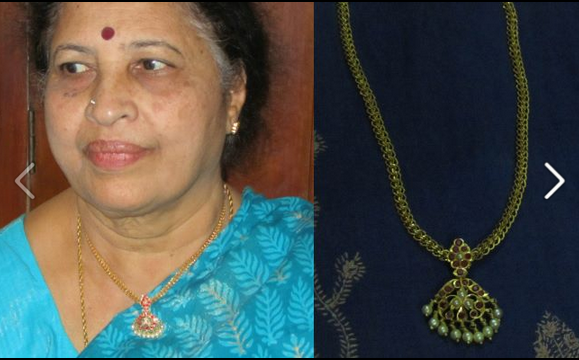 Source: Prema Rangappa.
Description: I live in Bangalore, Karnataka. The jewelry piece on display is a gold chain with a "padhaka" (In Kannada). Padhaka translates to pendant. The pendant is typical in South India, consisting of red stones and pearls. The piece was made on order around 1970.
How can you contribute? Simply upload an old picture of your grandmother/ mother/ a relative wearing a striking piece of jewelry along with a little narrative about who they are, information about the jewelery/ its religious or cultural purpose if any, or any other details, such as what the occasion was. So if you have a picture of your family heirlooms worn by your ancestors, do participate in this unique project.
Pic credit: The first pic was contributed by Joy Deshmukh-Ranadive. It is in fact a brass pendant worn by her mother.