I don't know how I landed on TasveerGhar.com, but when I did, I was astounded by the concept – an entirely academic, non-commercial, archive and study of popular art and culture in South Asia via images and visual media. It was started by Christiane, Sumathi, and Yousuf (read more about them here). All 3 of them had personal collections of their own, but the idea to start a network of these collections and to preserve them in digital format came up during an international workshop at Heidelberg in 2006.
Sumathi Ramaswamy
Christiane Brosius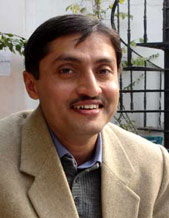 Yousuf Saeed
This is what they say, "At Tasveer Ghar, we are interested in studying the context in which the images are created and used, more than the images themselves. Hence, we are interested in portraying the larger public domains or arenas where the images are available for everyone to see. In some ways, Tasveer Ghar website itself hopes to act like such a public domain, something like a street or chowk (a busy crossroad or a marketplace in South Asia) full of hoardings, posters, banners, graffiti, and calendars, where each image is a part of the larger context, and does not matter much individually."
Cardboard blade of a hand-fan showing the 1930 advertisement of Viola fruit crush.
From the Priya Paul collection, New Delhi; Seen in this article on TasveerGhar
Anyone can contribute to this wonderful concept – it's an open-source kind of an idea. Images are never bought or sold, and to protect ownership, only low-resolution images are uploaded.
"Soap Industries." Sample image in the catalogue of the Empire Calendar Manufacturing Co.,
circa 1950s, artist: Sushil Das. Found in this article on TasveerGhar
I love the idea of learning and archiving together – you should also spend some time on their visual essays that touch upon various cultural aspects of South Asia. Subjects are as varied as Business, Domestic Spaces, Advertisements, Festivals, Gender, History, etc. Naturally, I was drawn to the work they had collected under Domestic Spaces and Advertisements – see the images in this blog post.
All images are taken from TasveerGhar.com but are owned by individual entities. Please read the disclaimer on images carefully before attempting to use or reproduce any of these images.