Stying with your grandmother's old utensils is a great hack! I used some vintage measuring cups to do just that!

It all began when I spent a few days at my parents' coffee estate. The milk is brought in fresh everyday, and because it is in excess of our requirements, it is sold to the neighbours. So, out come these measuring cans, and they are used to measure the appropriate quantities of milk, and put into steel vessels for delivery (I love the fact that they still use vessels, instead of plastic like us in the cities do!).
Though I have watched this process a million times growing up, I hadn't seen these measuring cups in a long time. Since I now can kill for a chance to work with old stuff and props, the minute the milk distribution was done, I asked them for a spare set, and I was so glad that they could find one in 5 minutes flat!
I had been admiring the fresh summer blooms in shades of pink in the garden all week, and I knew I wanted to try out an ombre arrangement (layers of subtle shade variances in the same colour) with these milk cans as props.
Outdoor styling
——————–
So for the outdoor arrangement, I didn't think too much. I just grabbed what I saw first, a white stool, a striped piece of cloth, and that was it. I thought the garden and the flowers were pretty enough to offset the plainness of the stool and cloth. And I was right, I think, because I loved the way these turned out – rustic, yet pretty.

It's a lovely arrangement if you are entertaining outdoors, if you have a rustic theme or tablescape, and if you simply want a fuss-free focal point during one of your garden "do's"
Indoor styling
——————–

I paired the aluminum with some brass for a unique contrast, and juxtaposed against wood, it looked lovely. Again, not much thought went into this. I just propped it on that table (and the table cloth serendipitously lent its rose tones to this arrangement). It just fell into place. Just imagine how much more you could do with some more planning – nothing less than outstanding arrangements using ombre and measuring cans!

On a metal surface
——————–
This is the bonnet of an SUV (yes, really – this was very unplanned, and I had to work while the flowers were fresh), but I wanted to show you that these measuring cans can look amazing even in a modern space with metal accents. I couldn't resist adding the rose apples to this arrangement. How well these shades go with metal!

So did you like these 3 ways with a set of old measuring cans? Tell me how you would use them!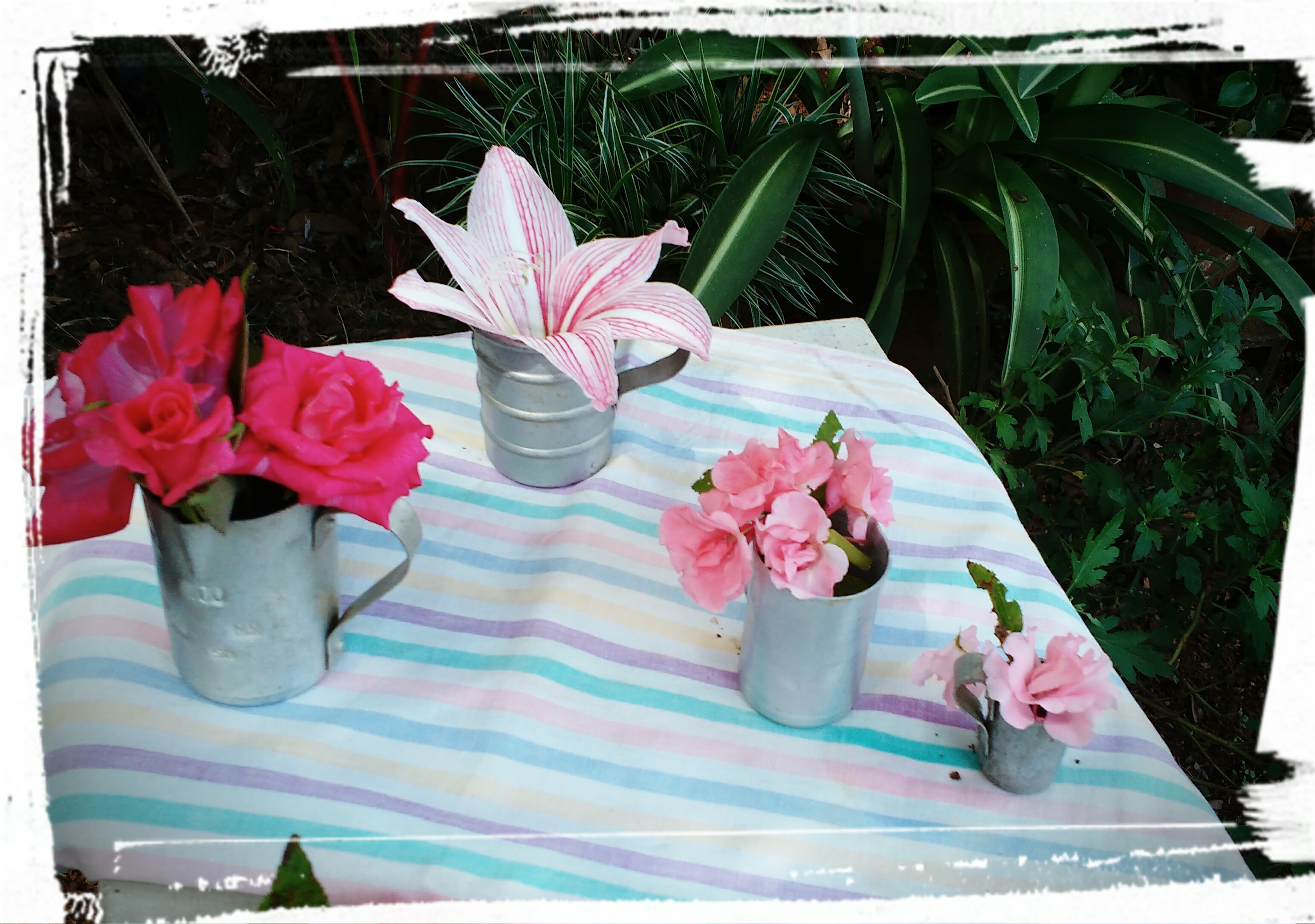 I will be back with more styling ideas, especially since lots of you have been writing in asking for ideas for their finds in grandma's attic! I am so excited about the next one. So stay tuned!
Do check this webstory on styling with other old things found in Indian attics!