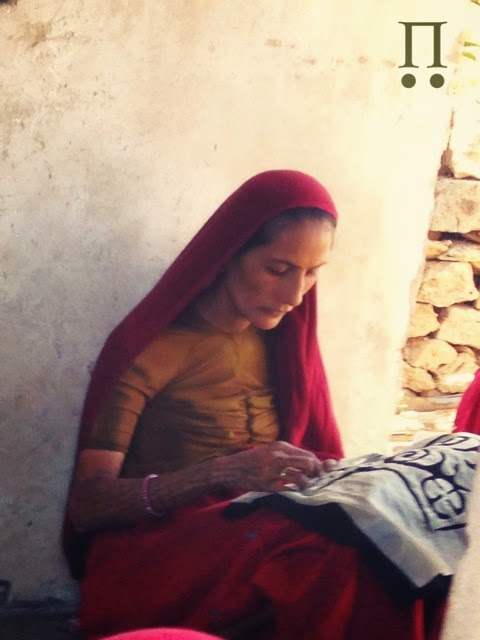 I recently spent a morning at Phoenix Mall in Pune at the invitation of the folks at Caravan Craft. Before I tell you what I found in-store, I want to explain Caravan Craft's rather awesome mission (in my own words).
It aims to bridge the gap between India's rich reservoir of traditional Indian craftsmanship, and give them a contemporary avatar that anyone, anywhere in the world can relate to! They also do something really beautiful – they spend years training artisans, and bringing them up-to-skill with their high design standards, after which their work is "bought" by Caravan Craft. I thought that was a good social initiative! And that is why I wanted to highlight these first few images before speaking about the products.
You know how your favorite lifestyle blog (okay I watch too much Times Now :)) loves a good story! And I thought this initiative – one that focused on growth through development, rather than growth through exploitation – would touch a chord with all of you.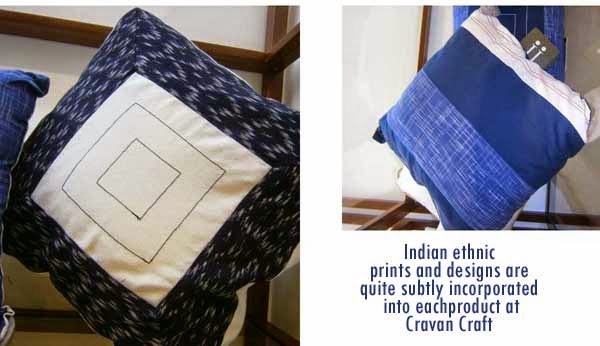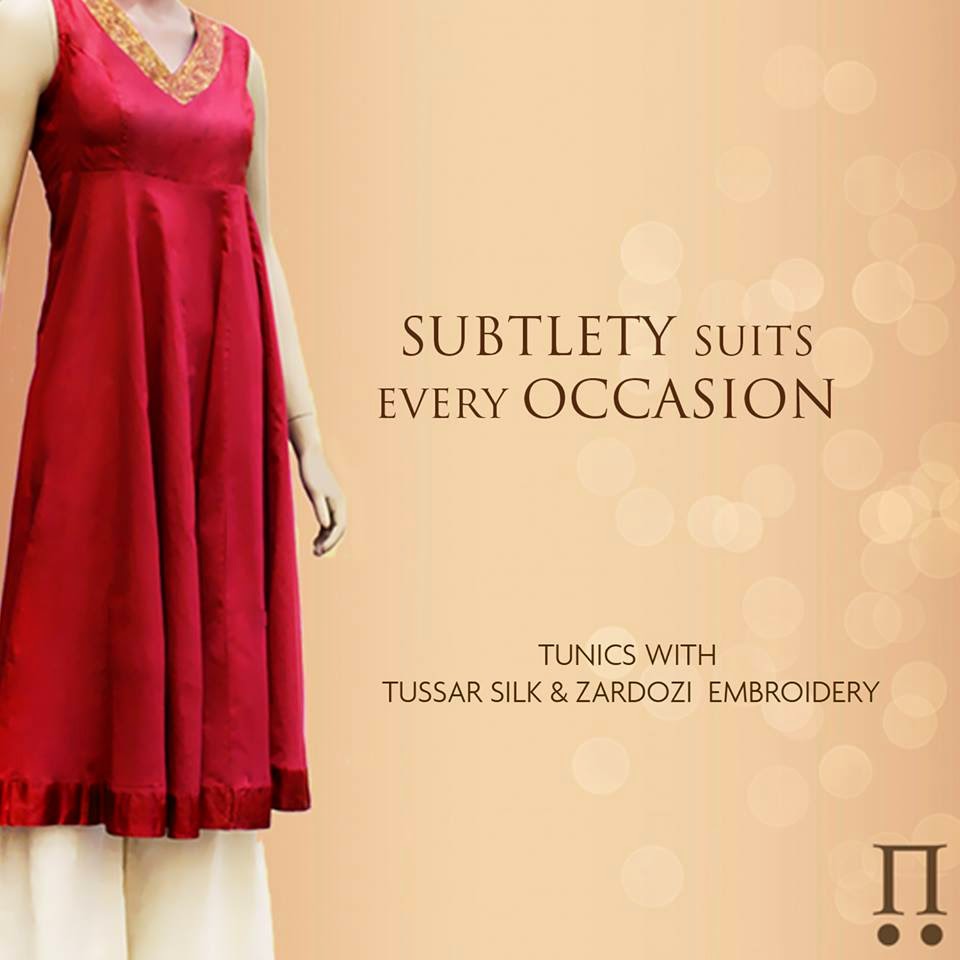 The store has beautiful world-wear (I made up that word, because that's the only way to describe the apparel). Designed by some of the biggest names in fashion, the designs are ones that you can wear and blend into everyday life anywhere in the world!
It is Indian alright, but subtle and elegant – not like the 'in your face' ethno-Indian wear that can only be reserved for traditional desi events.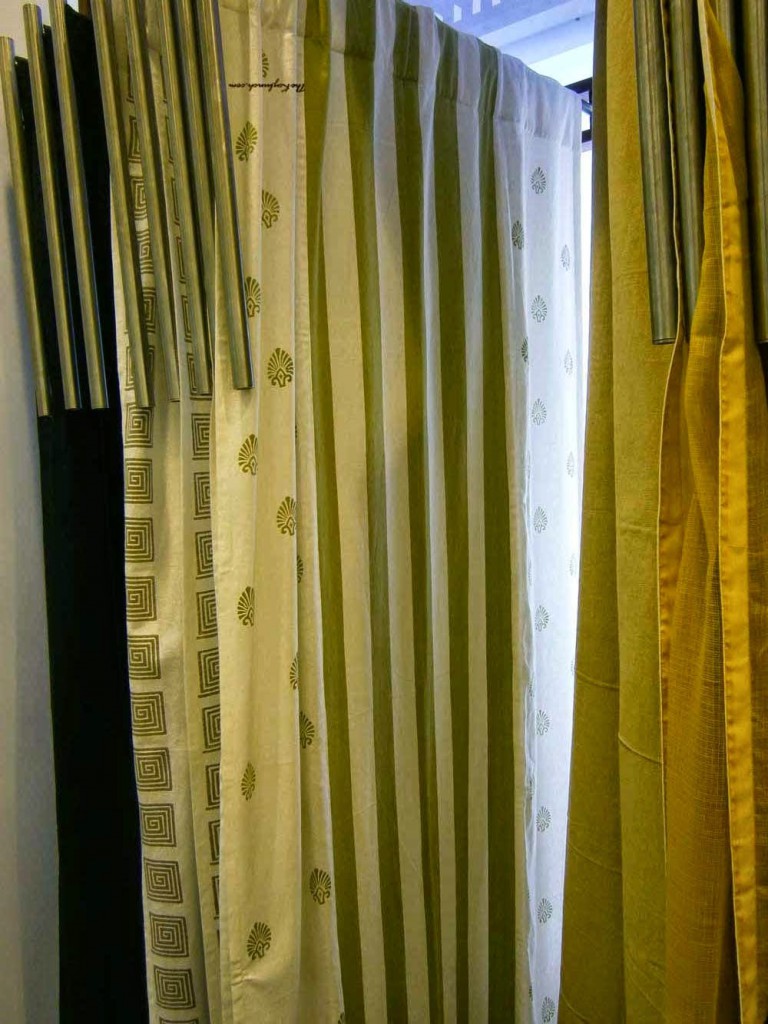 I am so impressed that they stocked mustard curtains.
Really, nobody ever stocks that gorgeous color
in home furnishings these days!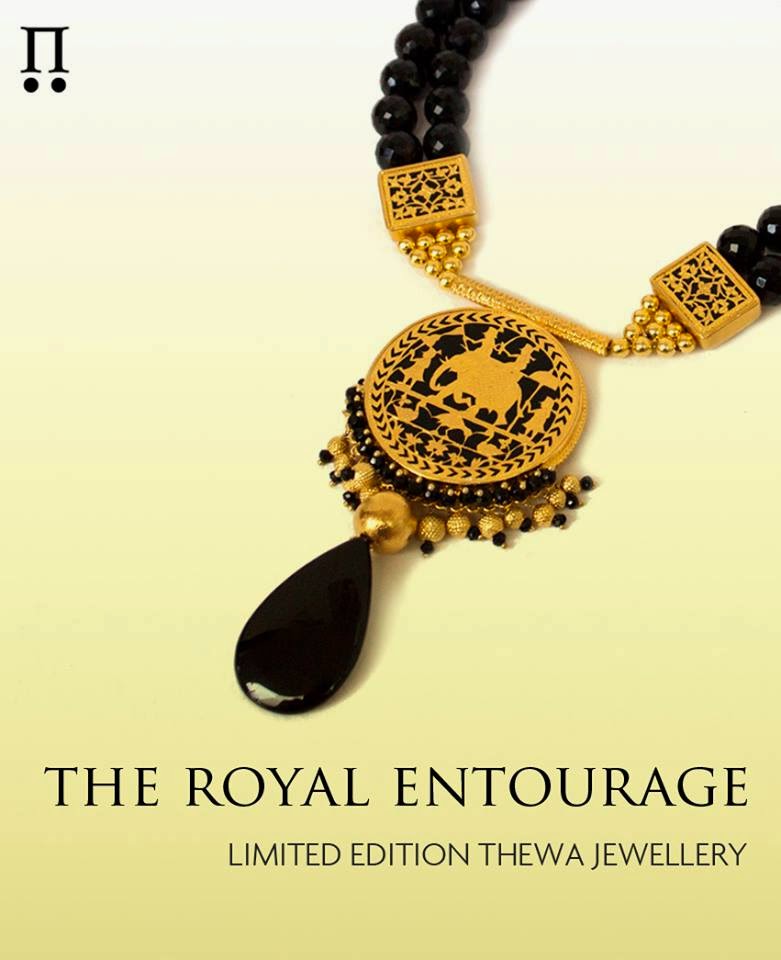 I loved the fact that one could find crafts from all over India – (probably why it is called Caravan Craft) at this store. The crafts include Bidri, Channapatna, Thewa, Dhokra, Filigree, Meenakari, Zardozi, Kantha, Aari, Katab (Applique), Bandhni, Ikat, Dabu, Jamdani, Kasuti, Kalamkari, Block Printing and also use varied Handloom Woven Materials.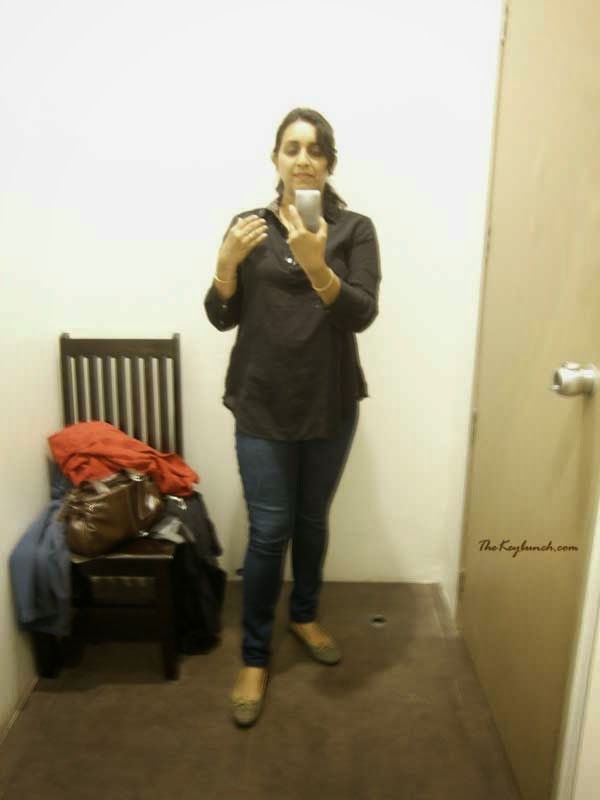 I spent a good 1/2 hour trying on the
clothes. They are not just beautifully
crafted, they are also
really really comfortable!
In fact the jewelery made such an impact on me (the designs were so unique – see pic on left) that even though I visited them more than a month back, the beautiful patterns still dance in my head! I am so going back next month to buy a piece!
This is the kind of store that Non-resident Indians and visitors to India would love shopping at. It would be a welcome relief for them to find something that doesn't look like a garish souvenir, or a traditional piece of apparel. This is a store where they are sure to find something that they will take back and use – that will look equally chic in the boulevards of France and in the streets of NewYork, as it will in an art exhibition in Delhi.
Every product has that contemporary look, with a wee bit of traditional craft. An ikat yoke on an indigo shirt, a bhandini trim at the bottom of a kurta, beautiful but subtle kantha designs on the curtains, shirts with traditional appliqué work discreetly stitched on to a solid color. I loved this subtlety!
When I appreciated this, the people at Caravan said,
"Crafts in India have a long and rich tradition. At Caravan the emphasis is on creating globally-relevant products fusing traditional craftsmanship and contemporary design. It connects the Indian artistic traditions to customers who need products for everyday, contemporary living."
Interesting! Practical wearable clothes and home furnishings, jewelry and toys with that hint of ethnic craft fused into it~ definitely something anyone would want to own!

The minimalist decor in the store is also reminiscent of a world-look – a rather conscious aloofness from the regular ethnic stores that one sees in malls, and quite different from the other "Indian" store that we grew up loving, but has seen a huge deterioration in standard recently.
In fact, as I left after a productive tete-a tete with the store's marketing manager, Anshuman Sinha, I couldn't help voicing my concern that I hoped this store wouldn't go all bling and no VFM like the 'other store' did. He assured me that it would not!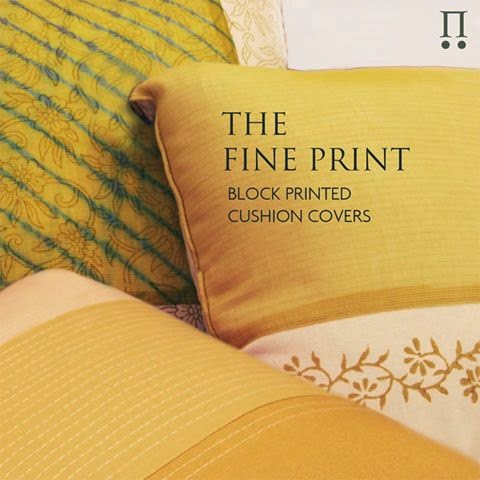 Caravan Craft currently has two retail stores
at Phoenix Market City, Whitefield, Bengaluru
and at Phoenix Market City, Vimannagar, Pune.
Photocredits: This blog + Caravan Craft