A few years back I was introduced to a duo of Kutchi weavers. Their simplicity and openness touched me, their zest for life, for music and for their art form inspired me. They are so passionate about their art, that the looming doom of shutting down (in the wake of machine weaves that imitate handwoven fabric right down to the charming inconsistencies that handwoven fabric has) inspired a group of us to buy bolts of fabric from them, and space our orders out too!
That is why, when I chanced upon Sihasn on Instagram, and learnt that they source fabric from weavers in different Indian states to upholster their furniture, I was drawn like a magnet! I was also eyeing the ottoman range, as I have always wanted one!
When Sihasn said I could have one, I was thrilled! However, the challenge was to get a piece versatile enough to not bore me. I style my corners almost everyday and I wanted a piece that would fit into the decor and aesthetics of my home seamlessly! So I decided to spend some time looking around the Sihasn website.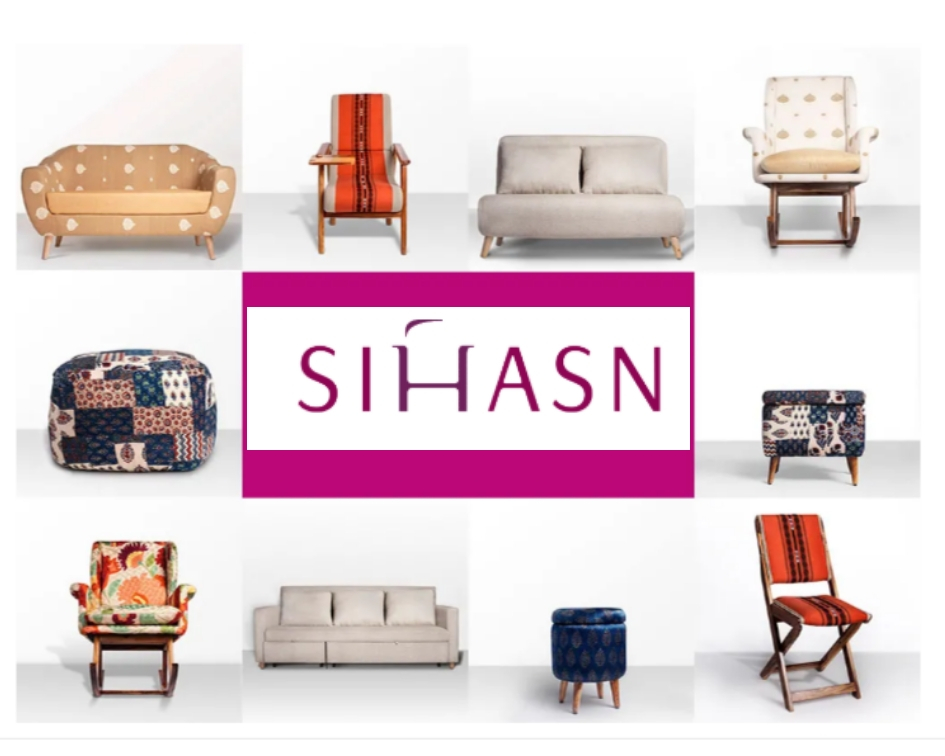 The Sihasn website is replete with information, and reading through it is like leafing through a lovely coffee table book! Products with detailed information on motifs, fabrics, art, artisans, culture and origins of fabric are explained in detail. Traditionally woven fabrics like Rajasthan Dhurries, Kutch Ajrakhs, Naga Shawls, Bagalpuri Linen and Bihari Chocho are ethically sourced to upholster their collection of stylishly crafted furniture.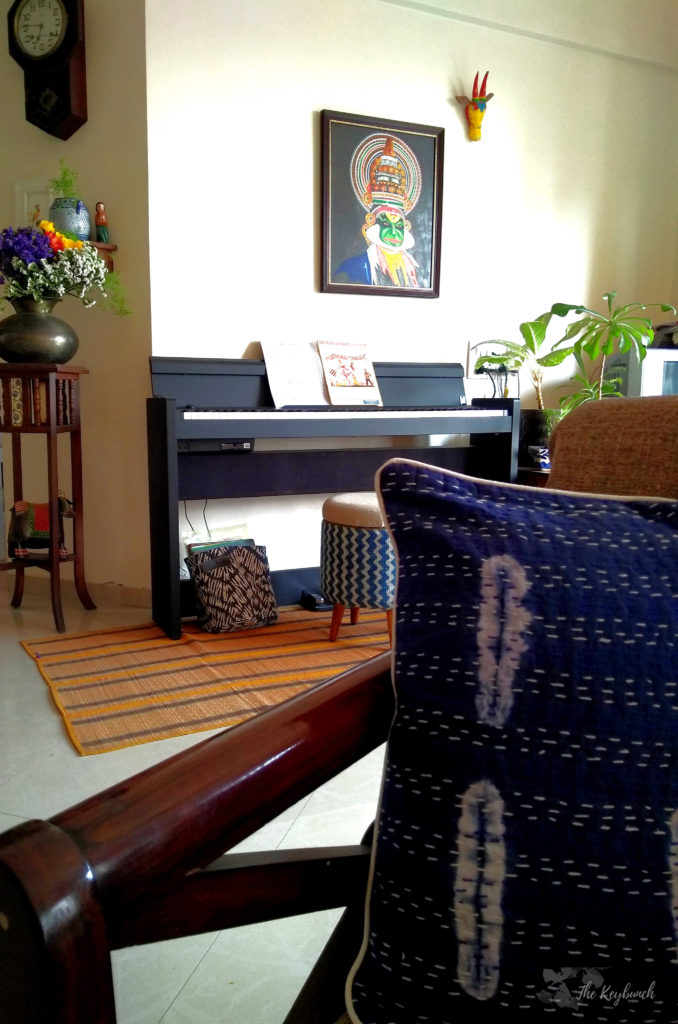 My home is colourful, and predictably, it was a challenge choosing a design that would go with the rest of my home – there were quite a few I loved, and I finally decided that it would have to be a dhurrie upholstery for me! And the zig zag Rajasthan dhurrie in indigo looked perfect. The geometric design would complement the colour pops and would complement most of the styles I fluctuated between.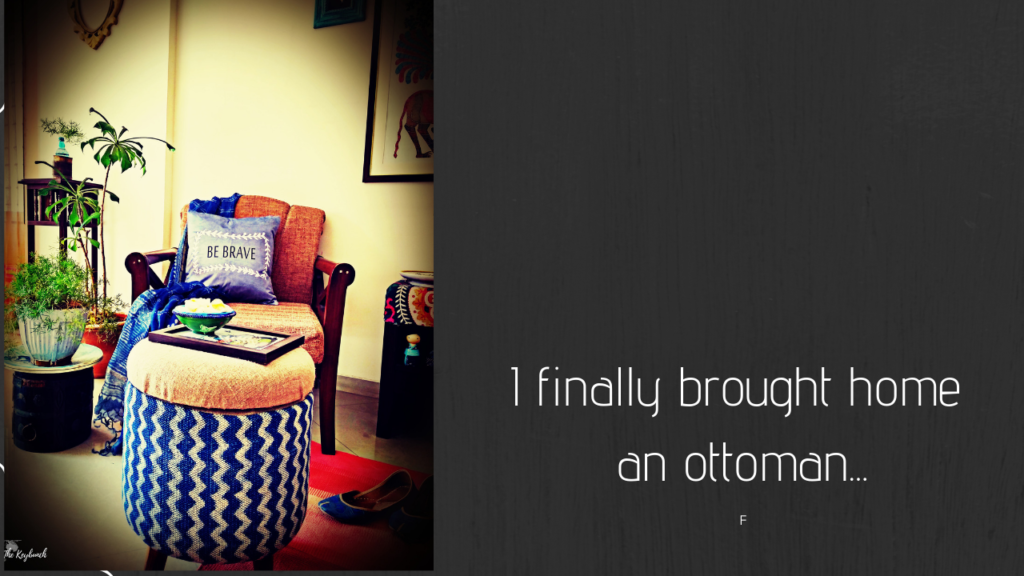 The furniture arrived beautifully packed and I was very impressed with the packaging! (I have saved a bit of the packaging for my DIYs) 😉
I soon discovered how versatile this piece is ! Though I initially envisioned it for the seating area in the living room, I styled it in four different ways, each one a winner!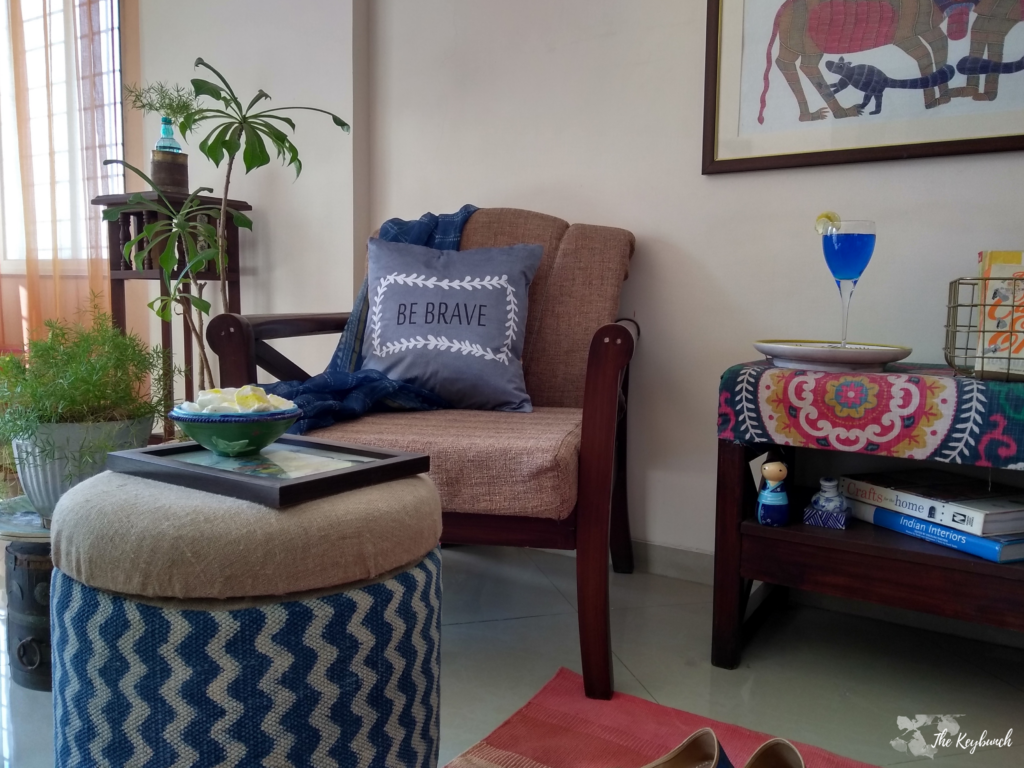 This is my favourite way to incorporate the ottoman in my decor! It goes brilliantly with the tones of beige and grey, as well as the myriad other colours of my living area!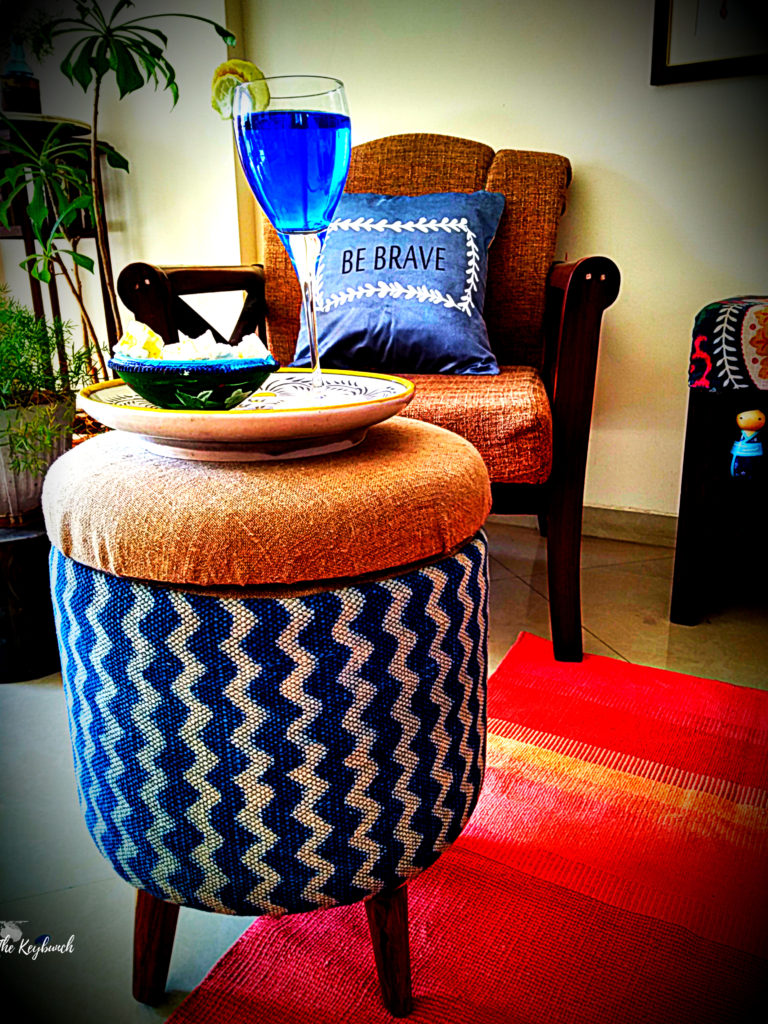 I tried it at the corner of the living area, where I have a Bhavnagari jhoola currently dressed in yellow, and it set off the yellow accents of this corner brilliantly too!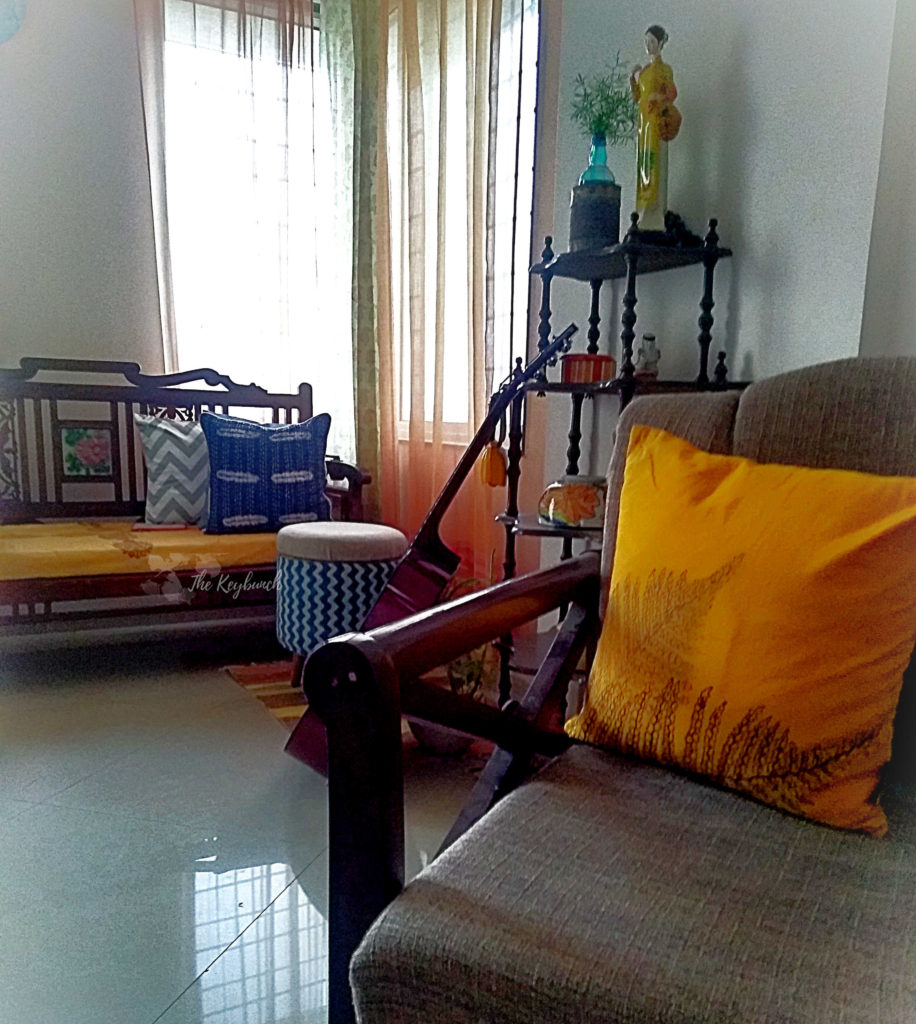 Here's a closer look!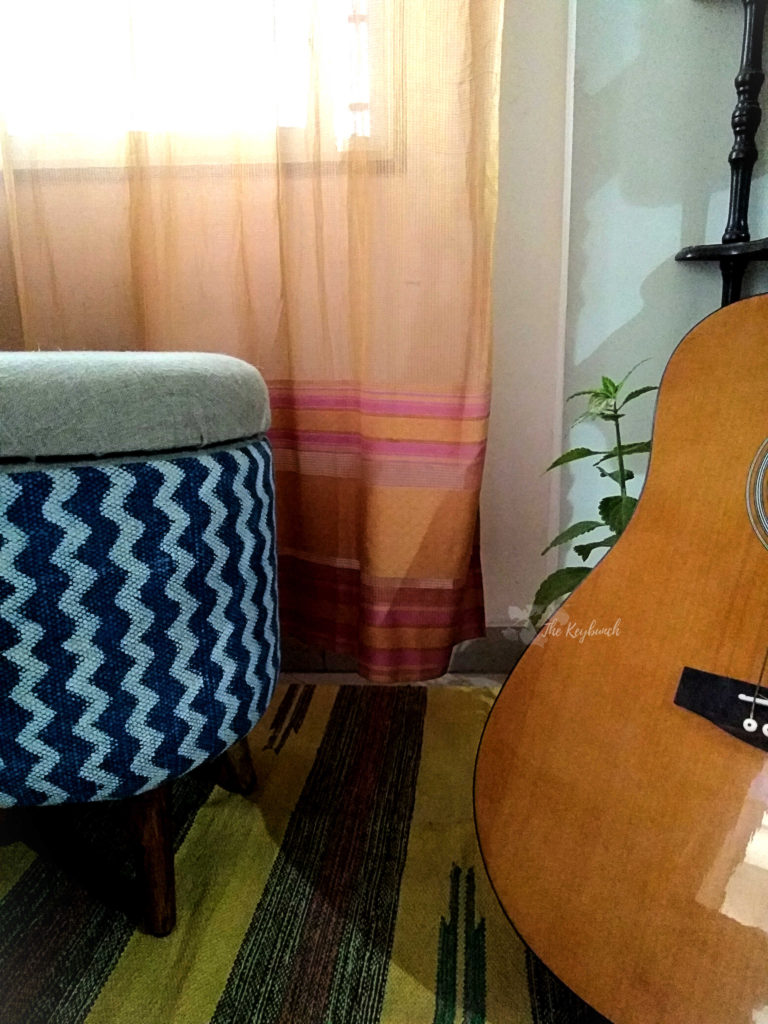 And the bedroom? Have a look.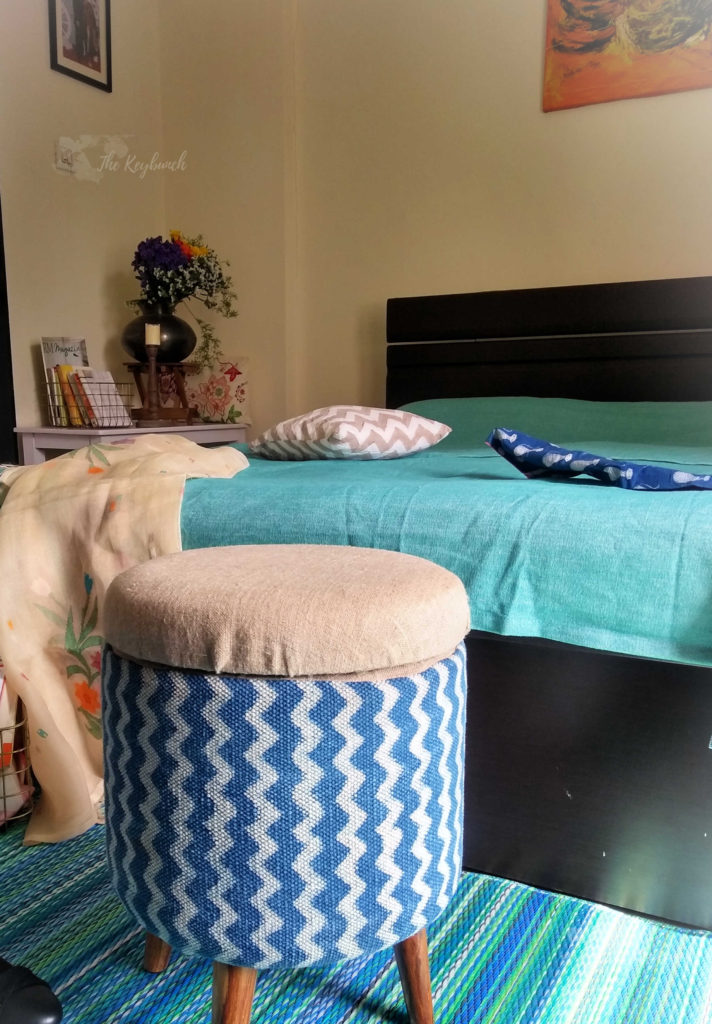 Beautiful, right?
My daughter plays the piano, and she tried it out as a piano stool. That worked well too. Too well if you ask me, as she says she wants it to permanently be a piano stool! I said nah!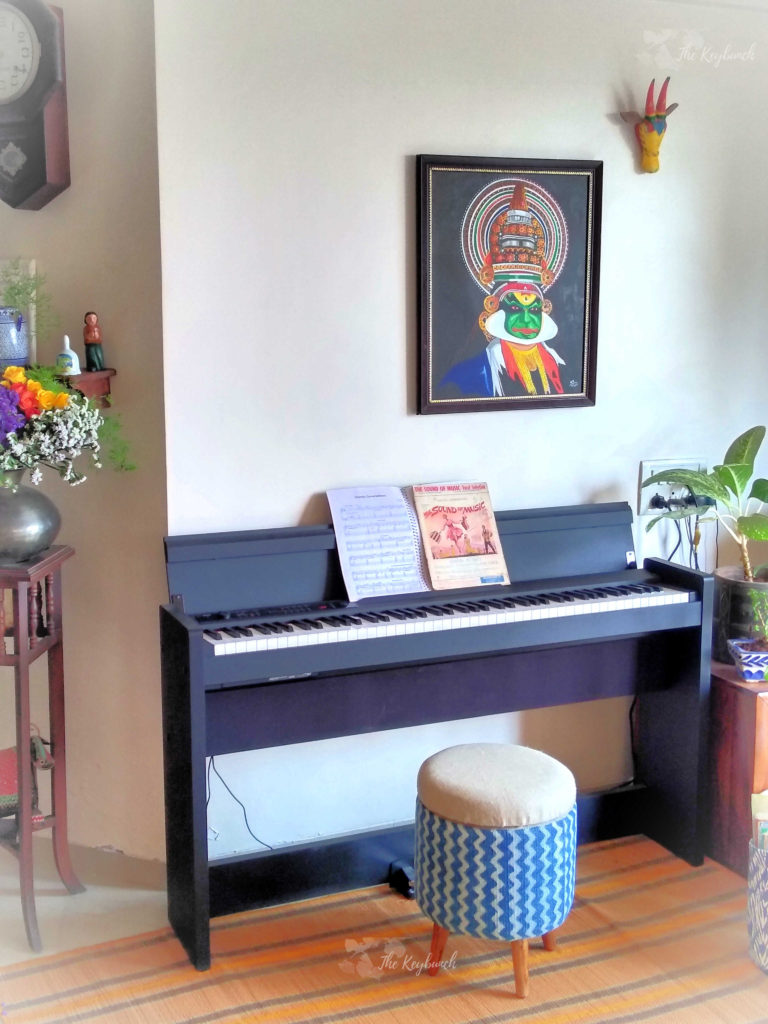 So it's pretty much done the tour of our home!


With all the props and decor accessories I have, there's just not enough storage. I love the fact that the ottoman has a neat storage bin inside it, and you can fit in a lot. These are my smaller frames of art work, paintings and chalkboards that I can hide and pull out whenever I want them back on my walls!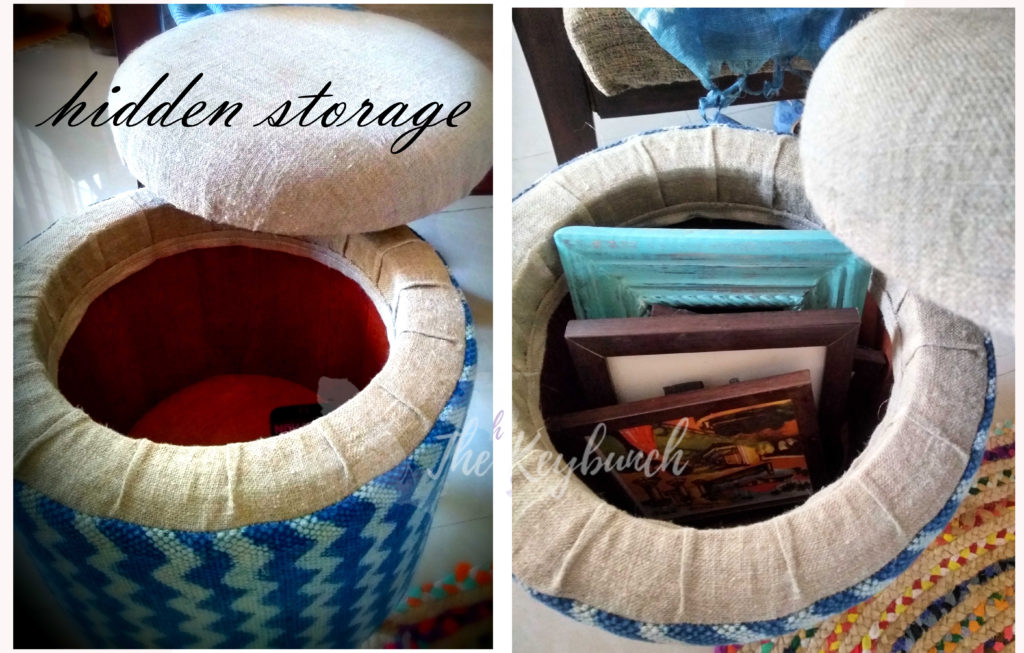 The upholstery is done really well, and the exterior finish is lovely! However, I was disappointed with a few visible staples on the inside, and under the lid (seat) of the ottoman. It may be only the handfinished aspect of the piece. However, I do wish this last attention to detail was not overlooked.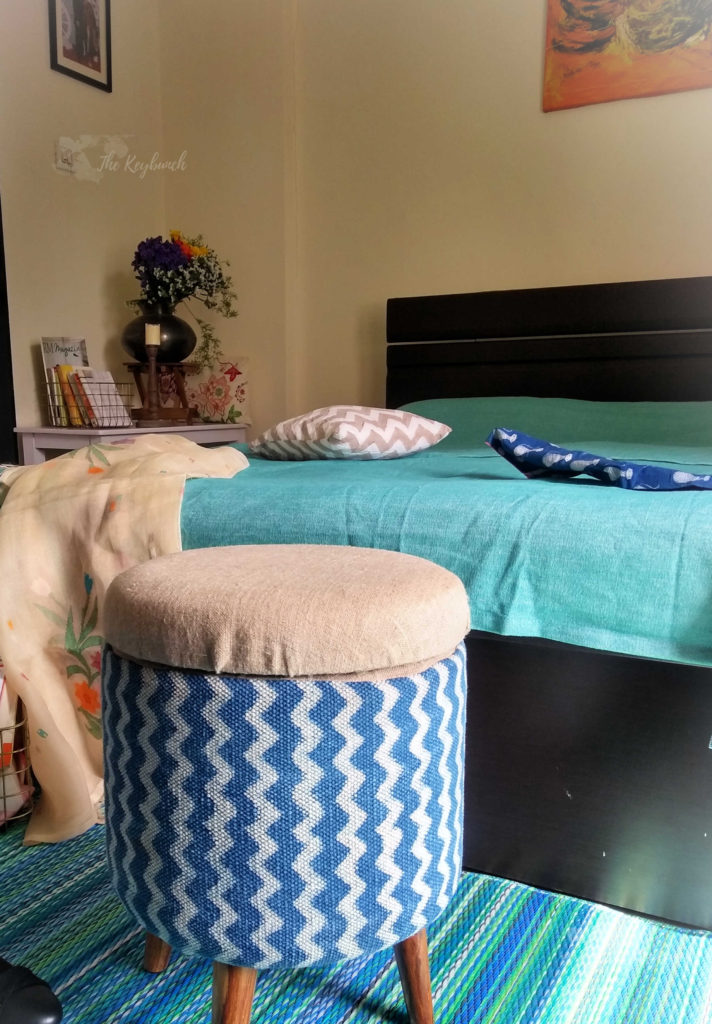 I would like to add a few tips to keep in mind when choosing fabrics or furniture pieces for your home.
1. Geometric prints can take your home from normal to stylish instantly. However, do not go overboard. One or two geometric prints more than suffice! Mix them up with florals or blocks of colour for stunning results!
2. Make sure you choose high quality upholstery fabric. As someone who upholsters as a hobby, I know that a good upholstery project starts with the best (high GSM) fabric you can get your hands on. Print and colour apart, the fabric itself should be sturdy and able to withstand rough use. A dhurrie like the one on this ottoman, for instance, is unbeatable as an upholstery choice.
3. When choosing an accent piece, do not try to "match" Instead, contrast, or set off the piece against what you already own! Research the best colours that set off your home's colours, and use Pinterest to browse through patterns – so that when you put furniture, colour and pattern together, and bring it into your home, it all comes together beautifully!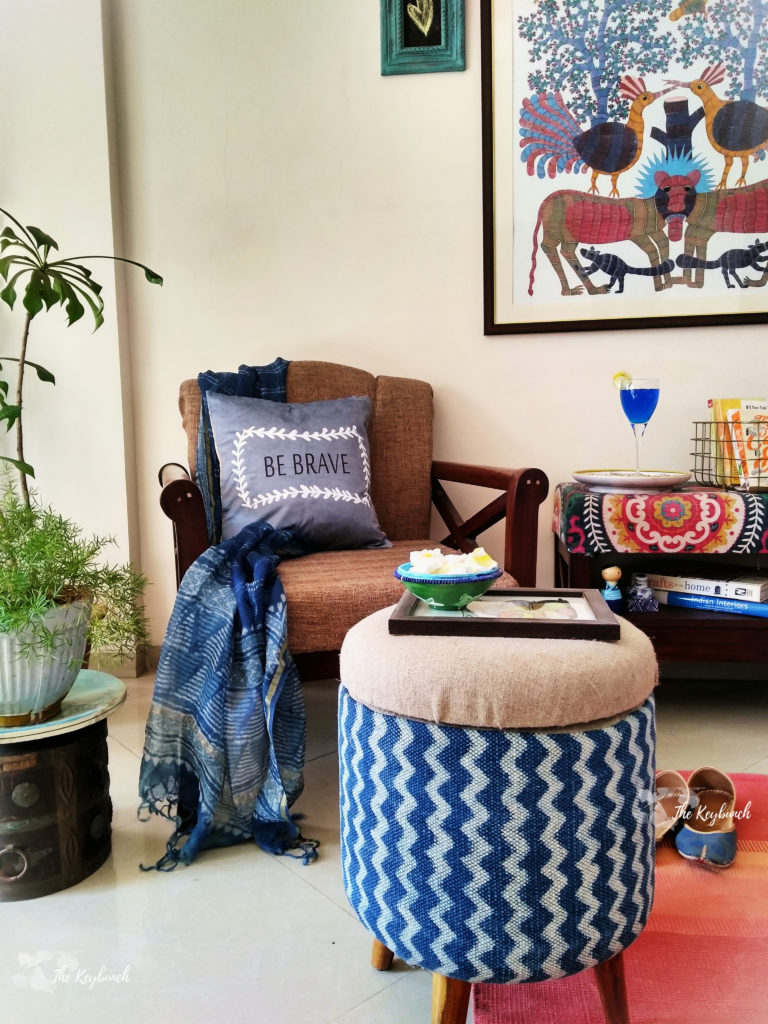 So tell me, which of these placements of the ottoman did you like the best?
Disclosure: I received this ottoman from Sihasn . However, this review is 100% honest as I only work with brands and products that I love and use in my own home!