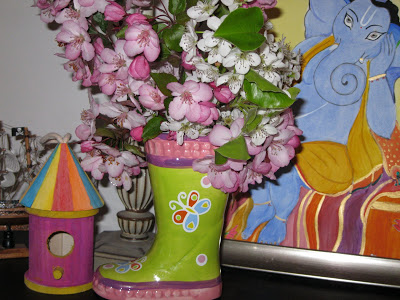 Sharmishta's Spring Summer Decor in shoe shaped vase
Happy Easter to The Key Bunch Readers, Have an Easter full of love, true friends and new beginnings! The Spring Summer Fest Carnival was received with enthusiasm and we hope to see many more entries in the coming week.
Sharmishta, our reader who stays in Baltimore sent us her entry for the carnival. Here's what she had to say..
"I saw the spring summer event in your blog and all the pictures and the entries were so colorful and inspiring, that I too wanted to join. It happened this way, the weather turning pleasant with every passing day in this northern part of the world (I Reside in Maryland, USA), that I was finally able to take a stroll after the dreary winter. The trees are turning rapidly into the most pleasant green and to accentuate that perfect. I picked up the blooming tulips in shades of green and white and pink cherry blossoms hanging in thick bunches in random corners of streets and paths and backyards decorated then in this cute little shoe shaped vase. The little bird house in the photo is painted by my daughter and the painting of Ganesha was done by me on some random afternoon a year back."
Thanks for your entry Sharmishta. Have you joined the Spring Summer Fest Carnival yet? If not, this the time!