Hello everybody, I am back after a long break. Had a wonderful 9 day vacation and you know how hard it is to get out of the holiday mood and get back in action. Well, I am back home and ready to post all the long due posts. Deepika Pandey is one talented women who believes in turning trash into art. This guest post by Deepika shows how you turn the normally binned coke cans into wonderful pieces of wall art.
Hi Key Bunch Readers!!!
My name is Deepika. It's a great pleasure to do this tutorial for the Keybunch. I really appreciate Rekha and Sharon for taking interest in my work and giving me this opportunity to show my work on their creative blog. Today I am doing a tutorial on recycle art. There is a pleasure in creating something out of nothing. This work is totally inspired by that. Hope you all like it.
Things you need: Acrylic colour, brush, pen, 2 empty can of Pepsi or coke (cut the can), some clips of the can, push pin, thread.
Draw any desired shape or pattern. Here for this tutorial, I'm drawing a shape of peacock on the outer side of a can with the help of ball point pen.
You can draw directly the sketches on the can's sheet with pen or can take two step approach of first drawing the design with permanent marker and then follow the pattern with the ball point pen.
As you can see in below pictures I'm making the sketches directly on the sheet using the ball point.

The below figure shows, "how it will look like from the other side…"
Once the figure is done you can add details. I draw some straight and wavy lines to finish the design as you can see in picture.
Step 2: Add some more details with the help of push pin as shown in above picture.
Follow the same thing on the other sheet too.
Step 3: Add the opening clips with the help of thread as you can see in the picture.
Step 4: Now paint the blank area of the sheet with black acrylic colour.
Step 5: Add the second sheet to the first one with the help of thread; your recycle art is ready.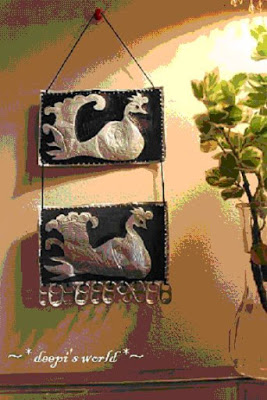 Hope you enjoyed the tutorial, Deepika has a lovely home too. The house tour will follow shortly. Deepika blogs at Deepi's World and has some wonderful tutorials, do check them out.