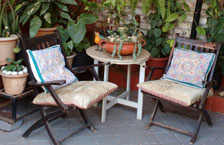 Radhika Yuvaraj and I connected on-line, and we have kept in touch with each other, sharing decor stories and furniture secrets, or comparing notes on exhibitions. So when I had an opportunity to visit her, I was excited and just couldn't wait!
Just off a really busy intersection or chowk as its known in Pune, we turned into a quiet housing society with row-houses and apartments. As we drew up near a group of houses, I looked around quickly trying to guess which one was Radhika's. I put my money on the one to my right – with a tall gate that couldn't hide the profusion of green behind it. I was right, because a second later, I saw Radhika stepping out of the gate, looking lovely in a pink blockprint ensemble.
Radhika shares the 2400 sq ft +terrace home with her husband Yuvraj Dayanand, daughter Gayathri and son Aditya. "Don't forget to tell them about my two babies Champ and Hazel," she adds, referring to her dogs. Of course I haven't. And you will see them during this home tour too.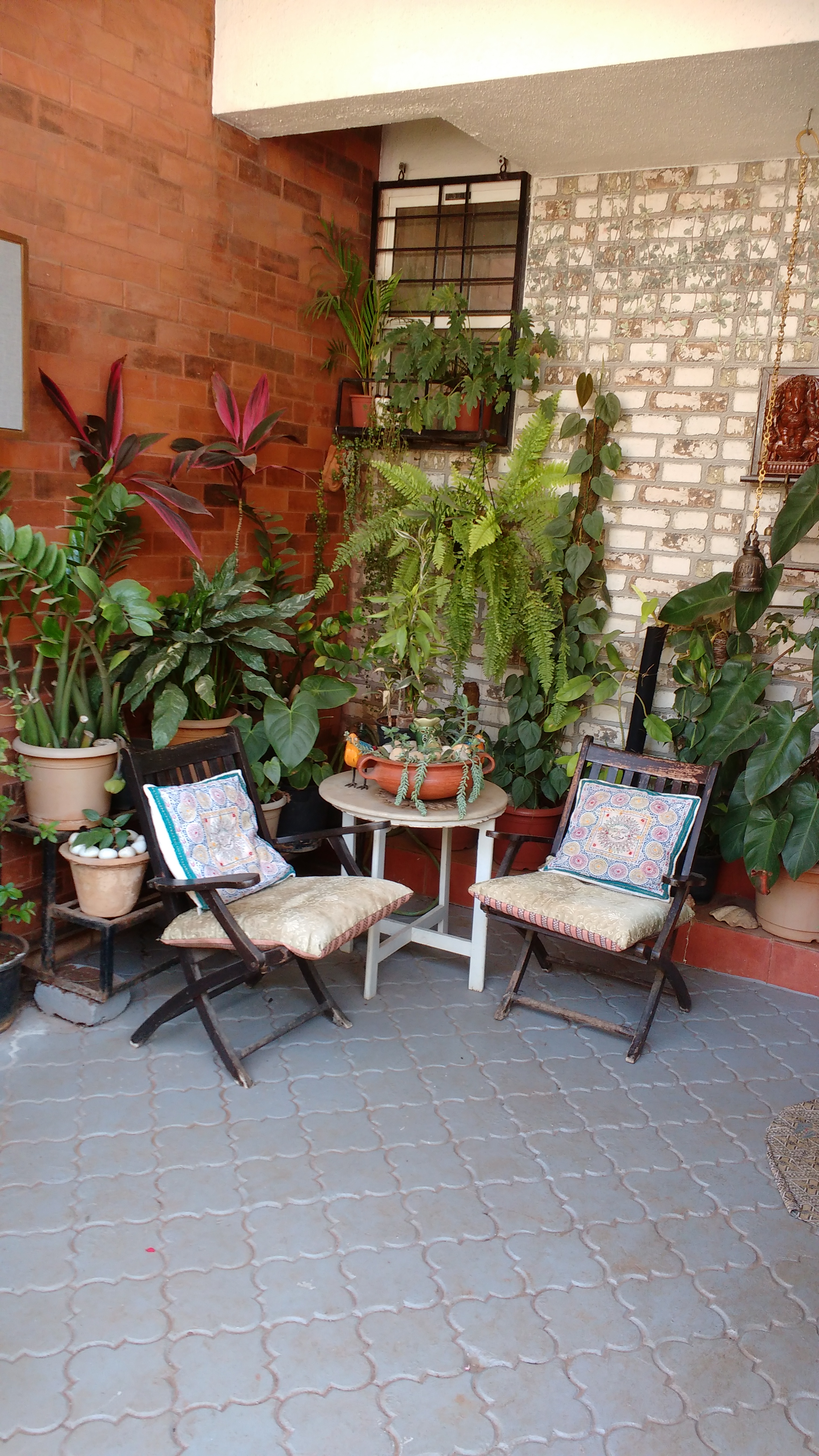 I take pains to get into these little details, because Radhika is someone who puts her all into everything she does – from her baking, to her lovely outfits (she is a saree designer too!), from her home decor to her passion for rescuing and restoring furniture, to her large heart that sees to it that everyone is comfortable, from her family and her maid Jyoti, her two dogs, to the 7-8 street cats that she feeds three times a day!
As I walk in, I am afraid I can't take my eyes off the lovely garden. A blue picket fence, lots of pretty finds, old buckets and barnis that have now been promoted to become planters, an easy cane seating arrangement, and a profusion of healthy plants!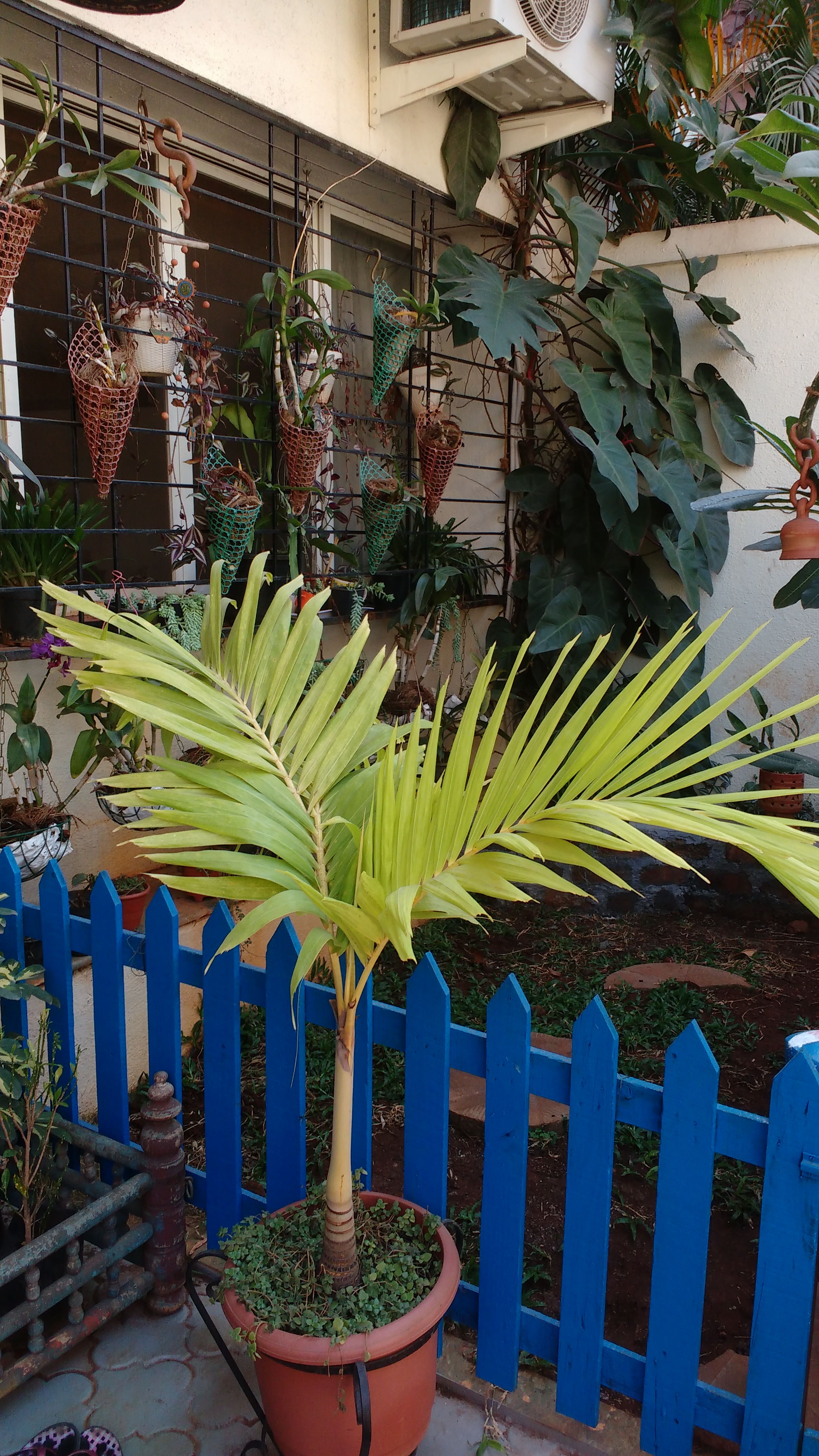 As I step in to the house, I get my first glimpse of Radhika's talent – A restored door that she re-imagined with little bells and embellishments. Radhika rescues old pieces of furniture that are almost written off, lovingly carts them home and restores them to beauty, or reimagines them as something better, then hands them over to her trusted furniture restorer to work his magic! Quite a noble profession, if you ask me, and one that I wouldn't mind getting full-time into, if only I was half as talented as Radhika!
The home opens directly into the living room, and the room is a vision of lovely wooden and brass beauties. I take my time to take it all in! What strikes me then, is that everything is purpose-fully chosen, making the home as functional as it is pretty!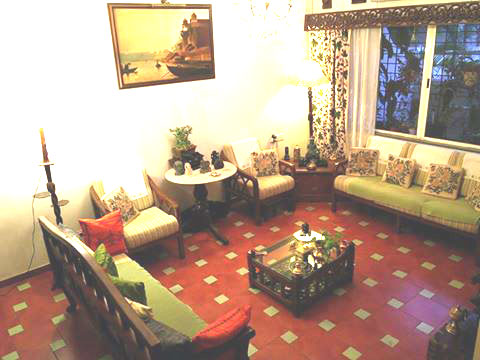 The center table is a classic example. She saw it thrown away for firewood, and brought it home. It was in bad shape, but after restoration and polishing, she converted it into a glass-topped center table. While it has a lovely arrangement of brass on top, I am touched when she points to the coins at the bottom, and tells me that those once belonged to her mother. Later, I see lots of instances where Radhika has fused emotional ties and sentimentality into the decor of her home!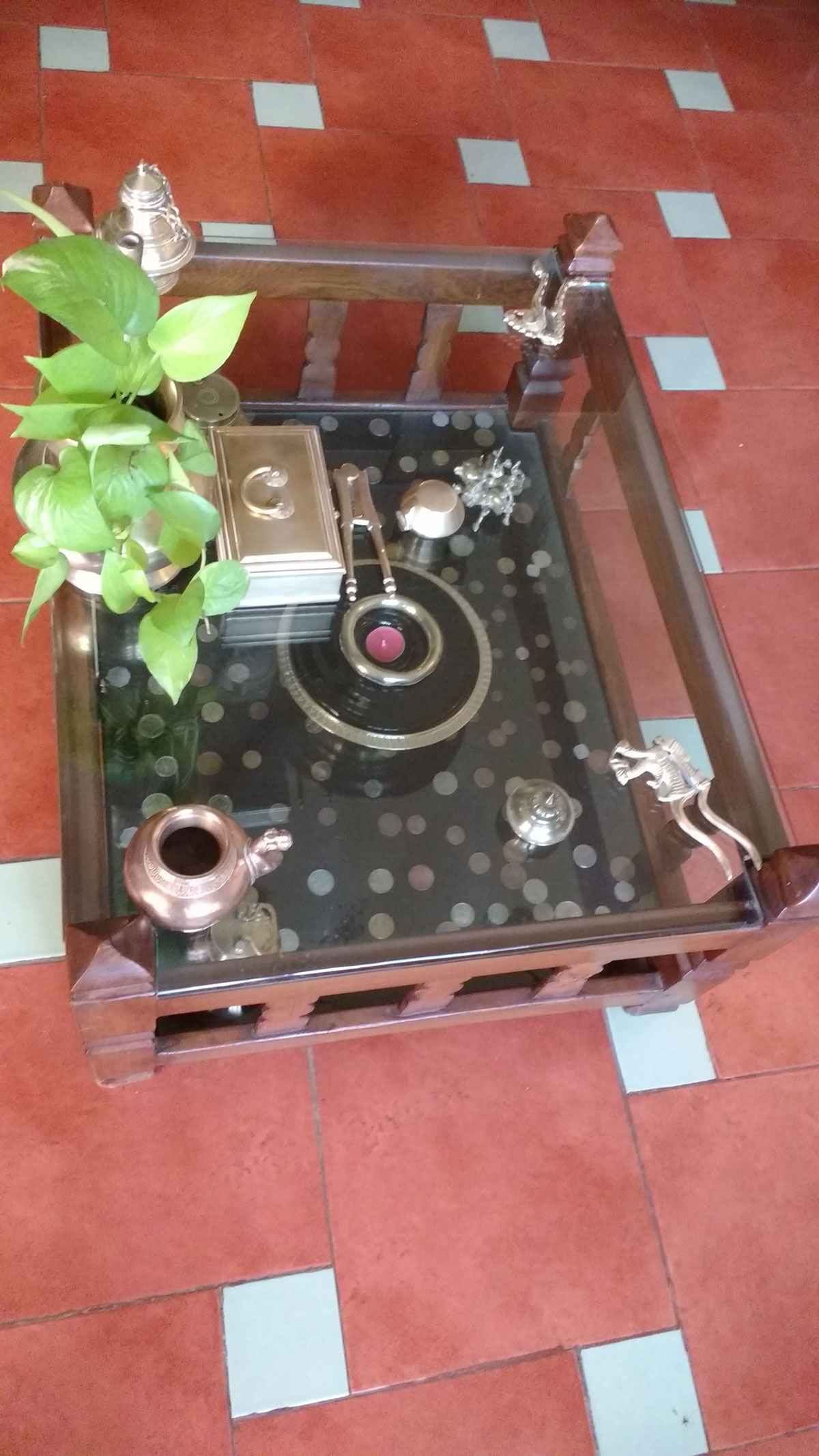 And as for functionality, whenever she finds a piece – advertised or cast off, she just brings it home if it's within her budget and she likes it. If it cannot be used in its current dimensions, she doesn't hesitate to make something else out of it. There are numerous examples of this in her home.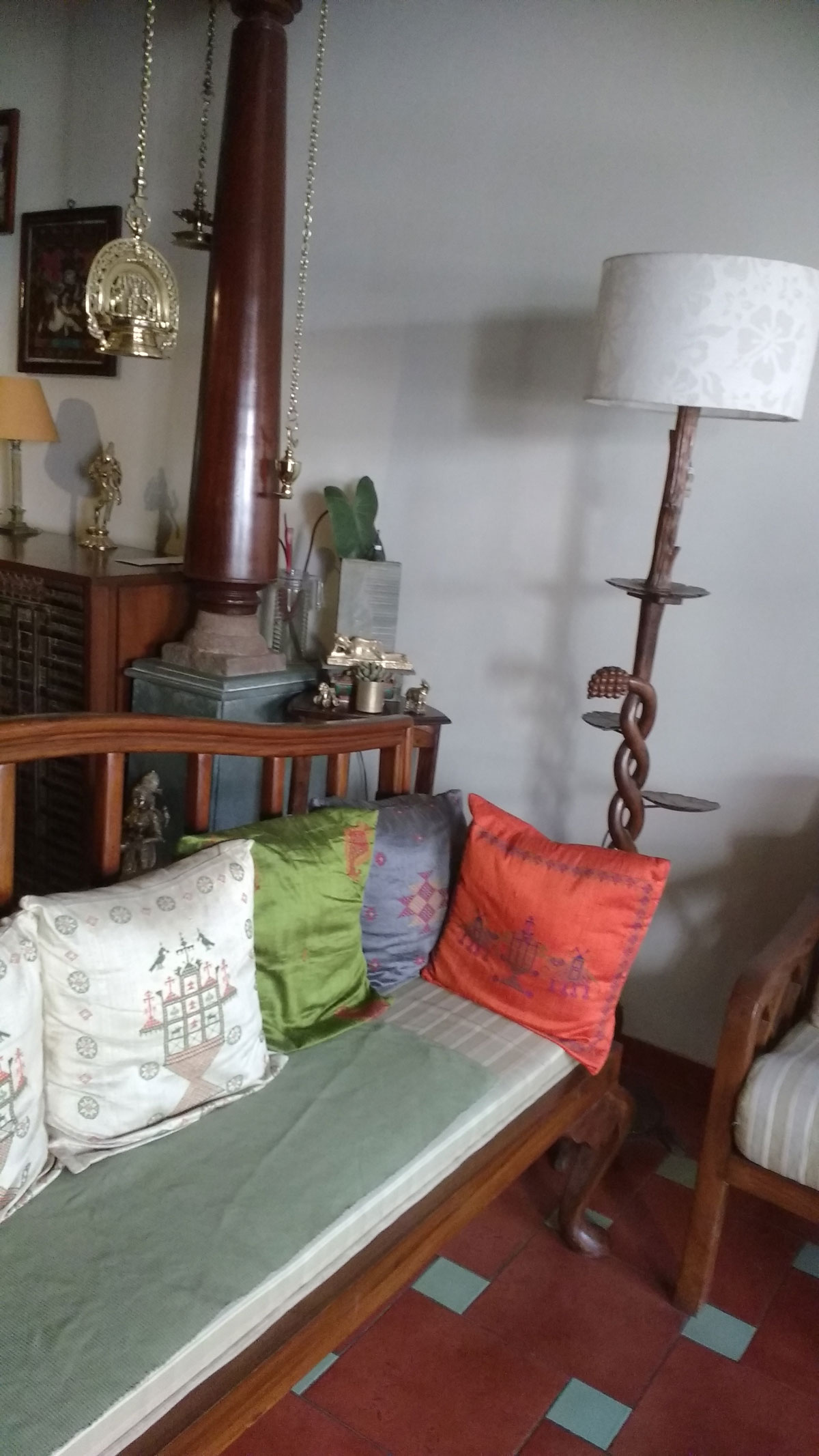 I was particularly surprised when she told me her living room wooden sofa was actually a bed to begin with. She used what she could, and then asked her carpenter to add what was missing – like legs and arm rests.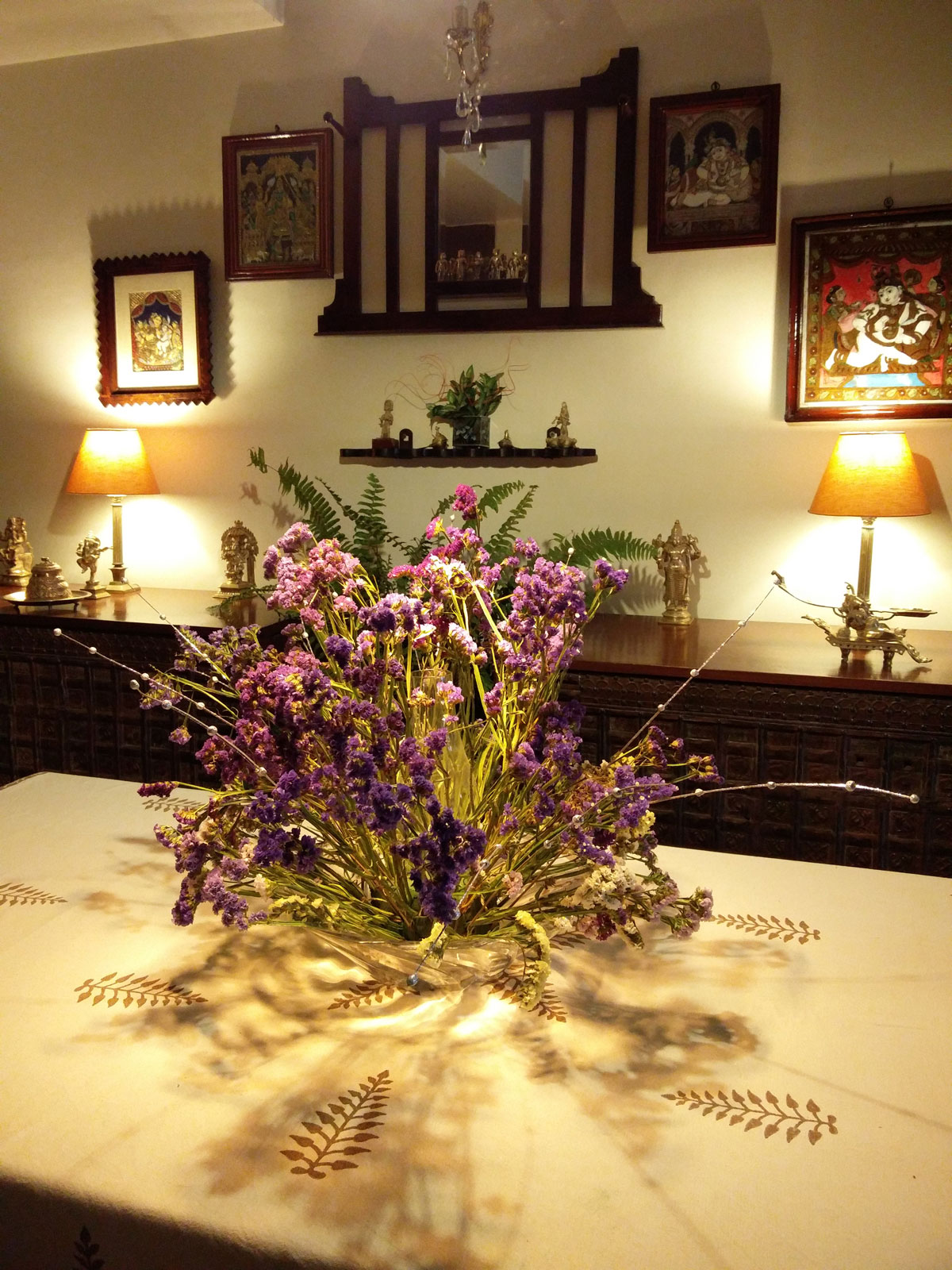 In the cosy dining room, I love the way she has turned a dowry chest procured directly from a royal, into two functional cabinets – one for the bar, and one for her table linen!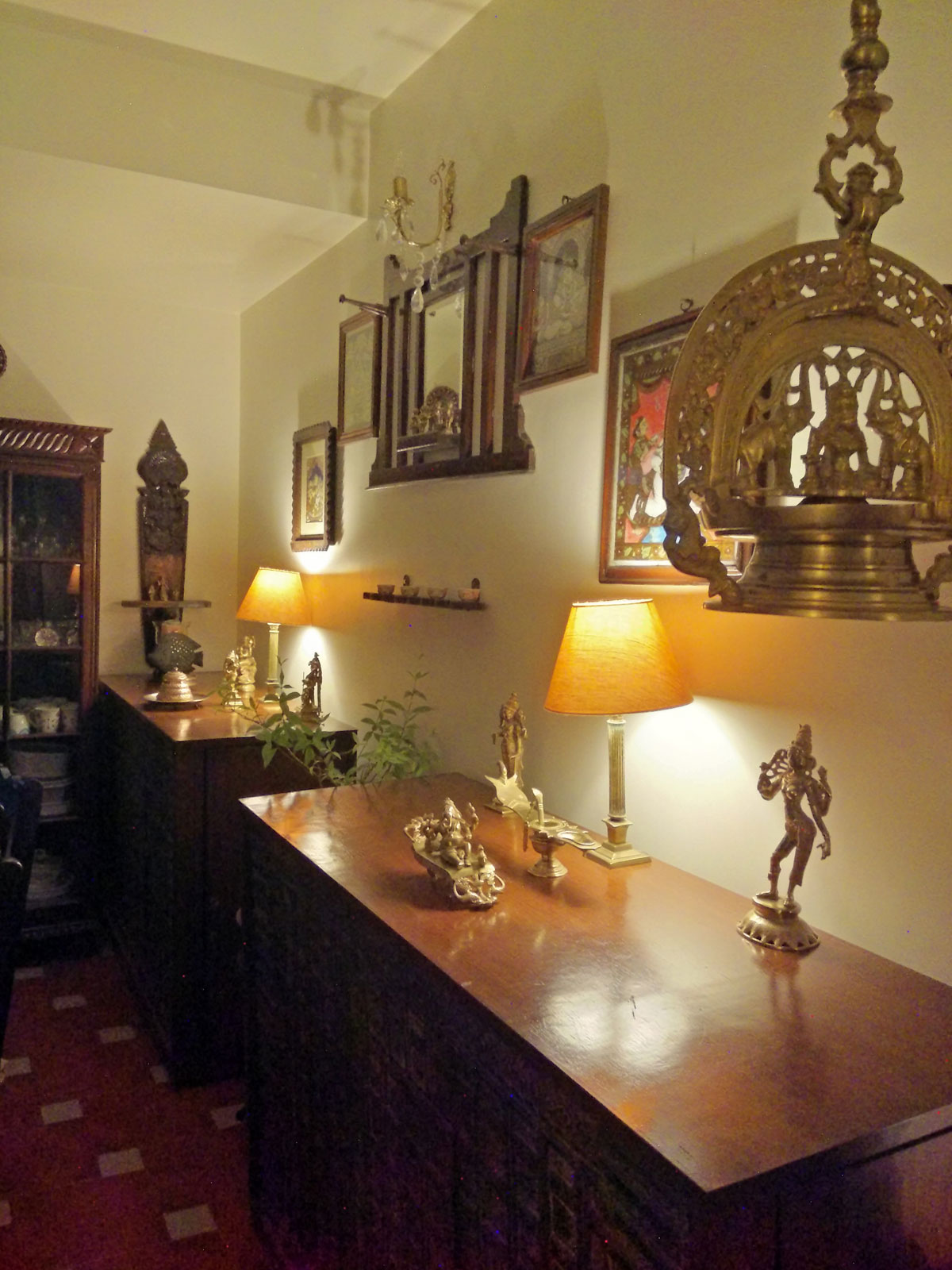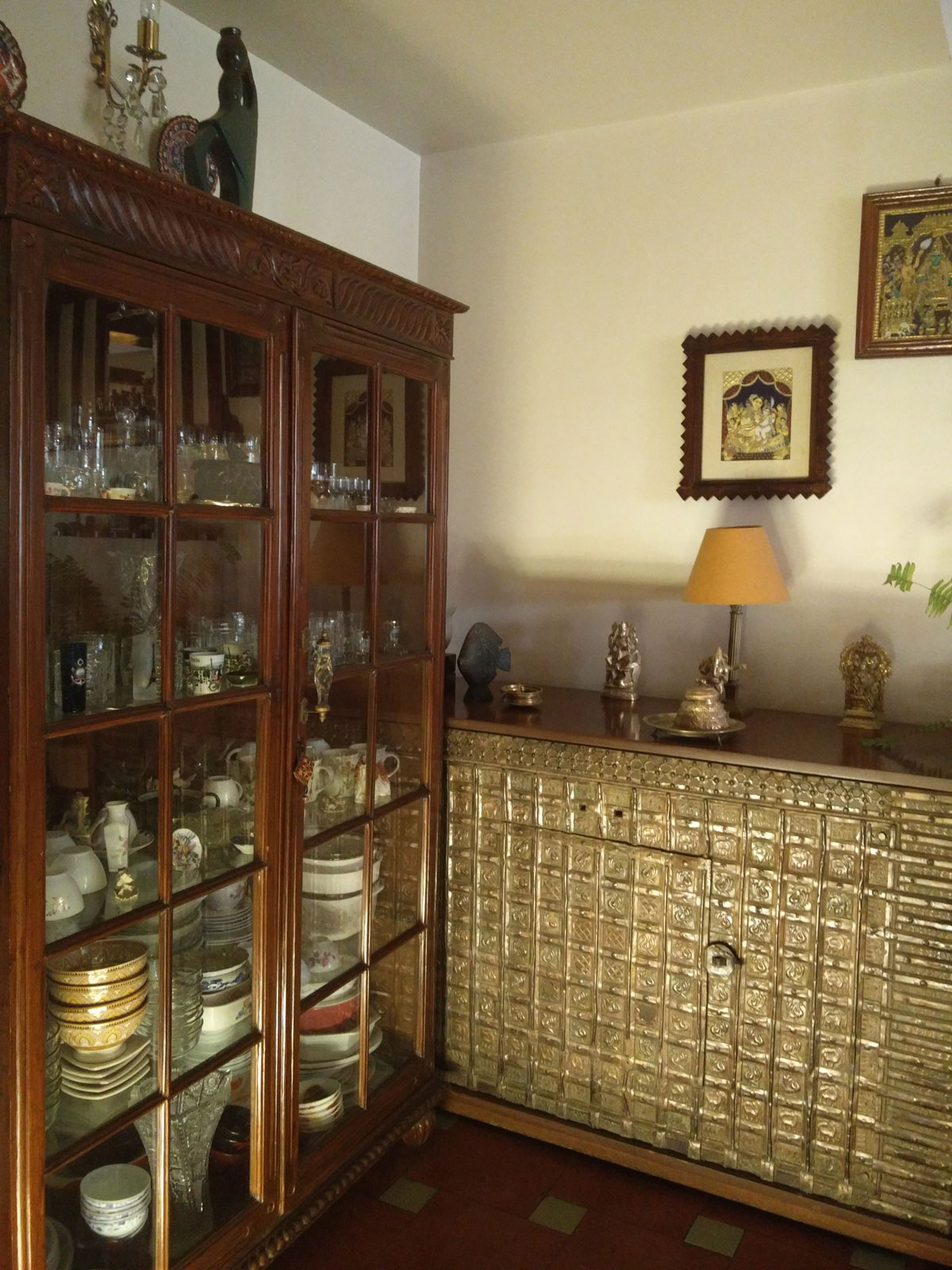 The puja room is just off the dining room. It is adorned with beautiful original Tanjore paintings and lovingly enclosed with carved doors.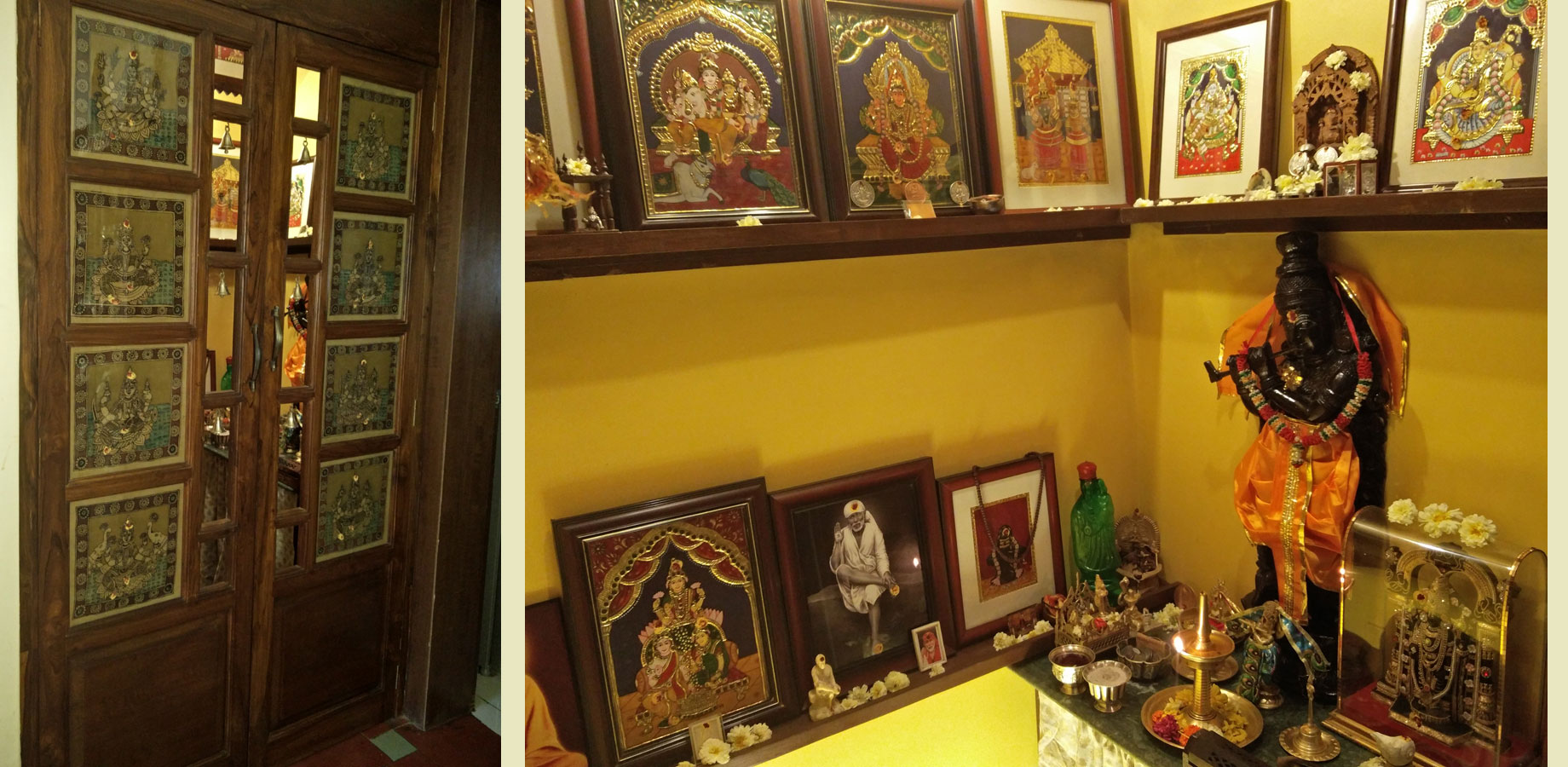 The kitchen, a quaint step down from the dining room, is a cosy little space – functional yet old-world and charming.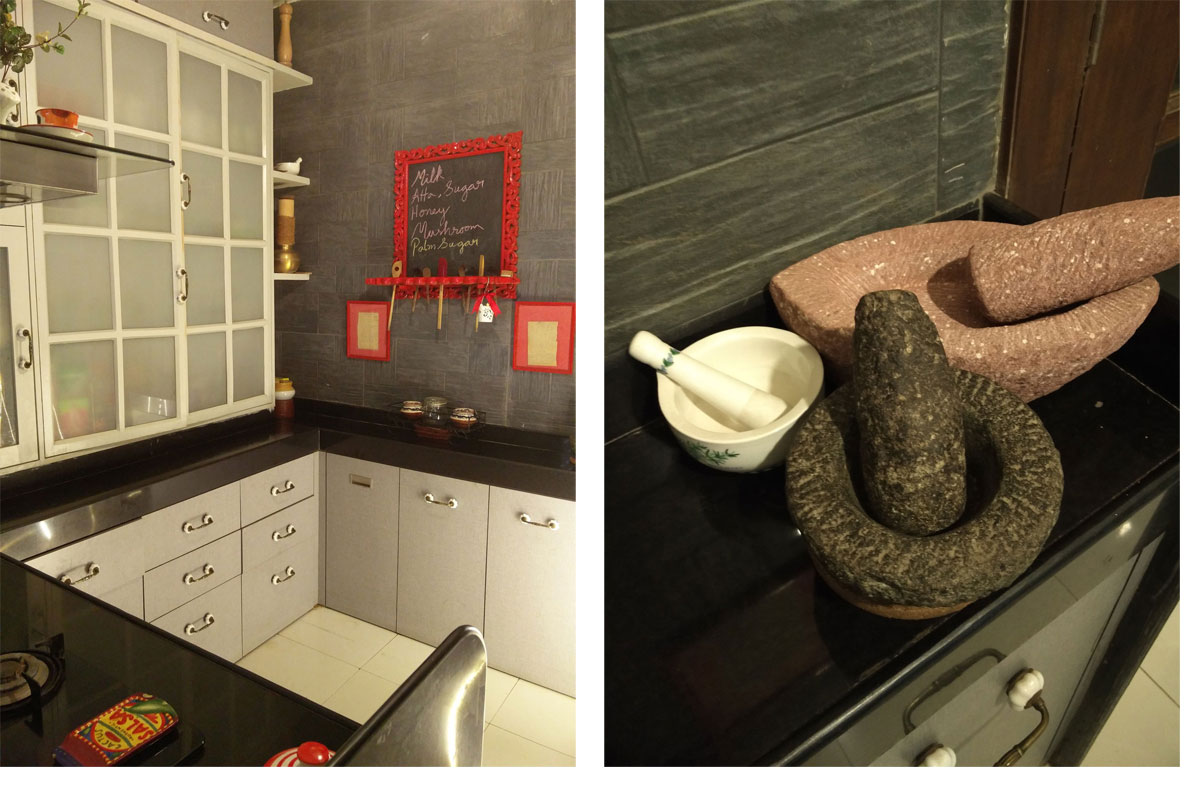 Off the dining room, is daughter Gayatri's room.
A quaint space with a prominent bird theme, the room is airy and spacious. The furniture has Radhika's unmistakable touch, which means none of the pieces have been bought off a store, but in fact "found" and then refurbished!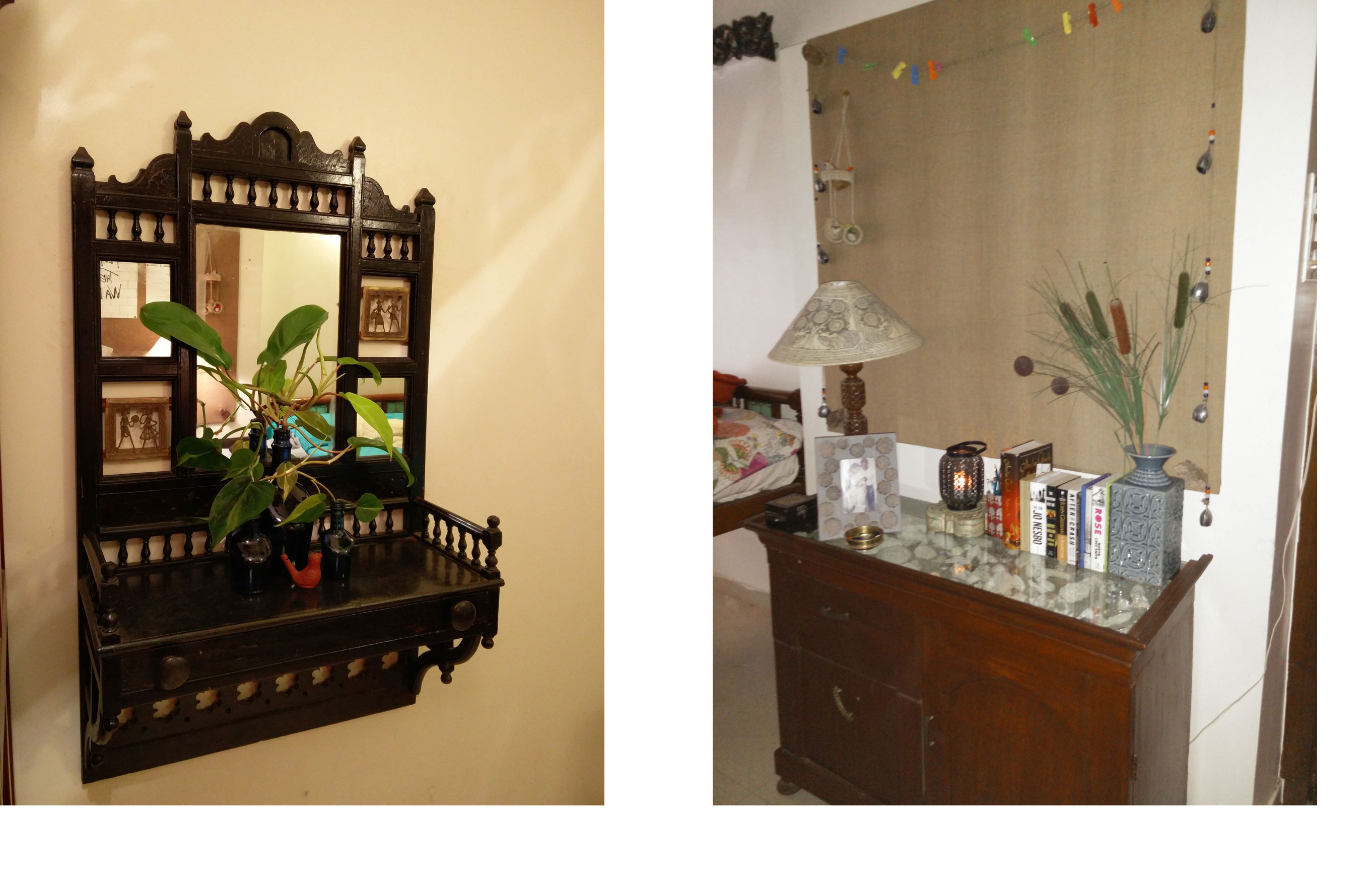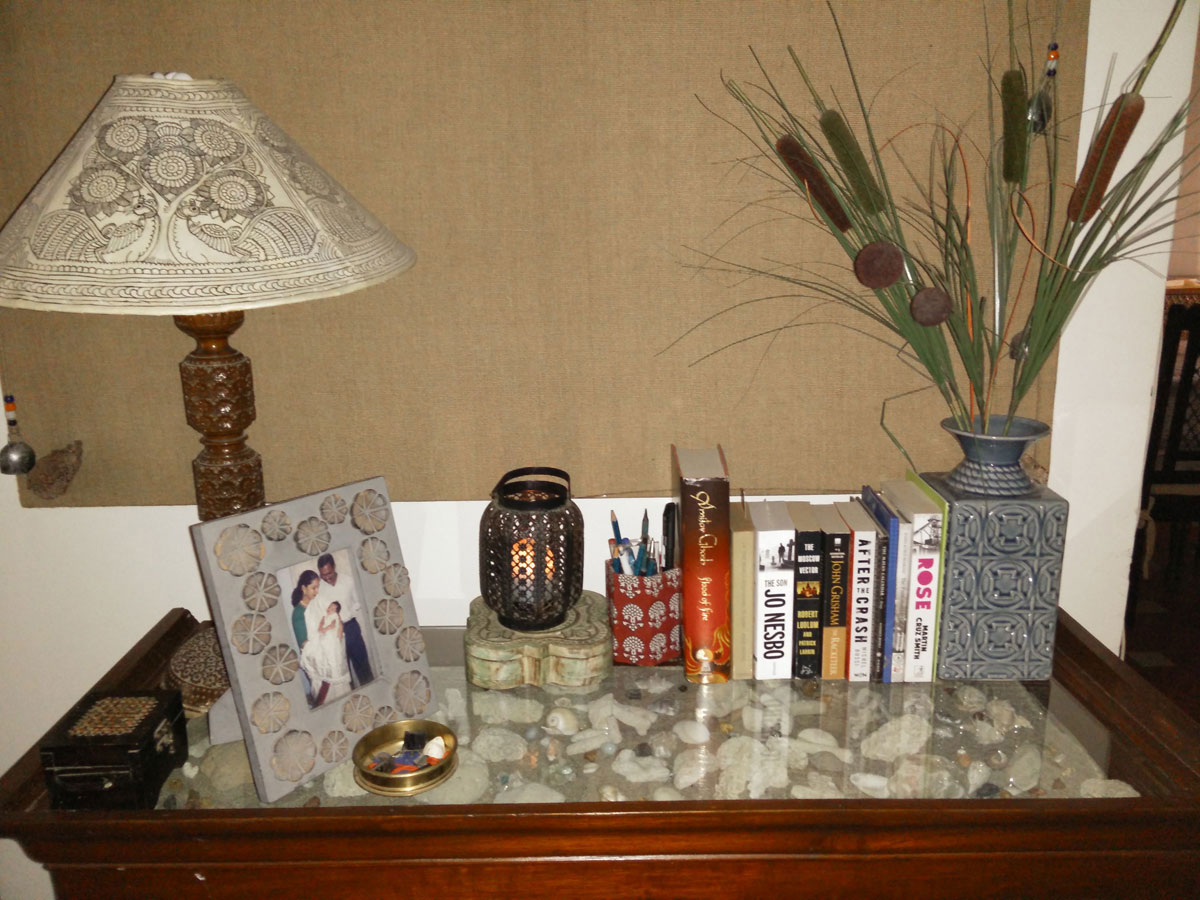 The above picture is a closeup of the table. If you look closer you will see shells that Radhika's kids and nieces collected when they were little. Ever so sentimental, Radhika has found a novel way to preserve them, while adding beauty to this table.
As we head back to the center of the house, this lovely brass and pillar catches my attention. How pretty it all looks!
As we start upstairs, I am unaware that the best is yet to come. I trail behind Radhika, as her lovely decor on the landing has me stop and stare admiringly more than once. The landing and the stairway walls are beautifully decorated.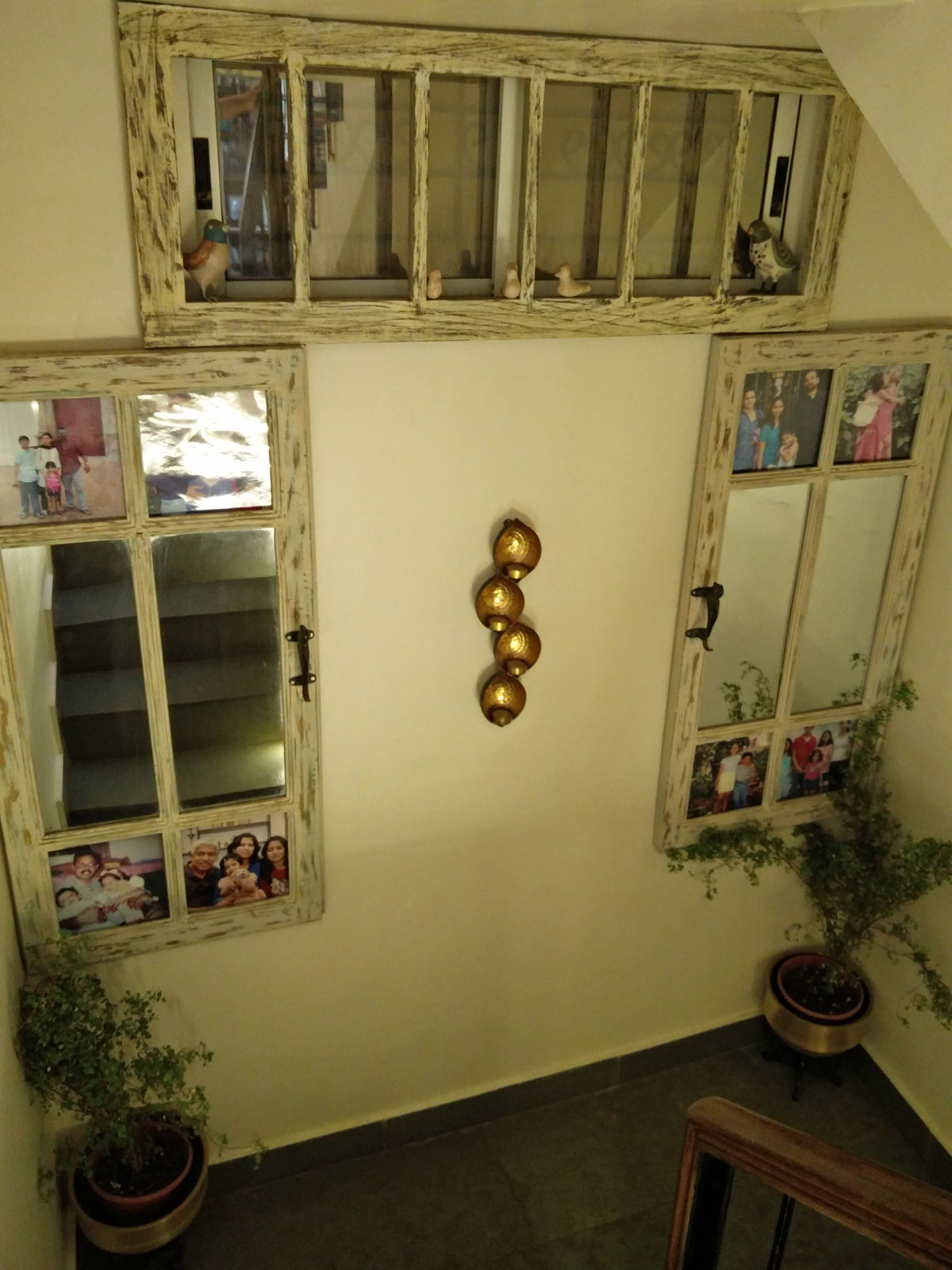 The landing has a lovely trio of old window frames, that Radhika has used for mirrors and family photographs!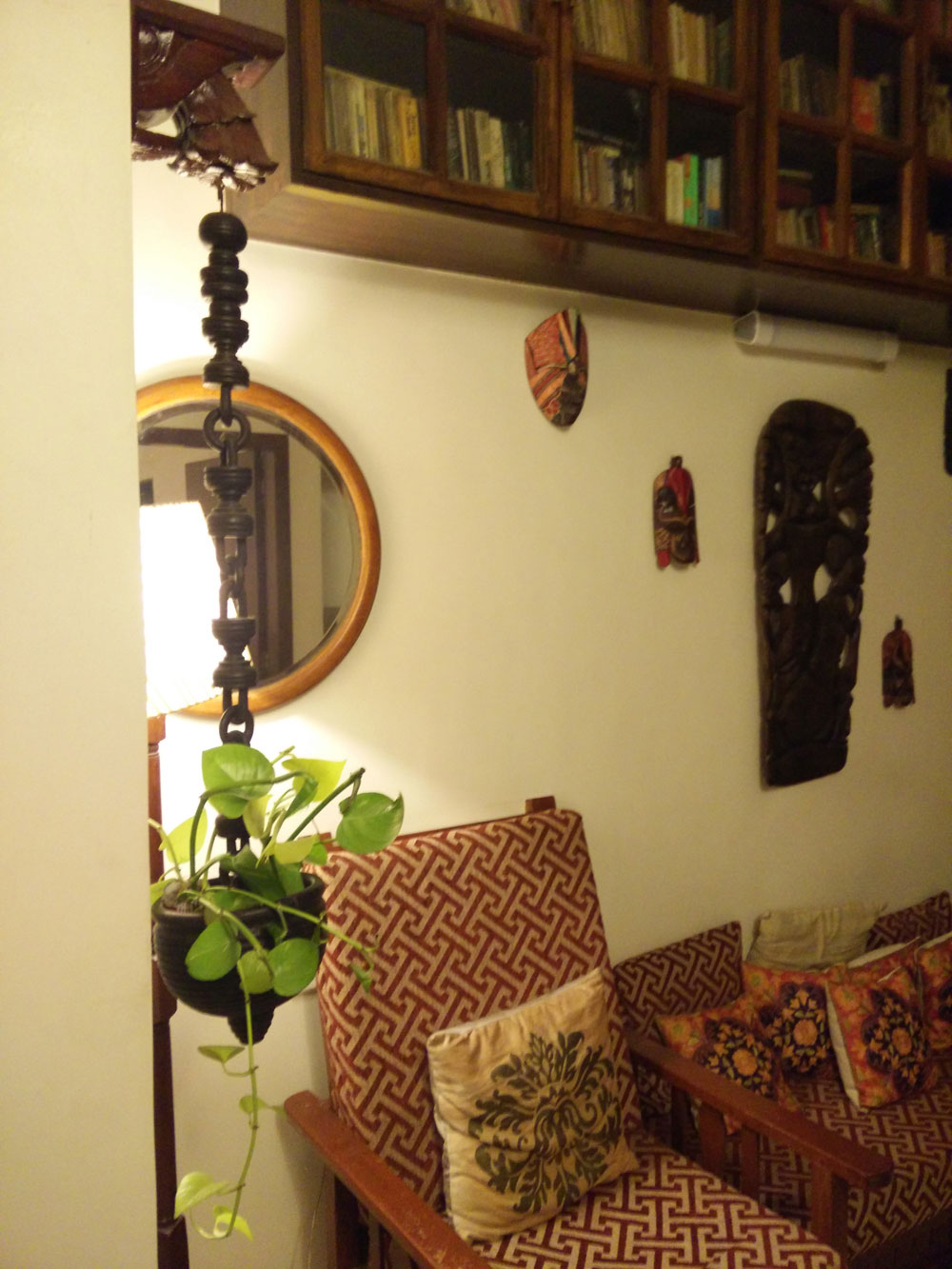 The first floor has an interesting little family room with floor to ceiling book shelves and a television. The master bedroom and Radhika's son Aditya's room lead off this room.
The master bedroom oozes simplicity, but it has its share of antiques and memorabilia. The dressing room just off it has a lovely set of antique cupboards. The bed and table are refurbished finds too.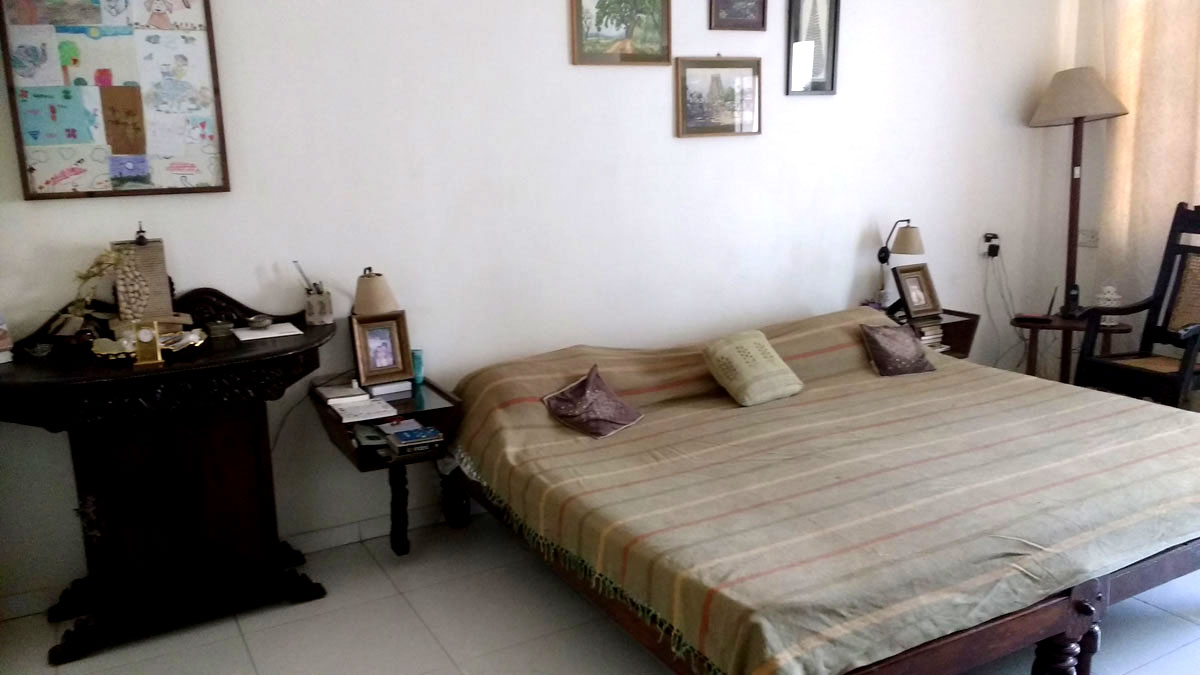 On the far left of the above room, you will see a frame with drawings. Radhika had collected all the little cards that her nieces and kids had made for her, and this is a collage created out of them!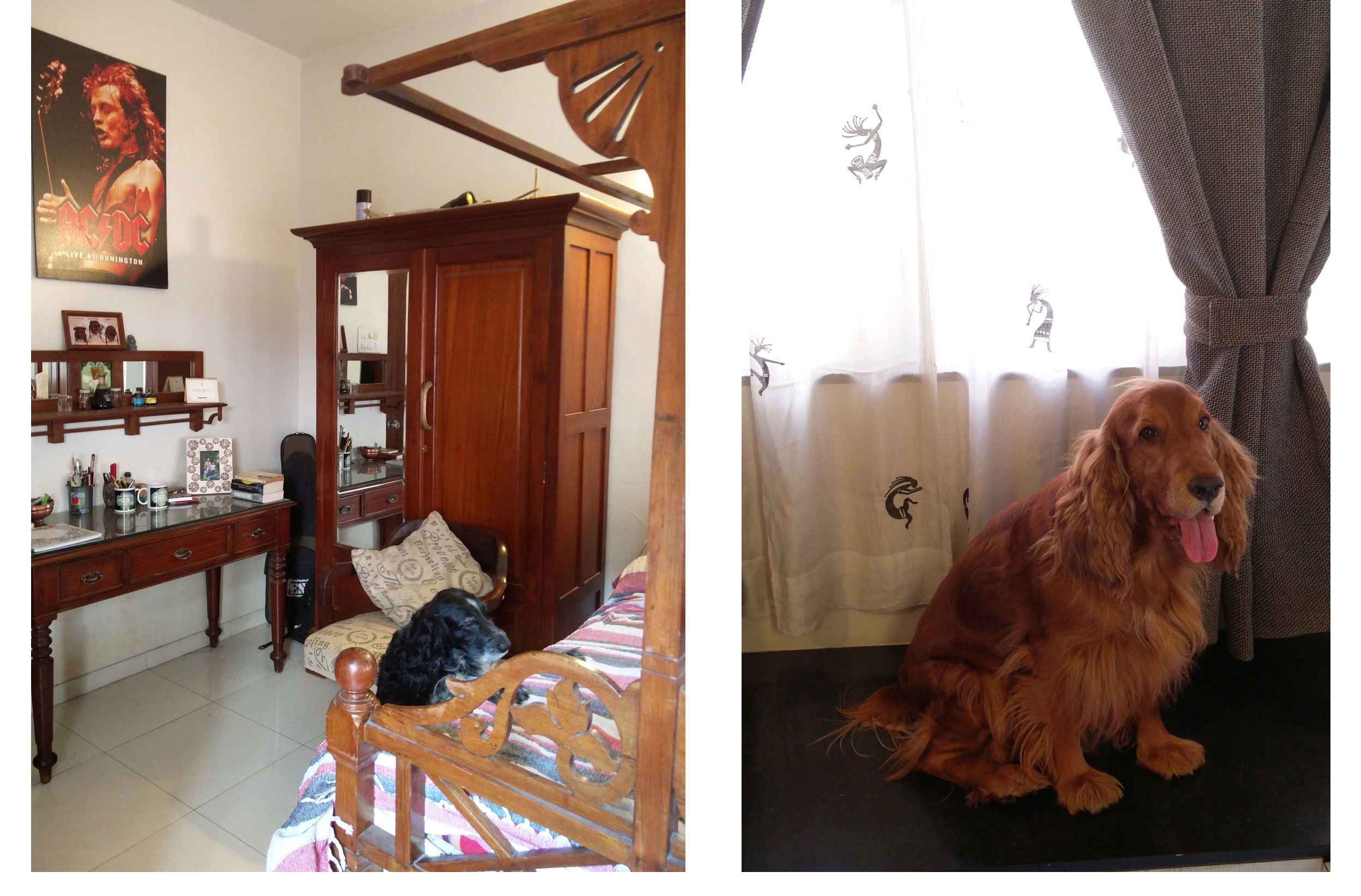 When I enter Aditya's room, it's instantly clear despite a continuum in the refurbished antique decor, that this is a music lover's room. With Warli musician motifs block printed on the linen drapes, rock posters on the wall and guitars in sight, it's a room that has come together very well indeed!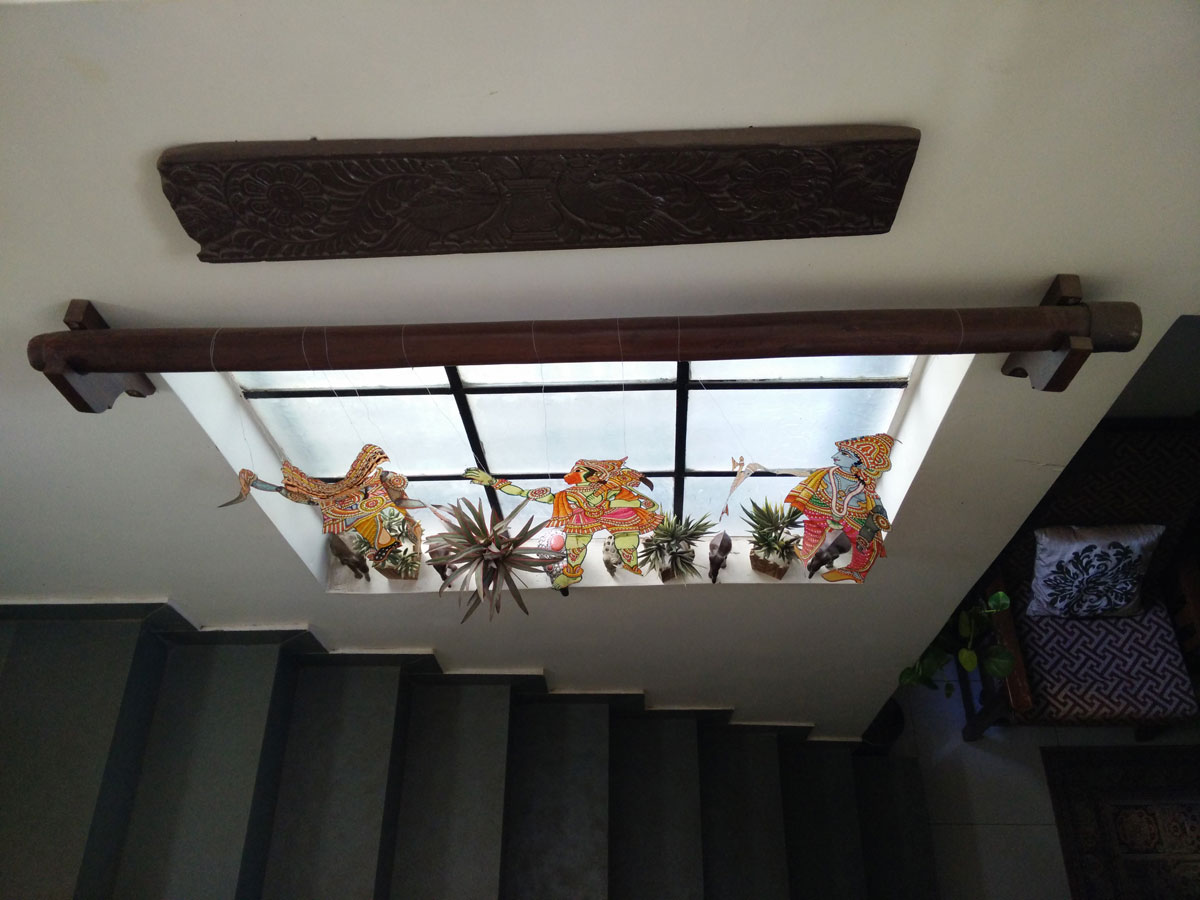 Every piece has come from somewhere, pre-loved or handmade. It warms the heart to see it all, especially in these days of malls and retail decor shops, that Radhika's styling and decor elements are not from stores! For instance, the puppets in the picture above are hand crafted leather ones from Andhra Pradesh, and the rod used to hang them is actually a rice pounder belonging to her grandmom!
On the second floor landing, this time on the stairs that lead to the terrace, I am enthralled with the beautiful paintings and little framed reminiscences of her two-and-four-legged kids' growing years. Every piece tells a story.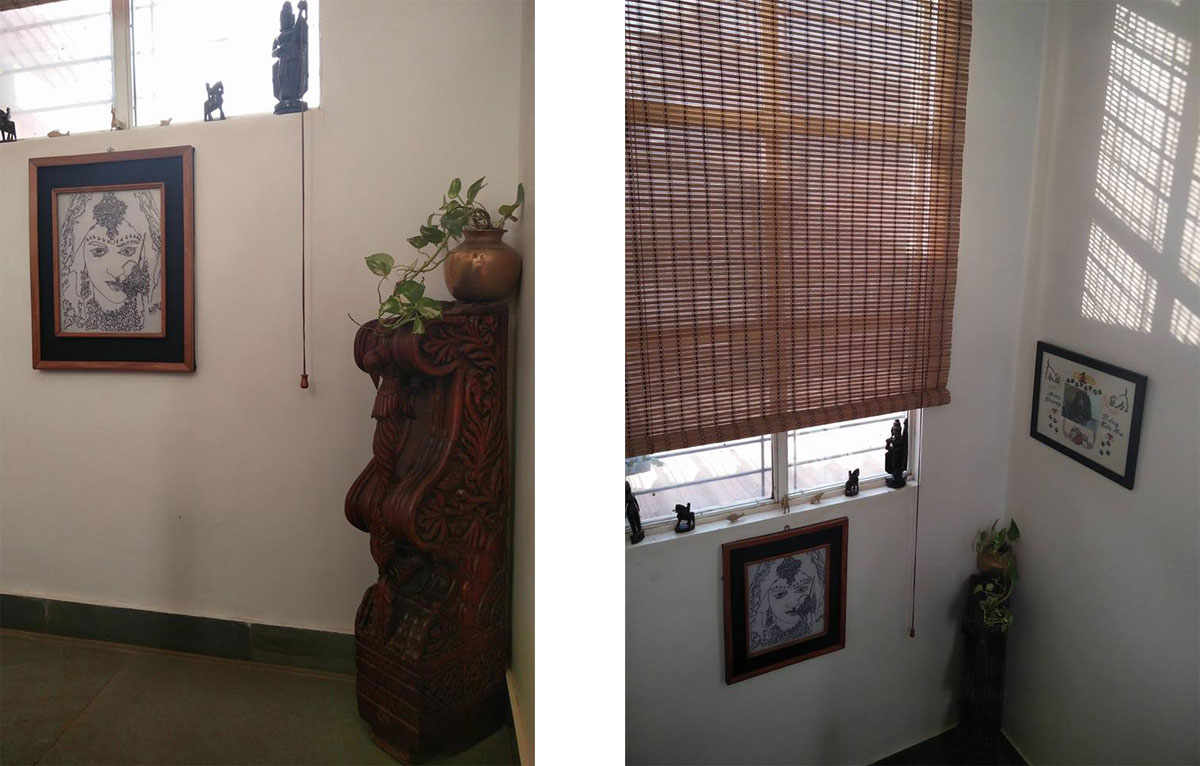 In the images above, the pictures are hand-embroidered by Radhika. The one on the right is a little paw tribute to her furry children. The picture of a bride was hand embroidered by Radhika about 25 years ago, with single thread!
On the top of the stairs, in a little alcove, Radhika has set up this trunk. It belonged to her maternal grandparents, and they used it to store rice. Radhika now uses it to store her garden tools. The warli designs were drawn by her son when he was 9 yrs old. He is now 19! The divider that is placed behind it, makes this look like a throne. The divider belonged to her grandparents too!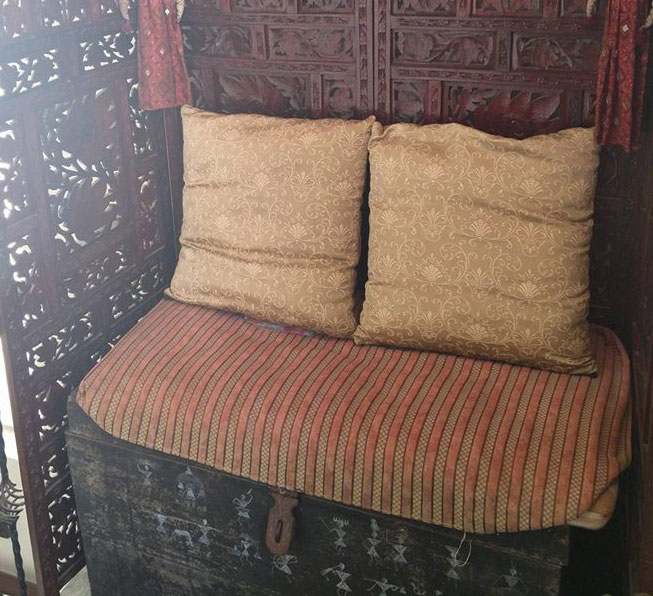 Finally we are in the place de résistance of this lovely home tour. Radhika and Yuvaraj's beautiful terrace is like a wonderland – bright and colourful props and accessories, a lotus pond set in a real bathtub, a birdbath, quaint touches, and of course lots and lots of plants and greenery!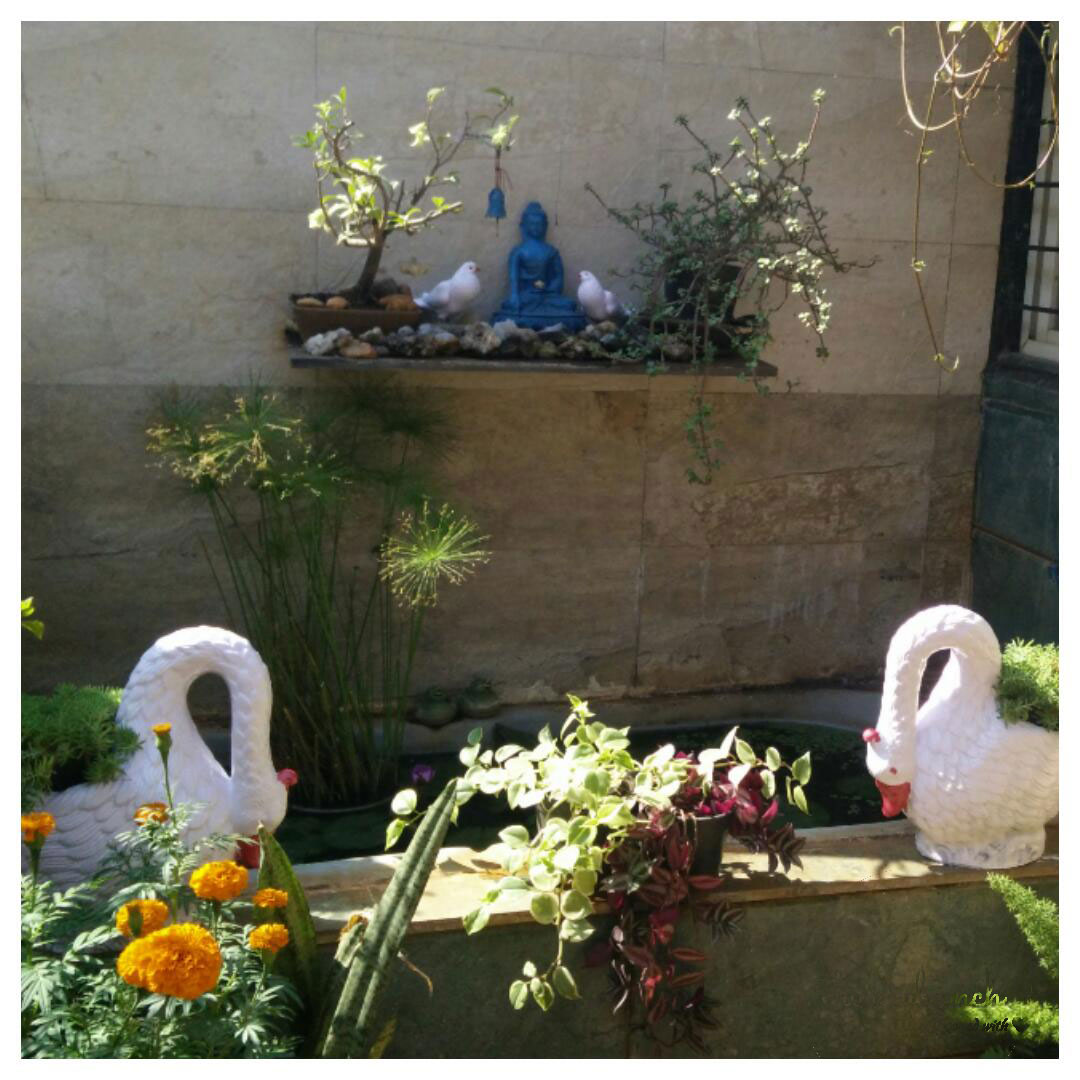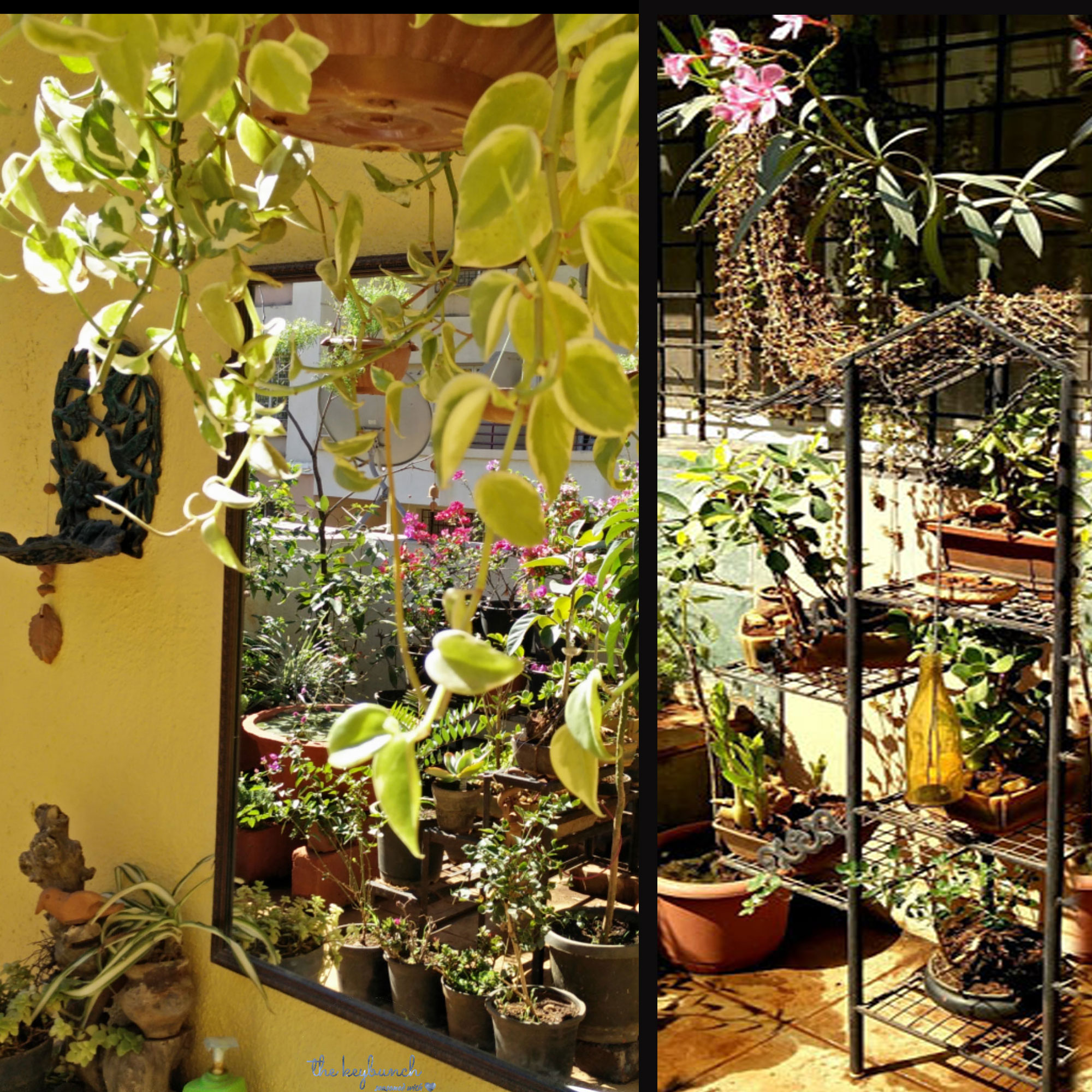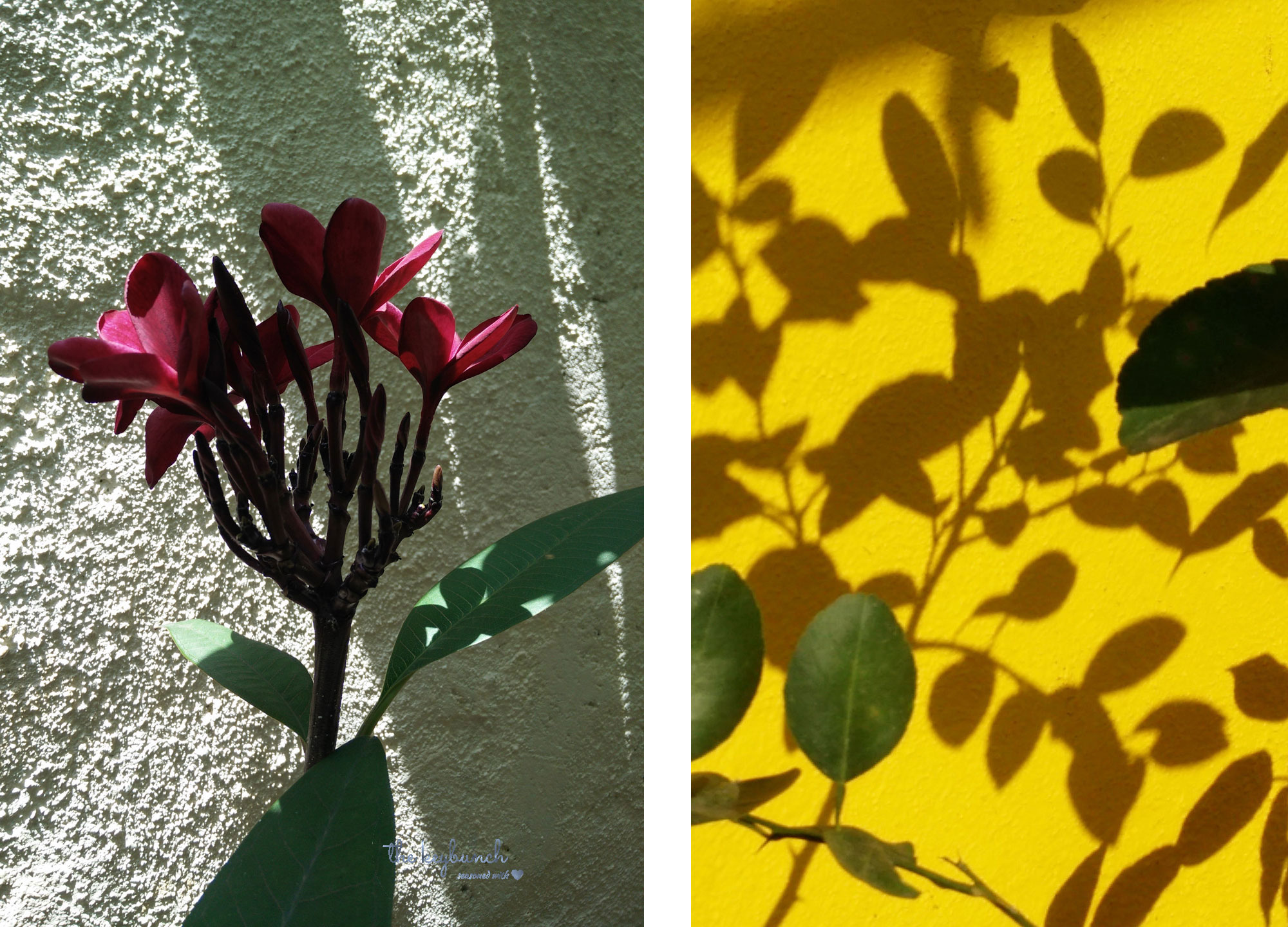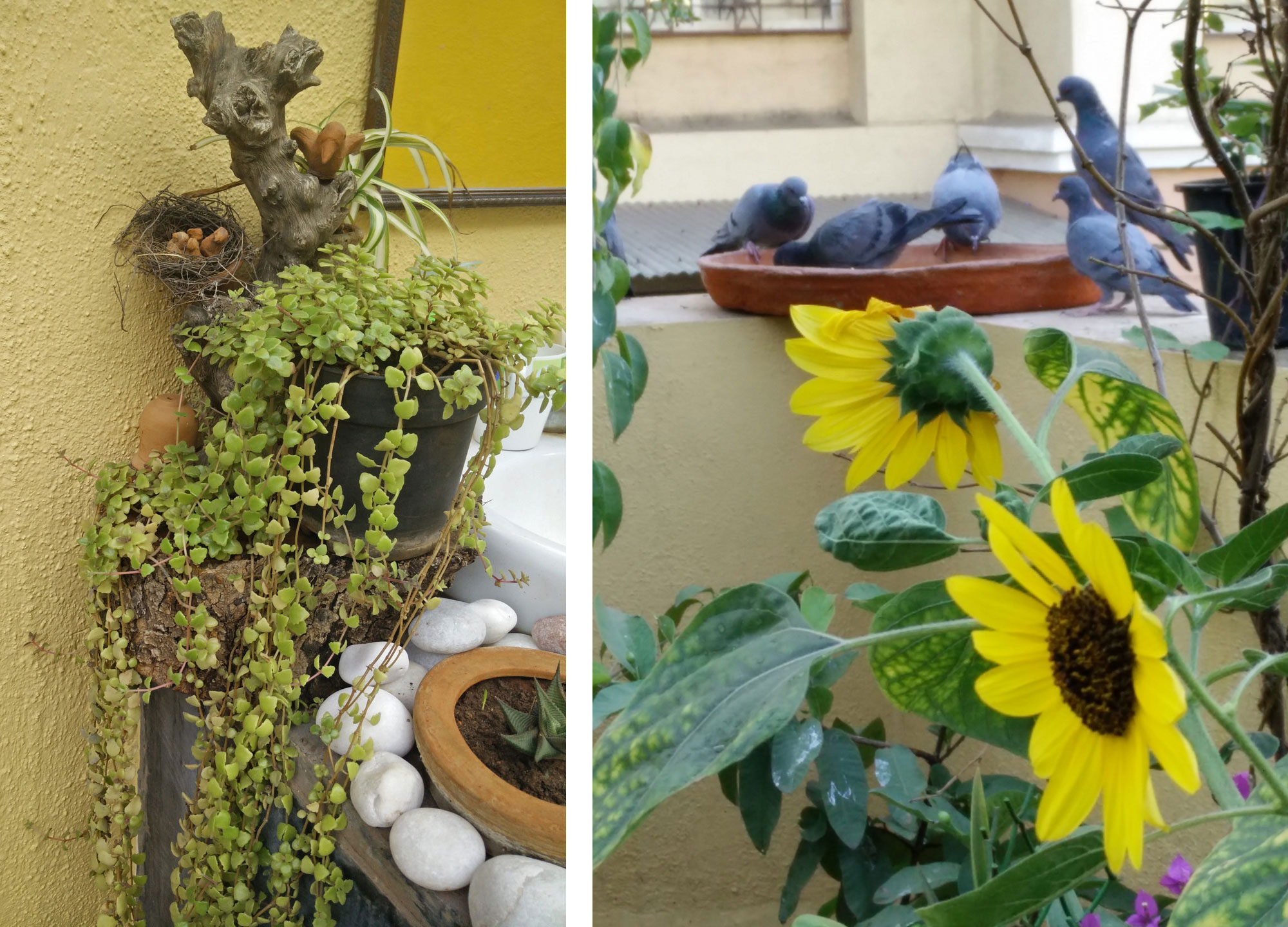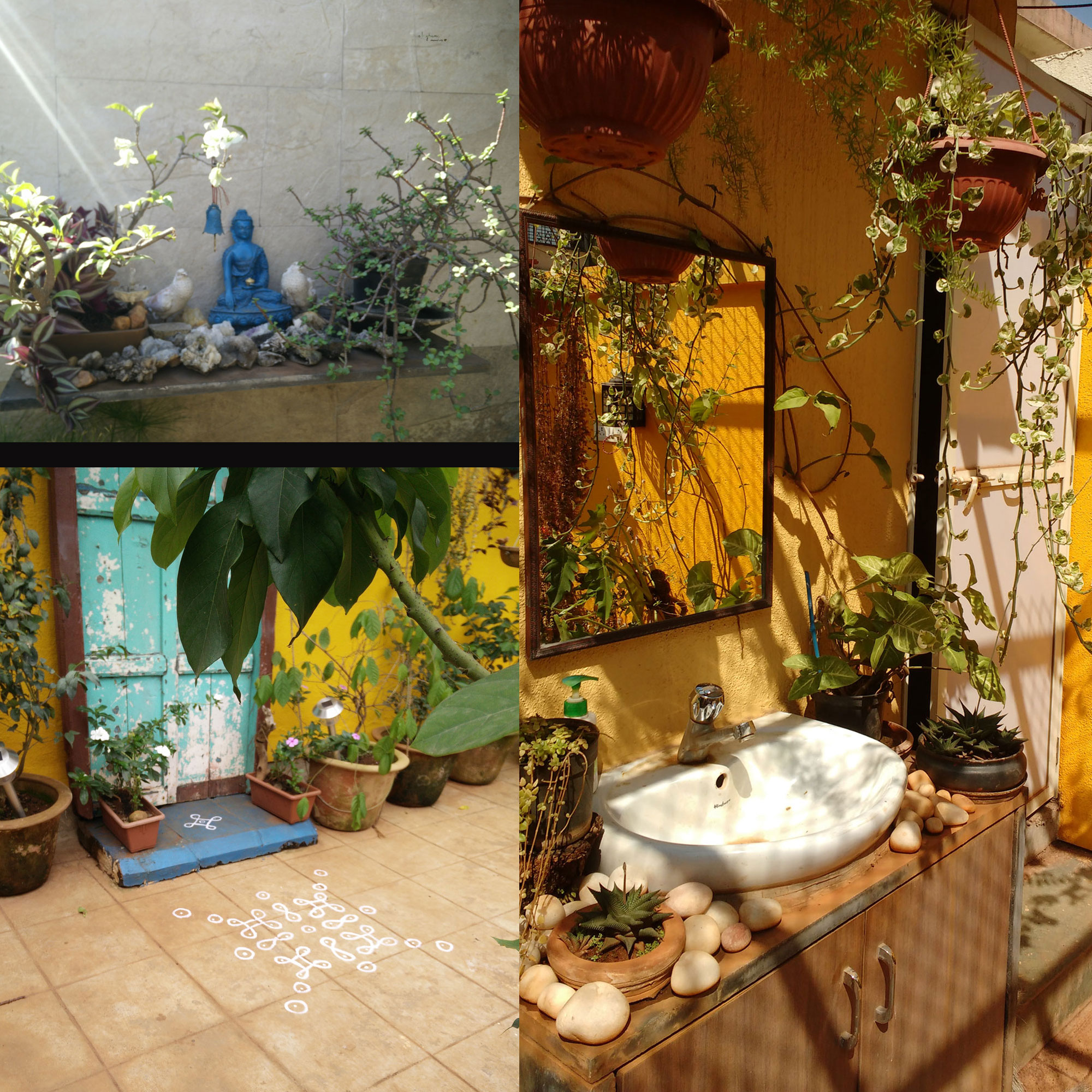 It was well past 12 when we were up there, but the green covered ensured that we were cool and refreshed. My words will never do justice to this lovely place, and hence I will let you enjoy the little picture collages I have put together of this space.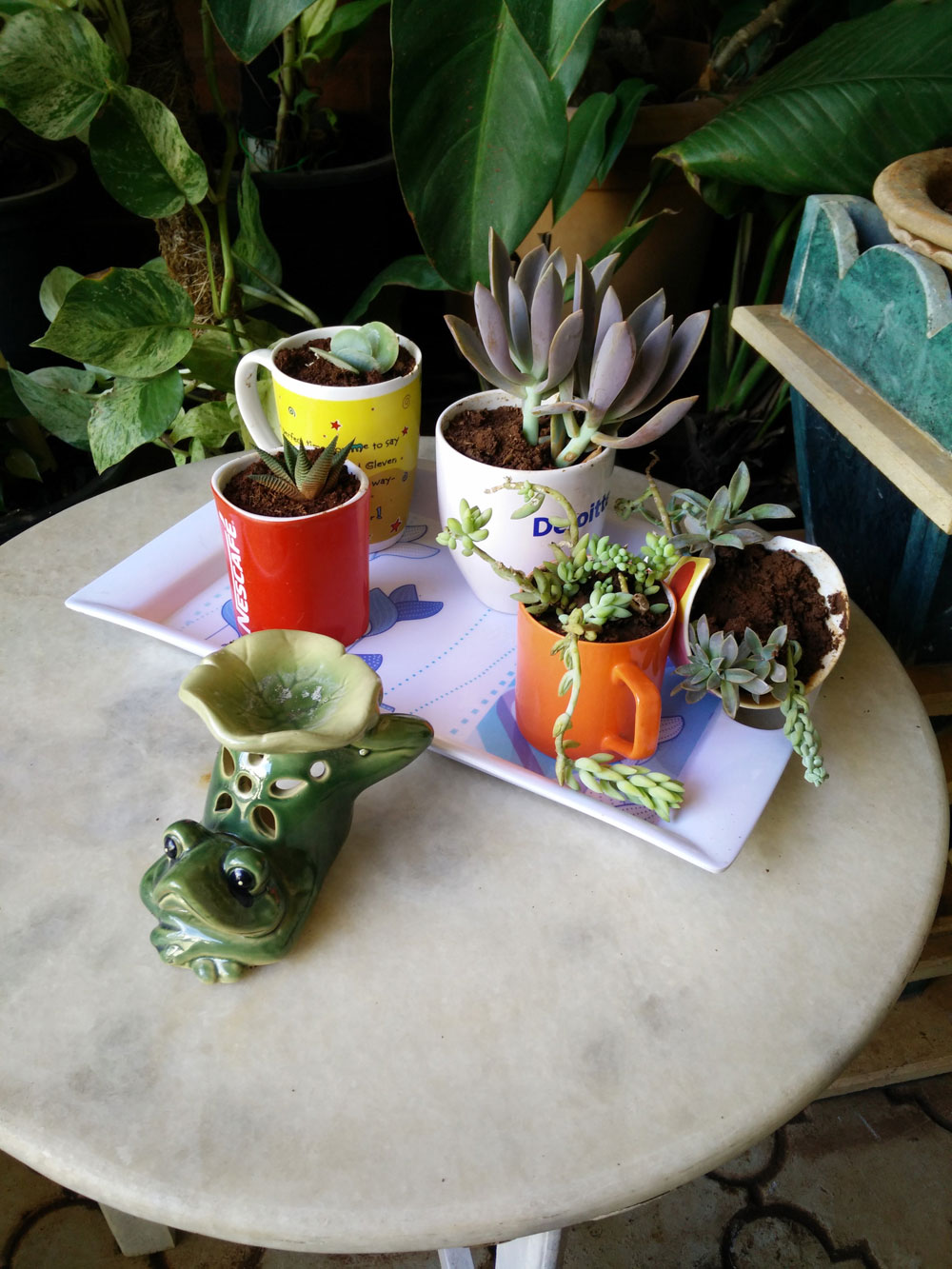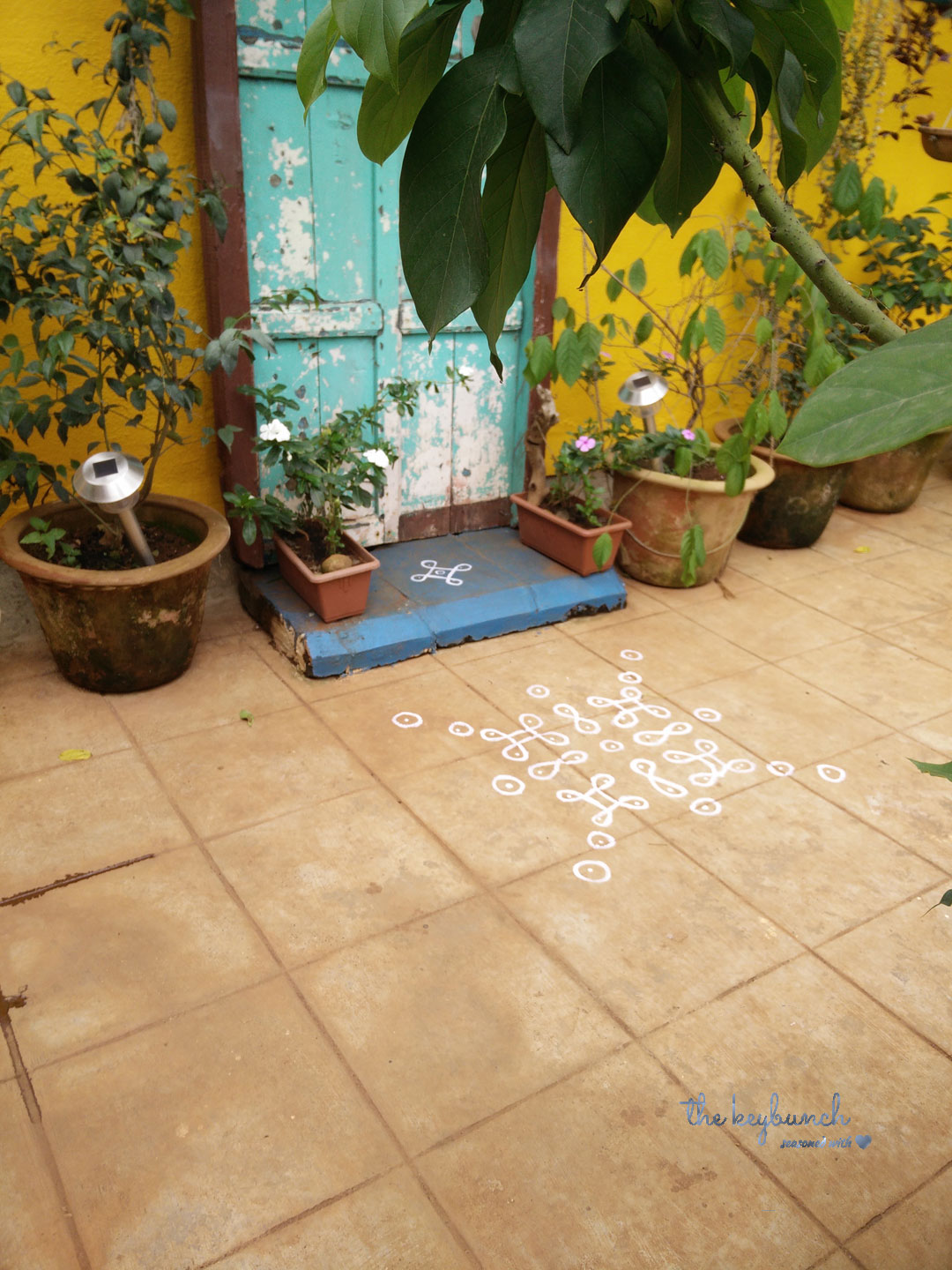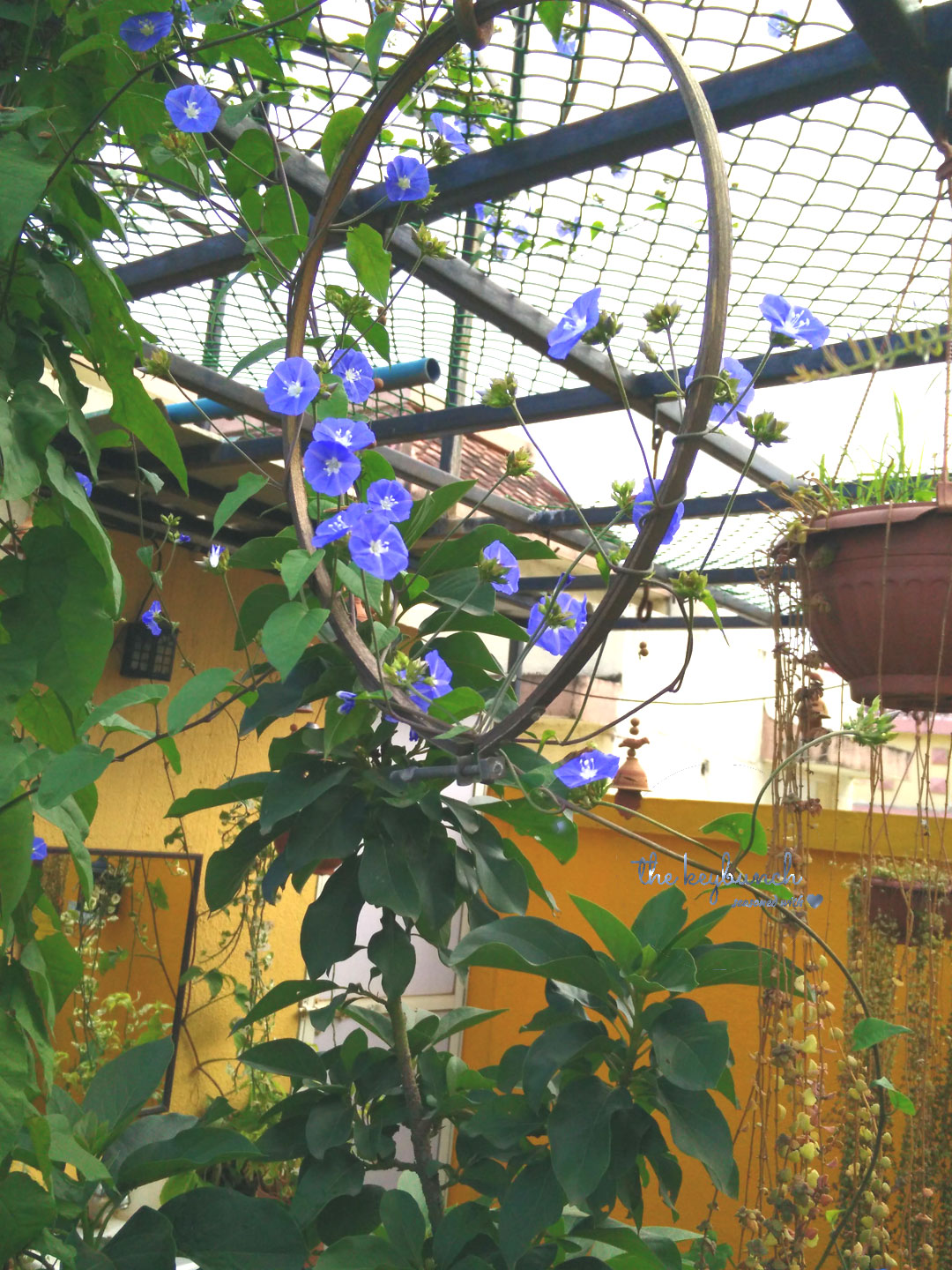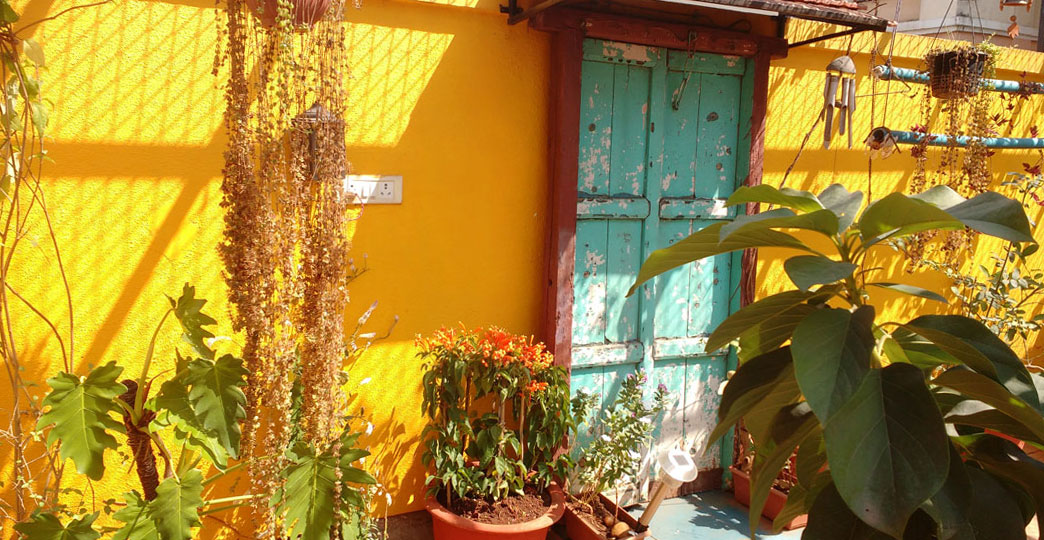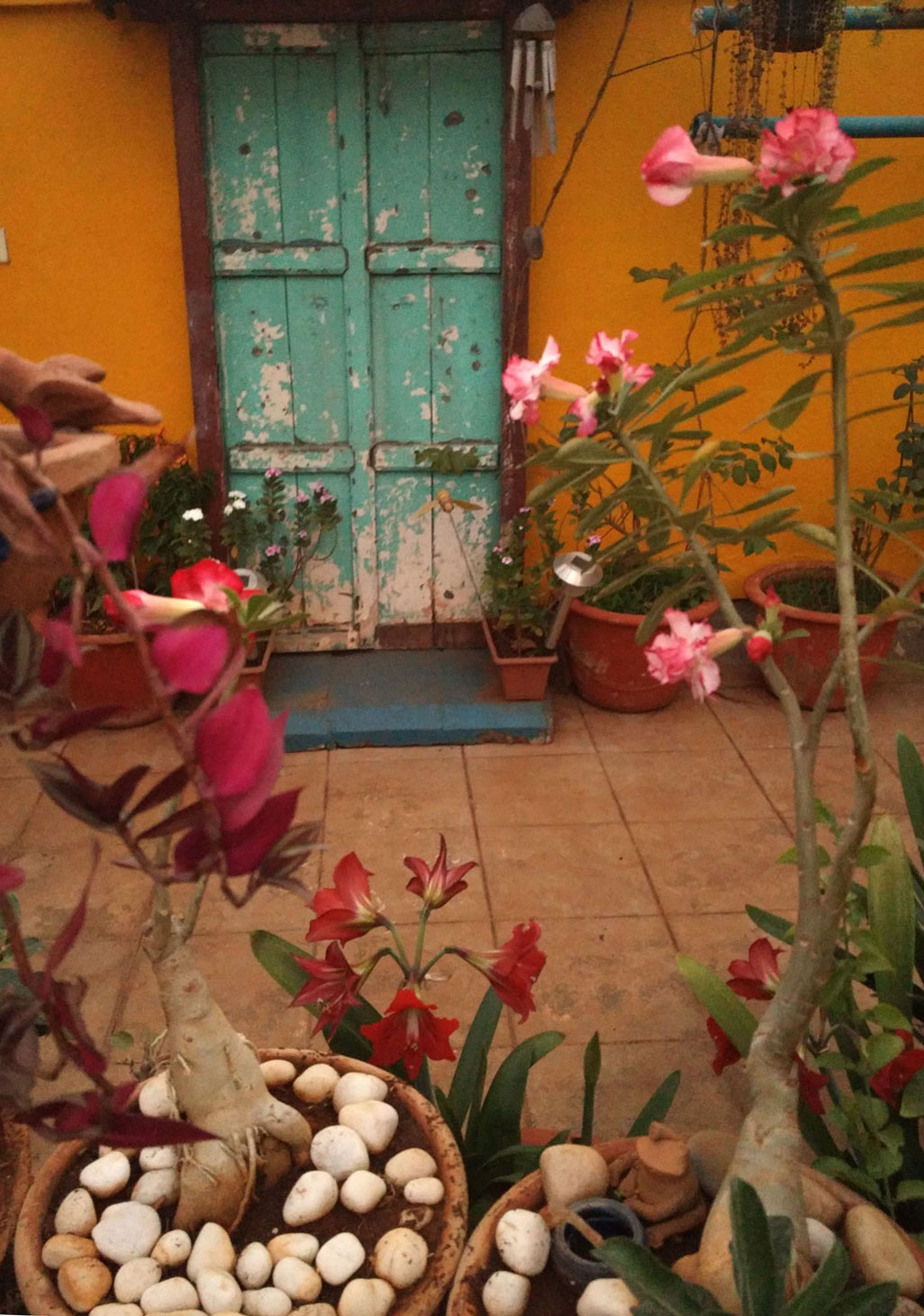 Radhika's little studio where she works on her designer fabrics and saris, is right off the terrace garden.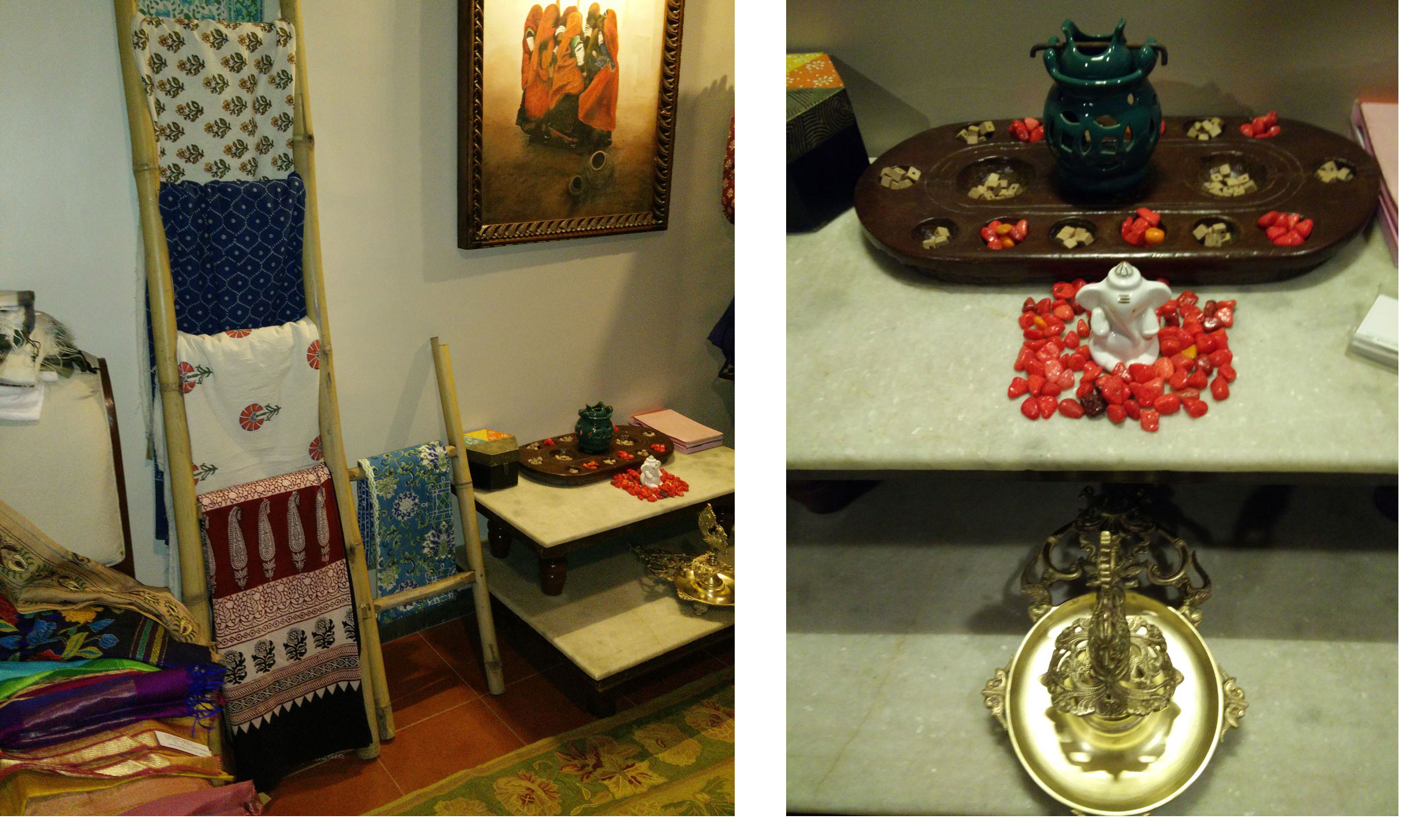 The small white Ganesh is set off by the traditional game called Pallakuzhi played in Tamil Nadu. Instead of the regular tamarind seeds or small shells that this game is played with, Radhika has used wooden buttons to keep with the theme of her sewing studio. She has used red stones around the white Ganesha just to bring in some colour.
I have thoroughly enjoyed visiting with Radhika, and featuring her home. The lovely little details and her passion for re-using old furniture in a new way has truly inspired me! And before we go, I leave you with this little image of Hazel perched on Gayathri's bed. Thank you Radhika!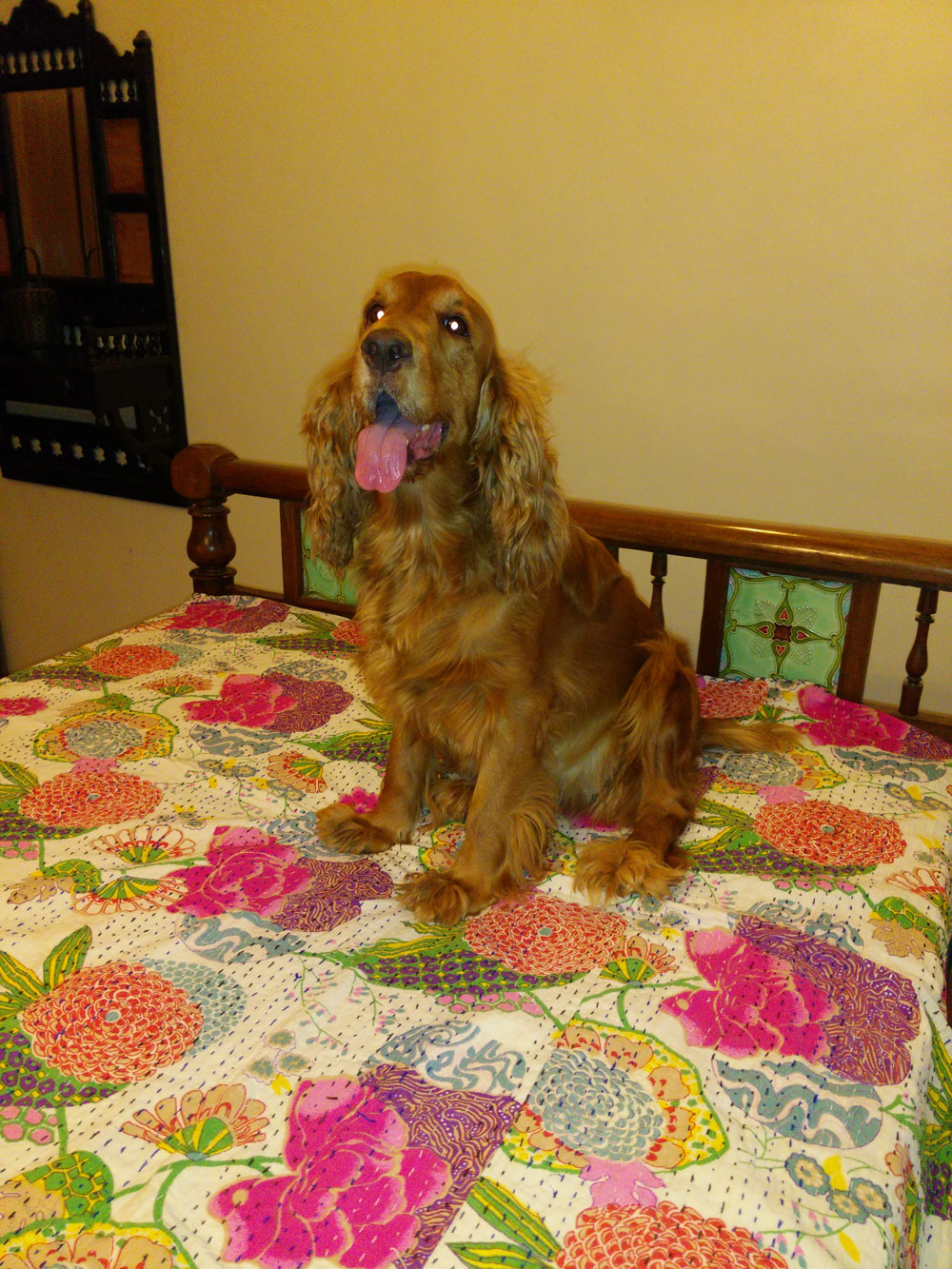 Stay tuned for another lovely home tour next week. I know I have been neglecting to post home tours as regularly as I used to. But I promise to post them more often! If you know of a beautiful home that can be featured on this blog, do let me know!
Get in touch with us to source antiques for your home