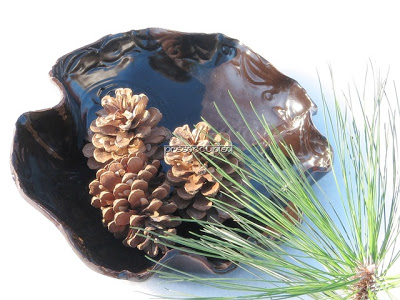 It's not often that an amateur artist comes phenomenally up-to-speed and impresses everyone with very professional-looking work. That's why I bring you these pics of Pree's fabulous art – created while she was still learning and mastering the art!
Many of you are familiar with Pree's food blog – the best place to get not just great recipes, but also drool over the amazing pics of her delicious fare! Apparently it was this love for food that led her to experimenting with clay. She says, "Having a food blog has its overheads..like a perpetual need for pretty dishes and platters to display all that food I cook. Maybe that was the first thing that drew me to pottery. A little search led me to a school in downtown. They were taking beginners. I was pleased."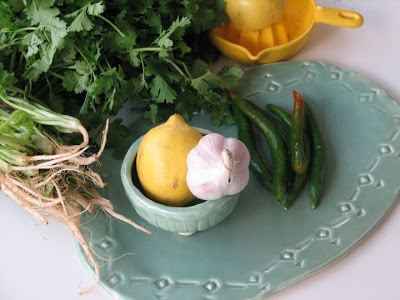 That little bowl was made by hand pinching,
the very first thing Pree learned at pottery class
She glazed them in warm green, and
they are both food and microwave safe.
Pree has only been learning for 5 months now. She describes her work as functional, something that fits well with food presentation. She hasn't really thrown on the wheel.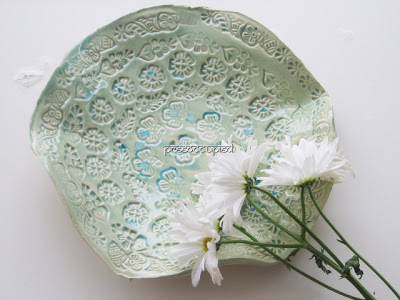 I absolutely love this bowl – Pree intended it to be multi functional
and I can just visualize the possibilities!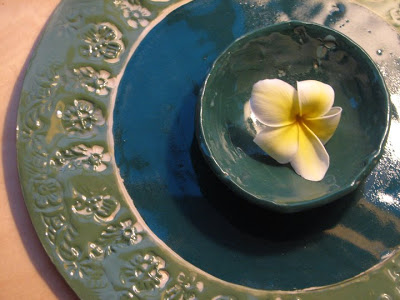 Pree made this chip and dip platter using Indian wooden block prints.
Once bisqued, it was under glazed. She attached
that dip bowl by slipping and scoring
"I am happy doing hand building for now. Its also easy on my bad back.
I see myself improving on the things I do at school from the time I started.
I try and go prepared to my class, have a project in mind to do and
often use ingredients from my kitchen and home to get inspired. Recently I have used rice grains, yellow lentil, leaves cut out from a plant, and even a star fish to make textures on the work I do".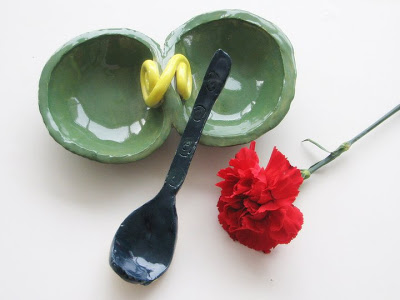 Pree made two separate bowls and joined them with the coil by
slipping and scoring while the clay was leather hard. See that rustic-looking spoon?
She was just fooling around with some leftover
clay and ended up making it.
Thanks for sharing your work with us, Pree! I can't wait to see the stuff you will create after you finish that course. People, here is an artist worth watching out for!