Artist par excellence Aarohi Singh
admits her work is going to the dogs!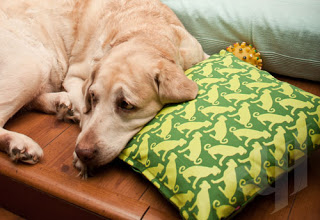 And I mean that literally. Why, Aarohi told me herself! Here, have a look if you don't believe me!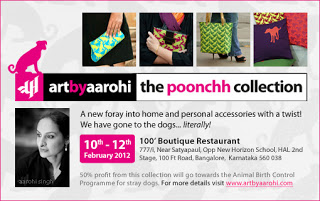 Now that you know the details, and also know that Aarohi is an exceptional artist, please make sure you save the date(s) because you don't want to miss owning her artwork.
More information
Aarohi Singh is a self taught artist. What started as an interest in art a couple of years ago is now a full fledged profession for her. Art, for an artist is living their lives through their art and Aarohi transfers her thoughts on to her canvas. We, at The Keybunch are great fans of the kitschy art she creates on kettles, mugs and buckets. Try this painting demo that Aarohi designed exclusively for The Keybunch readers some time back!
But if there's one thing the self-taught, multifaceted artist hates, it is being pigeonholed. The moment she began to be slotted in the media as a leading 'kitsch artist', Aarohi went back to her first love – painting on canvas – in a variety of media – pen and ink, charcoal, watercolours, acrylics, oils. She also began to dream of other avenues of art and design that ArtByAarohi could explore.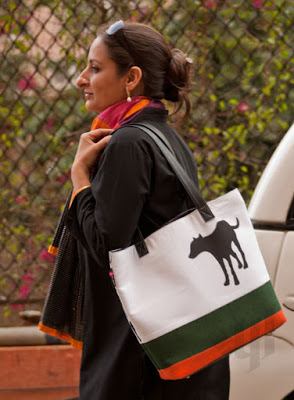 That was the genesis of what will culminate in her upcoming exhibition at 100 Ft Boutique and Restaurant, Indiranagar, on the 10, 11, and 12 February 2012. Bringing together two themes close to her heart – dogs and design – the Poonchh Collection is ArtByAarohi's first foray into accessories. The bright, colourful collection – featuring totes, clutches, wallet-cum-key-pouches, laptop cases, iPad cases, iPhone cases, and cushion covers – is themed entirely on dogs. And not just any dogs, either. ArtByAarohi's Poonchh Collection is exclusively about stray dogs.
Why Stray Dogs?
Says Aarohi –
"Stray dogs get a lot of bad press, which they do not deserve.." She continues, "..after all, they are really community dogs, which protect our streets from intruders. There is a need to educate people at large about the positive role of strays, and this is one way for me as an artist to do so."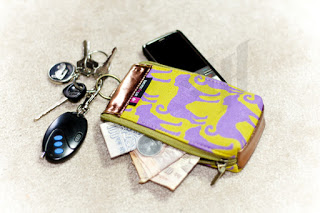 And….Here's exactly how her art is going to the dogs!
50% of the profits from the sales of every item in the Poonchh Collection will go towards the welfare of strays in perpetuity, particularly towards spaying and neutering them.
"I believe that, over time, animal birth control and better garbage disposal in our cities will help in solving the problem of strays on our streets."
The organisation that Aarohi has picked to receive the donation is The Voice of Stray Dogs (VoSD).
"I have known and interacted with VoSD and its founder, Rakesh Shukla, for the last couple of years and I have seen up close their tireless efforts and deep commitment to the cause. I am confident that every penny that goes into the VoSD coffers will go towards the welfare of strays."
Talking about the collection, Aarohi reveals that every piece in the Poonchh Collection has been hand-crafted using the best quality products, not mass-produced on a factory floor. As a matter of principle, she did not haggle with any of the craftsmen along the value chain.
"Since this is for a good cause, I wanted the 'vibe' associated with each piece to be positive," she smiles.
Good luck, Aarohi!
For more information:
Aarohi Singh – ArtByAarohi – www.artbyaarohi.com, Ph: +91 98801 98814, [email protected]
Rakesh Shukla – The Voice of Stray Dogs – www.strays.in, Ph: +91 99450 41426, [email protected]