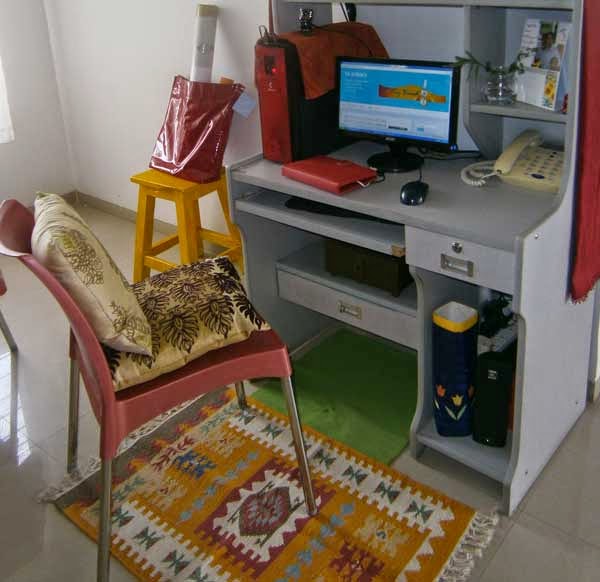 Working from home has its positives and not-so-positives. My home office is just a little space borrowed from my dining area. Luckily we have an open plan home, so nobody has asked me what a computer is doing so close to the dining table! The main positive is that I am always in the company of my family members, especially when I work! Also, I am so close to the kitchen, that I can go grab a coffee in 1 minute flat. Wait, that's not a plus, is it? I can never decide, because I cannot imagine shifting to a more quiet corner of my home, or working without my coffee!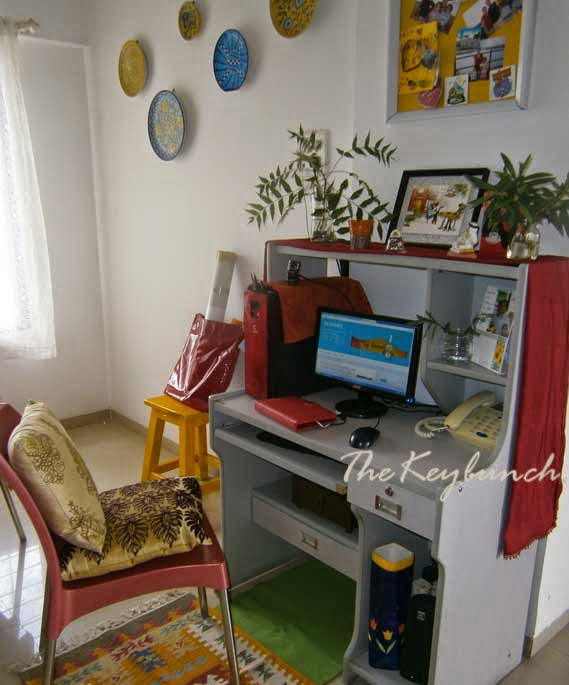 I was recently contacted by the lovely people from WeWork, a co-working company, and they wanted to see the space I blog from.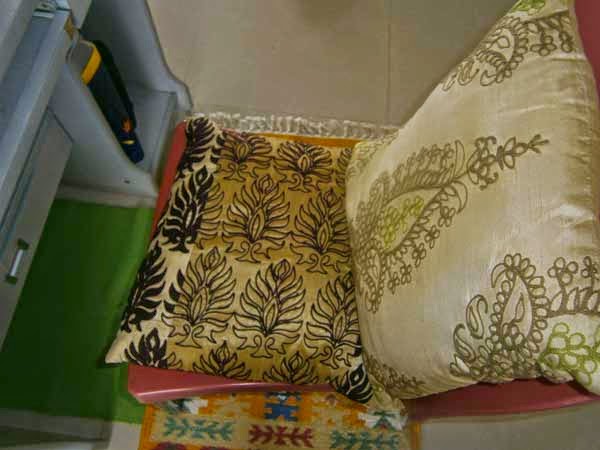 My workspace has the usual stuff really – an old-fashioned media table, a message board hung on top, and some necessities like pencil holders, a much-loved picture and a home-designed family calendar, a desktop, telephone line, etc.
I also keep a few knickknacks – a statue of a sweet Arab man with his hookah (a keepsake from my days in Kuwait), a Bethlehem bell, a t-light, and a replica of the London double-decker bus.
I love fabrics and textures. I work barefoot just to have the feel of a warm rug under my feet. My very ordinary chair is dressed up with cushions.
I love to play around with colors but I like to change things around every few weeks – usually this coincides with the end of a project 🙂 – so I keep changing the runner/ rugs/ cushion covers around my work space. This being the monsoons, I can't find any flowers in the garden downstairs (we live in an apartment). So I make do with tiny ferns and cut-off branches in little glass jars. I detest artificial flowers.
I "store/hide" pencils, scissors, staplers, and glue-sticks in an old coffee tin, and I store my chargers, cables, and gadgets in an old brass box.
*********************************************************************************
Much as this table/ space suits me, it will change. Not immediately, but when the kids are a bit older, and don't need too much supervision, I will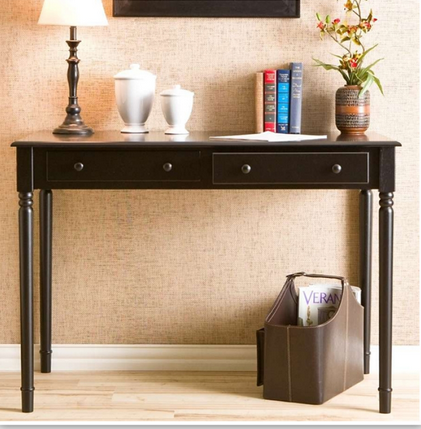 1. Move my office to the other part of the living room, right next to a large window, hopefully after kicking the caffeine habit! 🙂
2. Replace the table and chair: I am eying this gorgeous Mango wood Alexander table from Pepperfry. My chair needs to be more ergonomic as well, though I rather like the comfort my cushions currently provide.
3. I will eventually let go of my desktop (I just bought a new one last year, and I love the comfort of desktops, but I know there will be a time when it will just have to go!), and get myself a more compact, leaner, meaner machine.
And right away I plan to add wallpaper plus personalize the magnetic board with some craft paper.
Hope you have beautiful plans for the weekend. See you next week!!