Meera and Vijay, originally Bandra people, live just outside of Detroit, Michigan with their two kids. Meera's love for decor began at a young age. She used to accompany her sari-loving mother to the handloom exhibitions in Bombay, and while her mother got busy selecting saris, Meera remembers sneaking off to the home decor section. Vijay has a good eye too, and they still use the stuff that he bought to decorate his first home in the US before he married Meera.
Meera's first try at decorating was when they re-furbished their living room in Bandra, and her mother allowed her to pick the furniture and color of the room. So they made a trip to Jogeshwari, and she picked up among other vintage-inspired furniture, a chakki table that is till date, one of her favorite pieces. Her mother still has all the pieces she picked for that room. Looking back, Meera realizes that her father too had a great aesthetic sense. Back then they had an accent wall in a rust color! He also liked to have brass items around the house.
You know I love to weave stories into my home tours, and Meera has shared many little stories more with me, but I will get on with the home tour, lest I ramble 🙂 But don't worry, there are lots of snippets that I will share with you during the tour!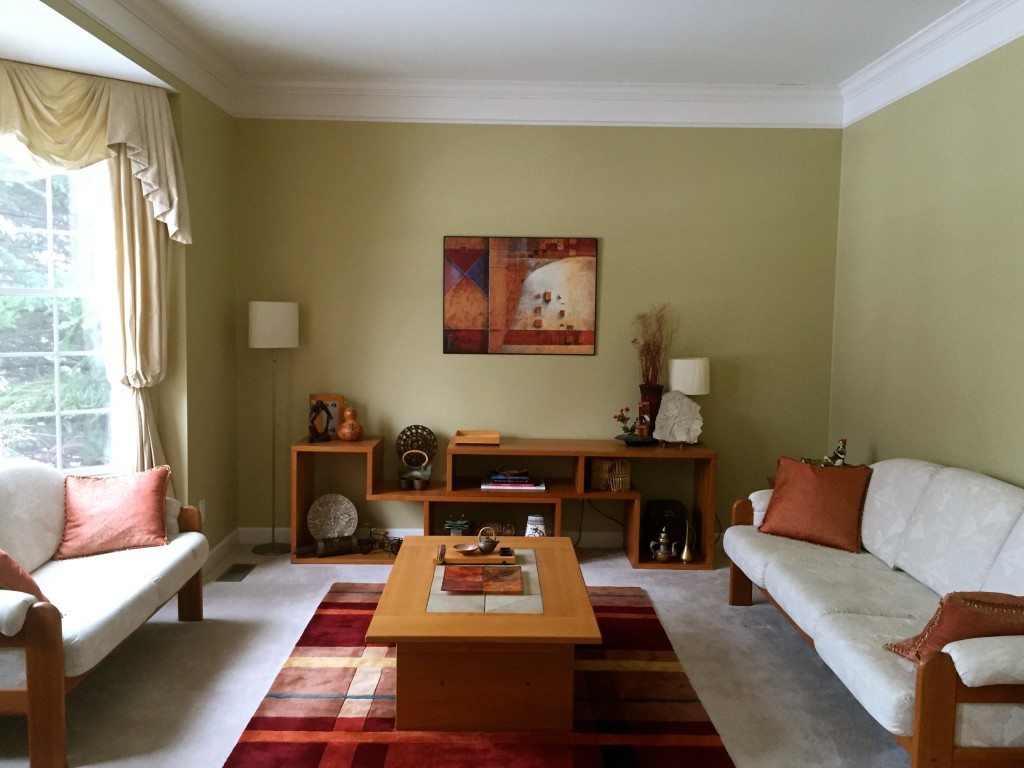 Let's start with the front of the home, the foyer living and dining room. Meera is a great fan of red, orange and yellow. So that's the predominant color theme for the front of the home. She says it brings a sense of warmth to what is otherwise a very long winter in the mid-west. The display shelf (against the wall) is an Expando.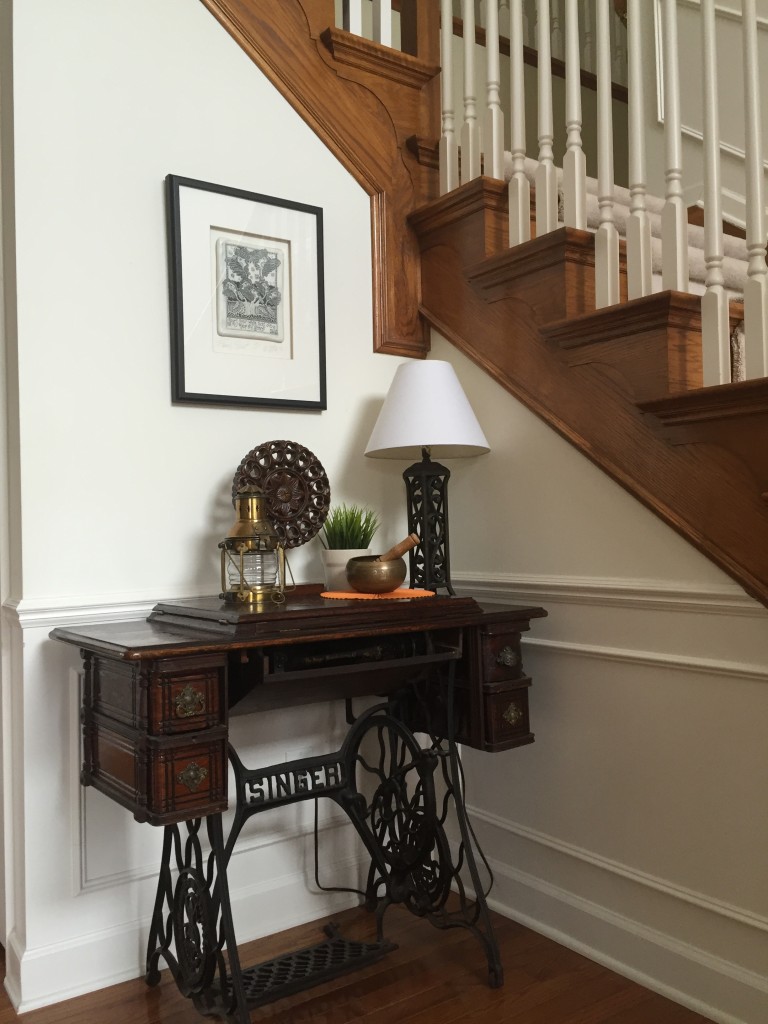 A re-purposed Singer sewing machine is their foyer table. They got it at a local consignment store. It was fairly beaten up, but Vijay was able to sand it down and add a dark stain. Says Meera, "I have only just started to re-arrange the vignettes around the home. Formerly I would pick a place for a thing and then that was its forever place. The other thing is that when we were just starting out we would buy a lot of little things just because they were more affordable. So very few statement pieces and I really did not know how to display little things. But after reading your blog post on Vignettes, I started paying a lot more attention to how other bloggers were also achieving this look by combining many little things to create little stories. So I have only recently pulled out many of our little things and am playing with vignette theme." Oh, that's a lovely thing to say to a blogger, thank you Meera. If any of you would like to read my blog post on vignettes, here's the link.
And here are a few vignettes that Meera has shared with us.
Framed block print stamps to complement the silk prints they received as a gift.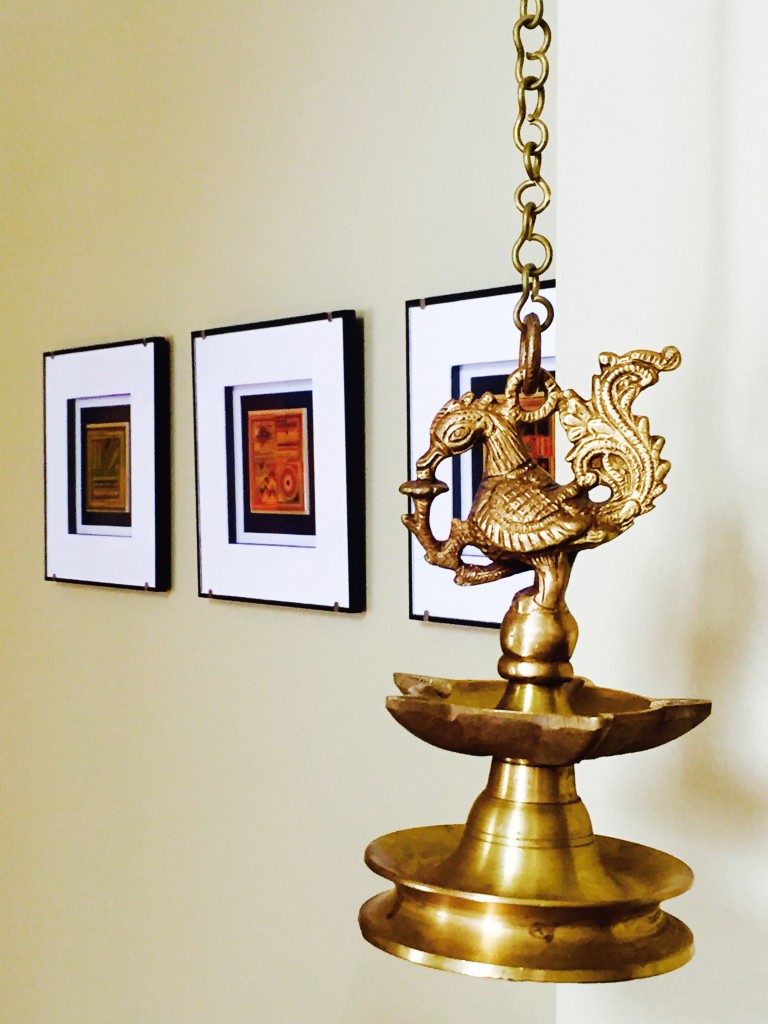 Framed coasters make for inexpensive wall art, set off by a hanging brass lamp.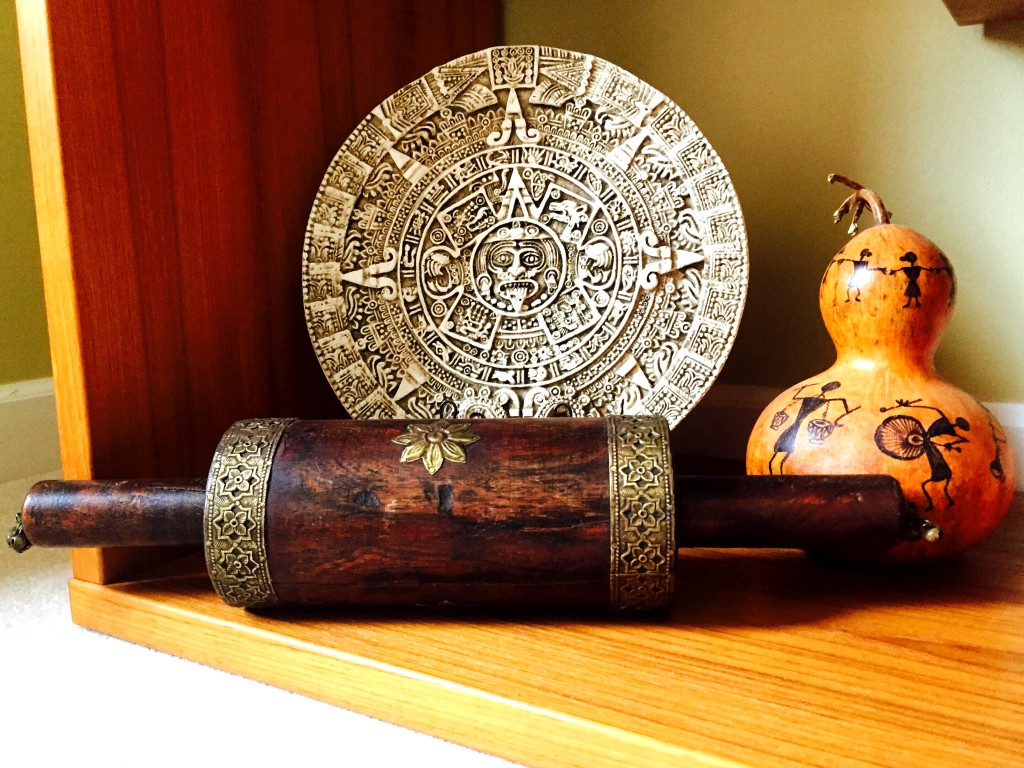 A vintage ornamental rolling pin with a dried gourd that Meera did some Warli style drawings on. She says, "I got the gourd at a farmer's market for a couple of bucks. Most people make them into bird houses. I am not much of an outdoors person, so I used it as a canvas instead!".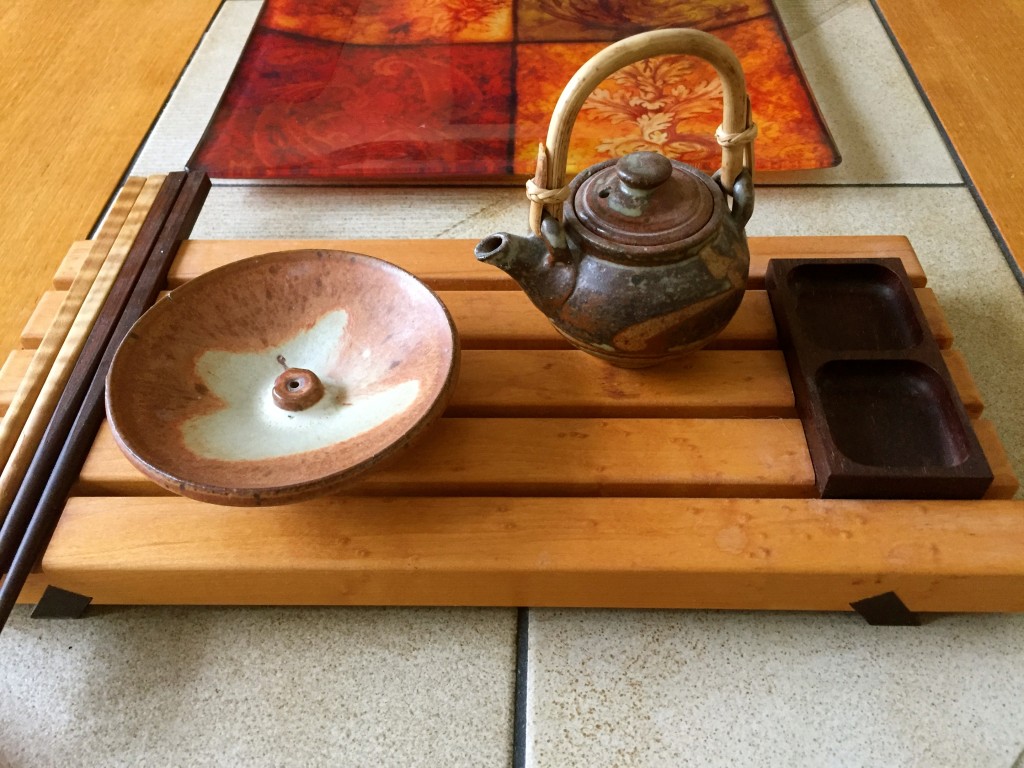 The dining room is a work in progress, says Meera. Its a rarely used room in their home, except perhaps when they entertain.
Meera and Vijay have a third living area in their basement, which is a pretty large space, and hence Meera is excited about the prospect of future decorating projects.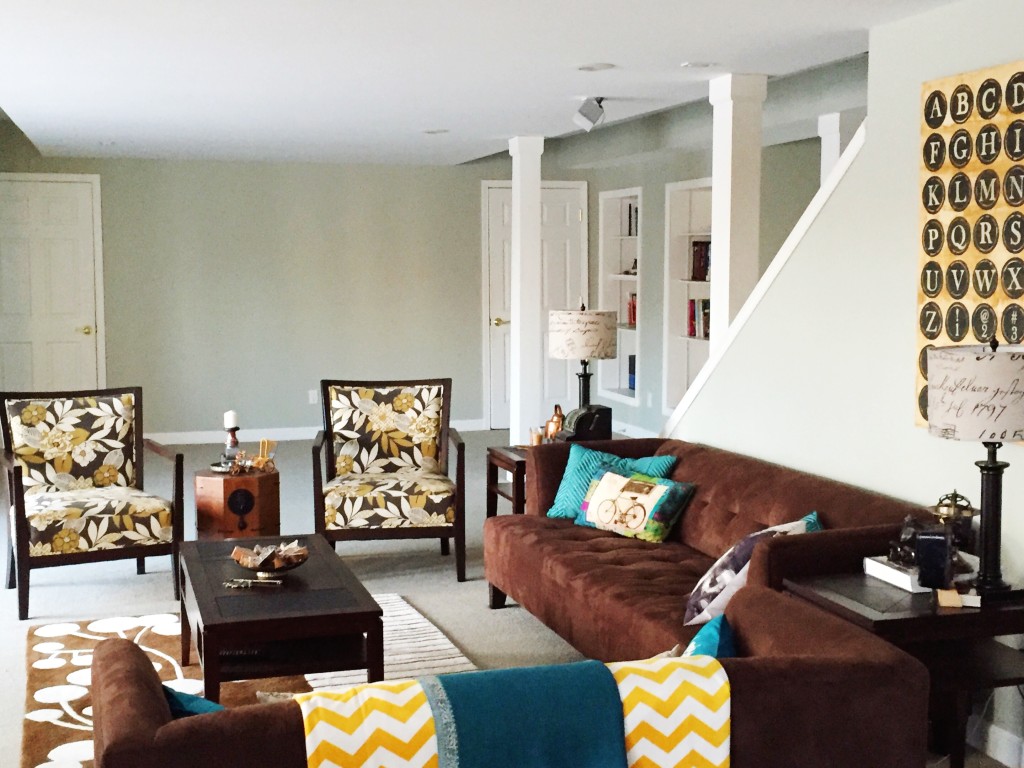 For the moment, only the living area of this space has been done up, and you will see by these gorgeous pictures how well it has been done up!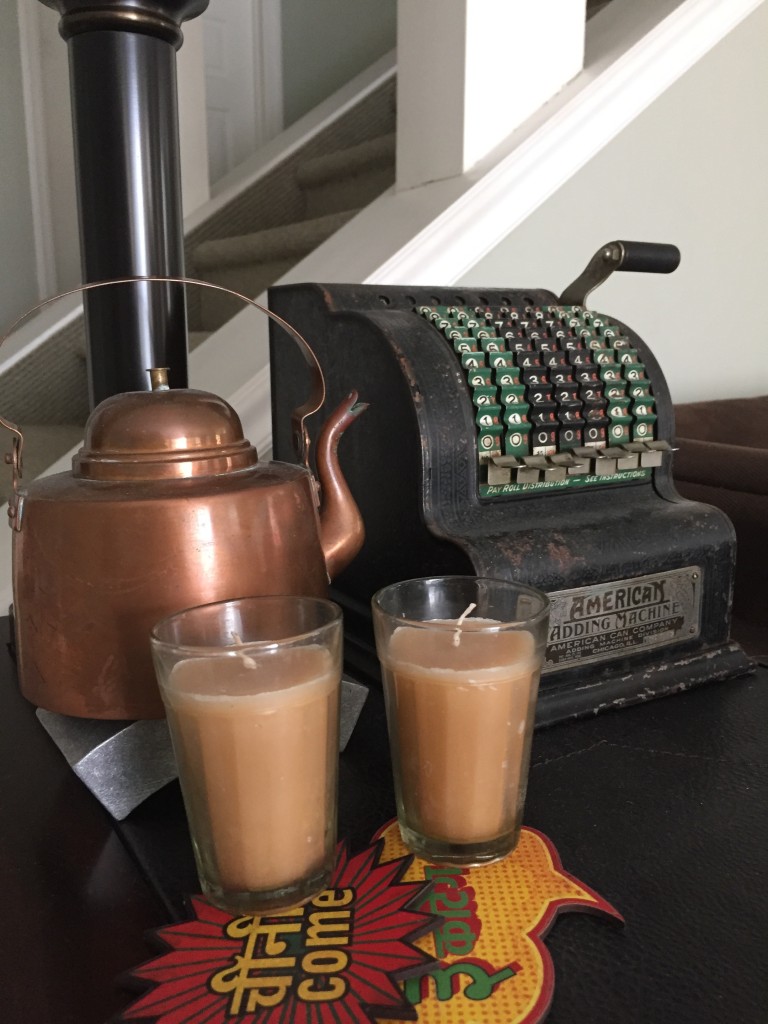 The adding machine came from a local antique show. Says Meera, "It works! Quite a little mechanical marvel."
Meera says this is her Bombay room. It has a taxi meter, a taxi pillow, printing blocks and a Bombay map. To complete the look, she also has "cutting-chai" coasters and chai glass candles.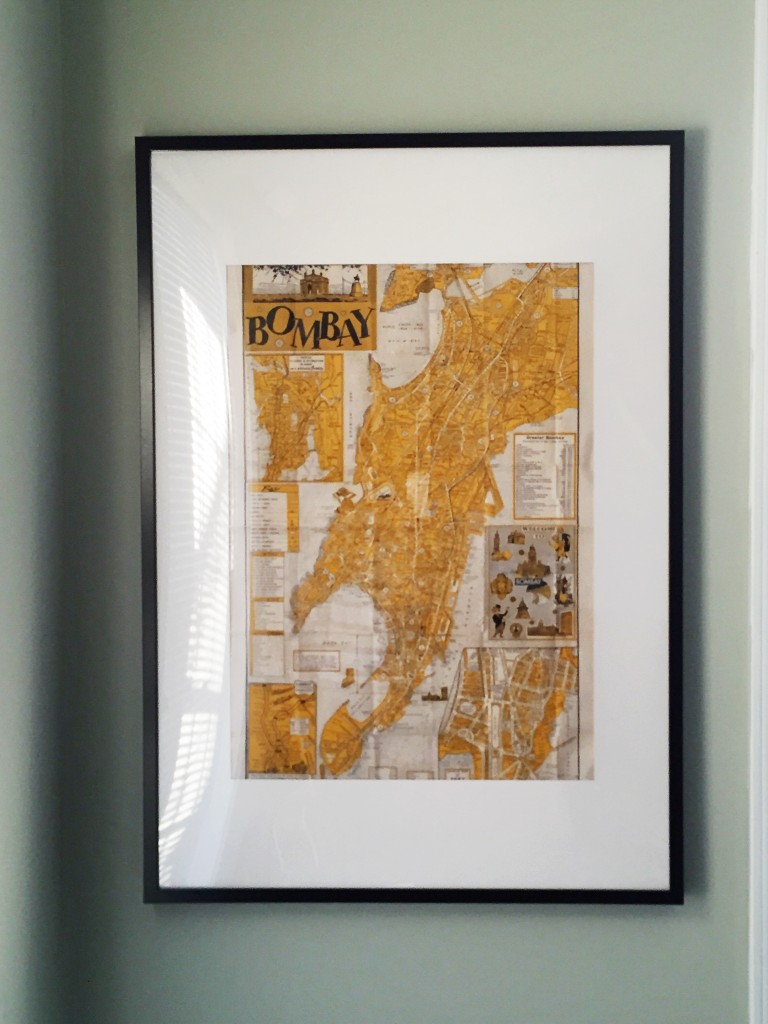 The pillows are from various etsy shops. The alphabet art is a Pottery Barn inspired DIY. The original was very expensive and by the time it went on sale, she lost out on the item to other eager discount buyers! So Meera made this by studying various tutorials on-line.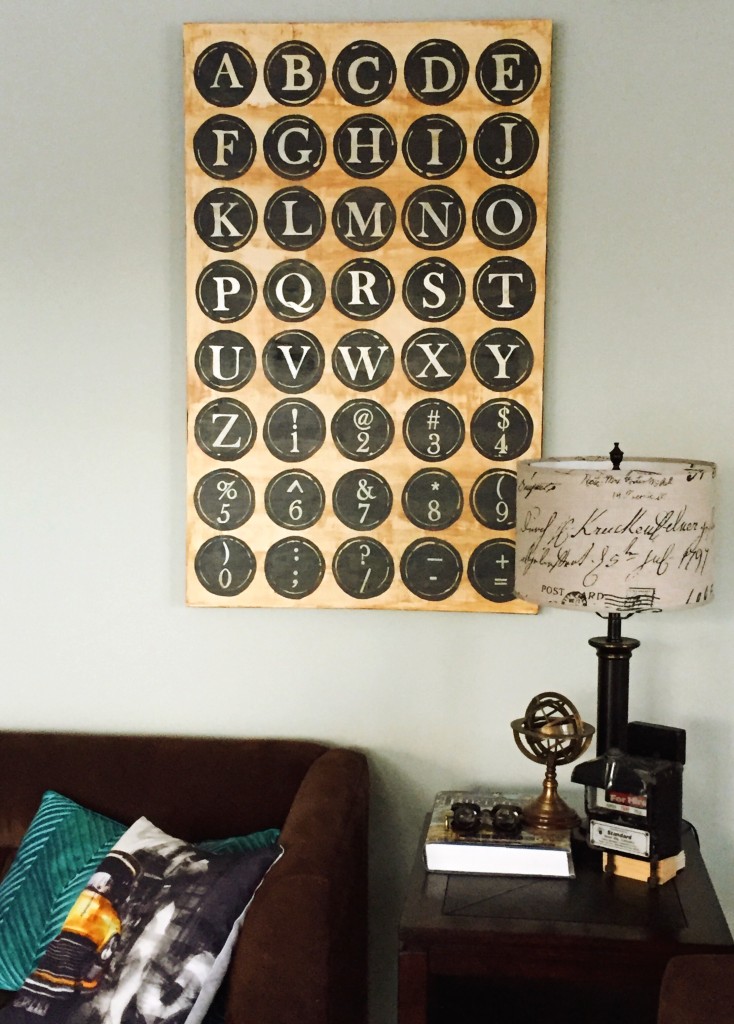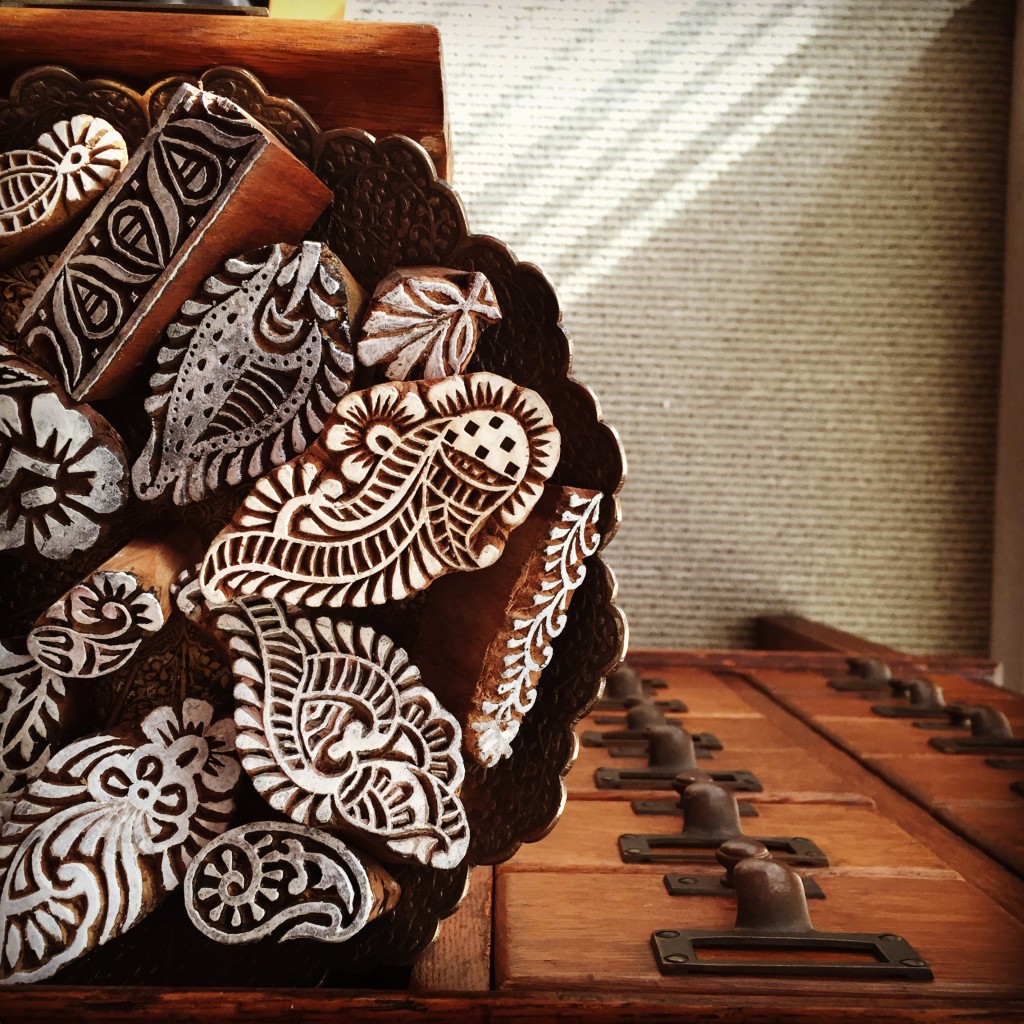 This is just a glimpse of Meera's library card catalog. She is not quite sure what they will end up doing with it. Maybe a bar, she says.
The study has grey walls, and Meera says that since she and Vijay are really white or beige wall people, and painting the room grey felt like they were taking a huge step. Well, I identify with that, Meera!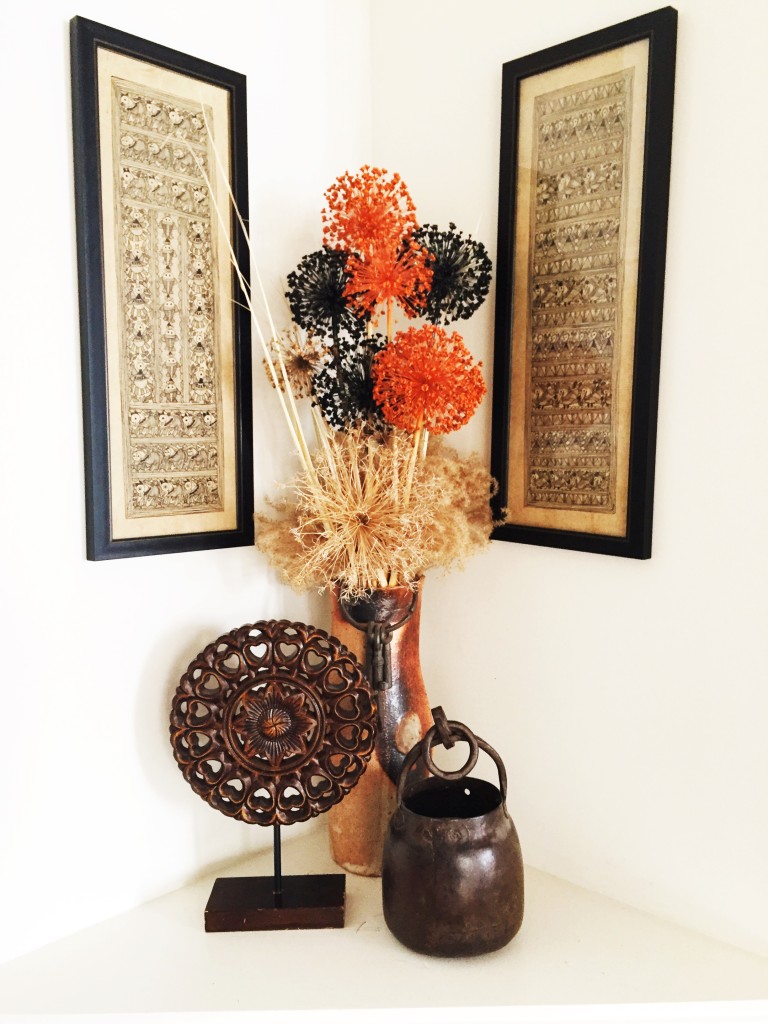 These spray-painted alliums are right outside the study which is sort of a transitional area between the formal areas and the "everyday living" areas.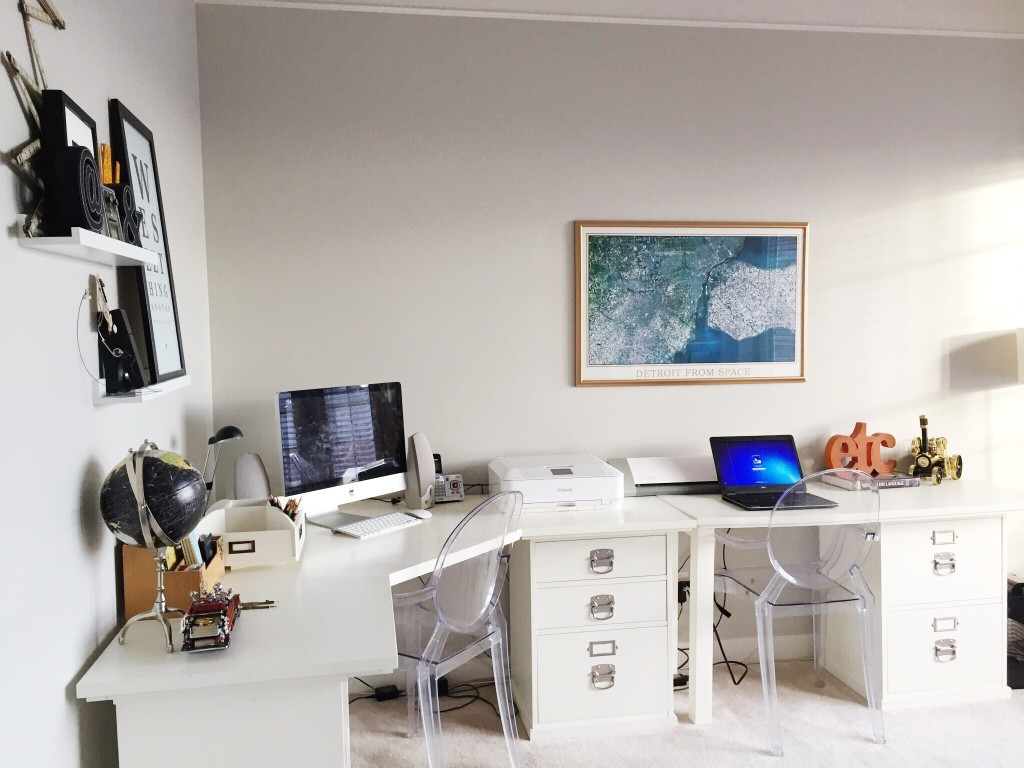 The study has Pottery Barn furniture and a few vintage items. When we first started to do this room, we only had the map of "Detroit from Space". It was something Vijay purchased. This was in the pre-Google maps, 3D maps and overhead drone days. The stationery holder and the alphabet art that spells Home are DIYs from my scrapbook supplies.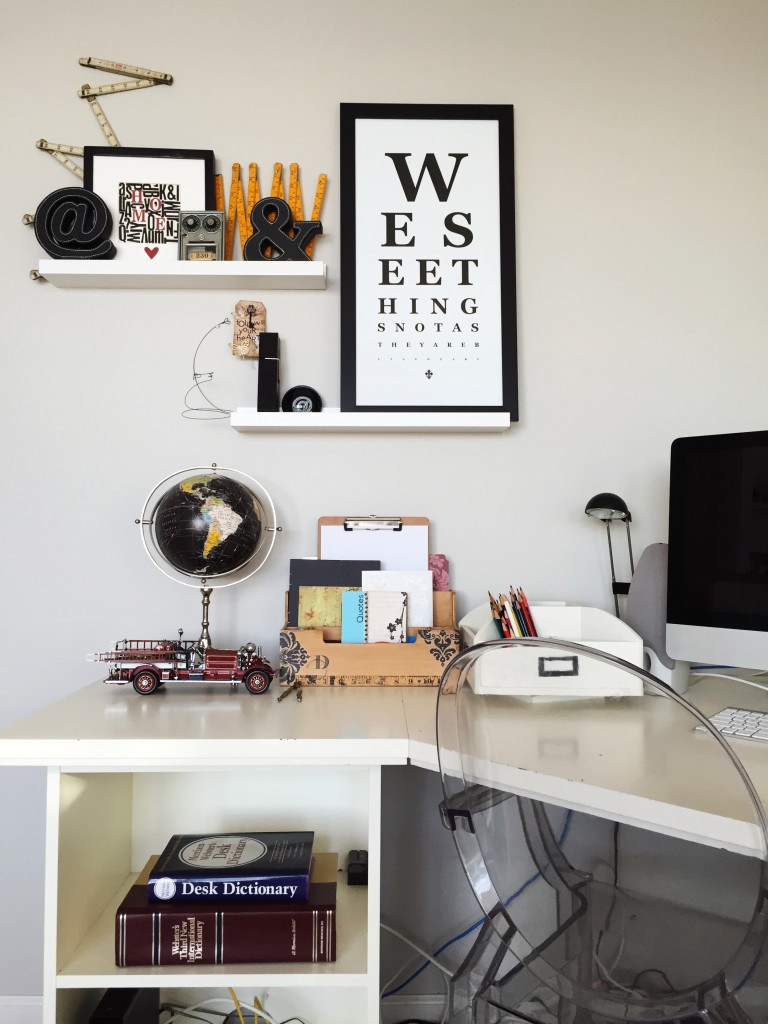 Not all the items are true vintage says Meera. "For example, the folding rulers – the white one is a vintage item, but the yellow one is brand new from Pottery Barn," she adds. The globe too was bought because it matched the color scheme.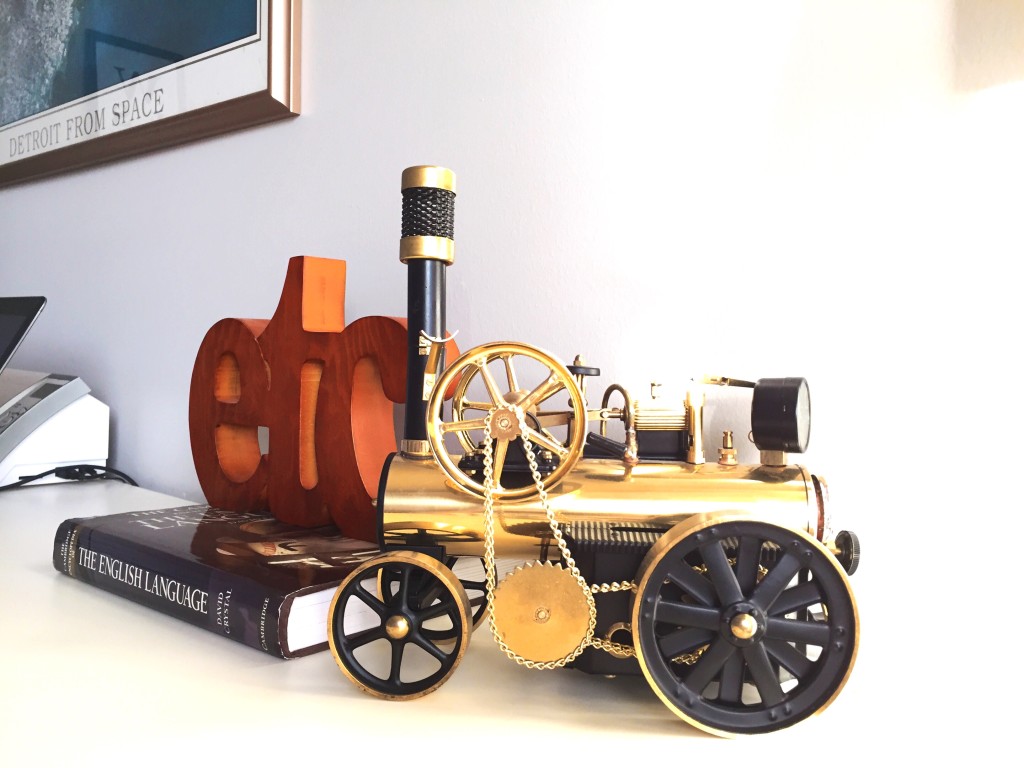 The fire engine and the working steam engine have an interesting story too. A local businessman and automotive supplier also had a museum which housed his personal collection of scaled models. When he passed away, his collection was auctioned. Meera was really after an old factory time clock- but that was auctioned off very quickly. So they got these two items instead.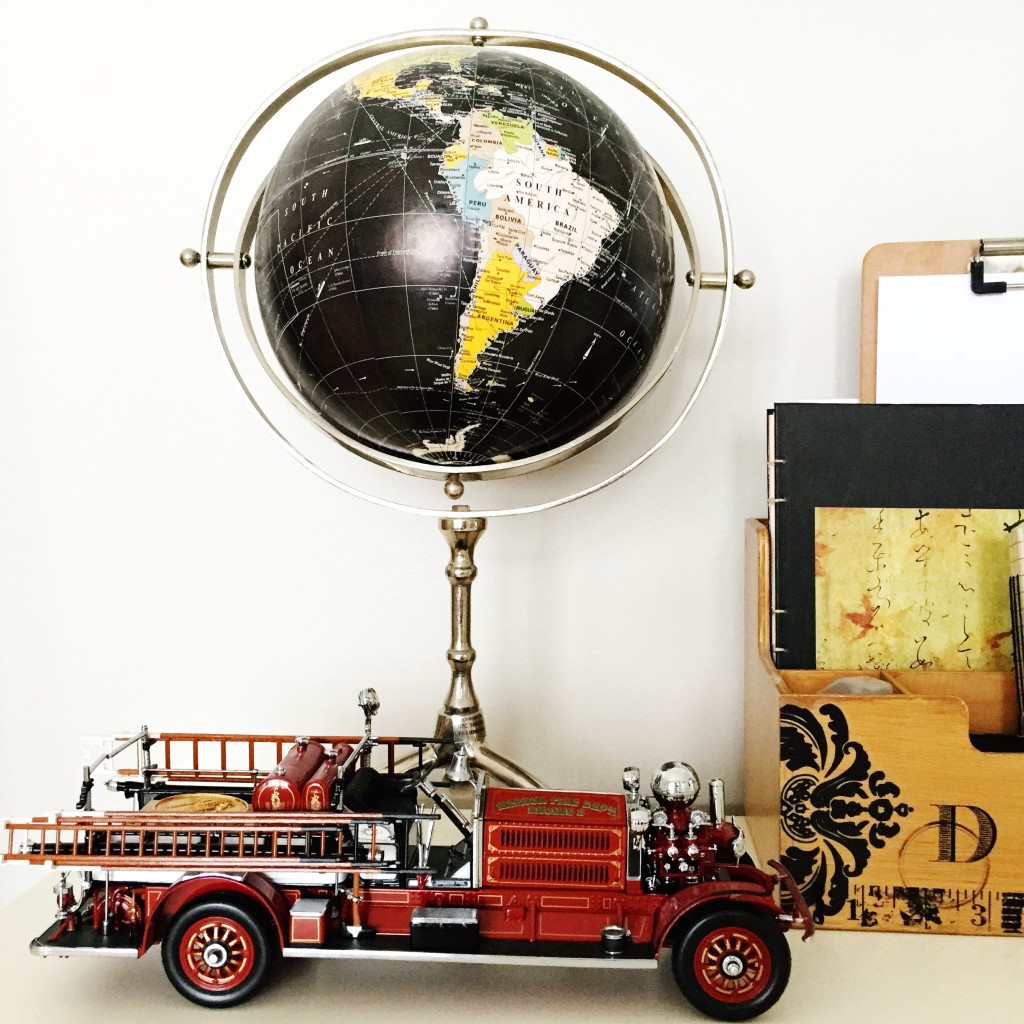 We moved to this home about 8 years ago. While nothing is ever final, my fond wish is that we don't move again. We tried to find all the features we wanted in this home. One interesting fact about our home is that on a clear day you can see downtown Detroit (which is more than 30 miles away) from our master bedroom.
Takeaways from Meera and Vijay's home tour
Collect slowly This home and its decor were built and styled over the last 20 years. And it shows in the character and love that shines forth in this home. I am a big subscriber to this school of thought. I feel quite strongly that while doing up a home all at once does have it's one merit (of looking complete from day one), over time, it really doesn't appeal, and if you know people who crib that they are "bored" of this and that in their home, it's probably because they bought those pieces without falling in love with them! So add to your home slowly, both small pieces for vignettes, and big accent pieces, but only buy something if you love it!
Start with Bargain shops and local sales Everything doesn't have to be bought from a big, exclusive decor store. In fact it is in the bargain shops, flea markets and local sales that one really finds priceless treasures! Meera relates this beautiful story that emphasizes this point. "During a trip to Bombay, I had just walked out of an exclusive décor store, feeling so sorry for myself that everything there was priced so high. Back on the streets, my mother went to a vegetable vendor, so I went and stood to the side. Suddenly the shop door opened and a boy aged about 12 said to me, "Didi, come in, come in. Nice things inside." When I stepped inside rather sceptically, I couldn't believe my eyes. It was like a little shop of curiosities. From floor to ceiling, it was stacked with brass and vintage items. The store owner was honest to say that not everything was true vintage. Some were recent reproductions. I bought a whole lot of stuff from them. That's how my collection started."
Once you get your collection started, you could add whenever something appeals to you. Meera keeps a close eye on auction houses, and sites like hammerandandimports, etsy and overstock.com, visits vintage fairs, art fairs and antique malls. Also, Meera adds, "You never know where you will find interesting things for your home! I read the local newspapers diligently to hear of unusual shows and sales." Well, that's great advice!
Show glimpses of where you come from If you are an Indian living abroad, your home will look especially gorgeous with items of India-inspired decor. While you surely cannot carry the heavy things back, you could recreate the charm of India, like Meera has so awesomely managed to do! She has framed coasters and printing blocks, she has used Indian-inspired cushions and a bit of quirk with the taxi meter in her drawing room. And when she wanted something Indian, and a trip to India was too far away, "Pier 1 Imports and Cost Plus World Market never disappointed".
DIY what you cannot possess from a store!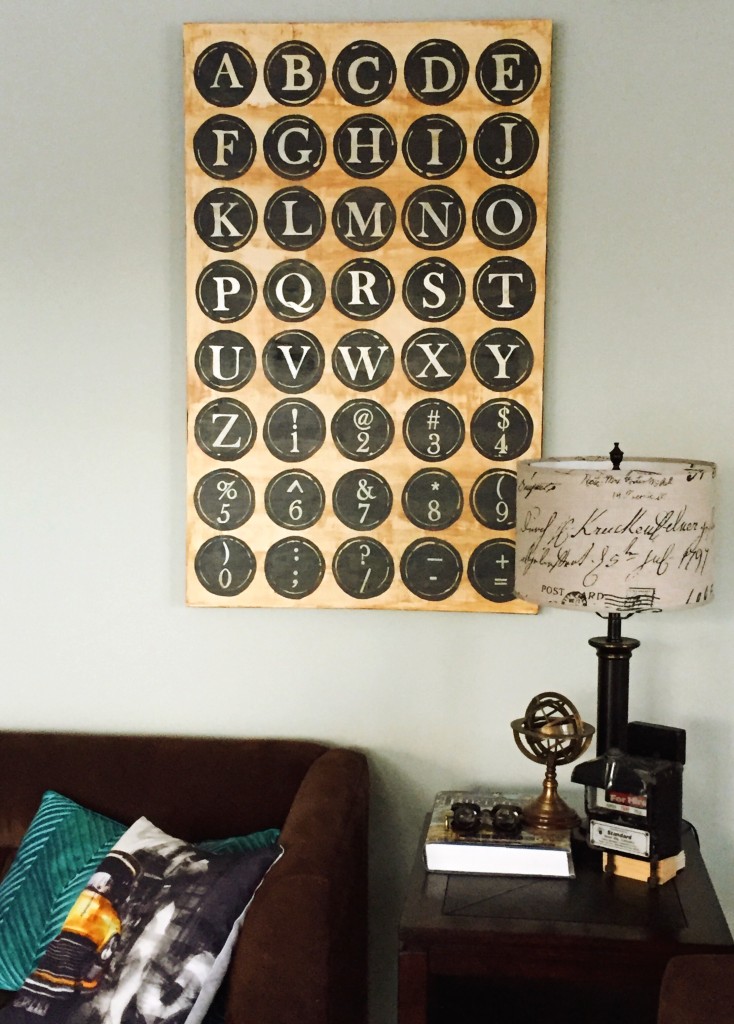 Meera does DIYs inspired by her papercrafting and scrapbooking hobby. When the typewriter keys poster caught her eye online, but she couldn't buy it, she decided to re-create it herself.
Bring your emotions into the decorating equation After all it is your home, your canvas. Meera says, "Most of the items we own evoke nostalgic memories of India, Bombay, Bandra and sometimes of Mangalore (where we visited every summer)." So things that are a part of their lovely childhoods make for beautiful accent pieces, as well as make them feel better having these symbols of those childhood memories close by.
I leave you with pictures of their lovely backyard taken last spring.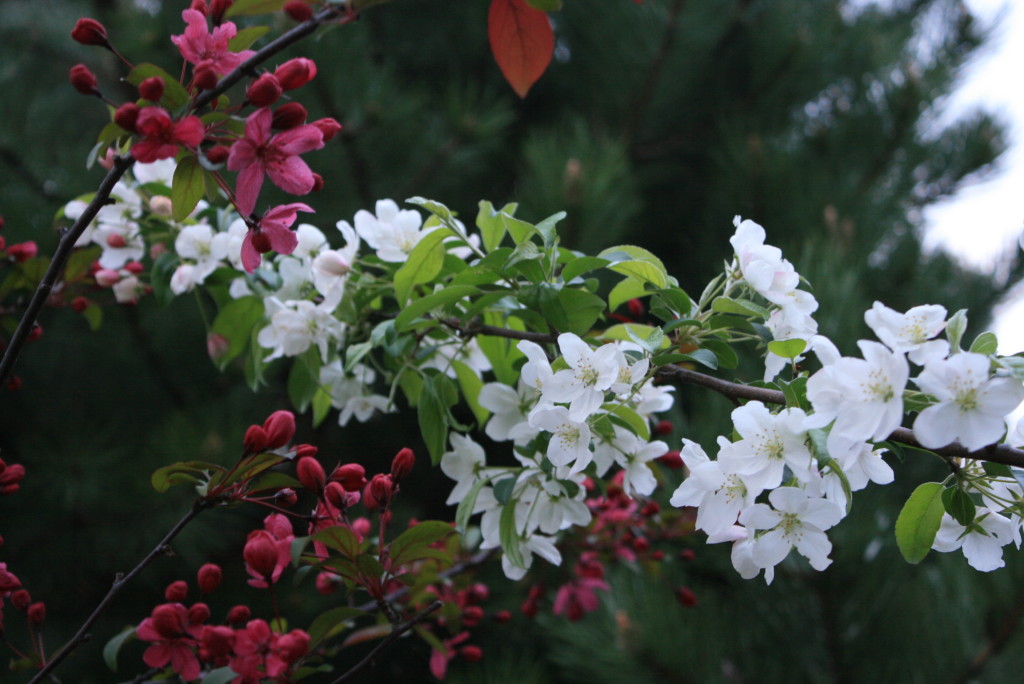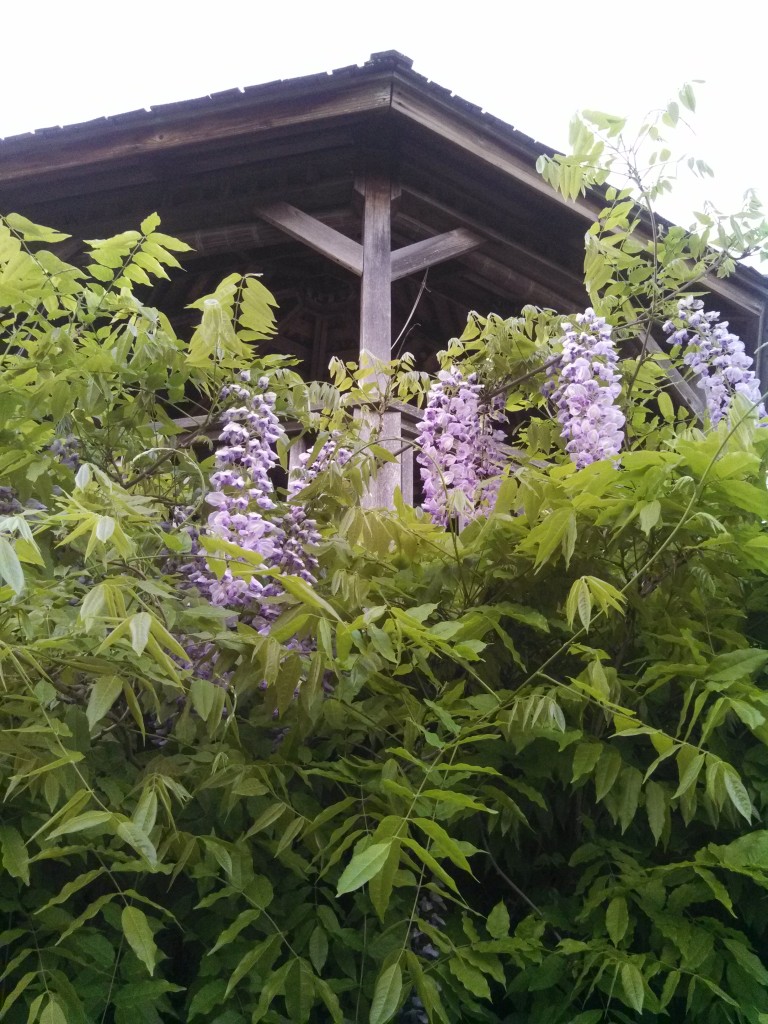 Their deck has an octagonal gazebo. Below the deck they have wisteria growing. A couple of springs ago, this baby deer made its home under the deck.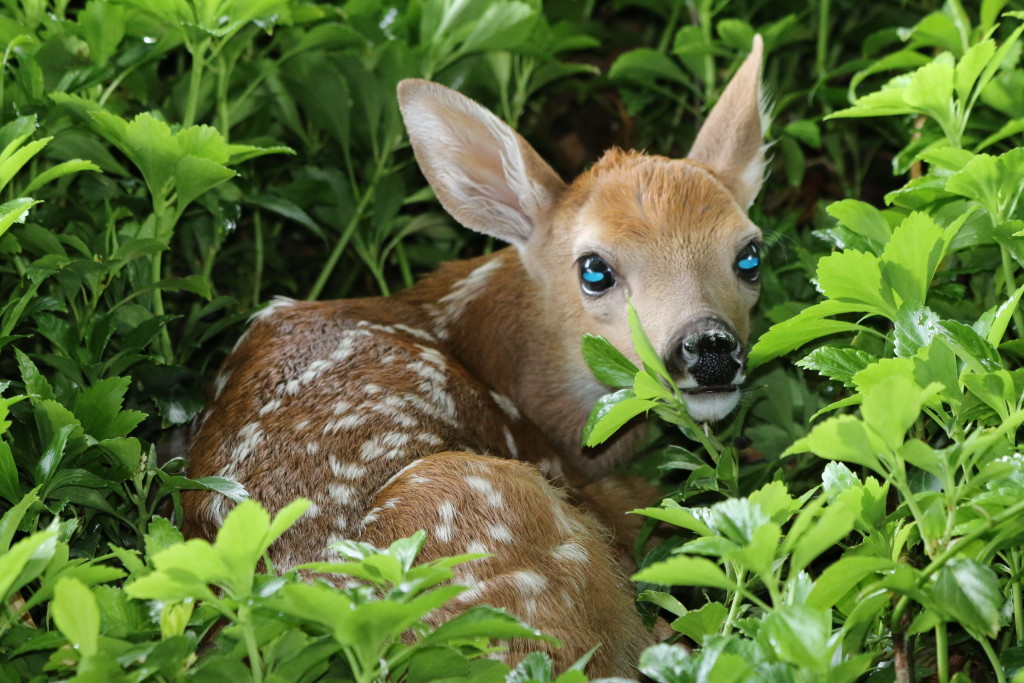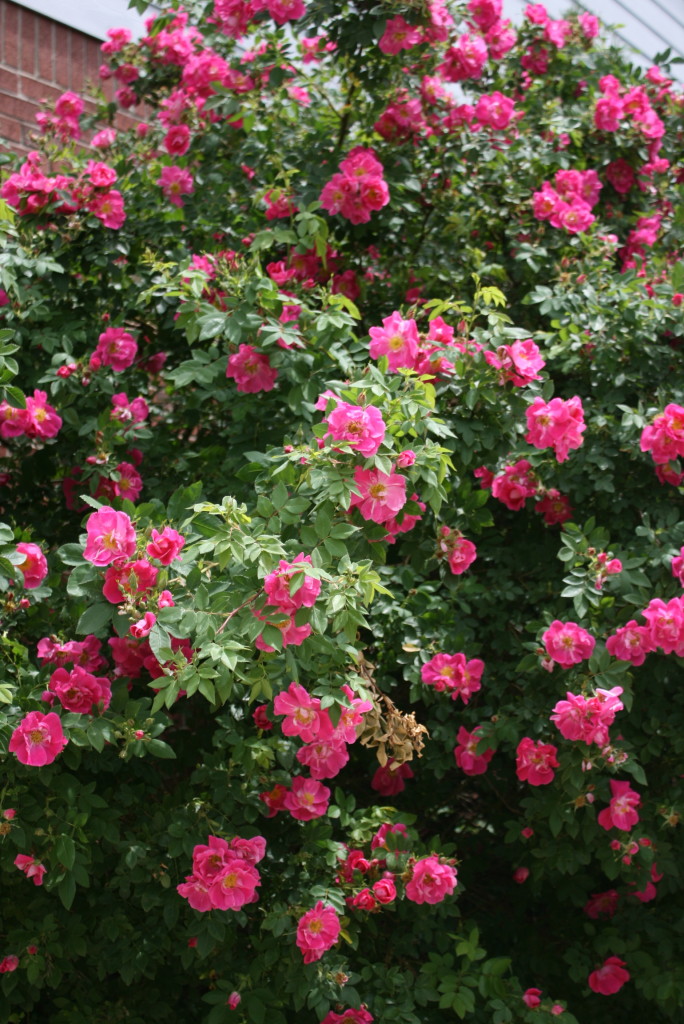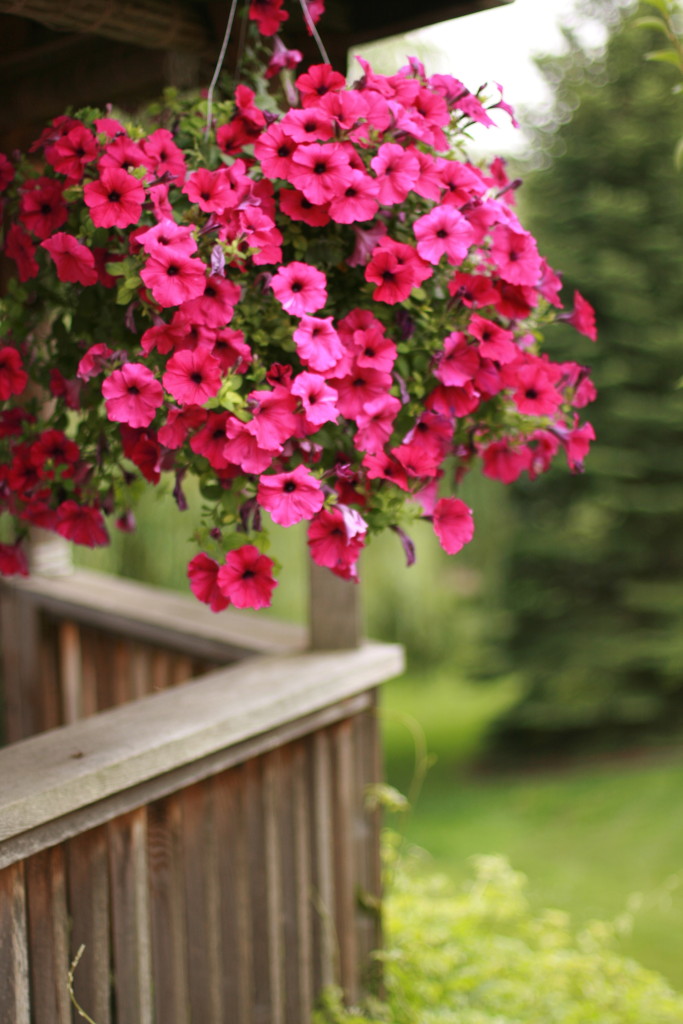 What caught your eye in this global-desi home in Detroit?