Sudha Ganapathi is based in Mumbai and her blog My Favourite Things talk about travel, books and music. Her true story titled "Meenakshi's Lamp" was recently featured on the Deccan Chronicle. I loved it so much that I requested her to share an excerpt on The Keybunch as our Diwali special, and she readily obliged!
Meenakshi's Lamp
When my paternal grandmother Meenakshi got married in 1922, she was given 6-7 vilakku or lamps as per tradition. Among them was a specially commissioned, bronze vilakku, that was made at her house. By that I mean, the lamp-maker came to Meenakshi's father's house with his implements and raw material and made it as per the specifications given to him.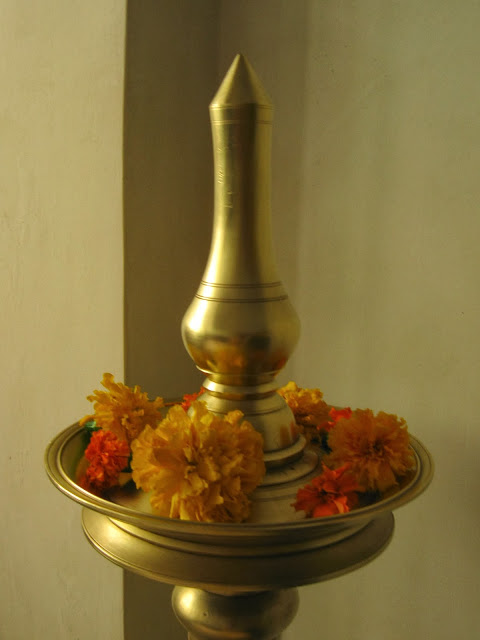 I first saw this lamp when it arrived at our house after Meenakshi's death about 20 years ago. The lamp had not been in use for many years, and though it had dulled with age its clean and simple design could not be hidden.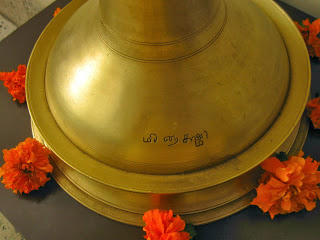 After a few rounds of cleaning the vilakku with some tamarind and lime, it's golden colour was revealed. In fact, I even asked my mother in an awed whisper if it was made of gold! The cleaning also revealed an inscription in Tamil at the base of the vilakku, which reads "Meenakshi".
Today, the vilakku occupies pride of place in my apartment and my mother still cleans it herself, not trusting anyone else, particularly me, do a good job! We light it only on festivals or on special occasions like a marriage in the family. With Diwali around the corner, the vilakku has been cleaned and readied for lighting.
On Diwali morning, the vilakku will be placed on a specially drawn kolam and after the traditional oil bath we will light it to welcome the festival.
Happy Diwali!
You can read more about Meenakshi's Lamp on this blog post.
=========
I am linking this post to Sonam's diwali linky party here. Shubh Diwali to all The Keybunch readers! Play safe, pray hard!