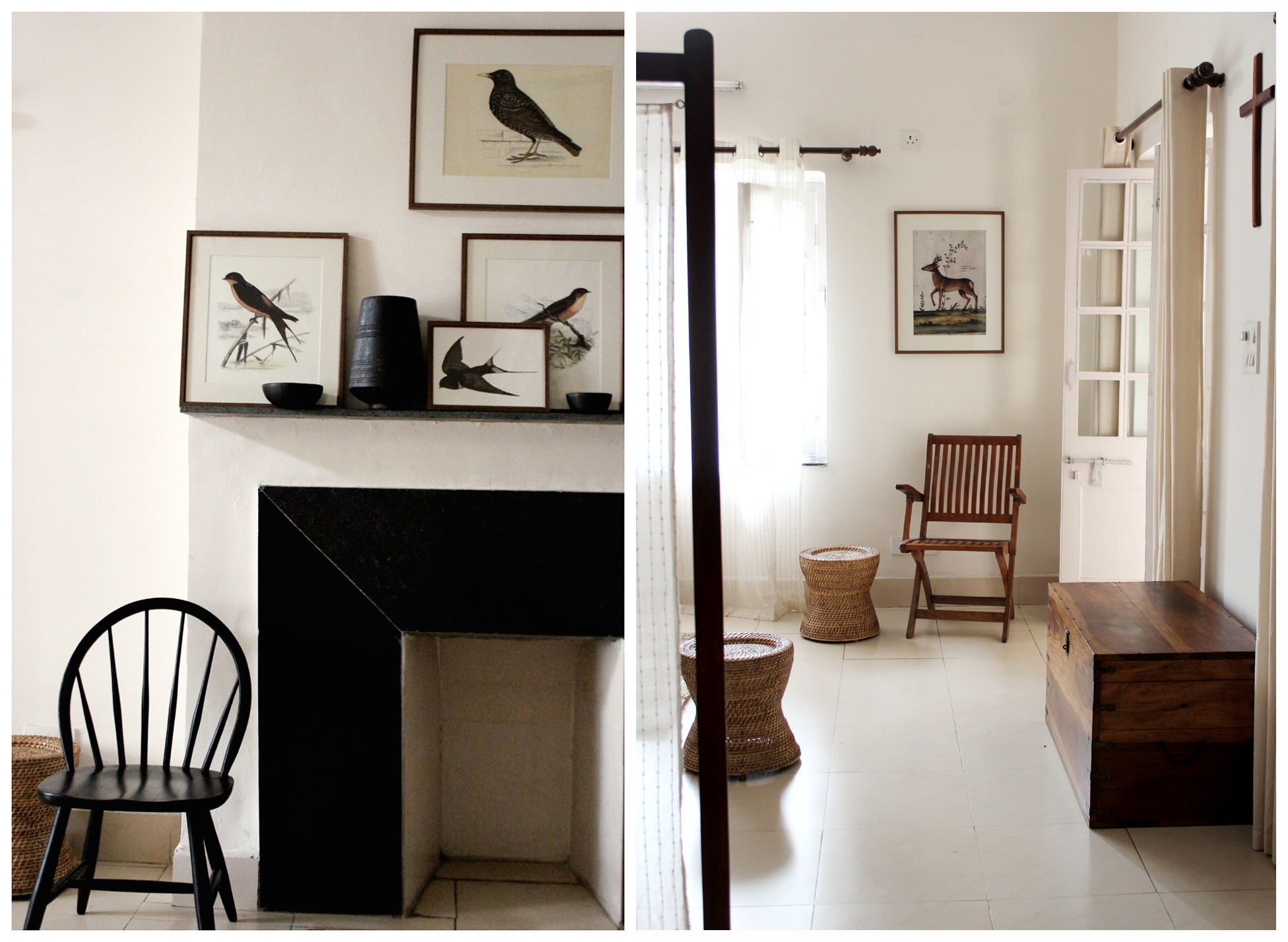 Hello 2016! Men live alone for various reasons. Rather than making do with impersonal decor, try making the home more comfortable, to infuse a feeling of belonging. Here's a contextual home tour and great tips on masculine home design.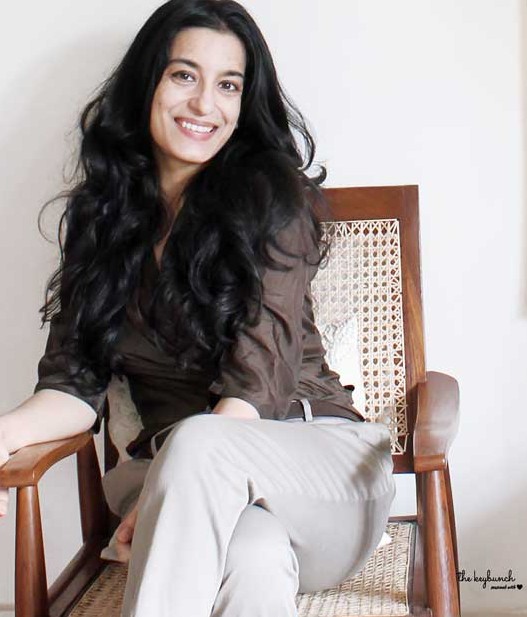 In this case, a civil servant had to move from Delhi to Bengaluru on a temporary job posting, while his family had to stay behind in Delhi. Designer Shivani Dogra was hired to turn his sparse and deary government accommodation into a trendy, yet minimal space that was comfortable and inviting to come home to every day.
The only brief she got was an insistence on cream and white, and absolutely no bright colours. He stayed completely out of the creative and came into the place only after it was done, in a record two weeks. He was thrilled. According to everyone who visits it, this place has real magic in it, and one feels really peaceful, calm and relaxed. Shivani (pictured) has done a brilliant job, so let's learn as we tour this home.
———————————————————————————————————–

This post has been selected by BlogAdda
as a Spicy Saturday Pick for the
Jan 9, 2016 edition
—————————————————————————————————–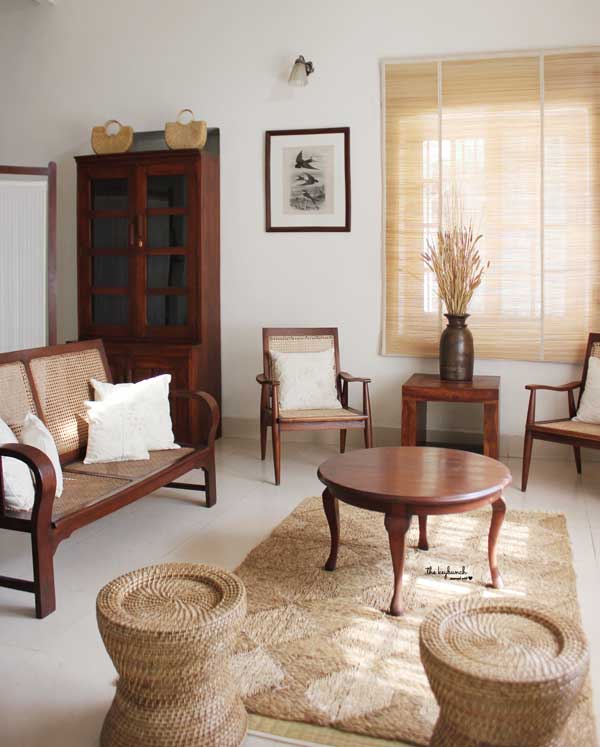 The seating area is sparse, yet functional. Small low-maintenance touches like a vase with a dry flower arrangement add some visual respite without taking away the masculine factor of the room. Since the accommodation is temporary, mudas and a jute mat, as well as a simple set of window blinds add a bit of local style. A bit of personalization comes in on the framed bird picture.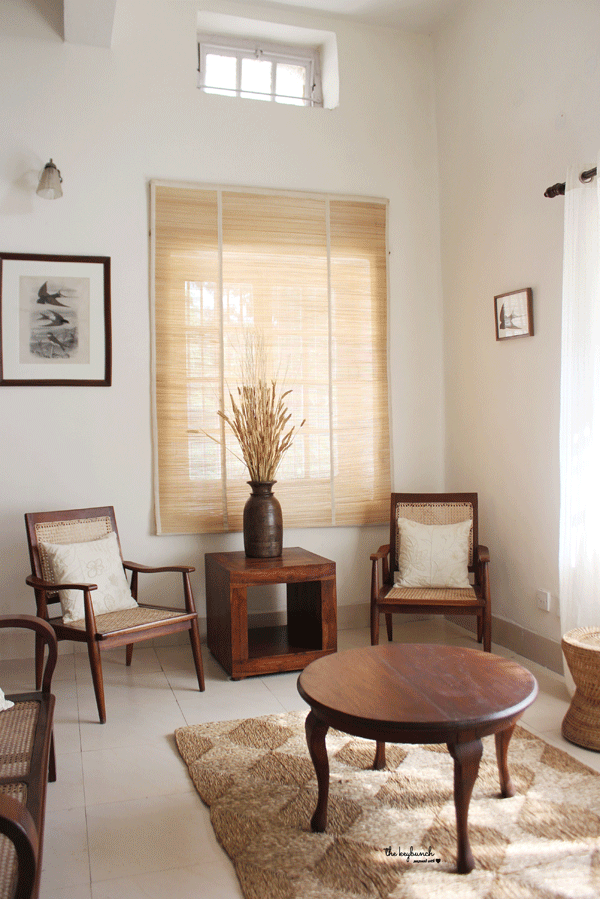 Solid wood furniture adds the right amount of charm to a man cave. It's fuss-free, and the dark tones with the beige cushions add an instant touch of masculinity.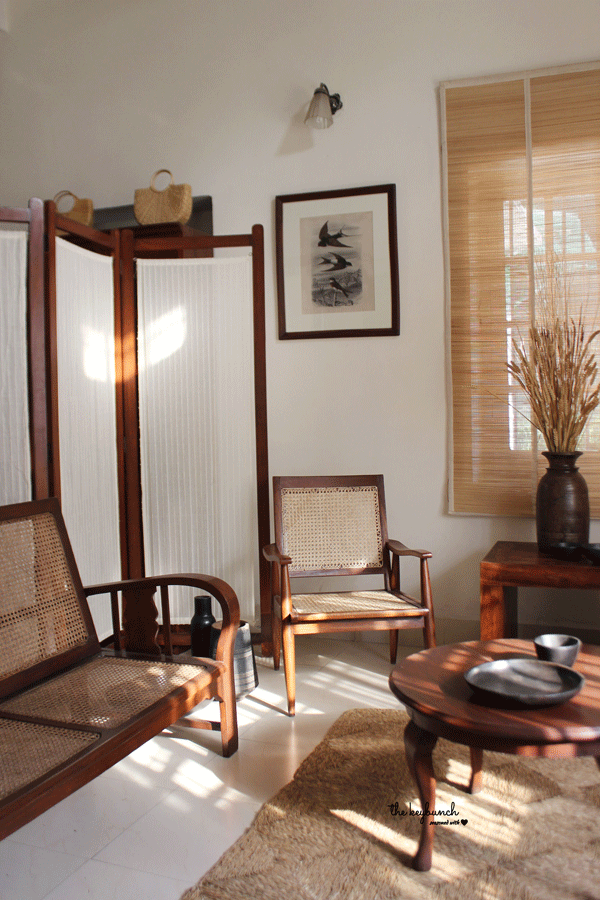 The white and wood divider is a great find. It sections off the room for some dining privacy when unexpected visitors drop in, and the colors blend in perfectly.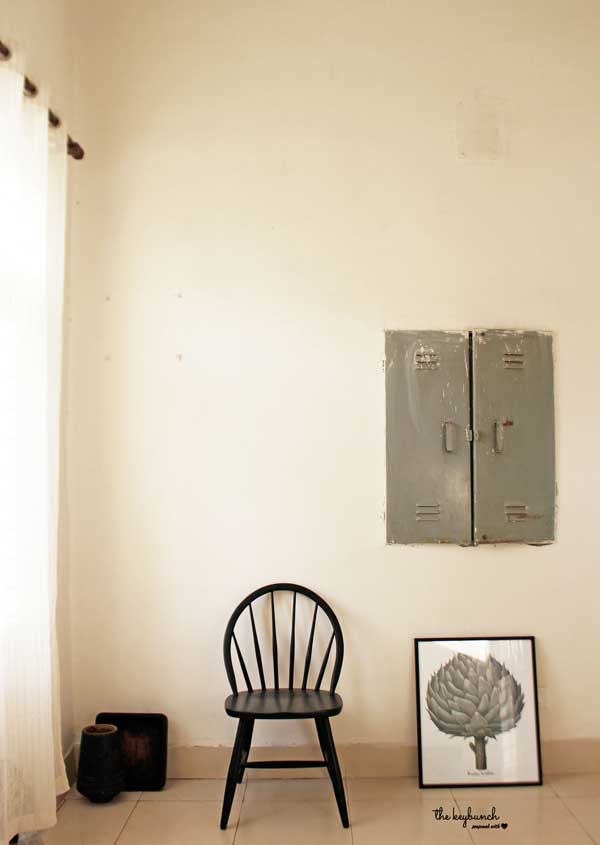 In a man's world, it is okay if everything is not perfect. The switchboard was deliberately left unpainted, and unconcealed, and the painting and chair come together to make a stark yet effective style statement.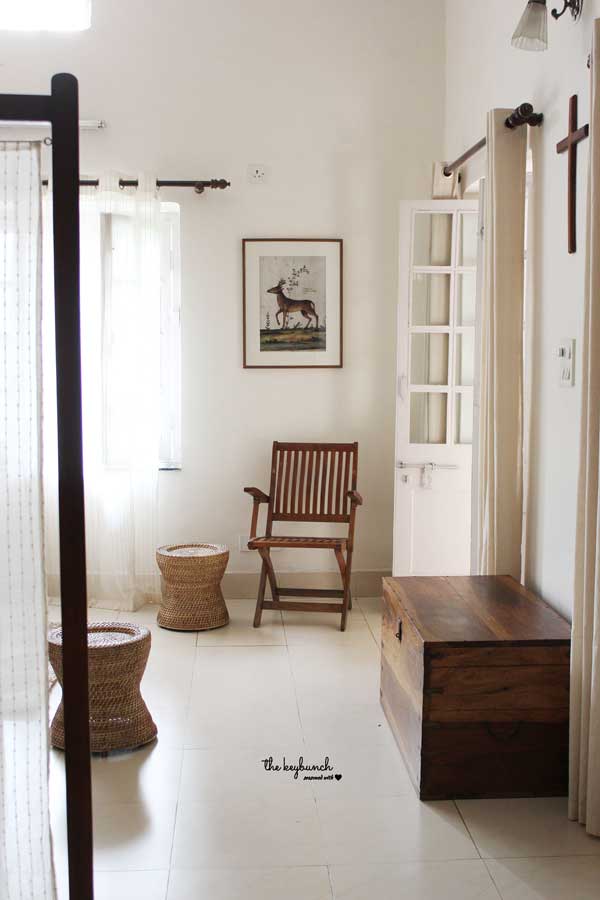 The walls of this home give off occasional hints of the dweller's love for wildlife. The framed picture of a deer grudgingly allows some colour into the room, and teamed with the wooden accents, looks just right! A wooden cross on the wall is beautiful in its simplicity.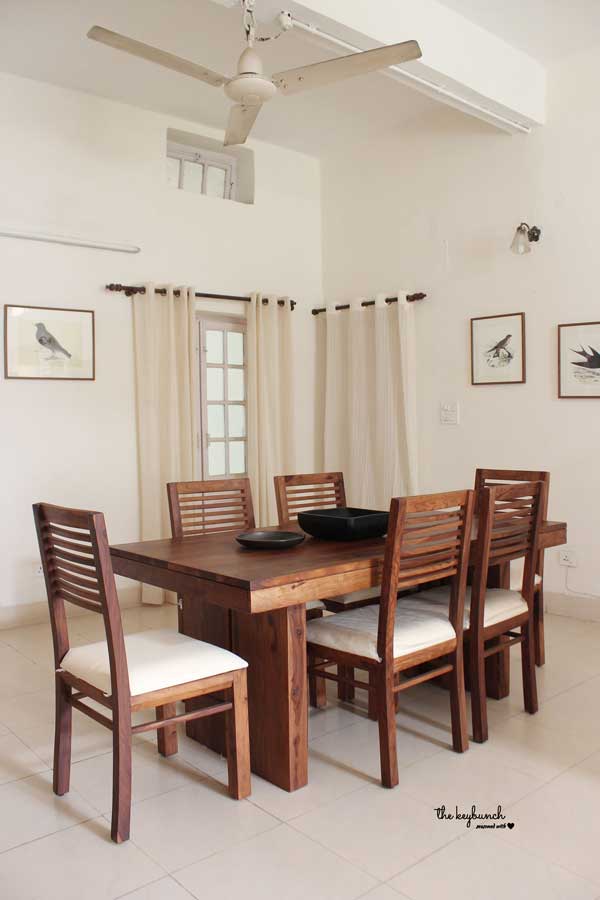 The dining table, was the only big furniture investment in this home, and rightly so. Surrounded by wildlife prints on the walls, it makes the space feel more like home (compared to rickety old tables for one, or a makeshift dining experience on a coffee table).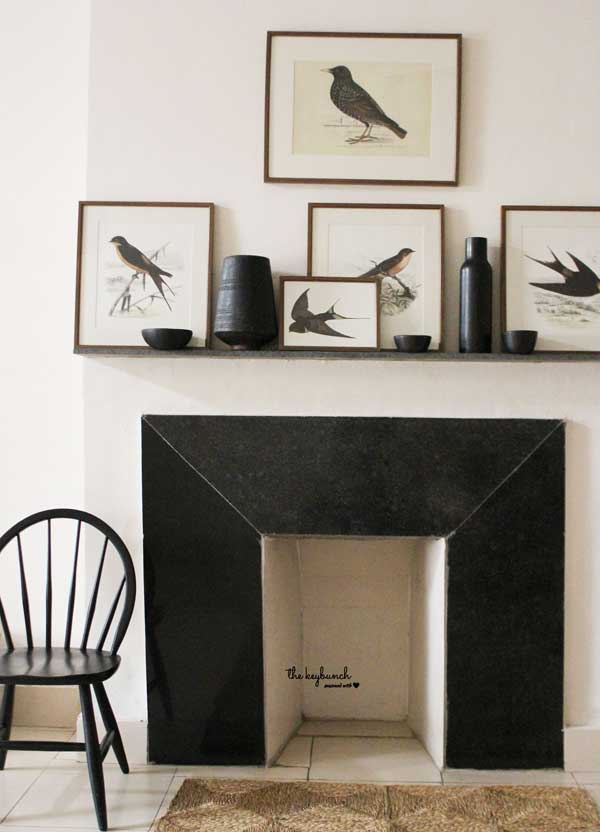 The fireplace is cleverly given a coat of modern black, and the grey and charcoal accents around it make it an eye catching section of the living room.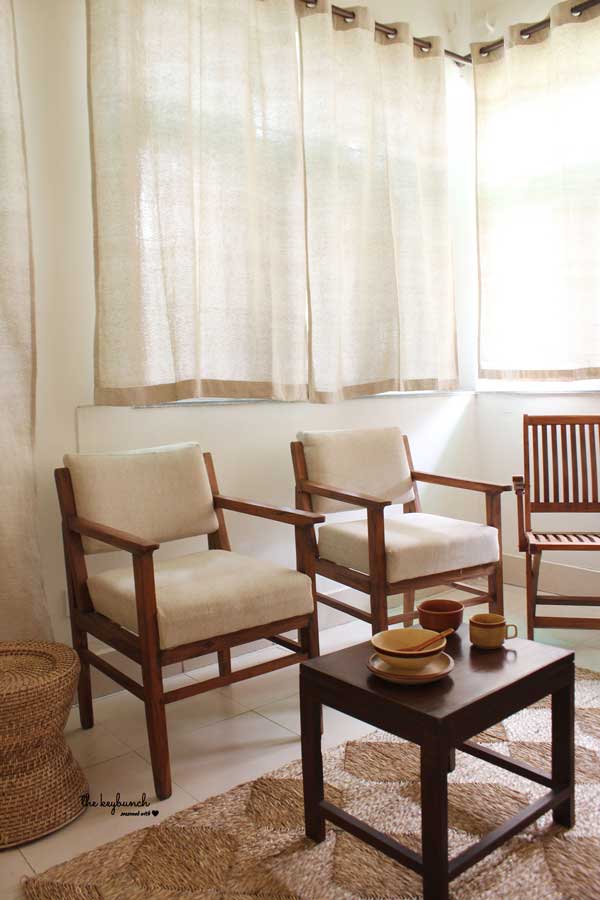 SHOPPING GUIDE
Shivani knew the markets in Delhi, so most of the furniture was sourced from thrift markets around South Delhi – Lajpat Nagar and Panchkuian Road. Some curtains, the chicks, the images, some cushion covers, the screen and a couple of chairs were made in house by her team and the crafts persons she collaborates with.
The dining table set was sourced from Fabfurnish. a
WHAT DO MEN WANT IN A HOME? CHECK OUT THE SLIDESHOW!
After speaking to 50 men living alone, The Keybunch has collated these top things that men living alone need most in a home. The slideshow is below the advertisement box.
What man-space ideas do you incorporate into your bachelor accommodation projects? We would love to know!
Thank you Shivani for sharing these lovely images!
All images are courtesy Shivani Dogra, and cannot be reproduced or reused anywhere, without permission.