Antique shop – Jewish Street, Fort Kochi
We planned a vacation to Kumarakoam in God's own country this holiday season. The backwaters trip has been on my wish list for quite some time and I was obviously thrilled that the plan came through this Christmas. It's another story that the itinerary kept changing until the last minute of our travel!
The earlier plan of 3 night stay at Kumarakoam changed to one night stay and my dreams of a boat house vacation went kaput when Cochin popped up out of the blue. The plan to stay at Cochin was again cut short when DH decided to travel back to Coimbatore to save travel time the following day…..so much for detailed planning!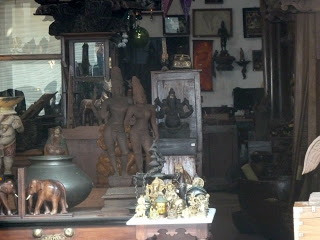 Brass, wood and metal statues
We decided to visit Fort Kochi and see around the places nearby before leaving Cochin and stumbled upon Jewish Street, a treasure trove for antiques.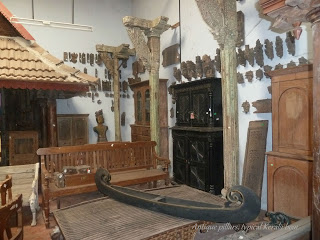 Antique Pillars, Typical Kerala Boat
My excitement grew in leaps and bounds as we drove through this narrow lane leading to Fort Kochi.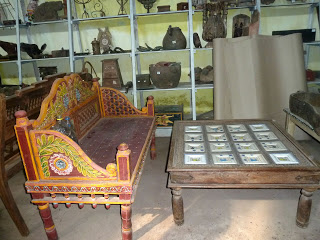 Fell in love with this antique table
I wasn't prepared for the visuals that would unfold on the way.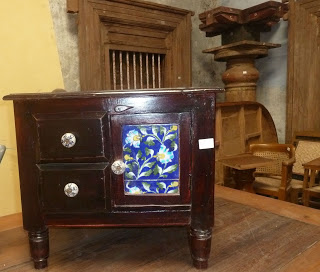 Antique door frame, chairs and writing table
The street is dotted with quaint little shops selling antiques, artifacts, spices, jewelry, and garments.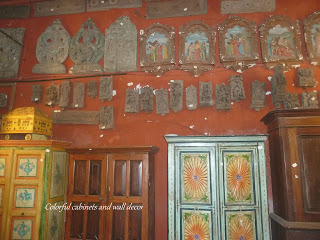 Colorful cabinets, wall decor
We kept driving hoping to see a Fort and were quite disappointed when a rickshaw driver said there was no fort around 🙂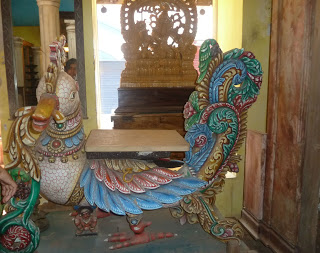 Hand painted bird seating
Well, to cut the long story short, we returned to the Jewish Street to check out the antique stores. One can easily spend hours gazing tirelessly at these charming beauties in these shops.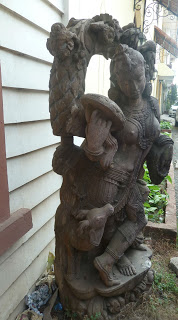 Carved beauty outside a store
Of course, I had to be content drooling over the treasure trove as the prices were way beyond my reach but I just can't stop dreaming of returning to Fort Kochi with a loaded purse and shop to my heart's content someday.