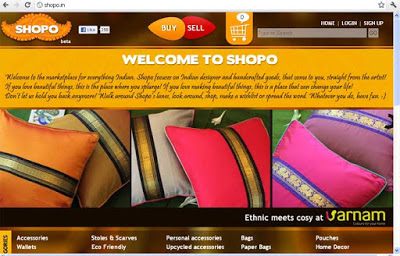 I am sure you have all been to the talk of the Indi-design blogworld – the new online store that features handmade work from Indian artists and designers, Shopo! When I checked out Shopo some days back, I went Oh no! because The Keybunch had envisioned a store like this eons ago. True, we have taken our baby steps with Style Radha, and you all love it, don't you?
Well, that first impression and the sour-grape feeling soon gave way to curiosity. I was eager to get to know the people behind Shopo – I was sure they would be an interesting, motivated lot! So here I am in conversation with Krithika Nelson of Shopo.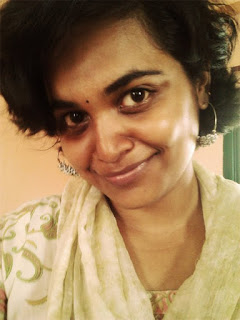 Krithika Nelson
Sharon: Who are the people behind Shopo?
Krithika: Shopo.in was started by a guy and a girl 🙂
The girl is me, Krithika Nelson and the guy + geek behind the project is Theyagarajan 🙂
Sharon: Interesting! How did you get the idea of starting Shopo?
Krithika: Well, Just before shopo, this is what I was doing:
It was a short stint, more like a break that I took. But when I wanted to take this to the next level and maybe put up a shop online, there were just way too many blockers and almost zero options except ebay. Ebay turned out to be pretty expensive too for a start up designer like me! And that is when I realised probably all of India's designer community was facing this problem! I shut down Neon cards and got into Shopo. Beyond this, I also stumbled upon Etsy and seeing that they had been able to pull this off, I got more confident we could too in India.
Theyagarajan
Sharon: How/where did you and Theyagarajan meet?
Krithika: Theyagarajan and I know each other for over 8 years. He has been my Geek friend and my tech guru for quite a while and probably the one software engineer who wanted to change the world and impact a few million people's lives meaningfully with his code! We had decided way long back that if at all we do something on our own in the online space, we will do it together! So Taggy was the first one I discussed the idea with! He jumped up and said YES! 🙂
Sharon: Ooh I envy you for having someone like him partner with you. You have no clue how many times we get all excited about an idea and don't have the technical know-how for take-off!
Krithika: Yes…so after a few months of research and stuff, he had enough proof and confidence in Shopo to quit his high paying job and start working on this! The guy has single-handedly coded the whole site on his own, put up with my complicated design requests and still manages to joke around in Office!
Sharon:..and your logo – it's lovely!…did Taggy design it? Whose idea was it?
Krithika: (laughs) Mine! Well, I just wanted a logo that screamed Indian! Couldn't think of anything better than paisleys and saffron 🙂
Sharon: Yes, cliched they may be – but paisleys are so synonymous with Indian design!
Krithika: Oh but then, as one of our sellers pointed out, the logo's silhouette looks like a moustache – the symbol of Pride in Indian men 😉 So I guess it works!
Sharon: (laughs) Yes, now that you mention it! It does resemble a moustache, a cute one though!
So coming back to the business, why handmade?
Krithika: Well, we are NOT just handmade! We are Indian designer, handcrafted, home made and hand made products! Basically everything thats, in its heart Indian and is not a mass produced, over priced Brand!
Sharon: And…was it a big effort to co-ordinate, get sellers together, etc?
Krithika: Not really! To get the database of the prospective sellers was a lil tough yes, but thanks to the wonderful blog community in India that never bats an eyelid before giving credit to people who make beautiful things, even this got easier 🙂
Sharon: Yes, that's something so wonderful about bloggers! It's like an 'open source' area.
Krithika: Almost all the sellers who I talked to jumped up in joy, because this was something they have been wanting for some time 🙂 I am sure you felt that too! The more difficult part was to get the operations in place – to make sure we had the process which will make sure every order from individual shops will get completed without any hassle!
Sharon: Do you know about Style Radha? We were thinking of this very same idea, but didn't have the resources to go full throttle right away. You beat us to it!
Krithika: (laughs) Yes, I did see Style Radha and I think it's a lovely concept! I was going to connect with you guys…but you beat me to it!
Sharon: Oh well…but I am so happy that you guys did this. You are filling a huge lacuna helping the creative crowd sell their beautiful stuff! Hats off!
Krithika: Thank you. (smiles) I think The Keybunch is an awesome blog! You gave me a lot of resources to shape Shopo up this way for sure 🙂
—————————
Thank you Krithika…it was a pleasure talking to you! I strongly believe that we can only grow together. Readers, do visit and buy the lovely stuff on offer at Shopo…it's a fab place to shop!