Deviating slightly from our focus on Indian and desi global decor, I have a beautiful Indonesian home for you to tour today. Windya or Inda as she is known, has a gorgeous Instagram feed, and that's how I first got in touch with her. Her decorating style blew me away, and I was eager to show it to my readers. And you will realize what she says about liking a whole array of styles, is very true.
Windya Wardhani and her husband Sony Sulaksono live in a 144 sq m 2-storey home with their two teenagers and a domestic helper. Bandung, where they live, is a picturesque village in West Java, Indonesia.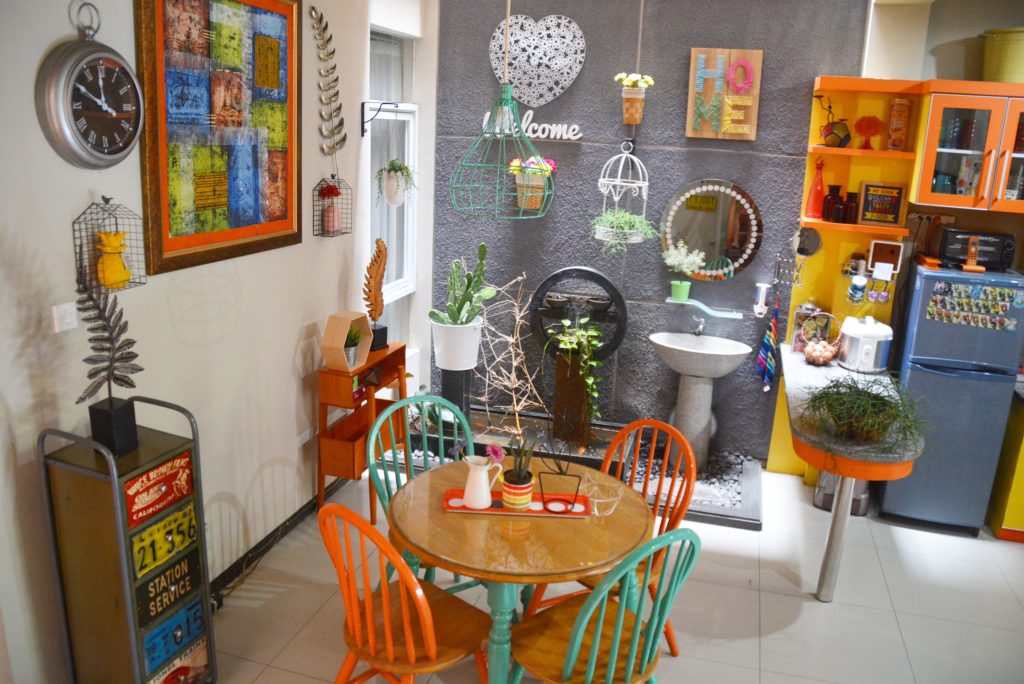 I usually start home tours from the entry way or the living room, but today, I would like to make an exception, and take you first to Windya's kitchen and dining room. The bright colours and the quirky décor make such a pretty picture! Windya chose the colours for a reason. This is where the family starts their day, and the bright colours cheer them up every morning. She adds, "The dining chairs used to be white, I repainted them orange and turquoise for the same reason"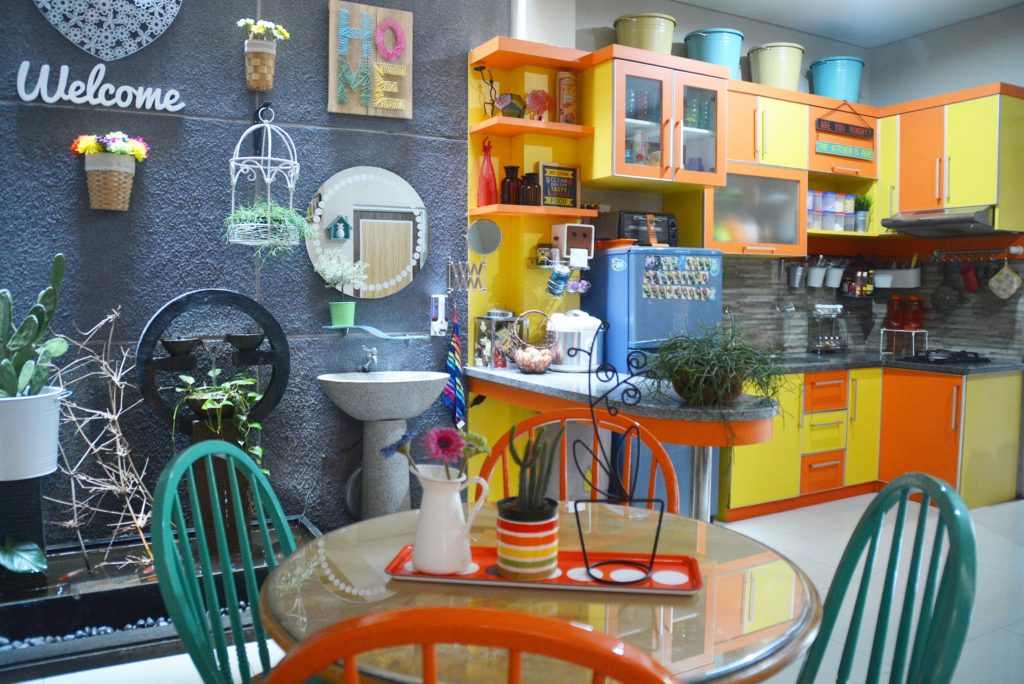 Sony keeps a small fish pond and small fountain on one side of the dining room, which Windya playfully refers to as his 'playground' . The sound of water makes them feel calm and relaxed.
Inda's sense of style comes from blending different materials and colours, and they come together in a magical, whimsical blend of wow!
She says, "I like home décor elements such as paintings, wall-arts, textiles (rugs, cushion covers, etc), furniture, knick-knacks and all kinds of art. I like antiques, but I also like modern contemporaneity, industrial, and rustic very much. I like wood and metal-based elements. I like colors and patterns. Principally, as long as the design is unique and the material is easy-to-be-cleaned, it is so easy for me to fall in love with it. I hunt them everywhere I travel or just buy them online. I sometimes make a design by myself and then ask an expert to realize my dream."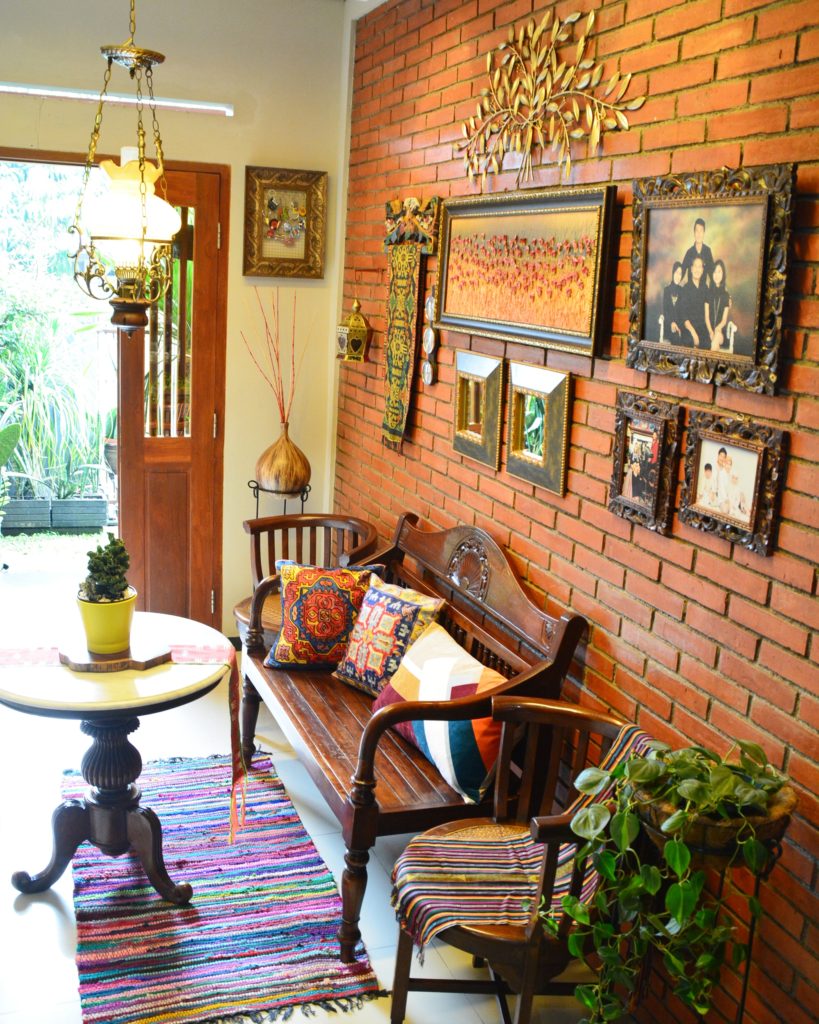 A brick wall and colonial furniture greet visitors at the entry way. The colourfuls are ominipresent here, yet mellow. The money plant adds a touch of refreshing green. She says, "Recently I realized that plants can be awesome home décor elements. So I put them indoors, in places where the sun streams in."
The living room is where the family spends the most amount of time together, watching television, entertaining friends or catching up with each other. It is cozy and comfortable, oozing warmth!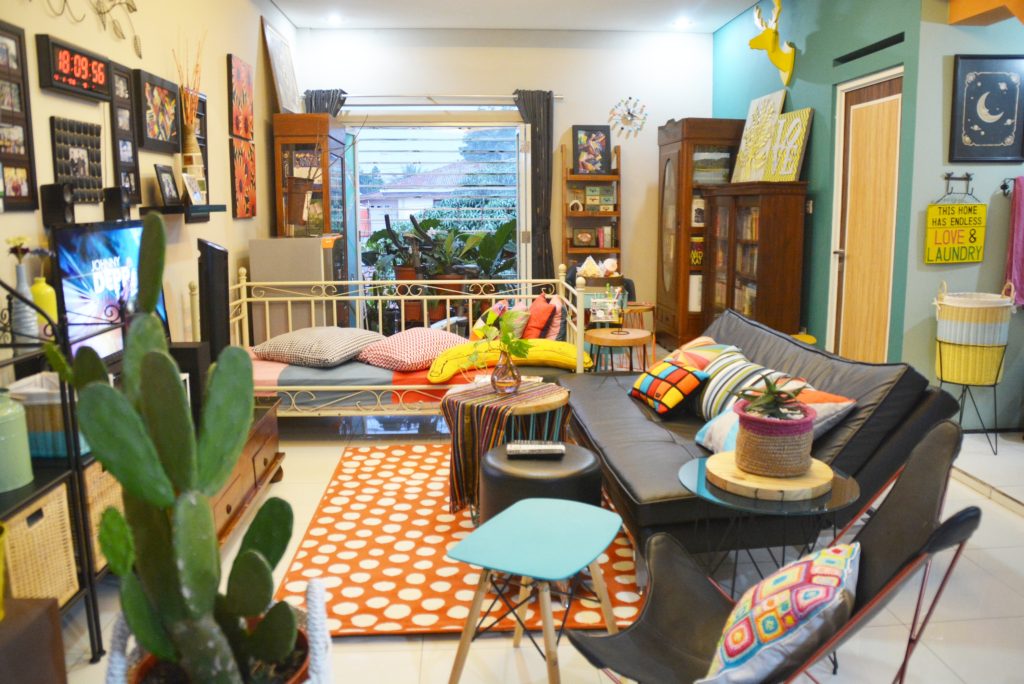 This is a corner of the living room. The leaf wall hanging is Balinese craft, and it is made of metal. The living room has an amazing mix of geometric shapes, colours, potted plants and monochromes.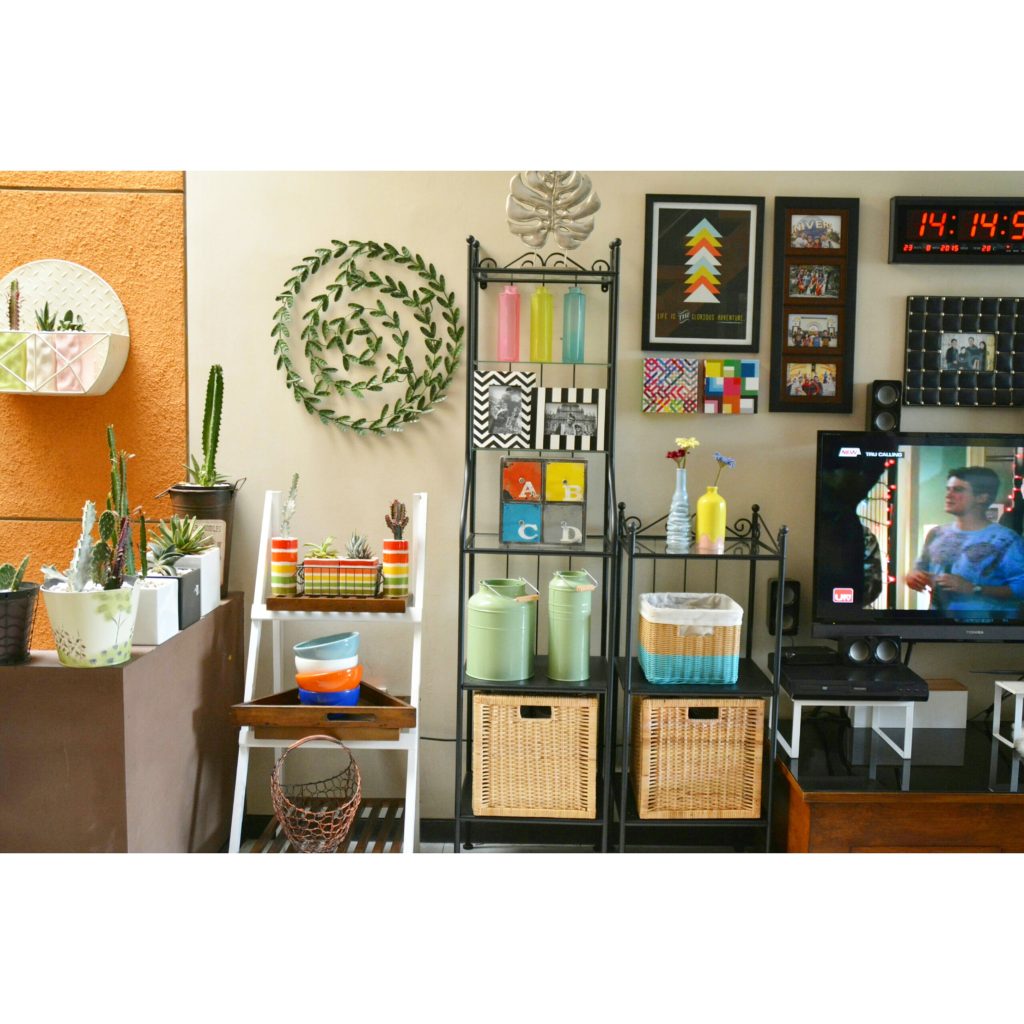 The landing on the stairs is a lovely medley of colour and art, with a touch of green thrown in.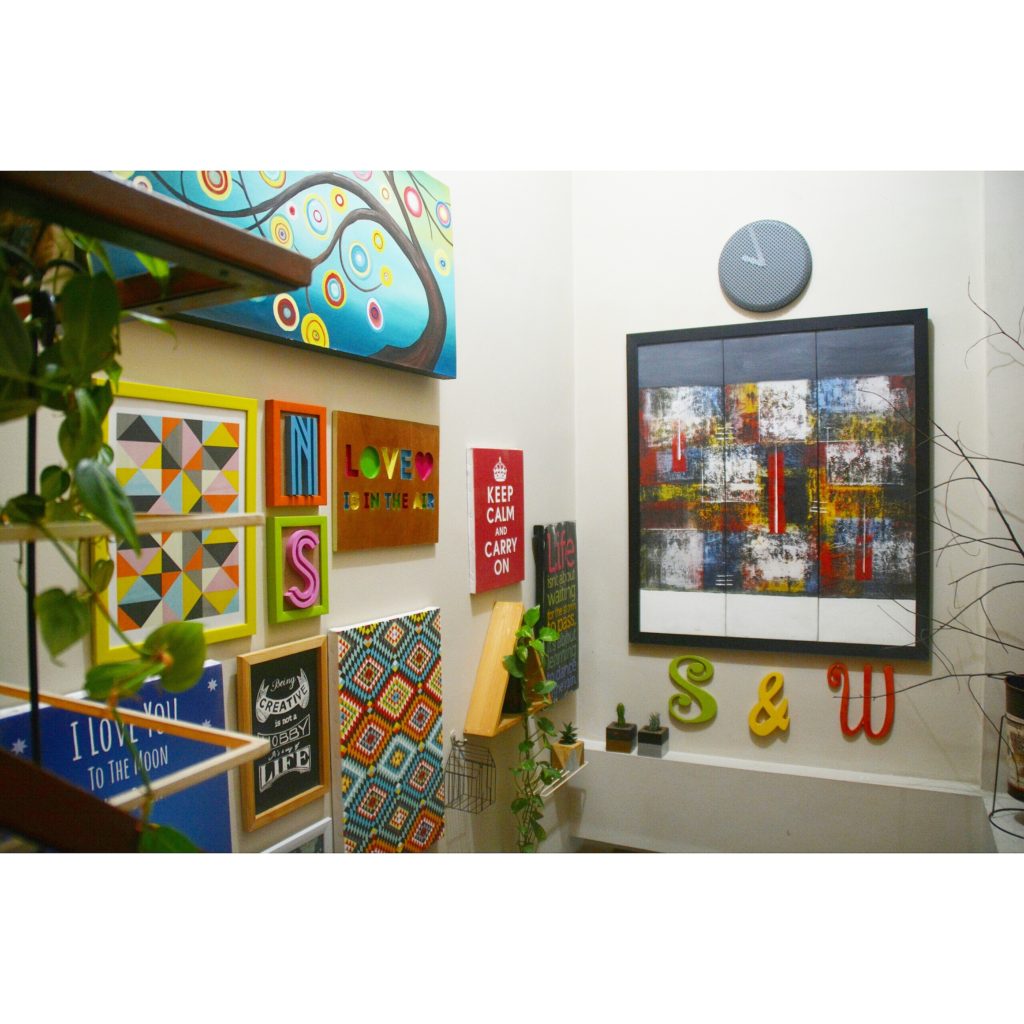 This is Windya's favourite corner. It's got books and plants, which she loves. She says books and plants are the perfect home décor combination. The antique wooden bookshelves in this room were picked up at different thrift shops more than 15 years ago.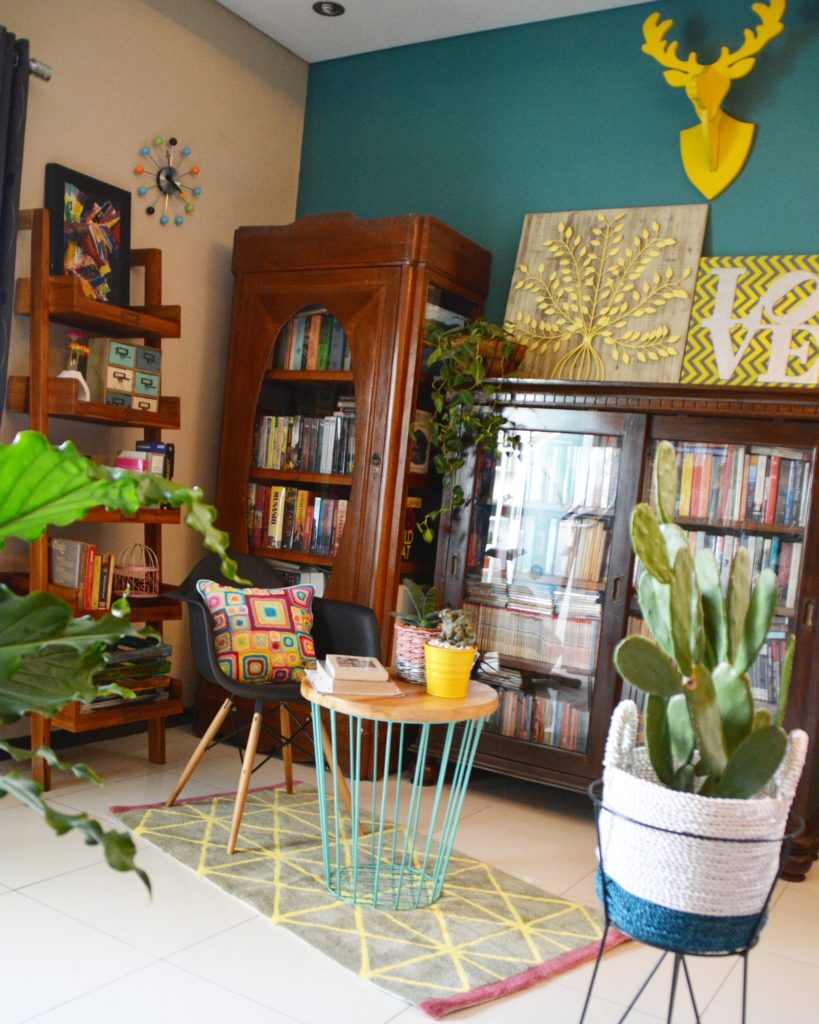 The wall color used to be brown, but Windya repainted it green for some freshness.
In the master bedroom, Windya opted for a floral décor theme. "You and Me We are the Right Combination," are the immortal lyrics from one of Windya's favorite 80's song sung by Seiko and Donny Wahlberg. She commissioned a signboard maker to paint these words for her.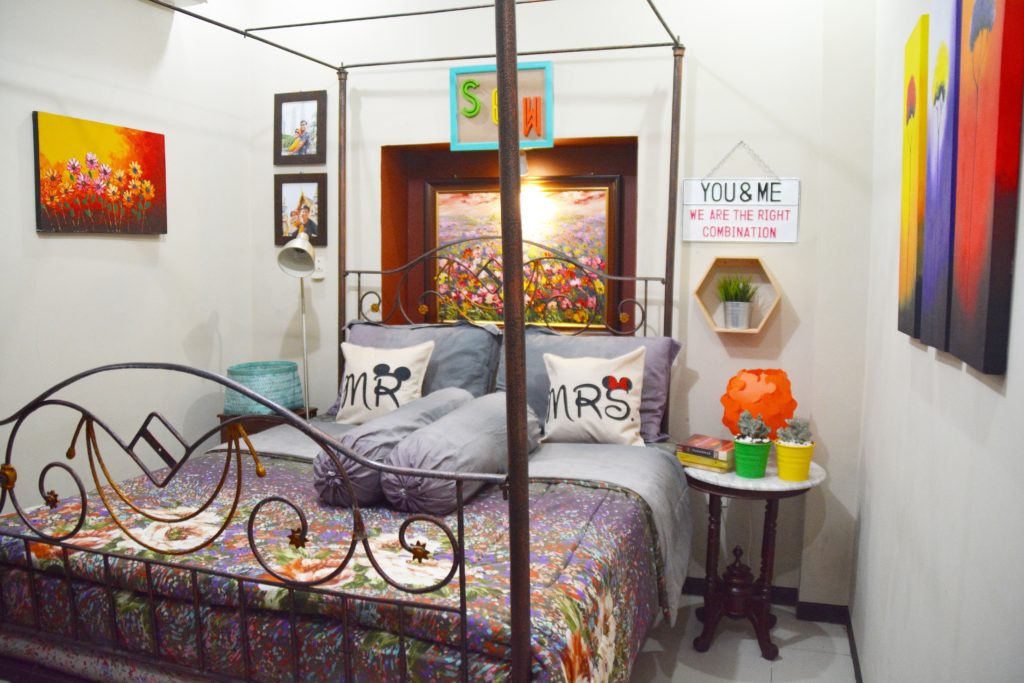 This (pic below) is a wash room on the second floor. And you can see that the washrooms too have not been spared some artsy decorating love!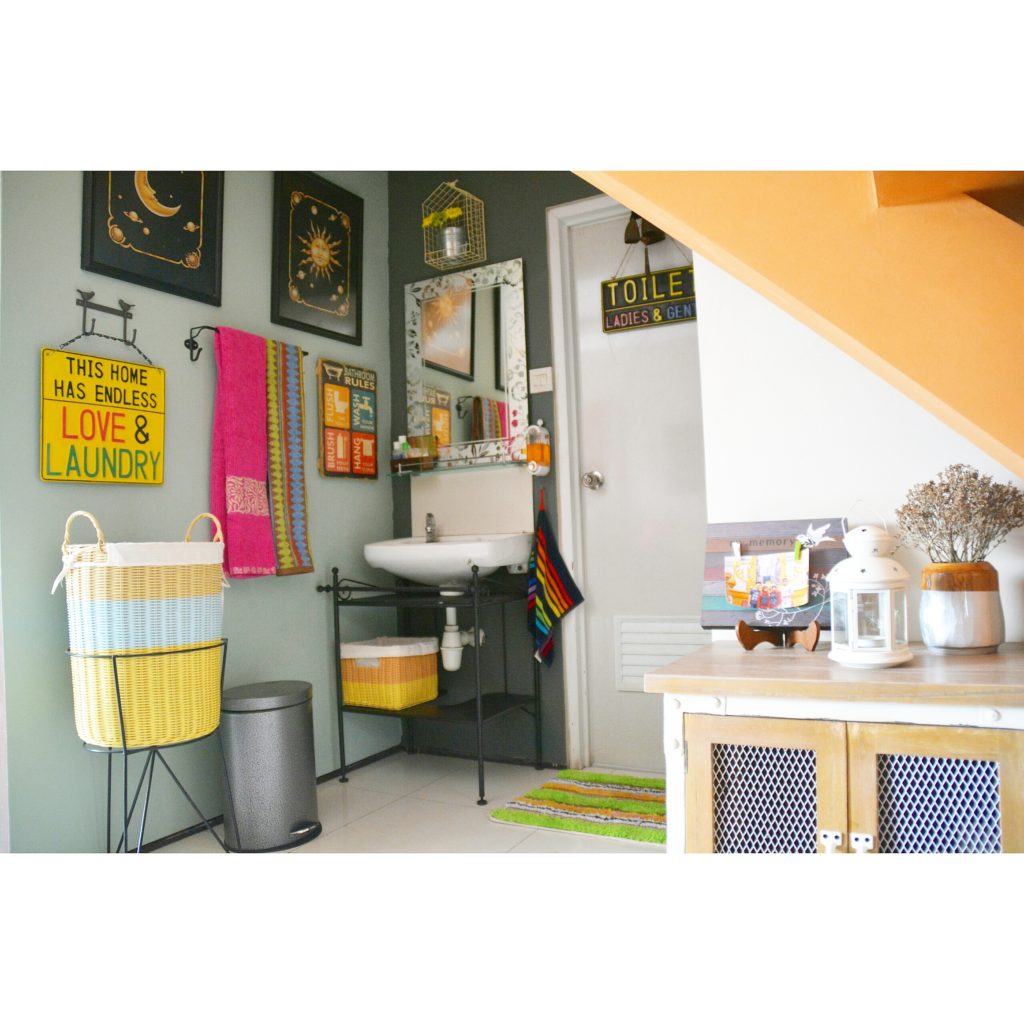 Windya's son's room is treated to a bit of monochrome to get a man cave ambience. Windya felt that monochome looked best with colour to set it off, and she brought in yellow, the best color to accent the room!
This is a tiny guest washroom on the first floor. Windya gave it a stylish and natural stone and brick wall finish. With cheery wall décor this is a room that her guests must love!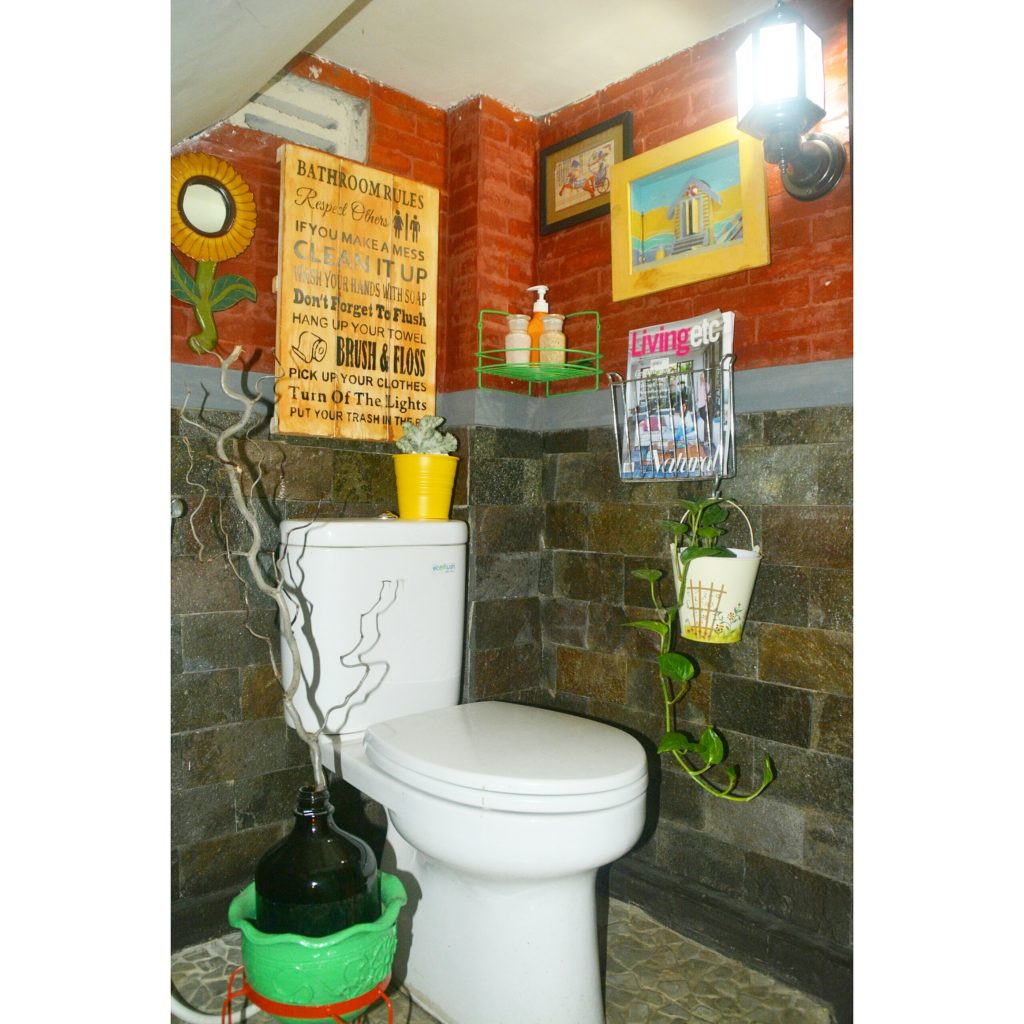 The pic below is of a semi-open space at the corner of prayer room. The abundant amount of sunlight makes it the perfect space for her cacti and succulents, and leafy plants. Windya winks and tells me that she doesn't like flowering plants, perhaps because she has never succeeded in growing them!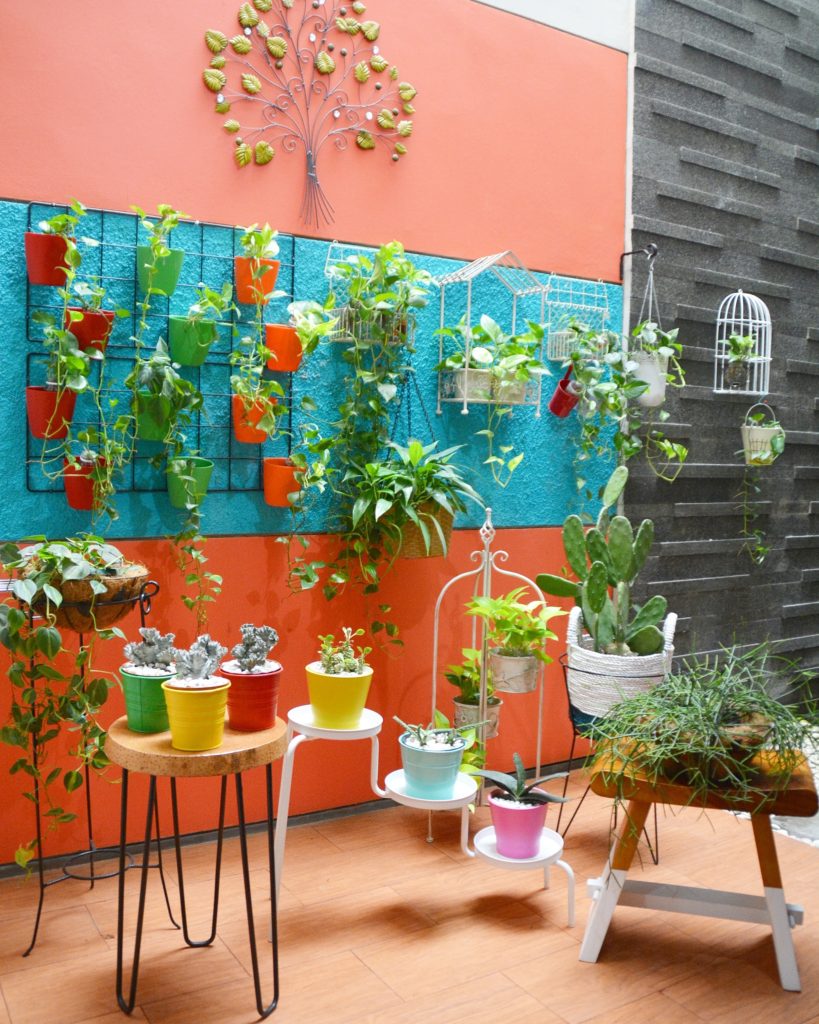 Windya's style is refreshingly different. She says, "Primarily I like many décor elements which are unique and easy to be cleaned. I like patterns, shapes and colors. Some of them are designed by me, and others are custom-made and executed by artists. I like to be exclusive and extraordinary, but I was surprised when I got many followers at the first time I posted my home on my Instagram feed. And I was more surprised when magazines and bloggers like you asked to feature my home."
Styling Tips from this lovely home
Follow your heart and decorate fearlessly!
If you love colours, find ways to make them work together.

https://www.thekeybunch.com/2016/05/14/inda-and-sony-sulaksonos-colorful-home-in-indonesia/?preview=true

Mix colours, monochromes and geometric shapes for a wonderful new decorating style.
Don't buy everything in a store. If you have an idea, try commissioning it and getting professionals to execute your idea.
Decorate by trial and error. Over time you will evolve your own personal style!
Windya and Sony's home is a delightful refuge filled with cheerful colours and warmth in every corner!