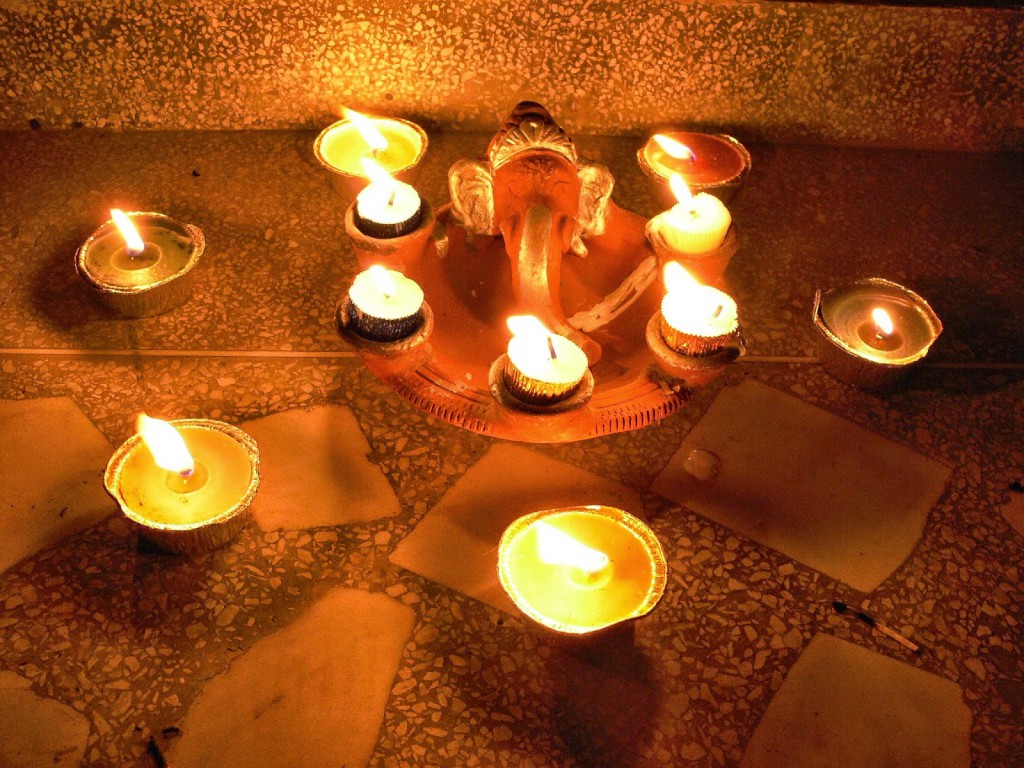 Christine Pemberton is a blogger from New Delhi. Her inter-faith, inter-cultural, mixed race marriage ensures that her family has the best of both worlds. When I asked Christine to contribute to my "How do I celebrate Diwali" series she was most gracious, and sent me a lovely writeup and pics. Over to Christine…
As a mixed race, mixed religious family, having lived all over the world before early retirement in India, Himmat and I have celebrated all our festivals in what can only be described as a "fusion" style.
I am British and a Roman Catholic. My husband is Indian, but pretty agnostic and he was brought up in a family where very little attention was paid to rituals. Like many Indian children of military families, he went to a succession of schools all over the country, most of them St This or St The Other, so Christian festivals hold no fear for him. Which means that a festival like Diwali is, in our family, an occasion to invite friends over to enjoy the more social aspects of Diwali in Delhi – i.e, big fat crackers, patakas galore and more fireworks than you can imagine.
We have a roof terrace and (fortunately) neighbours who completely overdose on Diwali, so we invite our friends up onto our roof, we eat from the buffet we lay out, and literally sit back and watch the show. Our neighbours let off professionally managed fireworks for hours – no exaggeration – and we are the lucky beneficiaries, enjoying their dazzling show, year after year.
Yes, of course it's noisy and polluting (I only have to check the ash on my terrace next morning to know that) but it is so fabulously OTT that for one night of the year, all my eco-warriorness is forgotten.
I absolutely adore Diwali. Here in north India Diwali ushers in the wonderful winter weather, and you can actually feel the slight chill in the air on Diwali night, as you watch the city skyline explode with colour (and noise, yes, I agree). But so much colour!
All is not noise and bling, however, and I cherish the early evening rituals. As the sun goes down, we light diyas all along our boundary wall, and on our terrace and roof. The children of our staff always do this.
They have appointed themselves in charge of the diyas, and there is a certain amount of jostling for the matches because that means you are "grown up", with the older children bossing the littlies around, but in the end everyone lights the diyas, and keeps them away from the idiotic dog, who sent one flying last night with his big fluffy tail. And then we all stand and watch as the sun sinks over the Delhi horizon and Diwali night explodes into noise and colour.
Mithais from their Diwali 2014 roof top celebration
Christine, that was a lovely account of your Diwali. Thank you for participating!
So dear reader, how did you celebrate? We are looking for more of you to write in – share your customs and pics. Write to me with your festive stories and be a part of our "How do you Celebrate Diwali?' series.
Happy Festivities!
And, have you participated in our birdcage lantern giveaway in association with The Purple Turtles yet? Click on the pic for more details.
Check out these amazing brass diyas, just so perfect for the festivities.