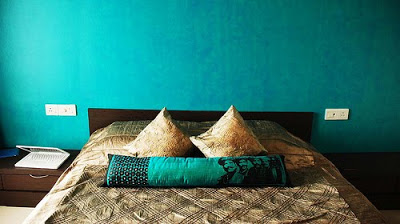 Aqua texture wall, custom made low bed in dark wood
& aqua cushion from Good Earth

After a long month of anniversary celebrations, it's back to business again. This week, we feature the house tour of Mumbai based art director, Mathanki Kodavasal. Mathanki's décor ideas came from design sites on the internet and TV shows like Top design. The space is just about 900 sq ft and has been done up from scratch. I love the way she has played around with colors to give the apartment a vibrant feel and the brilliant idea of turning a bedspread into blind. Mathanki explains how she created this cozy place as we go through the tour. Enjoy!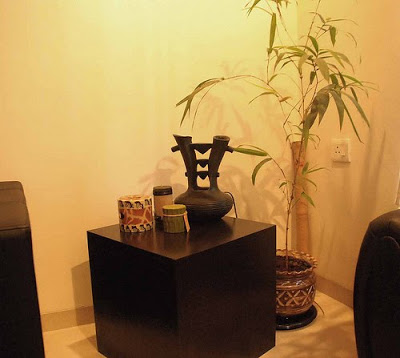 'Cube' side-table, candles, the bamboo plant and a bamboo
rain maker and a gurgling mini waterfall

The apartment was a 2 bhk, but we broke down a wall, and converted one of the bedrooms to a study cum bar, with a window opening to the kitchen. Made the space look a lot bigger. The idea was to make the house as open and airy and bright as possible.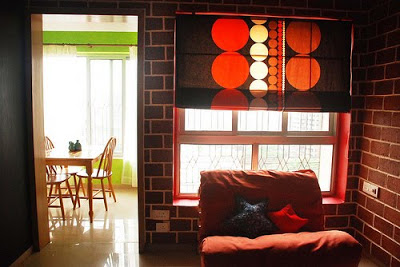 Our favorite room is the study, and I'm so glad we decided to experiment with the brick wall. It gives the whole room a very warm and cozy feel.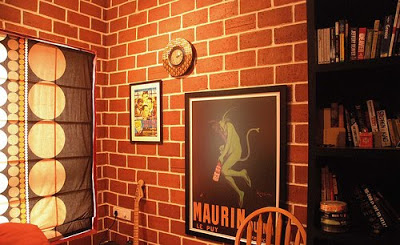 While looking for blinds, we couldn't find any design or pattern we liked. But we saw some Portico bedsheets which had some brilliant colorful patterns, and the shop guy told us that he could make blinds out of them. (I loved this idea!)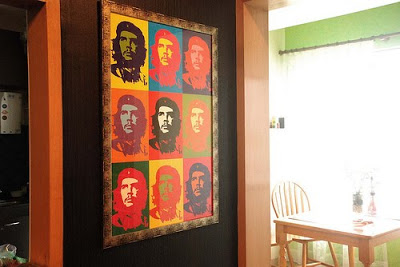 Warhol+ Che, on the bar side wall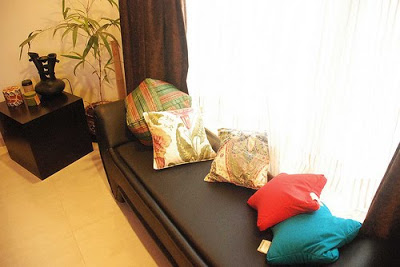 We (hubby and me) both like dark wood, and minimalistic modern furniture, and it suits small spaces. We designed most of the pieces ourselves, and got it made.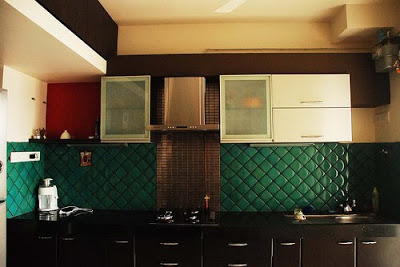 My favorite color is aqua…its soothing, not harsh and very pleasing to the eye. So you will see a lot of aqua in the house. The kitchen tiles, the bedroom wall. We played around with textures.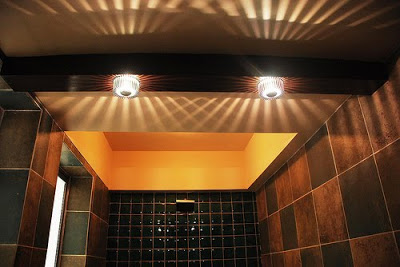 The aqua theme continues to the master bath, I was trying to achieve a very good- earthy feel. Wooden rafters on the ceiling with embedded 'iron an' lights for a dramatic effect.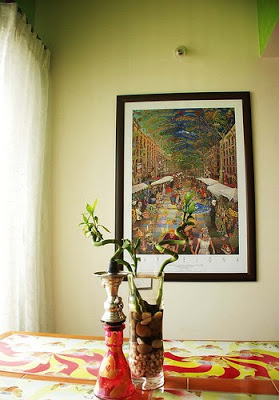 Print of La Ramblas, Barcelona, in our dining room

I think over all we mixed and matched our ideas, and we were quite surprised ourselves at how our home turned out finally.
Mathanki blogs at by two kaapi n'a bit of art and mylittlescrapbook. Btw, you can see more pics of her home here. What do you think of the ideas used here? – Rekha for thekeybunch