What do you do when you are newly married, and have to move to a new city and set up home there? Kanika Bahl's home should give you a tip or two on how to make your home warm, inviting
and beautiful without being furniture-heavy. She moved to Pune (my city and we are meeting up soon, yayyy!) earlier this year from Delhi, and her no-fuss home can give all you newly weds some really insightful ideas.
The best thing I liked about Kanika's home is the Fabindia stuff. No, she didn't splurge on it, but asked all her cousins to give her only Fabindia gift vouchers at her wedding so she could buy what she fancied in Pune rather than cart it all out from Delhi.
I love the way she has lovingly put her home together with whatever she and her brand new husband collectively own – the little memories of their courtship, memoirs from trips taken together, a bookshelf lined with their favorite books and embellished with cute keepsakes, and Kanika's background in textile designing stepping in to provide warm, tasteful furnishings.
Have a look.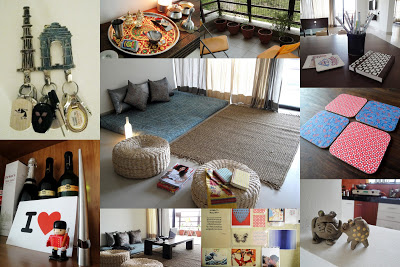 click on collage to enlarge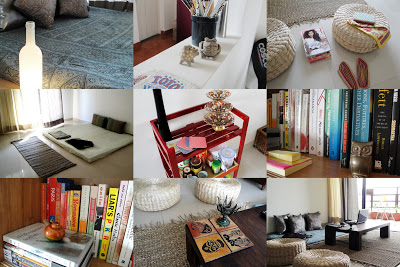 Do visit Kanika's blog for close-ups of these images. She has also started making lovely coasters like the ones in the first collage above (last column second row) for sale.