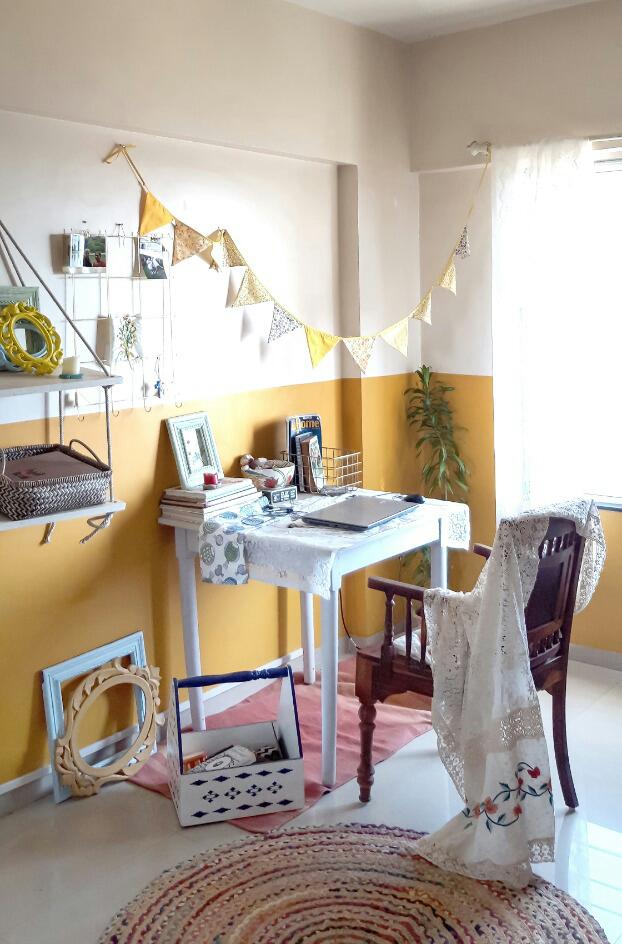 How has working from home panned out for all of you? I have always worked from home, but with every member of my family now working or studying from home, I have had to carve out a nice quiet corner just for myself. And I found that corner in my son's room.
I took over one wall, and I set up shop there, and I must say, it's been a wonderful few months working out of this space!
So here's what I did!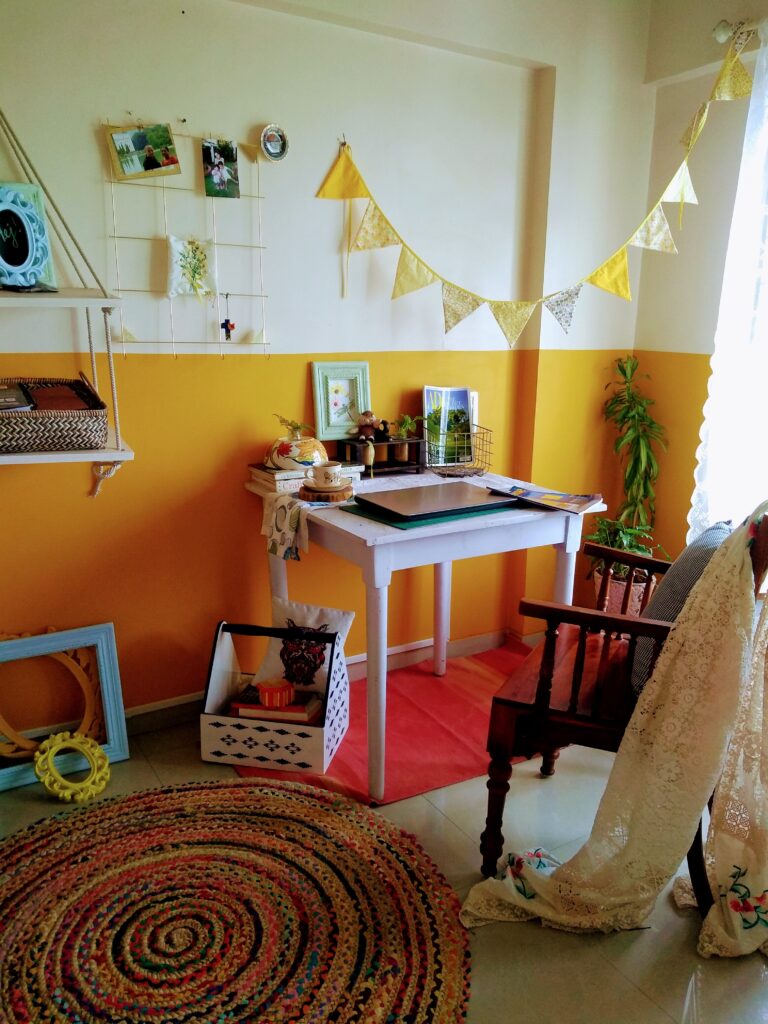 We already had the bright yellow half painted wall, so I tried to use that to my advantage.
We had an old dining table in white, that was perfect for this wall.
Rugs provide visual breaks and help demarcate the boundaries of your work from home space!
Now for the rugs. You will see two rugs, one under the table, and one next to it. Don't tell my son, but the round one, is just to form a sort of a boundary so that he knows to step around my work area, without being told every single time! It has worked well so far. I love to walk barefoot around the home, but when I work I like the texture of a rug under my feet, plus it adds colour to the room. So that explains the second rug!
Sticking to fabrics and furnishings, the window curtains are IKEA, the throw on my chair is also a bit of whimsy, to tie the room together and give it more than a hint of feminity. And the bunting is something we made in house, and it just gives a lovely, fun and playful look to the room, I think!
Organization Tips
An IKEA wall organizer adds both style as well as functionality. I use it for inspiration, and I also have pics of my favourite people pinned to it. It is also a great place to hang reminders and post its. I have hung up a tiny swatch of embroidery on fabric that I had done years back, both because it looks pretty, and because I hope that it will motivate me to begin embroidery again!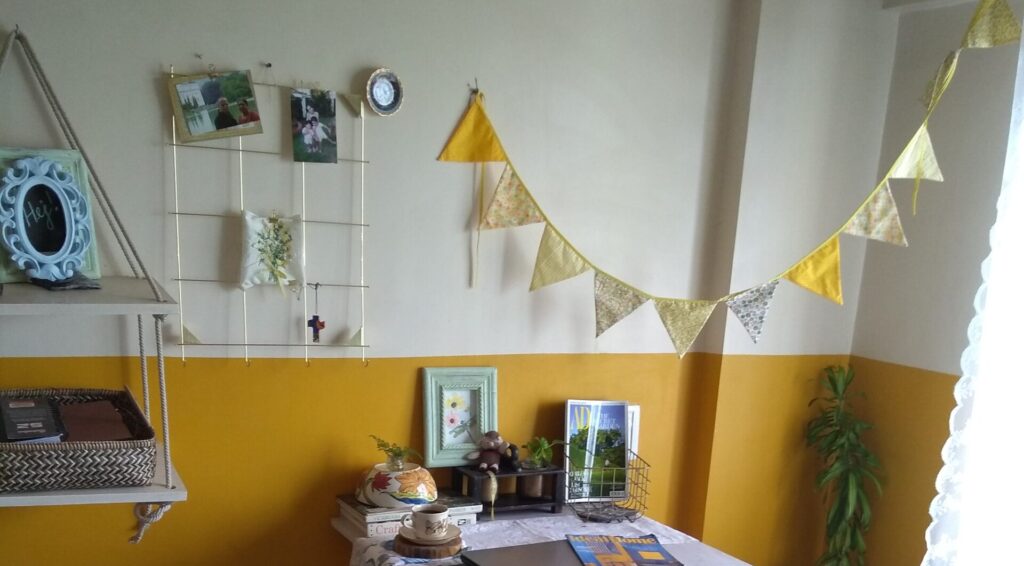 Next to it, Ive hung up a makeshift rope table. It is pretty simple to make – just drill 4 large holes in two identical rectangular boards of wood, and string thick white rope through it. This piece is very useful, especially since it can be easily carried and set up anywhere!
Since I deal in frames, my frames are literally all over this space, and I like to keep them handy when customers call for measurements or colours. The desk is pretty simple, with my laptop and my books, as well as some art work.
The caddy at the bottom is a great organization hack – it can hold all your essentials and you can carry it around, say if you want to do some writing in the garden, its pretty simple to just put your laptop, waterbottle, and other essentials and head to the garden!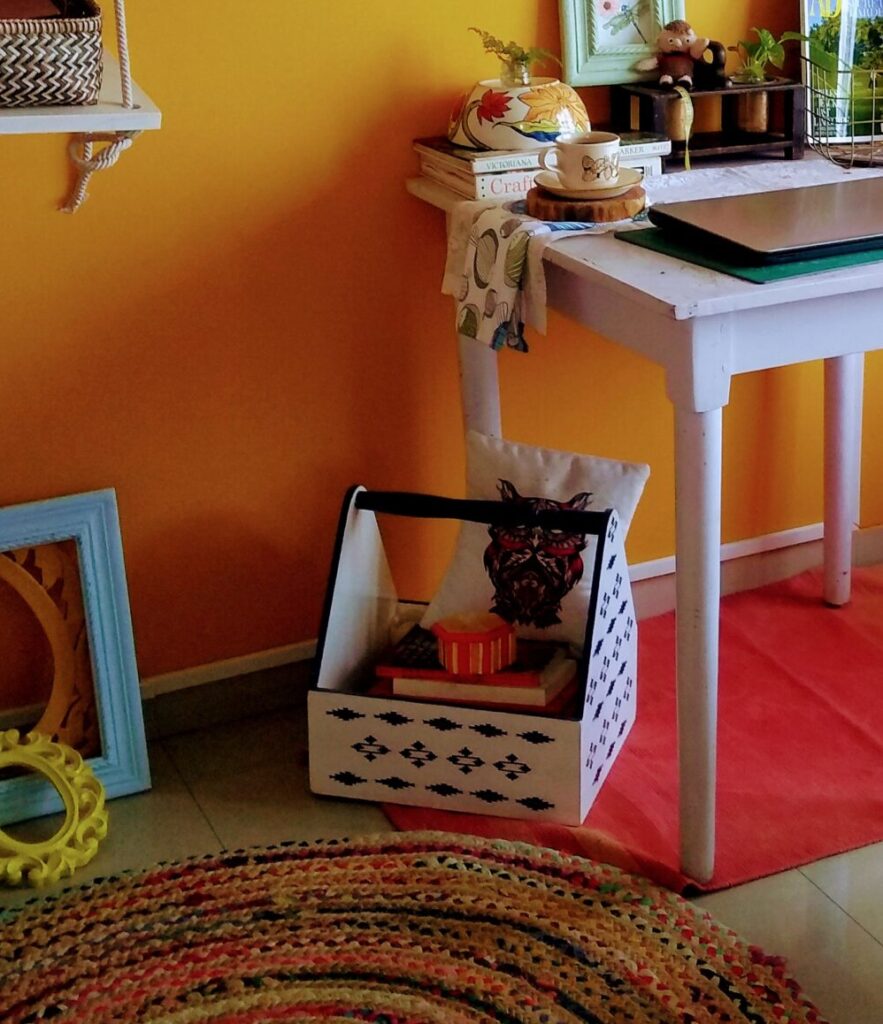 A tip about placing food or beverages on the work table
If you look closely at the pic below, you will see a little cloth under the tea cup. This is a tip that might work for you as well. We are sometimes used to having a cup of tea or a snack right at our work desks, and we don't always remember to use coasters. I have added a pretty tea napkin in a corner, on which I have placed coasters or trays to accommodate any edibles, and also my tea or coffee! That kind of reminds me to use only that area to place food. It might work for you too!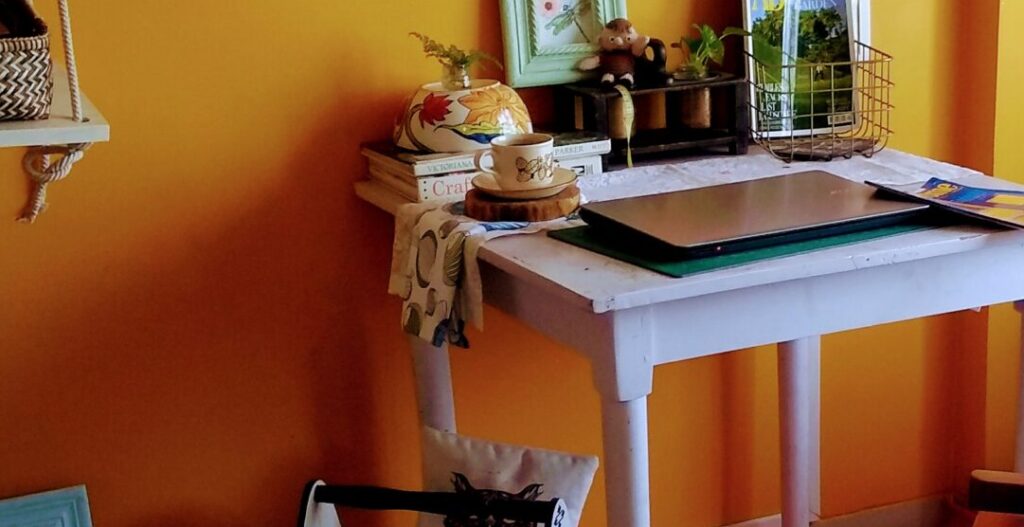 And finally, plants
I make sure there are plants around my home office because they really infuse freshness into a space! I am lucky that I get a lot of sunlight in this corner, and it is a great place for house plants. Remember to take them out in direct sunlight once a week though! For more information about house plants and gardening, do have a look at this comprehensive guide on indoor plants!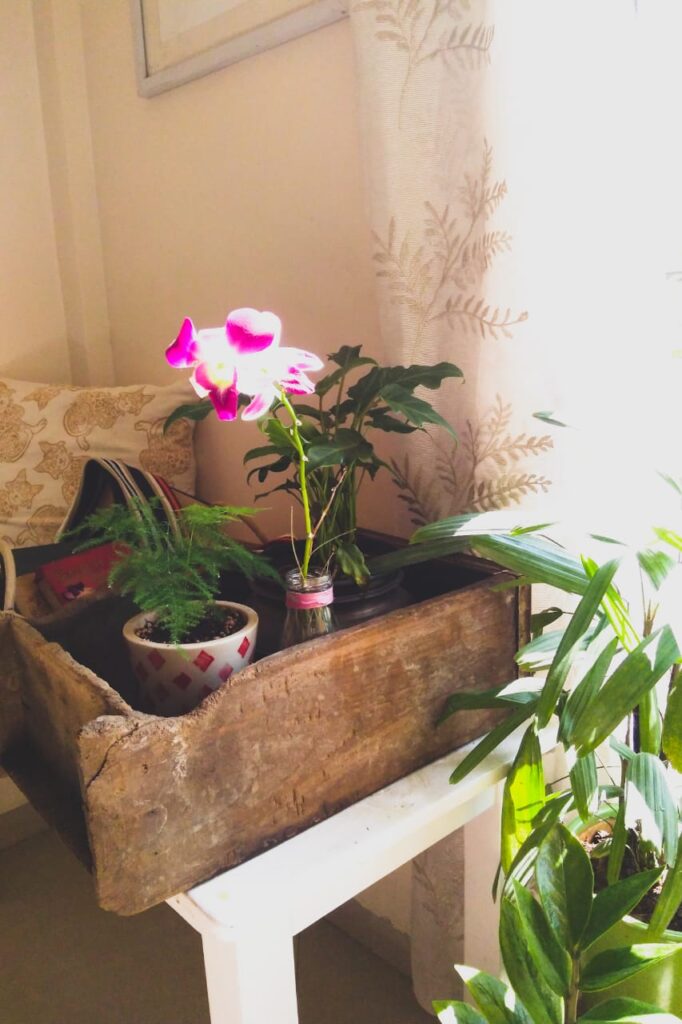 Head to our Pinterest board to pin these images as well as other images that we collected together during our #wfhwithsharon series on Instagram. You could catch the IGTV videos of other work from home spaces by clicking on this link!