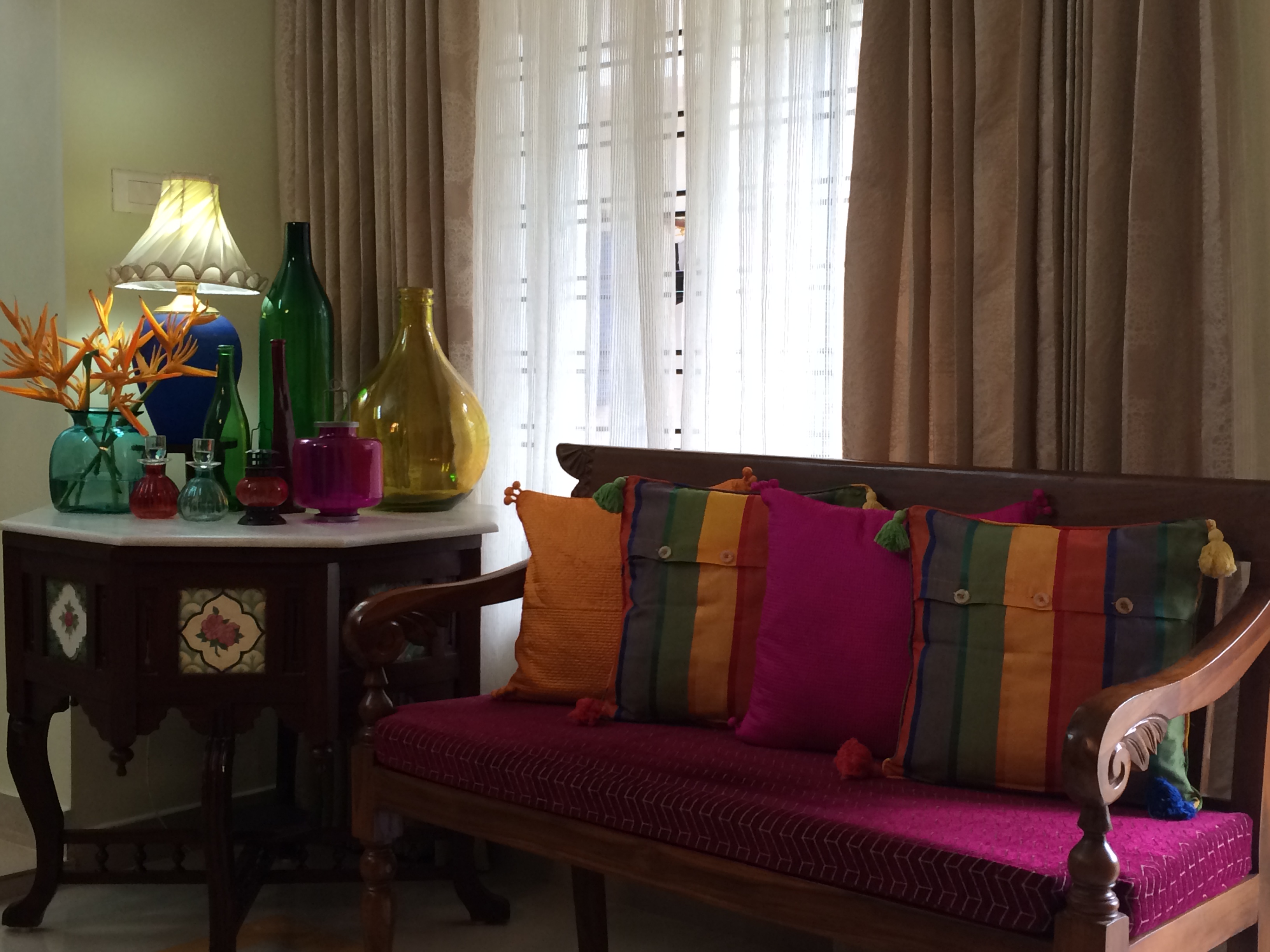 After an eventful stay in Bangalore, and a gorgeous home tour there, we are calling in at the Joseph residence in Chalakudy, Thrissur, Kerala. A long driveway cuts through well-manicured lawns and lovely gardens. A pristine white house stands tall and stately, with giant coconut trees in the backyard looming over the rooftop! It makes a pretty sight!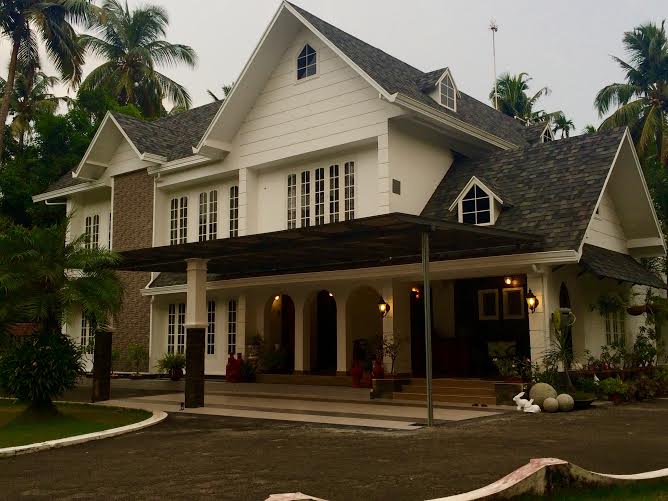 I love the neatness of the exteriors, and I wait in anticipation to see how the interiors look like. I am not prepared for the assault of beauty and hand-styled interiors. I reel in disbelief, and look in awe at Bindu Joseph, whose talent is showcased beautifully throughout the home.
The patio is cozy and welcoming. The wooden bench adds drama to the space with its assortment of cushion covers. Green touches and garden accessories that give one the impression that the garden extends right up to the front door.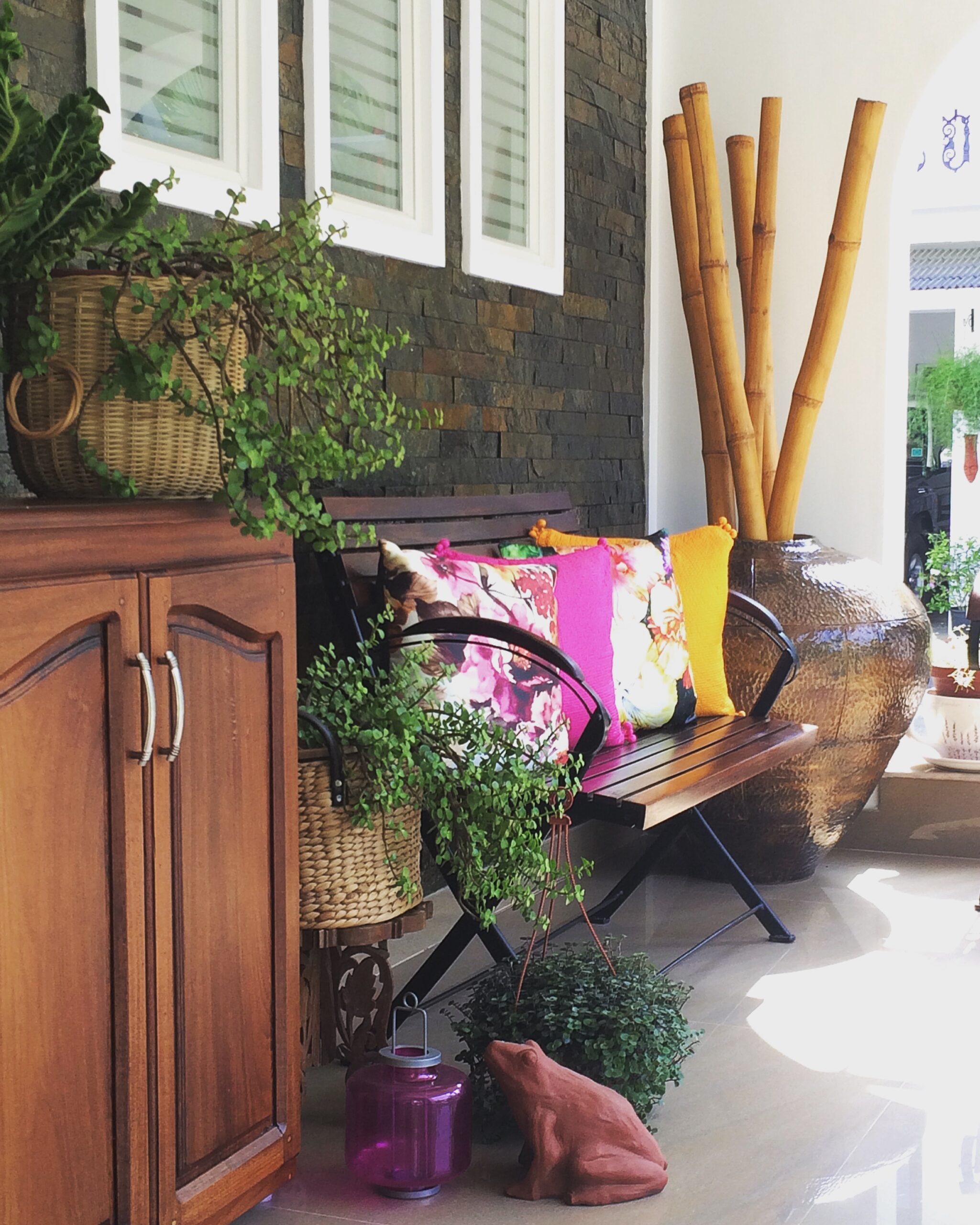 An elephant chair – one that was used to make an elephant ride more comfortable for the royalty of yore – is craftily converted into a seat for the foyer area. Decked up in indigo and dabu prints it makes a pretty sight! Jaipuri blue pottery blends right in, and the pink bougainvillea add color to this space!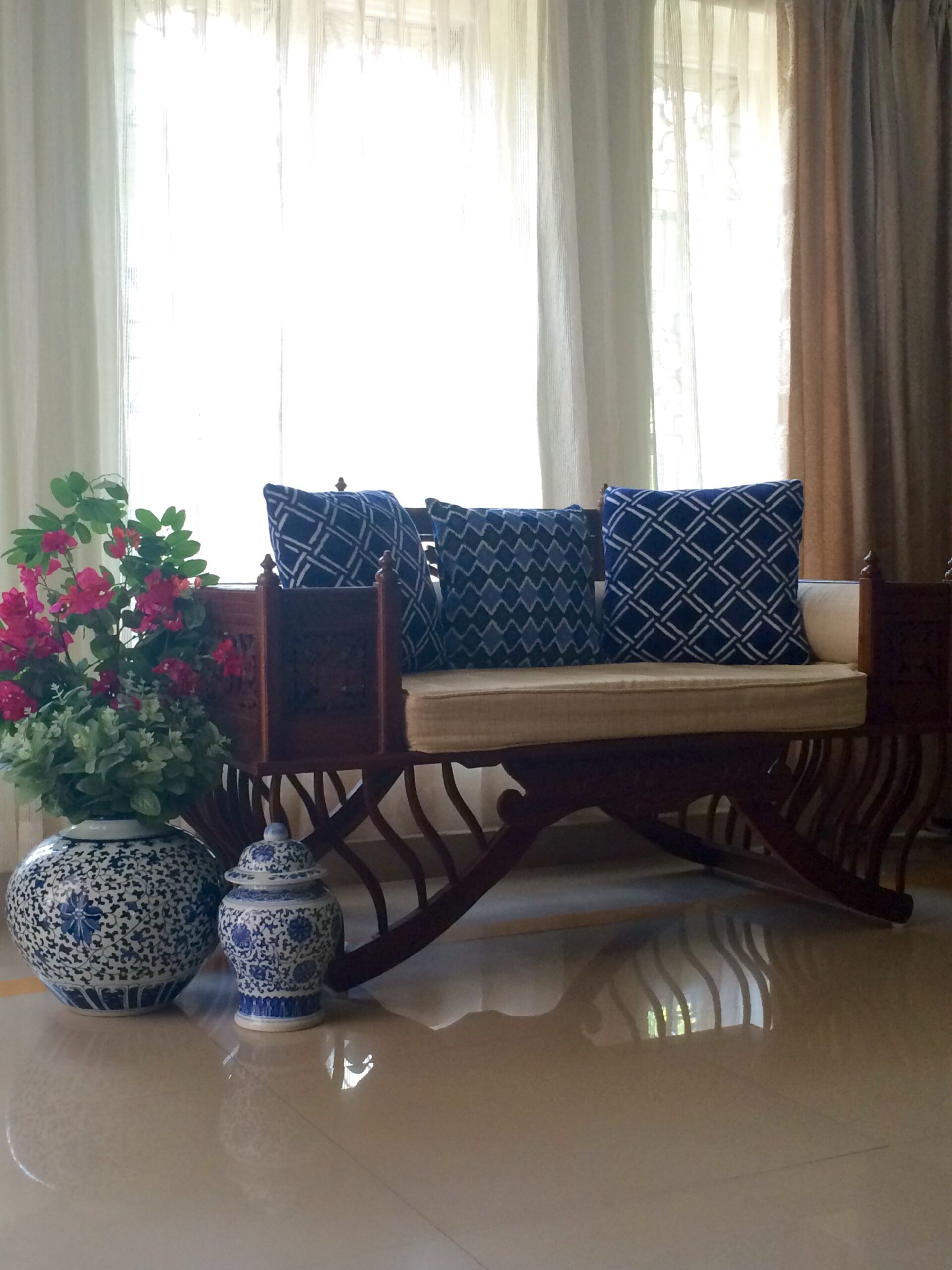 That pink is a clever hint of more to come. Because, the living room will delight you! Bathed in gorgeous shades of pink, with neutrals forming an apt background, B has achieved a warm, cozy and stylish space quite effortlessly! Lighting is also a strong feature in this room – with beautiful corner lamps, lamp shade, candles and lanterns placed throughout this room! Bindu tells me the rug is from Fabindia, cushions from Good Earth, India Circus and Jaypore. The candle stands are custom made and the wooden furniture is sourced from Malayasia.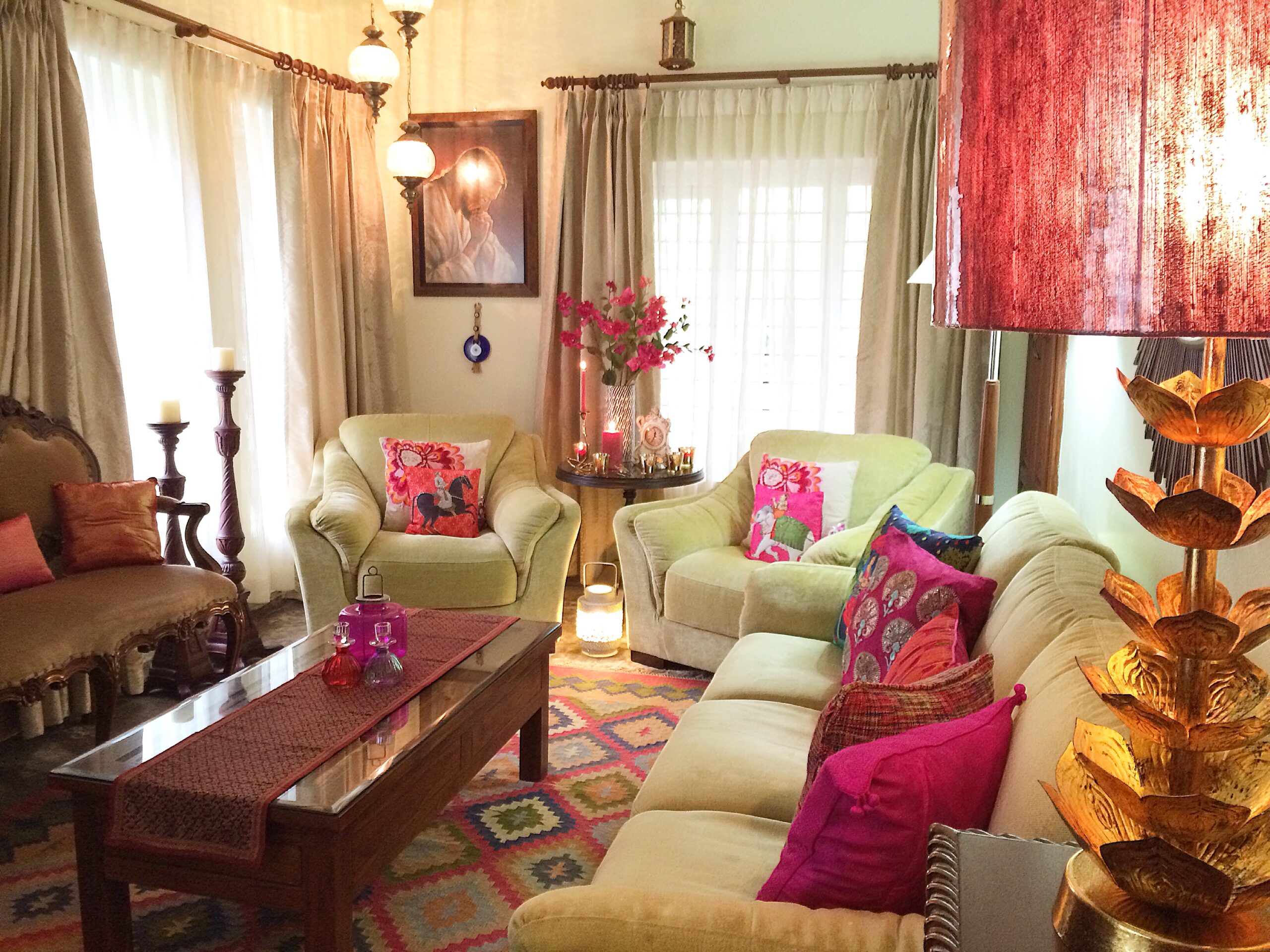 Another view of the living room – with a colourful rug and brass Uruli, as well as traditional oil lamps.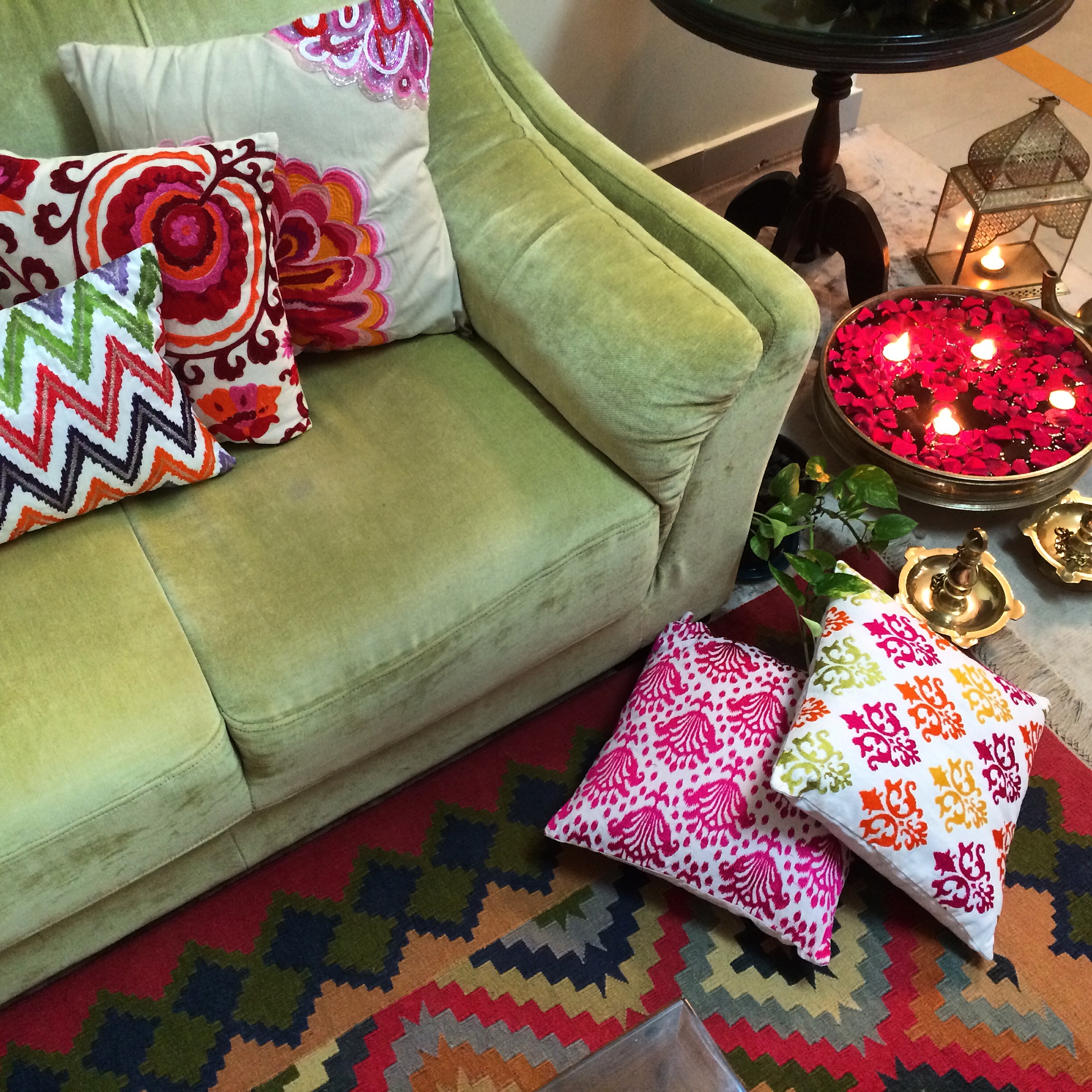 The kitchen, Bindu tells me, is the heart of this home. It is modern, and beautifully accessorized!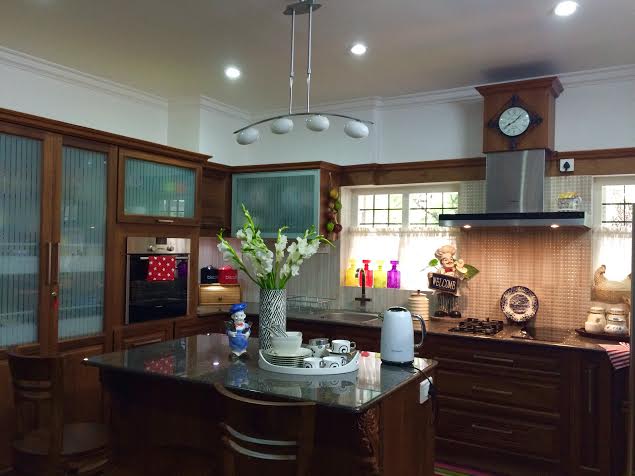 The pic below is a lovely corner that lends an air of country charm to the kitchen, in contrast to the seek cabinetry and glass shelves.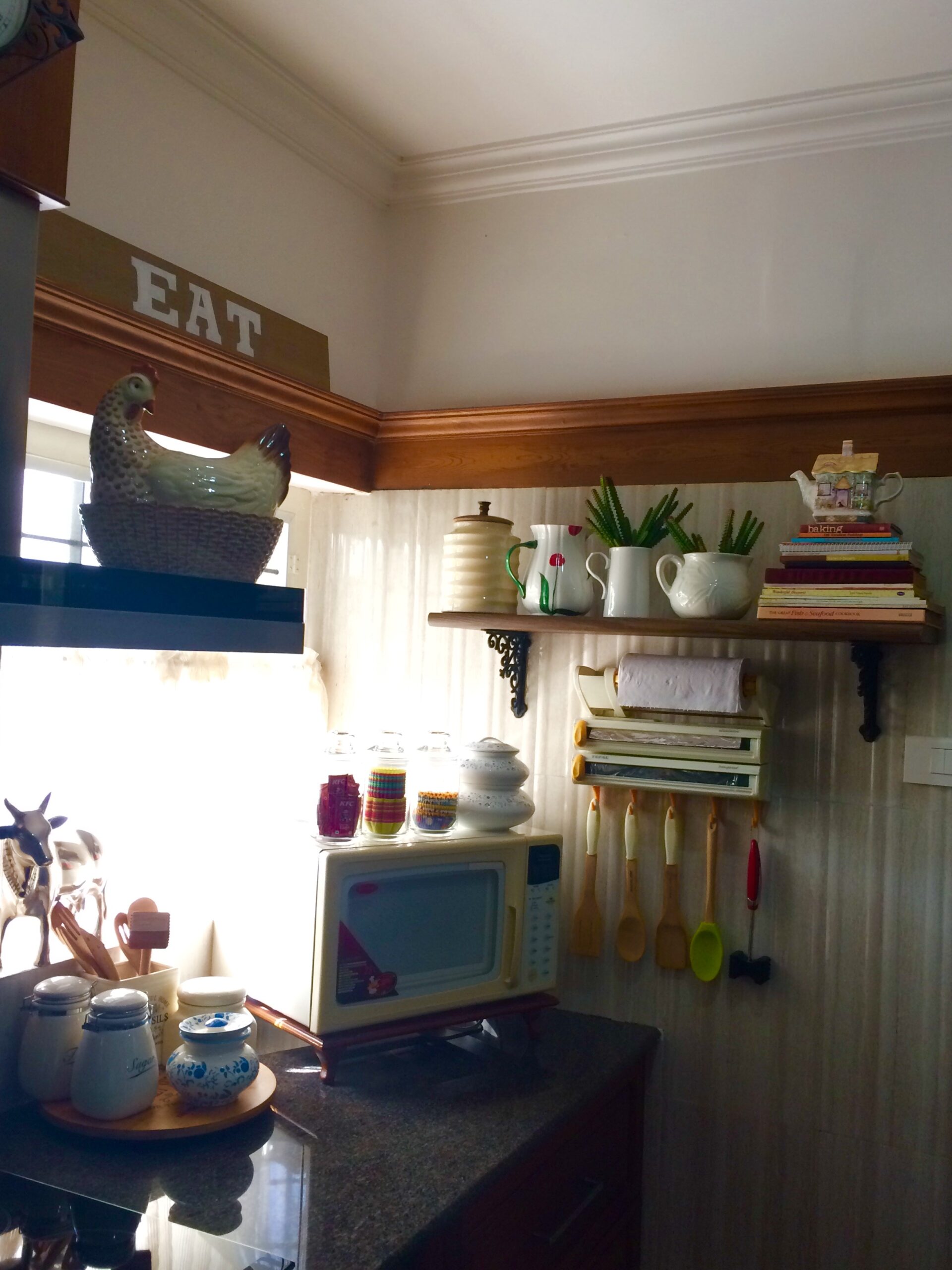 But what really caught my eye was this corner (see pic above) of her kitchen! The colorful glass bottles are a decor trick everyone should use. Instant style, charm and color, all at once! And white roses! They never fail to make a place look good. Bindu has cleverly incorporated a colorful runner that links to the colors on the glass bottles for a wonderful effect!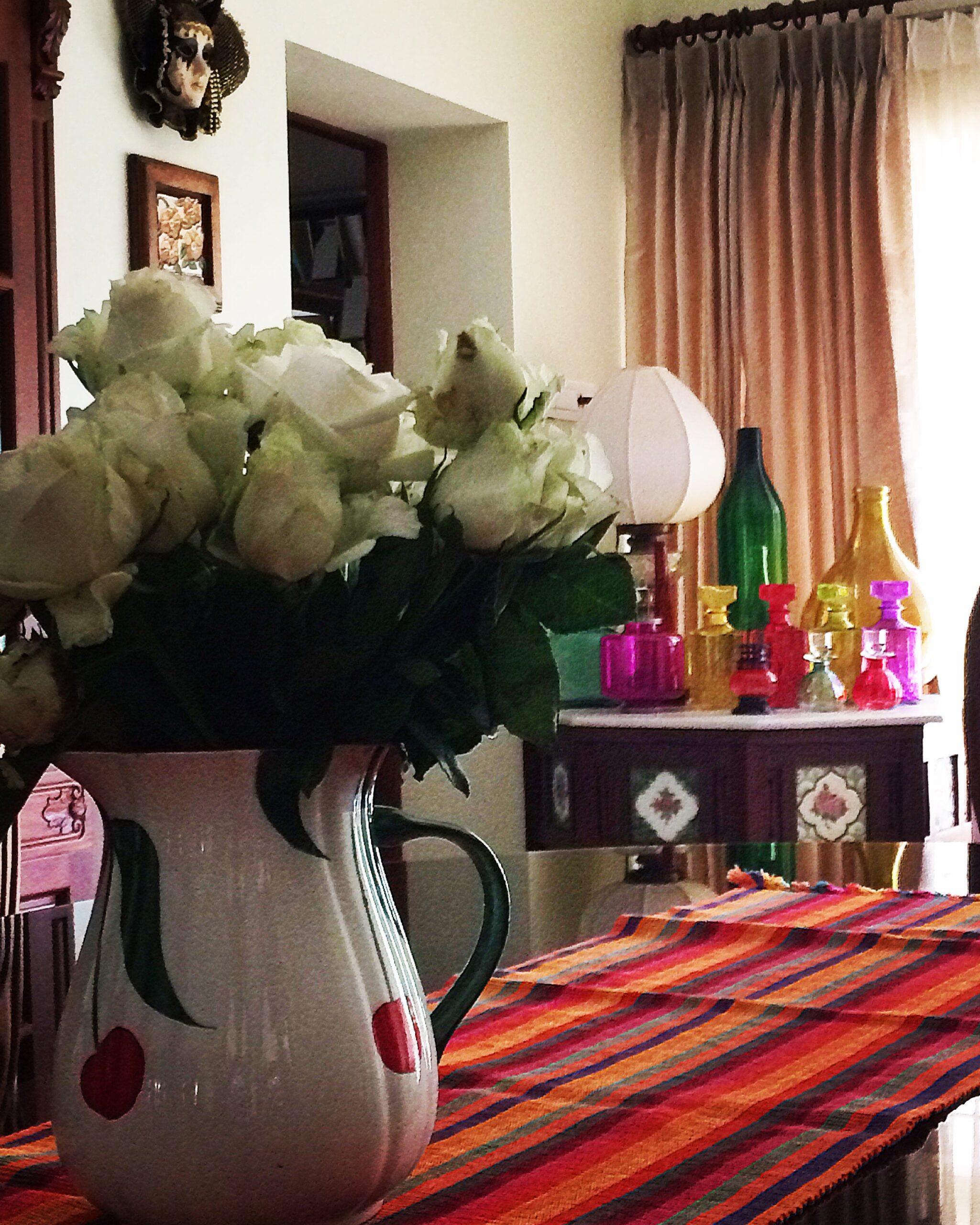 The dining room is stately and old world, and Bindu can effortlessly switch the decor from cozy to formal depending on the occasion, simply by changing the mood of the tablescape!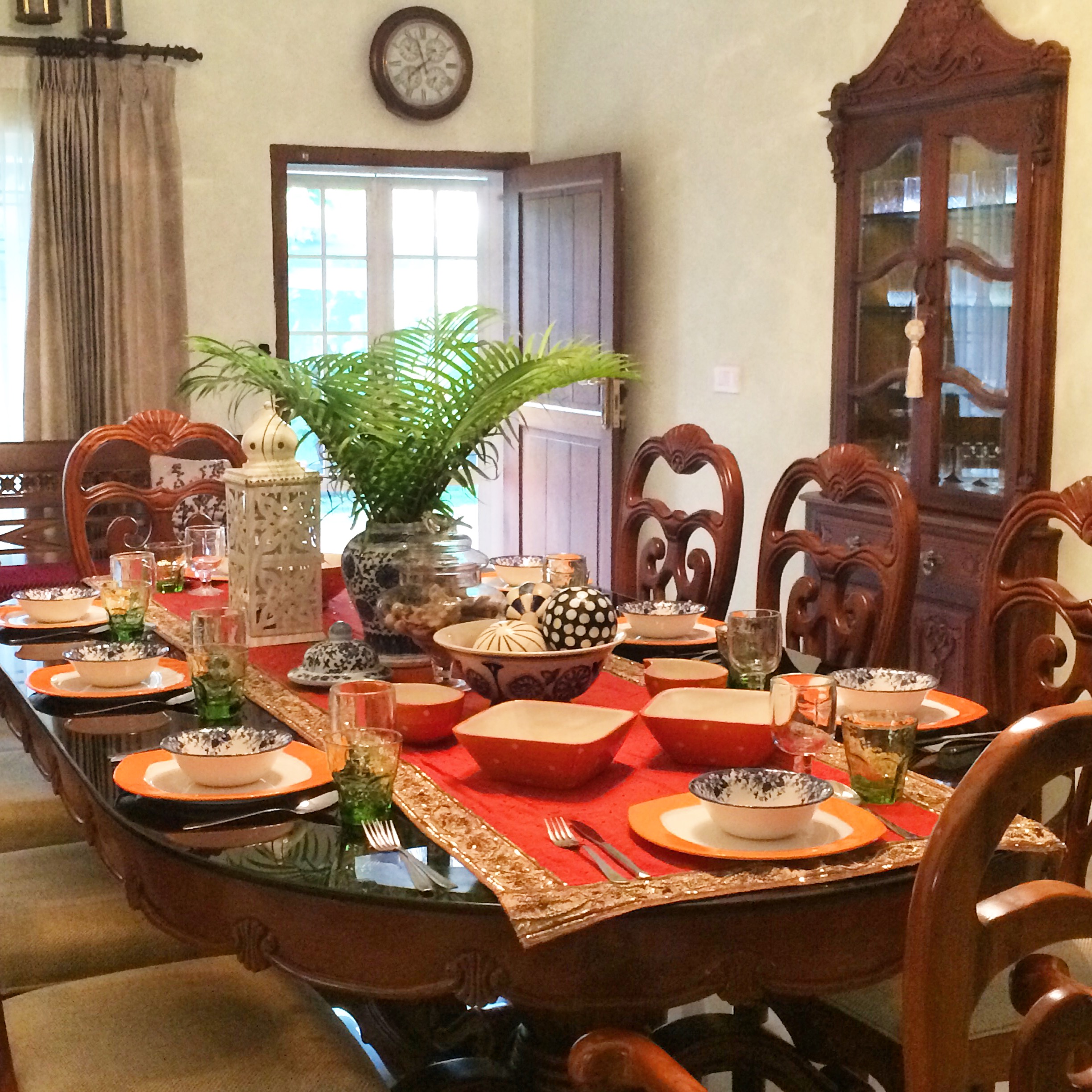 The family room is charming, with its blue touches. I love the way the blue unifies this room. Notice the textures on the fabric, including lace cushion covers. Quite a lovely room this, and Bindu tells me it is her favorite room!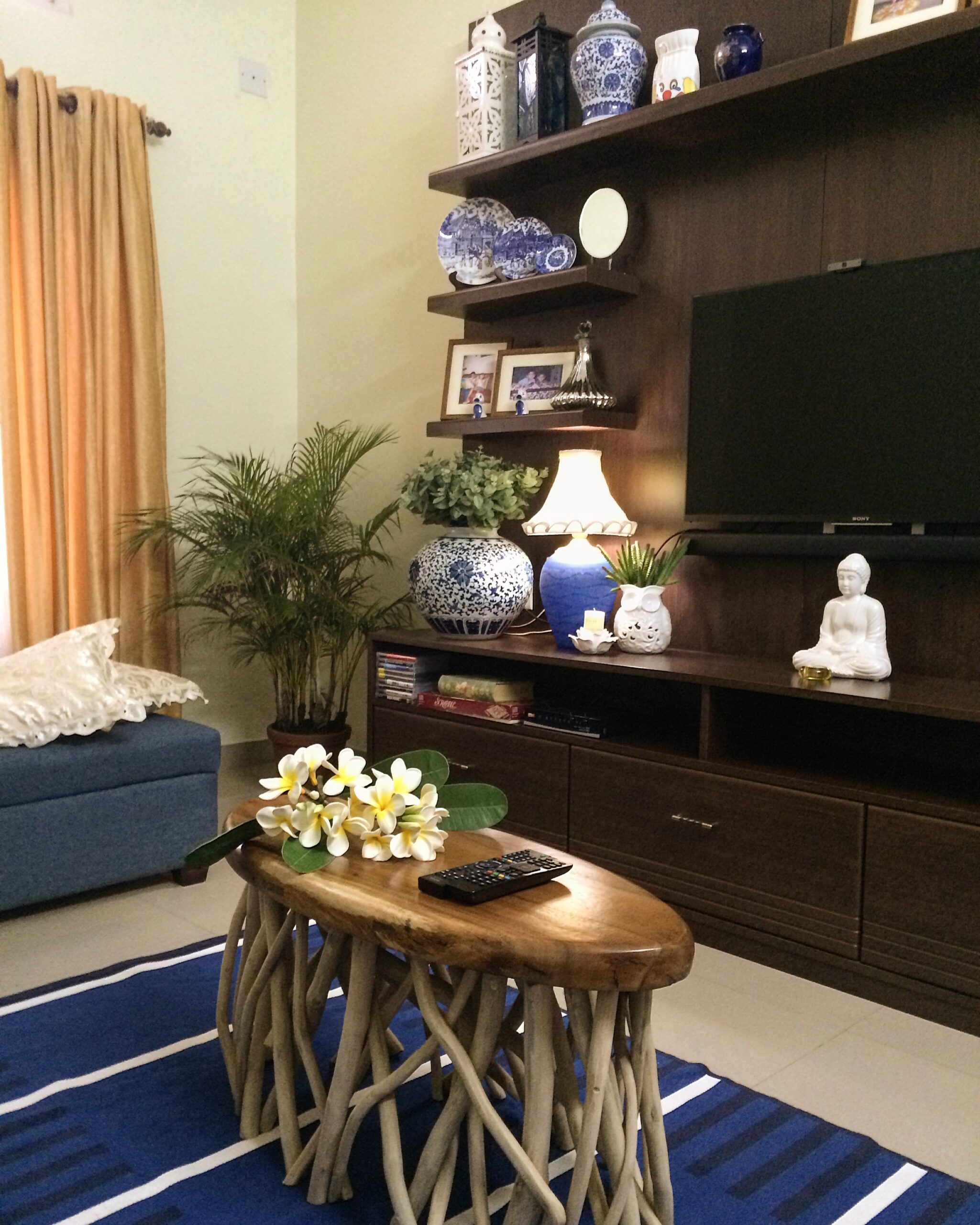 The blue wall plates are from South Africa and the lanterns are from Dubai. Here's another view of the 'blue' room. She has also incorporated antique wooden pillars that were an integral part of old Kerala architecture!
The bedrooms are elegant and beautifully decorated! This one with its yellow walls, and dark wood furniture comes alive with the carefully chosen bed dress! Lime green neutrals paired with florals on a beige background, and fresh flowers everywhere! Bindu I notice, uses lighting to her advantage in every room! This room features a Jaypore wooden wall hanging, a wooden tray from Fabindia, faux plumberia flowers. The bedspread and the floral cushion cover are from Good Earth.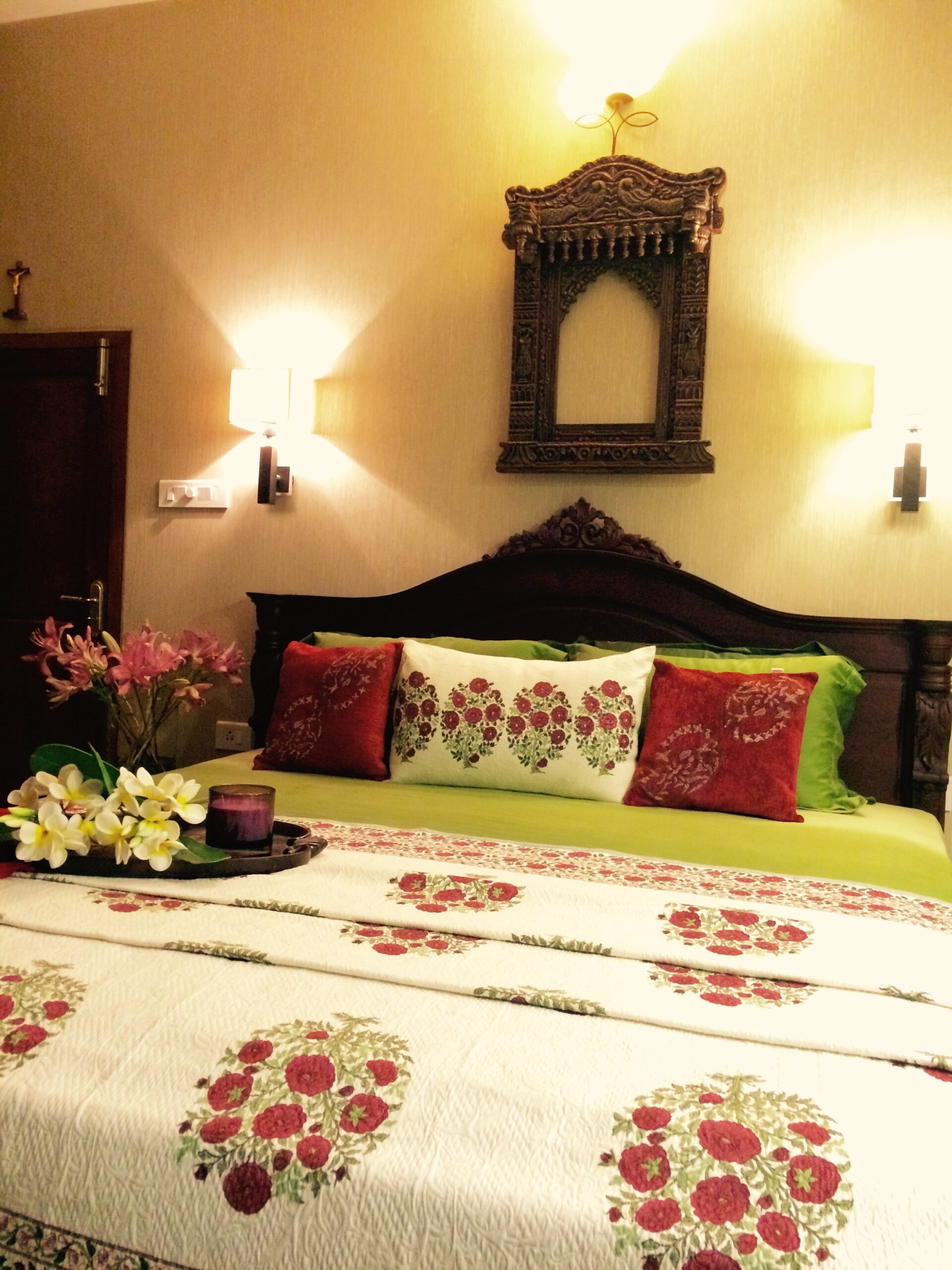 The guest room (pic below) was quite recently re-decorated. Bindu, who is always moving things around, and creating new looks and styles, is quite happy with these rather stylish decor hacks in the guest room. The frames on the wall and the embroidery on the bed covers seem to be made for each other! I have my heart set on the beautiful deer heads! How gorgeous! And that grey wall is the perfect background to show them off!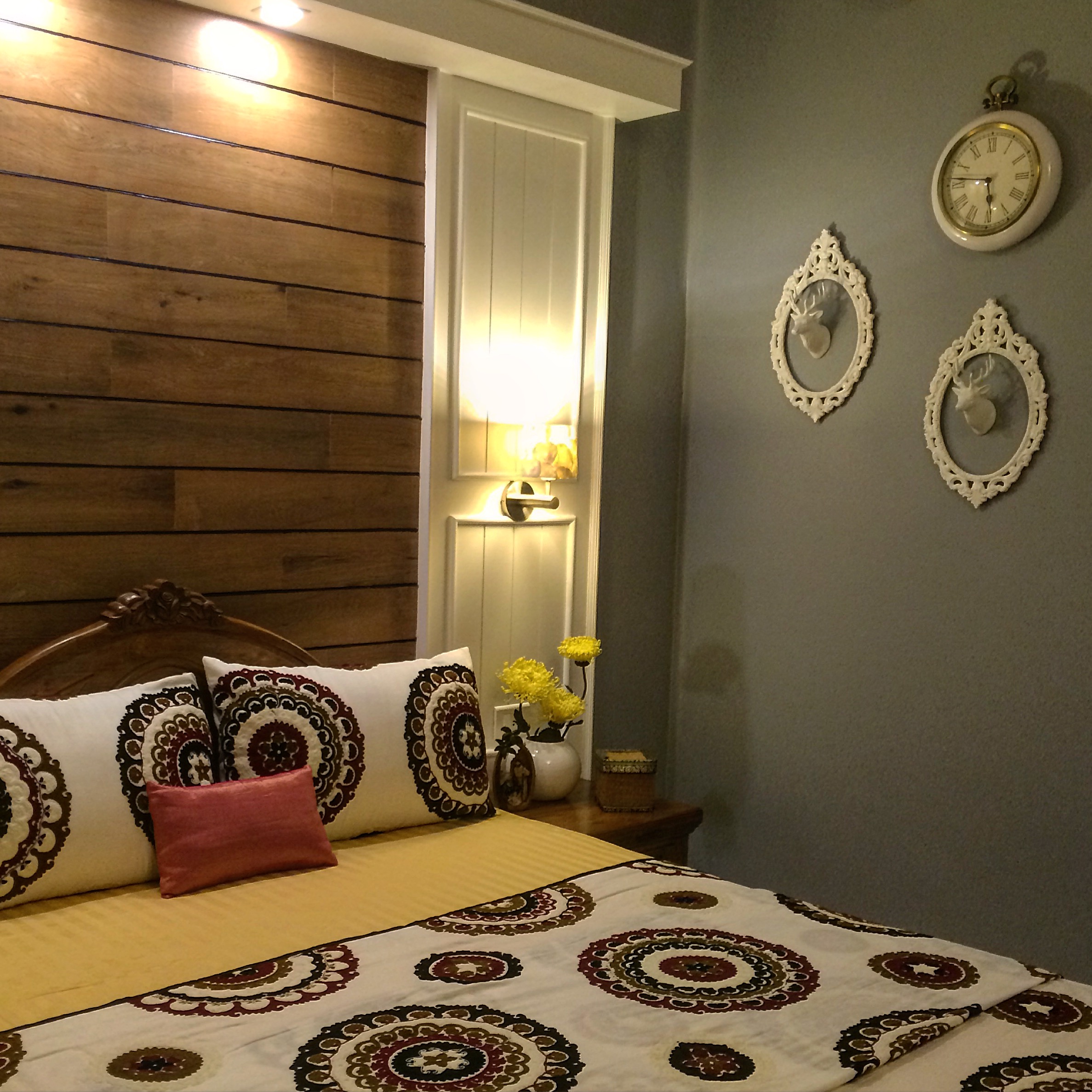 The deer heads are from Zara Home. The frames were originally silver in colour, but Bindu painted them white to match the decor.
This is a cozy corner of the same guest room. Bindu certainly has a good eye, I am reminded again, as I take in the owl vase and the colors she has used!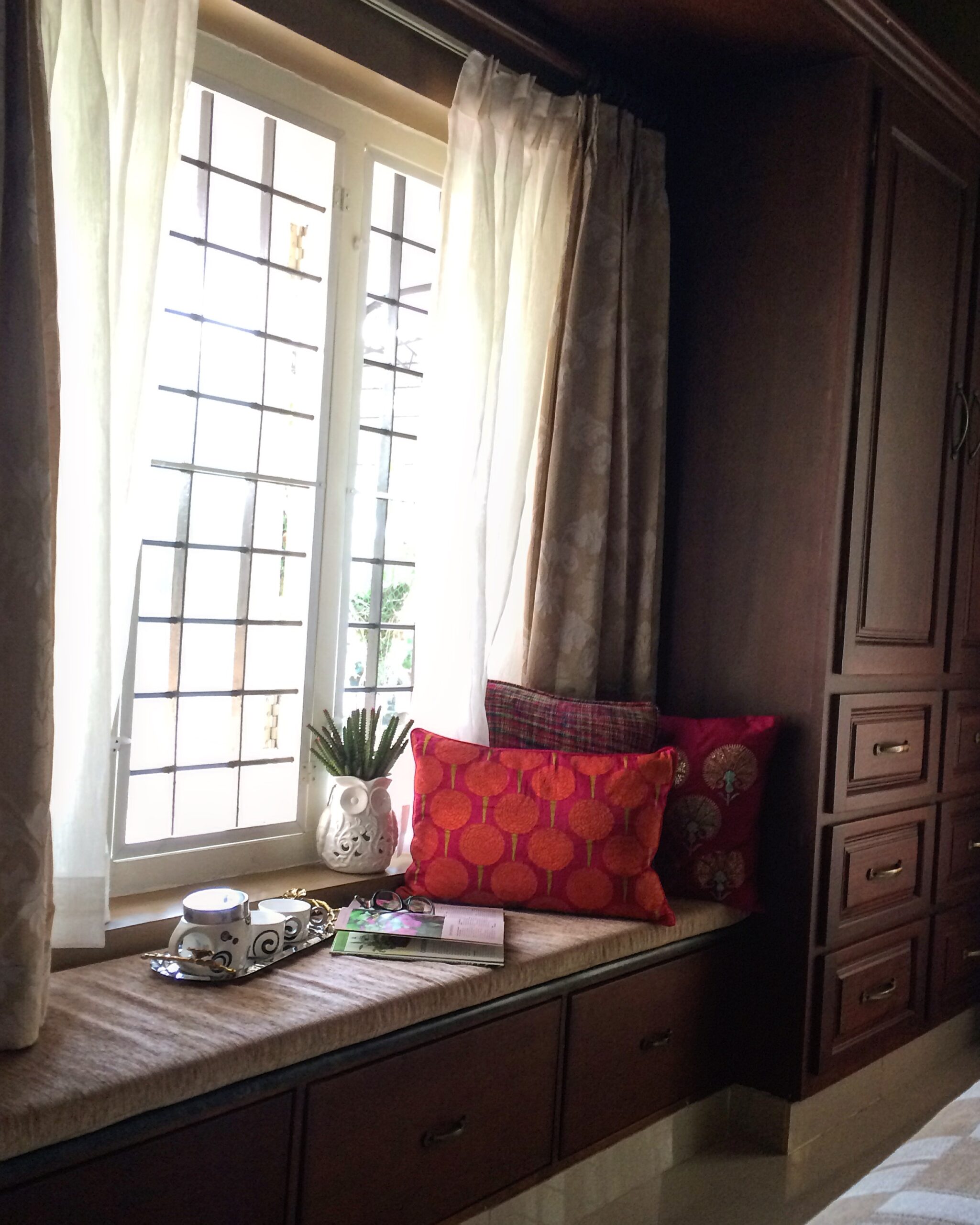 Bindu designed this room (below) specially for her young daughter. An unconventional pink, and touches of other colors make it a refreshing change from the usual girly bedrooms once is accustomed to! It's always the little touches that take a room to the next level, and right from the floral pattern on the bedside clock to the textures and prints everywhere else in this room, Bindu has done a fabulous job of creating a lovely contemporary girl's bedroom!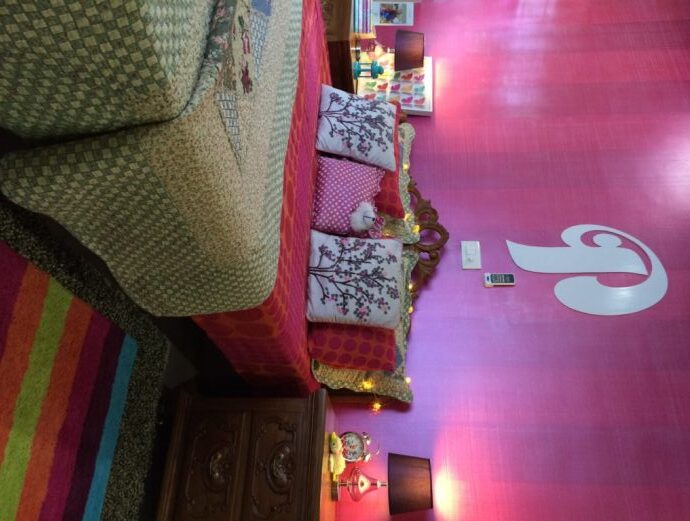 In contrast, the boys' room has shades of black. The football-loving kids have a bedroom they absolutely love!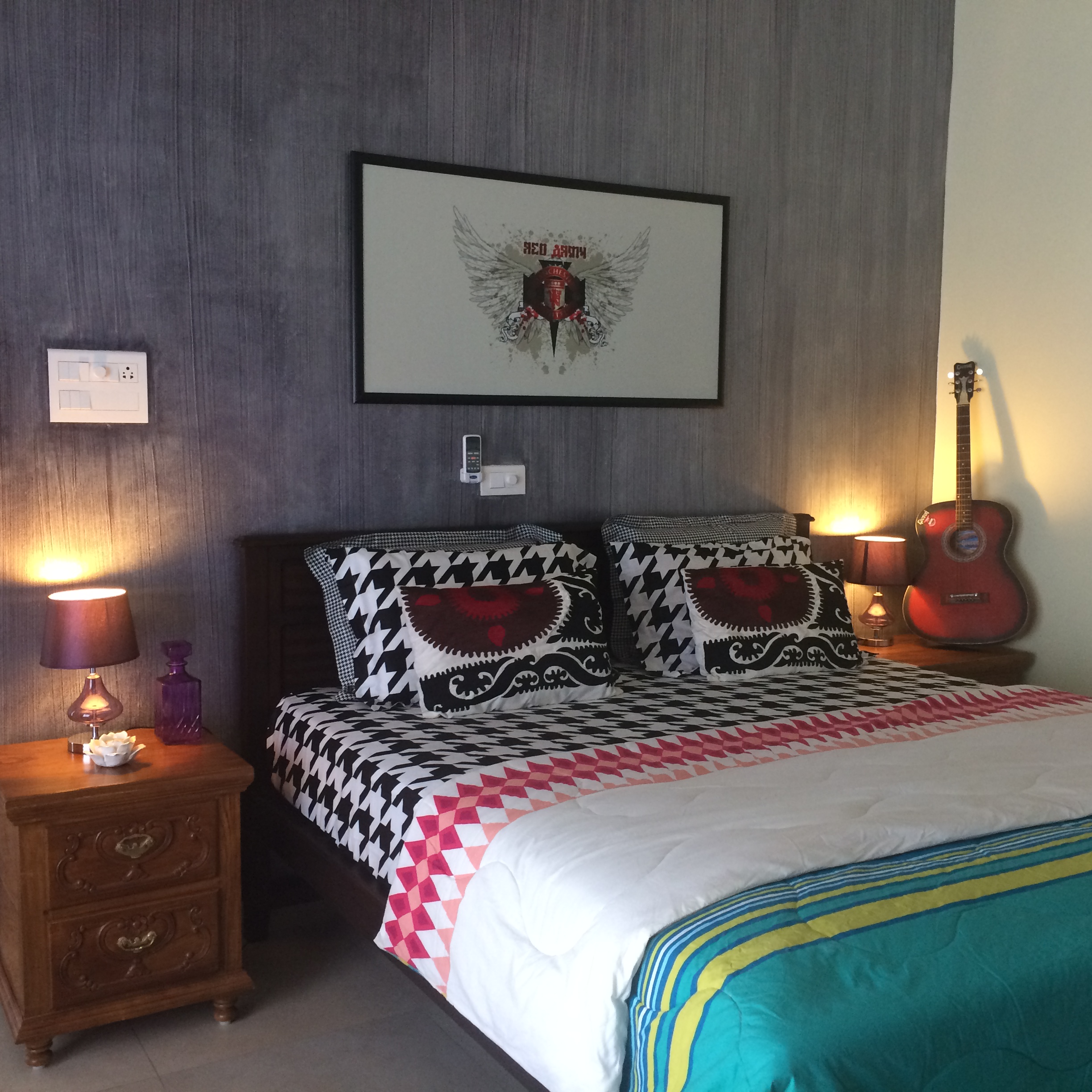 Here's a pretty white vignette that Bindu shared with me.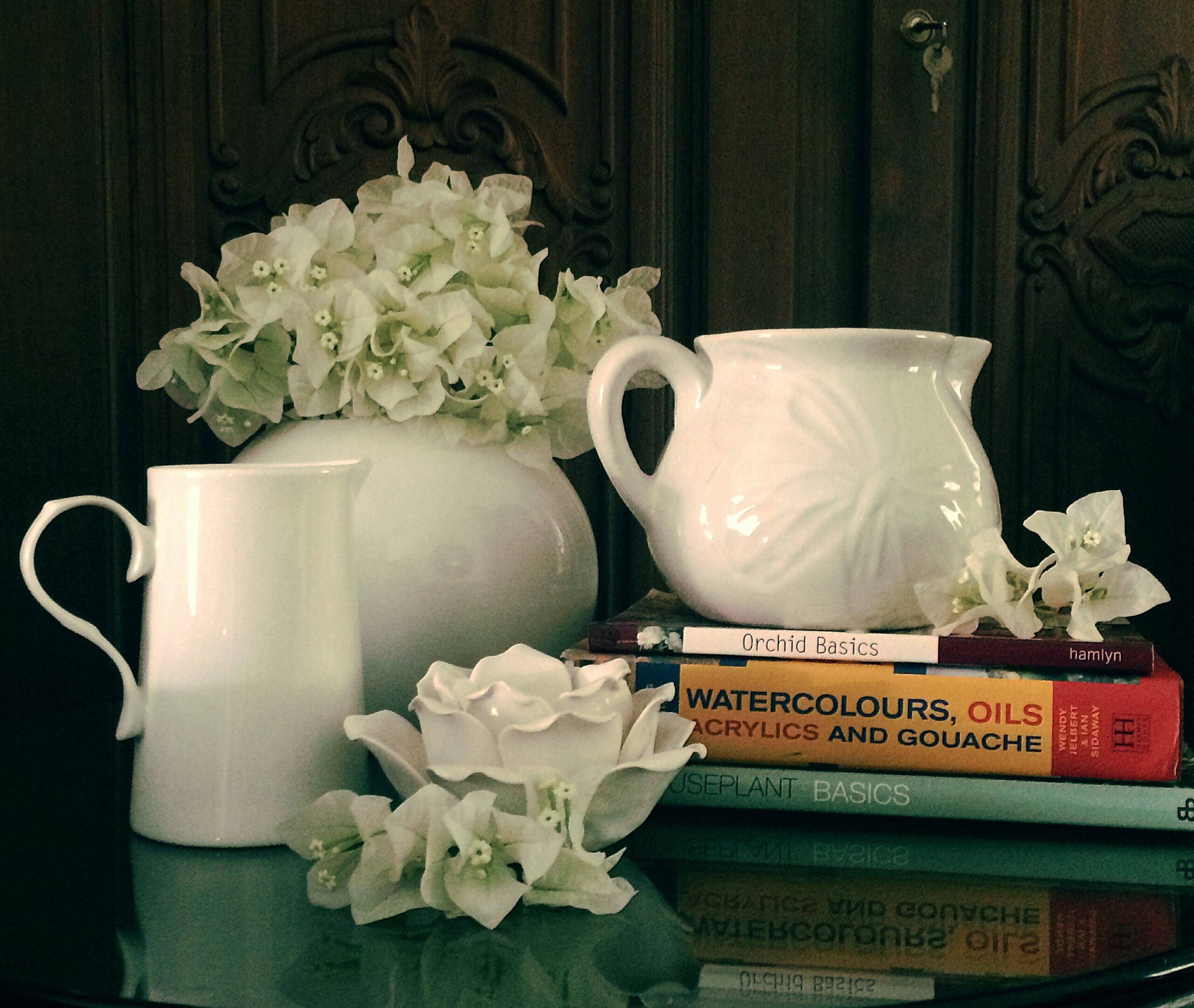 Bindu has created a small but enthralling gallery wall along the staircase. Cute bugs and the lizard were bought from Zara home. Bindu simply fixed then on a board and hung them up! The two floral paintings were done by her years back. The two mirrors were bought during her visit to Muscat. The long thin stick is used by the Mahouts (her family used to own elephants in the past and that's for their remembrance), the lion door knocker, the metal frame is an old picture frame that Bindu simply stripped off its picture, and gave it a coat of spray paint.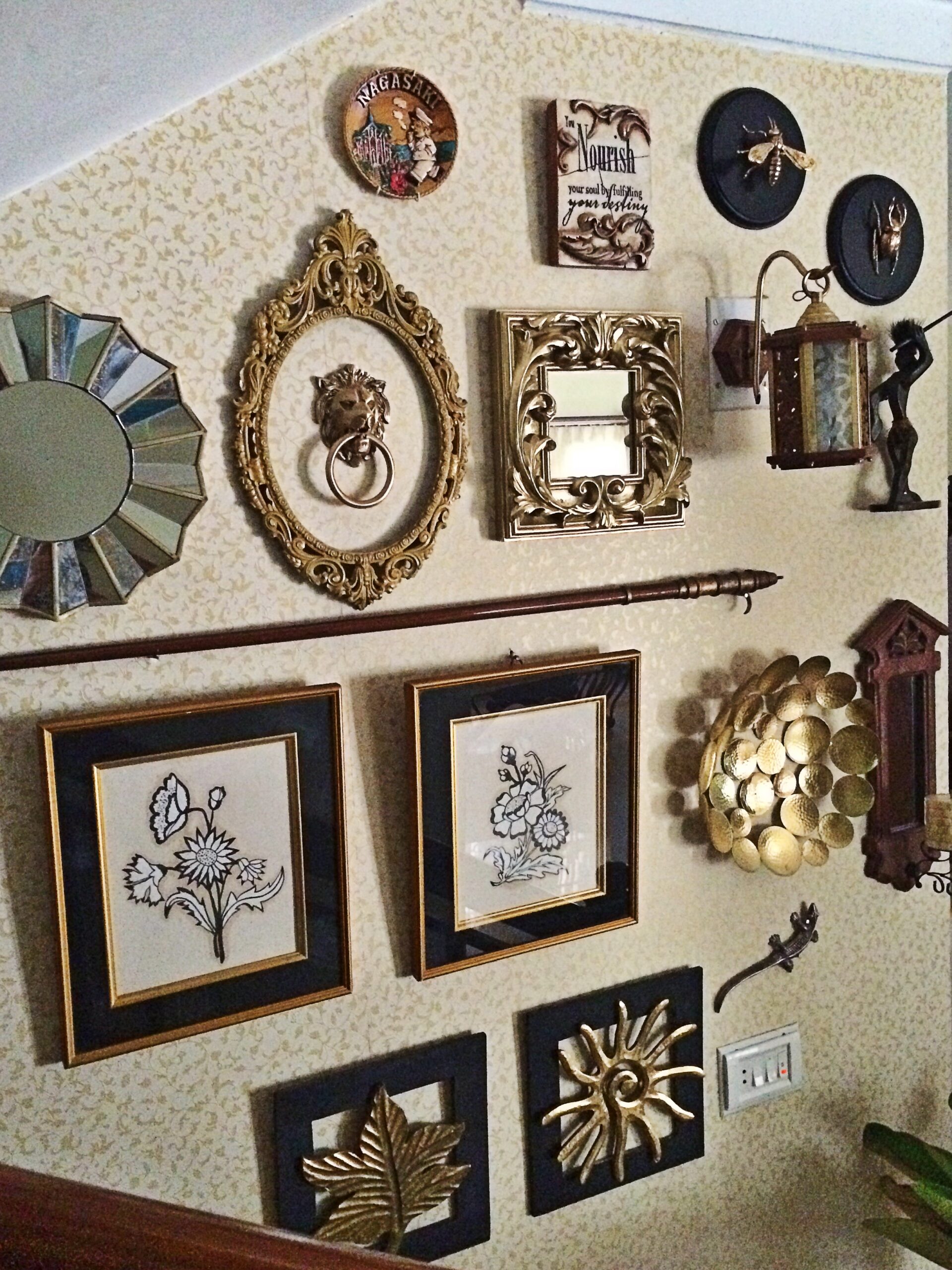 And tucked away at the back of the house, is the most delightful space – where the family likes to hang out every morning and evening. The painting was done by a local artist.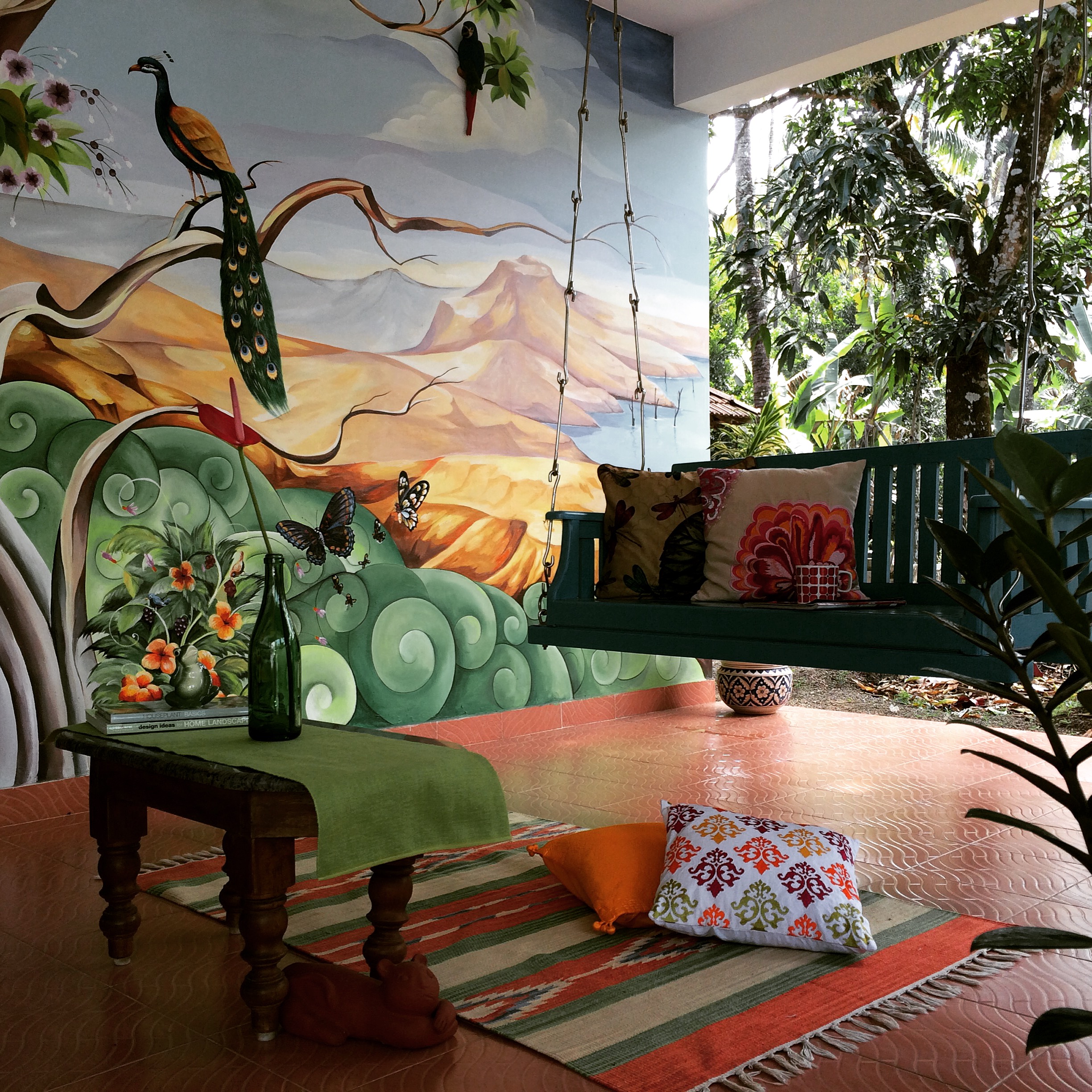 I am signing off from this delightful little escape overlooking Bindu and Joseph's lush backyard. Do leave a note to tell us your thoughts about this home.
Ed note: This home tour got deleted in error due to a technical glitch. I have reposted it. It was originally posted in May 27, 2016 as part of an amazing month of back to back weekend home tours in May. Did you miss any of the lovely homes we featured? Here are the links!
May 1 Shweta and Harshad's Ethnic-Global Style home in Arizona
May 6 Sujatha and Bharath's Madras Apartment: A Home with a Persona
May 14 Inda and Sony Sulaksono's Colorful Home in Indonesia
May 21 Home Tour: Preethi Prabhu and her Smorgasbord of Delightful Décor Accents
Thank you to every one of you for coming here unfailingly each weekend, and for your kind comments, encouragement and love!
The comments got deleted too, so I will be posting them here when i get a hold of them.