Simran Dhaliwal is a Bengaluru-based blogger, and today I bring you a tour of her beautifully done-up rented home. There's lots to learn from Simran's refined, simplistic style, and I am personally quite thrilled that her color palette is sooo similar to mine – especially the neutral colored fabric on a contemporary Indian sofa and orange curtains from Fabindia… 🙂 .
So go on, walk through her apartment and absorb the colors, ambiance and decor as she gives you a guided tour of her beautifully done-up home!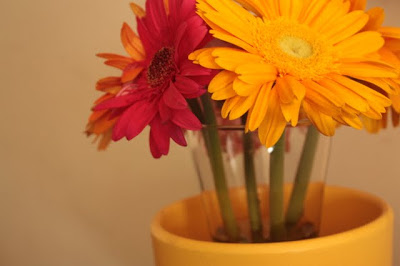 The yellow flower pot was a result of my love
for something bright and cheerful.
something that perks you up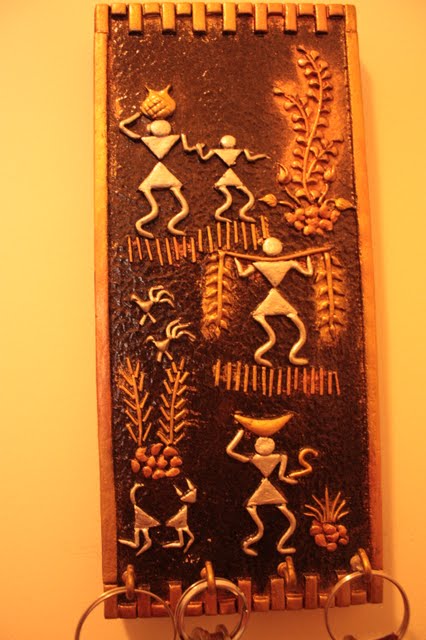 I picked this Warli keyholder at the Dastkar fair.
I picked up my orange and green sheer curtains at
Fab India and to match I picked some cushions in the
same colours to go with my sofa.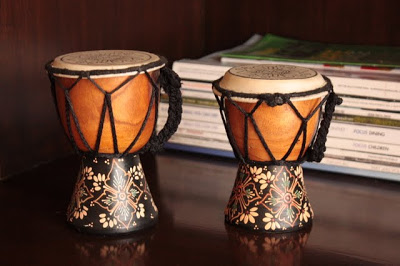 I picked these up at the World Market when I was in the US.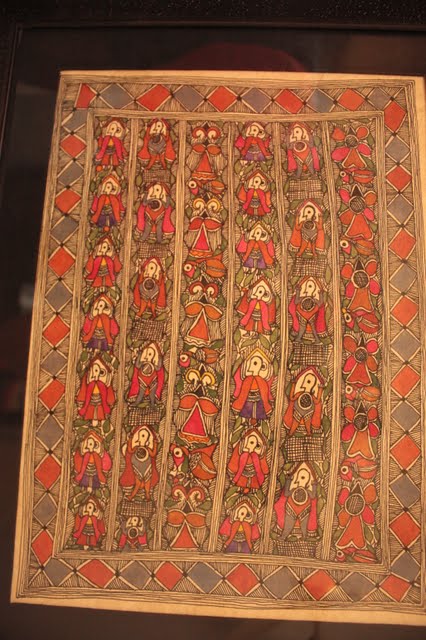 A madhubani painting picked up from Dastkar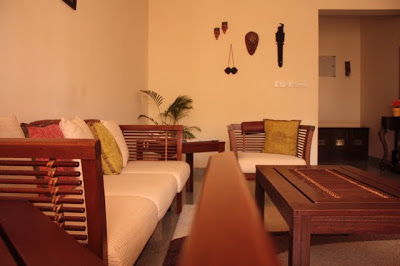 The living room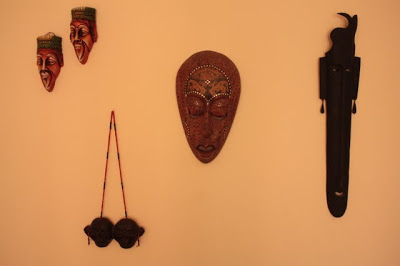 1) The  couple mask on the left is from Surajkund Mela in Delhi.
2) The 2nd pair of 2 faces is a wooden one from Arunachal Pradesh
3) The big painted wooden one in the centre is from Bali, Indonesia.
4) The one on the right is a wrought iron mask from Madhya Pradesh.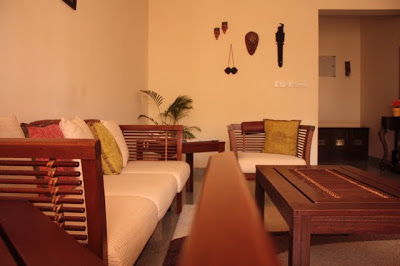 My sofa is contemporary wooden and I love the basic
neutral cream which can be mixed
with any color combination.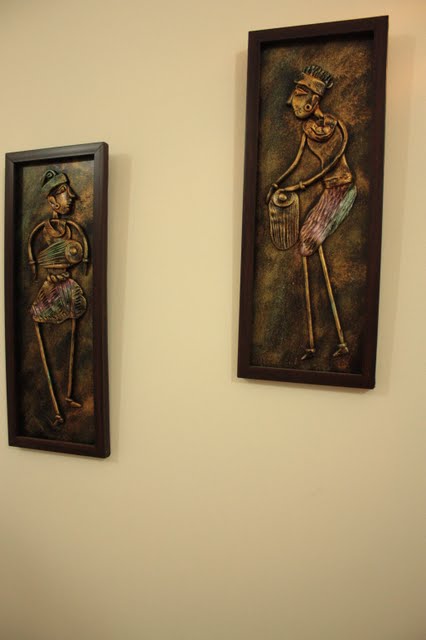 I picked up these metal art pieces at an exhibition in Bengaluru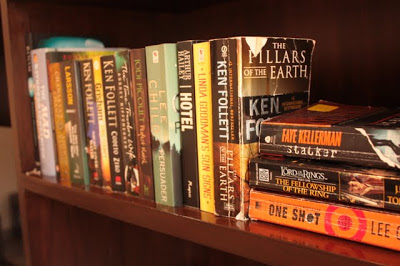 Does that tell you something about my interests?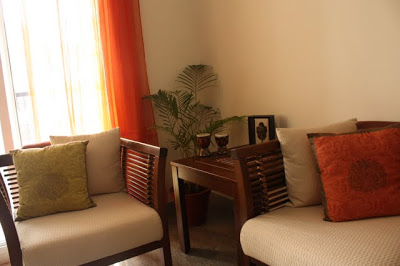 A bit of greenery in the living room corner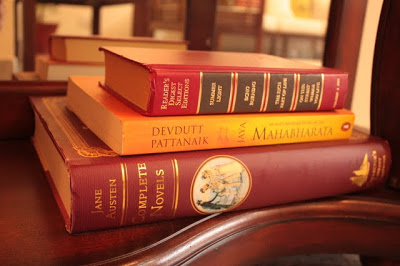 More books …:)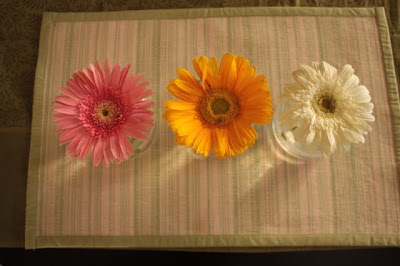 A part of the tablescape today..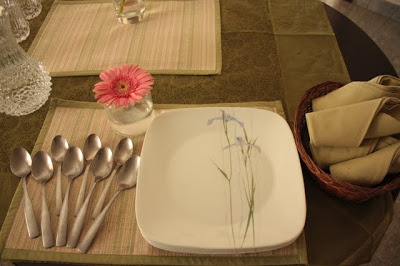 After this home tour…you must stay for the meal I cooked for you.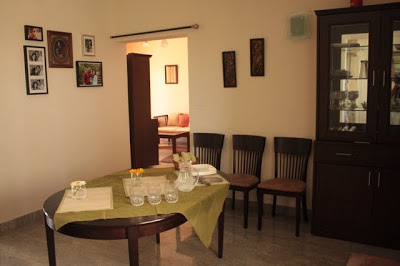 The collection of pictures on the left wall is
another one of my favorites. I like naturally shot portraits
rather than studio ones.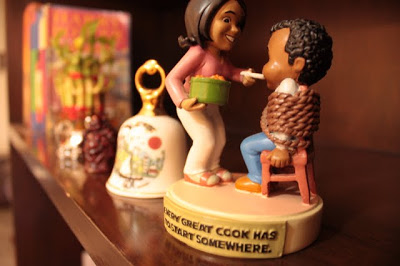 This one was an internet buy I couldn't resist…sums up my cooking skills 🙂
The ceramic bell was picked up during a vacation in Goa.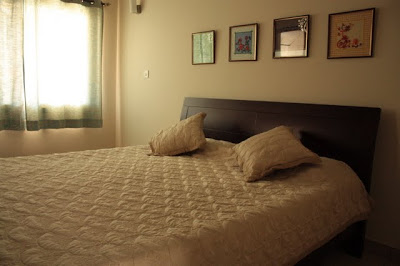 The quilling wall arts were made by a
fellow blogger and artist Sarika of Kraftaria.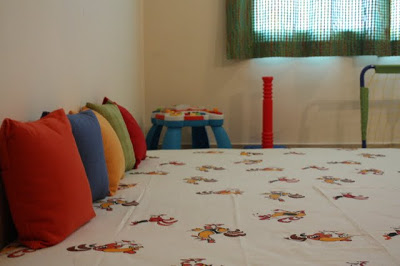 My son's room is bright and colourful. The bedsheet is from Fab India and
has roosters from his fav book "The rooster and the sun".
My most recent addition – a lamp from Sunshine Boulevard in Koramangala
Thanks Simran that was a delightful tour! People, what did you think about Simran's home? Leave a comment for her, do!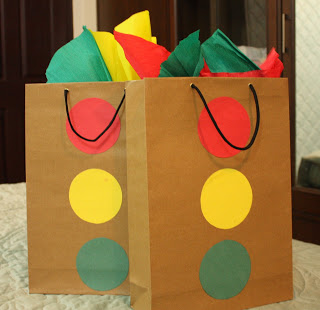 Simran recently arranged a themed party for her 2 year old's bday.
This and other pics of the food and decor have been featured here.
Don't forget to go have a look!
Do have a look at Simran's lovely blogs – Simz Corner and ChipsnChutzpah
And here's a shoutout to Kamini who is off on a quick vacation to Australia. Have fun, K!