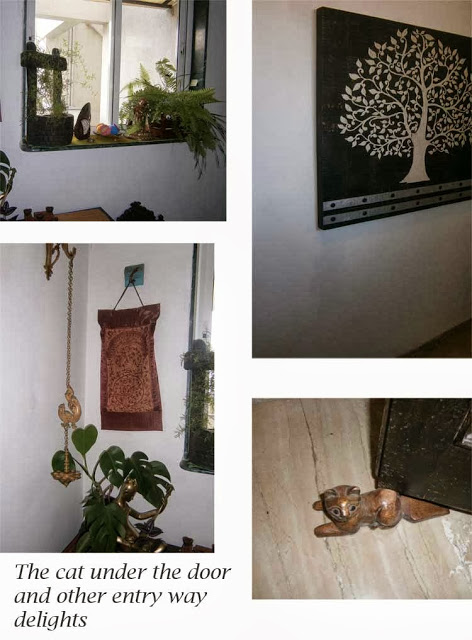 When a friend told me about Ushma and Sushil's beautiful apartment, I had to invite myself over! I was told that the apartment was simple, yet well decorated. My friend also hinted that the home was decorated with a few flea market/ antique finds and that immediately appealed to me.
I was not disappointed at all! The couple, both very gracious hosts, has created an amazing space, replete with beautiful colors, fabrics and the most gorgeous finds! Dressed up and ready for Navrathri, the beauty of their home told me I had to share it with my readers!
Over to Ushma, who will give you the grand tour of her lovely home!
—————————————————————————————————–
Hi! I have been passionate about home décor since childhood, thanks to my versatile mom who created a beautiful corner in our home every day! That inspired me to create "our haven" once I got married. Luckily, Sushil and I share similar interests, and with his penchant for carpentry, it is almost as if our meeting was pre-ordained! Our travels, exhibitions, and our keen eye for details, often sees us picking up unique stuff. And happily, all this blends together to become our "home".
Let me show you around. Let's start with the entryway.
Our first plants in our home and their growth inspired us to get more and more. I came across this wishing well planter (on the window sill) at an exhibition and could not resist buying it. This brought out my husband's latent carpentry skills and he created another planter and hand carved it as well. Fishes are good luck. Fengshui stamps that, so we got this beautiful hand-made fish from Mauritius.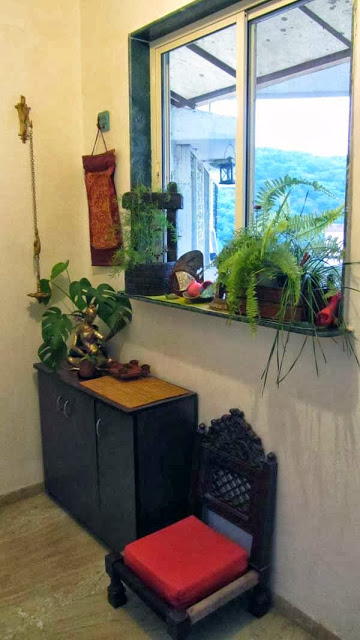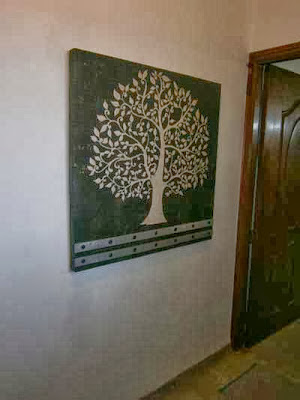 Right opposite this space is our Bodhi Tree.
We always wanted one, and we were trying to trace the right Tree of Life for our entryway. Our search ended when we found someone who could give us just what we wanted. Here it stands, changing the face of our entryway!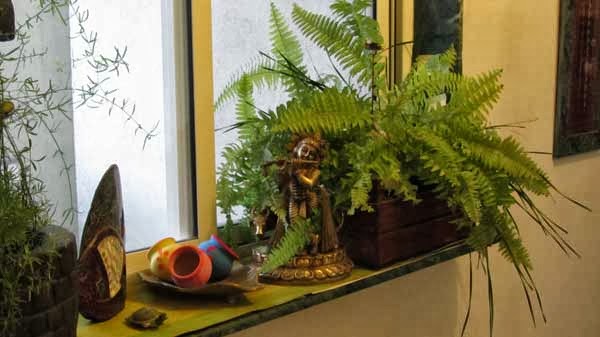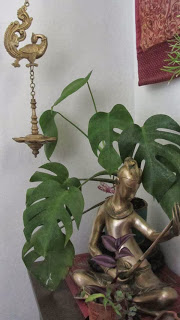 The picture on the right features my brass musician playing the Veena. This has been a long-time favorite of mine. I have been eying it since the days when my mom stocked it in her beautiful boutique. I knew that one day I would own one too, when I had my own space! I believe the plant behind it enhances it, and make the setting look quite natural. The brass lamp as you all know, is a must in any south Indian home – I have roots in Chennai and this seemed to be a perfect addition to my entryway too.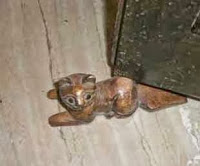 The cat is actually a door stopper, and quite a conversation starter the minute anyone walks into our home! It is a flea market find.
Any Gujarati home is incomplete without the trademark jhoola; this Bhavanagri jhoola seems like it was just meant for our home.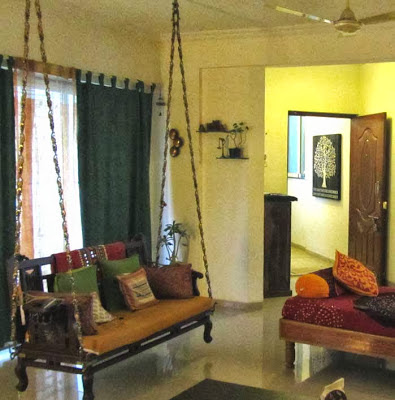 In our dining area, we have tried to create a casual setting…simple but not too rustic, and a zing of bright yet not-over-the-top colors…it perks us up after our long work days.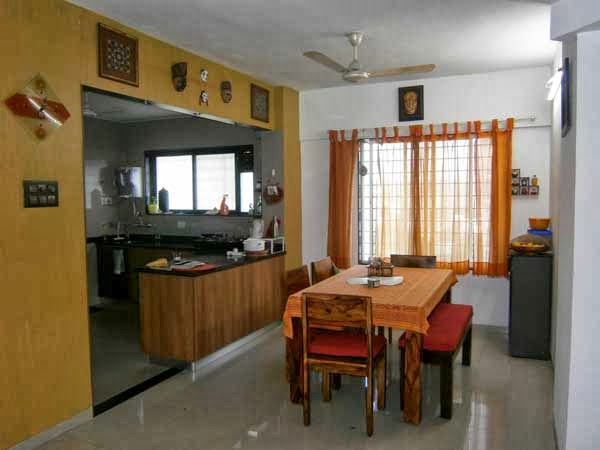 Our Mask corner is bordered by desi frames…a medley of indo-eastern cultures.

That's the adenium bonsai (in the pic above), my Mom's creation. I wish I could show it you when it flowers, it's a sight not to be missed, with crimson red flowers!
Navratri's here and with it comes the burst of bandhani's and colors. I have tried to recreate the magic of Gujarat (the colorful festivities, the dandiya, et al) at this time of the year.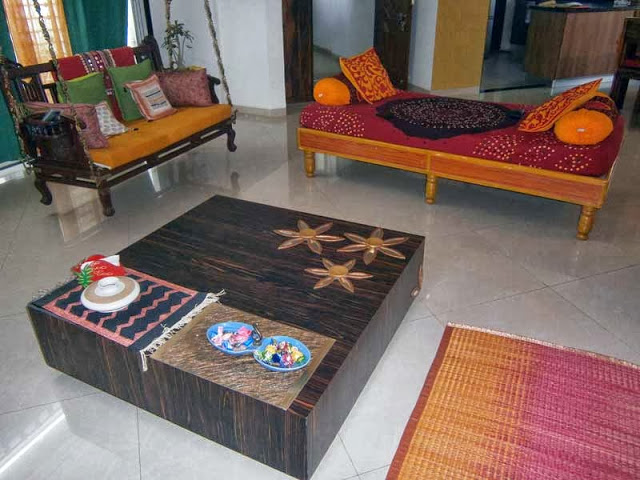 Our living room, another angle.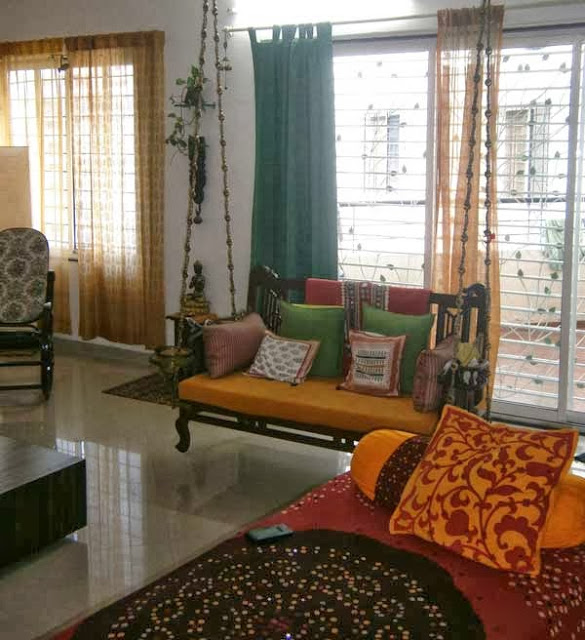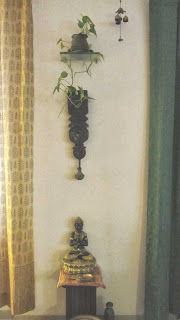 We loved the serene face and the Namaste which inspired us to get the Buddha from an exhibition. Making this corner almost perfect, is the money plant rooted in an old rusted copper kalash, an antique piece from the interiors of Gujarat.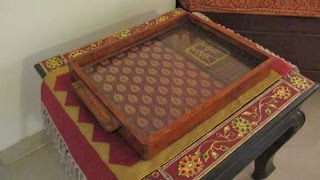 Sushil is quite adept at carpentry, and this tray on the right with dokra inlay work, is one of his creations.
Coming back to our swing, which is really the focal decor point in our home. This picture shows you a close-up of the brass swans that hold our swing together. For us they mean elegance, purity and balance..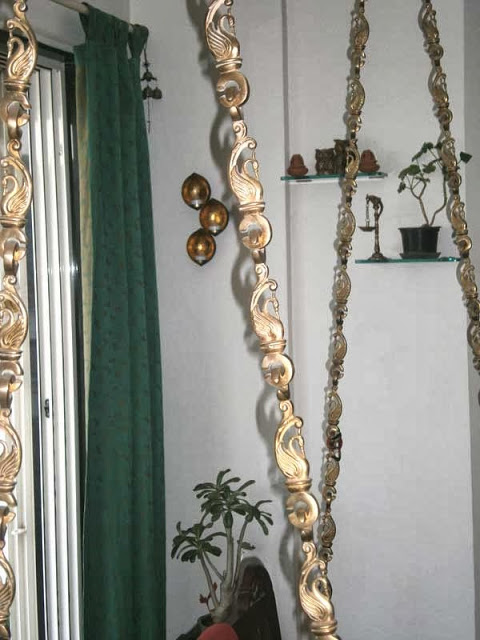 ——————————————————————————————————————————–
Thank you Ushma, that was a lovely home tour! Sushil and Ushma have been so accommodating of my many demands to see their place, allowing me to wander around and ask for pics of corners and spaces! Sushil went out of his way to get me the right pictures, and Ushma let me sample a piece of her delicious orange tea cake 🙂 And as I left their place, I did so with a hasty backward glance, to catch one last glimpse of the jhoola. Here it is!
Photographs courtesy: Sushil and The Keybunch
Check out our last couple of home tours:
– Deepa and Sriram's Summer Decor in their Bangalore home
– Aparna's home in Whitefield, Bangalore
For more The Keybunch home tours, grab a cuppa, and use the House Tours drop down box on the right bar of this blog to visit gorgeous homes around the world, all with one common thread – a bit of India in every home! 😉