Our guest blogger today is Manvi who blogs at Mochatini. Manvi's blog is constantly updated with inspiration, finds, and interesting decor ideas. That's what makes it a must-watch for us at The Keybunch, and we thought it would be a good idea to share her talents with you, our readers. Over to Manvi.
-Team Keybunch
—————————————————————————-
Hello The Keyb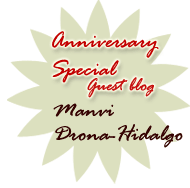 unch readers. I'm Manvi from the blog Mochatini. It's lovely to guest post here while The Keybunch bloggers celebrate their one year blog anniversary. Congratulations on a great blog.
Sharon suggested a Diwali related post so I put together a few decor and tabletop ideas. While Diwali here in the US isn't celebrated on the same scale as in India, we do our best to make this festival/holiday special.
I love the bright colors of leaves in Fall, and decided to use them as inspiration for my decor.

I created a mood board using this gorgeous burnt orange color.

I decided to keep the decor simple with pops of color using flowers.

I placed a large bowl of water and floating candles in my fireplace

Puja decoration
Here, are some tabletop decoration ideas that I created

I took a few clear glasses, half-filled them with water and
then alternated flowers and tea-lights in each.

I made this flower vase by recycling a tin can and an old wedding invitation

an unusual yet elegant centerpiece – a bowl with limes and a flower.

Oh and some fashion inspiration!Happy Diwali!I would love to see you all over at Mochatini for more decor talk! Thanks Sharon and Rekha for having me guest post here. Happy Blog Anniversary!
Images by Manvi for Mochatini. If you would like to use any of the images on your blog, you can do so by including a link back to Mochatini. You may not use any of the images for print or commercial purposes.