I am going to tell you 3 ways to own a faux concrete wall – are you interested? If you are based in India, and are looking for information on concrete walls, I have the deets for you.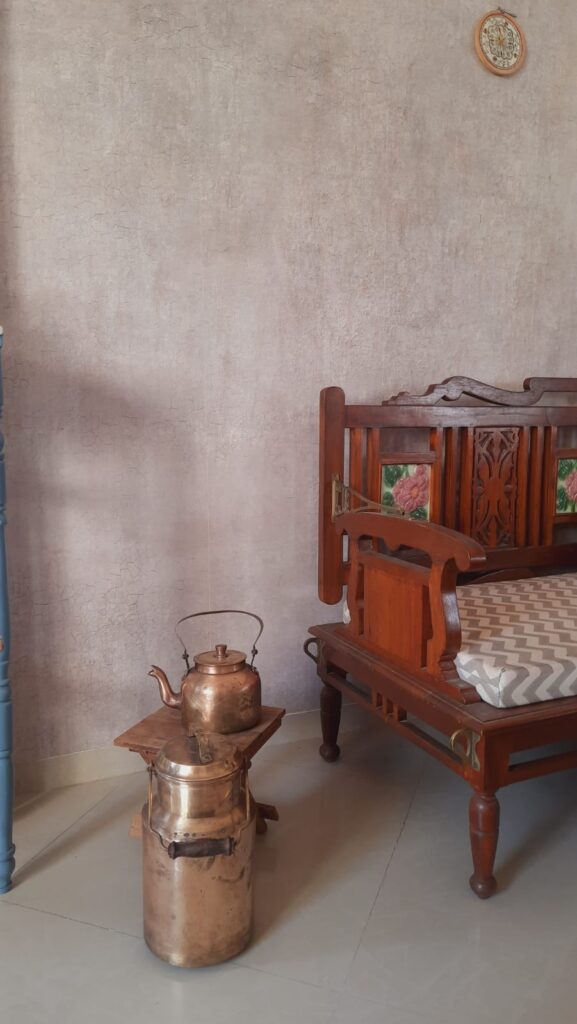 I recently changed my living room wall, to this gorgeous faux concrete finish. So many of you had questions when I posted it on instagram. So I created this blog post with all the info I had. Feel free to write in and tell me if I have missed out on something.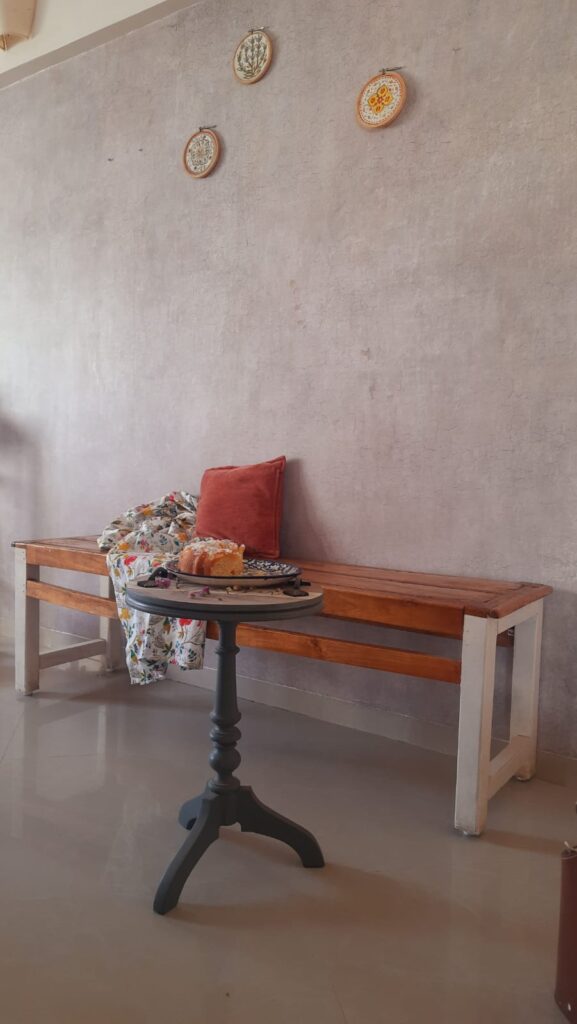 For the longest time, I stuck to a plain white wall simply because I loved the versatility of white. I could put any kind of couch, cushion or wall decor on it, and it would work! Nothing ever seemed attractive enough for a wall colour there, not until I fell hard for concrete walls. I knew that they were not the right backdrop for most of my stuff, but nevertheless, I was willing to sacrifice versatility for that cool, bare and minimal look that concrete offers you.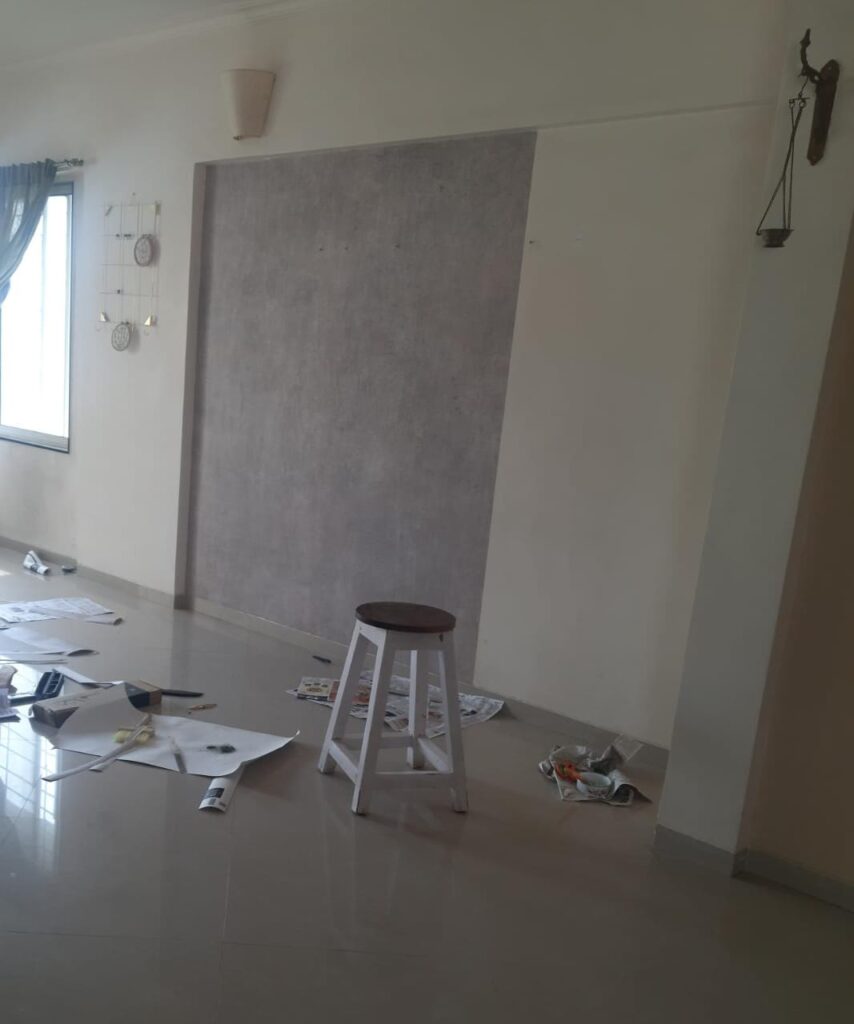 Installation was backbreaking, but fun. So let me answer your questions now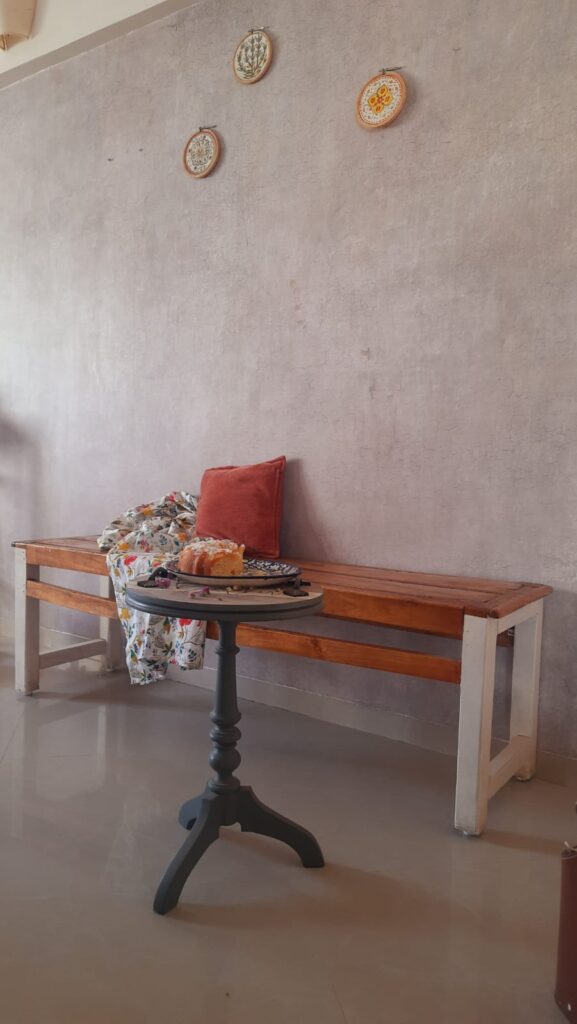 Why go for a faux concrete wall? Why not a real concrete wall?
There are 2 reasons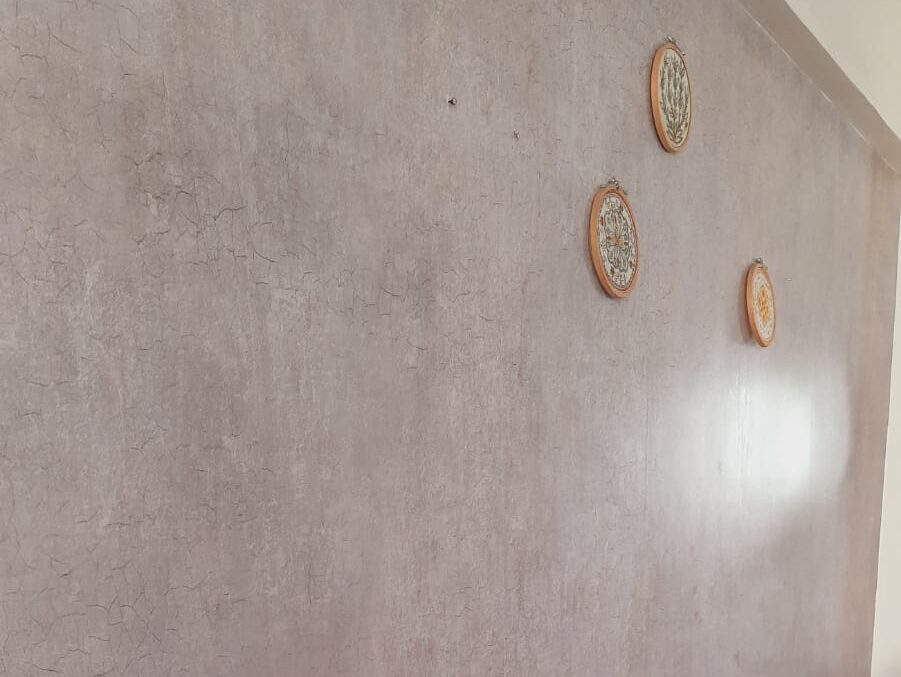 A concrete lime-coated wall is expensive – a quote I received from a lime coat wall finish company said Concrete Finish 170/- per sq ft, with a minimum billing of 50,000/-
That simply didn't work for me because all I wanted was a 9×7 feet accent wall.
They charge extra for work in other cities. Didn't work for me!

If like me, all you need is an accent wall in concrete, then you have to go in for a faux concrete wall. Here are 3 ways to go about that!
So what were my options for faux concrete walls?
I pondered stripping the paint, and concreting it myself, but I have never done it before, and didn't want to experiment on my living room wall. Also, with everyone still working from home, a project like this didn't make sense. And that's why I decided to fake it!
Just when I was considering DIYing it, then exploring wallpapers, and finally thinking of a professionally-done wall finish, something happened. It was sheer luck that Photowall from Sweden connected with me and asked me if I would like to choose a wall canvas from their store. And when I looked, I found a fantastic selection of concrete finish walls. I chose the Antique Stone wall light canvas, which has a nice concrete look.
The rest is history.
While my faux finish may not work for you for reasons like – Photowall has no outlet in India. They do ship to India, but it may cost you an arm and a leg when the Euros are converted to their Rupee equivalent. But don't lose hope. I have laid out 3 equally exciting faux finish options for those of you based in India and dreaming of a concrete wall.
1. DIYa faux concrete wall!
Use grey paint and white paints, and manually texture it using chalk powder.
Difficulty level: High
Cost: Approx 4000
Outcome not guaranteed.

The process is – find a shade of grey close to concrete grey. Also buy a basic white wall paint.
Paint the wall grey with arched strokes, using a thick paint brush. Work in sections. Before the paint dries, use a wet cloth to smooth it all out.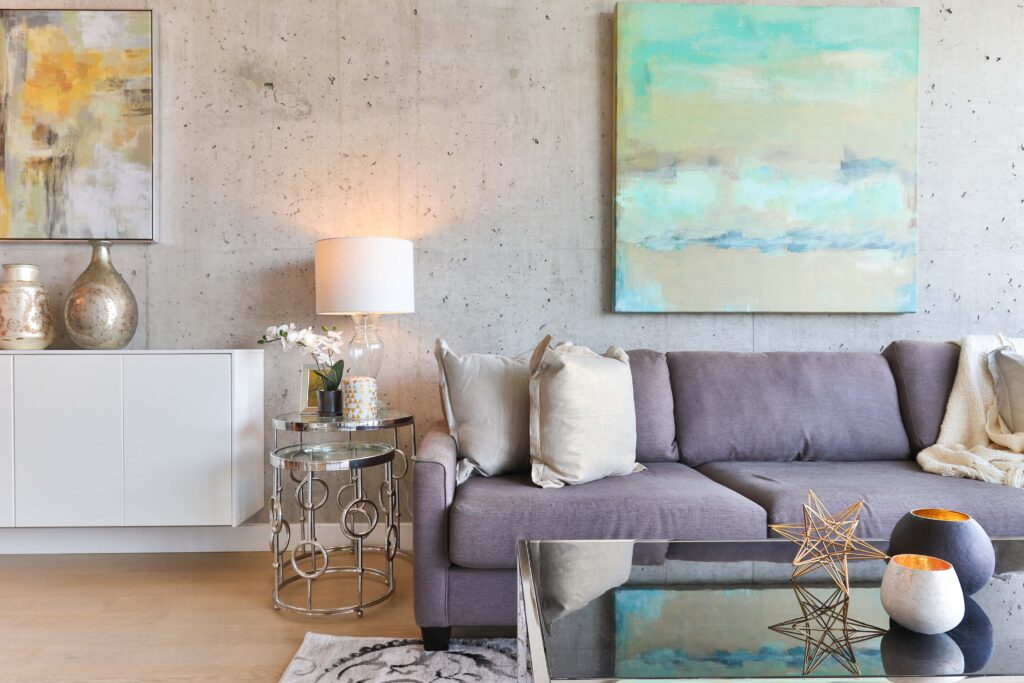 Then use a sponge dip it in white paint, and squeeze out as much excess paint as you can. Dab the sponge sparingly across the grey paint. Just cover a few sections. Again take a wet cloth, and smooth it out, so it blends nicely. You could also draw scraggly vertical lines using a darker or lighter shade of grey. For texture, add grout to your paints. You could also add texturew with a crushed up peice of fabric, rolled across the wet paint.
Do all the work when the wall is still wet. Wait until one section dries completely, and if you like your handiwork, replicate it on the rest of the wall. For even more interest, use a small screwdriver and hammer it into the wall at intervals for that 'holey' concrete look.
2. Use stone coloured wallpaper
Difficulty level: Easy (provided your walls are even. Most residential apartment buildings in India dont have aboslutely straight walls, which means, the top of a wallpaper may fit but as you start sticking it at the bottom, you will find that the wall is wider, and your project is messed up)
Cost: A 9×7 feet wall would cost you approx 13500 from a reputed wall paper brand.
Outcome: Excellent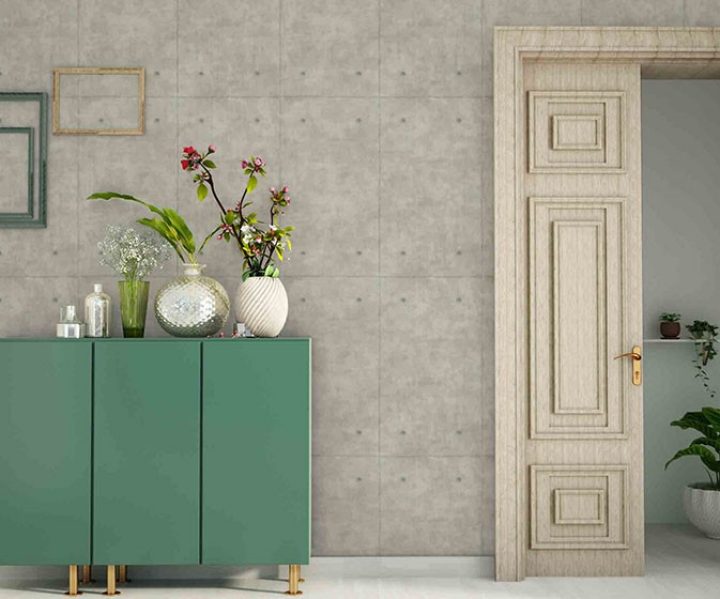 3. Use a faux concrete wall finish from a prominent paint company.
Difficulty Level: Easy as it is done by professionals.
Cost: Starts at Rs.10,000 but factor in more because this is only the cost of the bucket of paint finish. There will be labour costs, and also additional costs if you need more buckets
Outcome: Excellent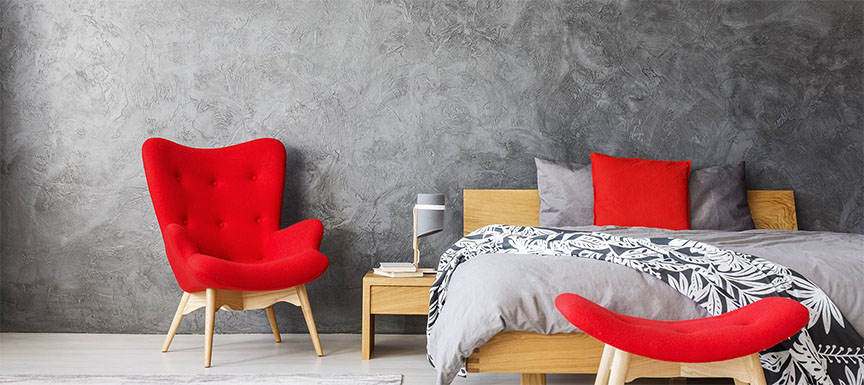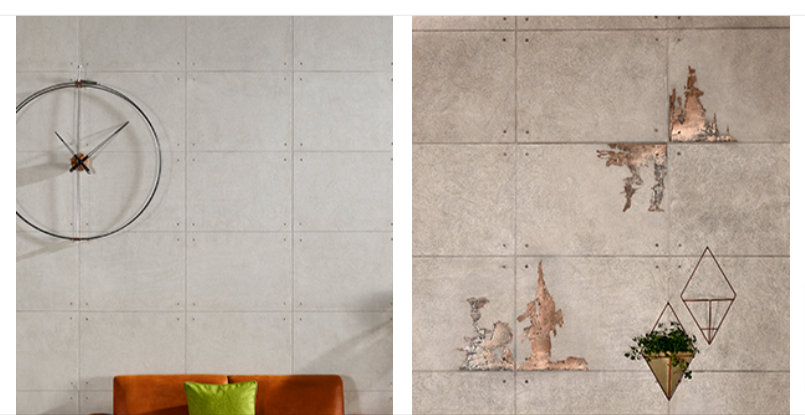 To conclude, faux concrete is no longer a far-away dream. They cost a little more than any other regular wall finish would cost you. I am so happy I finally got the faux concrete wall that I always dreamed of. Walls can talk! But concrete-finish walls can sing!
Want to pin these images?
Head to our Pinterest board where we have conveniently put them all in one place, so you can repin away!
Are you looking for help with decorating your space? Get in touch for help with fabric selection, sourcing antique or vintage accents, and styling your spaces!
If you are looking for more wall inspiration in decor, check out these older posts from our blog.
Concrete and stone walls are lovely for spring decor. Have a look at some of our spring decor ideas here.