If you are planing a trip to Singapore, the first thing you must do is arrange your itinerary around one of Chumkie Banerji's exhibitions. Called simply "The Fair" they feature a lavish collection of products and services bringing together a wide variety of buyers and sellers over a two-day period. They are organized every month at the Goodwood Park Hotel.
"The Fair" presents an array of exclusive gifts, fashion ensembles, home décor, beauty and health products, art, furniture, soft furnishings, carpets, jewelery, and a range of handcrafted, upmarket merchandise.
Here's a selection of their products in the Home Decor section, likely to be exhibited in 2009.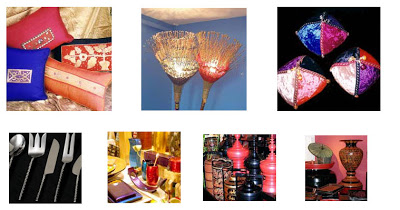 Top row: Silk Cushions with silver plate centerpieces, Vibrant & unique
festival lights, Velvet Doorstops adorned with colored stones and beads.
Bottom row: Quirky cutlery, whimsical collectibles and lacquer ware.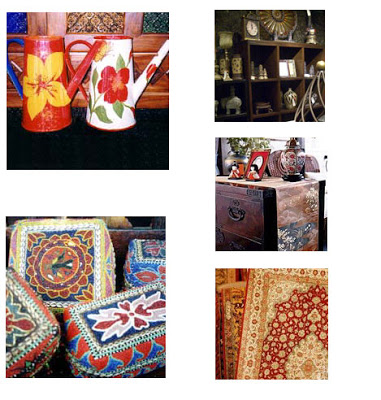 Clockwise: Decorative enamel hand painted watering cans, antiques in
an antique cupboard, an antique decorative chest, carpets and decorative boxes.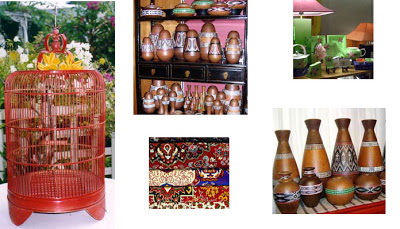 Top row: A birdcage made from bamboo, Hand painted Cocowood (Southern Philippines), lamps.
Bottom row: South Asian carpets, and more Hand painted Cocowood.

Quite a variety there, don't you think? To know the event schedule for 2009, click here.